A newborn baby sleeps for almost all day. It might be tiring for a mother to hold the baby all the time.
Moreover, a baby occasionally wakes up and it becomes difficult for you to make him/her sleep.
Therefore, a baby swing can help a mother.
It can save a mother from all those tiring hours. A baby swing can help a baby to sleep and it can even entertain the baby.
There are many baby swings in the market. It might be difficult for you to choose the best one.
To help you out, an article about the best baby swing for colic – is given below.
---
Best Baby Swing for Colic [2023 Reviews & Ratings]
---
1. Graco Simple Sway Baby Swing – Editor's Choice

This Graco baby swing has some great features. It has a small frame and it can fit in your room easily. This baby swing has six swing speeds and it gives a really gentle swing to the baby.
In fact, the swing can be operated with batteries and without batteries (AC).
Not only this, the swing has five types of nature sounds and ten songs to help the baby to sleep.
Overview of Features
Full Support. The seat on the swing is fluffy and plump, which keeps both heavy and light baby comfortable. It'll easily accommodate your baby. And it'll feel pleasant even when your baby stays in for long. It also includes removable head support with two benefits. First, it'll help your baby's head balanced on the seat. Second, you can easily remove it for washing.
Varied Sounds. A baby swing without a few sounds to entertain your baby might feel boring. And your baby might want out in a short period of time. Fortunately, there are 10 classic melodies and an additional 5 nature sounds to keep your baby calm and soothed. This makes the swing a good option for busy moms.
Good Speed Range. There are 6 speed ranges on the swing to choose from. This is just like being able to choose from different speeds for a ceiling fan. The speed range starts from 0 with the highest being 6. This makes it easy to find the pace that will soothe your baby's mood every time and once your baby gets used to it, you can leave them alone and go handle something else in the kitchen.
Vibrating Option. Aside from the speed on the swing, you can also choose from 2 different vibrations for your baby. The vibration imitates the rocking motion you make when trying to lead your baby to sleep. Choose the one that suits your baby and your baby might not worry about your absence.
Pros
Safety. This swing is built with harness safety. It can secure your child with its 5 way (or point) harness safety measure.
Entertainment. The swing has soft toys to engage and entertain your baby. Your baby won't cry as long as, he/she gets entertained.
Comfortable seat. The comfortable seat of this swing will keep your baby relaxed. Even, your baby can sleep profoundly on this swing.
Cons
No head support. This wing is without any head support. In case your baby falls asleep, this can be a problem.
Noisy motor. If you use this swing for long hours, the motor may start to noise.
---
2. Graco Duet Soothe Swing and Rocker – 2nd Best Swing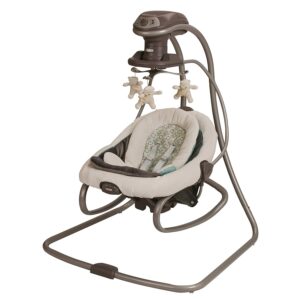 This swing from Graco has some amazing features. It can be used in two ways. The first mode is the 'rocker' mode and the second is the 'swing' mode.
The safety measure of this swing is excellent. With harness safety, your baby remains always safe.
The rocker carry handle gives you the option to keep your baby near you.
The Features
Detachable Seat. As the name implies, you can use this as a rocker seat aside from a baby swing. The rocker seat has a carry handle that makes it easy to carry your baby around the house. It also makes it a convenient choir when shopping with your baby or when it's time to travel. In addition, the seat is plush and well upholstered so your baby will always be comfortable in it.
Good Power Option. Some moms are sometimes torn between buying a swing with a plug-in or battery option. Some end up buying something they regret later because it didn't meet their expectation. Fortunately for you, you don't face such because you can enjoy both options. If you are feeling like saving money on batteries, you can use the plug-in option. And if you like the convenience that comes with batteries, you can ditch the plug-in option. The choice is yours.
For Large Babies. Most baby swings on the market support up to 25 pounds. But the Graco DuetSoothe Swing can support babies weighing up to 30 pounds, which means your baby is going to use it for a longer time. Not only will this save you money in the long run, but it can also be a nice option if you have a large baby.
Pros
Three seating positions. There are three seating positions in this swing. Now, this will allow your baby to seat in his/her preferred way.
Entertainment. With ten songs and five nature sounds, your baby will be always entertained. He/she will almost stop crying.
Runs in two ways. The swing can be run with batteries or without batteries. This feature will allow you to take the swing, anywhere.
Cons
Noisy motor. After long hours of use, the motor may produce some noise.
Not for the taller babies. This swing may not be a good option for taller babies.
---
3. Fisher-Price My Little Snugabear Cradle 'n Swing

This fisher price swing has two options. The first one is swinging and the second one is cradling. Your baby may like any of these options. So, you can switch to either of these options.
There are three seating positions in this swing. Now, you can keep your baby in his/her comfortable position.
Therefore, the comfortable seat and scientific design are just great for your baby's relaxed mood.
Pros
Intelligent technology. This swing is built with intelligent technology. The technology senses your baby's weight and then it gives the right amount of swing. This is a great feature to relax your child in a safe way.
Entertainment. There are three soft toys (owls) in this swing. Apart from that, the swing has great music and some natural sounds, to soothe your baby's ears.
Runs in two ways. This baby wing can be run with batteries and without batteries. This is a good feature. This is one of the features that make us include among the best baby swings for colic.
Cons
Poor build quality. The build quality of this swing is not so good. The quality could have been better.
Sometimes it stops. The swing stops suddenly. There is a fault in its technology.
---
Final Words
---
So, if your baby is prone to colic, you want to put that into consideration whenever you are buying new baby products.
Sometimes, a little idea and action are what you need to solve the colic in your baby. Other times, it's more than just having an idea.
Consequently
Most baby swings are designed to accommodate babies of different weights and heights, which is why only a few can be considered the best for a colicky baby. As a result of this, it might be quite difficult to get the best baby swing for colic.
Fortunately, this guide is what you need if you want to buy a baby swing for a gassy baby. There are only three baby swings on this guide that provide the best experience for mothers of colicky babies.
Therefore
Of these, the Graco Simple Sway Baby Swing is the cheapest and comes with most of the features you'll find in the other swings. If you are looking for a swing that can be plugged in as well as used with batteries, you can go with the Graco Duet Soothe Swing Rocker Winslet. It's durable, large, and offers the best value for money.
The Fisher-Price My Little Snugabear Cradle 'n Swing is another quality swing for your colicky baby. It also has two power options, you can either plug-in if you want to save money on batteries, or operate it on batteries if you are looking for the flexibility.
All of these swings are great for your baby if you are looking for the best baby swing for colic.
Check out some other picks from Amazon also: