Choosing a gift for a 10 year old girl can be a challenge. They're probably not as interested in toys at this age, but not yet into the latest clothes and makeup. Here, we have a great list of products sure to be loved by girls this age. We've included a range of different categories of items, so there's something to appeal to all tastes and personalities.
What to get a ten year old girl?
Girls really love toys at this age. They'll probably tell you what presents they would like, but if your little girl doesn't know what she would like, there are loads of great ideas and games here. They might enjoy a new bike, or if they have outgrown theirs a harry potter gift. Alternatives are some craft supplies to try and develop a new skill, it's all here!
Different Types of gifts to Consider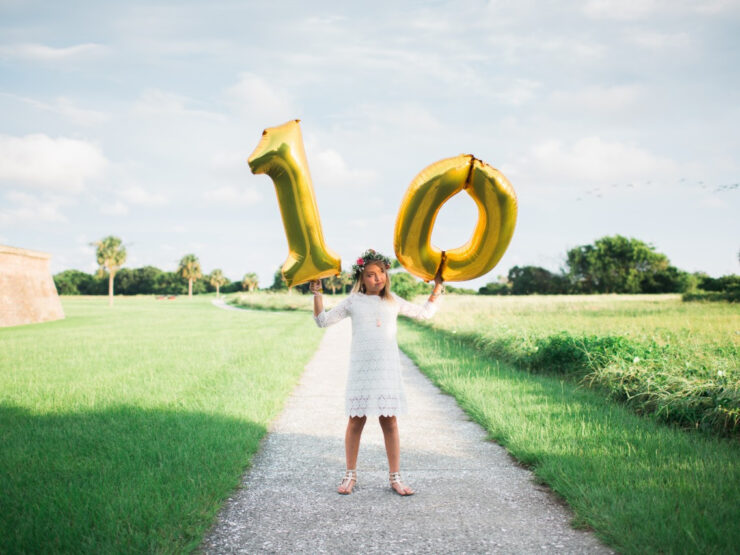 It can be a tricky time, especially for Dads, who see their beautiful little daughter growing up into a woman. As your little girl goes through this delicate stage in her life, she'll want more time for herself. It can be a tricky balance to strike, giving her the freedom she wants, but then also supporting her and letting her know that you're still there
Don't fear though, in this blog post, we'll go through some of the best presents for girls that show that you still love your daughter and you're there to offer support whilst also offering up some of the best ways that you can respect her newly found personal space.
60+ Gift Ideas
In this review of present ideas we have included everything a 10 year old girl will love! There are makeup sets, girl crafts and artsy stuff. There is something to suit all different interests and desires with loads of unique ideas too.
There are loads of amazing gifts for ten year olds which are an ideal birthday or Christmas presents for girls who want something special for their big day. We have all different types of ideas in this review and with different types of gifts you will surely find something your little girl will love! Find out which are the best gifts for 10 year old girls in 2023.
1. Go Glam Nail Stamper
This is a super fun gift for any girl who is just getting into makeup, or wants to express their unique style!
The Go Glam nail stamper is a really quick way to create a custom manicure. With 5 designs included, it's easy to mix and match different styles, and the stamp kit itself is really simple to use. Just prep the nails with a base coat, pop a pattern into the machine, and press down to stamp. The stamper works with any sized nail, so girls will be able to create great manicures even as they get older!
The Go Glam nail polish is water based and specially formulated for kids. It's also really easy to remove, so changing up your manicure will take seconds! This is a really great activity to do with others, so your ten yr old and her friends will have endless fun at birthday parties and sleepovers, too.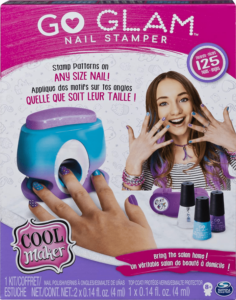 2. Instax Mini 9 Instant Camera
This handy film camera is an amazing choice for any creative ten yr old!
It's so simple to use, too. The built-in indicator helps you pick the right setting, and with the click of a button you'll take amazing pictures every time. The Fujifilm Instax Mini 9 instantly prints pictures, which girls can use for art projects, to decorate their bedroom, or even give to friends! With a handy selfie mirror on the camera, it's easy to take individual or group shots too!
The camera comes in 7 different fun colors, so every girl can express her individuality. It even includes a lens attachment, so your ten yr old can really get creative. It's an ideal gift for any budding photographer, and the possibilities really are endless!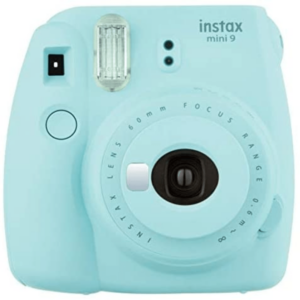 3. Make Your Own: Wood Cross Stitch Jewelry
This Make Your Own: Wood Cross Stitch Jewelry kit is a perfect gift for ten yr olds who love crafting and learning fun skills!
You can create up to 12 personalized pendants, which are easy to customize with the 12 different colored threads included in the kit. Girls will be able to make cute necklaces and accessories for themselves, or even turn them into key chains or decorations for their backpacks. They could even make matching pendants for their friends! The kit also includes 16 different beads, which add a great pop of color!
With everything you need to create your own cross stitch jewelry, this kit allows girls to explore their own style, and learn a fun new skill too! It's really easy to get started, and it's a sure winner with any creative kid or budding fashion designer.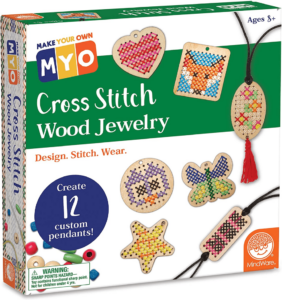 4. iPod Touch
The latest iPod touch is an incredible gift that girls will treasure! If your daughter loves music, an iPod will make her 10th birthday one she never forgets!
The handy size means your ten yr old will be able to keep her favorite music, games, and apps in her pocket! It has excellent storage, so she'll be able to have all the songs she loves in one place. You can also use it for a movie or audio books, which makes it great for travel and family holidays. The clear display is really easy to use, and she'll even be able to group call with family and friends.
It's a great alternative to a tablet, and is perfect for taking on the go. It's sure to be a winner with every ten yr old.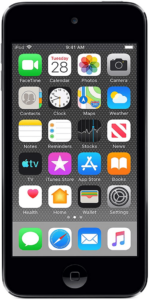 5. Mini Faux Leather Backpack
If your child is getting into fashion, a Mini Faux Leather Backpack is a cute and comfortable gift she'll be able to use for years!
With 8 different color varieties available, this soft and spacious backpack will fit any style. It's perfect for schooldays, holidays, or visiting friends. The secure zippered pocket will keep all of her things organised and safe when she's on the go. The quality material and adjustable straps guarantee a good fit, even as she starts to get older!
This Mini Faux Leather Backpack is a great way for your daughter to express her individuality, and she'll be able to get a ton of use out of it, too!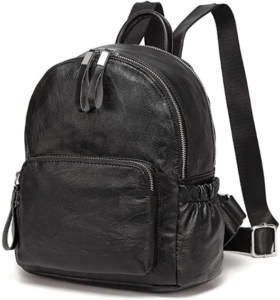 6. Chromebook Spin 11 Convertible Laptop
This quality laptop is sure to delight your daughter or granddaughter on her birthday!
The Acer Chromebook Spin 11 Convertible Laptop has a bunch of different uses, so the possibilities really are endless. The 11.6 inch HD screen will make reading or doing homework easy. You can also flip the laptop and use it in tent mode for movies, or even convert it into a tablet. The handy Wacom pen is great for digital doodling or taking notes, too! It also has amazing storage and battery.
Your daughter is sure to get lots of use out of a Chromebook Convertible Laptop. Whether she's chatting to friends, or completing homework as she gets older, the only limit is your imagination!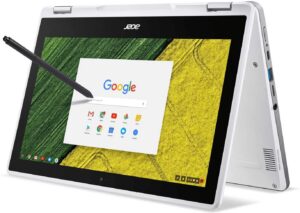 7. Owl String Art Kit by Craft-Tastic 
This is an educational gift idea that girls will love! Designed for ten years + it makes an ideal present for an up and coming birthday.
The art kit comes with 3 canvases made of foam and patterns included, 3 in total. There are loads of designs that can be made and although at first glance it looks difficult, in-fact it's really easy to figure out and begin being creative.
The kit works pretty simply. Just put a pin somewhere in the middle and then you can use the thread to begin making art. This comes with 60 yards or inclusive thread and 170 pins, which is enough for hours of use and play.
This make a special gift and something I am sure any daughter or grandchild would appreciate this diy kit.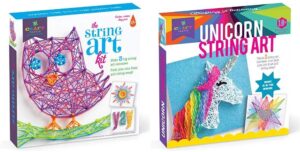 8. Ourlife – Pink Sports Camera Camcorder
This girl's pink camera would make a cool gift for ten year old girl who has everything. Young girls really love taking photos and videos these days, so they're sure to be thrilled to receive their very own video camera.
The camera is easy to use and can take great quality videos and images. There is also the option to add frames to the pictures which have been taken on the camera – perfect for kids who want to edit and customize their photos.
The girly children's digital camera is also waterproof, making it perfect for trips to the pool or the beach. It can also be mounted on the front of a bike, or to a helmet, for even more interesting recording possibilities. The camera has a great battery life – it can record up to 90 minutes of video continuously. Cameras are some of the best gifts for a ten year old girl who likes photography.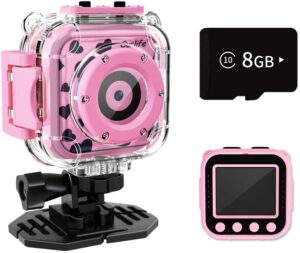 9. Pink Razor E100 Electric Scooter
This little girl's electric scooter would make the ideal present for a ten yr old girl on her birthday. It can travel at an impressive speed of up to 10 mph. On a single charge, the scooter can be used continuously for up to 40 minutes – sure to be enough to get to school and back! The battery takes around 4-6 hours to fully charge, so be sure to leave plenty of time to power it up before it will be ridden.
The electric scooter also comes with a helmet to keep young riders safe. It has plenty of air vents to keep your daughter's head cool, whilst also providing good levels of protection. Kids will love playing on this scooter – it's the best gifts for 10 year olds to get them playing outside!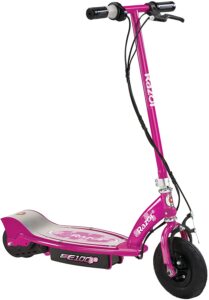 10. Artyfacts Portable Studio Deluxe Art Set
Art sets make popular gifts for a 10 yr old girl. This one has everything a child needs to create all sorts of different drawings and paintings. Everything comes neatly stored in a carry case, to ensure nothing gets lost. This also makes it great for taking on long journeys, or for taking on vacation to keep the kids busy.
The large art kit comes with paints, oil pastels, crayons and pens, as well as other essential accessories such as scissors and an eraser. There are over 100 pieces in the kit, so it is sure to keep your little girl busy for hours and hours!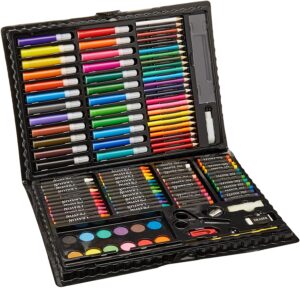 11. ALEX Toys Do it Yourself Wear Friends 4 Ever Jewelry
Girls Jewelry kits make great presents for girls who love to be creative. This kit can be used to make 30 bracelets, in a variety of different styles. It's perfect for making something to share with friends or siblings – kids can make matching friendship bracelets for their best friends.
The kit contains different materials, such as twine, wire bangles, charms and feathers. Everything comes stored in a reusable storage kit, to ensure everything is kept neat and tidy between uses. Jewelry kits are some of the best presents for ten year old girls who are into arts and crafts, including diy kits.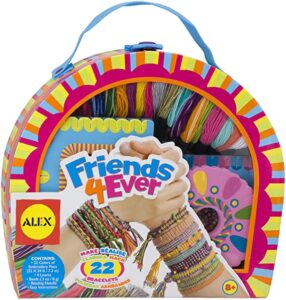 12. Big Bag Of Science Kit
A science set makes a creative gift for a ten yr old girl. It is both fun and informative – girls will be sure to have great fun doing their own experiments. There are over 70 activities which can be done using this kit – it's sure to keep your daughter entertained for hours. Children and parents will enjoy playing with this kit together – it is a great way to spend quality time together.
The science set is ideal for supplementing the science your child is learning at school. There are activities relating to different fields, such as physical, earth and life. Most of the ingredients and equipment you need are included. Anything which isn't included is commonly found in most households, although you may need to pick up a few things to be able to do every activity.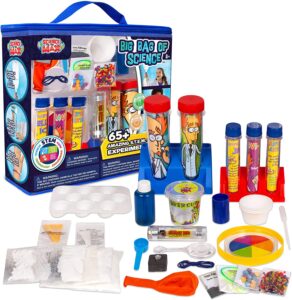 13. Relay Phone for Kids with GPS Tracking
At 10 years old, your daughter might be wishing for the freedom to do more with her friends and to have free roam of the neighborhood without parental supervision. To keep her safe without placing social media and the whole internet in the palm of her hand, Relay is a great option that kids love to use.
It's screen-free and push-to-talk (like a walkie talkie) with a nationwide range (like a cell phone.) Using the free parent application, you can track where she is on-demand, talk to her, and customize her chat groups so she can talk to friends who also have Relays.
10 yr olds love Relay's music feature, which they can use with or without headphones, and its language translation feature, which supports 13 languages. Your daughter will love feeling independent and tech-savvy using her Relay!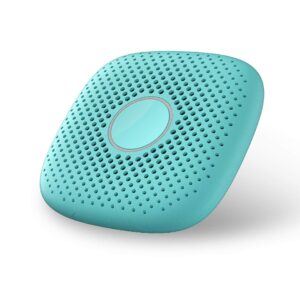 14. Ozobot Bit 1.0 (Titanium Black)
A coding toy is a great idea for a 10 year old girl. This is one of the smallest programmable robots in the world, measuring just over 1 inch. It can be used by kids of all skill levels, from beginners right up to experts – there is something for everyone with Ozobot.
The Ozobot coding toy can be controlled using different colored pens, for example to move the robot through a maze. Once kids have mastered this, they can progress to the block-based programming system on the app. This can be used to make the tiny robot race against others, or even to make it dance! The toy works best with a tablet, which can be used to download the compatible app. This allows more games to be played, and extra activities can also be downloaded.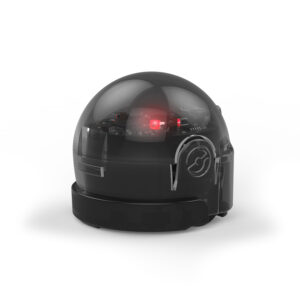 15. Alex Toys Various Hair Chalk Salon Kit
A hair chalk set is an amazing gift for ten-year-olds. They will love being able to change the color of their hair, and parents won't need to worry as it can be washed out easily. The chalks are easy to apply to dry hair and work well on any natural hair color.
This chalk hair dye kit includes 5 different colors, as well as hair elastics, beads and a beading tool. These hair colors are great for parties or special events – they will stay in for a few days if the hair isn't washed.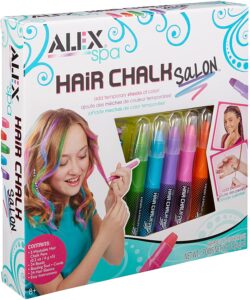 16. American Girl Ultimate Crafting diy kit
Crafting kits are a favorite gift for little girls. This one is great for girls who are interested in making their own jewelry – it has over 1500 pieces which can be used to create a huge range of pieces. The set can be used to make accessories for American Girl dolls, so your daughter can make jewelry for herself and her favorite doll.
The girl's jewelry making kit comes with a handy guide which is full of design ideas to inspire your little girl. Parents will love how all the beads are neatly stored in their own little jars – they won't be left lying around all over the place! If your girl loves jewelry and American Girl dolls, they're sure to love this kit. It will keep them busy for hours!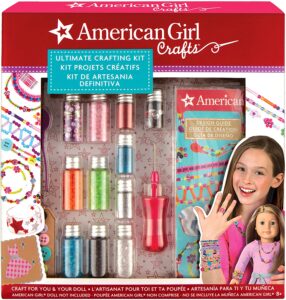 17. Twirled Paper (Klutz)
Klutz kits are one of the top gifts for a 10 year old girl. This one is great for creative kids who are looking for something that's a little different. It comes with strips of colored paper and a wand which is used to twirl and roll the paper into all sorts of amazing shapes. The paper can be made into designs such as animals, food or just fancy patterns.
The twirled paper set includes a detailed instruction book full of ideas about what to create. The kit comes with over 100 paper strips, as well as glue to hold your creations together. The set is great for older children, as it is more challenging than some other kids' craft kits available. It's sure to keep your girl entertained for hours, and she will love showing off her new skill!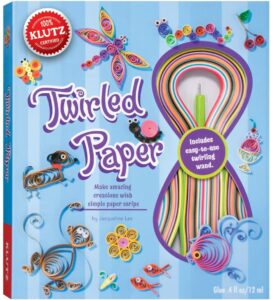 18. Creativity for Kids – Fashion Design Studio
A fashion design kit makes a good present for a ten yr old girl who loves clothes and art. The kit includes everything a girl needs to create her very own dresses and other clothing. There is a design pad to plan out ideas, a mannequin and a real sewing kit including ribbons and fabric swatches. The kit is great for girls who love to sew, or who wish to learn how to.
The children's sewing kit includes easy to follow instructions, making it ideal for kids who have never seen before. It's a great activity for parents and children to enjoy together, as part of some quality one-on-one time. Girls will love to see their very own designs come to life, and will be so proud of their creations!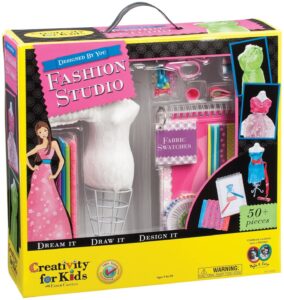 19. ALEX Toys Craft Paint a Ceramic Tea Set
This unique set is one of the best presents for a 10 yr old girl. It includes everything you need to create your very own tea set for 4 people – there are 4 cups, 4 saucers, a teapot, a jug and a sugar bowl. There are also 8 paints in a variety of colors so your daughter can create any design she chooses.
After the tea set has been painted it can be baked in the oven to set the paint, making it permanent. Children will love serving tea in their very own, one of a kind tea set! After painting, the set is sure to provide years of enjoyment at play-dates and slumber parties.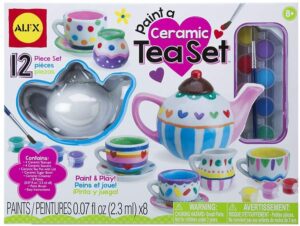 20. Breyer My Dream Horse Customizing Kit
This Breyer horse toy is the perfect gift for any young horse lover. It comes with everything you need to create your very own horse – including 6 different colored paints, some mohair for the mane and tail, as well as 3 brushes to paint with.
This is a great girl present for age 10 yr olds. It comes in a variety of styles – perfect for building a collection for those who really love horses! Breyer is a great brand – you can be sure the products are of the highest quality. There is a whole range of playsets and accessories which are compatible with this model, so you can build a whole yard for your little horse lover.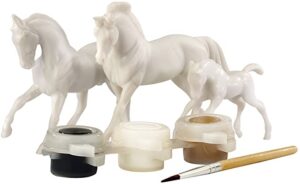 21. The Sleepover Party Game
Board games are great gifts for a ten year old girl. They make the perfect addition to a family game night or a slumber party like this one. Girls will love trying this game out with their friends, it's sure to make everybody laugh!
The board game can be played by over 3 players, making it perfect for parties. The game involves taking turns to spin the spinner, and discover which of the 200+ challenges you'll have to try. Challenges involve acting out scenarios, making funny noises and other typical party games. The Sleepover Party Game is sure to be a hit at your little girl's next slumber party!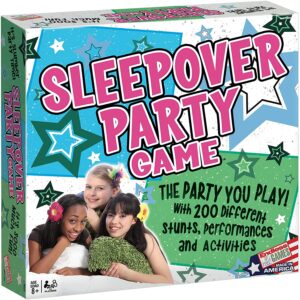 22. Girls Clay Charms made by Klutz
Craft kits make ideal presents for a ten yr old girl, especially if they are becoming too mature for toys. This one can be used to make small charms from clay, which can then be made into a one of a kind accessory.
The Klutz craft set comes with a charm bracelet, several different colors of clay, a tool to shape the clay and a glaze to finish it off. There are also easy to follow instructions, which can be used to create over 30 different styles of charm. The kinds of charms which can be made include animals, foods and many more, or you can create your own custom designs.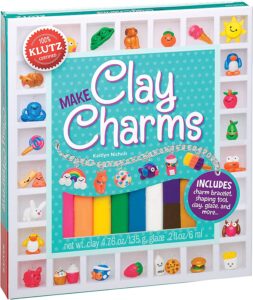 23. Fuze Bike Bubbler
This bike bubble blower is a fun and unique gift suggestion for a 10 yr old girl. The simple device attaches to the back of most standard bikes, and shoots out bubbles as the bike is ridden! The machine requires 3 AA batteries, and works with any bubble solution, although a small amount is included to get you started!
The bike accessory is a great idea for children who are looking for something to make their cycle rides more interesting. It's sure to make the school run more enjoyable! The bubble blower is certain to make your child the talk of the neighborhood!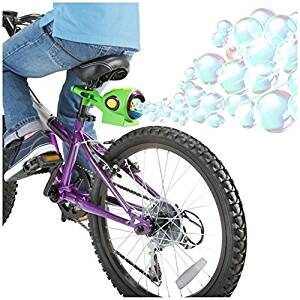 24. Pink Nerf Rebelle Agent Bow Blaster 
This is a fun gift for ten yr old girls who aren't interesting in 'girly' gifts. It's a great item to get pre-teens away from their screens and playing outdoors. The bow comes with 3 arrows and a quiver to store them in. There is also a decoder which can be used to reveal the secret messages within the arrows. Therefore, this is a great toy to use along with a friend.
The Nerf bow can be used to fire arrows up to an impressive 85 feet away! The arrows also whistle as they fly for added fun. It's easy to get perfect aim when shooting with this bow – there is an electronic sight to help line up the shot.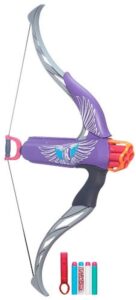 25. Girls Relaxation Coloring Pad 
A coloring pad is a creative gift for a 10 yr old girl. Coloring in is becoming an increasingly popular hobby for older kids, including teenagers and even adults, thanks to it's calming nature. This book has lots of great patterns and designs which are perfect for young girls. There are butterflies, mermaids, shoes, hearts and many more – perfect for girly girls!
A coloring book makes a great stocking filler for girls. It's also ideal for the girl who has everything! It's small and inexpensive, but would make a perfect gift when combined with a nice set of coloring pens or pencils, and perhaps a case to store them in.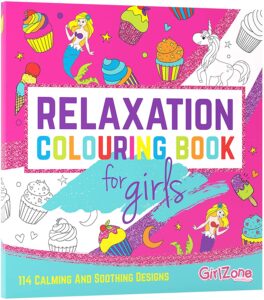 26. Fansidi Newest Pink Helicopter Ball
Remote control toys are popular gifts for ten year old girls. For girls who are getting bored of RC cars, a flying ball is a great introduction to the world of flying remote control toys! It is easy to control, using just your hand rather than a controller.
The flying ball lights up with colorful LED lights, making it perfect for night-time use. It takes only 20 minutes to charge fully, meaning it's the ideal toy for impatient kids! The flight time is around 8 minutes after a full charge, which should be enough time for a flight around the house. This RC toy is great for during the colder weather, as it is ideal to use indoors rather than outside. It's strong and durable, and can stand up to being crashed a few times!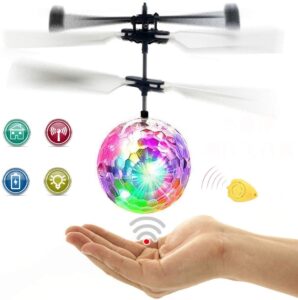 27. Crayola Pink Light-up Tracing Pad
This Crayola drawing pad makes a great present for older girls. It kit contains a light up box which can be used for tracing the printed sheets, allowing kids to create their own designs and drawings. It can be used to design outfits and hairstyles, and there is also a set of equestrian themed sheets which can be used to create unicorns or dream horses!
The Crayola tracing pad is perfect for use on vacation or when visiting family. The case includes enough paper to get started, as well as sketching and coloring pencils to finish off the designs. Everything can be stored back in the box, therefore making it ideal for traveling.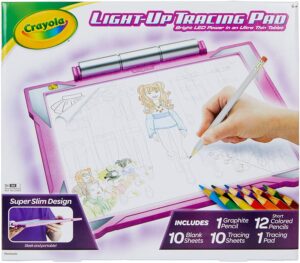 28. Echolife Mermaid Tail Blanket Super Soft Fleece Sleeping Bag
This mermaid tail blanket is perfect for kids to use when relaxing watching TV or for taking to slumber parties. It comes in a choice of 3 different colors, so kids can choose their favorite. It's is the perfect size to fit children of all ages, and the feet fit into the fins meaning kids can even walk around whilst wearing the tail!
The tail blanket is made from soft and cozy flannel material. It it warm enough to be used outdoors when it's not too cold, for example when camping or even by the sea. It measures 38″ not including the fins, or 58″ altogether.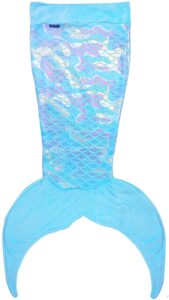 29. Doodle World Map Pillowcase
This design your own pillowcase is ideal for the girl who has everything. It makes a unique and interesting gift which is sure to provide hours of entertainment. It is also practical, and fits a standard sized pillow. The pillowcase also comes with 10 different colored, double-sided washable fabric pens.
The inks come out of the pillowcase on a warm wash, meaning it can be customized and redesigned time and time again. Kids will learn so much when drawing and coloring in the world map pillowcase – it features fun facts, exotic animals from around the world and also shows the 7 Wonders of the World.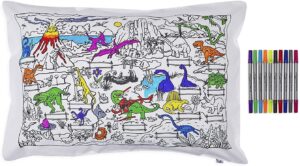 30. PicassoTiles PT50 Digital Music Drum Kit
This electronic drum pad is a great gift for girls who are interested in music and are looking for something a bit different. It can be used with headphones for quiet practice, but also has a built-in speaker for giving a performance. You can also add your own MP3 device to play along to your favorite songs.
The electric drum kit offers 7 different drum sounds as well as 9 rhythms, enabling kids to create their own pieces. The pad also comes with sticks, meaning kids can start practicing straight away. It's a great starting point for girls who might get into drumming seriously in the future. It's also perfect for parents who don't have enough space for a full-sized acoustic drum kit.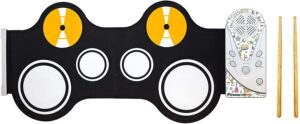 31. Smartphone Stand
This smartphone stand is the ideal gift for any youngster who loves their phone. The mini stand allows the phone to be either held comfortably in one hand, or it can be propped up on a desk for a better viewing angle. It is compatible with all smartphones and tablets, ideal if you're not sure what model the recipient's gadget is.
The Popsocket phone stand is ideal for reducing pain when using a gadget for long periods of time. It can also be collapsed to a smaller size when not in use, meaning the phone can still be put in a pocket or bag easily. This is a great choice for those looking for a gift which benefits charity – a portion of the profits are donated to non-profit organizations in the USA and around the world.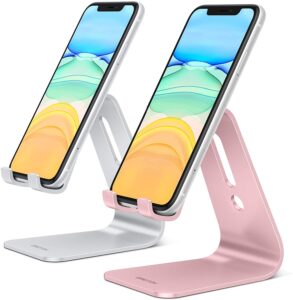 32. Pink Stuffed Animal Storage Bean Bag Cover
This storage beanbag is great for young ladies who don't like tidying their bedroom! It's a quick and easy way to keep plush animals, blankets and seasonal clothes tidied away, whilst doubling as a comfortable seat! The bag can fit around 70 or more stuffed animals, depending on their size, and once filled it is a great size for relaxing on.
The girls' bean bag is made from a strong cotton canvas and has a double zipper allowing easy access to the items inside. There is also a large handle which means the bag can easily be taken from room to room, even when it is full.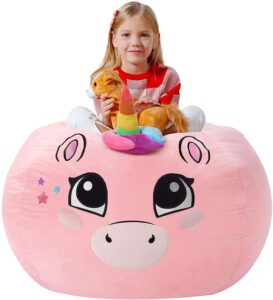 33. American Girl Stamping T-Shirt Design Kit
This fun crafting kit is ideal for girls who love American Girl dolls. The kit can be used to design t-shirts for children and their dolls, so little girls can make a matching set! There are stampers and ink, stencils and fabric markers included in the box, as well as two doll sized shirts. So, all you need to add is a t-shirt in your child's size and you'll be ready to start creating!
The t-shirt design kit is great too keep kids occupied for a few hours. It can also be shared with friends or sisters, as there are 2 doll items so they can make one each. You can also get plain t-shirts in child and doll sizes separately if you want to design even more – the supplies can be used over and over again until the ink runs out!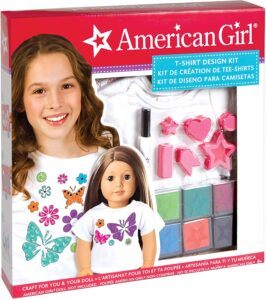 34. Zoomy 2.0 Handheld Blue Digital Microscope
This mini microscope is the perfect gift for girls who are interested in science. It is powered by USB, so when it is plugged into a laptop or computer, the object being magnified will appear on the screen! It can even take photos or videos, for viewing again later. Therefore, it's great for using as part of a science fair project.
The children's microscope comes in a choice of 3 colors – either blue, green or pink. It offers magnification of up to 54x, and gives high resolution images. The microscope is ideal for kids to use on their own, as it doesn't require slides to be prepared making it much easier to use than a standard microscope.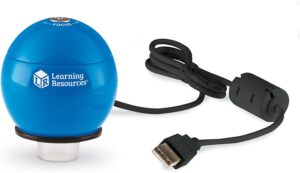 35. MukikiM eBird Pink Butterfly
This remote control flying toy is great for girls who are looking for something a little bit different. It has a range of up to 90 feet, and can be flown up and down as well as left and right. It comes in a choice of 4 different colors and styles, so there's something to suit everyone.
The RC toy can be charged in around 20 minutes, which then gives 10 minutes of flying time. The bird looks great as it flies – it flaps its wings and looks beautiful! It's sure to impress little girls. The bird can be flown either indoors or outdoors, and the controls are easy to master.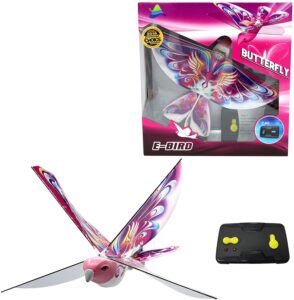 36. Enchantmints Musical Jewelry Box
This sweet jewelry box is perfect for young girls to store their treasures in. The heart-shaped box comes complete with a spinning ballerina, and also plays Swan Lake after being wound up.
The musical jewelry box would be great on a shelf or dresser in any little girl's bedroom. It makes a beautiful gift which will be treasured for years to come.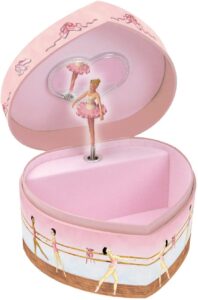 37. Candy Chemistry
This chemistry kit is ideal for girls who are struggling to get interested in science. It's great fun, as it can be used to make your very own candy which you can then eat! The kit is sure to inspire youngsters to get more into science. The kit even includes wrappers and foils, to make the candies look really professional.
The science set can teach children about how temperature effects different substances, crystallization and weights and volumes. The set comes with all the equipment needed to make delicious sweet treats – all you need to add is some everyday ingredients. This is a great, educational activity for parents and children to enjoy together as a family.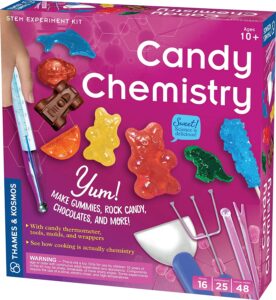 38. Disney Anna & Elsa Walkie Talkies
These long range kids walkie talkies are great for girls who love playing outdoors with friends. They have an easy to use push-to-talk system, without any fancy features.
The walkie talkies are ideal for use on camping trips, or for exploring in the woods. Kids will love roleplaying and having adventures using their walkie talkies! They can also be used indoors on a rainy day – they're great for imaginative play.
The character two way radios come in a range of styles, so there's something to suit every child's tastes and preferences. They also have adjustable volume controls, meaning they can be used in all scenarios.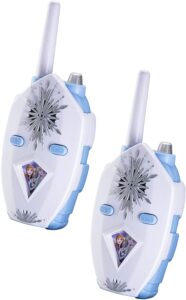 39. Fat Brain Toys Fold Origami Brainteaser
Brain teasers make awesome gifts for ten year old girls. this huge set offers loads of different puzzles to keep kids occupied for hours. It's perfect for taking on vacation or using on long journeys, as it doesn't take up much space either.
The kids brain teaser set is great for helping develop skills such as problem solving, logic and even attention span! The puzzles can be reused over and over again, and can be stored in the cardboard folder which is included. The answers are also included in case your child gets really stuck!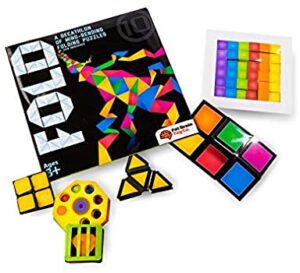 40. Kahootz Spirograph Deluxe Set
A spirograph set is a classic gift idea for a 10 year old female. This deluxe set includes 45 pieces, allowing kids to create an amazing range of designs and patterns. It also includes pens, paper and an instruction manual for kids who haven't used a spirograph set before. Everything can be neatly stored in the plastic case, making it ideal for on-the-go fun.
Children will continue to enjoy using this set to create amazing drawings for many years to come. Even parents and grandparents will love reliving their childhood with this classic toy! It's a great gift for ten yr old kids who already have everything they need, and are looking for something a bit different.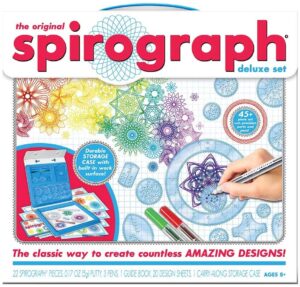 41. TOP Toy Led Gloves – Fun Toys for Girls who Love Lights and Sparkle
Girls love toys that have a sparkle and light-up twist, which is why this makes a great Christmas gift. These gloves can come in useful in many ways and add a fun activity to add to something they already enjoy doing, like bike riding for example.
These gloves add a level of awareness to a child using them. However, these are also great for games like "hide and seek" for a person seeking, it adds to the drama of the game.
The gloves themselves are very safe with a mesh material that is breathable and are lightweight for ease of use. They require batteries to make light-up, but with an extra pair included this will give them many hours of use. These toys are designed for ten yr old girls and ages around this up to 12 years old.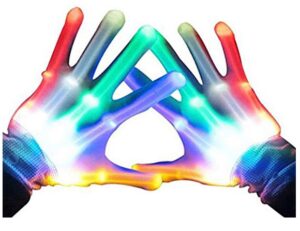 42. Bloxels Build Your Own Video Game
All ten yr old girls enjoy video games just as much as boys do, especially the building and creative ones, that are becoming increasingly popular these days. This type of video development game is great because it allows you to create your own version of the game in a practical, hands-on manner.
There are digital as well as physical and practical features that allow your daughter or niece to enjoy making their very own computer game. You can magic up some characters and motifs and comes with an accompanying app which is free to download to add some extra information and support. There is a massive range of features to create your gameboard in a variety of eight different colors.
You'll be free to create and craft for hours on end making fantasy games galore.  These kinds of games are the best presents for that 10 year old girl made to entertain and educate.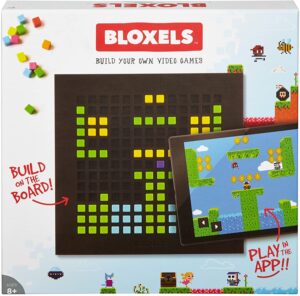 43. La Jolla Girls Cruiser Bike
This vintage design 10 year old girl bicycle is really sweet and cute, and has a grown up feel about it so any ten year old would enjoy riding it and impressing their friends right through into their teenage years. It is crafted from an aluminum frame that is lightweight yet strong, so the bike will last them for a long time, a good investment as a gift.
The wheels are made from strong steel and are 24 inches in diameter, and they have pretty whitewall details for that extra girly look. The seat is made of soft rubber and it can be easily adjusted as your daughter grows with this bike. It has a coaster break and very pretty detail of a basket on the front for that extra retro-style look – and it is also helpfully water resistant.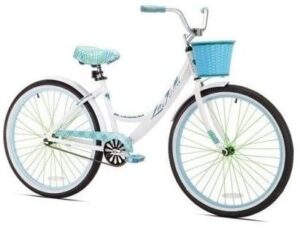 44. Kano Computer Kit 
For all the budding girly computer geeks out there, this build your own computer kit is a heavenly present. It has all the component parts (slightly simplified) for any young person to have the challenge of actually building their own, working computer.
Careers in computing are becoming increasingly part of the fabric of our society and many young people already know what they want to do, to follow their passions in electronics, for example.
This clever kit comes with an instruction guide, LED lights, a DIY case, a Pi 3, a power button, wireless keyboard, track pad, HDMI lead, power cables and fun stickers. Once completed there are hundreds of games to enjoy. This is a dream for any fan of computers and gaming gifts for a ten yr old girl.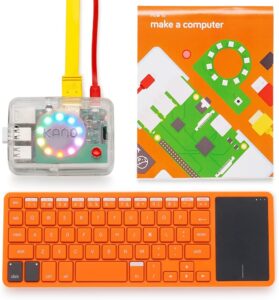 45. Kids Nail Art Set
Any aspiring nail technician or beautician at aged 10 years will be delighted to receive this present for their birthday or Christmas. It comes with a massive amount of nail art supplies, from 111 piece manicure and pedicure set as well as peel of nail varnishes which are safe and have all non-toxic ingredients so they are safe for your child.
It comes with 20 press on nails, and two files as well as toe separators and art sticks – there are hours of fun in this bright, cheerful nail art collection. Your child might want to play 'spa' or 'beauticians' with you or their friends so they can recreate this scene and play make believe with this fun kit that will last them for a long time. They can express their 10 year old selves creatively and freely!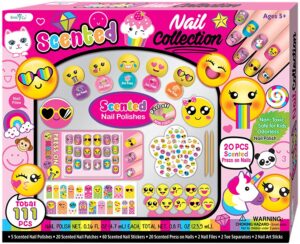 46. Girls Starter Make Up Set
One of the best gifts for 10 year old girls has to be makeup! What little girl doesn't love makeup? Many Moms out there will understand the pain of realizing that their daughter has raided their expensive cosmetics and completely ruined them.
So instead, it might be a clever idea to buy your daughter her own 'grown up' version of children's makeup – so she can express, create and enjoy the world of makeup without damaging yours! It comes specifically created for tweens, so it has high quality pigments that are on a good standard with 'real' makeup.
It includes a range of makeup and cosmetics as well as a guidebook with instructions as to how create certain looks and styles. It is recommended for ages eight and upwards and all contents are easily washed off. Is this one of those girl toys age 10 must-buys? Yes!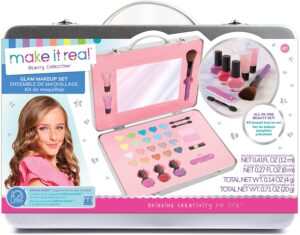 47. Girls Only! Secret Message Lab
This gift is a perfect example of combining secrets and science. Designed for use with friends, this Girls Only Secret Message Lab lets girls share with each other secrets and code.
The present allows them to find space and privacy when they feel like they need it most. Maybe they're talking about boys, maybe clothes, maybe about anything else. This kit will let them express themselves fully.
Whilst your little girl and her friend are sharing all of their secrets with one another, they're also learning the science behind it too. A good toy does many great things.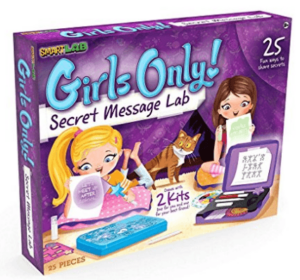 48. On the Go Friendship Bracelet Craft Set
As the little one gets older, you'll find out that she begins to rely more and more on the friends that she chooses to spend her time with rather than yourself. That isn't to say that she won't come to you for things too, but some things are just 'too embarrassing' to talk to your parents about. I've had it all from my daughter, trust me.
The friendships she forges at this age can be some of the most meaningful she'll ever make, and with this gift from Melissa and Doug, they can mark how special it is by making each other friendship jewelry.
Friendship bracelets have been around forever, and symbolize something very important. This set contains enough material to create at least ten unique and cool design patterns with beads, buttons, and instructions to help them along their way.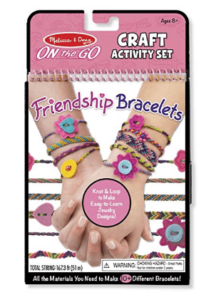 49. Bag of Unicorn Farts
Admittedly not every girl was made equal. Though all love unicorns, not all would love farts. But unicorn farts? Genius
Something about this gift is hilarious and so wrong at the same time. Your girls face when she receives this present will either be full of shock or laughter, but fear not, unicorn farts are strangely similar to cotton candy.
The company behind this has ensured that the unicorn farts are 100% magical and come from only free-range unicorns. The farts themselves are gluten free meaning that everybody can enjoy them. Perhaps best of all, 10% of all profits go to charities that support children with neurodiversity, what's not to love.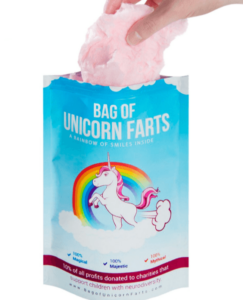 50. The Spa Deluxe Gift Set
As girls get older, it's only natural that they take in interest in wanting to look and feel good. This ideal gift from 'Creativity for Kids' helps them to achieve exactly that.
All the fun of a spa day without the costly price tag, this set comes with everything your girl will need to pamper Themistocles. Including a footbath, a nail dryer and more nail polish that you can count on one hand.
Whether your girl is having a sleepover, or just wants some me time, this gift is perfect for both and comes highly recommended by parents everywhere.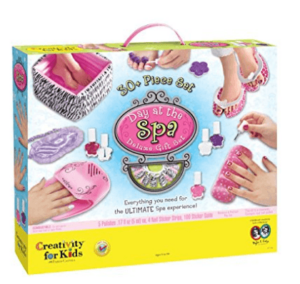 51. Science Academy: Perfume Lab
Coming from the Science Academy, this range focuses on mixing science with creativity. Perfect for those little aspiring scientists.
Your girl will learn chemistry, biology, and creativity to get a great product that she can wear and be proud of by the end of it.
The kit includes everything you need to make several of your own perfumes and instructions that talk your girl through extraction of essential oils, the science behind what makes something smell nice, test tubes and a spray bottle amongst other things. You'll love this gift as the house will smell great after every use.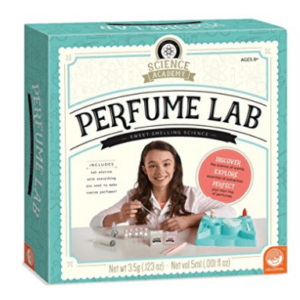 52. To The Moon and Back Photo Frame
Sometimes a gift isn't something that needs playing with. Sometimes a gift needs to be something touching, something sentimental, and that's exactly why we've chosen this beautiful photo frame by Mud Pie.
As girls start to grow up, they sometimes need to know that you're there for them, even when you can't be. This photo frame will comfort and remind a little girl of the memories that you make with each other whilst letting them know how much you love them. A great addition to any bedroom that will warm the hearts of anyone who sees it.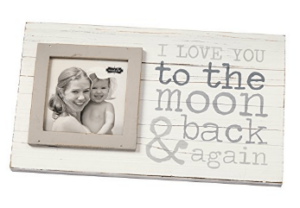 53. Butterfly Diary with Lock
Privacy is going to be a hard lesson learned when redefining boundaries of a girl who has begun puberty. She'll want space, she'll want freedom and she'll want to be able to keep secrets safe in the knowledge that nobody will ever know.
This gift helps a girl feel safe in the knowledge that her secrets are just that secrets, whilst also managing to look elegant at the same time. The pink butterflies sparkle to illuminate a girls imagination. the lock comes with a key that the little one can safeguard however she wants.
Writing down thoughts and feeling has proven to be a healthy habit and helps developing mind understand themselves better whilst also improving the quality of their writing.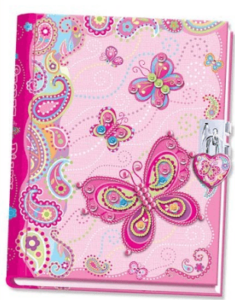 54. Harry Potter and the Sorcerer's Stone: The Illustrated Edition
Harry Potter was only ten when the mysterious letter from Hogwarts started to arrive by owl at his door. The perfect time to spark a child's imagination with the introduction to the magical wizarding world.
This beautifully illustrated edition keeps kids entertained by the wonder and the magic that this book evokes. A whole new world, invisible to the simple 'muggles'.
This is a great present for any girl who loves to read and wants to further develop their ability. The book is an international bestseller and is widely regarded as the best series in modern history and for good reason. I love it, and I'm sure your child will too.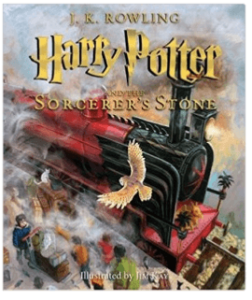 55. Knitted cotton Hat with

Earflaps

Just as important as gifts that are fun and creative, are gifts that are functional. Add functionality to unbelievable cuteness and you'll quickly arrive at this winter hat from SurBlue.

This hat is delicately handwoven from the best cotton available to ensure warmth, snug fit, and quality. Cotton is much softer and less irritable than wool, it's also less prone to wear and tear meaning that this gift will last a lot longer than some of its woolen counterparts.

The 'flaps' are long enough to double up as a scarf meaning that your little one will stay warm even when the weather isn't. The little-embroidered whale on the front only serves to add an extra element of cute to the design.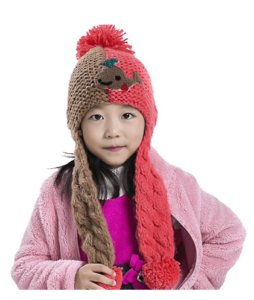 56. All-Natural Lip Balm Boutique
Soft lips are a must when you're a little girl, or so my daughter keeps telling me.
I love this kit because it's made purely from what nature has to offer. Meaning that your daughter will be putting no harsh chemicals on her face or in her mouth.
This gift will allow our daughter to make and learn the science that goes into making your lips nice and soft.
The six mold included allows your daughter to express herself by creating her own brand design too. Maybe one day she'll go on to market her product!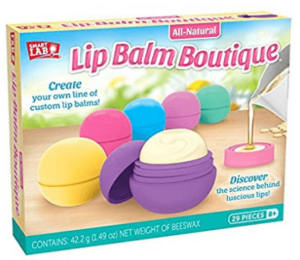 57. Create Your Own Spin Art Kit
Developed by Swiss artist Alfons Schilling in the 60s, spin art is the process of adding paint to a canvas that is spinning.
This gift not only brings European culture into your home but also allows your little girl to express her creativity and allow her to explore the reaction between different speeds of spin, how the paints react with each other when spinning compared to stationary and much more.
Make art you can frame with this kit from 4m. In the box, you will find 20 paper sheets and 3 tubes of colored paint. Any pain will work with this fun and imaginative toy.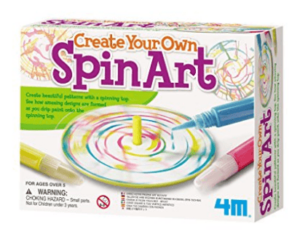 58. Karaoke System with Disco Lights
Girls love to perform. Whether singing, or dancing, or both, this machine will enable them to do it.
Performing such things increases confidence in themselves and also develops their ability to handle the pressure felt from being watched by their peers, parents or others. An important aspect of developing for adult life.
This machine comes with connecting cables that allow you to have scrolling lyrics on your tv screen, adding to the authenticity of your favorite karaoke bar. With two microphone jacks, duets have never been so easy, and see those dials on the front? They do exactly what a voice synthesizer does, only without all the expensive equipment.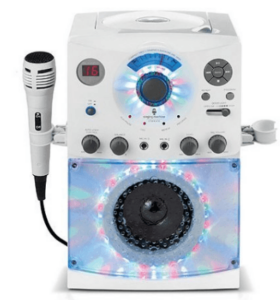 59. Sparkle Tattoo Parlor – Peace and Love
Girls love to dress up and make belief, although as they get older, the costumes change and so does the acting. This sparkle tattoo parlor reflects the age of a child. When they're moving away from Disney princess and moving more towards wanting something a little bit rebellious, this harmless gift will count for a lot.
More adept than just your normal 'lick and stick' temporary tats, the Alex Spa tattoo parlor includes stencils and brushes, along with glittery powder paint to enable them to apply their very own tattoo. To themselves or you!
A great gift for fashionista's who want to match their tattoos with their outfit.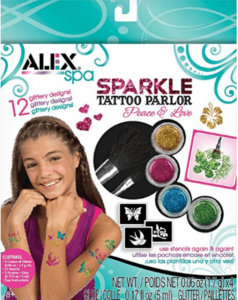 60. Rad American Women A-Z: Rebels, Trailblazers, and Visionaries
A book that belongs on any young girl's bookshelf. Having heroes to aspire too is so important, and in this age of female empowerment, it's good to recognize the female heroes of our time and the past.
This gift will show little girls everywhere that it's okay and fine to be different. That sometimes being different means that you'll go on to achieve great, wonderful and noble things in your life. It will help them realize that even though they're 'just a girl', they can achieve anything they can possibly dream of.
Creating a strong feminist Foundation, this book is a must-have. Written by Kate Schatz, it quickly came to be on New York Times bestsellers list.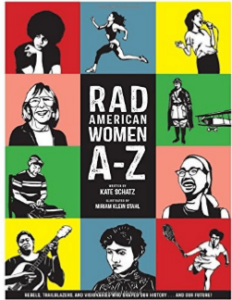 61. Franklin NHL Indoor Sport 
Good for indoor and outdoor use. This 2 in one hockey set by Franklin is perfect for those girls who want to become a famous hockey star one day.
The set includes 2 indoor sticks, 2 outdoor sticks, 2 sets of goals, 2 foam balls and 1 hardball. Everything you need for your girl and a friend to have a great game of hockey. She and her friends will love this present.
Perfect for indoor or outdoor fun so you can play no matter what the weather is like. Helping kids to stay fit and active whilst also finding new hobbies for them to try out is just as important as any other type of learning and should never be overlooked when considering gifts.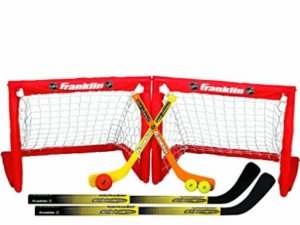 62. Fashion Studio by Creativity for Kids
Fashion is a big part of the female culture, and becoming aware of it can ignite a strong passion for design within some girls and it's only natural that they'd want to develop and explore their curiosity.
Creativity for kids has really hit the mark with this product. The set contains everything needed to express one's individual style and artistic side. With non-toxic fabric, not only is the gift fun, but it's also safe for the environment. Perfect for the environmentally aware designer of the modern world.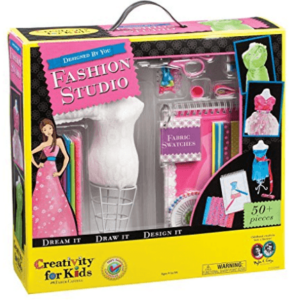 63. Girl's Charm X Boa Inline Skates
Skates have been around much longer than me, and they have aged considerably better. When I was a child, I'm pretty sure inline skates hadn't been developed yet. But for over a decade now, they've established themselves as the only way to wear wheels on your feet.
Fun, fast and sporty, these skates from K2 certainly look like a force to be reckoned with.  An easy to use closing system means that even children will be able to lock their feet safely into position. With the extra padding. your girl can ride around all day in her new present without her feet getting even the slightest bit sore. Coupled with the uber cool design, it's easy to see why these are so popular.
All that, coupled with the uber cool design, it's no wonder why this particular skate is so popular.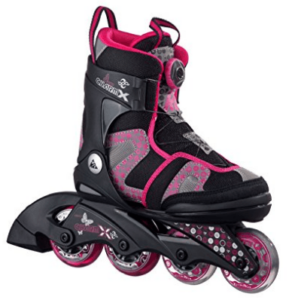 64. Pink Guitar Starter Package
There are so many musical icons of past (and present) that have represented social and cultural change within our great country. Dolly Parton for example, is an idol that has surpassed time, race and gender and is loved amongst all. Some children have an innate musical ability and need a creative outlet.
This 38-inch guitar is the ideal size for a child who wants to learn the instrument without having a big cumbersome object to lug around with them. Coming with a bag, extra strings, pick, strap, pitch pipe tuner, and a pickguard, it has everything you need to perform their very first gig.
If you feel like pink wouldn't be the best color to choose from, fear not, this gift comes in a range of different colors so you can find the one that suits your daughter no matter what her taste is.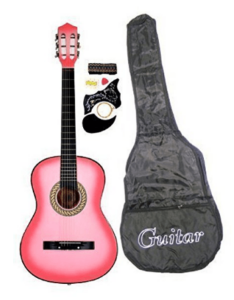 65. Create Your Own Crystals
Clemontoni is an Italian company that has made a reputation for itself through great quality products that help kids learn and understand complex scientific methods in an easy to explain way.
This specific grow your own crystal kit is aimed at girls and the instruction manual allows them to grow crystals in all kinds of shapes. From elephants to dolphins, they'll have tons fo fun with this present.
Adult supervision is required, which means that your daughter has explained exactly what she's going to do and how she's going to do, you can sit back and observe your young scientist at work.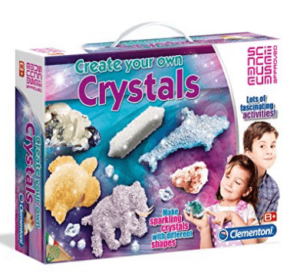 66. The Sleepover Party Game
As girls get older, their friend circle expands and includes much more people than it did only a couple of years prior. Although in this growing amount of friends, girls tend to have only a few ones that they would consider close. This elite group of friends are the ones that your invite over to sleepovers. Did someone say sleepover, Yayyyyyyyy!!!!!!
With over 200 different ways to keep the girls entertained, you can relax comfortably knowing that all night, they'll have great entertainment that will keep them occupied.
Having people over to sleep is a great bonding experience and being able to laugh at one another and yourself will only strengthen the bond that they'll share.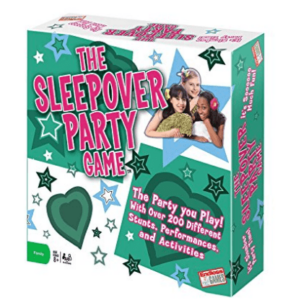 67. Roseate Girls Waterproof Jacket 
This sports lightweight jacket is outerwear at its best. Who said outdoor adventure was just for boys! The folks at Roseate never got that memo and designed this wonderful outdoor jacket, designed specifically for the young female adventurer.
This lightweight coat comes with a waterproof polyester shell meaning that it will hold up even in the rainiest of conditions. The breathable seams allow for sweat and moisture that develops on the inside to escape so your girl is always comfortable. The hood will keep the rain from the face and head whilst the elastic cuffs will make it an even tighter fit.
This would make a wonderful gift if you're trying to encourage your girl to get outdoors more and explore the great American wilderness, and because it's made by Roseate, you know that it will hold up against its competitors.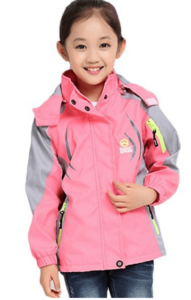 Best Gift Buy 
La Jolla Girls Cruiser Bike
This pretty vintage design bike really stands out as a Best Buy. It is the sort of bike that any girl would wish for. It is lightweight, yet strong and has an amazingly stylish design, appealing to tweens and teens, so as your daughter grows into her early teenage years, she will still find this bike very suitable. The whitewall style tires and practical yet pretty basket provide extra stylish elements that just make it such an attractive, yet sensible purchase as a gift for any ten-year-old. The basket being water resistant and the adjustable seat are extra details that make this bike a winning choice.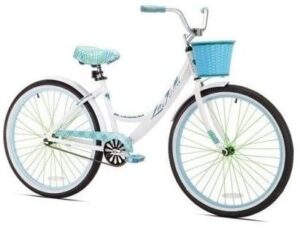 Toys for Girls Aged 10 years old
There is a massive amount of choice for gifts for ten yr old girls in their early tweens, from computers and gaming, to musical toys, to building games, creative toys and even more grown up dolls that they can enjoy. A creative style toy is always a good bet, because not only does it provide occupation and hours of fun and enjoyment and creativity, but it also means that they produce and outcome that they can use as a toy in itself, or a keepsake or even give as a gift to someone else. The options are endless when you buy them a sewing kit gift like this one. It is great for a lazy summer's afternoon or a rainy day and has many different accessories provided, like felt shapes, embroidery floss, stuffing and fabric as well as those attractive tools for any seamstres, such as a measuring tape, pins, needles, a pin cushion and much more so even when they have finished their creation, they can reuse these accessories for future projects.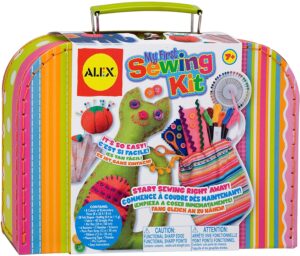 Good Birthday Gifts for 10 Year Old Girls 
Sometimes a birthday is particularly special. When a girl turns ten, of course, she is into double digits, and feels instantly more important and grown up. So, a great type of gift to buy for a tenth birthday is a piece of real, grown up jewelry for your child. This 10th birthday themed charm bracelet is silver plated and has gorgeous features and charms, such as a happy birthday charm, a butterfly and a number ten charm. There is also a pretty candy heart and diamante clip to hold it together. It is available between 16cm and 18cm and as such will fit a range of sizes. You can add even more charms at future birthdays and special occasions. A very fitting and memorable gift for such an important birthday.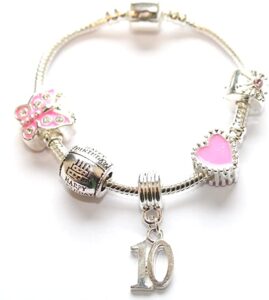 Lip Balm Kit – Cool Presents for girls who enjoy crafts and Girl Stuff
The lip balm studio is a fun activity for girls who enjoy being creative, like lip products and have the patience to make it. The kit comes with 22 pieces of makeup and will give them hours of creative time spent making them. All of the products are colorful and safe for children to use and put on their lips.
Included items: 
4 flavor tubes, 5 pots for mixing, 3 glitter pots, bag, base, sticker sheet and mixing tools for preparing the balm.
This is a cool gift set for ten yr old girls who like fun colorful activities with their friends or quietly by themselves at home.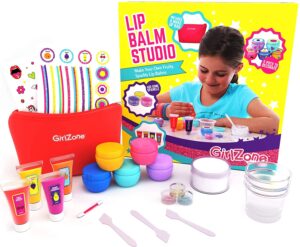 Types of gifts available for a girl aged 10?
There are loads of great gifts for 10 yr old girl. There are traditional gifts such as arts and craft kits or beauty-related gifts. Pre-teens also tend to enjoy tech gifts such as robotic toys or small gadgets, for example, the phone holder we have included here. There is so much choice for young girls, it's best to judge what they would like based on their personality and interests and hobbies.
Check out the following video for some more gift ideas:
How to Pick Christmas Gifts that 10 yr old girls will love?
There really is not much difference for a girl aged 10 about Christmas presents or birthday gifts, it's really the same thing, just make sure to pick different wrapping paper. However, I always think getting something with a little remembrance of the Christmas spirit is important. That's why an added gift for a good cause, might be a good idea. This is great for teaching the act of giving which is something that a child often can appreciate or begin to at this age.