Wondering what to buy a 3 year old boy? Buying gifts for toddlers isn't always easy – there are so many great options to choose from, and many toddler already have loads of toys at home. So, when choosing gifts for 3 year old boys, how do you know what to go for? There are many things to keep in mind when buying gifts to ensure you pick the best options, and we will take a look at some of these below.
We have also picked out a whopping 81 of the best toys for 3 year old boys and reviewed their key features. After reading these reviews, you are sure to have some great ideas as to what makes a suitable gift for a little boy who is turning 3. Our gifts are perfect for all occasions, whether it's his birthday, Christmas, Easter, or any other time you want to give him a little treat. So, sit back and relax and enjoy our great gift ideas!
Considerations Choosing Gifts for 3 Year old Boys
As mentioned above, there are a few things to consider when looking for the best gift ideas for a little boy. First, his age – three years old. There are a lot of great toys for the preschool age group, so be sure to choose something intended for use by toddlers of this age. If the age recommendation is higher, the toy could be dangerous or too difficult for a 3 yr old to use. On the other hand, don't choose a toy that is too babyish and won't challenge or entertain a toddler boy.
Also, it's best to choose from a reputable brand that uses high-quality materials that you know won't break easily. All parents of toddler boys know how rough they can be on their toys at times! We have picked toys and gifts from some of the best manufacturers which have been known and loved by parents and children for many years. Think about the budget you have to spend on the gift too. We have some small, budget-friendly items, as well as 'big' gifts to really spoil him with. There is something here to suit all budgets, no matter how much you are willing to spend. We even have a best buy and a best budget option at the end of the guide.
81 Best Gifts 3 Year Old Boys
Now that we know a little more about picking gifts for little boys, we are going to review 81 of the best options we have found. Parents and children alike love these products, and we are sure your little one will love them too.
1. Paw Patrol Lookout Tower Toy
The first of our awesome toys for 3 year old boy is this massive Paw Patrol tower, which stands at a whopping 32 inches tall! It is simply perfect for any little guy who can't get enough of this immensely popular show. The tower has lights and sound effects which are sure to appeal to youngsters. Some of the sounds include the characters' signature phrases – boys will love hearing their favorites over and over again! There's a slide at the top of the tower to send the pups and their vehicles racing down, ready for an important rescue mission!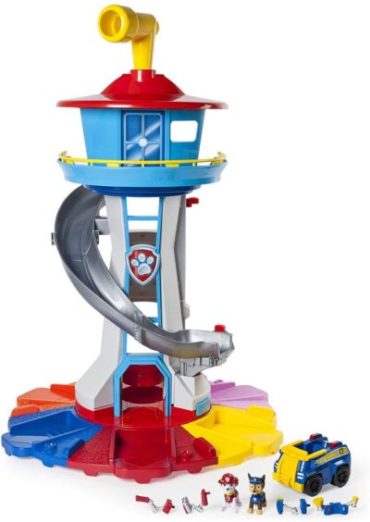 2. Voyage Sports Scooter

A scooter is one of the classic 3 year old toys and this one is perfect for the younger age group as it has three wheels to make it easier to learn to ride. The lean-to-steer function means it's easy for toddlers to get to where they want to go, and the lighting up wheels mean they can get there in style! There are three color options to choose from and the scooter can hold up to 80 pounds. The size is ideal until a kid reaches the age of around 5 – the handle is adjustable to a maximum height of 27 inches.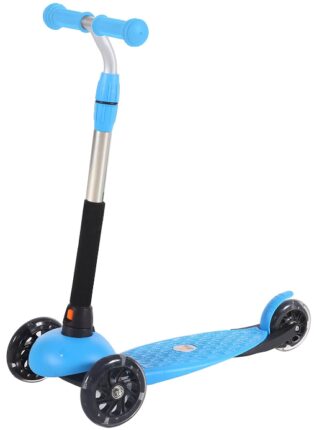 3. Lincoln Logs Tin

The next of our 3rd birthday gift ideas is the classic toy Lincoln Logs. This set comes in a tin and contains over 110 pieces to build with, and it looks just like it used to when you were a kid! There are three ideas in the manual of models to build, so it's a great toy for teaching your little one how to follow instructions. Or of course, they can use their imagination to come up with their own models. The pieces are made from high-quality real maple wood and are sure to withstand the rough play your toddler might throw at them.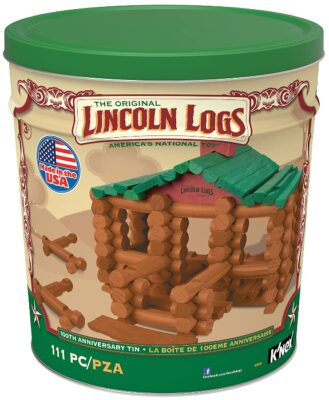 4. USA Toyz Rocket Tent

Play tents make for excellent 3 year old boy birthday gift ideas because at this age they are starting to use their imagination a lot when they play. They will have hours of fun pretending to be an astronaut on a mission to the moon in this tent! It is easy to assemble and comes with a storage bag to keep it safe when not in use. The door can be rolled up or left down and the window is made from mesh for improved airflow and visibility. As an added bonus, this tent comes with a projector and 24 space images – kids will be mesmerized to look at these inside their new tent!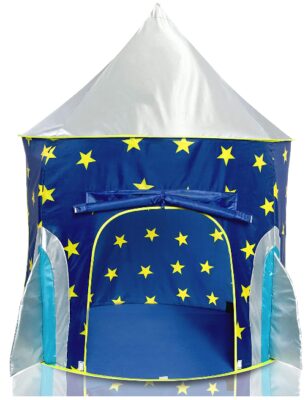 5. Super Engineer Building Set
When it comes to Christmas presents for 3 year old boy, something that can help them learn whilst still entertaining them is always going to be a winner. That's why we had to choose this building toy. It has 160 colorful pieces in all different shapes and sizes. It's great for building STEM skills as well as creativity, and, not to mention, it's loads of fun too! There is a sturdy storage box included to keep the pieces and any models stored neatly together when not in use.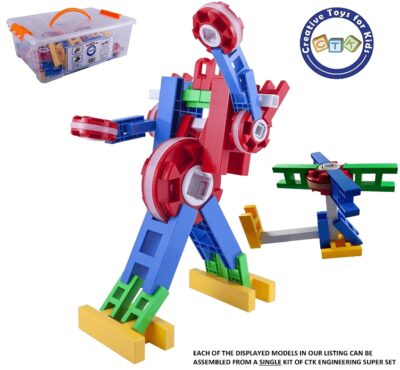 6. iPlay iLearn Construction Site

Trucks and cars make some of the best toys at this age – they can never have too many vehicles to play with! This set comes with a range of construction site vehicles, such as a bulldozer, forklift, and crane, as well as many different accessories to bring the construction site to life! The pieces are made from high-quality ABS plastic and there are almost 80 pieces in total in the set. Boys will have hours of fun using their imagination to come up with new scenarios with the trucks – they'll never get bored of this set!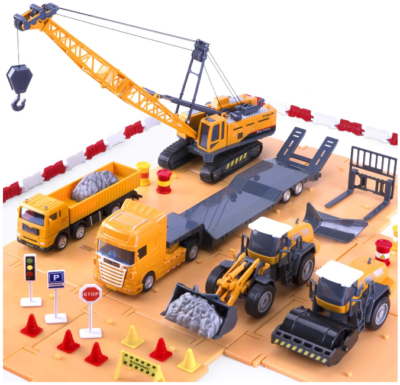 7. Kidzlane Drill & Accessories
Our next pick is this awesome toddler drill – perfect for boys who want to be just like dad! There are 20 accessories included, such as a tape measure, safety goggles, a wrench, and nuts and bolts. Everything comes in a handy carry case which can be used to keep the pieces neatly together after every playtime. The drill makes realistic noises when the buttons are pressed, which makes it even more fun for young toddlers.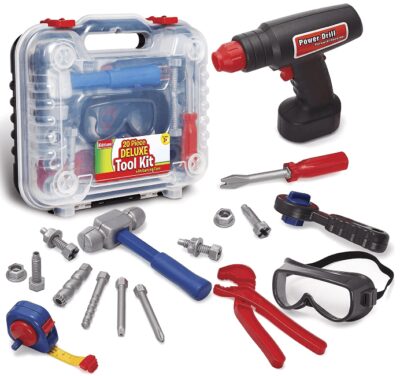 8. Superhero Capes

Dressing up is a fun activity to do at a three year old birthday party and these capes are perfect because there are 14 included, so everyone can join in the fun. There are also 14 masks included in matching colors. There are 7 different colors of masks and capes, so boys are sure to be able to find their favorites. The capes are made from soft satin material and the masks are held in place with elastic, which isn't irritating to wear.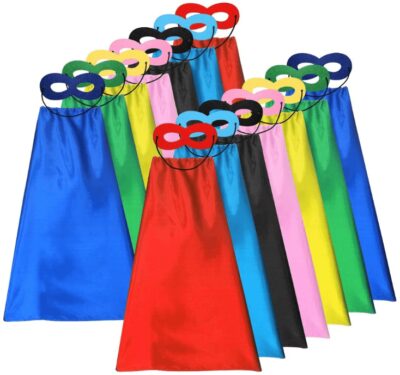 9. Adventure Kidz Exploration Kit
Our next pick is perfect for boys who love exploring the great outdoors. The adventure kit comes with everything a toddler needs to transform himself into an explorer! There are binoculars, a flashlight, a whistle, a compass, and a magnifying glass. Everything comes packed in a bright green drawstring backpack which is excellent for ensuring your toddler remains visible when outside. Kids will learn so much when using these items either outside or even for playing imaginative explorer games around the house.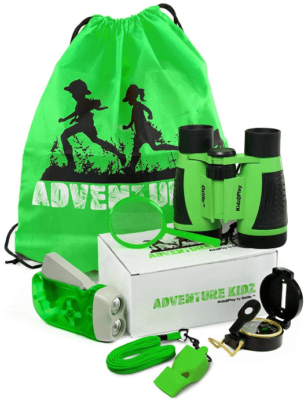 10. Take Apart Truck

If you have a budding engineer on your hands, this take-apart truck is a great gift idea. It comes with a screwdriver and a power drill for toddlers to take the pieces apart and rebuild them again and again. It's ideal for boys who love to figure out how things work! When assembled, the truck can move forwards and backward and has lights and music to keep them entertained as they play with it. The scoop can be adjusted too, so boys can pretend they are loading and unloading some rubble on their construction site!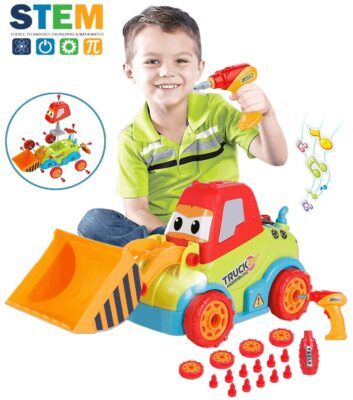 11. Little Tikes Basketball Set

Little Tikes has some excellent presents for toddler boys such as this basketball set, which is adjustable in height to accommodate rapidly-growing boys. There are six different height options, ranging from 2.5 to 4 feet. The set also comes with three basketballs and has a wide rim to make scoring a little bit easier. The set can be used both indoors and outdoors, and it's possible to weigh the base down with sand to make it more stable when used outside. Boys will love to practice shooting alone, or having a game with their friends!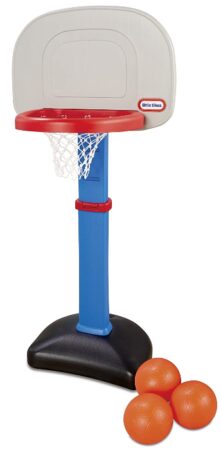 12. Geospace Jumparoo

Pogo sticks might not be the most popular toddler toys, as they can be quite difficult to ride. However, the Jumparoo gives toddlers all the fun of a pogo stick on a toy which is much easier to use. There is a soft handle, strong bungy cord, squeaker in the base which makes a fun noise with every bounce, and a foam footrest, which is surprisingly strong and durable. This toy is excellent for keeping young boys healthy and active and to burn off some excess energy.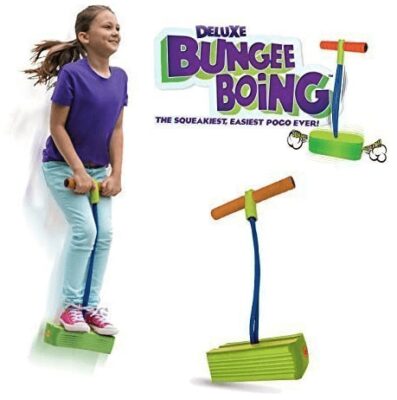 13. Top Bright Fishing Game

If you are looking for a gift that is both fun and educational, this fishing set is perfect. Boys will love the physical challenge of catching the fish using the magnetic rods, and they can also learn the alphabet at the same time. Each of the 26 wooden fish features a different letter of the alphabet, so you could try asking your boy to catch a particular letter, or catch them in order from A-Z for example.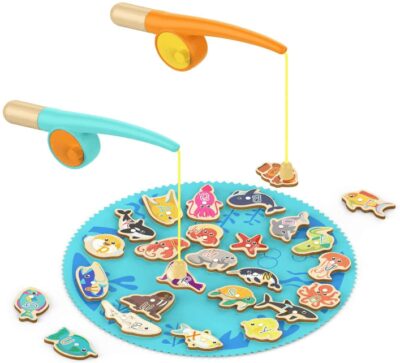 14. Take Apart Racecar

Cars are excellent Christmas toys for toddler boys – they simply can't get enough of anything with wheels! This one is especially good for entertaining youngsters over Christmas because it can be taken to pieces and rebuilt, so it will keep them busy for hours as they figure out where everything goes and learn about how the car works. There are 30 pieces to build, and an electric screwdriver is also included to make it easier to put the pieces into place. There are even sounds and lights to make this toy even more interesting and appealing.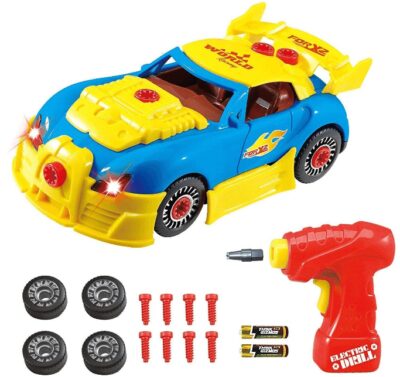 15. Airmoon Nature Kit

Next on our list of great gifts for 3 year old boy we have a nature explorer kit, perfect for encouraging him to spend time outdoors. The kit consists of a drawstring backpack filled with a pair of binoculars, a flashlight, an insect viewing tub, a compass, a whistle, a magnifying glass, and insect stamps. Boys will love making sure their bag is packed with everything they need and taking their kit everywhere they go!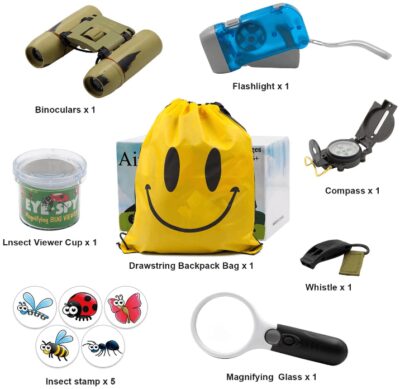 16. Peg Perego John Deere Tractor

This could be one of the best Christmas gifts for 3 year old boy! If you are looking for a bigger gift, this is an excellent pick. Boys love tractors at this age, and an electric ride on is always a winner. There are two speeds, 2 or 4.5mph, and the higher one can be restricted whilst your boy is learning to drive the tractor. The tractor can also be driven in reverse. It's easy to drive using the accelerator pedal, and the brakes are automatic when the accelerator is released. the tractor is fitted with an FM radio, adjustable seat, armrests, and even a trailer for carrying their load.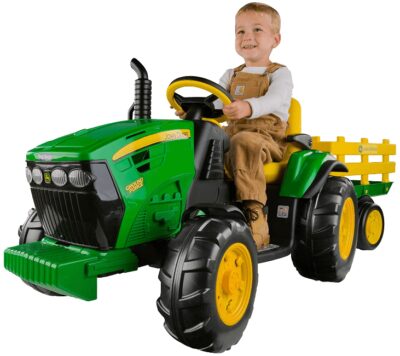 17. Adventure Kids Outdoor Exploration Set

Here we have another fun explorer toy for toddlers who love getting out and about and learning about nature. The set consists of a backpack filled with items such as a butterfly net, flashlight, binoculars, compass, magnifying glass, and even a hat to make your little one look like a true explorer! The set comes in a choice of either yellow or orange.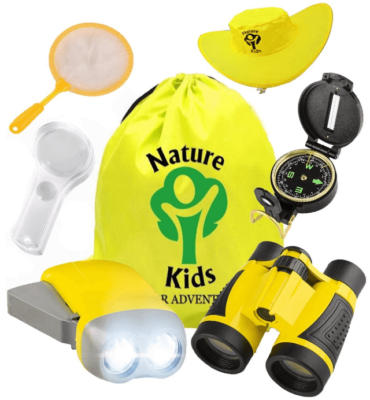 18. Police Officer Costume

Dressing up costumes make excellent three year old birthday gifts, as they love to role play at this age. This one will transform your little boy into a police officer, with a jacket, hat, walkie talkie, handcuffs, whistle, badge, name tag, and ticket. The materials used in making this costume are high-quality, and parents will be glad to know the jacket can be machine washed and the name tag can be wiped clean if another child is having a go.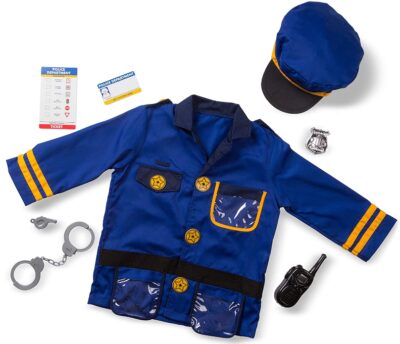 19. Fisher Price Tough Trike

A trike is one of the best 3rd birthday gifts and this one is super tough and durable – ideal for the rough and tumble little boys so often enjoy. The pedals are large and the handles easy to grip, so toddlers will have no problem learning to ride this trike. The wheelbase is wide to ensure the trike doesn't accidentally topple over, and it is suitable for children up to the age of 5 years.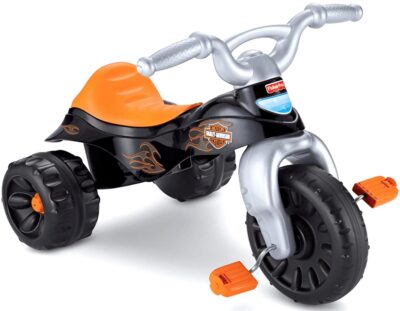 20. Play22 Car Transporter Truck

Toy cars always make for excellent little boy gifts and this truck is perfect if they have a large collection of cars and need somewhere to store them. It holds up to 28 cars, and it comes with 6 included. There are also accessories included such as barriers and traffic cones, all of which can be stored inside the truck too.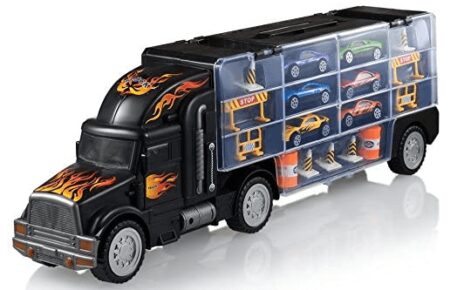 21. iPlay iLearn Golf Toy

Sports toys are excellent gift ideas for toddler boy if he wants to be just like dad! This one is perfect for the son of a keen golfer and is a great way to get him introduced to the sport from an early age. The set comes with 15 golf balls as well as a club with two different heads, and the main ball feeder unit. The length of the club can be adjusted from 22 – 30 inches, so it is perfect for growing children.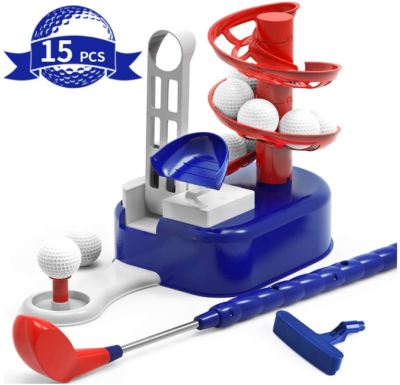 22. Tonka Mighty Dump Truck

A Tonka truck is one of the classic toddler boys gifts and this large dump truck is sure to go down a treat. It has a movable bed so it can really be used to dump loads of imaginary rubble, or for shifting toys! The truck comes with a lifelong guarantee, so you can be sure it is made from the highest quality materials. The bed is made from steel and the rest of the truck is made from durable plastic.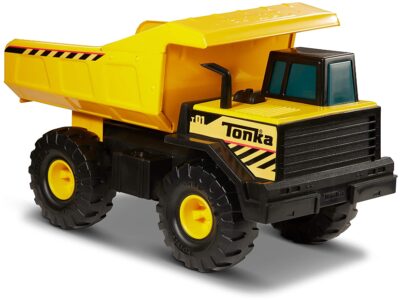 23. LEGO Duplo Fire Truck

Duplo is one of the most popular and classic toys for 3 year old toddler and this fire truck set is sure to have wide appeal. It has 26 pieces to build, so it's perfect for beginner builders as it is nice and easy. The set comes with a fire truck, a house, a fire, as well as a firefighter figure. The crane on the fire truck moves up and down and the fire hose can retract, so boys can have fun pretending to put out fires. The window of the house also opens and closes.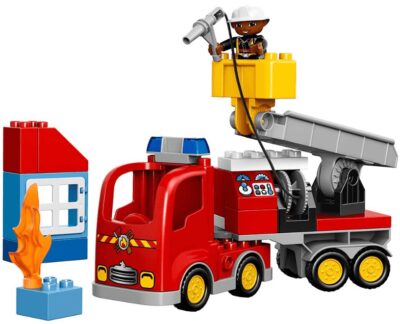 24. Toddler Action Cam

If you are looking for a unique gift for 3 year old boy who has everything, this action cam is an excellent pick. It can record videos in 1080p HD quality and is perfect for capturing their adventures both inside and outside the house. There are also 3 games built in to the camera to play, and it comes with a 32GB SD card to ensure there is plenty of storage space to save the videos for later viewing. The video is recorded at a rate of 30 fps and can also take 5MP quality photos.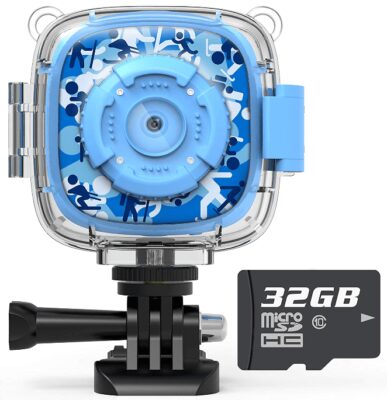 25. Betheaces Water Drawing Mat

Halfway through our guide to the best 3rd birthday gift ideas for boys we have this aqua doodle mat. It's ideal for toddlers who love drawing, and parents will love it as it doesn't make any mess! It comes with a pen that is filled with water, and when the water is applied to the mat, it creates drawings as if by magic. So, it doesn't matter if the pen is used on the carpet, walls, or furniture, as it will simply dry in. The mat comes with stencils and various drawing ideas to inspire toddlers.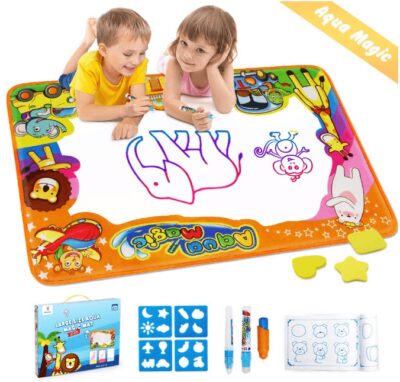 26. Drawing Stencils Pack

Drawing sets make for some of the top toys at this age, and this stencil set is an excellent idea. It comes with more than 50 pieces and even includes a case to keep everything in. There are more than 300 shapes on the stencils in various themes such as ships, different types of animals, dinosaurs, alphabets, and more. The set also comes with paper, colored pencils and a sharpener, so toddlers can start drawing straight away.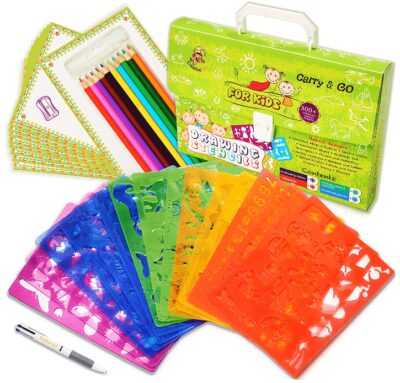 27. ETI Toys Engineering Set

Building sets make for excellent toys for a 3 year old boy and this one is sure to keep him busy for hours. It comes with 101 pieces including some tools to help assemble the pieces together. The set comes with a plastic tub to keep all the pieces neat and tidy when not in use, and it also includes an instruction book featuring 12 different design ideas for boys to try and build. The models are at different levels, so this set will keep boys entertained for many years even as they get older and improve their skills.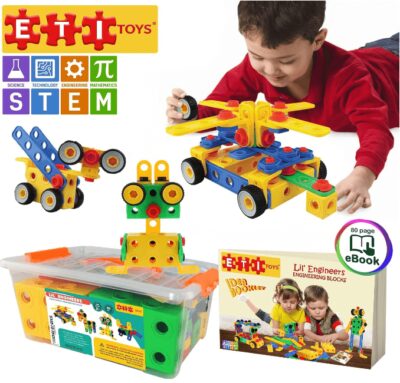 28. Delta Children Storage Chair & Desk

If you are wondering what to get a three year old for his birthday other than toys, how about this awesome 2-in-1 desk and chair? It has a storage drawer underneath and the table has a removable cup holder for drinks or pens and pencils. The chair is sized just right for 3 year olds up to the age of 6 and can hold up to 50 pounds. It comes in many different character designs, so you are sure to find your child's favorite.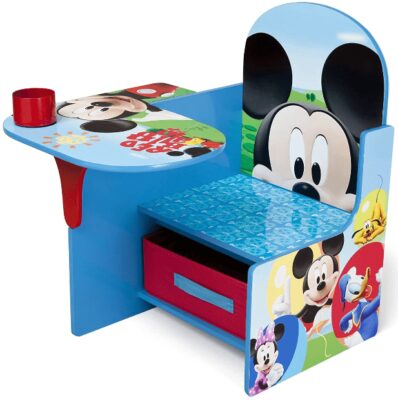 29. Play22 STEM Building Toy

Here we have another excellent building toy with 165 pieces to keep him occupied. The pieces include square, rectangle, and triangle tiles, balls, rods of different lengths, and wheels. Boys will have hours of fun using their imagination to build different models, and will be developing their STEM skills as they do so. This set will keep your boy entertained even as he gets a bit older and learns to build some of the more advanced designs included in the booklet.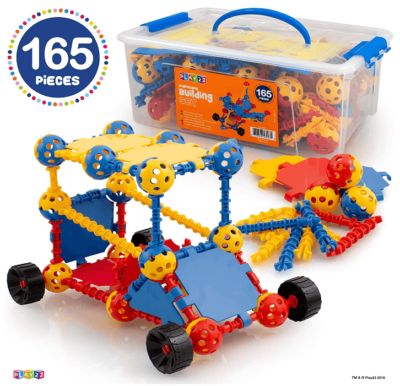 30. Dreamingbox Walkie Talkies

Walkie talkies are some of the best toys for a toddler boy as they can be used when playing at home, or taken out and about for some real exploring! These ones have a range of 2 miles, so they are perfect for taking outside. Toddlers can go with one parent and keep in touch with the other – they are sure to find this loads of fun! The radios are ergonomic even for little hands, and have crystal clear sound quality to ensure easy communication is always possible. The radios are also equipped with a belt clip so they are easy to carry and won't get lost.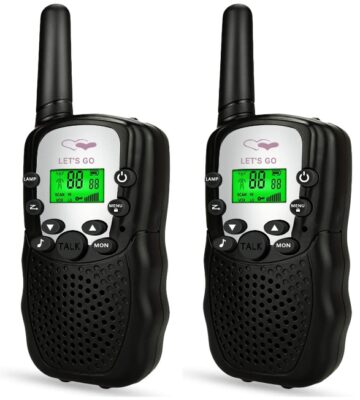 31. KidKraft Andorra Swing Set

Swing sets are excellent gifts for a 3rd birthday and this one is full of fun features and is sure to keep him entertained for many years. There are two belt swings, a slide, a climbing wall, a sandbox, and a lookout tower covered with a canopy. The set is perfect for sharing with siblings or using on a playdate or party – it can hold up to 7 children at a time, each weighing up to 110 pounds. So, this set is sure to be used for many years to come. For added fun, there is a chalkboard at the top of the tower if toddlers want to chill out a little and draw instead of running around!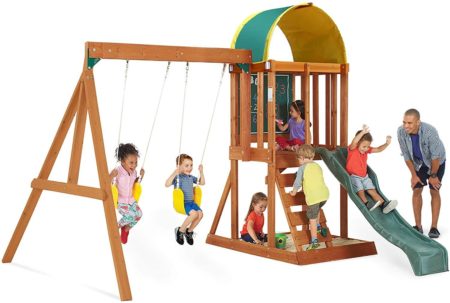 32. Best Choice Products 12V Truck
A power wheels truck is one of the best outdoor toys for 3 year old boy, and this one is powered by a 12V battery to give it a maximum speed of just under 3 mph. The truck has an adjustable seatbelt for safety, LED headlights, locking doors, and more. There are both forward and reverse gears and the truck can be driven manually or parents can control it using a remote control. This is perfect for beginners, then they can take the controls themselves once they are older and better in control of the vehicle.
There is an AUX connection so toddler can play their favorite music as they ride along. The maximum weight capacity is 61 pounds, so boys are sure to have years of fun with this truck.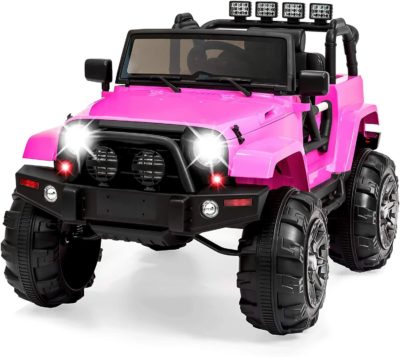 33. Strider Balance Bike
A balance bike is a great way to encourage toddlers to learn how to ride a bike – it requires them to learn to balance, whilst the pedaling comes later. They are thought to be more effective than learning with training wheels, as toddler have already learned to balance, which is the tricky part. Strider is one of the top brands in this area, and this bike can grow with your child until they are around 5 years old. It comes in a choice of different colors and has a steel frame for maximum durability. The tires are puncture-proof, so this won't be a worry when they are riding – this is one of the best ride on toys for 3 year old boy.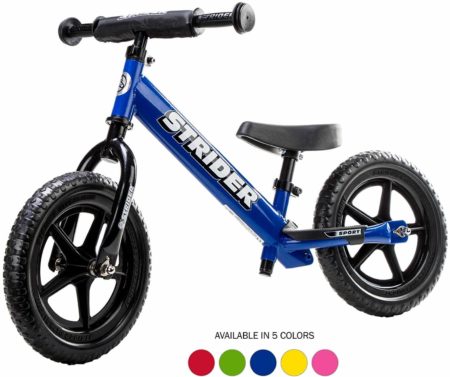 34. Templeton Counting Bears
Next up, we have some educational toys for 3 year old boy. This counting bears set is all about helping toddlers learn to recognize colors, sorting them into groups, as well as learning to count and perform basic addition and subtraction. The set is also ideal for promoting fine motor skills, as a set of tongs are included for picking up the bears. Toddlers can also use the bears to make patterns – you could try starting a pattern and asking them to figure out what comes next. There are number and color dice included for playing games with the bears – the possibilities with this set are endless!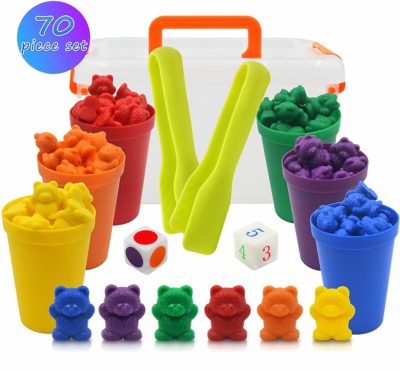 35. I Spy Everything
Books make great young boy gifts if you are looking for something other than toys – parents will never complain about having too many books either! This one is ideal for helping toddlers learn their ABCs as they go through the pages spotting things. The answers are printed on the following page, so they can quickly find out if they got the right answer. There are 18 puzzles in all, so toddlers are sure to learn something new as they work through the pages. It's a fun way to introduce them to learning the alphabet and which sounds objects begin with.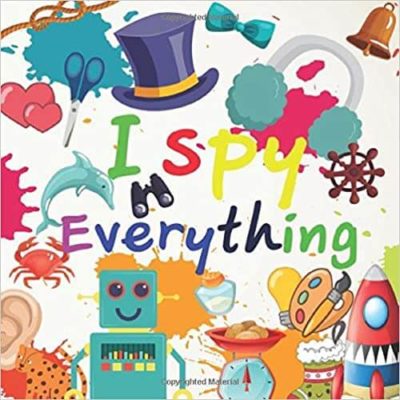 36. Pete the Cat Game
Board games make for excellent Christmas toys for 3 year old boy – they can be enjoyed by all the family and are a great way to spend time together at this special time of year. This one has popular character Pete the Cat, and no reading is required, making it perfect for the youngest players. Toddlers will love the challenges in this game – singing songs, solving puzzles and acting out different actions. The game is suitable for groups of 2 – 4 players and involves skills such as memory and cooperation with other players – it is great for improving their social skills.

37. I'm Digging Being 3 T-Shirt
If you want to choose something to act as a keepsake for his 3rd birthday, this cute t-shirt is an excellent pick. It has a digger on the front as well as the message 'I'm digging being 3' – perfect for wearing on his special day. The shirt is made from 100% cotton and comes in a choice of different colors so you are sure to find his favorite. The shirt comes in different sizes, so it doesn't matter if he is a bit bigger or smaller than the average boy of 3 – you can simply size up or down accordingly. He'll love letting everyone know he's the birthday boy when he's wearing this shirt!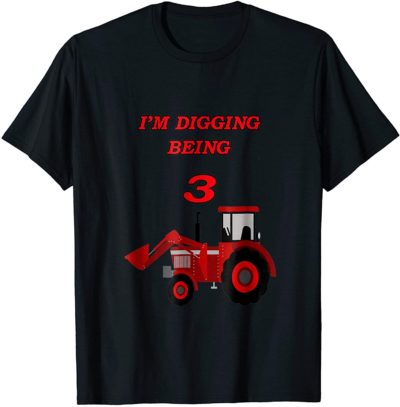 38. Puppy Birthday Paw Patrol Book
Here we have another great birthday gift idea – a Paw Patrol birthday book! It's perfect for fans of the popular series. The story is aimed at kids aged between 2 – 5 years, so it is perfect for those toddlers aged 3. The story is about the pupe planning a surprise party for Chase whilst also working to save Adventure Bay – can they do both in time? Boys will love to read about the latest adventures of their favorite characters in this fun story.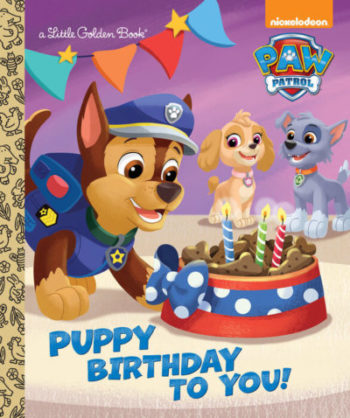 39. National Geography Book of Why
Our next pick is another book, and this one is ideal for curious toddlers who can't stop asking questions! It is sure to teach them something new about things they are interested in and also has games, craft ideas and recipes to keep toddlers busy. The book is very interactive and is sure to keep young kids engaged for ages – it is a great way to prepare them for going to school. Each page has fun facts and bright, colorful images to help keep toddlers' attention. It is aimed at children up to the age of 7, so they are sure to have many years of enjoyment with it.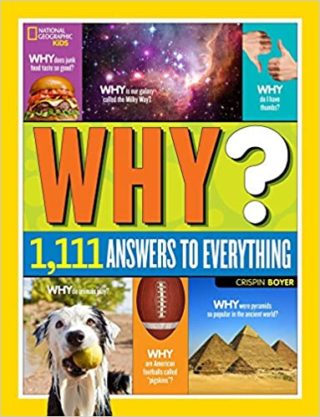 40. Tonka Bulldozer
Trucks are some of the most popular toys for 3 year old boy, and this Tonka bulldozer is simply awesome! It's made from durable steel, just as you would expect from a Tonka truck, and has a moving blade at the front. The truck comes with a lifelong guarantee and has won multiple awards, so you can be sure of its quality. The Tonka truck is ideal for using outside, and can really be used to move gravel and sand – it's excellent for playing in the sandbox. Boys will have hours of fun with this toy truck, and won't outgrow it in a hurry!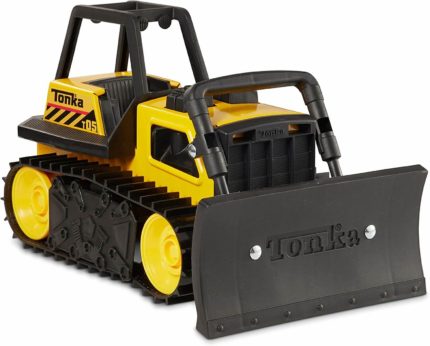 41. John Deere Light-Up Tractor
Tractors seem to be just as popular as trucks with young boys, and that is why we have included this cool, light-up John Deere tractor toy. The lights on the wheels are motion-activated, so they come on when the tractor is pushed around. The tires are large and durable, perfect for using on any terrain, even outdoors. The tractor is easy to roll around and is sure to make a welcome addition to any little boy's toy box!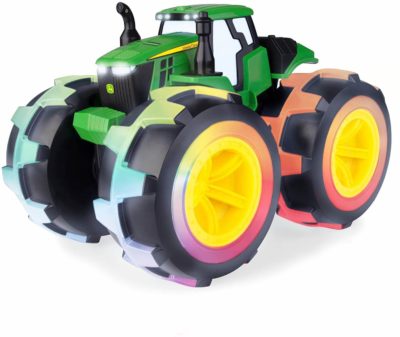 42. The Ladybug Game
We have already seen some great games for 3 year olds, and here is another excellent pick. The game is suitable for 2 – 4 players and lasts around 20 minutes, so it should be short enough that they won't lose interest halfway through the game. The aim of the game is to help the ladybirds find their way home whilst avoiding certain bugs and collecting others. The game is ideal for helping teach reading and math skills, so it is educational as well as loads of fun. It was designed by a first-grader, so parents can rest assured it is not too complicated for their little ones.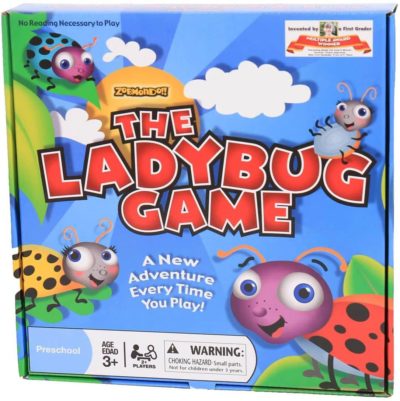 43. Daniel Tiger Game
Daniel Tiger is very popular with preschoolers, and here he features in another excellent board game for this age group. The game is for up to 4 players and is ideal for those aged under 6, so at the age of 3, there are many years of fun still to come. Toddlers will learn basic counting skills with this game as well as improving their social skills as they interact with other players. They will love seeing all their favorite characters and locations from Daniel Tiger's Neighborhood!

44. Elk & Bear Easel
Drawing is a popular activity at the age of 3, and if you find yourself getting through a lot of paper and notepads, perhaps it's time to consider an easel. This allows toddlers to draw with different mediums as there is a dry-erase board on one side and a chalkboard on the other. The whiteboard side is also magnetic, and wooden magnet letters and numbers are included for sticking to it. A pen, chalk, and an eraser are also included – so there is everything toddlers need to start drawing straight away. The easel folds flat for easy storage and there is a carry handle too.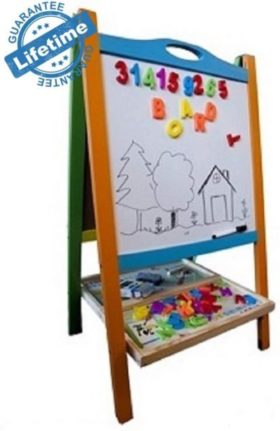 45. ThinkFun Zingo Game
Here we have another fun, educational board game which is ideal for introducing basic reading skills. The game is much like bingo, but it has words and pictures to match up. It can be enjoyed by as little as 2 or as many as 6 players, so it is ideal for the whole family to join in. Zingo has won many awards, so parents can rest assured that this is a great game with a lot of educational benefits. The instructions are easy to follow so toddlers can start playing straight away.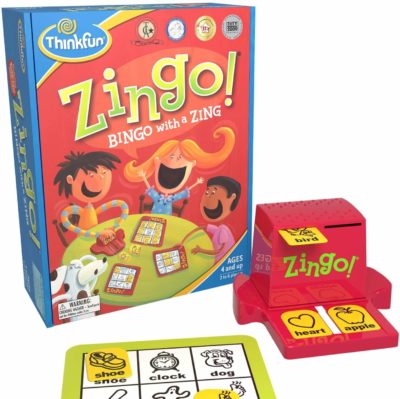 46. Wipe Clean Letters Book
If you are looking for something educational, this is one of the top toys to choose. It shows them how to write letters and can be wiped clean to be used over and over again. The pen is included, and the ink can simply be wiped off using a cloth after practice. The book has 26 pages and is recommended for those aged 3 – 6 years, so they can continue to enjoy it for many years until they become confident in writing all the letters. There are some other activities in the book to help toddlers learn to differentiate between letters, such as circling all of the 'b's in a group of letter b, d, and p.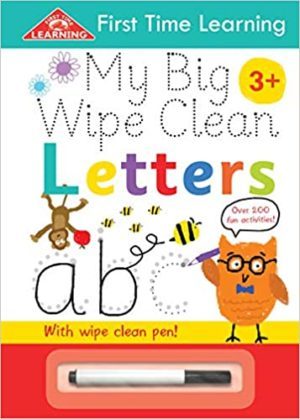 47. The Wonky Donkey
At the age of 3, boys love being read to, and they are sure to enjoy hearing this hilarious story during the day or at bedtime. There are 24 pages in the book and it is ideal for those in the 3 – 5 age range. Anyone who reads this book is sure to find themselves laughing out loud as the story progresses – boys are sure to want to read it over and over again!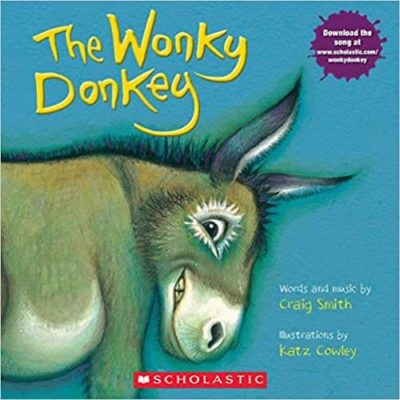 48. Baby Shark Singing Bath Toy
Bathtime isn't always the most fun part of the day for toddlers, but this cool Baby Shark toy is sure to make them eager to get in the tub! The toy swims along independently whilst also singing Baby Shark! The shark is automatically activated upon being dropped into the water, but will auto shut-off after a few minutes to preserve the battery life. There are three different options available, so toddlers can pick their favorite between baby, mummy, and daddy shark.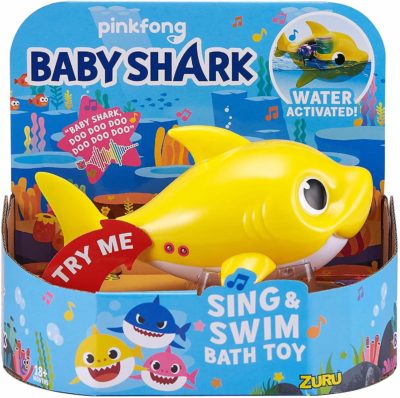 49. Green Toys Ferry Boat

Our second to last pick is another great bath toy, this time it's a plastic ferry boat with two cars inside. It is made from 100% recycled plastic, so it's perfect for environmentally-conscious parents. It's ideal for both indoor and outdoor play, on dry land or in the water! The ferry boat has a ramp for the cars to enter and exit it easily – boys are sure to love rolling them up and down it over and over again. The toy can even be placed in the dishwasher to ensure it remains clean and hygienic at all times.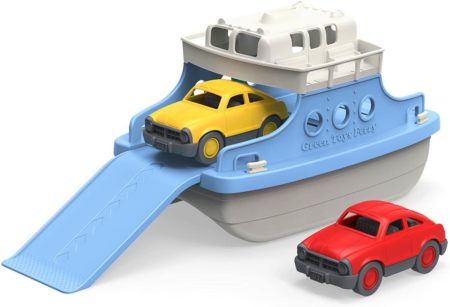 50. VTech Creative Center Writing Toy

Finally we have the awesome Write & Learn from VTech. It is the perfect pick if you are seeking an educational gift as it aims to help toddlers learn to write their letters. The magnetic drawing board can also be used to draw anything they like, and it comes with magnetic stampers to help them make their own pictures. So, it is educational as well as fun! It has a carry handle, a stylus to draw with, and is easy to clean using the slider at the bottom. The Creative Center can be programmed to teach toddlers to write their own name one step at a time. It is a great way to introduce toddlers to letter writing in a fun and interactive way.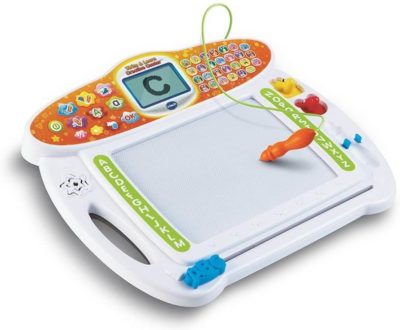 51. Dinosaur Collector Toy Box & Playset
Every child goes through a dinosaur phase and whether that is because of "Jurrasic park" or from some other movie, either way, dinosaurs are top on the list of boys gift ideas. They love to create worlds, use their imagination and go wild with new adventures and something always ends up getting eaten.
This ZipBin dinosaur collection is an award winning toy and the box set comes with loads of dinosaurs inside and a convenient box to store them in. There are 2 bonus bag dinosaurs included and a play mat that is well-made. The Neat-Oh dinosaur graphics on the box and mat are of a good standard, which adds to the child's imagination when thinking Jurassic.
This playset can hold up to 160 dinosaurs at a size of 5 inches each and will be a good place to start a dinosaur collection. This pre-historic gift idea is a fun way to encourage the imagination of the little one, so they can start to do role-play and develop social and emotional skills.  This is a boy toys age 3 +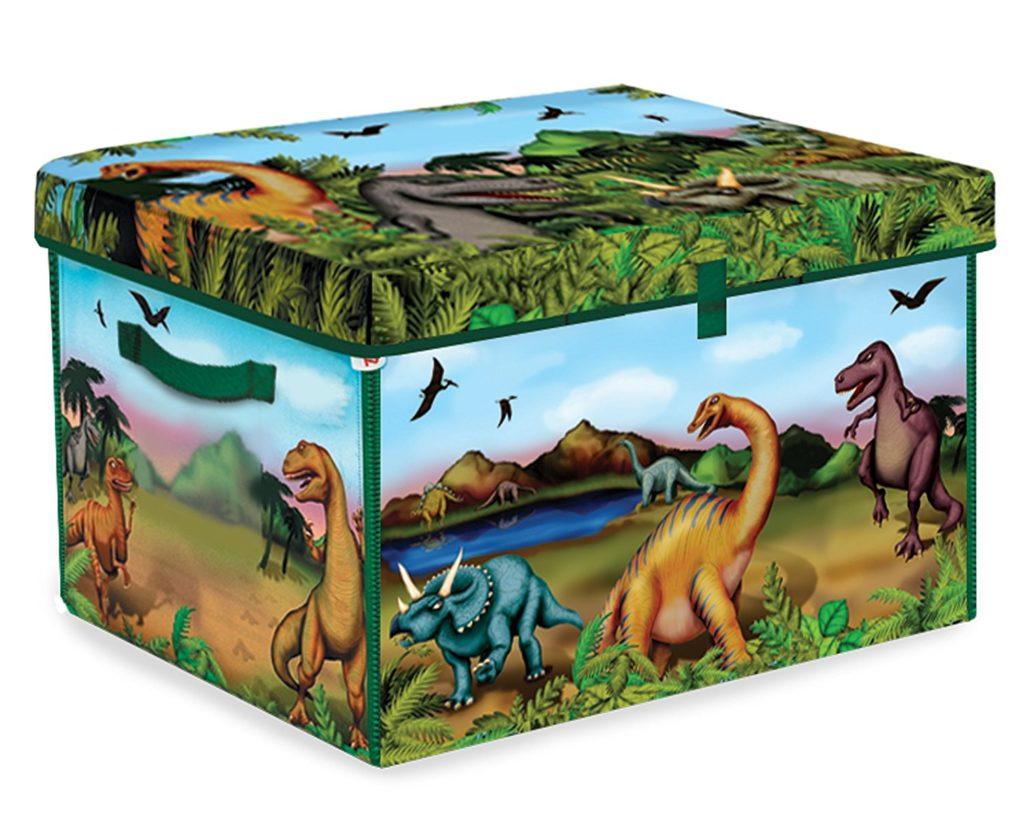 52. Melissa & Doug Band-in-a-Box Drum set
Music is a big part of our culture and children that start young with learning to play a musical instrument develop intellectual skills as well as emotional and hand-eye coordination. This drum click clack gift set is why a gift like this can be one that lasts a lifetime and encourage their hidden musical talents to come and be expressed.
This instrumental music set has 6 different instruments and each one offers a slightly different experience, which develops listening skills and helps fine tune their motor skills. Include in the box set are; kokiriko, drum, agogo, 2 mallets and guiro shaker. These are ideal introductory instruments to begin introducing musical concepts, ones that every 3-year-old boy should begin exploring. This is designed for children aged 3 + and comes with a wooden box the toddler to put them away after use.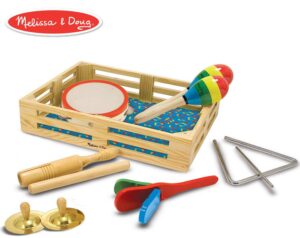 53. Rainbow Wooden Blocks
This is a unique gift and one that is stunningly crafted and finished with a rainbow finish that has been hand finished. The natural wood blocks are handcrafted and the cubes are vibrant, colorful and stunning to look at.
This is iPlay at its best and with stacked wooden feel, this is one that any toddler aged 3 years old and above will enjoy. This will help with "how to match" concepts and help will early learning ideas through building games and activities that the imagination naturally conjures up.
The natural wood is ultra-smooth and the arts & craft blocks have 100% risk-free materials with no lead and unwanted nasties like BPA.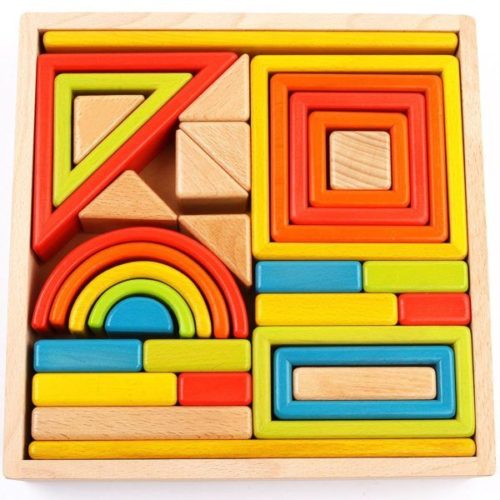 54. Rainbow Counting Bears
The 3-year-old boy is always wanted to learn and how well he can do everything, which is why this gift is perfect for learning with. They can have fun with the colored bears and sort them out into their own colored tubs/pots, which is the beginning of them learning to count.
Montessori is a famous brand and Skoolzy is known for producing quality made products, which is why this comes recommended. There are 60 different colored rainbow bears in total and with 6 separate sorting cups, the games can get interesting.
All of this can helps them prepare for preschool and begin the journey of learning how to count in a fun way. There is a free download that helps guide them along the journey of learning and also make the games begin.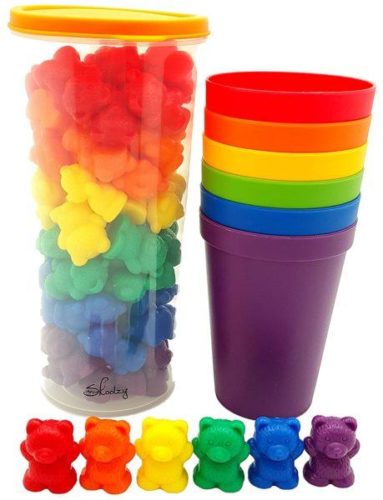 55. Flybar Pogo Jumper Stick For Kids
This Flybar foam stick is a jumping riot with horseplay at its best, which is why this idea is the perfect gift for any little boy. They have so much energy and with a little workout on this pogo stick your sure to help burn some of that up.
This is made for toddlers and children who like to jump around and specifically for 3 years old and above. The weight of this is designed to support 250 pounds and with durable foam, this will be a fun way to let the mischief be in one place at one time.
Parents and grandparents both agree this is an ideal gift for those children that find themselves indoors a lot and struggle with using up that desire for active playing. A parenting tip here is, if your child is struggling with balance or coordination this then a safe, fun game that is great for them to build up hand-eye coordination and other motor skills. This is easily managed with good grip handles and the soft foam base, which is why this present can go a long way in developing them and being a (real) hoot.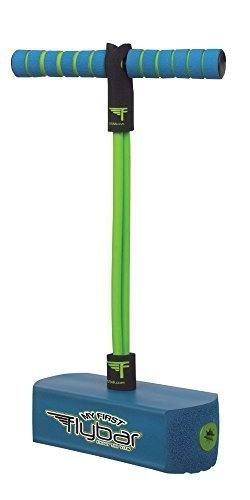 56. MAGBUILDER Magnetic Blocks
This is a toy that every boy should have and with hours of fun, this will be a building play set that sets the imagination off and engineering construction beginning.
STEM learning is a great way to teach them the basic of how magnets work and with some creative DIY this gift idea is a sure way to educate through motor skill play. Building games and activities have always been a consistent toy for little boys for years. Some things have not changed, which is why a gift idea like the magnetic blocks is a great one for birthdays or any special occasion.
The play set is designed for children aged 3 years old and over, but some parents will find this playtime quality time with their special little boy. The 66 pieces included in this boxset make this possible, 2 people can easily play together with this gift set with hours of enjoyment to be had.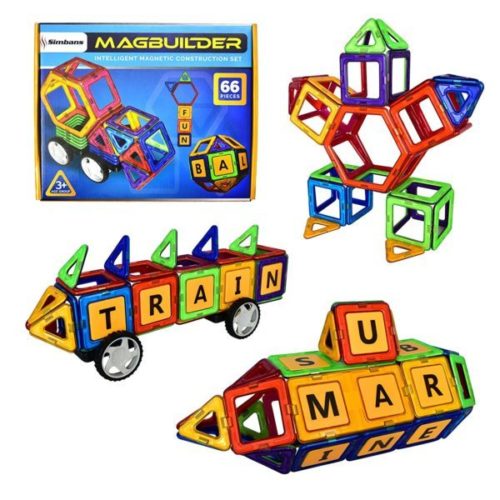 57. Toddler Stomp Rocket Glow in the Dark Kit
Jr. stomp rocket is a child-friendly way of getting the kids outdoors and playing with each other. The idea is to see how high you can get the rocket to travel through the air.
This is a fun activity and I like how it encourages the kids to play outside and with each other. The kit is designed for children aged 3 years old and above, which makes this a great gift for a birthday boy. The kids usually end up trying to STOMP as hard as they can and challenge each other to see who can get the rocket the highest. With it being 100% kid-powered this rocket is down to how much energy they put into it and with hours of play together they will be certainly using up their energy.
The design of the Stomp Rocket is safe and easy to use and requires no batteries to get this into the air. This can reach up to 100 feet and awesome to see fly high into the sky, kids go crazy for it.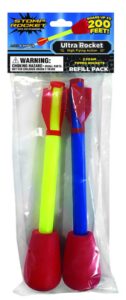 58. Melissa & Doug Smarty Pants Card Set
This great present will aid you three year olds learning and understanding even before he gets to school. Designed with educators, you'll both make the most out of this.
Included are 120 cards, each with a unique question, puzzle or game that will let your child develop their cognitive ability.
The fun design of the cards get kids excited about learning and it will be so much fun, they won't even realize that they're not playing a game.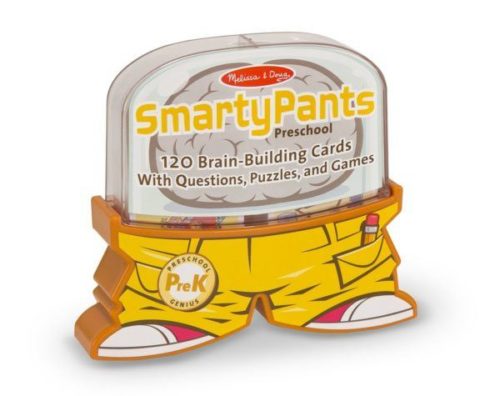 59. Build your own race car!
This builds your own car is perfect for any three year old that has taken an interest in taking things apart. Now they can have this toy instead of a remote control!
With 30 pieces to this set, the fun can last for hours. The car itself, once the engine is turned on, makes realistic engine sounds and flashes it's headlights. The aa batteries are included
This present is not only fun, but it develops fine motor skills in children aged 3 to 7 years old.

60. Colorful Plastic Bins for Storing Kids Toys
With 3 birthdays down, your little boy must be in need of a practical storage space to store all of his presents.
These 12 plastic bins are not only practical, but the choice of five colour schemes means that it will suit any room in the house. The 12 bins are made from rugged plastic and wipe down easy enough, so does the sturdy wood that, so easy to clean.
The bins themselves come in 2 sizes, you get 4 big bins and 8 smaller bins, fitting everything from books to dressing up clothes in them.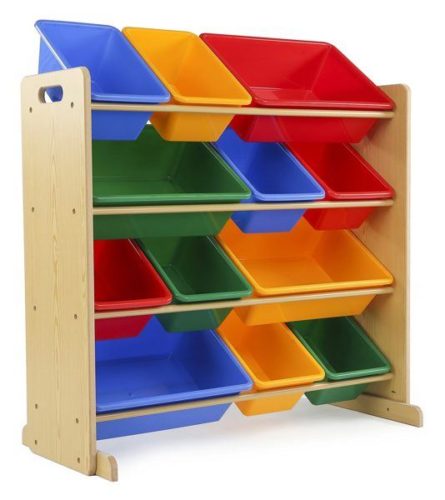 61. Kidwerkz Toy Truck Bulldozer
Any three year old boy would think that this is the ultimate birthday present, and I'm pretty sure Dads would think that it's a cool gift too.
Building this vehicle is great fun as it encourages play-based learning. Building it and taking it apart again and again in different forms (there are 55 pieces in total) leads to a more imaginative child that has developed fine motor skills all before they get to kindergarten.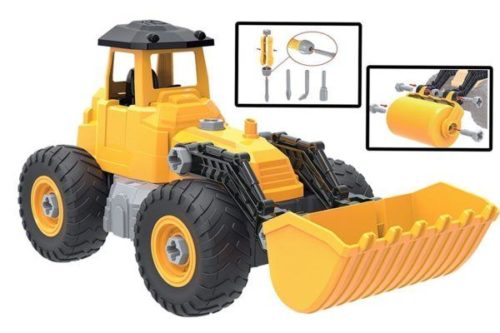 62. Goodminton – Classic Game for Kids to play Outdoors with
Goodminton is marketed as the worlds easiest racket game and can be a great introduction for your three year old boy into the worlds of tennis/badminton/squash.
Easily played inside or outside meaning that you can have fun all year round. The set comes with two bats and four birdies (two fast ones and two slow ones), meaning that no matter what skill level your child is at, they can have fun
As they develop their skills, they'll master motor skills and learn about healthy competition.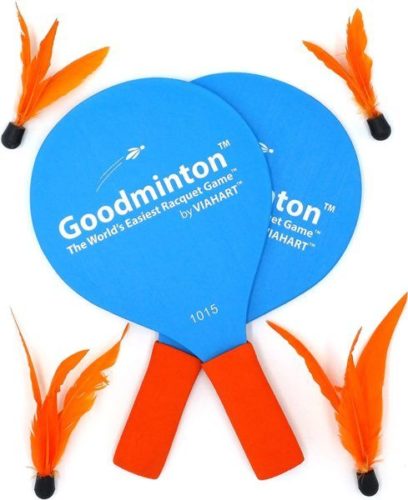 63. Thomas and Friends: My Red Railway Book Box
Thomas the tank will always be a childhood favorite, and any three years old would love Thomas and friends as a gift.
This set contains five different stories all packed together in the handy little box. The box comes with a Velcro strap to ensure it stays closed and a sturdy plastic handle so your little one can carry them anywhere.
Reading for fun, as a bedtime story or to friends is a good way to get your child interested in reading from an early age. Which is important for IQ in later life.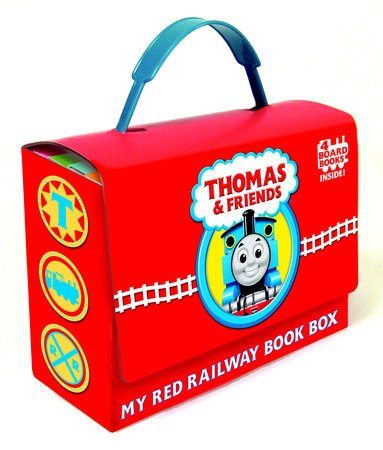 64. Magnet Construction Educational Toy
This magnetic construction toy will enrich your three year olds imagination and intelligence by helping them to understand how magnets work and how to build out of them.
Containing 34 pieces (20 squares and 14 triangles), your child can build just about anything that they can imagine. From 2d shapes to 3d shapes, let your child explore what they can make.
Made from nontoxic plastic, these high quality durable magnetic building strips are really built with safety in mind. With no sharp edges or corners, no fingers are going to get hurt. happy days.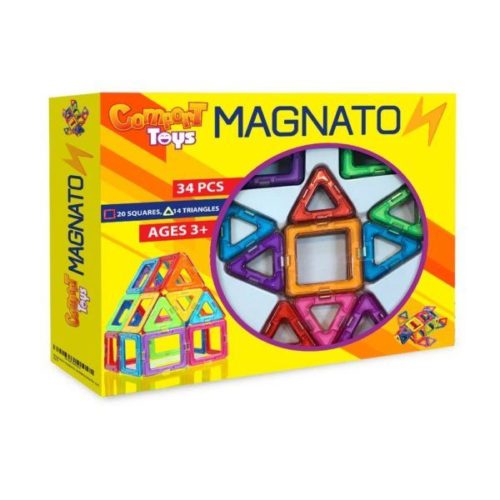 65. Kidwerkz Dinosaur Toys
Get your three year old boy some of these and he'll be amused until bedtime
Constructing your own dino has never been more fun and with 106 different pieces, your child will master basic engineering, motor skills and perhaps most valuable, patience.
Puzzle solving will help your boy develop the skills he needs to excel in kindergarten, a great head start in life.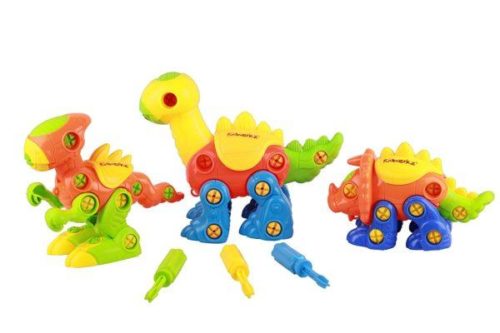 66. Ring Toss Game
If you're having a yard party for your child's 3rd birthday, then this is a must-have!
Made from high quality, durable wood, this yard toy brings the fun of the carnival to your doorstep. Play with others and teach your child how to win.
The set comes with 15 rings in total, five of them being rope and the rest ma
de from plastic. Also included is a handy bag so you can transport it with ease, or put it away neatly.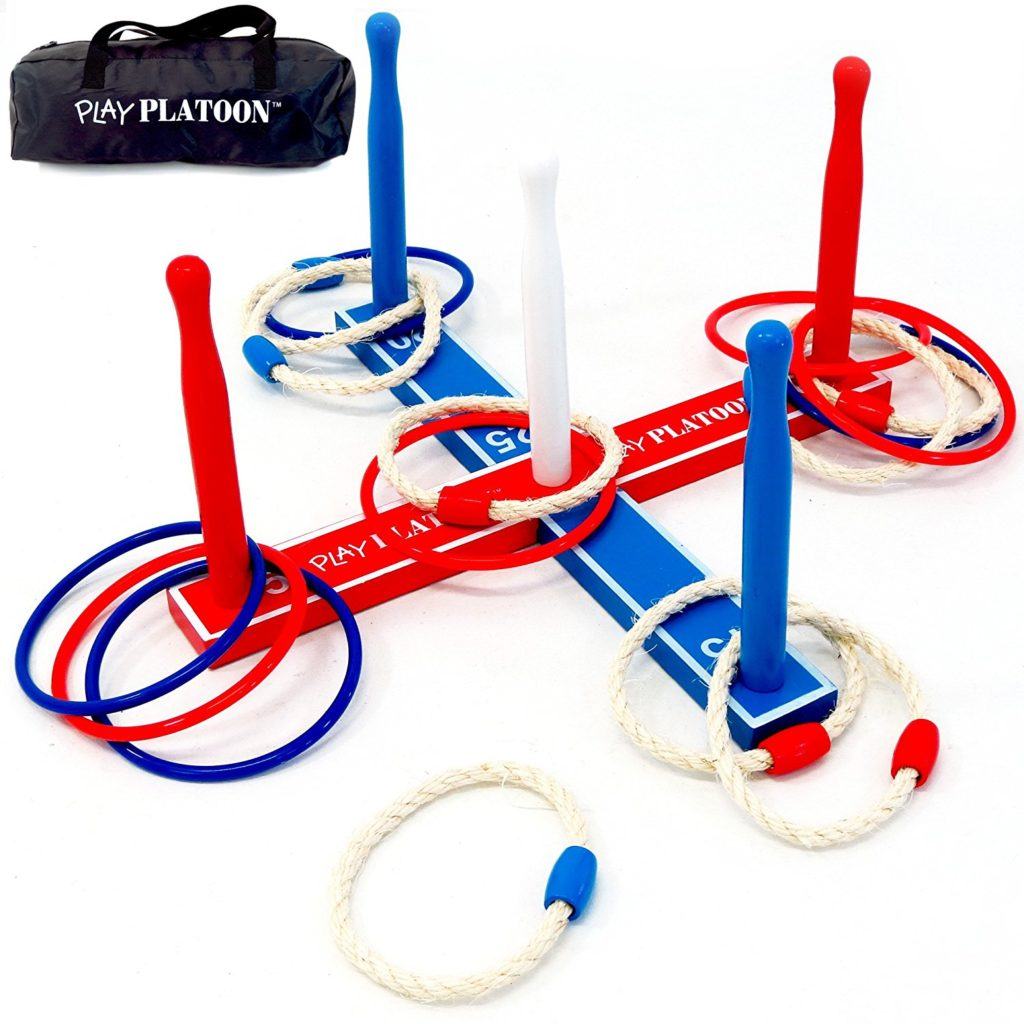 67. Toysmith Get Outside GO! Pro-Ball Set
Every three year old needs a set of balls to play within the yard. Whether its football, basketball or soccer, this set will have them all, and in a miniature size so your little boy can handle them better.
Made from foam, and designed for 3+ year olds, these balls are a perfect tool to get your child running around and into their first sport without the fear of injury.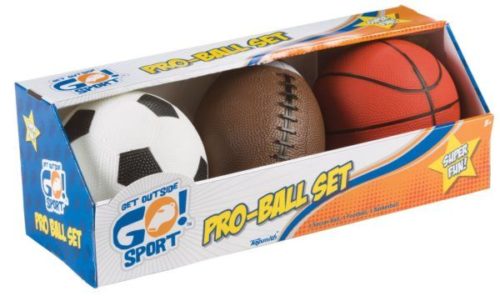 68. Diggin Jr. Squish Football
Little athletes should rejoice with this squishy ball by Diggin Jr.
If your three years old has developed a passion for football, then this is the gift for them. Soft and squeeze, this ball is made for the small hands of a three year old.
The fact it's so soft means that it won't hurt your child if they decide to kick it or if it accidentally hits them in the face. A great first football.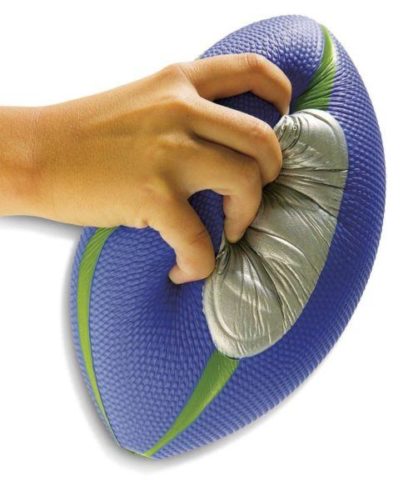 69. Dinosaur Bubble Toy Shooter Gun
What three year old doesn't love bubbles. What doesn't three-year-old love dinosaurs? Combine the two and here you have a dinosaur bubble shooter gun from haktoys.
This green dino needs three aa batteries to operate, but they're included with the set. As is a refill of bubbles so you can shoot all day.
The fun doesn't stop there though, the dino comes with flashing LED lights so when you're shooting, this dino lights up the room.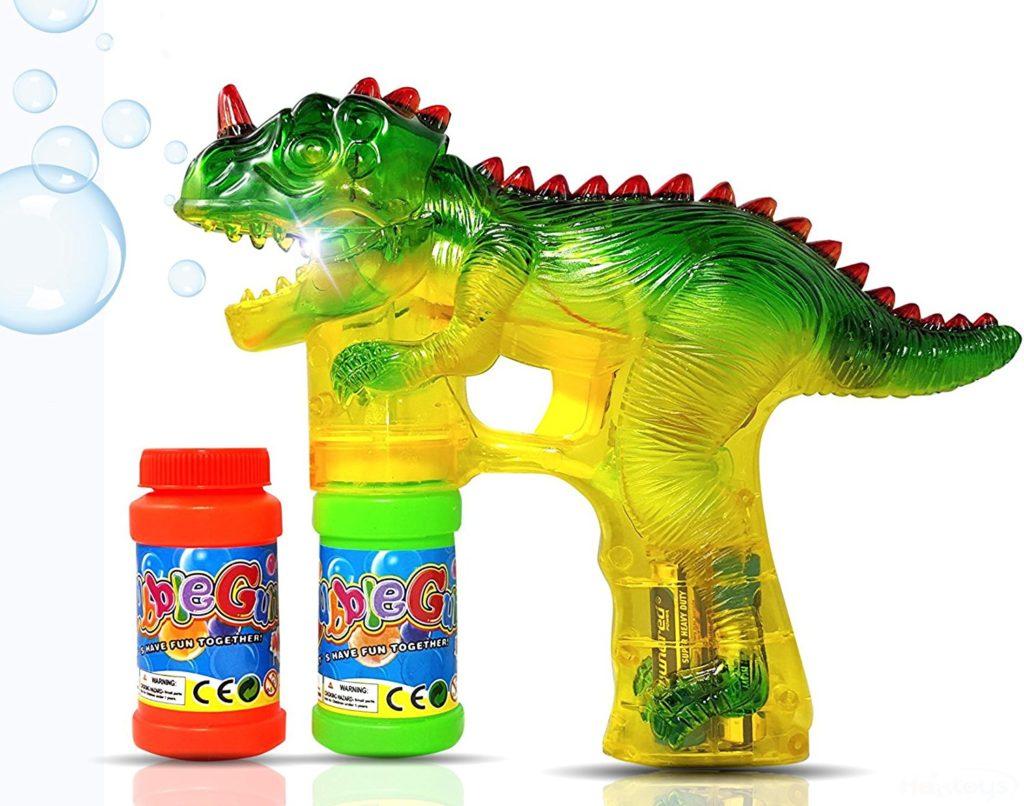 70. Trix Tracks Bouncing Spiral Track Toy Set
This amazing spiral track will promote your boy's intellect, creativity, originality and concentration skills, while at the same time being tons of fun.
The set is made from eco-friendly materials such as rubber wood and uses nontoxic paints, so it's safe for your little one. Containing 36 individual pieces, the potential for your child to create something unique each time is endless.
Designed for 3+ year olds in mind, this set is easy to use and just as much fun to play with.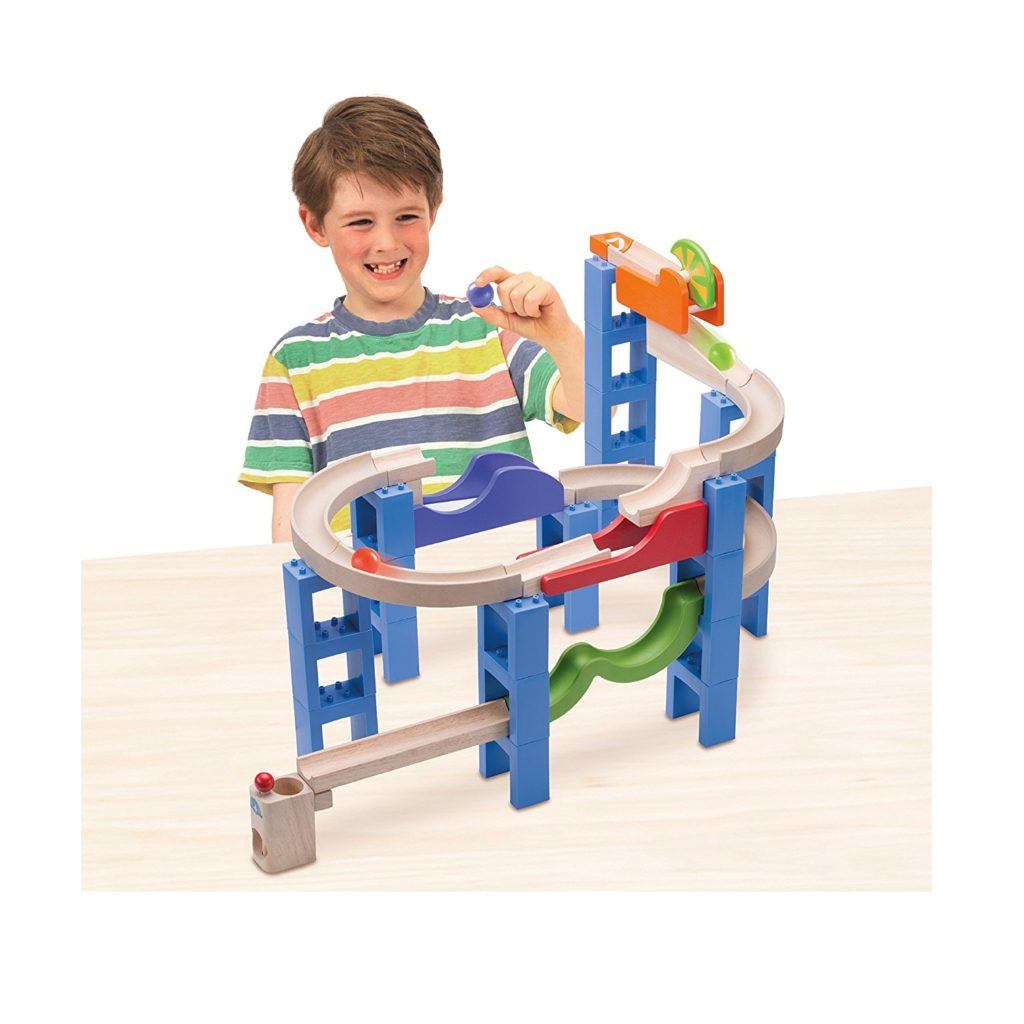 71. Melissa & Doug Wooden Toy Big Rig Truck
What young boy hasn't dreamed of having a big red truck to drive. Now you can make that dream a reality with this present from Melissa and Doug.
The big red truck is made entirely from wood, including the wheels, which are smooth rolling. The trailer fits in all 22 pieces neatly so the truck stores away nice and tidy at the end of playtime.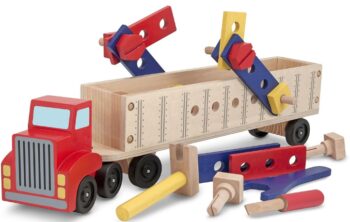 72. Toddler Walkie Talkies
Sometimes kids just respond so positively to good, old fashioned play time. Forget all the fancy digital games and tablets, harking back to the 80s with old-style walkie talkies can bring amazing fun and adventure during time with friends. These walkie talkies are pretty advanced all the same, and have multiple channels and can work up to quite a long range – three miles, in fact! Imagine how much fun your son would have in the park with his pals or even talking to his best friend a few doors down from his own bedroom. They have nine hours of battery life and if used constantly they will still last almost four hours! They boast a special private channel with a CTCSS code which stops other devices from cutting in or interfering with the conversation and fun. It is made especially with children in mind, and is a neat and tidy size for small hands to hold and there aren't too many complicated buttons. Win win.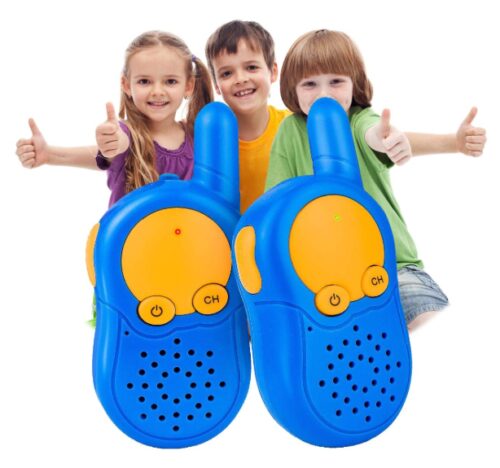 73. Talking Robot Toy
Boys have always and will always love robots and anything robotic. Buy them a toy robot, then you're probably going to be in their good books for the rest of time. This mini robot is really clever and cute and will occupy and entertain your son for ages. He talks back to you, records and repeats phrases and he can be played with or used as a keepsake decoration in a bedroom or playroom. He comes in three bright playful colors that boys are sure to love, green, blue and red and all are shiny, bright and vibrant. He has LED flashing eyes, so he is really eye-catching and different as well as the fact that his eyes change color when you touch him, so your son will enjoy how he responds and interacts with them. He takes 3 LR44 button batteries.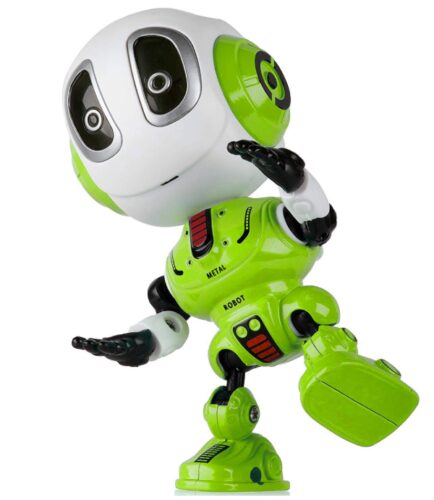 74. Toddler Piano with Microphone
This toy piano is bright and eye-catching and just the right size for a little boy. If your son, nephew or grandson is interested in learning about and making music, then a toy like this is a great choice for a birthday or Christmas present. It is made of ABS plastic so it is perfectly safe and sturdy for children to play with and has smooth edges all around. It helpfully records and plays back sounds as well as having a microphone attached so it won't get lost easily. There are one-hundred notes to explore and several demo beats also, so it will introduce your son to the joy of music from an early age. Suitable for ages three to eight, it is even a suitable size for them to be able to carry around the house to enjoy playing anywhere they like.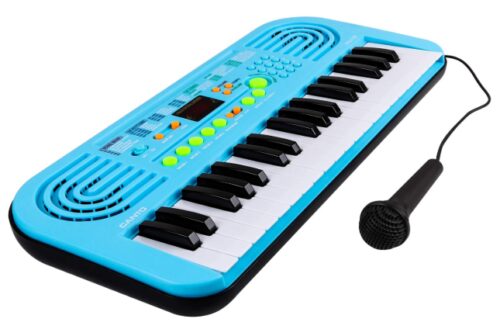 75. STEM Build Your Own Dinosaurs
STEM toys are increasingly popular, because they offer not only excitement, exploration, discovery and fun, they also teach children new skills and information about the world around them and what possibilities there are. This dinosaur puzzle will appeal to dinosaur lovers but also will allow their imagination to run wild as they create and build three dinosaurs, each seven inches high. As we know, STEM stands for Science Technology, Engineering and Mathematics, so this clever toy brings together all of those amazing disciplines in a fun and interesting way. They will have the fun of making all their favorite dinosaurs; a Tyrannosaurus Rex, an Alamosaurus and of course a Triceratops. The kit comes together with three useful screwdrivers, 106 STEM pieces and instruction manual. As if that wasn't enough they've added access to a downloadable e-book and they offer a 100% money back guarantee. Any child who gets this toy won't even know that they are learning as they play, what better toy is there?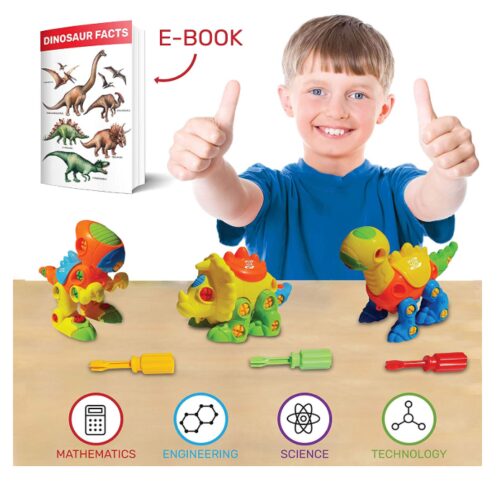 76. Dinosaur Toy Storage Bin 
If your son is dinosaur mad, then you might want to accessorize his room with all things dinosaur themed. But at some point, all those toys and bits and pieces need to be stored away tidily to ensure little bare feet don't get hurt. This useful storage container helps you keep toys and books organized and safe, but also has the added bonus of a play mat that comes out flat and allows your child access to a fun prehistoric landscape for hours of enjoyment. It can hold board games, jigsaws, figures, lego and of course, dinosaur toys! It measures 15.2" x 9.9" x 9.9" and the play mat extends out to a length of 29.5" x 15.2" so there is lots of space to play. It is made of polyester so it is durable and safe.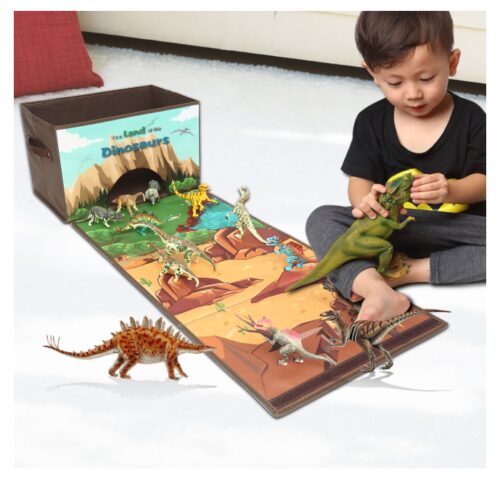 77. Piano Mat
We all used to dream about having that Tom Hanks moment in 'Big', where he had lots of fun jumping from key to key on that amazing giant piano. Never for a moment did we think that technology would advance so much that you could buy one for your own living room. Your child will have amazing fun with this musical piano mat, that includes pretty flashing lights and has eight settings as well as funny animal sounds for extra entertainment. It is portable and can be washed down safely and measures 100cm x 36cm so it is a perfect size for a child. The bright colors are very attractive and will invite your child to enjoy playing and learning at the same time. The physical aspect of this interactive toy means that kids can not only create music but they can jump and skip around, getting exercise at the same time. It takes three AA batteries and has a helpful energy saving mode when not in use. The volume can be adjusted also which will definitely help if the house is getting a little noisy!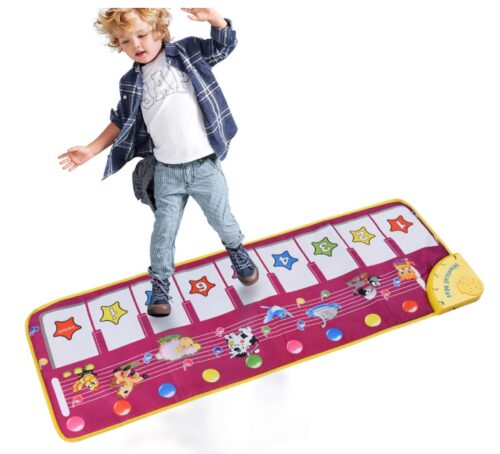 78. Toddler Smartwatch
Is your kid bugging you to get them a smartwatch? You might be thinking they are really expensive and easy to break, but product designers these days are savvy and have created watches like this that won't break the bank and also will ensure the rough and tumble of your son's daily activities. It has a child-friendly strap, a touch screen (which digital natives are so familiar with these days) and also has some built in games, a camera and a flashlight. As if that wasn't enough other features include a pedometer, earphone socket and an FM radio – this little bundle is simply packed full of things to do. The camera is rotatable so your child can have fun taking selfies with their friends, or they can play games such as Whac-A-Mole, Ninja Run and others. The fitness tracker is probably the best feature, as it will encourage both you and your child to get out and about and do more exercise.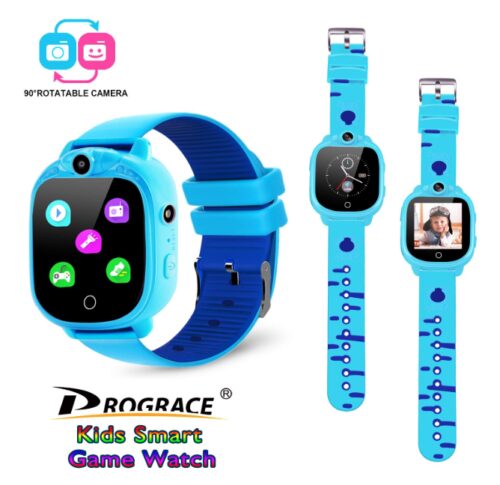 79. Light Up 3 Wheel Scooter
This scooter is beyond cool. It literally has everything to appeal to a three year old boy and will also suit him for a further few years as he grows. It folds up really smoothly and can be easily stored away when not in use. The T-bar and handlebars are adjustable so this amazing scooter can be ridden all the way up to age fourteen. The wheels are 2 inches wide so they can offer a sturdy, reliable balance due to their thickness and strength, and because of this they can manage up to 180lbs of weight. The wheels at the front are larger so will manage to absorb and deal with many lumps and bumps on the sidewalk or gravel in the playground. What is really clever about this design is that not only does it have a large, secure rear brake, but the rider can steer using the weight of their body, if they lean in one direction, the scooter will naturally respond and turn with them. To top it all off, of course it has LED flashing lights on the wheels.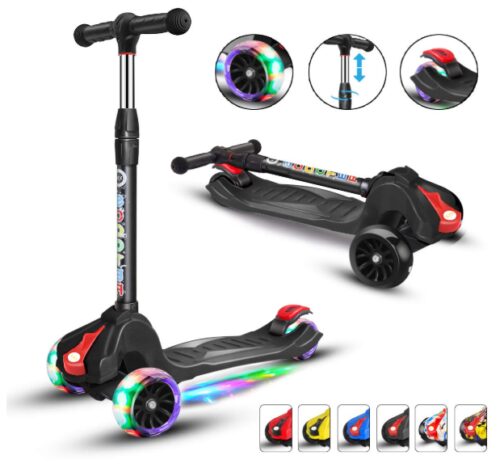 80. Strider Balance Bike
Balance bikes are an amazing invention. Not only do they give your child the opportunity to intuitively learn how to balance and propel themselves forwards, but they exclude all the hassle and difficulty of trying to physically get your child to understand the pedal forward motion. The balance comes first, and pedaling is a later consideration. They will grow in confidence and will get an amazing amount of exercise as they enjoy learning to balance on their new bike. It is suitable from 18 months right up to 5 years so it is a good investment as a gift for a boy. The handlebar and seat will adjust as they grow and they will get more secure and confident about learning to ride. The seat is very comfortable because it is padded and there are also soft pads on the handlebars, to avoid chafing or blisters developing on their delicate hands. The frame is steel so it is incredibly durable and amazingly it has puncture-proof tires – who even knew that was a thing?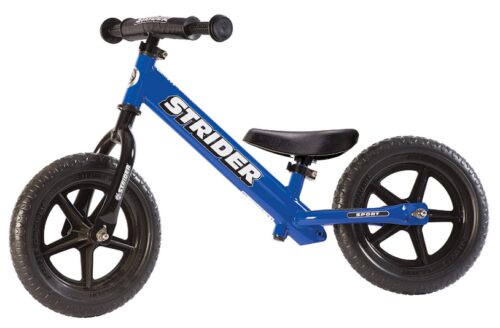 81. Playskool Marvel Heroes Set
The Marvel that is the Marvel franchise. Boys are obsessed with it, even if they aren't old enough yet to watch the movies. There is something about the characters that just excites them and they love to dress up, play and explore with their Marvel superheroes. The Playskool Marvel Heroes Set is fantastic because it has ten popular and eternally amazing marvel character figures, including Captain America, the Hulk, Black Widow, Iron Man (of course), Hawkeye, Thor, Nick Fury, Vision Ultron and Ultron's Sentry. Your son will be beyond excited to receive this as a present at Christmas or on his birthday. They can be played with and brought on adventures and made into stories or they can simply be used as collectibles to keep forever.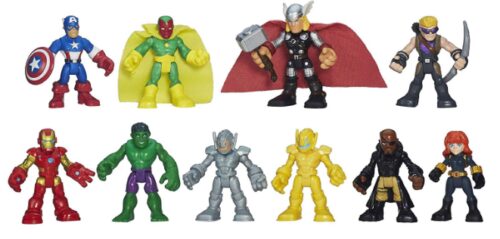 Best Gift Overall
After considering 50 excellent options, it's time to show which is the overall top gift for 3 year old boy. We love the Best Choice Products power wheels car, found at #32 on our list. Any boy is sure to be thrilled with this gift, and he will want to use it every day! It's easy to learn to drive, but the parental remote is a nice touch to ensure it is always safe to use. Boys will especially love the working headlights and the fact they can connect an MP3 device to drive along to their favorite tunes!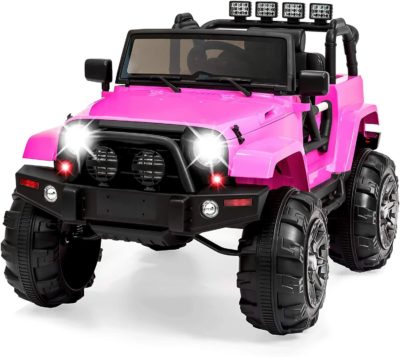 Best Budget Gift
If you are looking for the best gifts for 3 yr old boy but don't want to spend a fortune, don't worry as we have another excellent pick lined up. Our best budget buy is the Little Tikes basketball hoop set. It is perfect for active toddlers to enjoy either indoors or outdoors, and it comes with three balls so it can be shared with friends easily. We love how the height is adjustable to ensure the toy can continue to be enjoyed for many years to come. It's a great way to get boys enjoying sports from an early age and is ideal for improving their ball skills, too.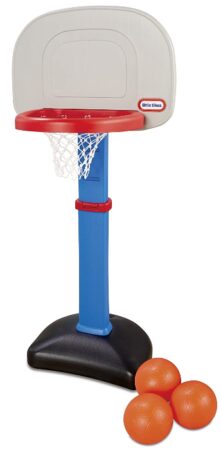 Top gift ideas for 3 year old boy
With so many options when it comes to gifts, it's important to be able to determine which are the best. Anything with a number '3' on it is perfect for celebrating his birthday, and makes an excellent keepsake for the years to come. Toys are another excellent choice of course. At this age, boys tend to love trucks, cars, and tractors, outdoor toys, and sports toys.
What are the most popular toys for 3 year old boys?
We have looked at some of the most popular toys above. Toy cars tend to be extremely popular amongst this age group, and many boys are also into bikes and scooters at this age. Toddler boys also often enjoy playing with superhero toys, building toys, and much, much more!
What are the best Christmas gifts for 3 year old boys?
Any of the gift ideas given above would make great Christmas presents. It's best to choose something that will entertain young boys indoors at Christmas as it's likely the weather will be too poor to spend much time outside. Board games or building toys are ideal at Christmas, but many parents also like to spoil their boys with a 'big' gift such as a new balance bike or a scooter at this time of year. Just bear in mind that he might have to wait a few months until the weather improves before he can get riding them, depending on where you live.
What are the best outdoor gifts for 3 year olds?
We have picked some excellent outdoor toys above for some ideas. Balance bikes, scooters, sports toys (such as our basketball hoop) are all fun for little boys. They would also love toys for the backyard such as a swing, a slide, a climbing set, a sandbox, or a simple bat and ball game to practice their skills with. There are loads of possibilities depending on what he is interested in.
What are big gifts for 3 year olds?
Many of the gifts we have suggested will cater to a more modest budget, but if you want to treat him to something bigger, there are plenty of options out there, a few of which have already been suggested. A power wheels ride on truck is sure to delight him! He might also like a kid-friendly tablet if this is something you don't mind him using. Other options include bikes, scooters, swing sets, and slides.
What are best learning gifts for 3 year old?
Many of the gift ideas we have included in our reviews are educational. The building sets are ideal for improving STEM skills, board games can teach social skills, and outdoor toys are ideal for gross motor skills. There are also some gifts which have the sole purpose of educating your child – LeapFrog has some excellent products to help with early reading and writing skills for example. It depends on what you want to teach your child.