Some parents feel they want amazing toys for a boy who has everything, which is what this gift guide is all about. Are you looking to find the best gifts for 2 year old boys and struggling to choose? In this comprehensive review guide, we have compared over 50 different toys, all awesome gifts to make picking a present easy. We know every little boy wants something special for his birthday. Whether it is a birthday gift, Christmas present or just a special treat we got your covered.
But what are the kind of toys that little boys love? Classics, such as building blocks and toy cars remain popular as ever, as are LEGO Duplo sets. There are other new and exciting toys which are becoming popular with toddler boys too, such as STEM learning toys and and even toy laptops and tablets.
You don't have to choose a toy for a special little boy however. They are sure to love a birthday t-shirt or a new backpack for daycare just as much as they will appreciate a toy. Whatever you are planning to get him, you are sure to find some fun ideas and inspiration here!
Best Toys for 2 Year Old Boys
Here, you will find our reviews of some of the best gifts and toys for little boys. No matter what you are looking for, you are sure to find it here! Be sure to check out our buying guides and top picks too!
There are loads of different types of toys in this review. We have sporty types of toys, DIY tool kits, toddler LEGO sets, musical instruments, RC car toys and more. We've also chosen some non-toy gift ideas such as captivating stories, toddler backpacks and loads more to choose from.
So, whatever you're looking for whether a small gift or a big toy, you will find it here in this review of what are some of the best toys and gifts for little boys aged 2 years old and up.
Fisher Price Laugh & Learn Food Truck
Fisher Price make some great gifts for 2 year old boys, and this Food truck is one of the best! It has two sides to play on and includes over 20 play pieces to keep boys entertained for hours. There are 3 different levels of play, so the toy grows with your child as they learn and develop. It plays over 125 songs and phrases, which helps kids learn something new every time they play.
There are loads of interactive elements which are great for imaginative play. There's the light-up grill and working service bell, as well as the steering wheel and clicking key. The cash register can magically read the 4 included menu cards, which is great fun for little boys! The toy can help teach counting, size, shapes and much more.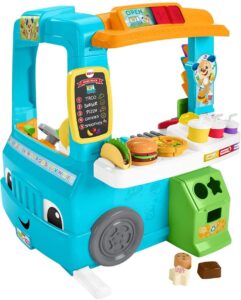 Little Tikes Pirate Ship
This large pirate ship toy can be used as a ride on toy, as well as a playset-type toy on the floor. There is a button which can be pressed to play fun pirate sounds, and three figures are included for playing with. The deck can be lifted up and used to store the figures and accessories, which is a great way to get toddlers to tidy up their own toys. The anchor can be taken up when it's time to set sail, and the steering wheel can be turned. To steer the ship when it's used as a ride-on toy, the mast turns left and right. The toy is great for indoor and outdoor use, so it can be enjoyed whatever the weather!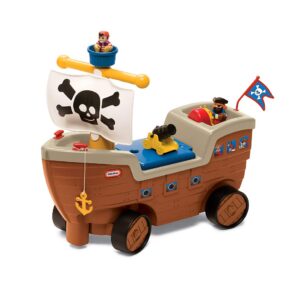 I'm This Many 2nd Birthday T-Shirt
If you are looking for fun 2 year old birthday gift ideas other than toys, be sure to check out this cute birthday t-shirt. It is made from soft yet thick material and the printing techniques used are the best quality to ensure the golf transfer won't flake off. The t-shirt comes in sizes 2T or 3T, so you can get a perfect fit. This shirt is perfect for a happy 2nd birthday boy, and he is sure to look great on his special day! However, it can be worn all year round and will continue looking great even after many washes.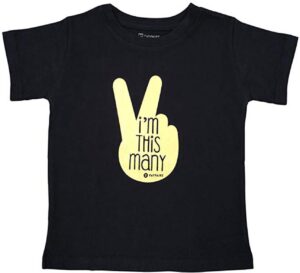 Kids Camping Play Set
Play tents make great gifts for 2 year old baby boy, and this one is even better because it comes with fun camping accessories. It's great for imaginative play and can be used indoors or outdoors. There's a lantern and a camping stove included, both of which take batteries to light up for a more fun and realistic experience. There are also play food items to cook on the stove, pots to cook them in, a plate to eat from and cutlery to eat with. There are also toy binoculars, a whistle and a watch – everything kids need to set up camp! Boys will have hours of fun playing with this set! It's great for sharing and playing together with friends too.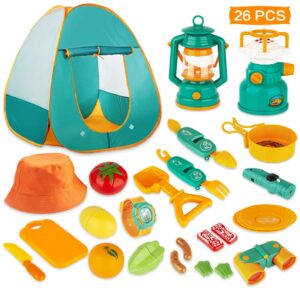 Strider Balance Bike
Balance bikes are perhaps the best toys to use outside. Strider is a well-known and trusted brand so you can be sure this is an excellent choice. The bike is adjustable to grow with kids until around the age of 5 years old, so it offers great value for money. The balance bike weighs just 6.7 pounds, so it's easy for young kids to handle. It comes in a choice of different colors, such as blue, green, yellow and more. The tires are puncture-proof so there's no need to worry about an unexpected flat tire.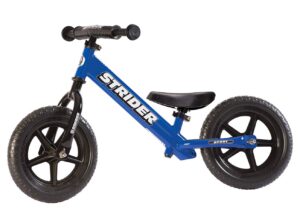 VTech Smart Shots Sports Center
This is a perfect boy toy from the father that wants his kid to get into sports and especially basketball. The colorful design makes this very attractive and easy to use with a LED light to keep every hoop recorded. The net is also a good height for them to practice and get those 3 pointers as they reach the later stages of being a toddler.
The balls, both soccer, and basketball are soft, which makes it easy for the little toddler to grasp with their hands, which is ideal. The balls and net height make for an easy slam dunk into the basketball hoop, as if it was like Michael Jordan back in the early days.
There is a purple lever at the side of the backboard and with a pull on it, the score resets itself to zero and the game begins again. This toy is thoughtful in its design and has introduced shapes, numbers and different sounds to begin teaching through interactive play. The sports center early learning game comes with over 50 songs, all unique and sound great for the game night, all dad needs now is a beer.
The balls are good for increasing motor skills and the kicking and throwing aspect is a must-do activity for every toddler looking to prepare for nursery and kindergarten. The scoreboard is perfect for keep track of each game played and will count all the way until 10, so as each basket adds up the fun increases also. This is done with each score and ball through the net, there is an animation that amplifies the gameplay.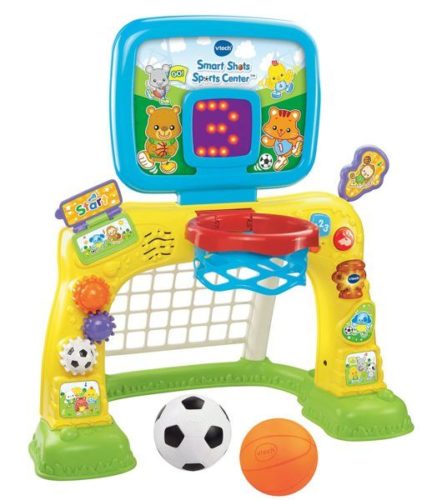 Melissa & Doug Toolbox 
This is a fun gift for the aspiring builder. Your little boy will absolutely love having his own tools. Toys like this will develop your toddler's imagination to new levels since the fun for them here is that they get to create their own games and activities with their toolset, and pretend they're a grown up builder. This builds both imagination and confidence.
The set contains lots of goodies for your little boy to have fun with, including a hammer, nails and saw which he can use to build his pretend house, a vibrating drill, blocks and a handy screwdriver. The toolbox itself is lovely and soft, with a nice thick, easy to grasp handle that's also a ruler which he can use to measure things with. The set is constructed of fabric and plastic, so it's completely safe. Imagination-based toys like this one make a great gift for 2 year old boy.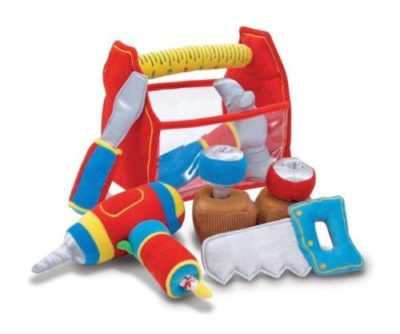 LEGO Duplo Town Push Train Set
LEGO is a game that gives hours of fun and helps encourage creativity in an easy to use and fun way. There are so many different types with all different themes and sets to build, which is why this is a good choice for a children's gift.
This track set is filled with LEGO pieces and has loads of different fun things to sort out. There is a train and a train track with level crossings included. The wagon and car included in the set mean there are enough LEGO  pieces to go around for everyone to join in the fun. Families and LEGO go together and some find that it is great for father-son bonding. This might be for children aged from 2 – 5, but adults find this set fun too.
There are loads of accessories with this play set, which include flowers and crates to make the fun and play last all day. The buildable train has a driver and so does the car and with each sized around 4″ high and 11″ long, this is big enough to be exciting.
The building blocks are really cool toys for toddlers and parents agree. LEGO is one of the games that kids get countless hours of fun with as they build and sort out the pieces.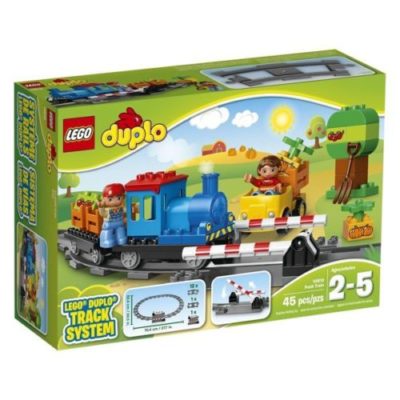 Holy Stone Cartoon RC Race Car 
Every little kid wants an RC car at some point in their childhood and it comes as no surprise to most parents. This toddler RC car is designed to be easier to use than most other RC cars, which is why this toy is a bundle of joy, lots of laughs and super-exciting for any toddler boy!
This RC car is equipped with music and lights to add to the fun! It features 2 channels, one for going forwards and another for reversing whilst turning. Cars are always good toys for 2 year old boy and the honking sound on this one is sure to make him laugh! The driver of the car can be removed and used as an action figure.
This is designed for children 18 months and older, which is why this is the perfect for any occasion, whether a present for Christmas or birthday and for those buying for another friend's child this is a safe bet.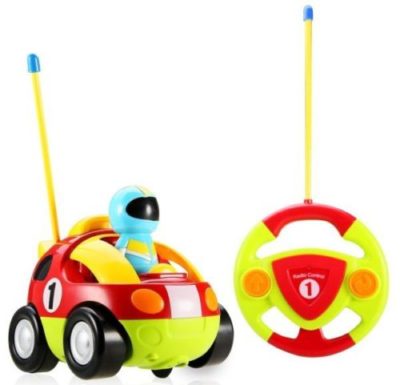 Kids Mini Band Musical Instruments Pack
The brand Kilofly creates great musical instruments that kids love to use and play, which is why this is a quality gift choice. They are designed with children in mind, but also for adults who enjoy playing along and creating rhythm and sound.
The toys come in a value set with a whopping 12 instruments, which is a fantastic start to their musical endeavors. This pack includes; shaking bells made of wood, a whistle, touching bells x 2, castanets x 2, and a musical egg shaker with 2 maracas, which is great value for money, especially with an easy to store and carry bag that comes included.
Musical learning toys are great ways to encourage toddlers to learn and play at the same time.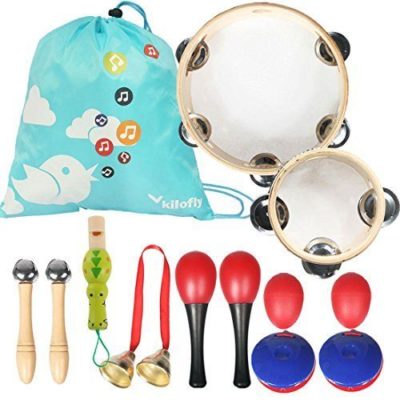 WolVol Push and Go Car Toys 
Push and go cars have been around a long time and children always go through a phase of wanting one. With this set, they get not one but three to play with!
There is a toy green harvester truck, orange street sweeper and a truck for cement mixing. Each one stands out and is easy to use with a push and go motion for toddlers. The set of 3 is friction powered and great for developing motor skills and hand-eye coordination.
The way these trucks work is by pushing forward, the more the increased speed, which will in a few motions make the features of the truck come alive and begin to move forward.
Each vehicle has a rotating function, operates like a real truck would and with no batteries needed this is a good choice for a present. Each one is well-made and sturdy. Some toys break easily with too much applied pressure, but these toy trucks are built to last the test of time. This is meant for toddlers and are some of the best gifts for 2 yr old boy into cars and trucks.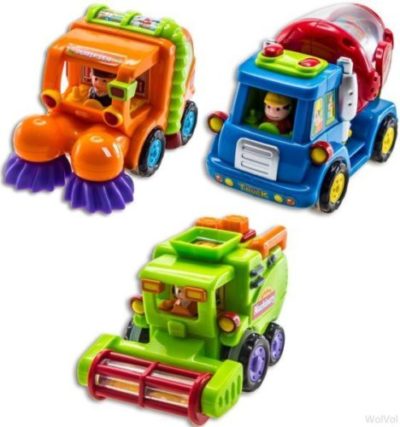 LeapFrog My Own Leaptop
This is an introductory laptop for toddlers and is a computer for helping them learn how to spell their name and develop other skills. The laptop is great for helping teach cognitive skills in an age-appropriate way with interactive games and activities.
The Leaptop features include a large screen for easy visibility, 26 animal animations for fun, 4 unique modes for learning, which include music, ABC activities, games and messages for building interaction. Little ones will enjoy pretending to be all grown-up sending emails and letters, whilst having fun singing along to the 16 different melodies that come built into the LeapFrog laptop.
VTech have some very good gifts for 2 yr old boy and this one is ideal for them to carry along with them to visit their grandparents or friends with an easy to carry handle. Some parents find this learning tool is perfect for journeys in the car and other trips where there isn't too much space.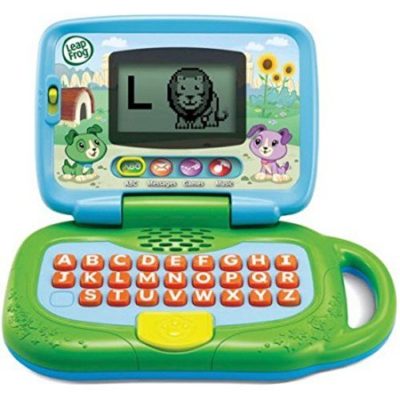 First 100 Trucks & Sticker Book for Toddlers 
Books are great gifts for 2 yr old boy. Priddy baby creates great books and this one about all the different vehicles is a fantastic gift idea for little boys who love their trucks.
Most little boys' parents find they love trucks, tractors, buses, motorcycles and anything that goes fast. This is why this book is a perfect choice as a gift for those toddlers who love transportation vehicles, big and noisy fire stations and all vehicles that go whizzing by on the highway.
This book is a perfect learning tool for boys to extend their vocabulary and begin associating specific vehicles with their correct name. To learn, you can look at the pages or stick the 500 included stickers onto the activity sheets.Learning to match names with visuals is a key component to children's development and the more words learned at an early stage the better prepared they are for kindergarten, which is why some parents love this book.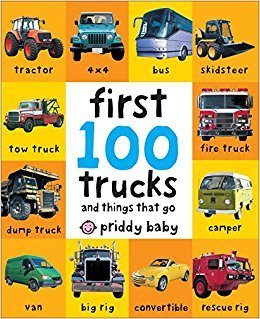 Grippies Builders
This is a STEM toy for building which makes a great gift for baby boy 2nd birthday. It is an open-ended playset, so as far as the imagination goes this toy will extend with the toddler's progress. This building toy is a great gift set and combines fun with learning. This set combines motor skills, imagination development and tactile shapes, making it educational as well as loads of fun.
The magnetic structures fit together easily and there are 20 pieces in the box, for loads of building possibilities. There are different colored pieces, so you can also use this set to teach about different colors and naming them.
These building pieces are high-quality, strong and durable and made to last with rough handling. This does come at a price, but this is fair for the quality of the design. The pieces are designed to be large enough that they are not a choking hazard, so they're safe for kiddies who still like to chew on their toys. This is a great gift choice for boys that love building or are showing interest in developing their engineering capabilities because parents know that starting them learning young is the secret to their future.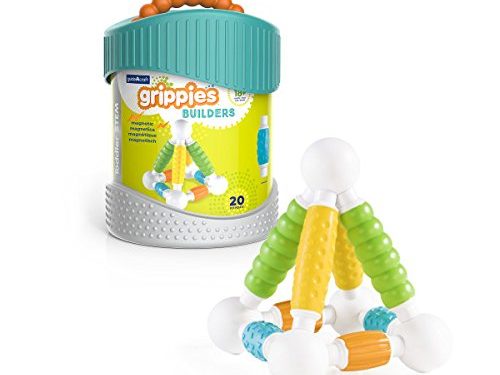 Superhero Dress Up Costumes
Is it a bird, is it a plane, no it's your two years old running around saving the world from super villains in any one of these awesome costumes!
These capes are made from quality satin and are highly durable. Each comes with its own matching mask. The masks are made from felt, making them comfortable to wear for long periods of time, meaning that your boy can play for hours at a time.
Imagination play is an important part of any child's development and this gift will help them to develop that. Fancy dress outfits make great 2nd birthday gift ideas for boys – his friends will love to share them at the birthday party.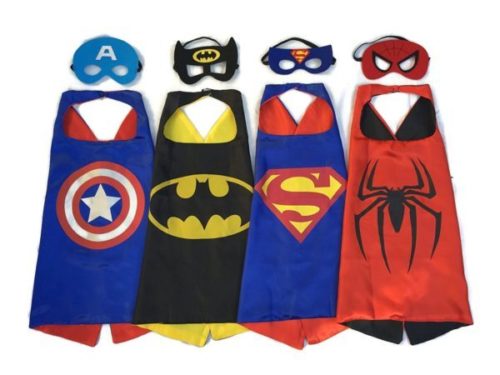 Ofun Toddler Backpack 
This cute little guy will fit perfectly on your little one's back, allowing them to take all of their belongings with them with ease. Specially designed with children in mind, this brightly colored bag will keep your child amused for hours on end.
The fact that this backpack is made from neoprene means that it's fully waterproof. Good for school, walks and hikes, belongs will be kept safe all day long. Backpacks are great 2nd birthday boy gifts and are both thoughtful and practical, sure to be appreciated by children as well as parents.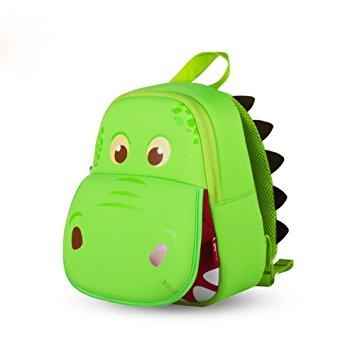 Stringing Bead Set

A perfect gift for any two years old, these brightly colored blocks, balls, and string will capture the eye of your child and keep them satisfied.
Great for teaching your child about shapes, colors and different textures., the set includes 36 beads, 4 strings, and a carrying bag. The oversized shapes are great for little hands to grasp, meaning that it is great for toddlers.
This educational toy helps to develop motor skills, dexterity and early skills development. All of this gives them an advantage over their peers when they start preschool.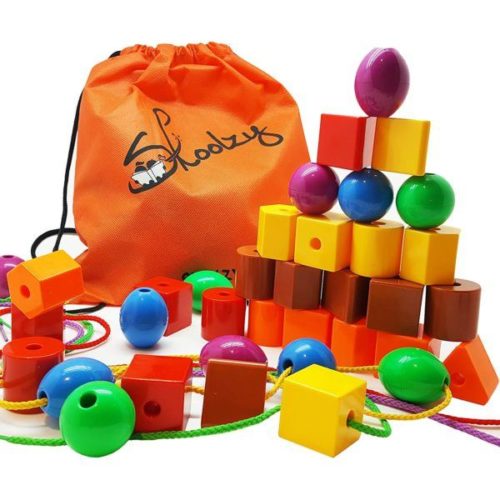 Melissa & Doug Deluxe Pounding Bench 
We all remember playing whack-a-mole as children in the arcade, now that fun can be bought into your home and shared with your little boy.
Made from high quality, durable resistant wood, the pegs can be hit time and time again without a sign of wear. You can see the little guys face grasp the concept of cause and effect because every time he hits one of the guys, another peg at the opposite end will pop up.
You can even take it to the next level by naming the color as it pops up. A great learning toy.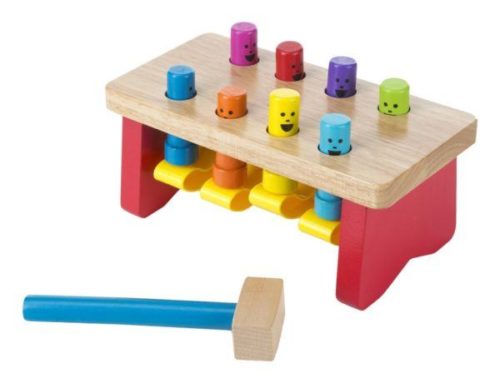 Melissa & Doug Jumbo Cardboard Building Blocks 
Your toddler will love playing with these premium cardboard blocks from Melissa & Doug.
The blocks, made from an extra thick cardboard can hold up to 150 pounds, making them perfect for two-year-olds as they climb over everything. Even though they're so strong, they weigh so little, your boy won't have a problem lifting, throwing and building with them.
The 40 blocks come in three different sizes and colors to help inspire kids to get creative with what they build. Melissa and Doug make some of the best Christmas toys for boys and offer loads of choices, usually all educational and fun.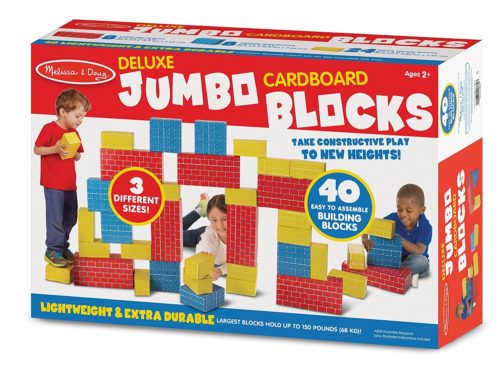 Little Tikes Giraffe Ride-on Go and Grow
Little Tikes ride on toys make perfect presents. This one has 3 wheels for maximum stability, with a larger one at the back for maximum stability. It comes with decals for customizing the giraffe to make it really one of a kind!
The seat is fully adjustable so they'll be having fun as they grow. This is an indoor and outdoor toy, and is a fun toy for toddlers who are learning ride their first vehicle.

LEGO Duplo My Town Pizzeria
A perfect gift for those that are just starting preschool. Designed for toddlers, you won't have to worry about small parts being swallowed and causing trouble.
The set comes with a buildable pizzeria with opening pizza oven, outdoor seating area with umbrella, ice cream stand, and a delivery bike. Three figures are also included as well as pizzas, a cash register and much, much more. You can watch your little one use and develop their skills whilst they build this awesome little setup.
Another one of the top toys for boys who love LEGO!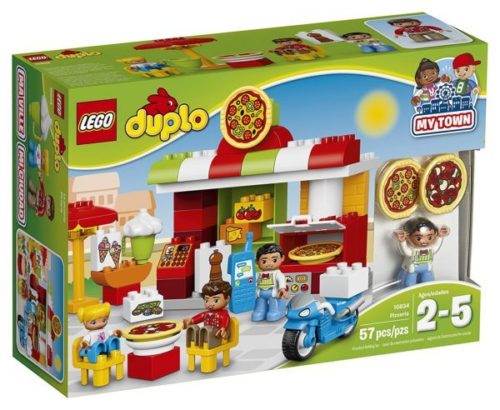 Walkie Talkies Audio Toys 
Your boy will marvel at the magic that this walkie talkie brings. Whether they're in bed, in the yard or just wondering around the house, they'll be amazed that they can hear you and that you can hear them.
These walkie talkies have been tested from a drop height of 1.2 meters, which is taller than most boys aged 2. You know that they'll stand up against anything your boy can throw at them.
Perhaps the best feature of these walkie talkies is that they come with rechargeable batteries included, no more forking out for expensive disposable batteries.
Walkie Talkies are popular toys for 2 years old boy who maybe have siblings and want to create elaborate playtime adventures.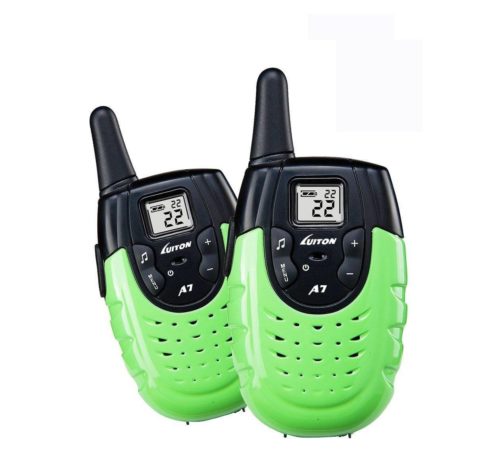 Little Tikes Easy Score Basketball Set 
What is a birthday party without some party games? Toddlers everywhere will love this basketball set as they score basket after basket!
The oversized hoop and adjustable height (2 feet to 4 feet) mean that no matter the skill level of your boy, they'll be able to keep on getting those points. Three balls are included so more players can join in the fun with a ball each.
This set can be used as a team game and would develop motor skills, social skills, and your child's co-ordination. Designed for 18 months – 5 years old, it's one of the perfect gifts for 2 yr old boy.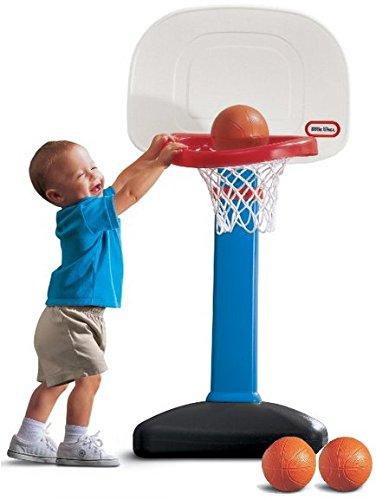 Toddler Yamaha Moto BMX Bike
First bikes don't come much cooler than this, so if you are looking for outdoor toys for 2 years old boy, this is certainly worth considering.
This bike's frame sits at 12 inches high, making it the perfect height for your little boy. The training wheels at the back ensure the safety of your child, as does the added chain guard. No shoelaces or loose clothing will get trapped in there.
The wheels are rough and knobbly, this will allow your child to ride on any terrain they choose to without an issue.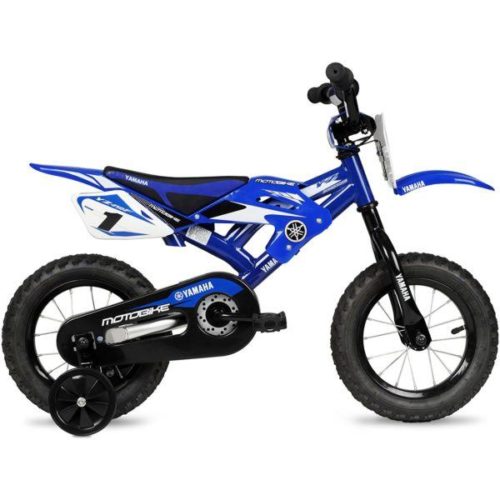 Smart Wheels Spinning Spiral Tower Playset
Bright colors and exciting noises will keep any two years old happy, and that's what VTech have combined when making this smart spinning spiral tower playset.
The educational toy, that children build themselves, will help your boy develop his creativity and refine his motor skills. The cars feature technology which allows the track to know where it is, making specific noises as it passes certain points of the track.
The van has two AA batteries included so no hassle there. Combine it with other sets to make playtime even more fun! Designed for children aged 1-5.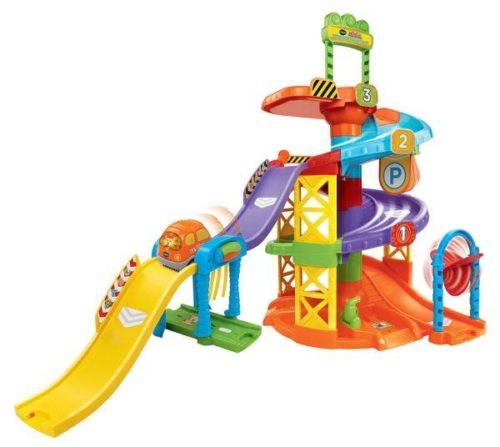 24 Sports Balls Toys Set 
These novelty miniature balls look and feel like the real deal, and little boys everywhere will love them. With 24 balls coming in each pack, you get a fair mixture of soccer balls, footballs, and basketballs. They are perfect for using at a 2nd birthday party or for giving out as party favors.
The balls are small enough for your little boy's hands to fully grasp them with allowing them to throw and catch, developing their hand eye co-ordination and motor skills at the same time.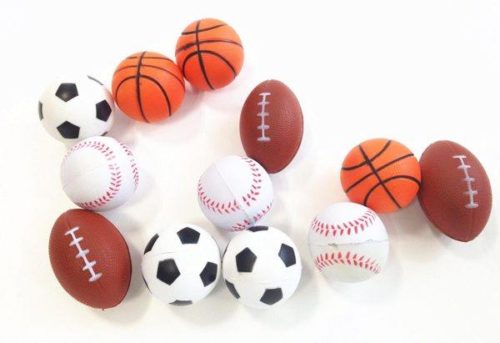 Brio My First Railway
This fantastic set would be the perfect way to begin any young railway enthusiast's career! From Brio, one of the most popular toy railway makers, the My First Railway Beginner Set is a great gift for your baby boy. It includes a colorful engine and rattle wagon with reversible magnets, a rainbow suspension bridge, guiding ramp tracks, and wooden railway tracks. This toy railway set is sure to stimulate your toddler's imagination, with so many fun combinations to create! The beginner kit is compatible with all My First Railway and Brio World toys, so you can keep adding to your kid's collection as they grow. Brio is committed to producing safe toys, conducting more than 1000 safety tests each year and ensuring that their toys conform to all safety standards. This set is made from FSC certified solid beech wood.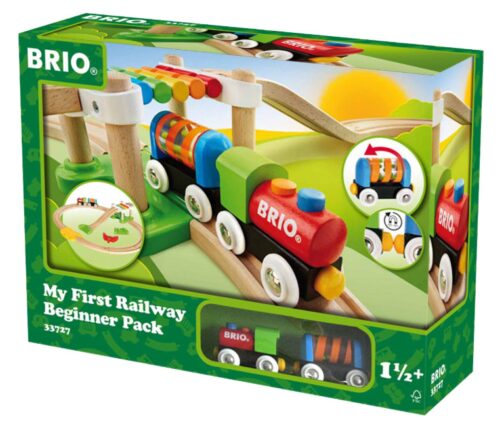 Toddler Peg Button Art
Help your toddler boy practice his fine motor skills and get creative with this peg button art set from Skoolzy. The set contains 48 vibrant and colorful jumbo peg buttons, 12 illustrated image cards, a sturdy stand and a transparent peg board. The chunky pegs are easy for toddlers to pick up and move, and help develop hand eye coordination, matching skills, pincer grip, and fine motor skills. Your kid will love the colorful pictures to choose from, including bugs, dinosaurs, vehicles, and animals. Place the selected picture under the pegboard and your little one will have lots of fun finding the pegs to match the colors in the illustration. Your kid can also use the board without the images to unleash their creativity, making a variety of patterns with the chunky pegs. The peg set is safe for toddlers to use, and the materials are free from BPA, phthalate, and lead and are non toxic.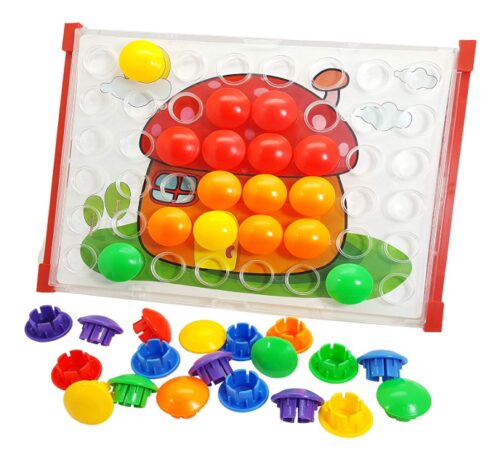 Fisher Price Harley Davidson Tough Trike
For your toddler on the move, this Harley Davidson Tough Trike from Fisher Price could be a great choice. They are sure to love cruising around in the cool trike with Harley Davidson decals! With rugged and durable tires, the trike is built to withstand use from energetic little kids. It features a wide, stable wheel base, easy grip handlebars and large foot pedals, so it is easy to ride for even the littlest bikers. The seat is designed to be comfortable for toddlers and even features a secret storage compartment for their little treasures. As the trike is powered by foot pedals, it is a great way to help strengthen a toddler's leg muscles and develop their gross motor skills. And they are sure to love getting themselves around on such a cool vehicle! It is designed to be safe for little ones, with tough tires and a wide wheel base for extra stability.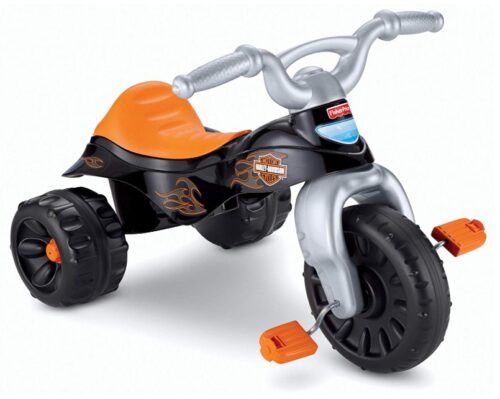 SplashEZ Sprinkler and Wading Pool
Many toddlers love playing in the water. This splash pad and wading pool from SplashEZ is the perfect way to introduce your little one to water in a safe and secure way. The splash pad features a learning mat for a base, designed to help your toddler to soak up some new knowledge while they play. The inflatable pool was designed by parents in order to combine learning with fun water play in a safe environment. The water sprinklers are sure to keep your little kid cool on warm days and the shallow pool is designed for toddlers to wade safely. Designed with safety in mind, the pool is made from materials free of BPA and phthalates. The pool's diameter is 60 inches wide so there is plenty of room to take a dip with your little one, and even invite friends over for a toddler pool party!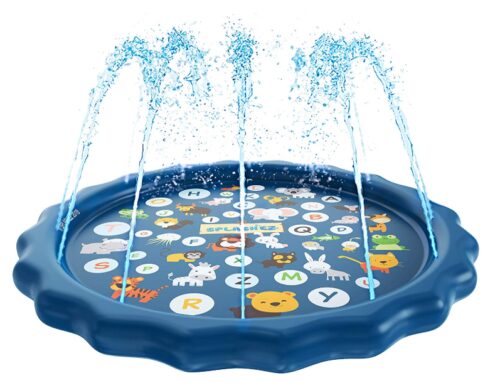 Black and Decker Toddler Workbench
Do you have a tiny DIY enthusiast in your family? Your little boy may be a bit young for real power tools, but this Junior Power Workbench is sure to delight them! Made by popular power tool company Black and Decker, the set comes with 75 tools and accessories, so it will keep your toddler busy for hours of play. The pretend tools in this set look just like the real adult models and will really spark your little one's imagination. The set contains a fantastic workbench with multiple storage trays, miter saw, drill press, accessory bin, hand saw, screwdriver, hammer wrench, screws, nails, nuts, a tool box and a flexible work light. The workbench has a storage place for every tool and accessory and is a compact size to fit in your nursery, play room or family room. This incredible tool set even features realistic sounds and lights to make play time even more fun!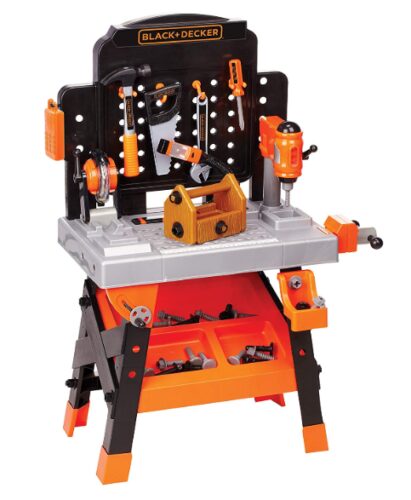 Little Tikes Toddler Trampoline
If you are looking for a gift for your energetic little boy, a trampoline can be a good choice. Designed to be safe for toddlers, this Little Tikes 3 foot trampoline would be a great addition to any family home. It is sure to engage your toddler, who will love bouncing for hours on this fantastic toy. This trampoline has a large jumping area of 3 feet and a handle bar so your little one can stabilize themselves while using it. It is low to the ground, so your toddler can get on and off it with little assistance. They are sure to enjoy the independence that comes with using the trampoline, and parents will love the way they burn energy while jumping! Made from metal and plastic, it is lightweight enough to move from one location to another. Jumping on the trampoline can help your kid develop their gross motor skills, muscular strength, balance, concentration, and coordination.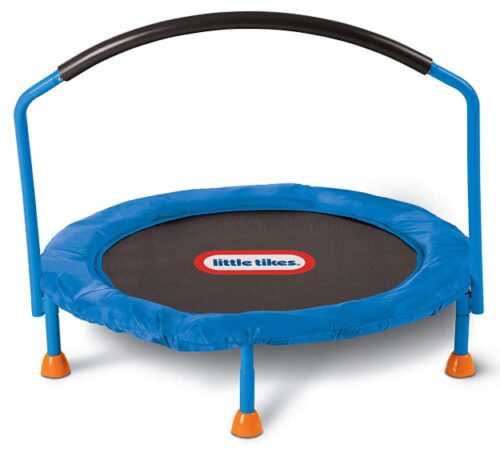 VTech Go Go Deluxe Garage
VTech is a brand known for making fun, vibrant toys for toddlers and children. This Go Go Deluxe Garage is a fantastic gift for any toddler. Kids will love the bright colors and fun sounds featured on this garage kit. They can play for hours constructing new tracks and configurations with the jumbo tracks, expressing their creativity and using gross motor skills. The set comes with an interactive toy truck that plays 3 sing along songs and voice tracks. There are lots of interactive elements in this deluxe garage set, like a rotating helicopter pad, elevator, and rolling sign stand. Your toddler will delight in pushing the tow truck over the 9 Smart Point locations to hear the different sound effects. Parents can extend their kid's play by connecting additional Go Go Smart Wheels and Smart Animals play sets, which are compatible with this garage. Watch your little one build a whole fun world!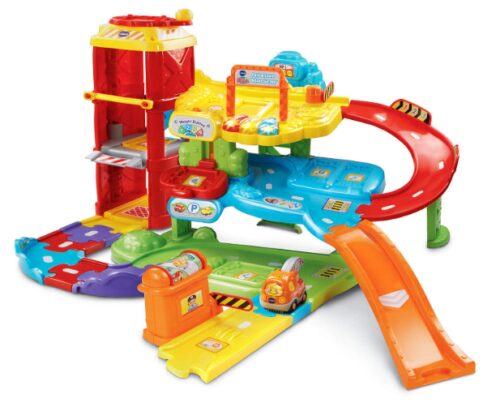 VTech Little Apps Tablet
For the tiny tech enthusiast, how about a tablet designed specifically for toddlers? Suitable for little ones aged 2 to 5 years, it offers lots of learning fun and encourages toddlers and preschoolers to play on their tablet just like mom and dad. It is pre-programmed with Cody the smart cub, a character that will take your little kid on play adventures. The Little Apps Tablet features a color changing screen, letter buttons and piano keyboard. Your toddler can explore counting, new words, letters, and basic math as they progress through 8 learning levels. They are sure to be engaged by the color screen and sound effects. The tablet also offers them the chance to be musical and play their own tunes, encouraging creativity and auditory skills. This toy is excellent for role play and imaginative play. It is portable and compact, so it is ideal for taking out and about or on long journeys. It also has parent friendly features such as volume control and automatic power off.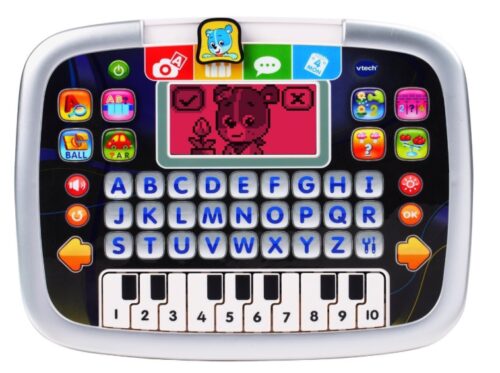 Playskool Sit 'n Spin Outdoor Toy
For a unique gift for any toddler, check out this Sit 'n Spin Activity Toy from Playskool! Your little one is sure to love spending fun play times on this innovative and popular toy. They can sit on the base and control the rotation and direction with the spinning wheel, making the toy easy to use for little hands. It will encourage independence, balance, coordination, and gross motor skills, all while providing endless joy! This classic spinning toy has delighted children for generations and is a great gift. Your little one can spin fast or slow, controlling the direction and speed and of course burning lots of energy while playing. Watching them spin around and having fun is sure to make parents giggle as well! This toy is intended for indoor use.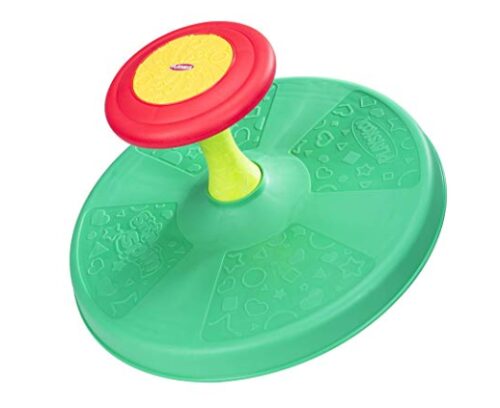 Rocket Ship Play Tent
This rocket ship pop up tent would be a great addition to any little kid's play room. In dark blue fabric inspired by the night sky, the body of the tent is covered in beautiful yellow stars. It has a silver roof and sides, modeled after space rockets. The play tent is easy to set up and comes with a handy tote for compact storage and transport. The fabric features breathable mesh window screens to keep bugs and mosquitoes at bay. The spacious interior is big enough to fit 3 kids inside, why not invite friends over for a space themed play date? The fabric is easy to wipe clean with soap and a damp cloth. It folds down compactly and is made from durable materials. It even comes with a space torch projector complete with 24 NASA inspired images, perfect for your future astronaut!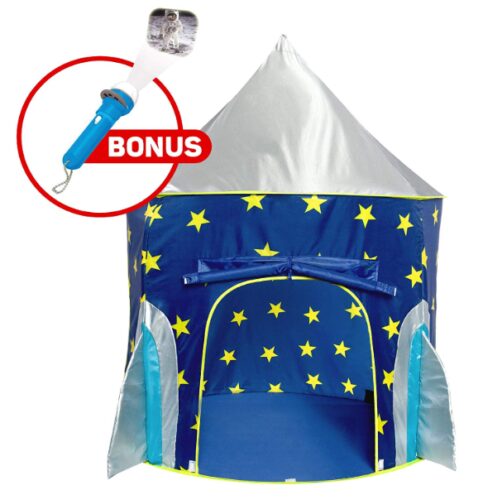 Best Overall Buy
Having looked at some of the best gifts for boys in this guide, we now present our best buy. Our pick is the Playskool Sit 'n Spin Activity Toy. It is incredibly simple in design, yet offers endless fun for toddlers. Playskool is an established brand that is well known for making excellent quality learning toys for little ones. This brightly colored innovative toy will delight your child as they control the spinning speed. It helps to develop many essential skills, such as muscle tone, hand eye coordination, concentration, and balance, and does so without your child noticing how much they are learning.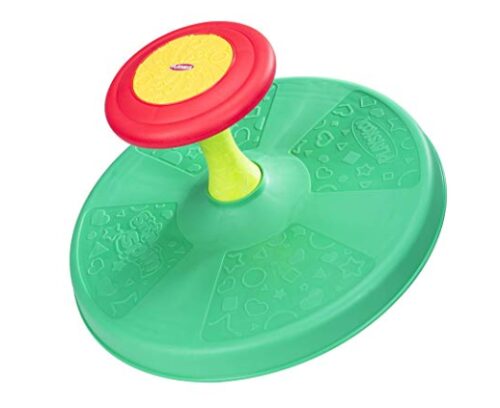 Best Budget Pick
If you are looking for an affordable yet fun gift, the LeapFrog Leaptop is our best choice. It has loads of educational activities to keep toddlers busy learning and playing for hours. It's also ideal as a travel toy or to keep your little boy entertained when eating out. They will love dancing to the music and learning their letters!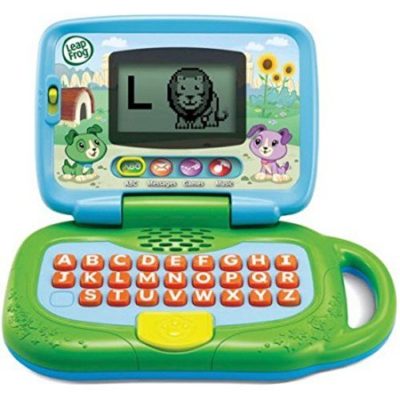 Tips When Choosing Gifts for 2 Years Old Boys
Every parent wants to make sure their child has the best toys, however, some might be buying a gift for someone else's child, which means things better be right. You wouldn't want to give them a present that, God forbid, they choke on for example. This is why we have specifically chosen toys that are recommended by the manufacturers and have set guidelines with safety in mind for being an age appropriate toy.
Other families are concerned about educational toys and want to choose a gift that promotes the child's well being and development. Most parents agree that most toys have been made to promote learning and enhance the child's cognitive function, including motor skills, language development, and help hand-eye coordination. However, there are some toys that are unique and offer better quality designs, which is why we have a full range, from playful to educational, there really is something here for every toddler.
Sometimes price can be a factor for choosing a present and when there is need to choose based on a set budget, you'll appreciate that we have a huge range of toy gifts ranging from $10 up to $150+, which is ideal for every occasion both Christmases, birthdays and random acts of kindness.
What Should I Get My Son for his 2nd Birthday?

There are loads of games and toys for 2 yr old boys to choose from. Some big brands offer great educational toys, so if you are trying to give a birthday gift for a boy pick one that will encourage their development. STEM toys are great for helping a toddlers development and if you are new to STEM they are worth checking out online. There are loads of great 2nd birthday themes for a boy out there, so think about what his favorite animals or characters are, and you might find a fun gift to match the party theme. Gifts with a number '2' on are always a great choice too!
Best Christmas Gifts Boys Aged 2

Looking for something special for a Christmas gift? At this age, toddlers love toys like chunky figures, building bricks, books, and ride ons. Choose something that helps them practice their new skills, encouraging coordination and motor development. This sweet Little People Christmas Story set from trusted brand Fisher Price would make an excellent gift. The miniature stable lights up and plays 'Away in the Manger' while your toddler plays with the jumbo figures, just the right size for little hands. While they play, they can learn about the Christmas story and act out scenes with the figures of Joseph, Mary, Baby Jesus, Angel, 3 Wise Men, and animals. Little People sets are great toys for 2 year old boys, and this festive one is simple perfect for Christmas.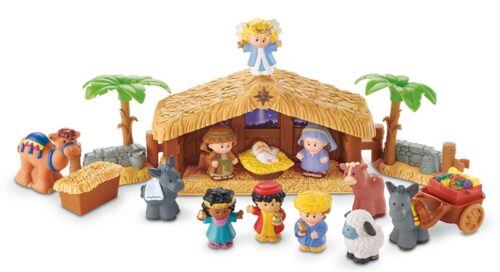 Unique Gifts for 2 Yr Old Boy
What do you buy for the toddler who already has everything? Sometimes it can be tough to choose something truly unique. Luckily, toddlers are quite easy to please! Since they are learning so many new skills, a gift that allows them to try them out is a good choice. For example, a toddler tablet, trike, or activity table.
This Touch and Learn Activity Desk from VTech is sure to please. The set includes a colorful desk and stool at just the right height for a toddler. Through unique learning cards and fun sounds, it helps teach words, numbers, letters, animals, and music. It even flips up to reveal a chalk board so your little one can draw masterpieces!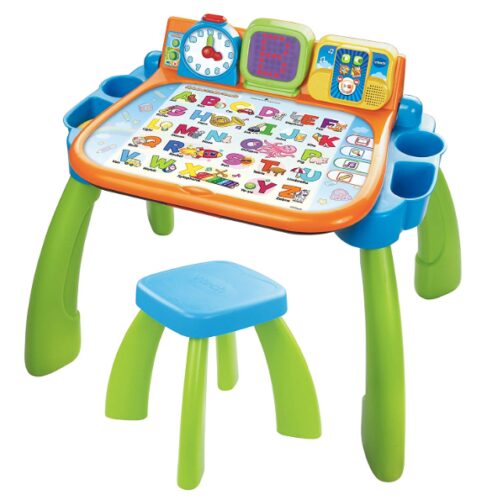 Popular Gifts for Young Boys in 2023
New toys are coming onto the market all the time, competing with old favorites to be the most popular items. Some of the most popular gifts for this age are books, building blocks, train sets, vehicles, and ride on toys. This building blocks set from Think N Thrill is a toy with a difference: it includes toddler power tools to put the bricks together! Your little one will love using these pretend tools to construct cool and colorful structures. With 64 easy to follow design cards, it will surely keep them busy for hours of play.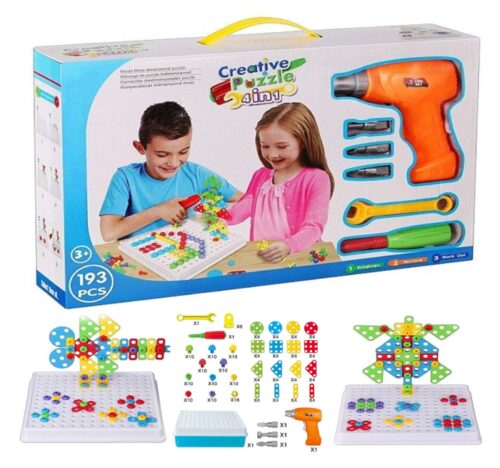 Best Easter Gifts for a Toddler Boy
Are you looking for an Easter gift for your toddler? Many parents prefer to give a present in the place of Easter chocolate, especially at this young age. Some excellent gift choices are books, art supplies, small world figures, and themed play sets. For an Easter gift that will provide endless fun, check out this egg-cellent matching set from Pretex! This set of 12 shaped plastic eggs helps your child to practice color and shape recognition. Each egg is shaped differently inside, and it is up to your toddler to find the right matches. They will love putting the pieces together and placing the eggs in the box, which is easy to open and close. This educational gift is perfect for Easter.