Looking for a 1st birthday gift basket idea? Or maybe a newborn basket? Whatever it may be, choosing birthday baskets should be fun and in this review of 20 different types of baskets for girls we have considered them all.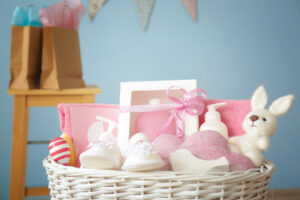 We all know there is nothing quite as precious as the arrival of a new baby girl. If you're expecting a special little girl to arrive in your life and want to buy a thoughtful gift, we're here to take a look at lovely hampers. These unique gifts can be totally personalized and are guaranteed to bring about plenty of practical help too. From keepsake products to everyday items such as nappies, each contains a set of items that can be gifted to the girl and her parents. Before we present our top baby girls gift sets, we'll take a look at some considerations to keep in mind, to begin with.
Considerations Choosing Little Girl Gift Baskets
Buying a baby shower hamper can be a lovely task, however, there are considerations to look at. From the amount you'll spend to the products inside of the basket, consider the following when buying baby baskets:
Size – there are large baby baskets out there and smaller options to choose from. Deciding on what size of baby gift box to buy is dependent on the budget that you have in mind. If you want to splash the cash and get a basket filled to the brim with goodies, you're likely going to have to go for a bigger baby gift basket.
Style – when it comes to style, you'll find all sorts of designs. From cutesy baskets made of traditional wicker to more contemporary designs, deciding on the type that you want will help you to reduce down your options. We love the white wicker style baskets that are generally paired with pink baby products, but some of the more modern options are cool too. Some styles of baby girl hampers even come with handy bags too for packing the products into!
Budget – budget is always a big factor, no matter what you're buying. While the arrival of a cute baby is certainly an occasion to celebrate, you may still need to set a sensible budget. The good news is that you can find a range of baby gift boxes at value prices and you'll see that further by our selections below.
Gender – Some parent these days are going gender neutral and if your looking for baby boy gift baskets then you can check out our boy basket ideas.
Top 20 Baby Gift Baskets for Girls
After taking a look at some of the considerations you may wish to focus on when choosing this type of product, it's time to take a look at our top 20 picks. There are lots of pretty baby girl gift baskets out there, whether on the high street or in-store and here are our favorites!
1. Keepsake Pink Polka Dot Gift Set
First up on our list of baby shower hampers is this wonderful pink polka dot keepsake box. Perfectly styled in a handy suitcase design, this gift comes with lots of lovely products for the gorgeous baby girl.  Each box has been individually packed to give an impressive array of presents. A sweet little teddy bear sits on the top of the baby gift set and is surrounded by a lovely selection of baby clothes, bath time essentials and a couple of emergency nappies, all of which are tied together using ribbon. After the items have been used, the suitcase becomes a storage box that can be used for baby's socks or toys. Included in this set is a 6" sitting teddy bear, a large swaddling muslin cloth, a pink cotton bodysuit with envelope neck and much more.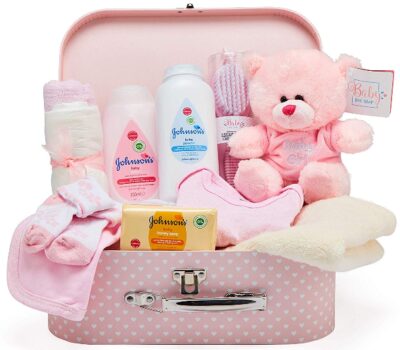 2. Little Girl Storage Bin Hamper
If you want to create your own baby hamper and are just seeking a lovely design to do so, why not consider this storage bin basket? It's a perfect basket to be used for kid's clothes, toys and essentials. With double layers, the bin is both thick and sturdy meaning that it'll last. This new baby hamper is made using a pink pattern that is super adorable for any nursery. It looks great on a shelf or on the floor and it could also be used as a laundry bin to separate baby's clothing from others. On the front of the bin, it has a lovely ballerina illustration and the words 'little girl' for a special touch. Now, just to decide what to put inside!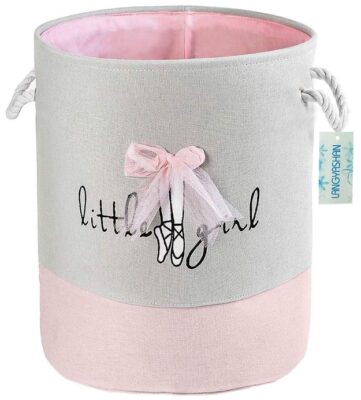 3. Feeding Set Baby Girl Hamper
If you're on the lookout for baby girl gift sets that ake a more traditional style, this lovely wicker basket features two deluxe bibs, three deluxe burp cloths as well as a reusable willow basket wrapped with a washable liner and is affordable too. The bibs and cloths are made using 100% cotton for an extra soft touch and ensuring that they are suitable for a baby's sensitive skin. This is a great smaller new baby gift set and you can add further products into it if you wish. This hamper would look great a nursery or bathroom and can be used to store baby's clothes too.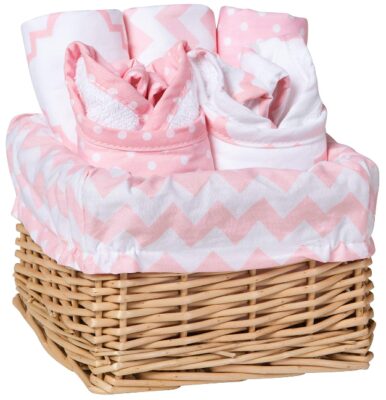 4. Nursery Organizer Newborn Baby Gift Set
This lovely newborn hamper comes as a foldable caddy featuring deep wide side pockets for easy access whenever needed. Made using premium quality materials, it has double thickness felt and top edge trim for better durability. The white cotton fabric lining with polka-dots is adorable and the multi-pockets inside allow you to easily organize baby's essentials. Both portable and lightweight this caddy can easily be taken anywhere – another plus! If you want to find a basket in which you can fill yourself with hand-picked products, this is an excellent option and the caddy is sure to be useful for new parents who can place it into baby's nursery.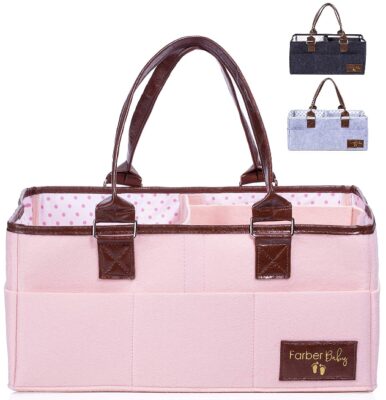 5. Baby Diaper Organizer With Unicorns
We're huge fans of this adorable baby gift box that certainly stands out with a super sweet unicorn design, perfect for little girls. With lots of different pockets and compartments, parents can easily pack and carry diapers, wipes, bottle, snacks, clothing, supplies, and more. The lightweight basket is made using double-wall felt sides and is sturdy and durable. for years of dependable use. The goodies packed inside are lovely little gifts for a baby shower and are sure to bring a smile to mom and dad's faces as they unpack their gift. Dividers placed inside are removable too, so this caddy can be used for other purposes.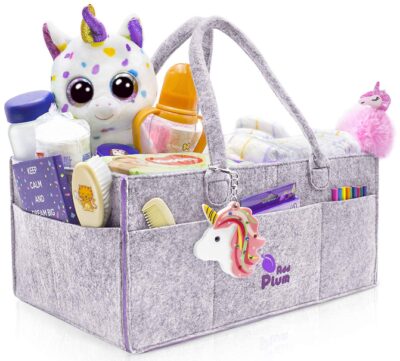 6. Little Boss Lady Bib Set
There are many baby gift hampers out there, but this awesome 'little boss lady' set is perfect for celebrating the arrival of a new baby girl. It can be used as a baby shower gift or a fabulous party centerpiece and will be appreciated as a well-thought-out arrangement. The keepsake wicker basket is filled to the top with baby essentials including a onesie bodysuit, graphic T-shirt, pants, 2 bibs, a cap, booties a sweet plush teddy bear, a BPA-Free baby bottle, a picture frame and Johnson's baby wash. We love this thoughtful selection of baby gifts and are sure that any new parent bringing a girl into the world will too!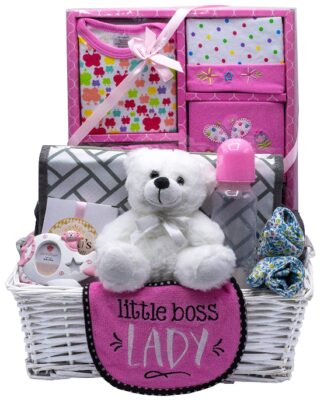 7. Thanks Mom New Baby Gift Box
A deluxe new girl gift set, this baby basket for newborns features baby clothing (0-6 months) plus a plush bear to snuggle into. A fun gift for the new mom and baby, the basket is moderately sized and the products inside are all excellent quality. This is one of the best baby girl gift baskets out there with an adorable set of gifts including a 'thanks mom' bib. Both cute and practical, this basket is sure to be appreciated and can be used as a storage solution in baby's nursery once unpacked.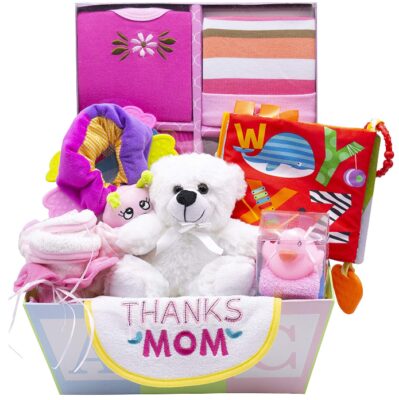 8. Baby Girl Wicker Basket
Included in this white wicker basket set there is lots to dig out including a pink plush teddy bear, baby manicure set, baby brush and comb set, 6 piece baby washcloth set, 2 cotton onesies, 2 cotton baby caps, 2 pc set baby teether, 2 receiving blankets, 2 baby booties, Johnson's Baby Soap and Johnson's baby shampoo. FUll to the brim with goodies, and carrying a very relevant pink theme, this gift set is one of the best when it comes to value thanks to all the items packed inside. For a traditional baby hamper, look no further! This set of products is sure to see mom and dad through the first few months of baby's everyday routines.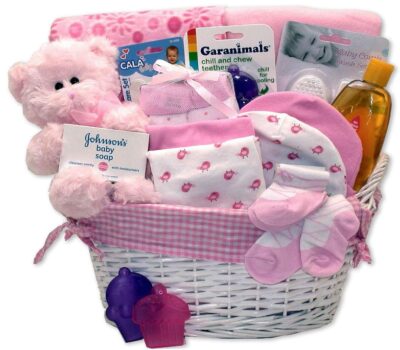 9. New Baby Hamper With Elephant
Baby baskets don't get much more adorable than this! This 16-piece newborn girl gift set from Nikki's Gift Baskets is filled with baby essentials. Inside the wicker basket, you'll find a plush elephant, a boxed clothing set (shirt, pants, hat, booties), a large blanket, baby washcloths, a soft book with a teething ring, a rubber duck with a washcloth, a picture frame and a BPA-Free Baby Bottle. A deluxe basket, all the products inside are made using premium materials. We love the sweet elephant plush toy included which is certainly the highlight!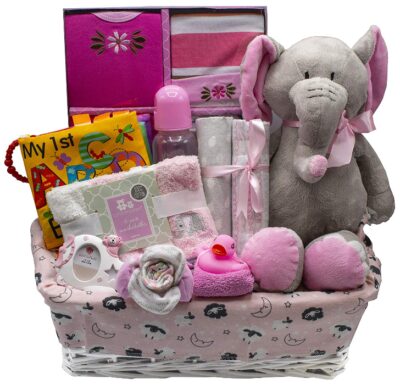 10. Newborn Gift Set For Girls
Looking for a little girl gift set that contains a large number of essentials for mom and dad? This 21-piece top of the line set comes with all the essentials needed packed into a  cute and useful canvas and leather diaper organizer. The baby gift clothing included is made using soft 100% cotton and includes 3 onesie bodysuits, 3 receiving blankets, a cap, scratch mittens, booties, 3 bibs and 4 washcloths. The multi-compartment diaper organizer also contains a soft panda bear swaddle, a plush lion blanket buddy and matching blanket and a large teddy bear for snuggling. Offering great value for money and the perfect welcome to a new a baby.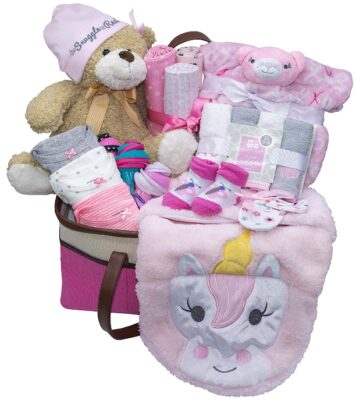 11. Baby Bundle Set
This 25-piece bundle baby hamper for new girls is from Nikki's Gift Baskets and is one of the largest in our list. The keepsake wicker basket is filled a large plush bear, a boxed clothing set, 2 onesies, socks, a cap, mittens,  a bib, a deluxe diaper changing pad, a blanket, baby washcloths, a rubber duck, a BPA-free baby bottle, a soft book with teething rings, and a picture frame to celebrate memories. Parents will love this charming basket that provides the new mom with some useful baby essentials. The fabulous gift comes at a great value-for-money price too.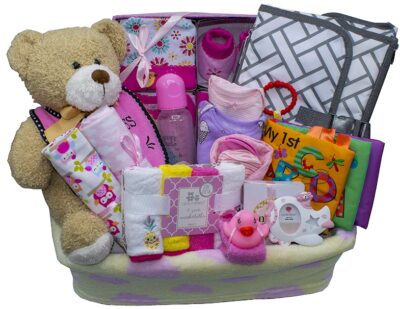 12. Ecocentric Mama Hamper
As one of the more unique new born baby hamper sets out there, this lovely gift is going to be appreciated. Inside mom will find an arrangement of eco-friendly products including water wipes, a teddy, an organic wooden teething ring and much more. Including the necessities, the set also comes with a keepsake photo frame too and some other unexpected goodies! We really love this one-of-a-kind baby girl hamper at a value price containing top quality products.  All of the brands included in the hamper promote eco-living and are great for parents who choose to live in this way.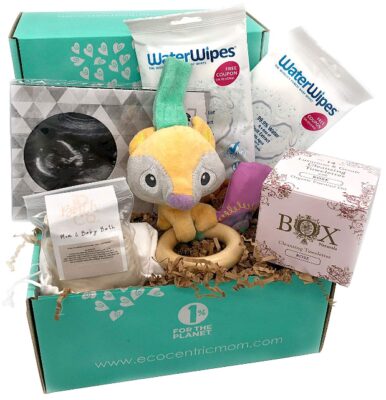 13. Pink Baby Basket
Are you looking for traditional pink baby gift boxes? This lovely gift is the perfect way to congratulate any new mom. The pink canvas bag contains a range of essentials for new parents including a teddy bear, piggy bank, cookies, vanilla sea salt caramels, Ghirardelli chocolate squares, Godiva chocolate truffles, chocolate cookie thins, and other edible goodies. If you want to gift mom with the ultimate feast of feel-good sweets and chocolates, this set is going to do just that. Everything is beautifully packed and presented with a pink theme and bows while the basket itself features moons and clouds for an adorable touch. 

14. Snuggle Teddy Gift Hamper
A great gift for a new baby, this lovely teddy gift hamper comes with all the pink essentials needed to welcome a baby girl. The gift basket is carefully tied together using a handmade bow and everything contained inside including washcloths, mittens and more are protected with cellophane wrapping. Buyers can also choose to add a personalized message for a final touch to congratulate mom and dad on their new arrival. This is one of the most adorable pink baby gift baskets out there and we're sure you'll that the new parents will think so too!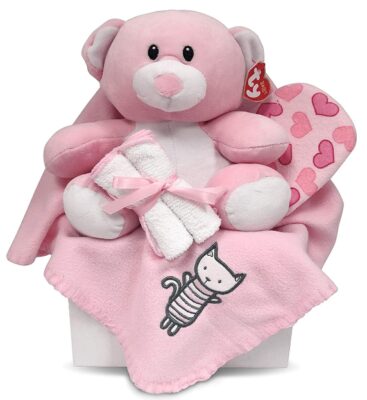 15. Giraffe Stuff Basket
How about a cute giraffe themed set to welcome the new baby girl? This is one of the best unisex baby hampers out there and comes with some sweet goodies to track baby's growth. The central piece of this basket is a 12-inch stuffed toy that babies can cuddle and play with and other goodies include a blanket, toothbrush and waterproof bib. The set is truly unique and is going to be appreciated by mom and dad who will be able to set about tracking their baby's growth week-by-week. In addition, the lovely essentials included are all made using top-quality materials and are soft on baby's skin.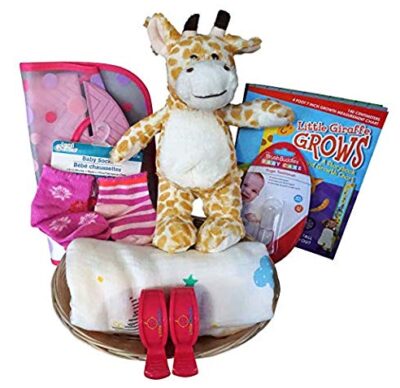 16. Double Delight Twins Set
Are the new parents expecting twins? Help them to welcome their new duo with the double delight set that contains lots of baby essentials from bathing goodies to bibs! The traditional wicker baby gift basket contains shampoo, body wash and two plush sheep toys too. Handcrafted with care, the 100% cotton material used across the clothing items guarantees no skin irritation. Other items included are teething rings, baby brushes and socks to help keep the twins' little tootsies warm at all times. Any new parent expecting twins is sure to appreciate this lovely basket filled with everything they'll need to take care of their new arrivals.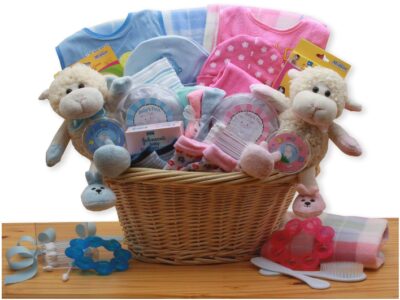 17. Washcloth New Baby Hamper
For a premium box full of baby essentials, this high-end hamper ticks all the boxes. Included in this lovely set is hooded baby towel with pretty eyelash embroidery, a washcloth, a swaddle (instructions included) and a bib and wooden bunny teether. All of the items in this hamper come lovingly wrapped to ensure full protection before being used. The baby towl included is ultra-soft and absorbent, being made from organic bamboo it's a great alternative to regular cotton. This set is a lovely welcome gift for baby and is sure to bring a smile to mom's face as she sees the goodies infront of her. As one of the most popular baby bath sets uk, it's easy to see why!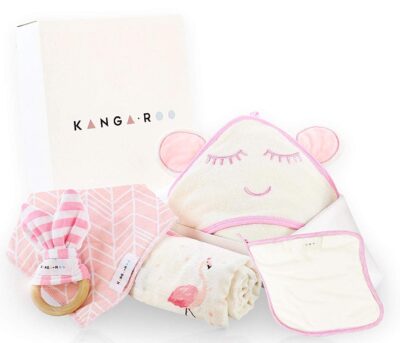 18. Onesie Plush Basket
A smaller gift basket, this lovely set contains a plush TY teddy, bibs, a polka dot onesie, a little book for baby and much more – all of which are gift wrapped using cellophane and a handmade bow. If you want to treat mom to a few essentials for baby but have a lower-end budget this is the perfect choice for you. Buyers can also add a personalized message too for the new parents! Once the items have been unpacked, the box is a great storage solution for baby's socks in the nursery or any toys.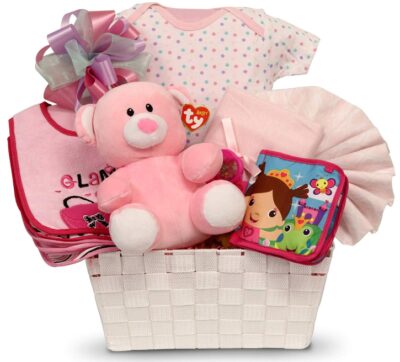 19. First Teddy Traditional Hamper
This handcrafted gift made in the USA is the perfect idea for any new baby. All of the items contained inside the reusable container are made using 100% cotton to ensure that baby's skin isn't irritated. Inside the basket you'll find a pink baby blanket, a friendly teedy bear, bibs, photo frames for presenting baby's memories and much more. For those that want a traditional hamper made of wicker, this choice is for you! Once the essentials have been unpacked, mom and dad can use the basket to store away other items such as nappies in the nursery.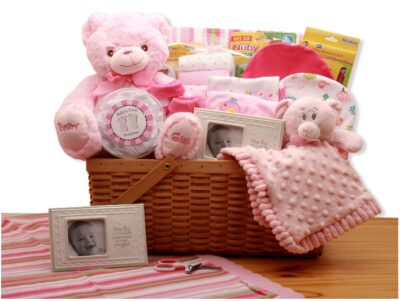 20. Hoot Baby Gifts
Having anew baby is a hoot! Why not celebrate this with a wonderful owl-themed gift box? Inside the handcrafted owl box are lots of gifts for the nursery, baby and mom and dad. The gender neutral option uses lovely colors such as grey and yellow, making it suitable for all babies. Inside the box you'll find some bathing products that are gentle on baby's skin, bibs, a mini owl teddy and more. Clothign items are made using 100 cotton to ensure that they're soft and comfortable for the newborn. The reusable container can be used for toy storgae, diapers and much more. This newborn baby set is sure to bring about plenty of smiles and is great for parents who don't know the gender of their new perfect baby!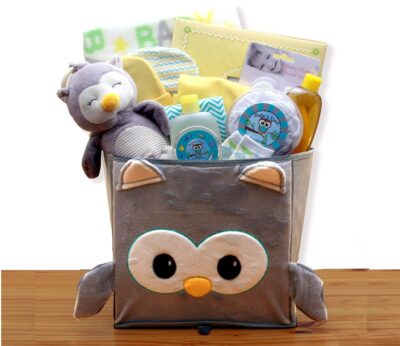 After reviewing the top 20 baby hampers out there for little girls, it's time to present out top buys. We choose a best buy overall from this category based on the items and design of the hamper and a budget buy for those who want to spend a little less cash. Let's take a look at the picks!
Best Buy Overall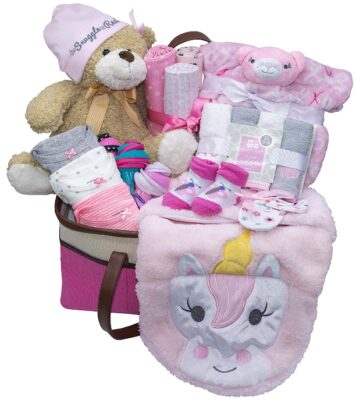 Our best buy overall is this lovely pink newborn girl git set that is packed full of essentials and well though-out goodies. Prices reasonably for what's included, new moms will love the fantastic range of bathing products, baby clothing and of course the adorable teddies included too.
Best Budget Buy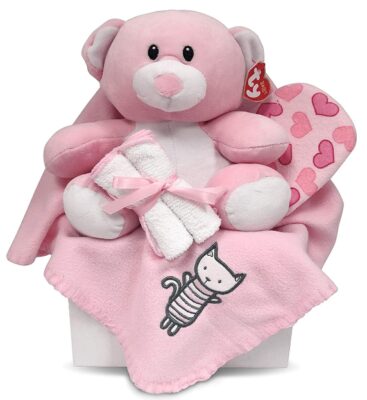 For a budget buy, this adorable baby gift box is a smaller sized option but for the price that you'll pay, the items inside are top quality. Featuring a lovely pink TY beat, washcloths and a blanket made of soft, snuggly cotton, for a little price tag this box contains lots of nice gifts to welcome the new baby.
How to Make a Baby Girl Gift Basket?
If you wish to make your own baby gift set for a girl you'll need to get your hands on a hamper or box. From our picks above, you can see their are lots of different options for containers. Once you've decided on this move onto picking a few essentials that mom is going to appreciate. You can go for a mix of baby clothing and bathing items and be sure to include a keepsake too for a special touch. There is no right or wrong way of putting together the basket, simply arrange the items in an attractive way and finish by wrapping in cellophane if you wish and a bow! Although the last step isn't needed, it's completely up to you.
What to Put in a Baby Hamper?
As a general rule, baby toys and baby hampers tend to contain the following:
Bathing items – bath products such as shampoo, body wash and facecloths are great to include.
Clothing for baby – onesies, socks, bibs and hats could be on your list.
A teddy – always include a teddy for the new baby!
Other essentials – teething rings, bottles, diapers and anything else for the nursery.
A keepsake item – photo albums or Instagram milestone cards are good ideas.
How to Wrap a Baby Shower Hamper?
Wrapping baby girl gift sets isn't as difficult as it may seem. You'll need to get your hands on some clear or colored cellophane. some scissors, clear tape and a nice bow to finish the set. Starting from underneath, cut out a large square of cellophane and place the basket onto it. Pull up the cellophane and arrange as neatly as possible, to finish simply tape in place and add the bow to decorate. There is no right or wrong way of doing this, if you're finding it too complex of a task, you can leave the basket unwrapped!
Conclusion 
If your are still looking for gift ideas for girls, then feel free to check out our 2 main sections for picking presents: