Do you need to find a cool gift for a 13 year old girl? Whether you are looking for something for your own daughter or are choosing a present for another kid, it can be difficult to find the right item. Kids at this age can be picky in their interests, and finding something to please is not easy!
Don't worry, because we've got you covered. In this guide, we have done all the work for you by selecting the best gifts for 13 year old girls in 2023. Whether it's for a birthday, Christmas, or just because, you'll find gift ideas for girls that are sure to impress. Read on for a ton of gift ideas, tips, and frequently asked questions so you can choose the best gifts for 13th birthday girl.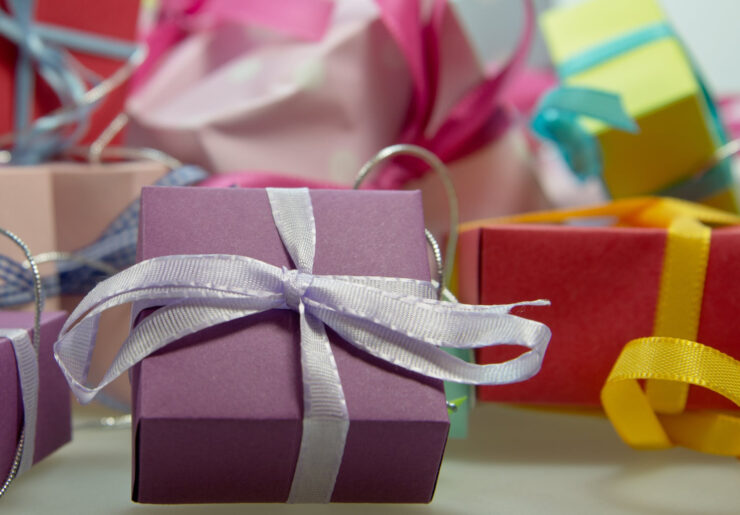 Considerations When Buying Gifts for Teens

At 13 years old, kids are about to enter adolescence and going through major emotional and physical changes. There are a lot of considerations when buying a gift for this age, and any thoughtful gift giver will want to think through these carefully. The perfect gifts for teens are fun but not too childish, as often girls of 13 want to be seen as grown up.
As well as the message you send with any potential gift, you will want to consider:

Price: with so much to choose from in our guide, you will find something to suit any budget. 13 is a big birthday so family members often want to mark the occasion with a special gift. If you are buying for a friend's kid, you may not want to break the bank, but you can still choose something cool and fun with the help of this guide.
Interests: ideas for 13th birthday gifts would be to narrow down the choices, think about what your young teen recipient is into already. Though trends and fashions change quickly at this age, many kids stay interested in at least one or two specific areas, for example, reading, gaming, fashion, or sport. If you can select one of her interests as a theme, this will help you select a great gift.
Age appropriate: at this age, kids can be very wary of looking childish and may prefer a gift that seems grown up. It is important to consider what are appropriate gifts for 13 year old girls. Here, we will give you a ton of ideas to choose from so you can hit the right note with your gift and make sure it impresses a girl on the cusp of her teenage years.
Occasion: There are certain types of gifts that are better suited for girls and the specific occasion. For example, birthday gifts for 13 year old girls are not the same as Easter presents, which are more typically festive. I would always try to pick gifts that are ideal for the girl, occasion, age, interests and all within a suitable budget. Follow these basic principles and you are on your way to picking an amazing gift.
Best Gift Ideas & Toys in 2023

Choosing a gift for a 13 year old does not have to be stressful. Here, we have selected 50 picks so you are sure to find something to suit, whatever your budget and whatever she is interested in.
1. Lucky Feather 13 Year Old Bracelet

Turning 13 is a milestone for any girl, and with this beautiful birthday celebration bracelet from Lucky Feather, you can help commemorate her special day. This sweet bracelet contains 13 delicate 14 carat gold dipped beads, one to celebrate each year of her life.
The minimalist design features an adjustable cord, so it will fit most kids' wrists, with a sliding toggle so she can customize the fit. The perfect birthday gift for any young teen girl, it is a discreet yet elegant addition to any outfit. As the beads are nickel free, they will not irritate a teen's sensitive skin.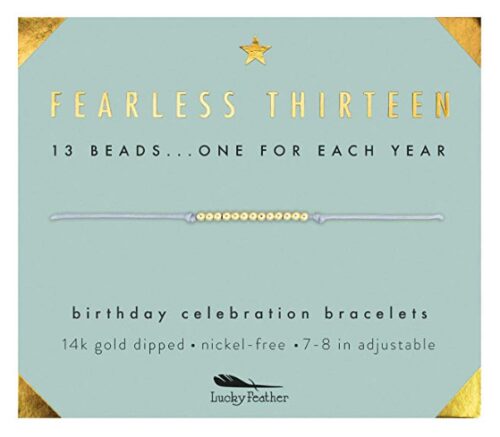 2. Crochet Mermaid Tail Blanket

If you are looking for cool gifts for tween girls, check out this mermaid tail blanket from DDMY. Hand crocheted from soft acrylic fibers, this stunning birthday or Christmas gift is sure to impress any mermaid loving teen.
It is made from high quality material with a unique weave that is designed to be durable, so you can be sure this gift will last. The beautiful blanket is soft and comfortable, providing warmth wherever your teen girl needs it, and would make a great addition to any kid's bedroom. As it is open at the top and back, the mermaid blanket gift is breathable and perfect for any season.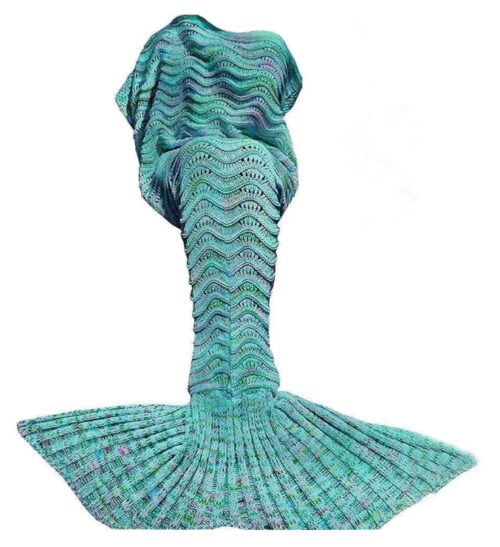 3. 13th Birthday Charm Bracelet

Looking for a special birthday present for a 13 yo girl? Check out this adorable birthday charm bracelet by Miss Pink. Commemorate the special occasion of your daughter, niece, granddaughter or best friend turning 13 with this special gift.
The bracelet features unique charms with a 13, birthday cake, balloon bouquet, and disc that reads 'live laugh love'. The band is made of high polished stainless steel that can be adjusted to fit a variety of wrist sizes. The charms are eco friendly zinc alloy attached with secure stainless steel hoops to ensure they will not fall off the band. This sweet bracelet would make a great gift for any 13 year old girl.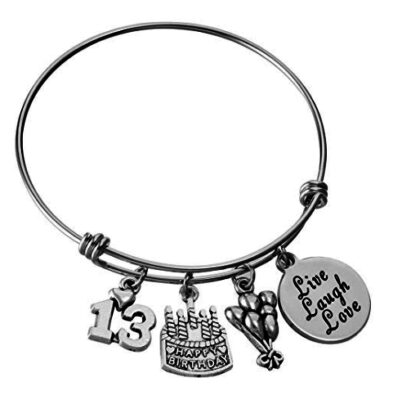 4. Jerky Johnny – Safety Game for Teen Girls

For a truly unique gift for teenage girls, the Jerky Johnny game could be a great choice. This award winning game is designed to help teen girls navigate tricky social situations and addresses topics such as bullying and sexual assault.
This family game uses role play cards to present real life situations that teen girls respond to, along with suggestions as to how to deal with each situation in a mature and responsible way. With scenarios covering friendships and dating, Jerky Johnny is a great gift for teens that can help open up discussions on these topics in a safe and secure family environment, so your teen feels prepared to deal with problems in the real world. This is a fun pick to add to a girls 13th birthday gifts list. 

5. Personalized Name Necklace

Jewelry items are a classic choice for teenage girl gifts. This elegant and attractive personalized name necklace by Soul Jewelry would make a perfect gift for a 13 year old girl's birthday. It features her name written in a traditional font, presented on a 14 inch chain.
The name is made from solid 14 carat yellow gold and can be customized with up to nine characters. With a split study twisted chain, the choker is secure and durable. Elegant and classy, this gift would complement any outfit. This beautiful personalized necklace is sure to enchant any tween girl.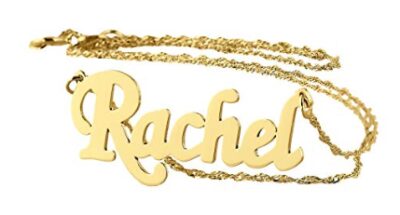 6. Keeper of the Lost Cities Collection

Books make fabulous gifts for 13 year old girls because there are so many incredible stories to choose from, whatever her interests. This collectible set of Keeper of the Lost Cities books is the perfect gift for a tween reader and contains the first five novels in the series: Keeper of the Lost Cities, Exile, Everblaze, Neverseen, and Lodestar.
The books, authored by Shannon Messenger, feature Sophie Foster, a telepathic teen heroine who is the key to an unknown world and has to step up and save it. Shannon describes the fantasy series for kids as 'Lord of the Rings meets X-Men' and it will surely captivate any young reader.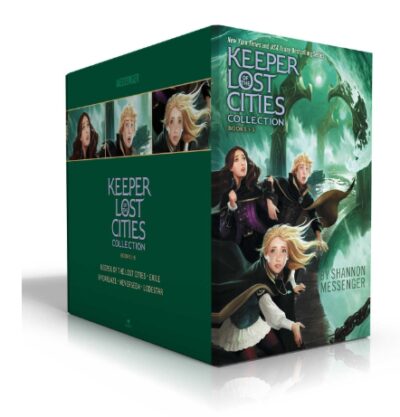 7. Paracord Bracelet Making Kit

This Paracord Bracelet Kit from Pinwheel Crafts would make a good gift for 13 year old girls who enjoy arts and crafts. The set contains everything a tween girl needs to make her own personalized bracelets.
With over 50 feet of strong paracord, 8 colored buckles, 5 decorative charms, and clear step by step instructions, the kit will offer hours of fun. She can mix and match the various items to create truly unique items to keep or give away as friendship bracelets. With plenty to choose from, your tween can even share the kit with friends for a fun bonding activity.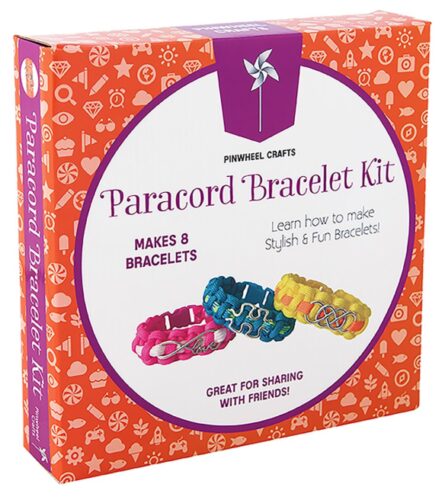 8. Girl to Girl – Daily Thoughts on Living

Teenage girls are often dealing with complex emotional and physical development and many find the teen years challenging to deal with. The book Girl to Girl: Daily Thoughts On Living For Girls Ages 11-15 is a great gift idea for teen girls and can support them through the challenges they face.
Designed as a daily devotional, this book by Karen Casey contains a reading for each day that aims to inspire teen and tween girls to consider who they are and who they are becoming. It can also be a wonderful discussion prompt between parents and daughters as they navigate the teenage years together. For uplifting presents picks these 13th birthday gifts for girls ideas are thoughtful.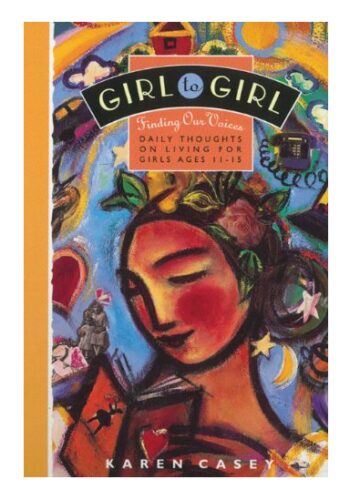 9. Chill Chat Challenge Social Game for Teens

If you are looking for cool birthday or Christmas gifts for a 13 year old, check out the Chill Chat Challenge game from Artagia. It is designed to connect generations within families and promote healthy communication between parents and teens. The game contains over 150 cards to encourage conversation between players.
Choose from three decks: Chill, with topics including fashion trends and music tastes; Chat, to spark honest discussions about current affairs, past experiences, and social media; or Challenge, giving the chance for players to tackle tougher themes such as ethics and personal issues. The game is designed to build self esteem in teens and can be used by parents, teachers, school counselors, or even therapists.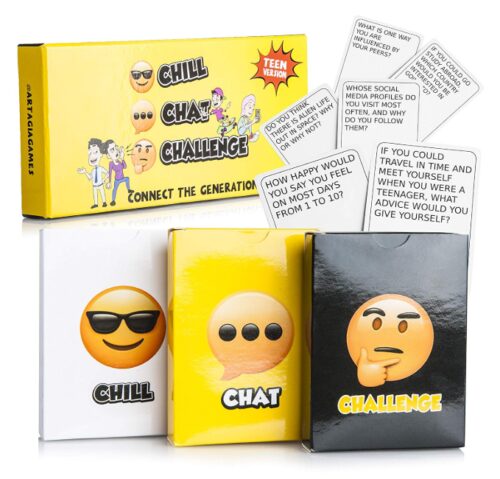 10. Fantasy Flight Arkham Horror Card Game

Board or card games are great gift ideas for teens, as they can encourage kids to spend quality time with their parents and family. Kids at this age often seek the company of their friends, but playing a game together as a family is a great way to stay connected with your teen girl. Arkham Horror: The Card Game by Fantasy Flight Games is designed to combine traditional card gaming with role playing experiences.
Put yourselves in the shoes of investigators working to unravel supernatural occurrences, fight monsters, and make decisions that will affect the game's events. This unique game is sure to engage the whole family in a fun and screen free activity. This makes an excellent 13th birthday gifts for daughters into scary stuff.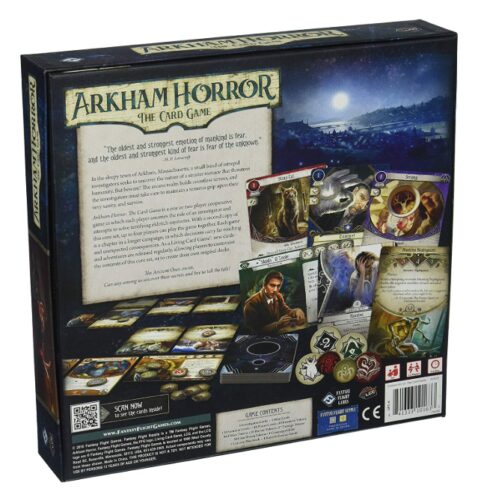 11. Everest Toys Anomia Party Game

Bring out your teenager girl's competitive side with this fast paced card game from Everest Toys! Anomia Party Edition is a brain bending, hilarious game where players compete to win the most cards in quickfire rounds.
Featuring 6 decks of cards with over 425 unique categories, the game covers all sorts of topics, such as sport teams, pop songs, dog breeds, and brands. Play by flipping cards until two players' cards show matching symbols. When this happens, the two players race to give an example of the category shown and the fastest wins the cards.
Sounds easy? Players may be surprised at how difficult it is to think of an example when playing under pressure! Anomia Party Edition is a fun teen gift that all the family will enjoy.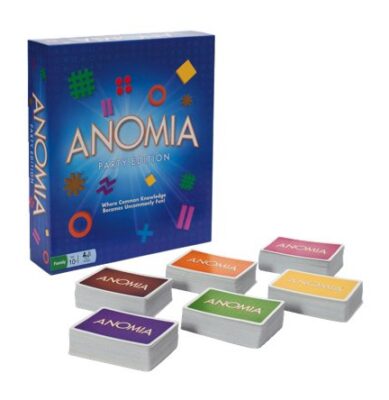 12. 13th Birthday Llama Shirt

For a fun gift for a 13 year old girl, check out this birthday llama shirt. This lightweight, short sleeved shirt features a bright colored design with a llama and rainbow slogan that reads 'I am 13 and llamazing'.
Your kid is sure to stand out at school or their birthday party with this fun apparel! Available in black, navy, royal blue, white, or pink, there is a shirt to suit any kid's favorite color. The shirt can be machine washed for easy care. Any teen girl is sure to love wearing this shirt on her special birthday and celebrating a milestone in a stylish way!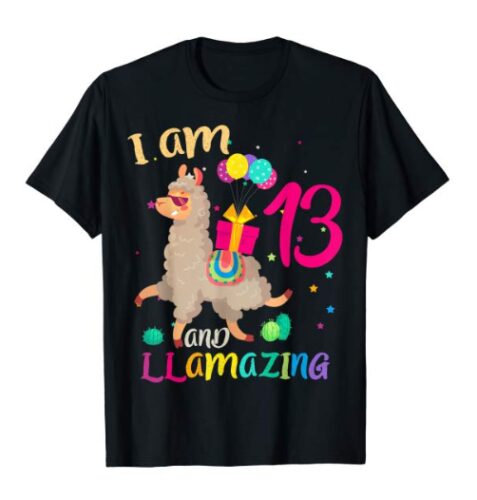 13. 13th Birthday Tiara and Sash

Are you wondering what to get your best friend for her birthday? This 13th birthday tiara and sash set would be a perfect gift to commemorate your friend's special day! The glittery gold colored crown features filigree decoration and stars, with a giant '13' on top.
It is durable and made from eco friendly alloy metal that is nickel free and anti allergic, and covered in crystals and rhinestones to make it truly shine. It is complemented by an elegant satin sash that reads 'Official Teenager' – the perfect set to mark any 13th birthday!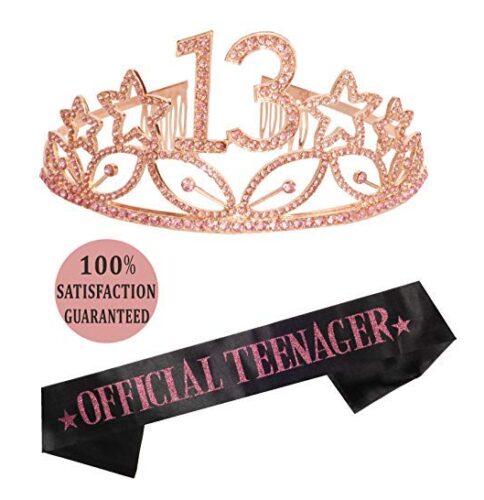 14. 13th Birthday Mug

This sweet 13th birthday mug by Pure Genesis would make a cool birthday gift for your girl. The white 11oz mug is high quality as well as being dishwasher and microwave safe.
It features a fun and colorful printed design that reads 'You are absolutely the very best 13 year old in the whole wide world' in fun cursive fonts, surrounded by vibrant stars and hearts. The print is designed to be durable and will never fade, no matter how many times it is washed. This cute mug is sure to put a smile on any new 13 year old's face!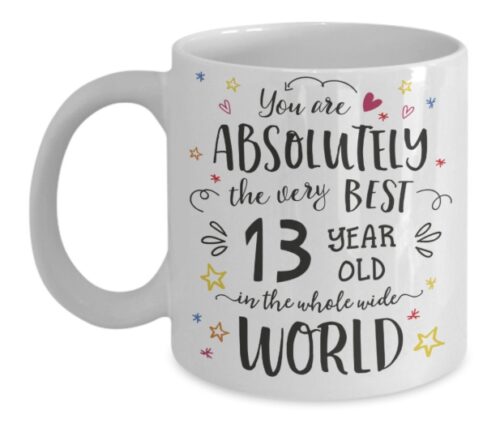 15. Cat Lamp

If you are buying for an animal lover, what about choosing this cute cat lamp from NeoJoy? Made from soft silicone, this cute and minimalist kitty light is one of our picks of the best gifts for teens. The NeoJoy cat lamp can be used as a reading light or night light, or simply for decoration in your kid's room.
It features 16 static color lights so your teen can choose her favorite color. The remote control can be used to switch between light modes: breathing, fade, strobe or flash, as well as set brightness level, power on and off, and change static colors. This light is portable and features a built in rechargeable battery.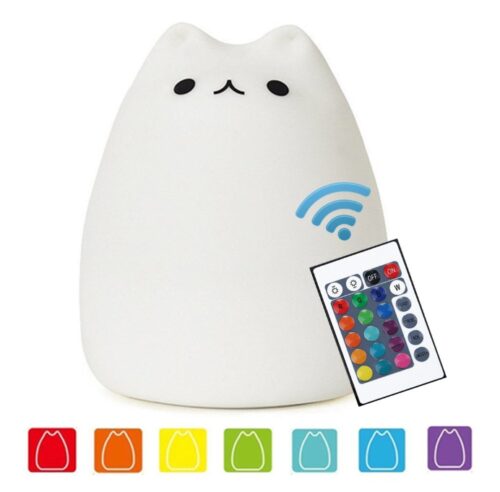 16. LED Cat Ear Headphones

Your cat loving teenager is sure to love these fun and unique headphones by Eoncore! Featuring cat ears with glowing LEDs that light up or blink on and off, the headphones offer clear sound and can be connected to a smartphone, MP3 player, electronic tablet, or laptop.
The headband can be adjusted to fit a variety of head sizes and has soft comfy ear pads designed specifically for kids to use. The LED lights will not get hot with use, so they are safe for young teens and are sure to impress with their fun glowing colors.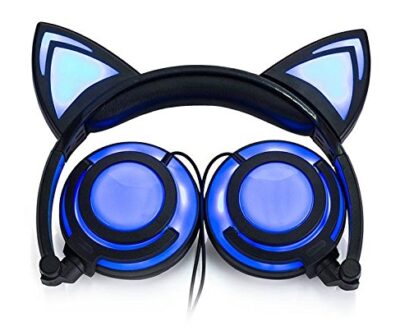 17. Tropical Terrarium Kit

Looking for a gift for a 13 yo who loves crafts and DIY? This CRAFTIVITY Tropical Terrarium Kit by Creativity for Kids offers teens and tweens the chance to build their own tiny tropical paradise. The CRAFTIVITY sets are designed especially for tween and teens to expand their creative abilities and learn new craft techniques.
This terrarium set contains everything a 13 year old needs to learn container gardening, with a planting dish, seeds, and decorations. Through creating her own terrarium, she will plant, water, and grow succulents and decorate her very own container garden. She will love watching the plants thrive in this fun and decorative container.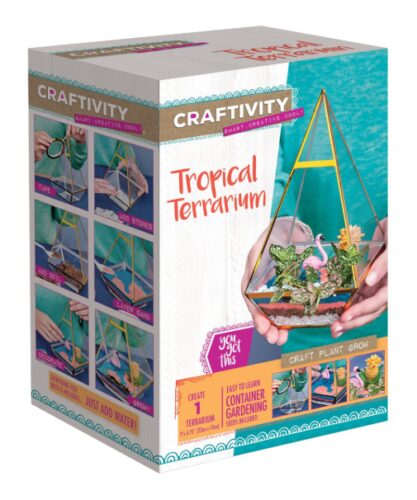 18. LEGO Architecture Las Vegas

For the budding architect in your family, this LEGO Las Vegas set would be an amazing Christmas or birthday gift. With LEGO Architecture sets, your kid can build incredible displays of the world's most iconic skylines and buildings.
This Las Vegas skyline model features the Bellagio Hotel, Stratosphere Tower, Luxor Hotel, a downtown Fremont Street scene, and the Encore Hotel. It measures over 7 inches high and 10 inches wide and would make a fantastic display piece for any room once completed. With over 501 pieces, it is sure to keep your tween kid busy for hours!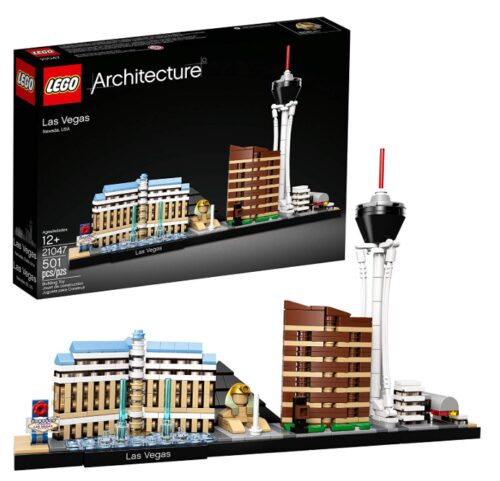 19. Wooden Ferris Wheel Building Kit

Experts tell us that the best toys are those that combine fun with an educational element. This Ferris Wheel mechanical model from Wood Trick is a STEM (science, technology, engineering, and math) kit that will encourage teen girls to think like real engineers.
She will plan and execute the build of this incredible working model, with help from the precise and clear manual that features illustrated step by step instructions. The set contains over 200 puzzle pieces made from high quality natural birch ply that slot together without requiring glue. Once built, the Ferris wheel will really turn, amazing family and friends with its intricate design.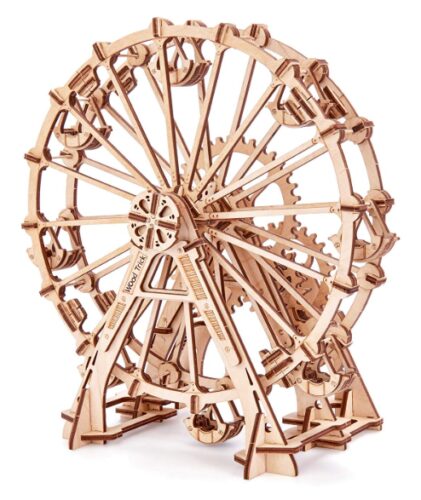 20. Strong – The Magazine for Girls Subscription

One of the best gifts for girls on our list is a subscription to Strong: Magazine for Girls. Designed to empower and inspire young teens to be the best they can be, each issue features interesting women role models and articles encouraging girls to follow a wide range of interests and hobbies.
Recent editions have offered tips and tricks for girls to get out and go camping, interviews with champion sportswomen, and financial guides for girls. A subscription to Strong: Magazine for Girls is a fantastic and fun way to lift up your favorite tween throughout the entire year.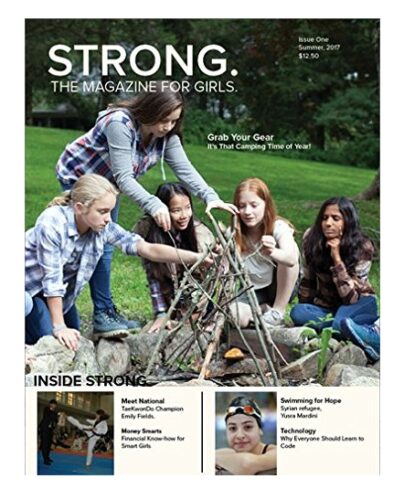 21. Girls' Life Magazine Subscription

Another amazing subscription gift is this Girl's Life magazine, sure to brighten up your tween's day. Girl's Life began in 1994 and is dedicated to informing, inspiring, and entertaining teenage girls. The bimonthly issues cover everything a teen girl could want to know, like business advice personal styling, and dealing with periods.
In each issue, your teen will find celebrity interviews, dating advice, inspirational stories from real girls, fashion and beauty tips, and articles on important issues affecting girls today. The magazine content is written especially for young teens, so parents can trust that it is age appropriate.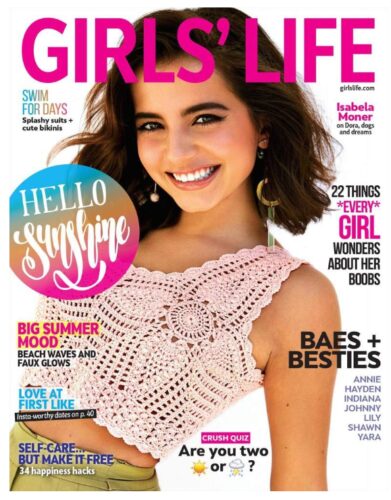 22. Mermaid Makeup Brush Set

Makeup accessories can be great gifts for teenagers, who often love experimenting with new beauty products. This adorable set of brushes for eye makeup from Tenmon feature handles inspired by mermaid tails, a must buy for any young teen girl into mermaids.
The set contains 11 brushes for a wide variety of applications including fan, nasal shadow, foundation, eyebrow, eyeshadow, eye socket, and eyeliner. The brushes are handmade from premium synthetic fiber materials and are ideal for applying liquid, powder, or cream cosmetics. The stylish handles are durable and feature vibrant turquoise and pink ombre 'scales' finishing in a cute mermaid style tail.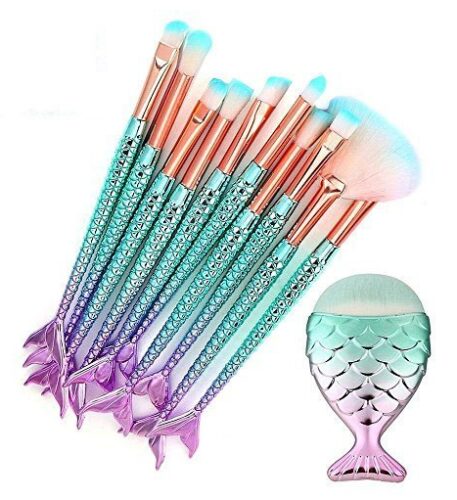 23. BR Makeup Set with Carry Case

Another cool birthday gift for teens is this incredible Carry All Case that comes absolutely full of makeup products by BR. Whether you are looking for a birthday present ideas or great Christmas gifts for  13 year olds, this makeup case is sure to impress. It has a stylish pink design with black trim and handle, and metal details. The fold out trays contains an impressive amount of makeup including pro eyeshadows, face powders, blushes, lipsticks, lip gloss, concealer, eyebrow powder, eyebrow wax, face primer, body glitter, and applicator brushes.
The train case is portable and durable, and once the makeup is finished the case can be reused. Are you wondering what 13 year old girls want as gifts? Well, makeup is for-sure something girls are beginning to use or at least wanting to.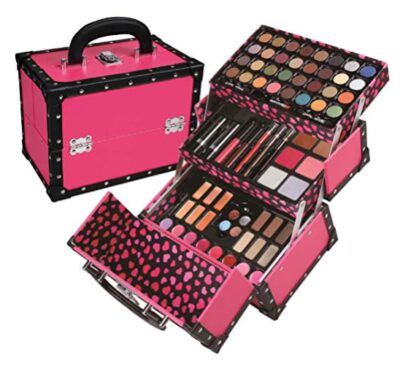 24. Guess Stainless Steel Quarz Watch

For a stylish birthday gift for girls, check out this silver stainless steel and quartz watch from Guess. This beautiful watch features a polished stainless steel 36mm case with durable mineral crystal, so it will be protected from scratches and bumps.
With silver tone dial markers, this is an elegant and timeless piece that any teenage girl will cherish. The strap is a mesh stainless steel bracelet with adjustable links so it will fit a range of wrist sizes. This watch is water resistant to 30 meters and features a Japanese quartz movement.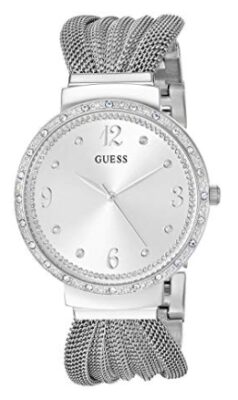 25. Adidas Kids' Superstars

If you have a sporty tween girl to buy for, sneakers make cool birthday gifts. The white and black Adidas Kids' Superstar Sneaker is a classic shoe for children and has a sleek, sporty design. Made from 100% real leather, it features the signature Adidas three stripe branding and shell toe modeled from the adult sneaker version.
The Superstar Sneaker is designed for ultimate comfort for active kids and features a rubber sole. With white upper, laces, and sole, the shoe is stylish and is sure to be a hit. The iconic look is completed with black signature stripes and the Adidas gold and black logo on the tongue.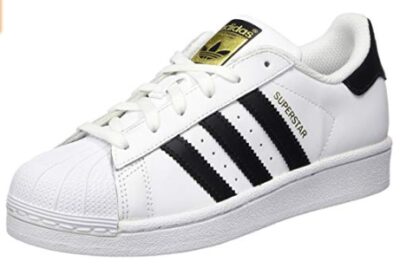 26. Disney Princess Socks Set

The perfect gift for any Disney fan, this set of Disney Princess socks make a great stocking stuffer or Christmas gift for teens. With portraits of some of the most iconic Disney princesses, the quarter style socks are bright and colorful with a scalloped ribbed knit cuff.
Each sock features a different princess, including Snow White, Cinderella, Rapunzel (Tangled), Ariel (The Little Mermaid), Jasmine (Aladdin), and Aurora (Sleeping Beauty). The set contains six pairs of socks and are the perfect complement to any outfit – your teen can even match them to her accessories for a fun look!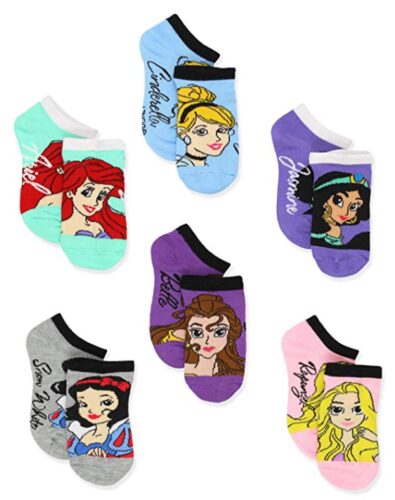 27. Converse Shoreline Sneakers

Teenage sneaker fans are sure to adore these cool kicks from Converse! The Kids' Chuck Taylor All Star Shoreline Sneakers feature a white classic Converse canvas upper and a rubber sole with blue and red stripe trim. The original Chuck Taylor model is known as a timeless and popular basketball style shoe and this kids' edition is just as cool.
It is a relaxed and reconstructed version designed for kids' comfort and features an elasticized heel collar. The short knotted laces stay in place perfectly with no risk of tripping. These cool sneakers would make great birthday or Christmas gifts for teens.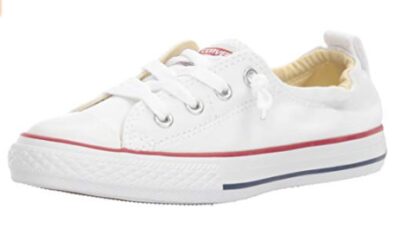 28. Songmics Jewelry Box Organizer

A jewelry box is a timeless gift for 13 year olds and this elegant black and pink model from Songmics is a great choice. The simple yet stylish design is sure to impress even the most discerning teen and it is a practical and functional gift.
Help your tween keep their jewelry and trinkets safe in this large capacity case with storage compartments for earrings, bracelets, necklaces, and rings. The case is made from faux leather with a high quality velvet lining. It comes with a mini travel case designed to store jewelry and makeup on the go.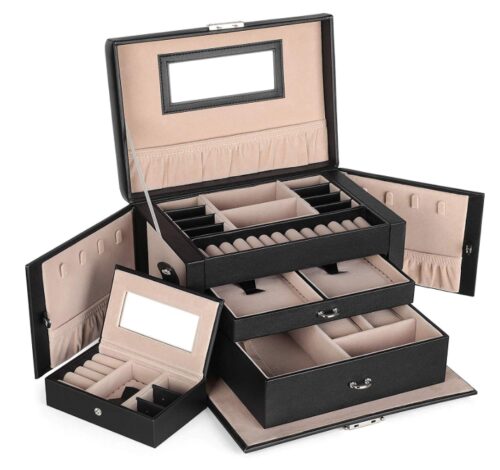 29. School Backpack Set

Looking for style conscious gift ideas for teenage girls? This adorable and functional backpack and bag set from Camtop could be the perfect buy. The excellent value set contains a backpack, a matching pencil case, and an insulated lunch bag, making it a great back to school gift. The 3 in 1 bags are made from durable canvas and feature smooth zippers.
Featuring a retro print design, they make a cool and functional gift. The backpack features a main compartment, exterior zipper pocket, water bottle pockets on both sides, a padded tablet or laptop pocket, and 2 interior open pockets.

30. Good Vibes Rainbow Shirt

Give your favorite 13 year old a reminder to look on the bright side with this fun rainbow slogan shirt from Wonderful. In a range of colors including black, navy, royal blue, dark heather, and heather blue, the shirt features a vibrant rainbow print with the slogan 'Positive Vibes' in fun curly type.
This cute shirt would be the perfect complement to jeans, shorts, leggings, and any other casual wear and is sure to make people smile. It is lightweight with a double needle hem on the sleeve and can be machine washed.

31. Ventelan Short Pajama Set

In this adorable cat pajama set from Ventlan, your 13 year old can lounge in style! Designed to be super comfortable, the relaxed fit top features a cute minimalist cat face with pointy ears, closed eyes, heart nose, and whiskers. It is made from lightweight and breathable polyester fabric and features a round collar and short sleeves.
Complementing this top is a pair of boxer style shorts in green with white polka dots. The shorts have an elasticated waist with white tie detail. This is the perfect sleepwear or loungewear set for any teen girl and is sure to put a smile on her face.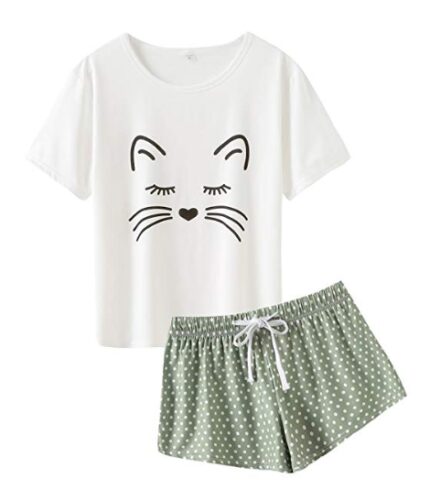 32. SweatyRocks Alien Sweater

Clothes can be a great gift idea for teens as they are finding their personal style and often like to try out new trends. This Alien Patch Sweater from SweatyRocks is a cute but casual addition to any wardrobe. The classic round neck design looks great with jeans, leggings, shorts, or pants and the bright color is sure to draw attention.
The long sleeved mustard sweater is complemented by a white and black minimalist alien patch for an extra interest detail. The fit is loose for a casual yet stylish look and the fabric is comfortable and soft, being made from a cotton, polyester, and spandex blend. This sweater is machine washable.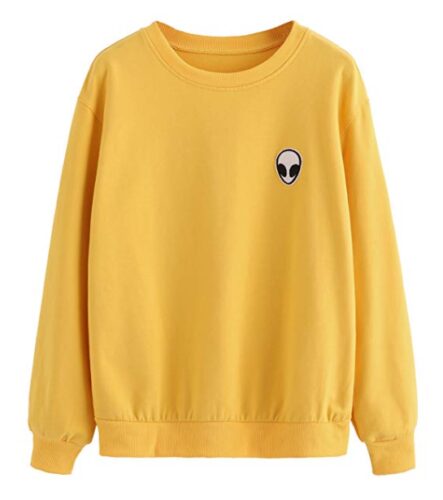 33. Distressed Denim Jeans

For the fashion conscious 13 year old girl, take a look at these distressed slim fit jeans by Wax Denim. Featuring cuffed ends and fashionable distressed legs, these skinny jeans will be the perfect complement to any style of top. The dark blue ripped denim is extremely on trend and would make a great teenage girl gift.
The Wax Denim jeans have the traditional 5 pockets and a classic button and fly closure. They can be dressed up or down, depending on the teen girl's style and occasion. These jeans can even be machine washed, which makes them very easy to clean – a parent's dream!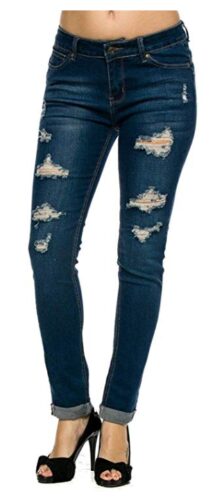 34. Friends Graphic T Shirt

The classic 90s sitcom Friends is currently enjoying a resurgence in popularity thanks to its inclusion on the streaming platform Netflix. Though 13 year olds would be far too young to have seen the original series, they may love watching the show with their parents and relatives, breeding a new generation of fans.
If your tween girl is among them, why not buy her this awesome logo shirt so she can broadcast her love for Friends? The shirt is made from a soft stretchy fabric in a cotton and spandex blend. It comes in a rainbow of colors including white, black, navy, yellow, and wine red.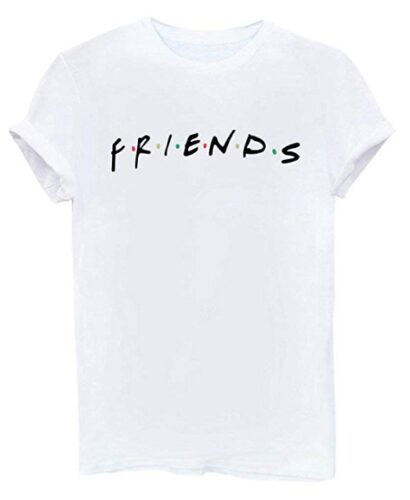 35. Fox Slipper Boots

These cute wolf themed fuzzy slippers from Fakeface would make an adorable teen gift! The grey and white slipper boots feature a sweet wolf face complete with ears. They are made from coral fleece with a soft plush lining, meaning they will keep feet warm and cozy.
However, they are very breathable so will be very comfortable to wear around the home. The thick rubber sole is made from strong environmentally friendly material that will not deform or scuff easily. It helps stop the wearer from slipping on hard floors and is also water resistant. The wolf face slippers come with a mesh bag for storage.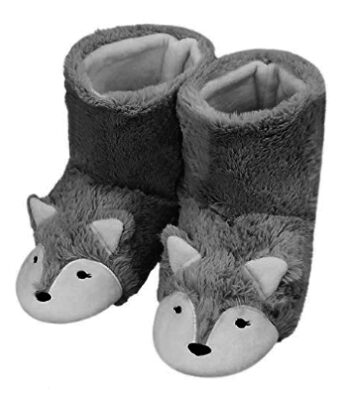 36. Unicorn Cozy Socks

Is your teen gift recipient a unicorn fan? These cozy and cute slipper socks are sure to brighten her day! The set of two pink socks have a purple background with white hearts and stars and adorable cartoon unicorn faces on the toes. They also feature fuzzy white cuffs.
The ultra soft polyester and cotton blend material will keep feet warm and comfortable all day and night. The socks have non slip grips on the soles to prevent the wearer from skidding or falling on smooth floors. Perfect for wearing while lounging, sleeping, or as extra protection against the cold, any girl is sure to adore these thick and fluffy socks.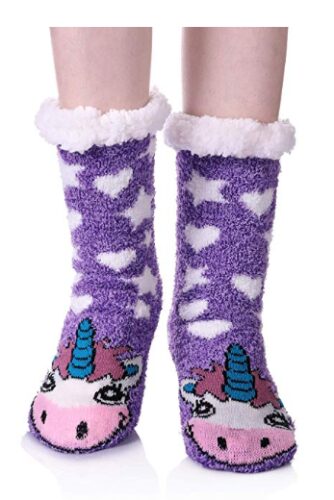 37. Unicorn Pajama Set – Short Sleeve and Pants

Continuing with the unicorn theme, this sweet pajama set from Jashe would make a cool gift for a teen. The comfy top is a crew neck style shirt with short sleeves in peach pink. It features a printed design of a cartoon white and pink unicorn with the slogan 'No Hay Nada Imposible' in orange and blue.
The long pants are soft, with a stretchy waistband and pockets and feature cartoon unicorn graphics on a blue background. Perfect for a birthday slumber party as well as everyday loungewear or sleepwear, this 2 piece pajama set is soft, comfortable, and durable.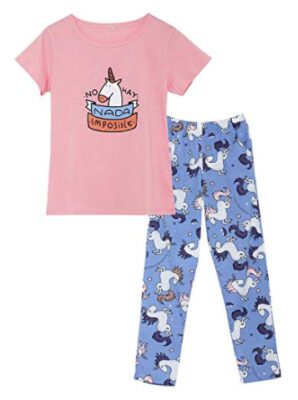 38. Gludear 3D Unicorn Hoodie

Since unicorns are so popular with tweens right now, we have another unicorn themed gift idea for you! This unique hooded sweatshirt from Gludear features an incredibly detailed 3D digital print unicorn graphic in rainbow colors.
The image is printed using dye sublimation, using advanced technology that makes graphics appear 3D and incredibly vibrant. The print is high quality and will not fade, peel, crack, or flake. The white sweater has a drawstring hood, long sleeves, and a front kangaroo pocket for tucking hands in. It has a pull on closure and is made from super soft polyester and spandex blend.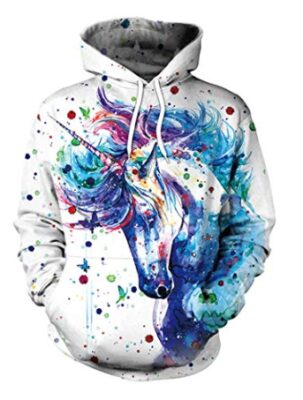 39. Lenovo Ideapad

Looking for a super Christmas present for teens? How about this high performance laptop, the Ideapad from Lenovo, which is sure to delight on Christmas morning? The teen or tween finding this under the tree is a lucky girl, as the laptop features an impressive specification, with a 1TB hard drive, 8GB DDR4 memory, and Quad core processor.
With this sleek laptop, she can do her homework assignments and learn in style, connect with friends on social media, and play the latest games with stunning and crisp graphics. The Ideapad runs easy to use Windows 10 and has a read/write CD/DVD drive.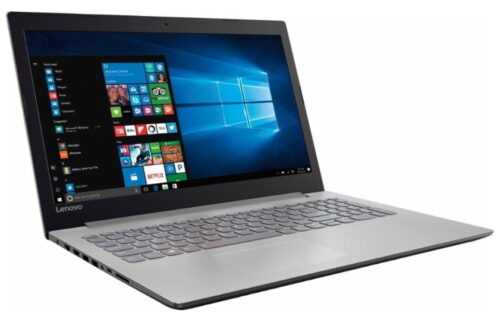 40. Apple iPad – Space Gray

Your gadget geek will go gaga for this Apple iPad tablet in Space Grey. If you are looking for Christmas ideas for teens, you could not go wrong with this impressive item. This sleek and high performance tablet in cool grey comes with WiFi and 32GB of internal storage.
With a 9.7 inch Retina display, your teen girl can watch and stream her favorite TV shows and movies on a crisp clear screen. The iPad has two cameras: an 8 mega pixel back camera and 1.2 mega pixel front camera for selfies. It features two-speaker audio for clear sound quality, whether listening to the latest songs or chatting with friends and family on FaceTime.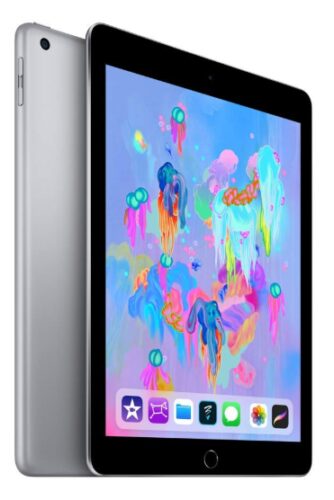 41. Cord Taco

This excellent value gift solves the age old problem of tangled electronic cords. The Cord Taco from Brouk and Co uses a simple design to wrap around electronic cables or headphones and keeps them tidy. Made of vegan leather, the Cord Taco is durable and has a sturdy snap closure.
This cute tidy looks cool and stylish and comes in turquoise, brown, and red. The set of three, so it is great value and would make a perfect little gift for 13 year olds. They can be used around the home or popped in a bag to keep cables tidy on the go.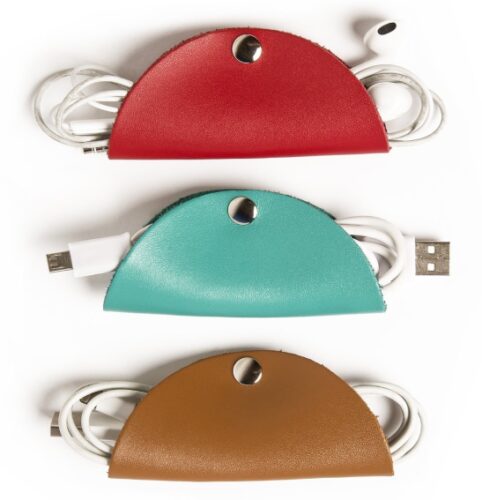 42. Seneo Wireless Charger

Is your tween always running out of phone battery? With this WaveStand Wireless Charger from Seneo, she will never have an excuse not to phone home. Seneo is the world leading wireless charger brand and has sold more than 2 million wireless chargers worldwide.
The WaveStand supports a wide range of smart phones, including a number of Samsung and iPhone models. The innovative automatic temperature balance technology protects the device from over heating and makes the charger safe to use. Phones can be charged vertically or horizontally and the charger has a case friendly design to keep your device safe.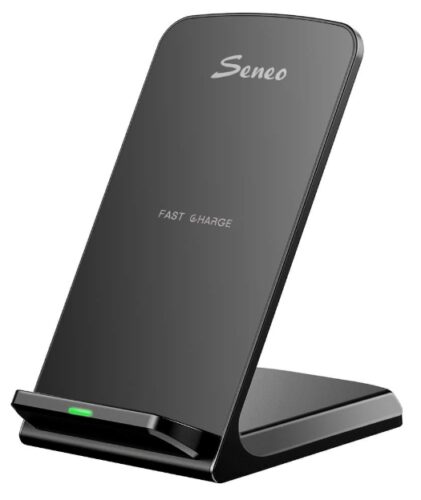 43. Leakproof Compartment Lunchbox

Give your favorite tween girl a reason to smile at lunch time with this cute and practical Bento lunch box from Yumbox. This innovative box is designed to be leakproof inside and out, so you can pack a variety of wet and dry food in one place.
The compartmentalized tray is removable and has 5 storage areas, with graphics and suggestions for filling each compartment. The sleek design features a reinforced hinge and easy open latch. The silicone molded lid provides a tight seal, so there are no worried about food leaking in her school bag. You can even customize the inserts with additional options available from Yumbox.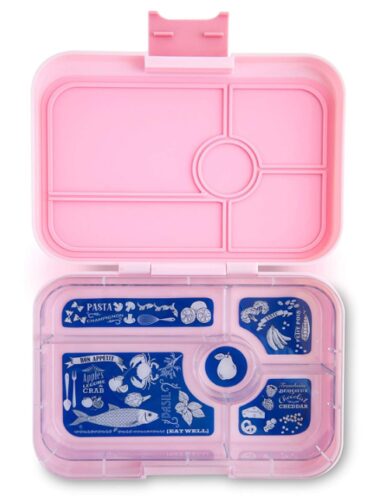 44. Silicone Collapsible Water Bottle

Any sporty kid could always use a new water bottle, and this bottle from Tengeer has something a little extra fun! It is made from silicone and so can be collapsed or rolled down and secured with the in built elastic band. Its small size when collapsed makes it perfect for carrying on the go and it takes up very little space.
Great for using while at school, sports, or socializing, the high grade material makes it durable enough for any activity. It is made from food grade silicone that is free of BPA, phthalates, lead, latex, PVS, and PVC so you can be sure it is safe for your teen or tween to use.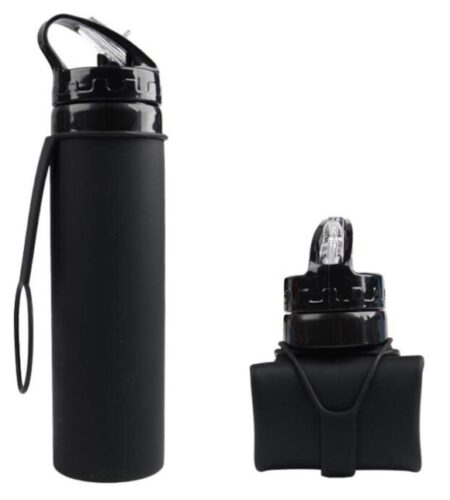 45. 24 Inch Cruiser Bike

At 13 years old, many kids are beginning to enjoy exploring their new independence. This stylish blue cruiser bike from Scotch Blue is a great way for tweens to get around the neighborhood.  The La Jolla 24 inch bike is a full featured adult cycle with a scaled down size that makes it easy for growing teens to handle.
The bike features a lightweight aluminum frame in cute pale blue, with plaid saddle and chain guard, and handy woven basket. The seat is made from soft rubber so it is comfortable for the rider, and has a quick release adjustment to make it easy to fit to your growing kid.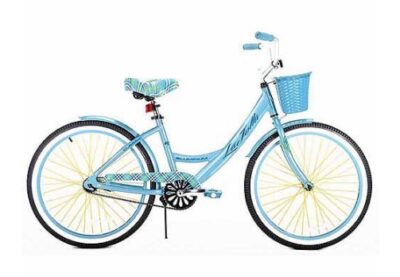 46. New Bounce Adjustable Scooter

Looking for a gift for an active teen? They are sure to love this GoScoot Ultimate Kick Scooter from New Bounce. The vibrant pink frame looks great and the scooter is engineered for high performance, with a high-density aluminum frame, dual suspension system and extra large 8 inch urethane wheels.
It is suitable for riding on any type of terrain and even folds down when not in use, so your kid can carry it anywhere. It has been designed with safety in mind, with a light tail and long, non-slip deck, and can support weights up to 220lbs. These are good gifts for 13 year old girls who love to ride scooters.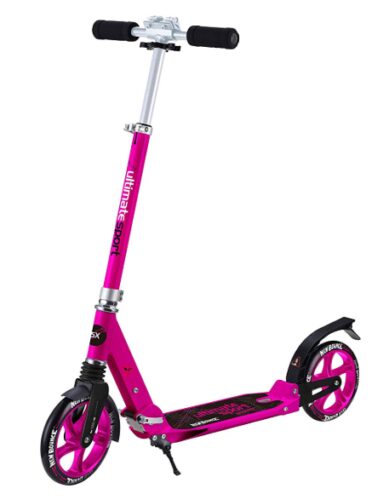 47. Pink Skate Helmet

Whether they are riding on a scooter or a bike, any teen needs a cool helmet to protect their growing brain! This adjustable helmet from Ouwoer contains an ABS shell designed to resist impact, and high quality shock absorbing EPS foam.
The helmet complies with CPSC and EN 1078 standards, so you can be sure it is safe for your kid. The crank adjustment dial at the back of the helmet means that the circumference can be adjusted as your teen grows and the foam 2 sets of pad inserts with different thicknesses can be switched out. The length of the chin straps can also be adjusted.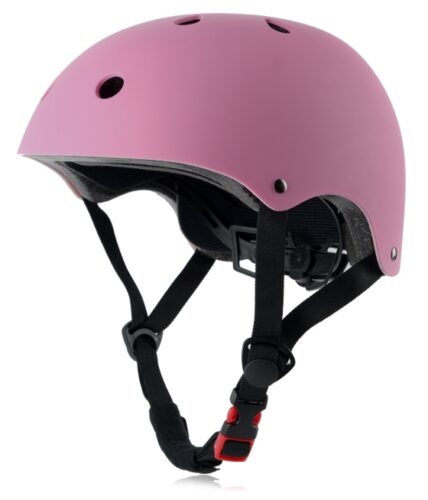 48. Nibiru Sport Ping Pong Set

This professional ping pong set from Niburu Sport is sure to make a fun addition to family game night! The set contains 4 ping pong paddles, a retractable net with posts, a replacement net, and 6 high quality balls. It would make a great gift for active teen girls and the whole family will enjoy playing this fun game.
The innovative retractable net is completely portable and allows players to set up a game almost anywhere. Simply clip the posts onto a suitable surface and get playing! The professional 3 star paddles are made from natural layered plywood and 2mm blue sponge, helping to improve the striking surface for better ball control.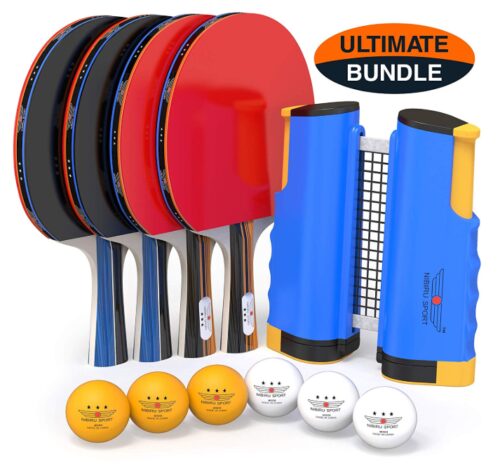 49. Ropoda Flying Disc Game

For a unique gift choice, check out this outdoor Frisbee toss game from Ropoda. Players place a bottle or can on the stand and toss the flying disc towards it, attempting to knock it onto the ground.
Helping players to improve hand eye coordination and precision while being active in a fun way, this is an ideal game for families to enjoy together. Take it to the beach, backyard, or on camping trips for hours of fun. Set it up over a longer distance for more of a challenge, or keep to a shorter distance for beginners or younger players.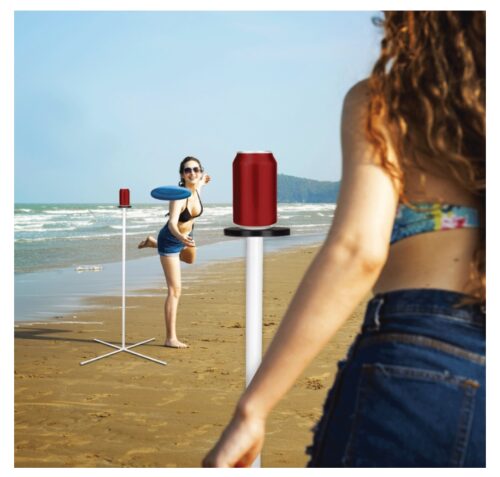 50. Wembley Tangled Up Lawn Game

Perfect for getting outdoors in summer months, the Tangled Up Lawn Game from Wembley is sure to get everyone laughing. The game contains 25 colorful hexagon pieces made from heavy duty plastic that stake into the ground.
Players spin the dial to find out which body part to place on which multicolor hexagon – be prepared for a challenge! This fun outdoors game is great for teens and adults alike and takes hardly any time to set up. Since players choose where to place the hexagons, you can put them close together or further apart for an extra tough game.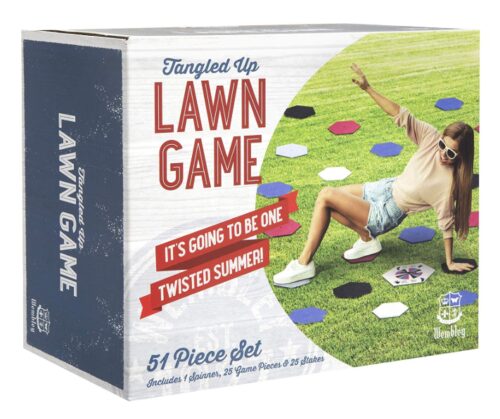 Best Overall Pick
After presenting so many great gifts for 13 year old girls in this guide, we will now select our overall best buy. We have chosen the Chit Chat Challenge Social Game for Teens as our best pick.
This game gently encourages teens and tweens to open up to their parents in a safe and fun environment, and promotes family quality time. It is excellent value and the 3 games in 1 means your family can have endless fun playing together.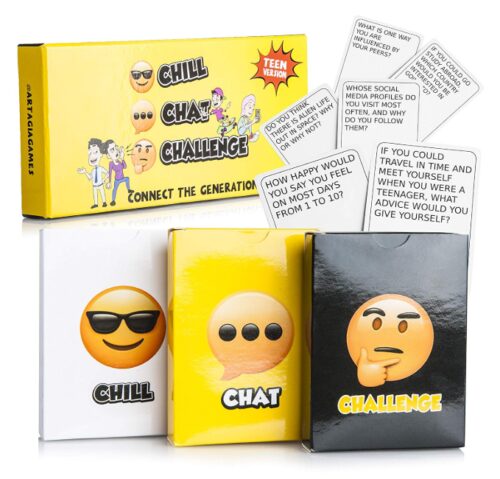 Best Budget Buy
For the best budget buy in our selection, we have chosen the 3 in 1 school backpack set. This retro style set is excellent value as well as being a stylish gift. It is functional and perfect for taking to school, with a backpack, insulated lunch bag and large pencil case. Made of durable canvas, it is the perfect budget gift for teens.

Best Christmas Gifts for 13 Year Old Girls
When Christmas comes around, many parents want to select something special to put under the tree. But what are the best Christmas presents for girls? You could choose something really special, such as the Ideapad laptop or Apple iPad in our guide.
Or for the active teenager, perhaps a new bike or stunt scooter. Family board games are always a good choice, and Spontaneous is a fun one! One player says a word and the others race to sing a song containing that word. It's guaranteed to get the whole family laughing!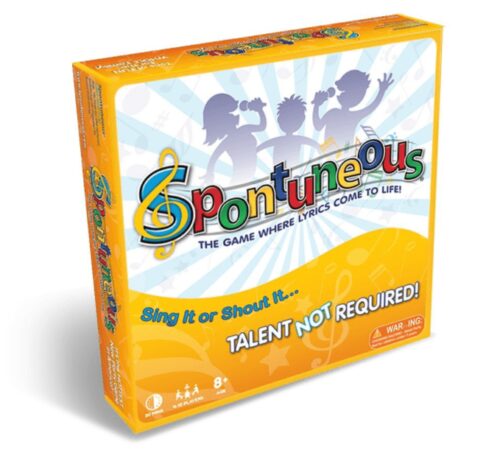 Birthday Gifts for 13 year old Girls
We have presented tons of gift ideas for tweens in this guide, and with so many to choose from you are sure to find the perfect birthday or Christmas present. You could select a commemorative birthday gift, such as a shirt or a mug.
Personalized jewelry with a name or birthday could also be a hit. And of course, party supplies are a must! The gorgeous rose gold balloon and banner set has everything you need to decorate for a 13th birthday party and is sure to impress.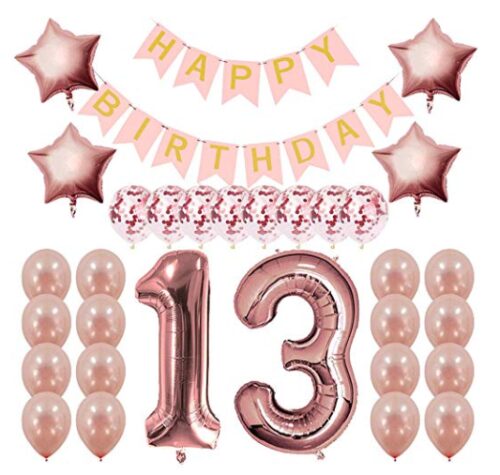 Gift Ideas for the Teenage Girl Who Has Everything
It can be hard to buy for the teen girl who seemingly already has everything. When in doubt, you could go for something classic such as a book or apparel. You could also choose a personalized gift, like a necklace or T-shirt, or a decorative item for her bedroom.
If you are really stuck for ideas, how about an Amazon gift card in a fun pop up card box? Your teen will get a super surprise upon opening this presentation box and can choose something she really wants with the gift card.