Are you looking for the Best Books for 4 Year Olds Who Can Read? Trying to find How to Draw Books for 4 Year Olds? In this review the top books designed for children aged 4 who love to read.
Reading with your child is a wonderful bonding activity. Experts tell us that as well as being a fun activity to share, reading with our children can help them get a head start even before they begin school. Reading to children helps them to develop the language and communication skills they will need once they start elementary school. So do not think your kid is too young to enjoy a book or a story! At four years old your little one may even enjoy 'reading' to you, telling their own version of stories while you look through books together. This is valuable practice for when they begin learning to read formally when they start school. 
Of course, with so many children's books available and new ones being published all the time, it can be hard to find a selection that pleases your child. That is why we have put together this guide to some of the best books for four year old kids so you can choose with confidence.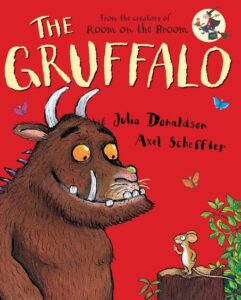 Considerations When Choosing Books for Preschoolers
In order to make sure the book you choose engages your child, it is a good idea to first consider a few key factors.
Topic: does your child have a particular interest or passion? Many four year olds are already showing enthusiasm for specific areas, for example, dinosaurs, vehicles, robots, etc. If you choose a book that features their interests, they will be sure to enjoy reading it.
Readability: some children enjoy stories whereas others like to leaf through information books. Whichever type you choose, go for a book that contains lots of bright pictures, photos, or illustrations to engage with your child. If the book contains some simple and short words, they may even like to try sounding them out themselves.
Price: books are a great choice for a budget gift idea as they offer so much enjoyment yet can be bought at a low price. Nevertheless, some are more expensive than others. Setting a budget before you embark on your search is a good way to narrow down the choices.
Now that we have looked at some of the key factors to consider before making your purchase, we will present our bumper list of top books for 4 years olds available in 2023. Make sure you do not miss our best overall pick at the end of this guide!
Top Books for 4 Year Old Girls & Boys
1. First Big Book of Why
The 'Little Kids First First Big Book of Why' from National Geographic Kids is packed full of all the information a four year old would love to know. The book uses a question and answer format that has been popular in the bestselling National Geographic Kids Almanac. The tome is full of easy recipes, simple crafts, fun games, and interesting information. Reading this with your child is a great way to foster curiosity and introduce research skills to little kids. Designed specifically for preschoolers, it presents facts in an engaging and age appropriate way and helps get your little kid ready for school.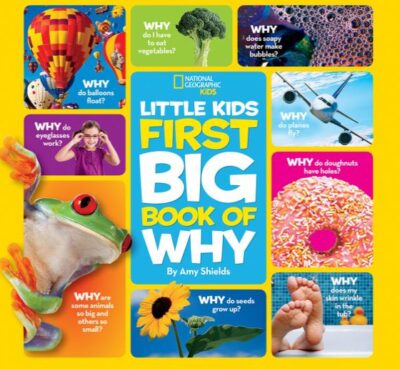 2. Encyclopedia of Very Important Things
Do you have a curious little preschooler to buy for? 'My Encylopedia of Very Important Things: For Little Learners Who Want to Know Everything' is designed for kids aged four to seven years old. It is packed full of fun facts, games, and engaging illustrations and aims to feed your child's imagination and thirst for knowledge. The encyclopedia is split into four sections: All About Me, Animals, People, and My Planet. The information presented ranges from colors, fruit, and vegetables to dinosaurs, countries, and flags. Any 4 year old kid is sure to love reading this book with mom or dad!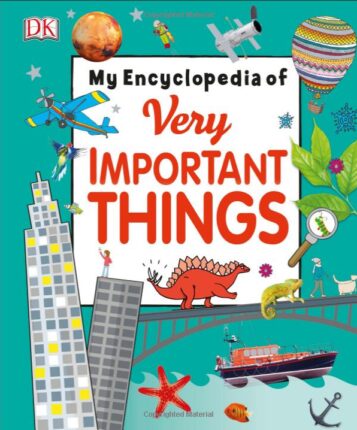 3. What Should Danny Do?
Do you remember 'choose your own adventure' stories from your childhood? Then you will love sharing this book with your child! 'What Should Danny Do?' is nine stories in one fun volume that is designed to help children to learn the value of the choices they make. This fun and educational book features Danny, a superhero in training, through his daily life. Readers will see him faced with various challenges and each choice he makes will take you towards a different outcome. By following the different storylines, kids will begin to see how the choices Danny makes change his day and in turn how their own changes shape their days – and lives!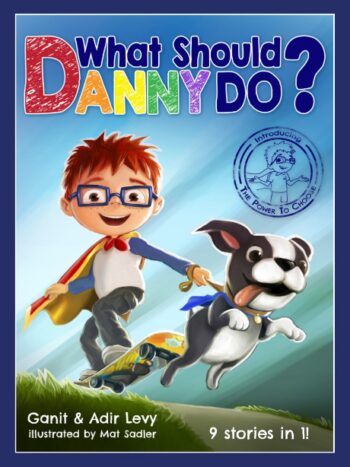 4. The Day the Crayons Quit
'The Day the Crayons Quit' has become a bestselling phenomenon among families with young children. This beautifully illustrated picture book follows Duncan, a little boy who loves to color. One day he opens his beloved set of crayons to find a bunch of letters instead of art materials! Duncan's crayons have quit and will no longer be helping him to make his pictures. The colors are arguing, sick of jostling for position, and Duncan must figure out how to make them all happy again and get back to what he likes best – coloring.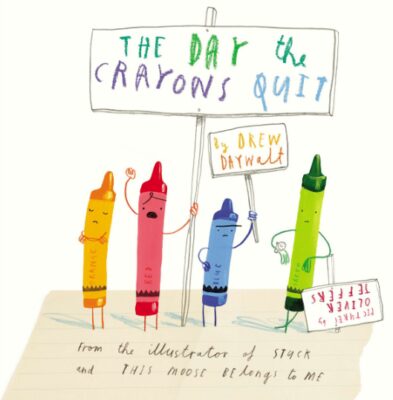 5. Collection of Stories for 4 Year Olds
Looking for a book to buy as a gift for a 4 year old? 'A Collection of Stories for 4 Year Olds' would be a perfect choice. Each story and nursery rhyme in this collection has been carefully chosen to appeal to four year old kids. The beautifully presented collection includes ten classic fairy tales and fun rhymes to introduce your preschooler to stories. It is packed with beautiful illustrations to engage and delight little kids. Your little one will love sharing tales such as The Ugly Duckling, The Princess and the Pea, and Jack and the Beanstalk as well as some new tales that are sure to become fast favorites.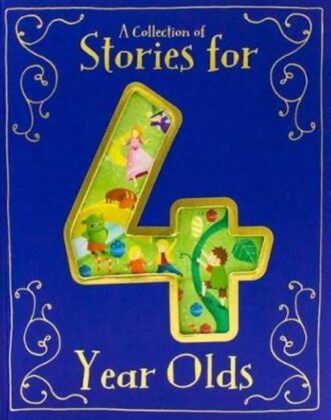 6. Dragons Love Tacos
'Dragons Love Tacos' is a fun filled storybook that is perfect for sharing with your preschooler! In this funny picture book, your little one will find out why dragons should never eat salsa! Even though they love all different types of tacos – big, small, fillings galore – keep that salsa away from these fire breathing creatures. The beautiful illustrations are in watercolor, gouache, and colored pencil and are sure to appeal to adults sharing this fun story with their kids. This story has received rave reviews and it is clear to see why. It would make a great addition to your kid's book collection.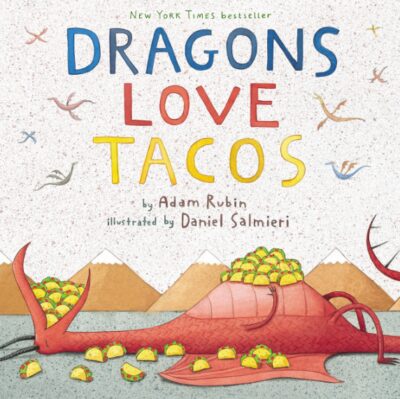 7. The Snail and the Whale
Julia Donaldson is a modern classic among children's authors and has written a large array of wonderful kids' books. In 'The Snail and the Whale', Julia Donaldson teams up again with illustrator Axel Scheffler. This delightful tale follows a tiny sea snail as it embarks on a journey around the oceans on the back of a humpback whale. The two have a fantastic adventure together but when the whale washes up on the beach, can the snail get help in time?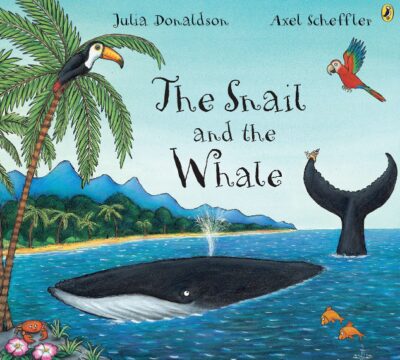 8. Big Preschool ABC
This bumper preschooler workbook has everything your family needs to prepare your little kid for kindergarten. With 319 pages of activities, this fun book covers pre writing skills, alphabet, colors, shapes, following directions, numbers, and early math. Each activity page has a perforated edge so parents can tear them out and use them as individual worksheets. This book features lots of colorful illustrations to ensure that your kid has fun while completing the educational activities. It is the perfect gift for any little preschooler preparing for kindergarten.

9. The Wonderful Things You Will Be
This beautiful book is full of stunning illustrations. 'The Wonderful Things You Will Be' is designed to remind children of all the things their parents and carers love about them. It would make a fabulous gift as parents and kids will enjoy reading it together again and again as children grow older. Little ones will delight in the intricately drawn costumes featured in this book and they are sure to love opening the clever gatefolds. This would make a particularly special gift for any preschooler.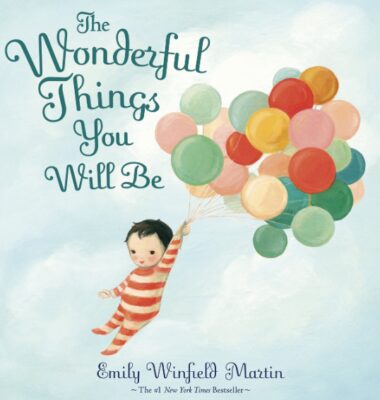 10. Grumpy Monkey
Kids aged around four years are learning how to identify, communicate, and manage their emotions. Sometimes this is hard to do, even for grown ups! Give your little ones a helping hand with 'Grumpy Monkey', a book about what happens when feelings are suppressed. Poor Jim the chimpanzee is in a very bad mood and he does not know why. His friends try and cheer him up by encouraging him to do the things they like to do, but it just makes him feel worse! This book is designed to show children that it is fine to feel their emotions and that they do not have to cover them up.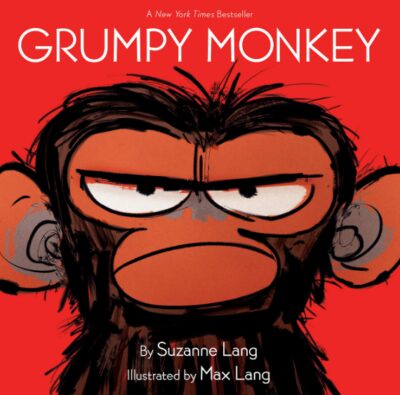 11. Rosie Revere Engineer
'Rosie Revere, Engineer' is a New York Times bestselling picture book about the importance of believing in yourself. Rosie is an inventor by night, developing all sorts of gadgets and gizmos. Her great aunt's unfinished goal is to fly, so Rosie begins to make a flying machine for her. When it does not work out as she hoped, she wants to give up – but her great aunt tells her that you only truly fail if you quit. Kids will love both the message and the detailed illustrations in this book, which encourages them to keep trying and pursuing their dreams.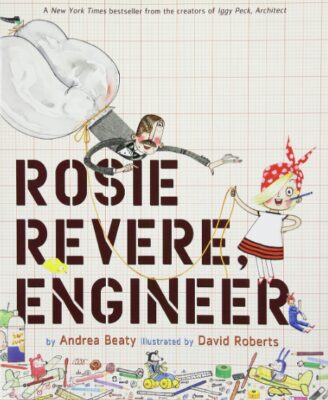 12. The Most Magnificent Thing
Another great book for encouraging preschoolers to be persistent is 'The Most Magnificent Thing'. In it, a little girl and her dog assistant decide to make the most magnificent thing they can think of. They quickly get to work but find the result is not what they wanted. The little girl wants to quit but her dog reminds her to keep trying and thinking, and eventually, she succeeds! The gorgeous pictures are sure to appeal to your four year old, and they will appreciate the reminder to think about problems in different ways. This would make a wonderful gift for any preschooler.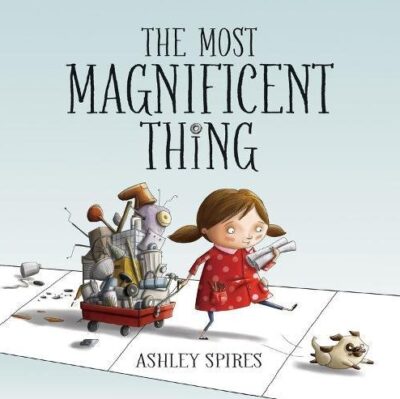 13. Have You Seen My Dinosaur?
Many 4 year old kids are interested in dinosaurs so a book featuring them is sure to be a big hit! 'Have You Seen My Dinosaur' features a little boy with a pet dinosaur that has gone missing. You may think a large green dinosaur would be difficult to lose, but it just cannot be found! This is one in a series of Beginner Book, which is designed especially for young beginner readers to grow in confidence as they learn to recognize simple words.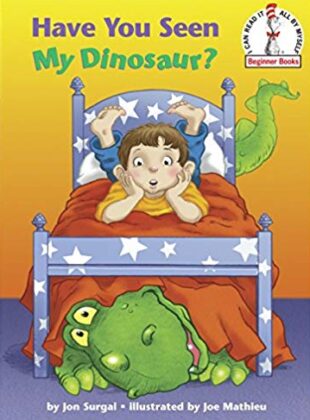 14. Walter the Farting Dog
Sometimes parents just want to share a funny and engaging book with their preschooler and 'Walter the Farting Dog' definitely fits that bill! Walter is a fantastic pet apart from his very gassy problem, and his family has had enough. They are sending him to the dog pound! How will Walter avoid this awful fate? You will find out in this amusing picture book, which is sure to have kids and adults howling with laughter. 'Walter the Farting Dog' has been a bestseller among families and with its heartwarming message and clever illustrations, it is easy to see why.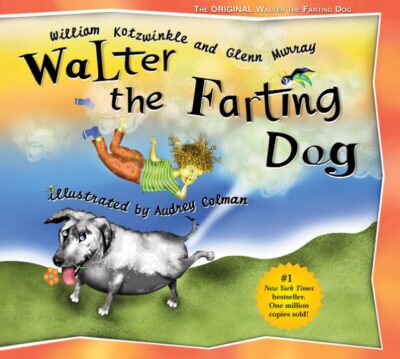 15. Waiting is Not Easy
Preschoolers are developing all sorts of new skills and awareness of the world around them. There are a number of skills that are useful to coach in your child in advance of starting kindergarten, and one of these is patience. This sweet book, 'Waiting Is Not Easy!' could be a big help for parents struggling with encouraging patience in their kids. Written by bestselling children's author Mo Willems, it features sweet animal characters and best friends, Gerald and Piggie. Gerald must wait for a special surprise, even though he finds it incredibly difficult. Can he manage to be patient even when he does not want to?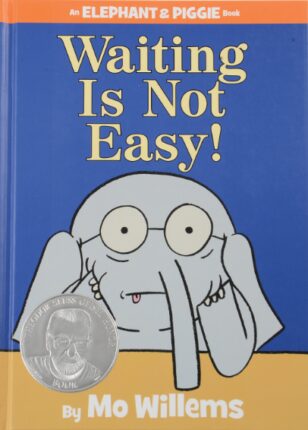 16. The Gruffalo
'The Gruffalo' is an absolute modern classic among children's books and has inspired films, plays, and toys. Written by Julia Donaldson and illustrated by Axel Scheffler, it features a mouse who is exploring the deep dark wood. Along the way, the mouse encounters some dangerous animals, and to escape he tells them of the legendary Gruffalo. He thinks he has made up this terrifying creature but is he right? With engaging rhymes and repetitive lines, young children will love interacting with this story and repeating the words along with adult readers. This is a must have addition to any little kid's library.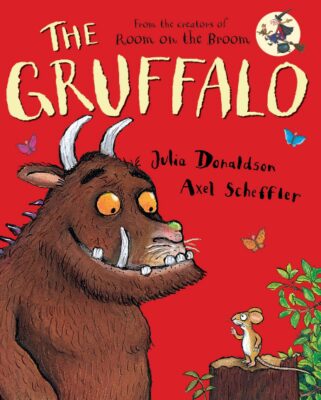 17. May I Please Have a Cookie?
Scholastic Reader Level 1 books are designed for children who are starting to take an interest in words and reading. Usually aimed at kids aged 3-6, these books are developed to support early reading and word recognition. They can be read or explored independently or shared with an adult reader. 'May I Please Have A Cookie' is a fun tale about a little croc who really wants one of his Mommy's cookies. He tries different ways to get one but after his attempts are unsuccessful, he learns that the best thing to do is to ask Mommy politely. This is a great book to demonstrate the importance of good manners to your preschooler.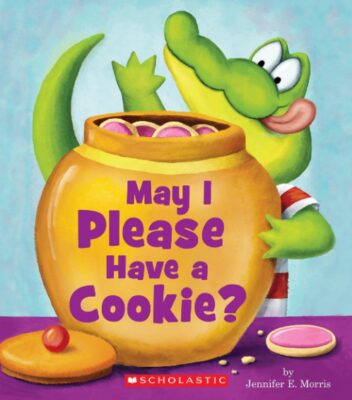 18. Once There Was a Boy…
Oliver Jeffers' 'How To Catch A Star' has become a much loved children's book around the world and has captured the attention of many young children. In this classic tale, a young boy loves looking at the stars so much that he decides to try and catch one for his very own. His further adventures can be found in 'Lost And Found' and 'The Way Back Home'. Now for the first time, all three of these special books are collected together as mini editions in a sweet presentation case. This set would make a wonderful gift for the preschooler in your life.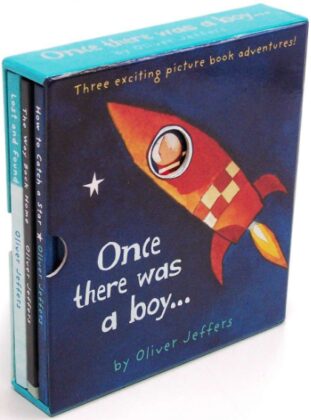 19. Ten Magic Butterflies
Introduce your child to counting sequences with this beautiful story book. 'Ten Magic Butterflies' is an innovative way to help your preschooler develop an interest in math, which they can then build on when they start kindergarten. With this gorgeous and engaging story, kids will not even notice they are learning basic math concepts like addition, subtraction, and grouping numbers. Featuring beautiful illustrations of flowers, butterflies, and fairies, kids are sure to adore reading this again and again with their grown ups. It is a great book to share and has an educational aspect as well.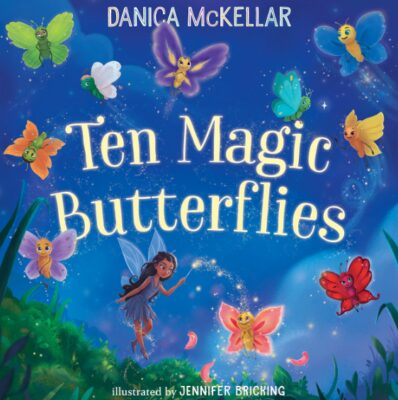 20. First Big Book of Dinosaurs
If you are buying for a young dinosaur lover, the 'Little Kids First Big Book of Dinosaurs' would make the perfect gift. It is packed full of dinosaur facts and information, presented in a way to engage four to eight year old kids. Since it is developed by renowned brand National Geographic Kids, parents can buy with confidence knowing they are passing on fact based information to their future paleontologists. This book really brings the prehistoric period to life through text, illustrations, and interactive features. It is a must have gift for any kid interested in dinosaurs!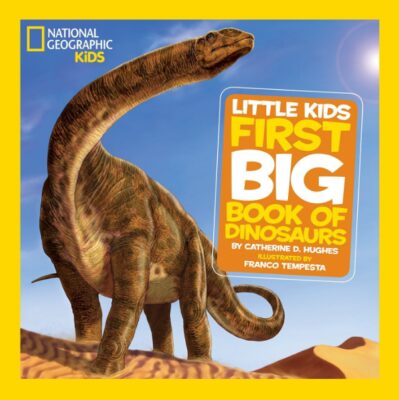 21. There Was an Old Dragon Who Swallowed a Knight
Most parents will be familiar with the classic nursery rhyme, 'There Was An Old Lady Who Swallowed A Fly' as it is still much loved. 'There Was An Old Dragon Who Swallowed A Knight' is a play on the traditional rhyme, with new characters and words for kids to explore. It features a dragon with an extremely large appetite, who eats its way through everything in the kingdom, even digesting a knight! The lively illustrations and repetitive rhymes are sure to appeal to young children as well as the adults they are reading with.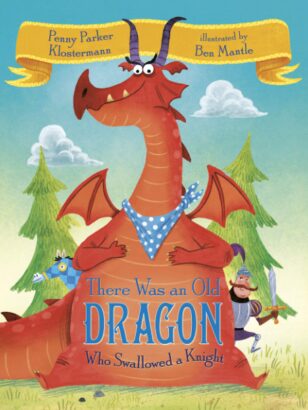 22. Sam and Dave Dig a Hole
'Sam and Dave Dig a Hole' is a wonderfully simple yet impactful story. Winning multiple awards, it features two similar looking male characters who decide one day to dig a large hole. Readers will love following along on their adventure and seeing what treasures they unearth along the way. What happens when they dig as far as they can go, and how will they get home? With beautiful illustrations and minimal prose, this is a story that preschoolers and adults will love to share time and time again. 'Sam and Dave Dig a Hole' was awarded a Caldecott Honor in 2015.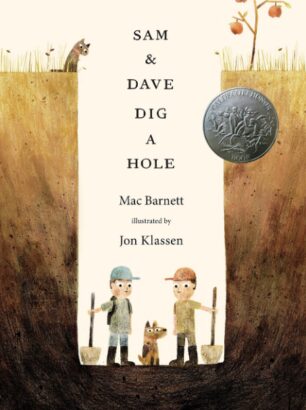 23. Uni the Unicorn
No list of top books for 4 year olds would be complete without a unicorn themed story! 'Uni the Unicorn' is a beautiful story about a magical creature who never stops searching for a best friend – and a girl a little further away who dreams of a unicorn companion. This wonderful book is a New York Times bestseller and has sold over a quarter of a million copies. It features beautiful illustrations and text that will inspire any little kid to keep dreaming and believe in what is truly important.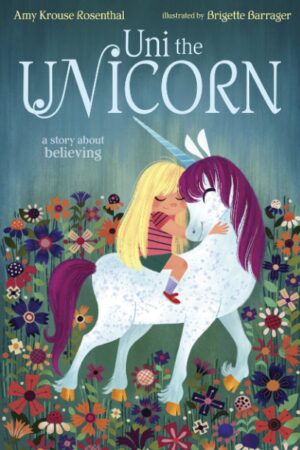 24. The Pout Pout Fish
Have you ever heard of a fish stuck with a pout on its face? 'The Pout-Pout Fish' is a hilarious and heartwarming tale of poor Mr Fish whose mouth is puckered in a permanent pout. He swims around the ocean being sad and spreading 'dreary wearies' wherever he goes. His friends try to cheer him up but will he be resigned to pouting forever? This is a sweet story with playful and engaging rhymes that preschoolers are sure to love sharing with their parents. The wonderful cartoon style illustrations of under the sea life will delight adults and children alike!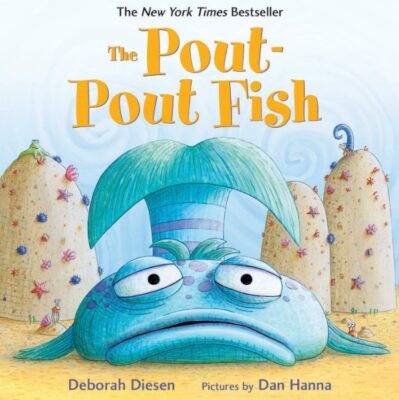 Best Overall Pick
We have presented a bumper list of great books for four year olds and we are confident you will find the perfect book for any preschooler in our guide. We will now select our best overall pick in case you need a little more guidance when selecting your gift. We have chosen 'The Gruffalo' by Julia Donaldson, with illustrations by Axel Scheffler. It is a true modern classic, an extremely popular book worldwide, and it is clear to see why. The story is engaging, with repetitive rhymes and lines, yet simple enough for young children to follow. Kids will love repeating the lines about the Gruffalo as they read and reread the book with their parents. The illustrations are classic, immediately recognizable, and beautifully drawn. Preschoolers are sure to love the characters that mouse meets along his journey and the features of the Gruffalo that he conjures. It is a valuable addition to any little kid's library!