Choosing an amazon gift for a child can be fun. However, it can also be super stressful too! From deciding what an appropriate budget is to finding a gift that is personalized, there are lots to consider. When it comes to shopping online, you'll be spoilt for choice – especially if you visit Amazon.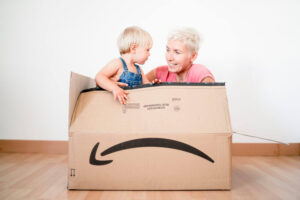 There are plenty of perks that come with purchasing a new toy via Amazon. You get to read other buyer's reviews, refine your search and will most likely have the package at your doorstep very quickly. With this said, it can be difficult to know exactly where to start and to know what you should be looking for.
In our guide below we cover all the considerations that you should keep in mind and present the best things on Amazon for kids to help you make the right choice for the child that you're buying for. Happy shopping!
Considerations When Shopping for Kids on Amazon
There are many considerations that you should keep in mind when shopping for kids on Amazon. If you're struggling to identify what to prioritize when you're searching, here's a comprehensive list.
Budget – it's always wise to set a clear budget when shopping on Amazon. As many shoppers know it's all too easy to end up spending more than you initially set out to when browsing. You might have a smaller budget for $10 girls gifts on amazon or a higher-end budget that stretches over a $100, no matter your situation, the great news is there are many great gift ideas to choose from online.
Age appropriation – there are so many toys on Amazon it can be difficult to assess what is age-appropriate. A good way to do this is to read the recommended age that is set out in the product description and to read a few reviews before buying the product. Always be super careful when buying things for children under the age of 3 years old as younger children can be particularly prone to choking on small parts.
Personality – every child has their own personality and now is the opportunity to buy a gift that your child will love! From plush toys to art sets, think back to times when your little one may have expressed their interest in a particular type of activity. You can always ask questions to which can help you get a better idea of preferences, this may be especially helpful if you're buying a toy or gift for a child that isn't our own.
Top Gifts for 2023
After considering the different things you should keep in mind when choosing Amazon gifts for kids, you should have a clearer idea of what to buy. If you're still struggling to settle on an idea or you just want some further inspiration, why not take a look at our top 10 picks? You're guaranteed to find something perfect for a little one here!
1. Majestic Mansion Kids DollHouse
If you're looking for the ultimate dollhouse, this beautiful majestic kids playhouse may do the trick. With 4  different levels and 8 rooms to play with, these awesome dollhouse toys are guaranteed to provide hours of imaginative play. The house comes with a gliding elevator for dolls and its garage doors open and close too.
The house is traditionally decorated and comes with plenty of different pieces of furniture, each of which can be moved around and rearranged. As one of the best gifts for 4 year old girls, this stunning dollhouse idea is perfect for a big occasion such as a birthday or Christmas.
Composed of smart, sturdy wood, it doesn't falter quality-wise and comes packaged carefully with full details of step-by-step assembly instructions.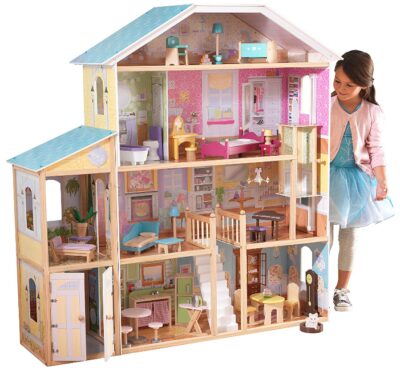 2. 120-Piece Deluxe Art Set
If you're looking for a gift that will help to promote your child's love for art, this 120-piece set is the answer. Including a large variety of art supplies for drawing, painting and more, it's a great choice for kids and adults alike who want to experiment with arty activities!
The versatile set includes 24 markers, 24 crayons, 24 color pencils, 24 oil pastels, 12 watercolor cakes, 2 clips, 1 white watercolor tube, a palette, paintbrush set, a drawing pencil, sharpener, eraser, ruler, sponge and scissors. The best part of all, all of these items are contained in a special plastic case that can be easily transported making it great for a day at home or outdoors!
This fantastic gift idea is suitable for kids of all ages and will provide plenty of artistic fun. The case snaps shut and has a comfortable handle. We love this gift idea to help encourage your child to get creative when they can, there are endless possibilities that come with these art supplies.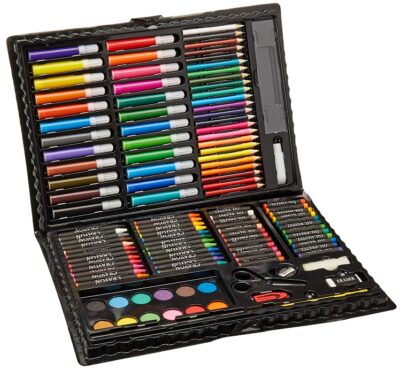 3. Crystal Growing Kit
For those that want to choose a toy that promotes STEM skills, this science kit contains all the things needed to carry out seven different crystal growth experiments! Your child will be fascinated as they grow their own crystals and get to admire them once they're fully grown.
This is a great option for young science enthusiasts, especially those with an interest in geology as they'll learn everything they need to know about special rocks. The kit comes with complete instructions for each experiment are included with the kit for ease. Recommended for 10 years and above, this toy is guaranteed to challenge your child's imagination.
The educational toy is designed to help your child learn and play at the same time and the wider range has many other learning possibilities too. Why not kick start your child's experimental kit collection today with this ultra-cool kit which one of the best amazon toys for 10 year old boys.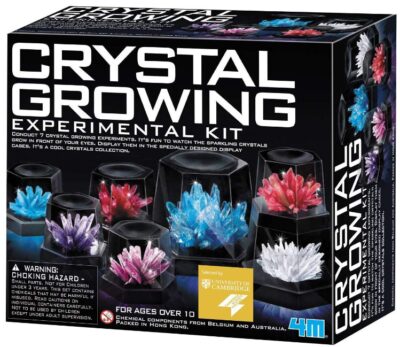 4. LEGO Bottle Collectibles
LEGO is one of the most popular toys out there for kids and it's easy to see why. With so many amazing different variations, this simple toy is suitable for all types of children who love building and exploring their imagination at the same time.
Builders of all ages will enjoy completing this advanced building set which allows them to build a ship in a bottle for display. It comes with a LEGO brick stand to display it after completion and is the prefect model for older kids who are interested in ships.
Including  962 pieces, the set features a build-able cork and wax seal element for authenticity The ship is a realistic replica and has captain's quarters, cannons, a mast, a crow's nest, sails and flag. Ahoy sailors! It's time to get building with this amazing LEGO gift idea from Amazon.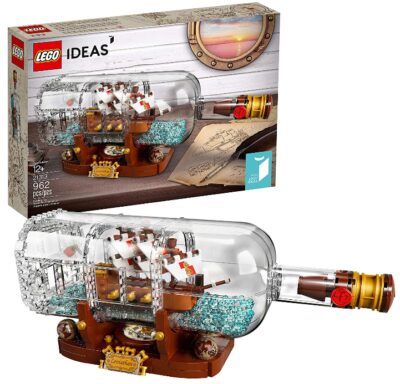 5. Stuffed Animal Storage Chair
Looking for gifts for 2 year old girls? Stuffed animals are extremely popular toys for lots of children and this could be the best option for you. This lovely plush chair is a 2-in-1 stuffed animal and comfy place to relax. You won't have to worry about storage with this awesome to that turns stuffed animal chaos into functional storage that works just like a bean bag chair.
The diverse toy is ideal for reading, snuggling or lounging either solo or with parents. At 38″, it's a generous size and is able to store away  up to 100 various size stuffed animals. Made using premium cotton, the chair is extremely soft and comfortable to use while being strong. This toy is one of the most unique gift ideas that we've come across on Amazon and is sure to delight kids of all ages.
A great Christmas or birthday gift idea, this chair won't break your budget and will last for years to come. Choose from a number of different color swatches to help personalize your child's bedroom space and give them one of the best Amazon gifts for children.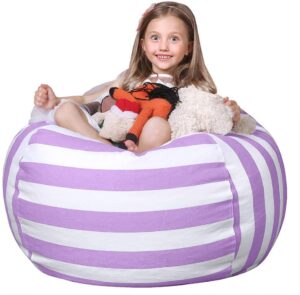 6. Minnie Mouse Bed
There's nothing quite as satisfying as a good night's sleep and if you're seeking a new bed for your little one, we have you covered. This lovely Minnie Mouse bed features safe curved sides to ensure that your little one doesn't roll out of bed. It comes with a bright and playful color scheme featuring hot pink and illustrations of the popular Disney character too.
Recommended for ages 15 months plus, it's the perfect size for a toddler who is growing out of using their crib. Quality-wise, this bed is made from strong and sturdy wood that is guaranteed to last. It comes with cute bedtime checklist points displayed on the foot board which easily wipes clean. And, for an extra handy feature, the bed has an interactive clock that shows the day of the week with a spinner.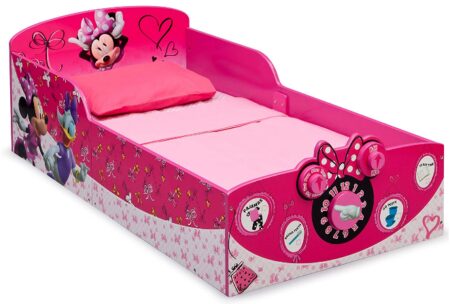 7. Play Tunnels
Active little ones need plenty of playtime and this vibrant pop up obstacle course consisting of many lay tunnels is sure to keep any child busy! The playset comes with a bundle of 7 tents and tunnels taking the fun to a whole new level and offering great value for money.
Great for both kids and parents, your child can customize the many different combo maze options to keep playtime fun and exciting. While the set does not come with balls, we recommend adding a large quantity to ramp up the excitement. As one of the best gifts for toddlers, this set is great for both birthdays and Christmas. It can be used outdoors and indoors and is easy to assemble and store away. The entire jungle gym pops up in a matter of seconds and can be wiped clean.
It's also transportable thanks to a lightweight carry case which is included. Made using the highest quality 190T soft polyester fabric and thick steel wiring, this toy is top quality and long lasting meaning general wear and tear won't be an issue.  Such active toys are great for the promotion of imagination, motor skills and more. This is a great example of the the latest gifts for 2 year olds boys and girls who are always seeking playtime!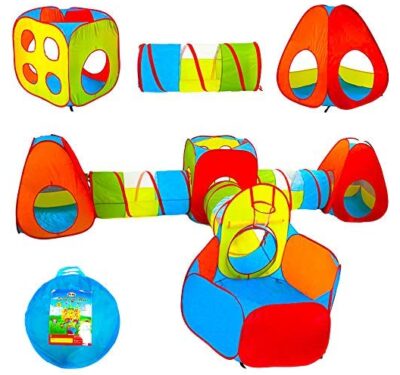 8. Coloring And Doodle Mat
All kids love coloring in and doodling and this doodle mat will provide plenty of opportunity to do so! The Aqua Magic Mat is 39.5 X 31.5 inches  and comes with super neat sized letters printed on the side, while the rest of the mat can be used for doodling.
The magic pen included simply needs to be filled with water and then it's ready to be used on the mat. After 3-10 minutes doodles will magically disappear allowing kids to doodle on it over and over again. Free from paint and toxic materials, it's completely safe for children and free from mess.
With easy storage, it can be folder into a compact size and transported with ease. This creative set comes with a doodle mat, 5 magic pens, design booklet, stamps, a storage box, drawing templates and drawing molds – giving you everything your child needs to get arty. Little ones will love interacting with this cool toy that gets their imaginative juices flowing and educates in the process.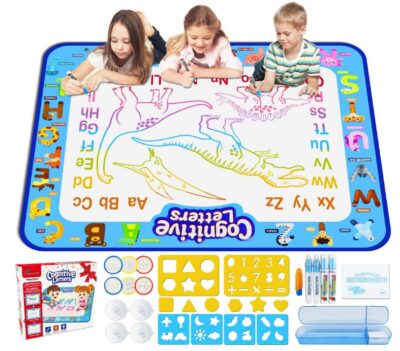 9. Basketball Hoop Set
Want to keep the kids active with a cool indoor or outdoor toy? This basketball hoop set is everything you need to encourage physical activity while helping to build motor skills. Suitable for in the home or garden, kids can adjust this hoop as per their height.
Adjustable to six different hoops from 2.5 to 4 feet, it's great for practicing slam dunks! The over-sized rim is especially suited for children and it comes with 3 Junior size basketballs. The toy will keep kids fit while allowing them to develop social, motor skills and coordination at the same time. With a weighted base, there is no risk of this basketball hoop falling over as it comes with guaranteed stability.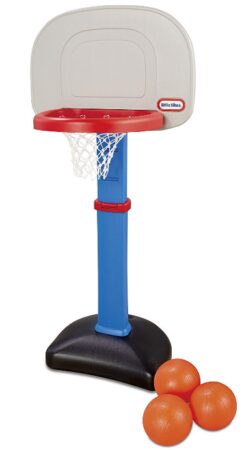 10. Fidget Toy
Fidget toys can be great amazon gifts for boys ADHD or those who are prone to not being able to focus. This awesome set of toys comes with 2 flip chains, 1 liquid motion timer, 1 peek a boo squeeze beans, 3 marble and mesh, 6 stretchy strings, 3 grape mesh squeeze ball, 3 clackers, 1 snap and click snake, 1 basketball stress ball and 1 magic cube for the ultimate fidget relief!
Made using top quality ingredients, there are no toxic materials and each individual toy is completely durable meaning that they won't break easily. Outside of providing fidget relief, each toy is proven to help relieve stress and anxiety  too through simple actions such as playing, squeezing, stretching and flipping.
The multipurpose toy set is great for staying at home or traveling and with 22 pieces there is no lack of variation which helps to tackle boredom. Kids will be able to keep both their hands and minds busy at the same time and this gift idea is great as a stocking filler or small birthday gift.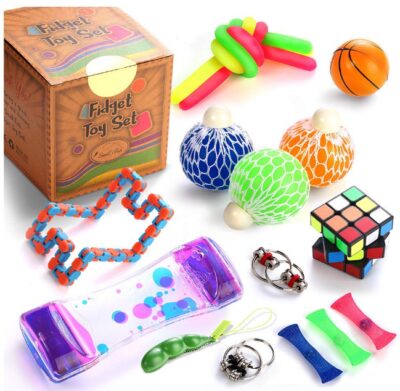 Now that we've come to the end of our buyers guide for the best things for kids on Amazon, it's time to take a lok at our best picks. We've selected both a best overall buy and a budget pick to help you get a better idea of what may be suitable for you. And, to showcase our favorite items too! Let's take a look…
Best Overall Buy
Our best overall buy from a selection of cool gift ideas on Amazon is this huge doodling and coloring mat. Helping to promote creativity and the use of imagination, it's a great toy for both indoors and outdoors during the summer time.
Packed full of templates and with magic pens that simply need to be filled with water, kids can enjoy hours of playtime together or solo. This is a great addition to any toy selection for parents with multiple kids in the same household. As our best overall buy, it's excellent value for money and helps kids to learn as they play which we think is a winner!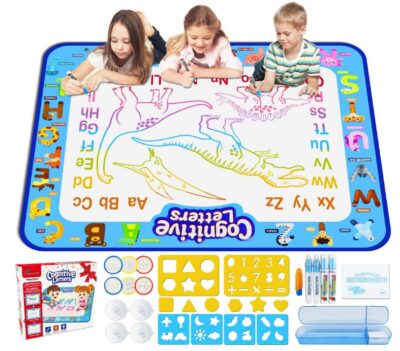 Top Budget Pick 
Even if you're shopping with a budget in mind, this doesn't mean that you can't find your kid an awesome gift and this play tunnel set is proof of exactly that. With 6 pieces allowing for tons of different combos, little ones will love crawling through the different parts of the jungle gym with friends or on their own.
The vibrant playset that can be used indoors our in the garden encourages kids to keep healthy and active too while allowing them to use their imagination as they play. This toy isn't expensive and is made using quality materials making it a great budget pick on Amazon.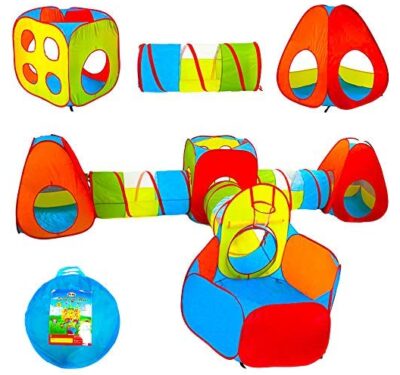 Gifts for Kids who Love Spiderman
Have you a little Spiderman fan on your hands? There are tons of Spiderman themed toys on Amazon to choose from. From web shooters to costumes, you can find many themed ideas. The Spiderman toys and superhero themed toys are particularly popular among boys, however, plenty of children enjoy them.
If you're looking for awesome Spiderman themed gifts, head over to Amazon and check out the selection. A few of our top picks include stationary sets for school, t-shirts for summer time and figurines to reenact favorite scenes from the movies.
How to Buy Amazon Gift Certificates for a Kid
If you'd rather buy a gift certificate for a kid from Amazon, the process is very straightforward. By doing so, you'll be giving the child in mind ultimate freedom over the gift that they choose. While this can have many benefits, be wary of the budget that you set. However, it's simple enough to set a budget, here's how to buy a gift card from Amazon:
Go to Gift Cards.
Choose the type of gift card you want to purchase.
Click Add to Cart, and then click Proceed to Checkout.
Provide payment information for your purchase and click Continue.
Click Place your order.
In just 5 simple steps you can carry out the process and allow your child to choose their own birthday or Christmas gift from Amazon!
Unique Christmas Gifts For Kids
It may seem difficult to find unique gifts, but Amazon has plenty of one of a kind toys to choose from. Why not go for a challenging jigsaw puzzle? From cute animal jigsaws to those featuring favorite TV show characters, there are lots available and at varying difficulties too.
Kids will love piecing together the puzzle while getting creative to reveal a complete image at the end. Such activities are great for improving motor and social skills as they can be worked on together or solo.
Other unique amazon gifts for kids include niche clothing items such as hats and finger-less gloves. Clothing is a great gift category for both children and adults alike and Amazon is quite literally a treasure trove. Simply enter your budget and type in a search query to return hundreds of different ideas.
Be sure to check every corner of Amazon to find something truly one of a king for your child, there's no shortage of brilliant items!
Toddler Gifts 
Toddlers have a low attention span and require stimulating toys that are going to keep them interested. The good news is there are plenty of amazon toys for 2 to 3 year olds and, you'll find heaps of fantastic toys from award-winning manufacturers on the platform.
For building enthusiasts, consider wooden block sets which help your little one to unleash their inner creativity as they construct tall towers and vehicles. If you're seeking a practical gift, there are lots of clothing options which are cool kids gifts too.
From anime themed hats with tassels to finger less gloves, there's something for every personality. With clothing always be sure to check the materials uses to prevent any skin irritation from occurring if your child has sensitive skin.
Return Gift From Amazon
If you need to return a gift from Amazon, the good news is that the process is simple to do. There are many occasions where a refund may be needed, this is especially true for duplicate items or products that have arrived in the post damaged.
Here are the steps that you need to follow:
Go to the Online Returns Center.
Enter the gift order number and select Search.
Select the items you want to return from the order. …
Select how you want to send your item back.
Put the return authorization inside your package and attach the label to the outside of it.
As you can see you'll only be required to carry out a few simple steps in order to return the item that you've bought and get a refund. Be aware however that this returns policy is only applicable to items that haven't been removed from their original packaging.
Generally the process above will take a few days, however, Amazon endeavors to issue refunds promptly to its customers.
Here are some other great gift ideas for you to check out: