Kids often watch their parents grocery shopping and are fascinated by these routine tasks. They then like to mimic these activities through role play and can spend many hours playing games associated with shopping.
It is vital for all kids development that they are given these regular opportunities to have free play time and this may involve imaginary games or role play. Parents can help encourage free play by offering their kids appropriate toys, so items such as shopping or grocery carts are ideal.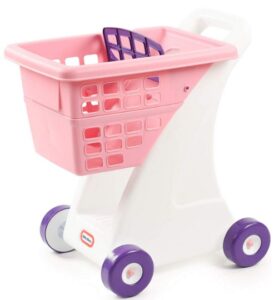 There are many great shopping sets available to buy with some sets featuring mini replica carts and others coming as complete sets that contain pretend food and coins. When deciding on the best toy for your kids you need to choose whether you want the cart as a standalone toy or whether they will prefer a complete shopping set.
This may depend on what toys they have because if they already have other shopping toys then some of the fantastic mini carts will be ideal. The majority of these shopping toys are suitable for kids over the age of 3 years old but there are a few that are appropriate for younger kids, usually designed as baby walkers.
This means that it is important to check that your chosen toy is suitable for the age of the kid that you are buying it for. There is also a great range of different color carts available and while all carts are suitable for both boys and girls, every kid may have a preference of which color cart they would choose to play with.
It is important to consider their preferences when choosing a shopping toy as this may determine how much they play with the toy.
With a vast variety of different styles of carts and colors there is sure to the perfect shopping toy for every kid. This guide will take you through the best kids shopping baskets and carts and show you the different options available, so that you can choose the ideal toy.
Top Picks
Here are the best kids shopping cart list for 2023:
1. Melissa & Doug Kids Cart
For a realistic toy cart for shopping with you should consider this Melissa and Doug Metal Frame Cart which all kids will enjoy playing imaginative role play games with. It is a high quality mini version of the carts kids will be familiar with when grocery shopping with their parents, so they will love the detail that comes with this toy.
It has a sturdy steel metal frame, easy to grip handle and a working seat, so kids can take their toys with them on their adventures. The front wheels are also spring loaded safety wheels that turn 360 degrees to give a smooth ride on every household surface. This is the perfect gift for young kids between 3 and 6 years old and they will love playing with this fantastic toy cart.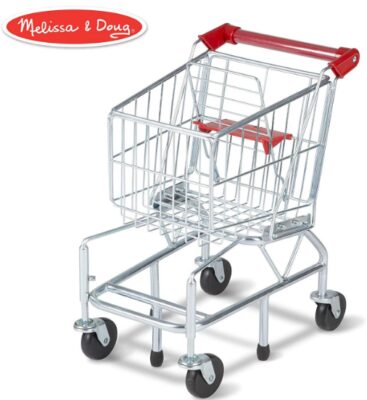 2. Step2 Toy Shopping Little Helpers Cart
This Step2 Little Helpers Kids small Cart is the perfect toy for toddlers as it stimulates important free play and can act as a walker for their first steps. Kids will love the design of this cart with its blue plastic basket to hold groceries, along with its fun seat which will hold their favorite doll.
There is even storage space underneath the cart to hold additional toys. This cart will also impress parents with its molded wheels that ensure surfaces in the home are not scratched or damaged. It is also easy to clean as it can be wiped down if needed. Kids will love playing with this exciting toy cart while enjoying mimicking shopping trips and inventing fun games.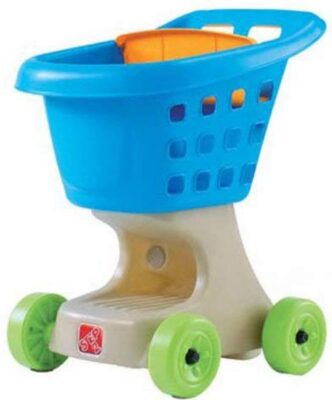 3. Little Tikes Pink Cart
When looking for exciting toys that are suitable for toddlers you should consider this Little Tikes Shopping trolley. It comes in an appealing bright pink color with white frame that little girls will love. Kids will love the great features that this toy cart comes with and it will also provide hours of entertainment.
With a deep shopping basket and doll seat there is plenty of room to fit a variety of toys and there is even additional storage space underneath the trolley. This is the ideal toy shopping play cart for toddlers as it is suitable for kids aged between 2 and 6 years old. Toys that encourage role play are important for kids development and this lovely cart is ideal for giving kids the opportunity to free play.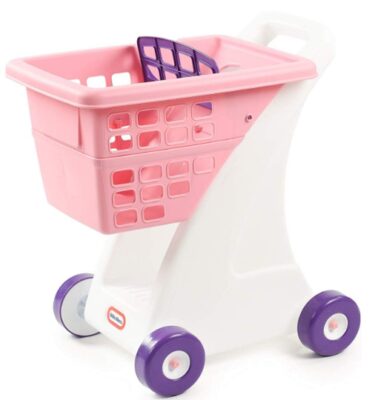 ,

4. labebe Elephant Wooden Shopping Cart
If you are looking for a great first walker then this Baby Walker Toy by Labebe is a perfect option for both boys and girls. This Elephant walker also functions as a toddler grocery cart so they can easily move their toys around while learning to walk. Toddlers will find the bright colors of the walker and the cute blue Elephant face appealing.
This wooden walker has rubber around the wheels to prevent scratching floor surfaces and to help control the speed of the cart for baby's first steps. A great value toy walker that can be used indoors or outside so kids will get plenty of use from this toy. This baby walker makes an ideal gift for every toddler.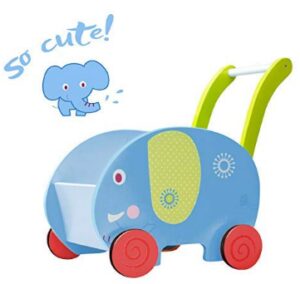 5. Little Tikes Lil Shopper
Another great toy cart by Little Tikes is this Lil' Shopper Cart for kids. This is an attractive pink cart that kids will love role playing with, so it is great for the imagination. This toy cart has a large basket perfect for holding toys and it also features a foldable dolls seat that is suitable for a 12 inch doll.
This means that kids can take their favorite doll or plush toy with them. As a lightweight cart with easy roll wheels it is perfect for younger kids and it is durable so can withstand toddler play. This is a great Shopper Cart that all kids will enjoy.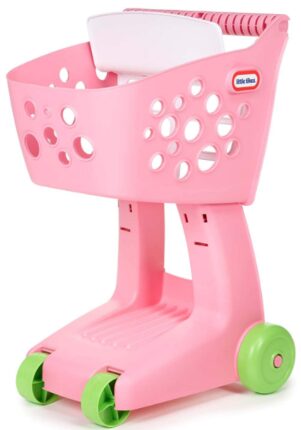 6. Shop 'N' Go Shopping Cart
For the complete shopping package this Shop N Go Cart by Small World Toys Living is a perfect option. This great value 10 piece set comes with metal framed toy cart, pretend food items, money, coupons and shopping lists, so there is everything kids need for many shopping adventures.
The cart has front wheels that swivel to make it easy for kids to push and kids will love the canvas dolls seat that lets them take their favorite doll or plush toy with them on their adventures. Suitable for kids over the age of 3 years old this kids shopping toy makes a fantastic set for young kids to enjoy imaginative play.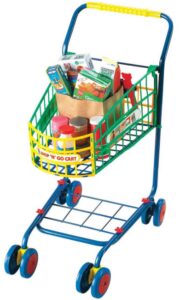 7. Fisher Price Toy Pick!
A great child's grocery cart by the popular and trusted toy producer Fisher-Price. This Fisher Price Shopping Set and Cart is a great quality toy set that comes with a grocery cart and 5 food items allowing children to get a realistic experience of shopping.
The cart is durable with a removable shopping basket giving increased play options and there is a shape sorting tray underneath allowing motor skill development. Children over the age of 3 years old are an appropriate age for this set and with its white frame with blue, red and green features, it will be appealing to both boys and girls, ensuring that all children will love this toy.
The food items include; an apple, cheese, pretzel, jelly and a milk carton, and they can be sorted into their appropriate shapes by using the shape sorting tray. This great grocery set can be combined with the Fisher-Price cash register for increased shopping fun.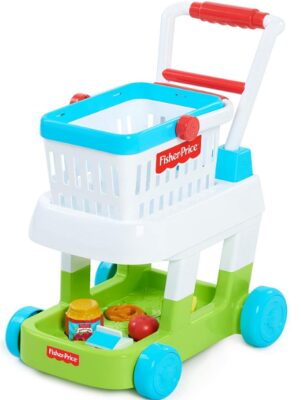 8. Kid Shopping Cart Walker by Labebe
This Labebe Owl Baby Walker is a great toy for all toddlers and is perfect for helping kids learn to walk. It is an attractive wooden cart with a cute owl graphic on the side and toddlers will enjoy the carts bright mix of colors.
This wooden cart baby walker has a large space to store toys enabling kids to move them from one place to another and kids will enjoy rearranging their toys inside the cart, which is great for encouraging them to start standing. Parents will appreciate the rubber around each wheel which will stop any floor surfaces from getting damaged. This is a sturdy baby walker that toddlers will love exploring and is a great gift idea for every toddler.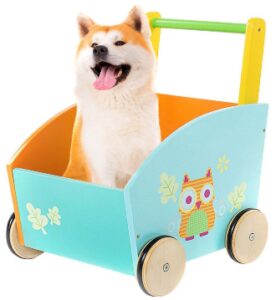 9. Award Winning Toy by Hape
One of the best shopping carts for kids is this great Hape Wooden Cart that is perfect for kids to play imaginative shopping games with. The sturdy wooden frame and additional under basket storage will withstand all kids play and the cloth basket is the perfect size to hold toys or shopping items.
This brightly colored cart is painted with kid safe paint so you can be assured that kids will not come into contact with any toxic materials. Free play is important for kids development and this lovely toy is ideal for encouraging this in all kids over the age of 3 years old. This lovely wooden toy is durable and excellent value so would make the perfect gift for any young boy or girl.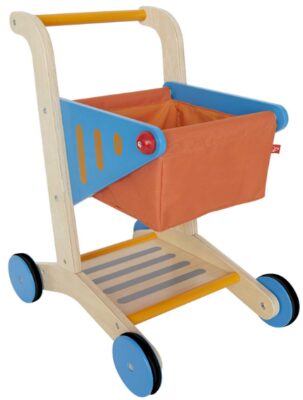 10. Another Little Tikes Pick!
This Little Tykes Cosy Shopping Play Set is unique from other toy grocery carts as it has the iconic red and yellow classic cosy coupe attached to the cart. The coupe is the perfect size to fit a 12 inch toy inside so kids can push their favorite plush toy or doll around while shopping.
The cart has a good sized basket that can hold a large amount of pretend food or toys and there is even additional storage below the basket if needed. This is the perfect toy for kids to create many new adventures with and the bright colors of the coupe and basket will make it appealing to both boys and girls. As with any Little Tykes toys, this is a great value toy that is top quality and built to last.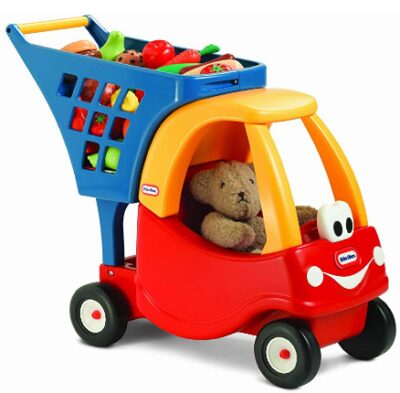 11. Mini Shopping Playset
For the ultimate shopping role play fun you should take a look at this Mini Cart With Full Grocery Food Playset by Liberty Imports. This great set not only comes with a lovely shopping cart toy but is also comes with over 78 toy food items, so is ideal for kids that enjoy playing pretend games. The mini cart is appealing to both boys and girls with a white and blue colored frame and red wheels.
The grocery items contain a great mix of fruit, veg and bread along with bottles, cartons and cans, so the set has everything needed for the full shopping experience. Suitable for all kids over the age of 3 there is a lot of enjoyment to be got from this exciting shopping set.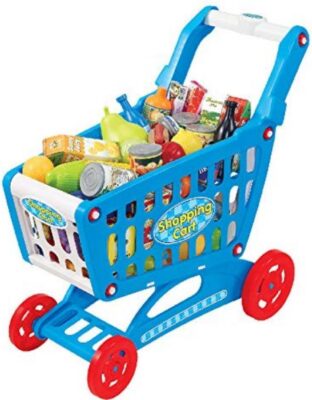 12. The Learning Journey Play & Learn Cart
The Learning Journey Play and Learn Shopping Set is a great shopping toy set for every child over the age of 3 years old. It comes with everything needed for children to have an exciting shopping experience. The toy grocery cart is an attractive bright red and yellow color that both girls and boys will love.
It is a practical toy as the basket has plenty of room for food items and the cart is lightweight and has big wheels making it easy for young children to push. There are 21 great food items included in the set so children will enjoy creating shopping games and using the grocery cart to collect the pretend food items.
Children will love that this complete shopping set has everything needed to play with straight away, so it makes an ideal gift idea for all young children.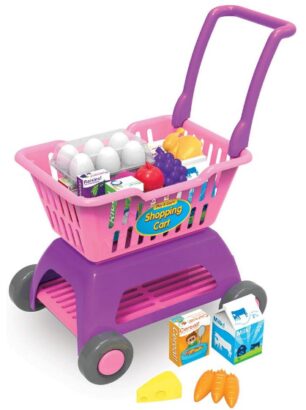 13. Shop Smart Cart by Little Tikes
If you are looking for a toy that is educational and can be shared with siblings or friends then this Little Tikes Shop N Learn Smart Cart is the perfect toy for you. The interactive scanner and the 2 game modes included with this toy sets this kids cart toy apart from all other shopping toys.
The high quality cart has a fixed basket with additional removable basket underneath, allowing the toy to be shared with other kids. Kids will also love the grey and red color of the cart. For added excitement the cart also comes with 8 food items and accessories which work with interactive scanner.
The free play mode allows kids to play imaginary shopping games while the game mode gets kids to find certain food items and scan them for an educational shopping experience. For added value this set is also compatible with other Shop N Learn Smart Little Tikes toys.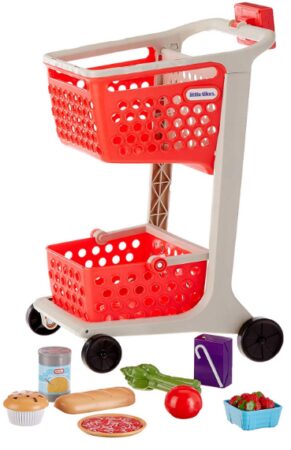 14. Grocery Cart for Toddlers
All kids enjoy playing shopping games, so they will all get much enjoyment from this great Battat Grocery play Set cart. The 23 piece set is complete with a great variety of grocery items including; fruit, vegetables, cans, bottles and cartons.
The cart is a sturdy and stable plastic cart that is perfect for kids to push while learning to walk. The big wheels on the cart also make it easy for kids to push. Kids will love the blue, yellow and red color of the cart, as these bright colors really make the toy stand out.
Ideal for kids over the age of 3, there are unlimited options for pretend shopping games that young kids can enjoy playing with this grocery set, making this a much loved toy.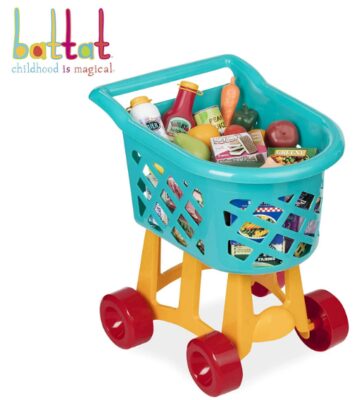 15. Wooden Toy Cart by Bigjigs
If you are looking for a great alternative to the plastic toy options available then this Wooden Cart Toy by Bigjigs Toys will be the perfect choice. This sturdy wooden cart has ample room to hold many toys and the basket has 2 separate compartments meaning that the cart can be shared with friends.
Kids will love the red color of the frame and the appealing blue wheels, making it a much loved toy. With this great cart, kids can imitate their parents shopping and create many different exciting role play games that are essential for their development. This would make the perfect gift for boys and girls over the age of 3 years old.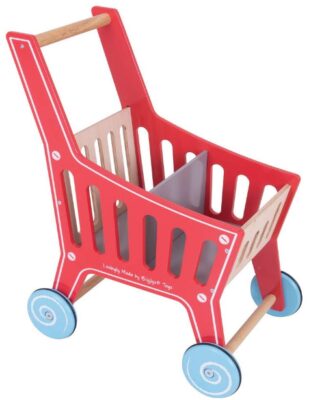 16. Toy Shopping Carts for Kids
For a shopping set that comes with much more than just the cart you should consider this Happy Cooking Shopping Play Set. The plastic cart is a mix of bright and attractive colors that all kids will enjoy and the storage area is large enough to fit all of the included pretend food and utensils in, making it a handy space to store the set when not in use.
Unlike other sets this shopping play set comes with everything needed to go on a shopping trip and also play pretend cooking. There is plenty of pretend food and utensils included in the set, along with a fun play stove. This lovely toy will provide all kids over the age of 3 with hours of entertainment.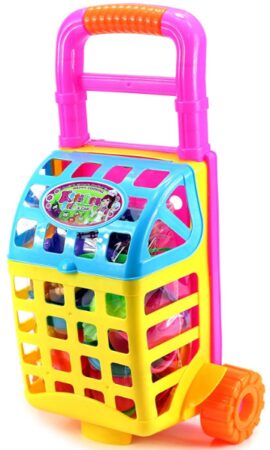 17. Minnie Cart by Just Play
For the perfect shopping toy for all Disney fans you should look at this great Just Play Minnie's Happy Helpers Set. All girls will love the bright pink cart with Minnie Mouse graphics, bow and hearts. The cart has a 2 in 1 function, as alongside using the traditional push cart the basket can also be removed and carried for additional shopping fun.
The shopping basket also has a lovey attractive pearl handle that gives the set a high quality appeal. For the full shopping experience the set also comes with 2 food boxes and 2 food cans, each with fun Minnie graphics that kids will find appealing. This is a lovely Disney shopping set that kids over the age of 3 will enjoy.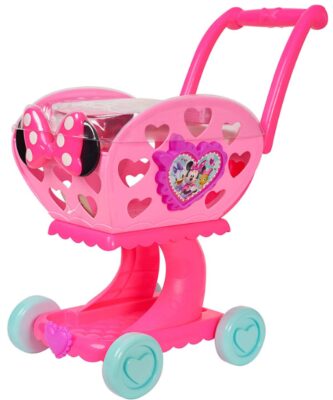 18. Metal Shopping Cart
For a basic shopping set with cart this New York Doll Collection Cart is ideal. It is perfect for kids to play shop with as the great cart comes with 24 grocery items, perfect for all role play fun. The cart itself is metal, so will be long lasting and has full pivoting front wheels, just like a real cart.
For additional fun the cart has a larger than average doll seat that will fit a 14 inch doll in, perfect for kids to take their favorite doll shopping with them. When not in use the cart will fold down to save space. This is a lovey set that will be enjoyed by all young boys and girls.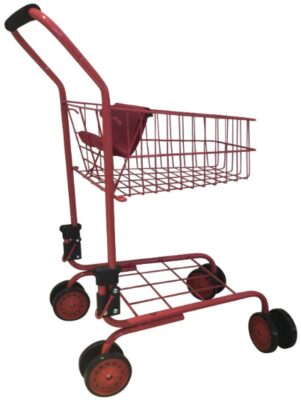 19. Kids Basket for Shopping By Playkidz
This Playkidz Grocery Basket Toy is perfect for all young kids and toddlers to play shopping games with. The grocery basket comes complete with pretend food, coins and card, to give a realistic shopping experience that is great for kids free play time.
This 25 piece set is different to other shopping sets as the rolling grocery basket has a pull handle so the basket can be pulled behind. The basket still has plenty of space for all of the food items that are included, such as a mix of fruit and vegetables, along with bottles, cans and cartons, so it is a great overall shopping set that gives the ultimate shopping experience.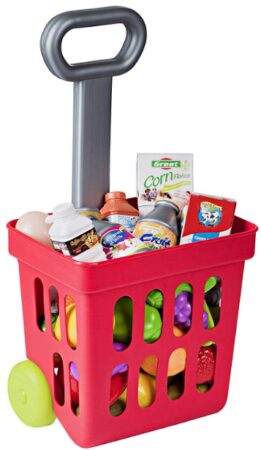 20. Wooden Cart by HM-tech
For a high quality wooden toddler shopping cart you should consider this HM-Tech Wooden Shopping Set. Alongside the great cart, the set also includes wooden food that can be cut in half to encourage fine motor skills and fun pretend play.
The 25 piece food set has plenty of variety so kids will get the complete shopping experience. This set is perfect for kids who are over 3 years of age and is durable to withstand all toddler play. When not in use the cart is ideal for storing toys so has a useful function at all times. All kids will enjoy playing with this great shopping set.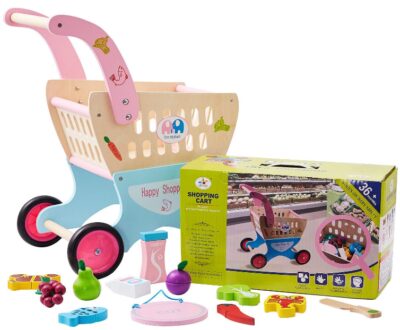 ,

Best Overall Pick
Our best overall pick is the Melissa and Doug Metal Frame Shopping Cart as it is a high quality toy that will last a long time and allow kids to get plenty of enjoyment from it. Kids will love that the metal framed cart looks like a mini version of the grocery carts that their parents use, which will also encourage important role play games.
The front wheels are safe for kids to use as they are spring loaded and turn 360 degrees, making the cart easy to push on household surfaces. You will not be disappointed with this great toy.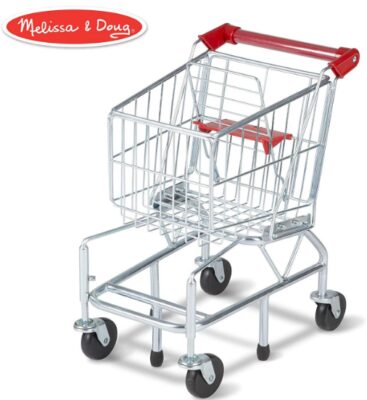 Best Product Buy
The Little Tikes Shop N Learn Smart Cart is our best product buy as it is a fun interactive learning toy along with providing stimulating free play. The cart also has an additional removable shopping basket providing plenty of space, so is ideal for sharing with friends.
The highlight of this toy set is the interactive scanner which allows kids to scan the food items included in the set. There are 2 exciting play modes to provide kids with an educational learning opportunity alongside having fun. This excellent toy will provide many hours of entertainment for all kids.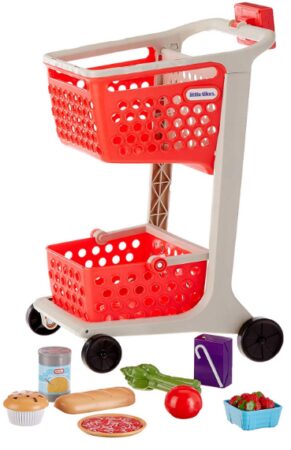 Take a look at these also: