Deciding on a new piano for your child is not easy as some might expect. There are different sizes, shapes, the range of keys, electric or acoustic and this list could go on for a while. So I have decided in this review to trim down the possibilities and make you a list of the best piano's on the market from keyboard pianos to digital and finally acoustic.
You're possibly a mother who has learned a musical instruments over the years and found that the piano to be one of the best to learn with. The piano, when learned, has the ability to set the foundation of learning for all other musical instruments. This is why children should first learn the piano. These are my personal thoughts and experiences as I know it can be really tricky for those first time buyers.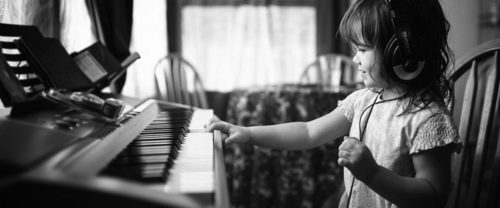 Kids Pianos Buyers Questions and Answers – Complete Guide
I remember when I bought my first piano I had so many questions, so I've put together a list of what I consider the most important questions and answers to help you make the best buying decision, so you can get the right piano for your child whether that's an acoustic, digital or keyboard piano.
Which piano is best for my kid of 7 years?
By the time they have reached 8 they have the finger span to play almost any instrument and especially the piano. There is no real difference if a child begins learning at 3 or 4 years of age, than if they start at aged 7 because by the time they reach 8 years old they will be the same standard of play, however, there are exceptions to the norm obviously! The piano to get your child is determined by their capacity and the teacher. The keyboard piano is usually a better choice if unsure of the capacity of your child or they're own willingness to learn, so by playing it safe, you'll save a lot of time, energy, money and of course space.
What's best weighted keys or not?
There are some differences between piano keys and each can offer a unique feel and user experience. Fully weighted keys are the type that requires you to use a force that is similar to an acoustic piano while others might not necessarily have the same weight in the design.  A fully-weighted key is touch sensitive and this would be reflected in the sound, which would be lighter in sound as the force of finger pressure is reduced.
Electric piano or keyboards are opposite and offer less touch-sensitivity and therefore do not have the diversity as the touch-ones do. Some do however and there is a growing trend in design and manufacturing process to develop pianos with touch sensitive because of the ability to the easy transition to acoustic styled play.
The digital hammer on technology has become so similar to the acoustic that it is hard to tell the difference in play, although there is a slight difference between brands and each has a slightly different feel and there have been notable differences from each end of the keyboard.
How much should I spend on my kids first piano?
This is definitely a personal choice, but as a general rule, I would say you should make a decision that is based on time spent vs the cost of the instrument. Most kids never really expressing the desire to play would be best suited to a lower valued piano than say a grand piano. A keyboard piano is always a safe bet and the more you spend the more frustration you might feel if your child says they no longer want to continue playing.
Should I get a full size piano or not for my child?
This is another question to answer based on personal circumstances, but in general, the rule of thumb when deciding on such a matter is children 8 and above can handle full sized, but under is not.
Toddlers should use the 25-35 key pianos and begin by enjoying the sound rather than being pressured into practice, which is usually the case when children start so young.
Do these toy pianos help with their development as a potential future piano player?
The toy Pianos are great for introducing them to playing and the more you get them into practice/having fun the more they will enjoy the advancement into larger pianos with a large span of keys and sounds.
Loads of cases are emerging where teachers are seeing not much difference from children being pressured at an early age from another who started at the same time, so this suggests getting them enjoying at a toddlers age and practicing more vigorously as they get older.
What is the correct amount of keys for a toddler to learn with?
This is simply down to the amount of finger span and arm length and the grand piano is much too large for them to master, but the 20-30 keys are manageable and much better for enjoying and learning with.
Should Young Children Get Private Lessons?
Parents worry about when the right time for getting their children private lessons and they wonder whether their children have the capacity to learn.
The physical dexterity is an issue when your child is too young and they cannot handle the strain of playing. The eye-hand coordination is extremely difficult for the early developers and it is usually best to wait until they are older, 8 is usually ideal to avoid issues, especially with grueling private tuition. Teachers usually get your child to sit and repeat single notes, which is extremely different when the idea of playing a song was in there preconceived ideas.
The key is to not push them too hard into playing piano and gradually let them learn, but if you do get them a tutor then make sure they are the right age and not too young. There are lessons which focus less on learning the piano directly but focus on activities that get them to dance, sing and begin to build the fundamentals. The gradual concepts like beat and reading rhythm assist to ground your child in music comprehension.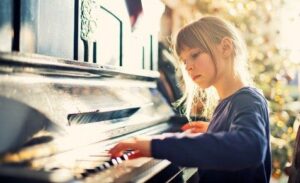 What is the right age for kids to learn Piano?
Learning to play a great musical instrument is good for a child's development. The right age of when they should begin playing a musical instrument is when you feel they are ready, but knowing for sure when that is can be difficult. Some kids have been seen on YouTube performing pieces of music that astonish the viewer and get loads of praise and likes, however, these prodigal-type kids are not the norm.
Most children who are under 5-6 years of age will not benefit from parents who impose vigorous routines and timetables. Studies have shown that if left to explore on their own accord they will have a better-balanced development overall than to be pressured from a young age.
Some moms have come to me asking if my child ready to begin lessons now he is 5 years old and I am sure you know someone or a similar story. I reply that why not get a piano for younger children and test their commitment, especially if they do not have a piano already, which will help you decide before making a large purchase of which your unsure about. However, there really isn't a one-fits-all so if you feel your child is ready then go ahead with your instinct.
Some good signs for knowing if your child is ready to begin the piano as if they have enjoyed playing the toddlers 25-35 key piano and have continued to show interest throughout. This might be the right time to purchase either a larger piano or keyboard.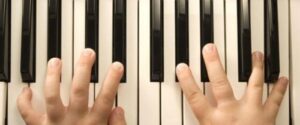 Some key factors in deciding when the right age to begin piano playing includes:
The size of their hand and whether they are can place each finger over five white keys, which is a real struggle for some kids, but essential for progressing
The ability to have finger independence, which will indicate that they can move forward and by simply being able to move each finger independently is ideal
Continued desire to learn the piano is one of the most important factors for a child to progress
Whether ear based or book they should be able to start, but most children younger than 5-6 should be an ear to start with and later book reading
Make sure you give your child every opportunity and no matter the age they can begin to learn, so desire again is all that's needed
Best Piano for Kids 2023
I have put together some of the best of the bunch and filtered through the ones that you wouldn't like, simply to ensure you make the right decision whatever particular type of piano you choose.
 Hamzer 61 Kids Electronic Piano
This Hamzer 61 electrical keyboard piano is ideal for children who want to play, record and progress to the grand piano or DJ mixer/producing.
There are 61 keys that come with this keyboard piano and this is a general standard for its quality and features. The weight of this item is 20.2 pounds and can be easily transported. The dimensions are 39.8 inches across and can be used by most children, however, this span might be too great for kids under 5 years.
The price of this keyboard piano is cheaper than any in this review and will be ideal for parents not wanting to go all-out so early on in there learning, especially if you don't know that they committed.
This particular device offers a range of features like LED display, 12 demo songs, 4-watt speakers, headphone connectivity and a jack for the microphone. The 100 timbers and rhythms make experimenting loads of fun and with the bass chords through single finger-pressing, it couldn't be easier.
The sound is played through 2 in-built speakers and with 4 watt speakers the sound can get loud if needed. The special effects, like the 8 percussions, create diversity and joy. The keyboard itself can be played on its own or with your child playing alongside it, which can assist with the learning process.
There are loads of pros and reasons why this is good. Firstly there is a wide range feature, it's inexpensive, great 4w speakers, voice options and loads of praising reviews. The only downside is the keys are not the best, but for the price, it's hard to complain. This is a keyboard for beginners and intermediate players and if your child is ready for that then this will be a great match for them.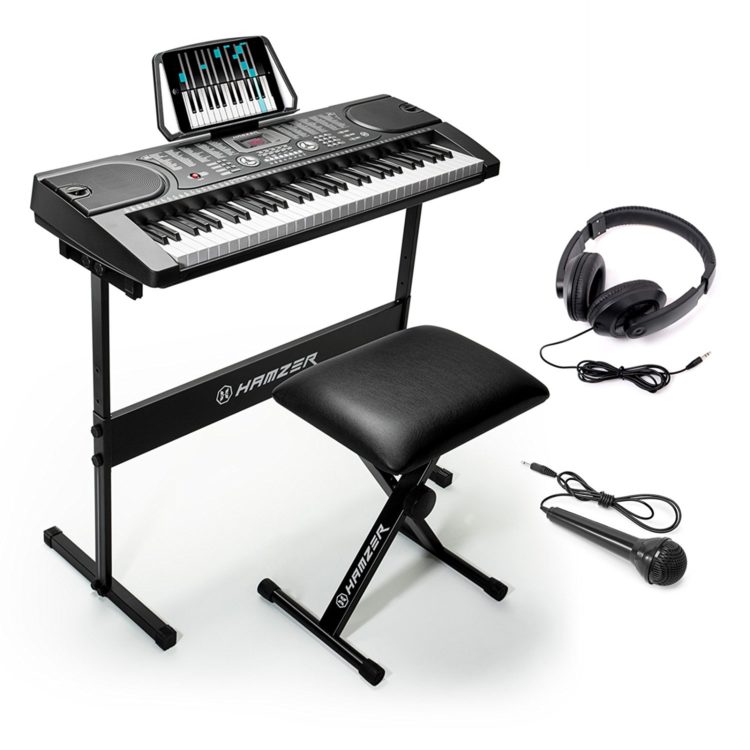 PX-160CSU Casio Keyboard for Kids
This The Casio PX-160CSU is an amazing electric piano that has a wide range of sounds and functions that will make it a wonderful gift for beginners and intermediate players.
It has 88 keys with PX-160 newly developed string ensemble sound, duet mode, record, and playback, so there are incredible options for your little piano master to experiment with all sorts of cool sounds and play along to backing rhythms.  They can even use the built-in microphone to same other sounds and integrate them into the keyboard.
This Casio digital piano is also compact, so it can easily be set up in a small space, and it weighs only around 20 pounds, so it won't be difficult for you or your child to move it.
We love the cool accessories that this electronic piano comes with.  For starters, it has a stable and sturdy X style keyboard stand for the Casio to sit on.  These stands have heavy-duty steel inside to keep them firm and stable, and they can be adjusted from 25.25 to 38.75 inches in height.
Also included is a set of headphones, so your little boy or girl can keep playing long into the night without keeping the rest of the family awake.  These headphones have really good clarity of sound and can be used with computers, phones, and other instruments too.
Overall, this is a really wonderful piano for kids and great value for money.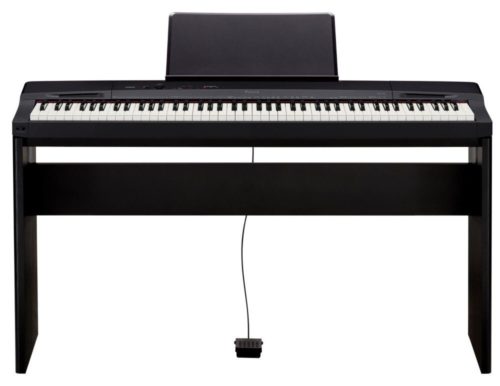 The ONE Kids Portable Keyboard Piano
The ONE is a brand of the "the ONE Music Group" and has a long history of design in musical instruments. This musical keyboard weighs 11 pounds and is lighter by almost half than the Hamzer 61 at 20.2 pounds. This can be used by beginners and intermediate users, but the children under 6-7 years might struggle with some of the technical aspects. There are downloadable apps to assist the learning curve at each stage in the process.
The ONE keyboard piano is slightly better than the previous in this review and offers additional features. The piano can be used in multiple ways and can be connected to your phone for music, games, and videos for guidance as well as amusement. The phone app that is connected will automatically update, so no crashing or confusing glitches that take ages to figure out.
Some children do find it difficult to sit down and practice, which inspired the creator Ben to make this keyboard piano because app-integration puts the fun back into learning for them, especially when they can play their favorite songs while they practice. The visual instructor can assist in the learning process and give tips on where to improve their technique.
The product has MIDI output, 61 keys, 4001+ music sheets, 90+ videos, 128+ instruments and sounds and plus loads of games. The app is also iOS and Android compatible for those parents concerned about whether their kid's hand-held device will work with it.
There are thousands of themes, sounds and playlists, from jazz to soul, funk to blues this piano can provide a great array and user experience. The games are an amazing adaptation of the technology and the score themed interaction makes key pressing fun, especially when the lights light-up to assist the no-experienced kid.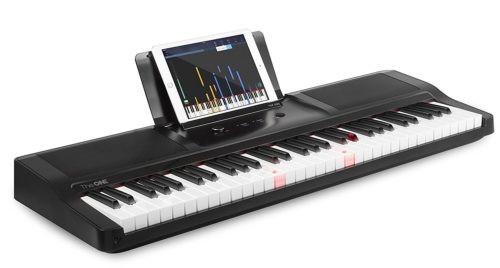 Kids 61 Key Electronic Keyboard 
The brand best products have produced a stunning 61 key electronic keyboard with a whole range of awesome features and applications. The functionality and play-ability are ideal for most users whether, for the first time trying or years in, it's versatile in design and made to be used for years.
The weight and dimensions are similar to the Hamzer 61 electrical keyboard and weigh 19.8 pounds and span 35.4 inches across, which makes The ONE lightest so far.
This is an ideal beginner electric piano and can be used for all levels, but as a starter piano it's easy to use and has multiple levels of easy to use applications and features. The LCD screen is bright and can be easily used with teaching mode on. The huge range of over 100 songs, 100 rhythms, and demos of at least 50 make using this piano fun to use. I think however this is less than The ONE, which boasts a larger amount of content as standard.
This Piano is slightly unique in the sense that this comes with a stool and saves the need to have to purchase one separately or use a home chair, which might not be as comfy or ideal in size. This piano keyboard comes with a pair of quality headphones and is a cool feature that the previous 2 don't have. The headphones can be used for playing privately and silently, simply plug in and keep the neighbors happy.
There are 61 keys all full-sized and digital as all the others are, however there is a slight difference in the touch of the key, which has been noted by several users, but nothing worth noting for a child to worry about.
The app is downloadable via the piano maestro, just register and create a new account. Once this is done go to "settings" then "select your piano" and follow the drop-down options, which lead an extensive library to play about with and use.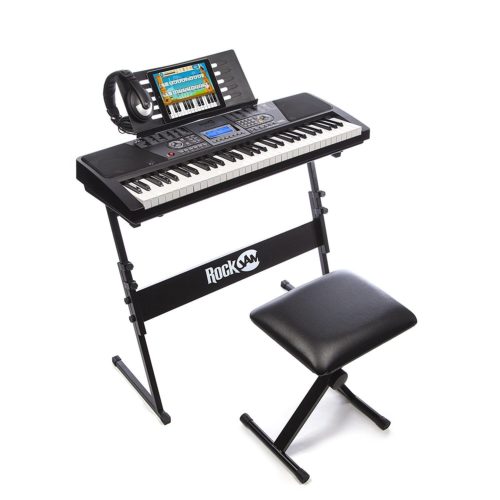 Yamaha P115B Digital Piano for Beginner 
The Yamaha P115B Digital Piano is a lovely introduction to the digital range with its great features and specifications, which reaches beyond the keyboard piano's capacity.
The brand Yamaha has been on the market for a long time in the industry creating keyboards among other types of musical instruments, their actions and their parts, which makes Yamaha, Casio and Roland some of the best brands available.
This particular piano weighs 130 pounds and is going to be a stationary digital piano in the home, it's simply too big to transport anywhere easily. The piano is a lovely black finish and comes with a stand for easy reading as well as a cover that hides the keys, but doesn't look out of place.
There 5 layers of piano sampling and these have been sampled from Steinway (famous piano company). There are 88 keys that have the hammer action similar to an acoustic, which is ideal for all players both beginners up to advanced. The pure CF sound engine makes this a high-end digital piano without the usual cost that is associated usually and is why this is a great choice.
The 4 speakers in total make this a fantastic sounding piano and with the 6-inch speakers, the amount of air can assist the sound, especially because these 2 speakers are situated at the bottom of the piano and are 15 watts per side.  There is a triple pedal unit with this piano e offering finer sounding quality.
This is good value for money and comes with duo mode for learning side by side for helping to develop a unique style which can be learned while one side of the piano becomes mastered, ideal for beginners. This can be plugged into almost any device and has an input/output that can make connecting to a computer easy. There is a USB port, MIDI output, AUX and really can be plugged into almost anything. There is also auto-accompaniment, song recording, DSP effect, beep tone and Duet.
One negative side is the fact that there is not a large LED display screen which some kids might prefer due to the interactive nature that does have. They have opted to use buttons on the piano rather than all being accessed through a display menu. Another con of the digital piano rather than the keyboard piano is the fact the price is way more expensive, however, this is completely different of piano and generally should not be compared out of its own class of "digital".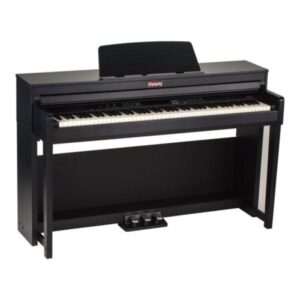 Casio Kids Digital Piano
This stunning black toned wood Casio PX-760 Privia Digital piano is a lovely home piano or can be transported with the light weight of only 85 pounds, it's almost half the weight of the FlyChord DP420, which is ideal for some families with children.
Casio is a huge brand name and one you have probably heard of. They have been producing pianos for years and have become very good at it, offering sounds that a purist would begin to turn, it's refined and sounds identical to the finest acoustic piano instrument counterparts. The air-sound source technology is similar to the grand piano acoustic sound and does this by infusing the memory capacity which has been added.
The Casio PX-760 has tripled censored pedals and can enhance the sound to reach a concert-level quality, especially with the functions allowing all types of practice play, everything from orchestral pieces to the concert play. Each tempo can be changed and costumed to suit the pianist at hand.
The key action and features are similar to the FlyChord DP420 in regards of that there is 88 keys, weighted hammer action scales, triple sensory technology and high quality, but it does differ in speaker size 4.7 inches and there is two of them with two 8 watt amplifiers. The sound difference is only very slightly different, but I would say this digital piano is slightly inferior overall.
The features are good and offer an array of sound with tones like the organ, grand piano, bass and even electric. This can be used with layer capability, which splits to make the user have a gradual progression so that each part can be learned. This is ideal for beginners and makes the learning easy and as if the tutor is at hand. There is even pre-recorded and installed orchestra performances to inspire, which are live.
There is loads of connectivity which similar to the FlyChord DP420 and Casio offer USB connectivity all able to be used with Window or Mac computers. The Mac has software that can be used through the USB MIDI via the apples Privia pianos.
This would be ideal for beginners and intermediate levels of play, but you can not expect the highest standard without flaws, simply because this is cheaper than the previous by almost half. This is a great digital piano and for some parents wanting their children to have one, but without spending too much this is a great deal.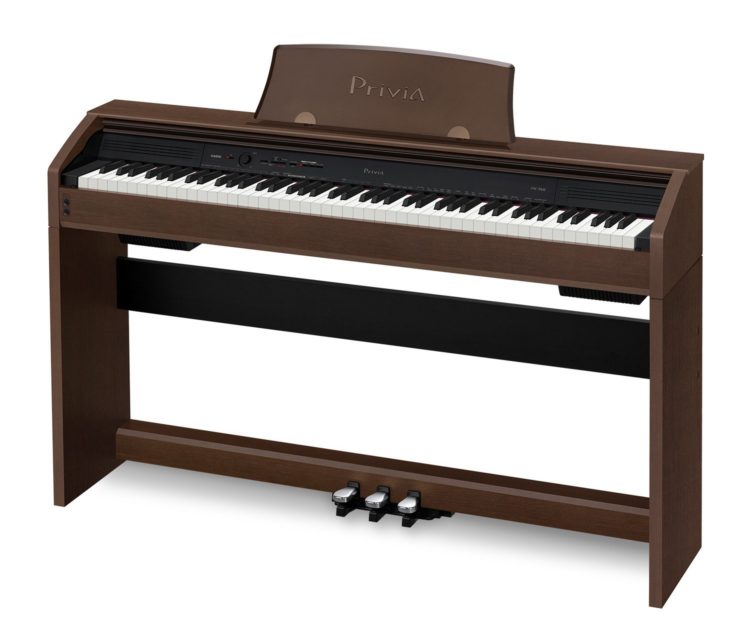 ONE Smart Digital Piano
The ONE Smart classy wooden look piano is an elegant piano with amazing features and technology that seems to unite the new technology with the old.
This piano is somewhere in the middle in terms of weight and compared to the Casio PX-760 Privia it's heavier, but lighter than the FlyChord DP420 and weighs 117 pounds. The ONE smart piano is a larger version of The ONE keyboard piano viewed at the start of this review and offers 88 keys, unlike the 61 The ONE did. This ONE Smart piano is more advanced and has a high graded hammer action, 3 foot operated pedals and is, of course, an upright home piano.
You have a lot of similar user features and experiences which is why I chose this particular digital piano. I like the fact they have designed this piano with easy to use iPad or smart device technology because as you know your child doesn't go anywhere without their beloved gadget.
This has 64 note, 128 tones, and percussion so very similar to the previously viewed digital pianos, plus there is the less need for a tutor with the private instructor in-built into the software, which can be downloaded with iOS and Android. There are loads of games, lessons, and sheets of music that can assist in the child having a great time while learning.
This has mp3 speakers and has dynamic sound controls that can be managed through the app, which can blend, adjust and change the over the sound. The light up feature is an ideal tool for learning and I love the easy to use keys which light up before needed pressed, which helps the muscle memory become embedded before too long. The LED light management is really easy to use and see which is what makes for an enjoyable user experience.
This has and supports USB MINI for computer use and can be used in conjunction with iPhones, Android 4+ and iOS model types iPad 2 and newer for those who may be living in the stone age still.
Most kids learning this type of musical instrument are a little older than 5-6 and therefore this is ideal for children aged 7 years and older, but if you're looking for a smart digital piano with the technology to assist them to learn without needing a tutor then this might be ideal.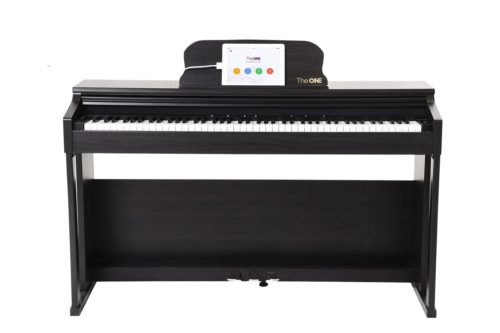 Yamaha P-45 Piano for Kids
Yamaha is known for making some of the best sounding and most well-designed instruments in the world, and their brand is always an indication of quality and ingenuity.  This Yamaha Keyboard P-45 Bundle is perfect for beginners or intermediates, as it comes with not only a great electric piano but all the accessories and extras a player will need in order to get started right out the box.
What we really love about this 88-key digital piano is that it has a GHS weighted action keyboard, which is heavier in the low end and lighter in the high end, in order to replicate the feeling of playing an acoustic piano. It also sounds brilliant with its 64-note polyphony technology that allows the player to perform complicated pieces with few or no dropped notes being cut off.
This Yamaha digital piano is also very slim and compact and doesn't take up that much space.  It also only weighs 25 lbs, so it can easily be moved around the house, and it has inbuilt speakers, so there is no need to worry about cables or anything like that.
In addition to the amazing Yamaha piano keyboard, this package also gives you essential peripheries including a furniture-style stand, piano bench, sustain pedal, music rest, instructional DVD, instructional book and polishing cloth.  These are all things you are going to have to buy anyway, so why not get them all in this brilliant package?
This really is one of the best digital pianos around, and it will be great for beginners and intermediate players.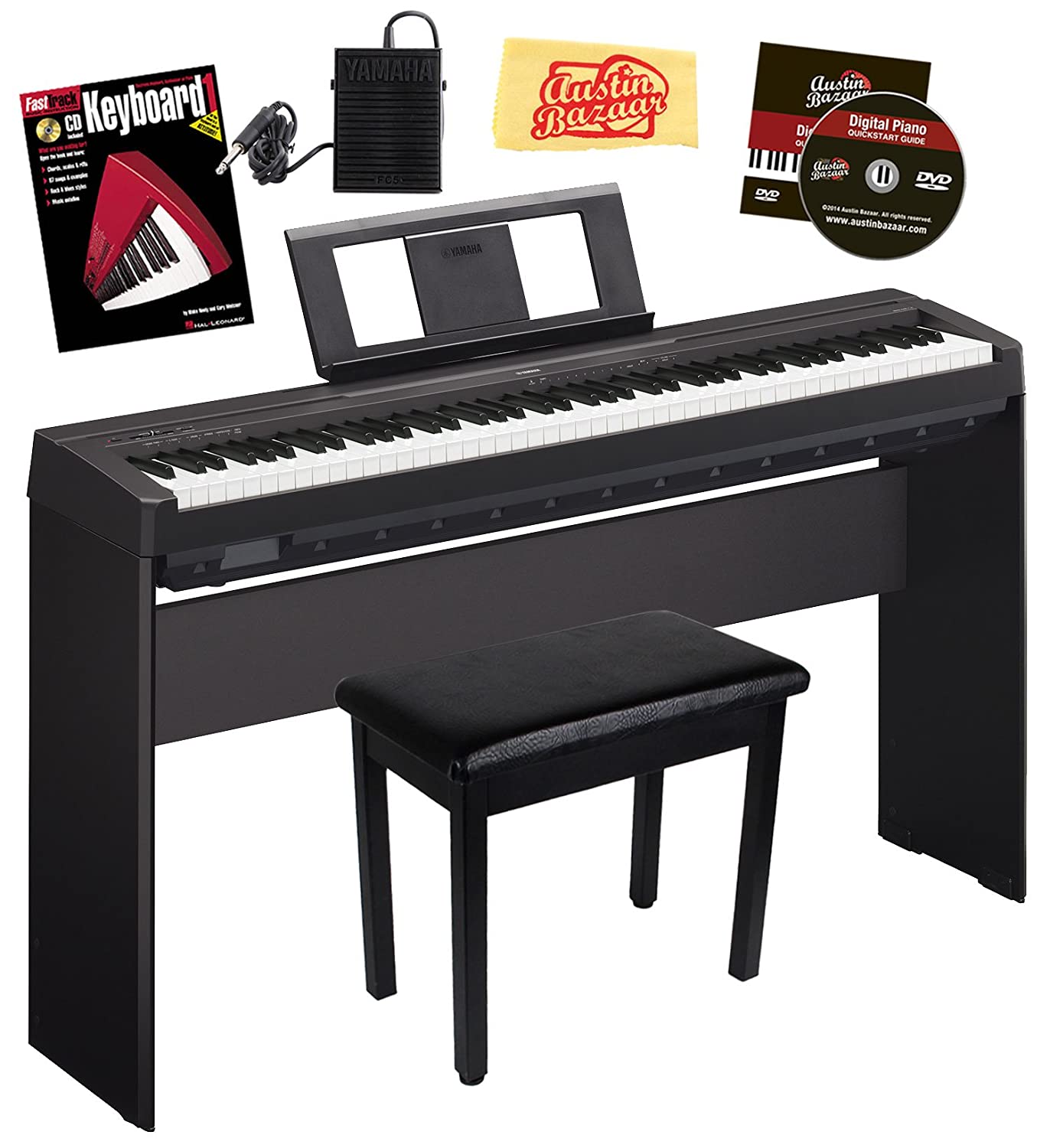 Schiller Grand Piano for Kids
This Schiller is an American based piano producing company and is located in Oregon, Illinois, which was founded in 1890 until 1971, however there legacy continues.
This Berlin 5'3″ is a grand piano and weighs 500 pounds and ships at 600 pounds, which is heavy enough to make sure you plan your shipping to the very fine and minute detail.
The schiller piano company state that "This instrument incorporates a Siberian Sitka Spruce Sounding Board.. German Roslau Strings, German VGF Felt, a Friedrich Action™ and a High Specific Gravity Rim which allows the piano to emit a beautiful singing sound".
This piano offers the highest of quality and equals a concert level of sound with the finest strings that all others predecessors cannot equal in this review. This is an acoustic grand piano and if your family and children are blessed enough, then them, by all means, indulge in the ebony polish finish and high-quality German felt hammers. This fast responding piano is action-ed for anything you can play, it's faultless and will not let you down.
Grand pianos are for the orchestras and events, but also for party functions and enjoying the rich sound and pristine crisp tone.  Kids usually do not start with a grand piano but if they can appreciate such a unique musical instrument like this then make sure to get a good tutor and watch them progress to new heights of excellence.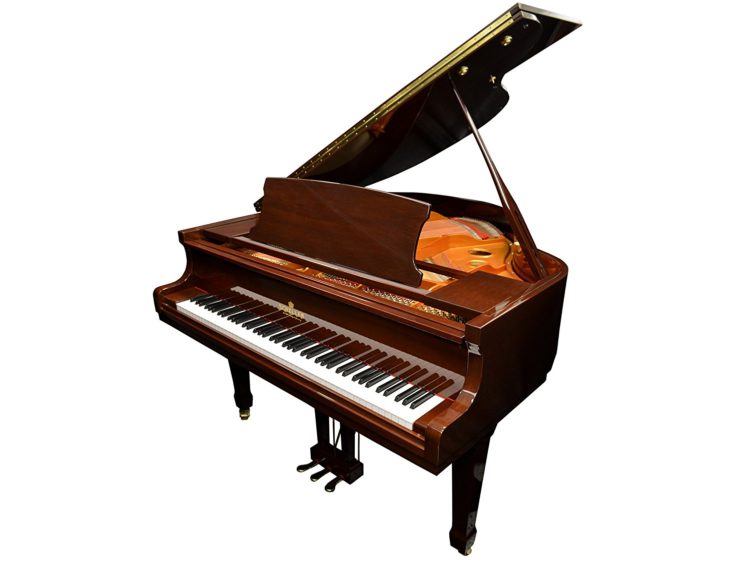 RockJam RJ549 Portable Keyboard
This RockJam keyboard has 49 keys and can be powered using batteries or the included power supply. So, it can be used just about anywhere. It comes with stickers showing the note name and its position on the staff, which can easily be installed and removed when your child has them memorized. It features 10 instrument sounds and an additional 8 percussion sounds, as well as 10 different rhythms. The keyboard is fitted with a music stand for a tablet or printed music, and it also has a headphone jack for quieter practice time.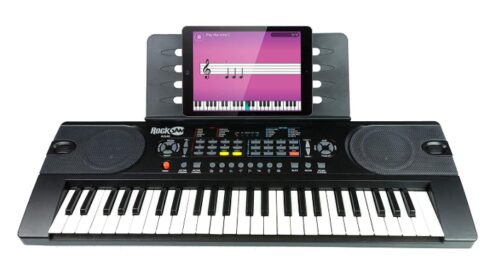 Casio SA77
This Casio keyboard for kids has 44 mini keys, 100 tones, 50 rhythms and 10 demo songs. It also comes with drum pads for even more fun. Casio is a great brand so you can be sure this is a trustworthy and top-quality product. It has an LCD display to easily check the settings. The battery life is good, and it can also be powered with a power supply, but this is not included. It's perfect for young beginners at comes at an excellent price point. However, the smaller range means it's not as useful for older children.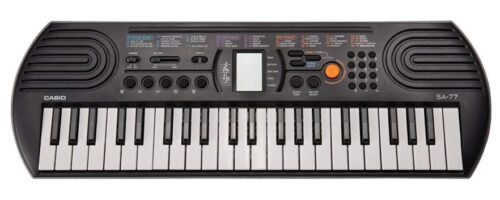 Joyin Toy Piano Mat
This piano mat is loads of fun for kids to jump around on – making music and exercising at the same time! The mat is over 70 inches long and has 24 black and white keys. It can make 8 different instrument sounds such as xylophone, trumpet, banjo and more. There are 4 different modes to play in – recording, playback, play and demo mode. The size of the mat means it's ideal for kids of all ages and more than one child can use the mat at the same time.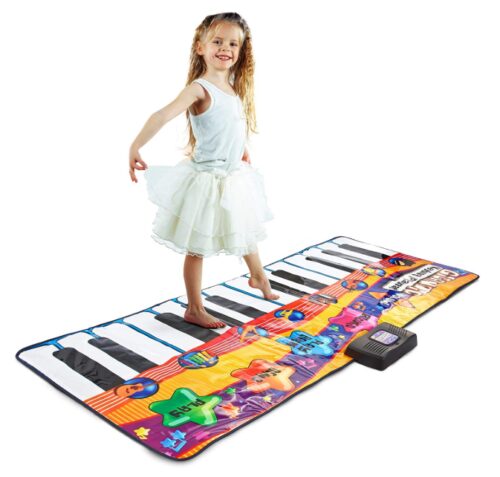 GreenPro Portable Electronic Keyboard
The GreenPro keyboard has 61 keys and 3 teaching modes, making it perfect for all levels and abilities. There are 60 demo songs included and 300 each of rhythms and instrument sounds. It's capable of recording and playback and can also connect with a microphone and headphones for a full recording experience. The piano comes with a power adapter, but can also be powered with D batteries when a power outlet is not available.

Love Mini Kids Piano
This cool electronic keyboard has 37 keys and is perfect for younger learners. It can be powered using AA batteries or a DC charger. There are 22 demo songs, including Jingle Bells, making this a fun Christmas gift! It also has different sound effects and rhythms  for kids to experiment with. They can record their creations too! This is a great choice for kids aged 3 and over.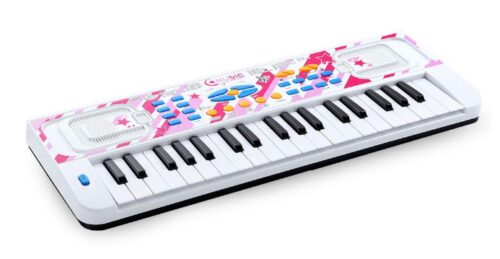 VTech Record and Learn KidiStudio
This VTech kids keyboard is an excellent introduction to making music for younger kids. It allows kids to create and record their own music before playing it back for everyone to hear. It has a microphone, keyboard, drums, a whammy bar and a scratch disc, so kids can create a variety of interesting sounds. There are loads of different modes and effects, so kids will have hours of fun with this toy. It can even alter pitch to be higher or lower – they will have great fun changing the way their voice sounds.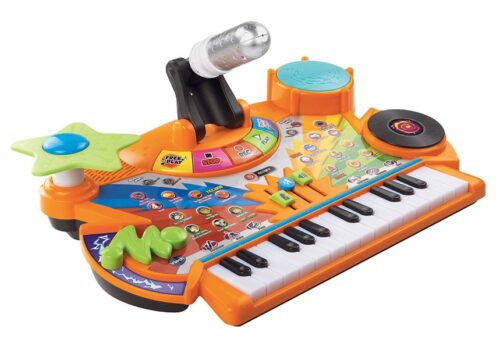 GoPlus Kids Piano
This adorable toy grand piano is suitable for kids aged up to 7 years old. It comes in two colors – black or pink. Girly girls will love the pink one! The piano is made from wood and MDF, so it is durable and will last for many years. There are 30 keys on it, and they are narrow enough to easily be played by smaller hands. A matching stool is included with the piano as well as a music stand. There's also a bracket to keep the top of the piano opened to offer a different sound.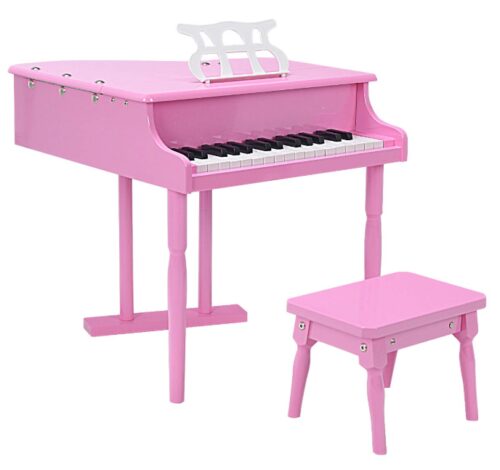 37 Key Keyboard
This portable piano has 37 keys making it the perfect size for younger players. It has loads of great features despite its small size, such as over 120 tones and rhythms, different drum effects and a LCD screen. There is a microphone port and recording capabilities, as well as tempo and volume controls. Three different colors are available – red, black and blue, so you can choose which your child likes best. The piano is a great size for easy carrying if needed, and it can be battery powered too.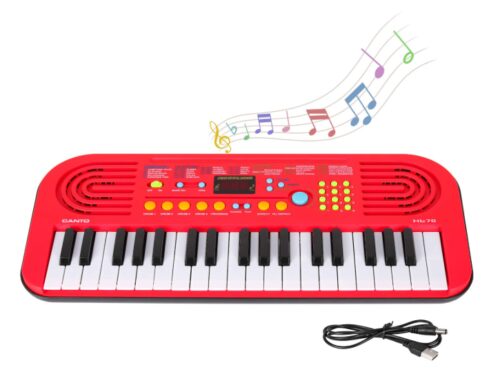 Casio CTK 2550
This Casio kids keyboard is ideal for those who are looking to learn to play seriously. There are 61 piano-style keys as well as an impressive 400 tones and 100 rhythms. There's also the 60 included songs in demo mode – perfect for kids to learn from, or dance to! Beginners can learn to play using the Chordata Play app – it can be used to download MIDI files to learn from by connecting a tablet or laptop to the keyboard. The display screen shows the position of the note played on the staff, making it useful to check if you are reading the music correctly.


Casio LK190
This Casio piano keyboard has lighted keys which can be used to learn to play the 60 included songs, with different levels of difficulty. It also comes with a dance music mode which can be used to make and remix electronic music easily. There are 400 different tones to choose from, so there are endless possibilities for musical fun. Kids can also add in drum beats to their creations, or synth effects. The display screen shows where to position the hands on the keyboard to use the correct fingers to press each key. It has a headphone jack for quieter practice time, and can be battery-powered for use anywhere.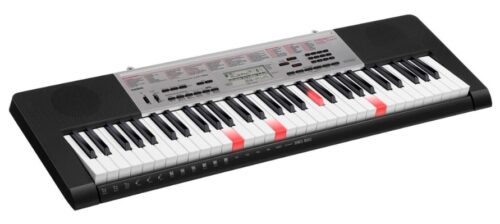 FillADream Electronic Keyboard
This mini kids keyboard has loads of fun features to create interesting sounds and effects, and comes in at an excellent price point. There's a USB slot so you can record songs and save them to a USB stick, and it's also possible to connect a phone or tablet and use the keyboard for practicing on an app such as Simply Piano. The tempo can be adjusted, and there is also a choice of 8 different tones as well as 8 different rhythms. There's a microphone built in so kids can sing along as they play!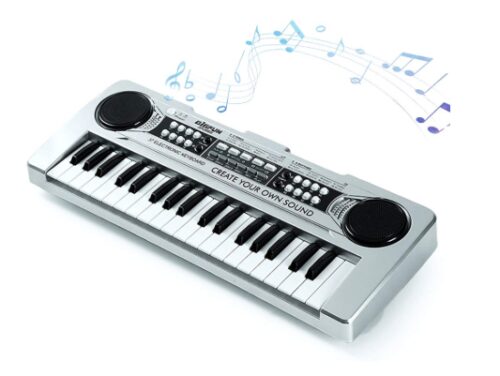 Picasso Tiles Keyboard Mat
This kids keyboard mat is made from the highest quality silicon so it can easily be folded or rolled for storage when not in use. It's similar in size to a normal keyboard, and should be used on a tabletop rather than stood on on the floor. It has a few demos included and 8 different tones. Choose between the traditional black and white or the multicolored rainbow edition which is really fun for kids. There are 49 keys, so kids can play a range of songs without running out of notes! It's possible to connect headphones for quiet practice too.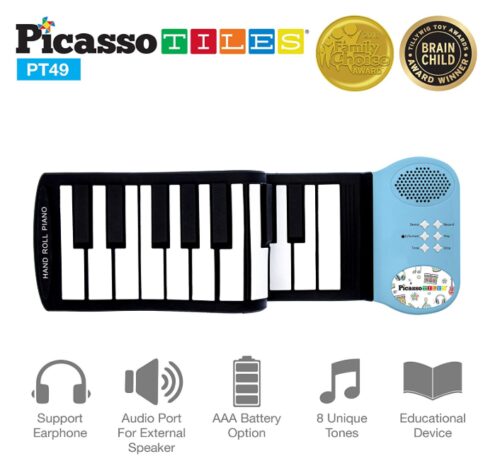 Conomus Multifunction Electric Keyboard
This kids keyboard with microphone is perfect for little kids aged around 2 and up. It has 31 smaller-sized keys as well as a carry handle so it can easily be taken anywhere. It offers different rhythms and tones for kids to make a musical masterpiece, and they will simply love being able to sing into the microphone too! The keyboard is equipped with different drum rhythms to add more fun to kids' songs, and there are 22 demo songs for kids to play along or dance to!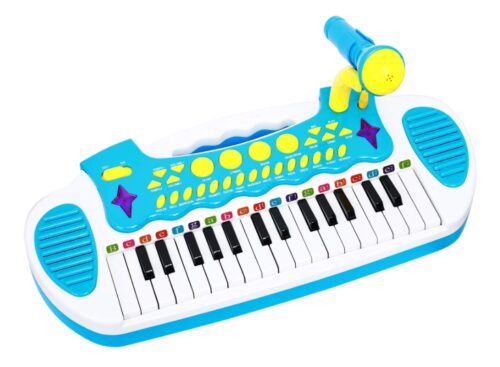 Anpro Melodica
A melodica is an interesting instrument for kids to learn – it works like a keyboard but rather than being electronic, it has a mouthpiece which must be blown into to make the sounds come out. This one has 37 keys and a handle to easily hold it when playing. For beginners, it's easier to place it on a table to clearly see the layout of the keys. It also comes with an extra mouthpiece for hygiene as well as cleaning cloths and a carry case. The melodica has a great, loud sound, yet comes at an excellent budget price.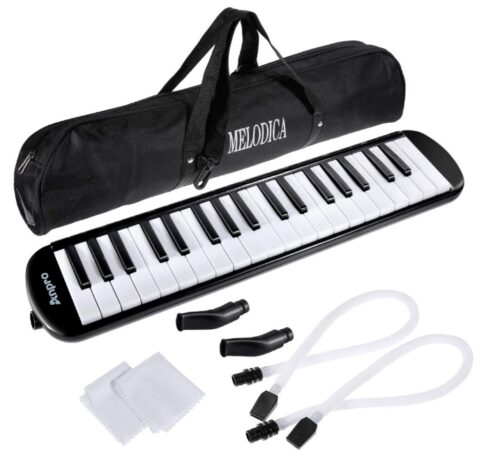 Best Choice Products Keyboard with Animals
This toddler keyboard comes with a coordinating stool and a removable stand. It has 3 cute animals which play along with your child – sure to delight them every time! It has a built in microphone as well as recording and playback functionality. Kids will love to experiment with the different musical sounds – violin, xylophone and flute for example. The keys light up for kids to learn to play their first songs easily, and a music book is included too so kids can easily learn a few skills.

Bigfun Pink Keyboard
This keyboard for kids has 37 keys and a useful AUX input to connect a phone or other device so kids can play over the top of their favorite songs. It has a rechargeable battery fitted, which allows the keyboard to be played for 10 hours on a single charge. It has LED lights on the keys which is great for beginners to quickly pick up a song to play and impress their friends! It has all the features you would expect such as different tones and rhythms as well as recording capability, whilst still coming in at a very reasonable price.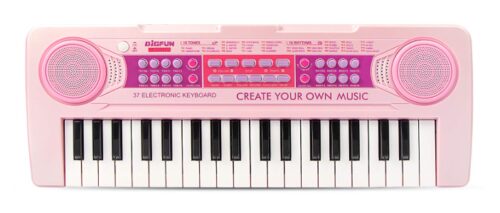 Saocool Keyboard with Microphone
This kids electronic keyboard has 49 keys, giving it a wide range for playing lots of songs. It is powered with four AA batteries, or at home you can use a DC power supply to save running through batteries. It has a detachable microphone and you can connect a U-disk to play more songs. This is a great keyboard for beginners of all ages, and it also comes in pink.


Vangoa VGK6200 Lighted Keyboard
This piano keyboard for kids has 61 lighted keys as well as a smart LCD display and loads of other fun features. There are a whopping 500 different tones, 300 rhythms and 40 demo tracks included. It also comes with a microphone, headphone jack and recording playback. There's a waterproof carry bag included too for taking the keyboard anywhere! The keys are fully sized so this is a great pick for older kids who are learning to play properly. It has all the features they will ever need!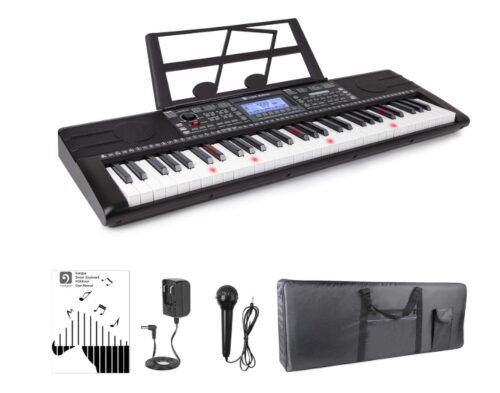 Still Undecided about Choosing Your Child's Piano
There a three main types of piano and each offers slightly different user experience and sound. The type of piano that is played in the grand halls of the world's arenas are usually the grand piano and offers the best quality sound by far.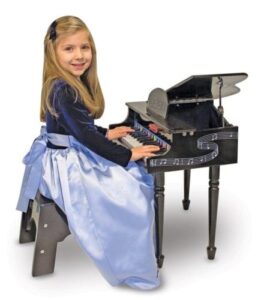 Most children under 4 will need to start with a piano that is designed for easy playing, which includes color stickers and anything that encourages them without being too overwhelming and difficult. Some examples of these can be seen in the Schoenhut German producers, which have a range of pianos specifically for younger children, like toddlers aged 1-3 years.
Some larger full sized pianos are too wide on their fingers and playing is not as easy or enjoyable, so that's why a whole range of smaller piano's allow for the fun to be put back into learning.
These type of toddler pianos are much smaller in size and offer less key range. This can be a good way to introduce a child to pianos playing, but should not be thought of as a possibility for children with any serious desires and capability.
The Children's Piano and How It Works
The interesting thing about kids pianos is that they are uniquely made and usually very different from the classical pianos at a concert hall. The grand piano has two simultaneous functions going on under the lid, firstly the string instrument and the other a percussion. The string part of the piano is combined with the drum sounding percussion part to make the overall sound, although essentially very different and unique, together they create harmony.
The piano is a mechanical combination of functions to produce an outcome of sound, however, this can be manipulated by the pianist through pedal and finger pressure. Most kid pianos do not have this unique combination of design and therefore a parent should be aware that if you're looking for a piano to last 30-50 years then a children's piano is not going to suffice.
How to Get your Child Practicing
Makes sure to always payloads of attention whilst they play the piano and give them praise too. This is always a good way of encouraging them and this creates a desire to want to play and also to please mom and dad.
Set goals for them to achieve and give them rewards when they do, it'll make learning fun and exciting, but obviously, there is a balance and don't go too overboard with the gifts and praise.
Sometimes sitting with them, going over what they have learned and getting them to explain what they have done gives them a sense of achievement. This makes the piano playing seem to have important significance and gives them encouragement and builds their ability and confidence. This can also be done by getting a professional teacher to come and also put the care and attention towards them, which will help them understand that practicing is important.
Make sure to always choose songs that they like, easy to play and allows them to progress at a rate which will not discourage them because pushing them beyond their capacity acts as a negative rather than a positive.
What are the Different Types of Kids Piano?
There are different types Pianos all differing in the range of size, weight, tone, and sound. These differences offer slightly different user experiences and some might suit a particular parents needs, whilst others might not. I have known a parent to buy a grand piano and did not realize that they had bought one that was too big for their house, which caused an almighty problem that was hard to resolve. This might not matter for yourself, however, it does to others, so I highly recommend checking all possible problems that could occur before making any big purchases.
There are 3 main types of piano:
Acoustic pianos – The acoustic is the traditional piano and makes sound from real strings. This has the best tone, sound and offers a lovely user experience, which no digital or electric can compare to. These are usually more expensive than other types and can be very expensive if a grand-piano is bought. This is the best to learn on and most students who progress as a pianist will want to use one. The downside to acoustic is the fact they cannot be plugged into any device to upload the sounds for editing on computer software. This combined with the fact that they will be extremely loud for anyone around is a limiting factor and should not be overlooked, because the household might get grumpy at the hours of playing. An advantage of the acoustic piano is the length of time it will last. A good piano should last 30-50 years if it is maintained and serviced every year, which will cost around 100-200 dollars. The price of an acoustic piano usually ranges between $5000 and $10,000 and is more expensive than the other types.
Digital pianos – The other type of piano is digital and this can be ideal for certain children wanting to learn how to play without making noise that drives people crazy. The digital piano is designed to sound, feel and mimic the acoustic piano, but with the advantage of not having to be as bulky. This can suit families with a little less space and want to not take up the whole room, but maybe just a corner. The weighted keys have the same feel as an acoustic and are resistant to touch to ensure a soft and loud sound range.  These types of pianos are usually much cheaper and easier to maintain and store. The price is usually much cheaper and a good digital piano can be bought for around $1500 to $3000. This is a great option for parents that really want to help their child build up the core skills and progress as a pianist. These types of piano usually last 3-8 years and are much less than the acoustic, which are designed to last the test of time.
Electric Keyboard/piano – This is one of the cheapest ways to get your kid starting to learn how to play the piano, it's easy to use and can plug in with headphones and the multiple playing options is great for getting their imaginations going. The price usually ranges from $75 and upwards, which is affordable for most parents wanting to get their child started.
Electric keyboards offer synthesizing options and help's when they want to start plugging into their laptop to layer music over songs they love already. The pre-installed music is great and helps when they want to combine their efforts. The voice effects that most keyboard pianos have are good at enhancing the sound and recording made. This can make the editing process fun and get your child into production because this is where it all starts.
There are loads of apps that come with a lot of keyboards these days, which can record music, help keep a diary of sound, display with visual experience, various sound controls, and song chords. These features are usually unique to either the digital piano or the electric keyboard.
Having a keyboard with weighted keys is an advantage, especially if the grand piano is the goal at the end of it all. However, most keyboards do not have this as standard and you should make sure to check before buying.
The aux for plugging in the headphones is perfect for keeping things quiet and law and order maintained, especially if they have a busy household wanting to not have to be subjected to hours of unwanted listening.
The downside is there will be no bench that comes with it as standard and so bare this in mind for when you have decided on which to go for. The pianist's elbow and wrist should be in line with the floor to assist for good practice.
Lastly, the life expectancy of an electric piano is 3-5 years and will not last that long, so if you want a one time only purchase then maybe this isn't ideal.
Which kids piano do I buy, acoustic, digital or electronic?
This is really down to personal circumstances and as a parent I understand that there are some limiting factors in all households, but ideally I think the acoustic is best and will allow them to start with the right tool, although it might be a little noisier, takes up more room and is more expensive it will last for decades.
There is a new generation of musicians who are combining the classical piano sound through software applications, which is becoming more popular all the time. As children become in their teenage years the electrical keyboards might be ideal for when they convert their room into a music studio, linking their computer, synthesizer and latest gadgets to distort the pure sound of the piano.
While my loyalty lays with the acoustic piano the practical side of me understands that children beginning to learn how to play will be better suited to a keyboard. This will allow them to plug-in and use headphones, mix with computer software and keep the noise down, which is crucial for some families.
The digital piano can be ideal for children, it offers everything of the past and combines with the future and ensures your child can have weighted keys, similar acoustic tones/sounds and can be used with headphones. The apps that interact with modern electrical pianos, both digital and keyboard, are designed for older children but can be easily taught with the right teacher.
Melissa and Doug Piano for Kids
This classically styled children's piano has been specially designed to make it as kid friendly as possible and has many cool design features made with younger players aged around 4-6 years old in mind.
This kids piano has 30 hand tunes keys that are just the right size for little hands to play, making the piano effortless and comfortable for them.  It is quite compacted (23 x 23.5 x 9.8 inches) and only weighs 18 pounds, so you can set it up anywhere with enough space and move it around easily.   Its top can also be opened, so the little ones can see exactly what is going on inside this musical box of wonders.
This will be great beginner piano, not only because it is fun to play, but it also comes with an easy-to-play songbook and color-coded key chart, an ideal introduction to playing music.  Furthermore, it features many kid-friendly details and accessories, such as a safe non-tip bench for your little Mozart to sit on, safety hinges and a music stand, making this sturdy wooden grand piano a grand way for children to tickle the ivories for years of play.
This learner piano will be amazing for younger children and will give them a brilliant way to start their musical journey.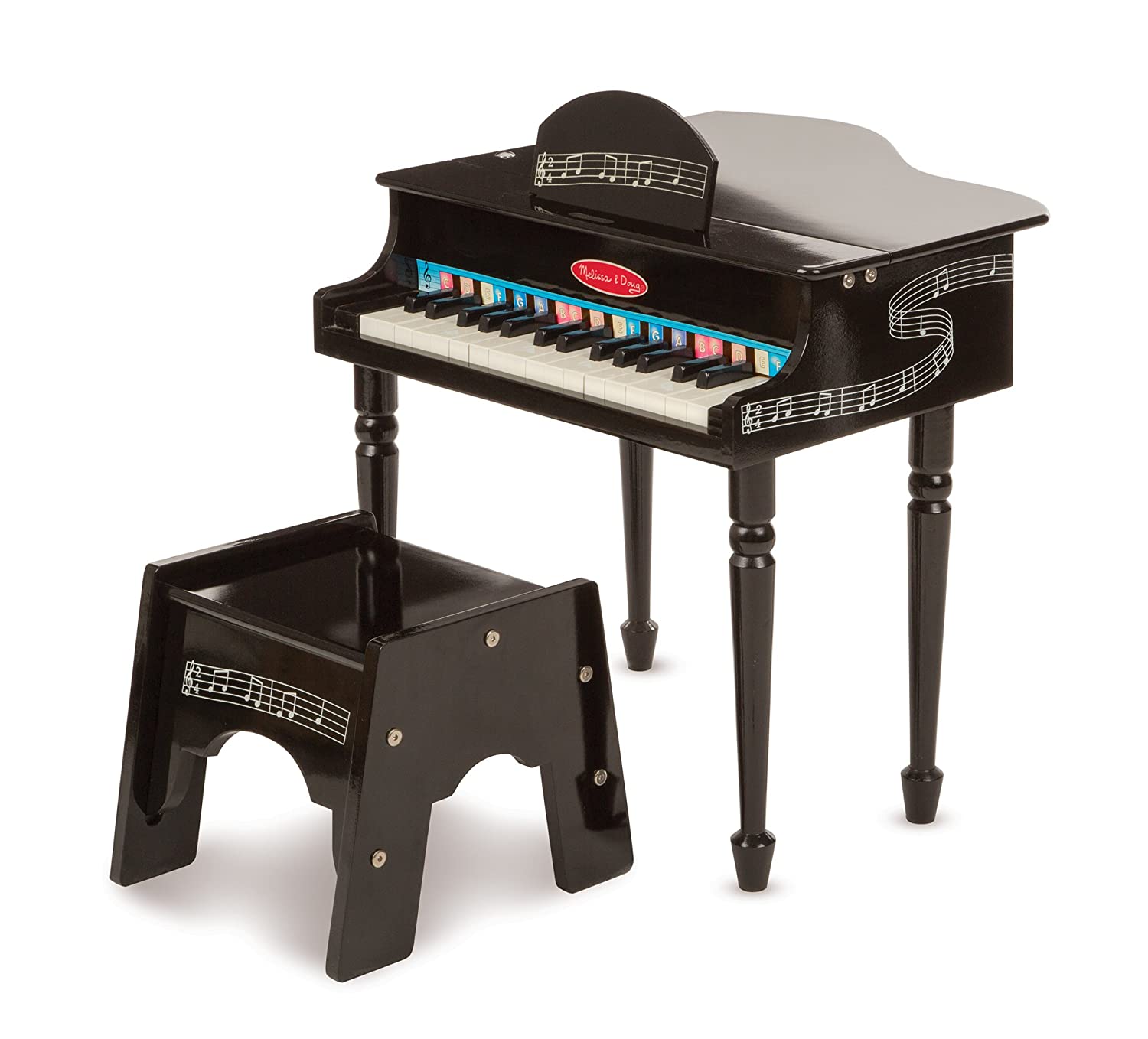 Schoenhut 37 Key Concert Grand
How many kids have their own grand piano in their room?  Well, with this awesome baby grand piano, kids from 36 months to 8 years old now have the option of enjoying their own appropriately sized version of the classic instrument.
Your child will need little encouragement to peruse their music lessons on this amazing instrument, as this Schoenhut 37 key concert grand is chromatically tuned with a 2-1/2 octave span, giving it an incredible tone timbre for such as small instrument, and it will help your little Beethoven to really fall in love with music. it also has unique chime-like tones are created by small hammers striking metal rods, producing a charming sound that young ones will love.
This mini grand piano comes with an accompanying songbook and a color-coordinated learning system which teaches children the correct finger positions for playing the piano and helps them to stretch their fingers, so this will be great for little learners and beginners.
This is available in black and in pink, so it will be a great piano for girls or boys.