Computers take up a large part of our lives, in a society that is growing ever-more tech-oriented, computers have become quite the norm to have at home. If you have a computer set-up at home for your child and you're looking to buy a new children's keyboard or a kids' computer mouse, you've come to the right place.
We've searched high and low to find the best keyboards for kids out there for young children who love gaming on their computers as well as studying and passing time.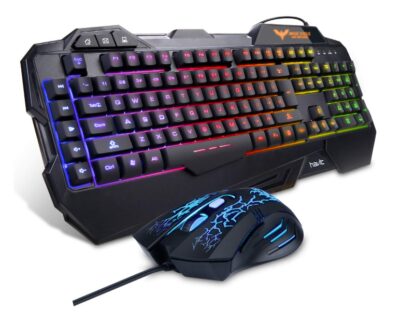 Considerations When Choosing Keyboards & Mouse
In our list below you'll find lots of awesome options suitable for both genders. We've considered lots of factors when making our choices and have laid some out for you below to help make choosing the perfect computing accessories for your child easier.
Age 
Depending on the age of your child, this will influence the type of keyboard that you choose. If you have a teen boy, their taste is likely to be very different from that of a younger boy for example. Always keep age appropriateness in mind when buying for your child. Some keyboards come with added features such as colorful backlighting which may appeal to an older teen whereas a younger kid will not care as much for this.
Personality 
Gaming is a big deal and therefore you'll find lots of different styles when it comes to keyboards and mouse combo for kids. From keyboards with cool graphics and lighting elements to plain, sleek keyboards. Think about what sort of personality your child has before going ahead and making the selection for them. Those that enjoy gaming will want something snazzy to compete with their friends over the screen. 
Gender
Are you buying for a boy or girl? There are lots of options out there! Choose wisely when it comes to colors, although all mouse and keyboard sets are of course gender-neutral, you may want to think about whether one that appeals to a boyish boy would appeal to a girl.
Budget
Computer accessories aren't cheap and this is especially true when it comes to choosing a mouse and keyboard set. However, if you're looking to buy on a budget this can be achievable. Consider all different brands and types of keyboards to get the best deal for the money you have!
Top Kids Keyboard and Mouse Combo
Before we head on in and reveal our top best kids keyboards and mouse sets, we hope you find the inspiration needed to make the choice easy. Remember to consider all of the above factors we've set out to make buying these type of accessories easy. We have something here for all types of personalities!
1. Redragon Gaming Combo Set
This super cool Redragon gaming combo set is great if you're looking for everything that your child could need to get started with their new computer set up. Included in the set are a gaming mouse, mechanical keyboard, mouse pad and PC gaming headset too which even has a microphone.
The sleek mechanical gaming keyboard is LED Backlit for extra effects during gameplay. The kit is great value for those looking to bulk buy everything they need in one. The set's gaming mouse is ergonomically designed and comes with a red backlight too which can be turned off if not wanted.
With an underside especially designed not to slip during use, the mouse is one of the most comfortable you'll find on the market.  This is one of the best keyboards for boys with a cool black and red color theme for extra fierceness!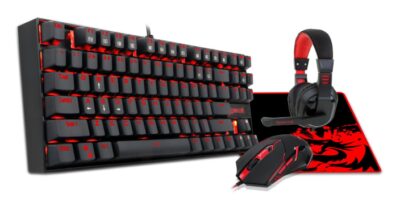 2.  Mouse and Keyboard Combo by Havit
We love this super colorful gaming set that's great for either a boy or a girl. Simple yet effective, the rainbow backlit gaming keyboard enhances gameplay and gives a super cool night time experience.
The keyboard features a 7 circular breathing color display of red, green, blue, yellow, purple, cyan and pink.  With an ergonomic design, the mouse fits comfortably into a child's hand and includes a plug and play power up. This sleek keyboard comes with 8 multimedia shortcut keys, interchangeable "WASD" keys and WIN keys that can be disabled for pc gaming.
We're huge fans of the cracked effect on the mouse and all the colors that this set has to offer. If you're looking for a mouse/keyboard combo for kids that is sure to wow, this is it!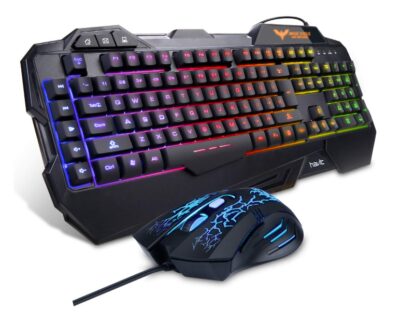 3. Ergonomic Keyboard
Perhaps you're looking for a fun kids set that provides maximum comfort during gaming sessions. This space-saving design carries a contemporary appearance and features highly durable double-shot injection molding keycaps. The slim full-size gaming keyboard as tactile keys which provide an excellent feel.
Lit with LED backlighting which can be adjusted with 4 levels of brightness the keyboard also has a lock and unlock function for WIN to avoid distraction during games. The matching mouse is ergonomically designed to provide maximum comfort and reduces muscle strain during long hours of playing. If you want to still buy a cool gaming set but want to opt for something simpler due to preference, this set is ideal.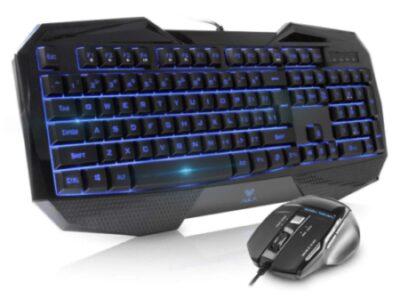 4. Wireless Set
This simple yet effective wireless round keyboard set is a great option for a gamer girl! The kids wireless mouse comes with long battery life and is designed for maximum comfort. The fresh pastel colors used are sure to brighten up any desk, while its sleek design won't overcrowd. The whisper-quiet keys ensure smooth typing and minimal noise.
With reliable 2.4G wireless connection, kids can simply plug and play with 10 meters of connection. Universally compatible, this set will work with all types of laptops inclusive of MacBooks too. We really like the rounded buttons on this design that set it apart from other keyboards out there.
This keyboard with mouse set has less of a 'gamer' look and is clean in its design. It's a great addition to any family computer set up and eliminates the need for messy wires thanks to its wireless power.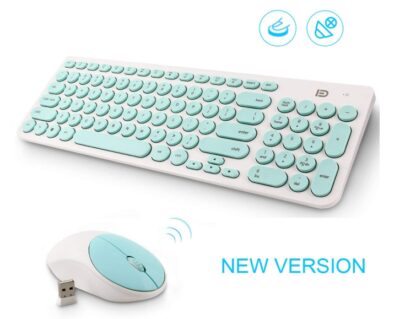 5. BlueFinger Set
Looking for a standout design? This awesome keyboard set is one of the best out there. Suitable for both boys and girls, the pack includes a USB LED gaming keyboard, a USB LED gaming mouse and a matching quality mouse pad making it perfect for games and work.
Kids can easily switch up the backlight color to their favorite or set it in auto-breathing mode to run through the different colors. The crack backlit effect provides a unique visual experience and a cool gaming atmosphere too.
The keyboard is ergonomically designed and has 2 adjustable rear feet as well as 2 non-slip rubber pads which provide a comfortable typing experience. Kids will love gaming with this awesome keyboard set that is sure to stand out from their old gaming accessories.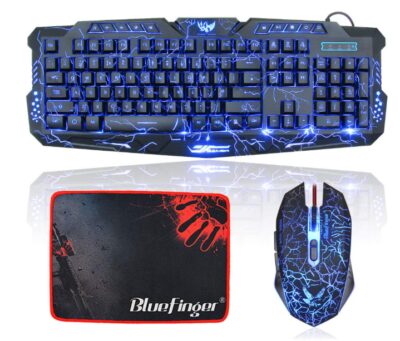 6. RGB Backlit Keyboard Set
For kids who want a new backlit keyboard & mouse, this gaming children's computer set are sure to be a winner. Including premium backlighting features, this set is great for young gamers. The 4 backlight color options provide lots of variety and the backlight breathing speed is sure to enhance any gaming session.
The ergonomically designed keyboard has 104 keys, 25 keys without conflict, 12 multimedia keys, 8 independent control keys for quick management and is even splash-proof too. The buttons of the mouse are programmable making it easy to assign keyboard keystroke or Multimedia or Windows functions to any button with the included Software.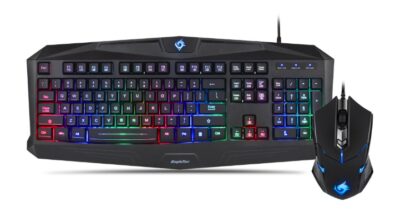 7.  Gaming Bundle Kit by Redragon
Redragon is one of the most reputable brands out there when it comes to computing keyboards and headsets. This bold keyboard with mouse set includes a Redragon premium large gaming mouse pad, LED RGB backlit gaming keyboard and red LED backlit gaming mouse.
The high-quality garuda stereo gaming headset comes with a microphone to speak to pals online while gaming. The mouse has a red LED light that can be kept on during game play or easily turned off.  Kids will have complete gaming control thanks to the smooth keys and soft mouse that can be moved with ease.
Adjust the lights on the keyboard and select from 4 backlight color effects and 5 levels backlight breathing speeds. The lightweight headphones fit comfortably and can be adjusted. They have noise-reducing closed ear cups made of soft memory foam for ultimate comfort.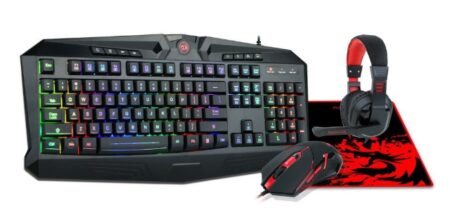 8. Rainbow Backlit Mouse and Keyboard Gaming Set
Rainbow lighting is everywhere with this awesome backlit mouse and keyboard gaming set. The changeable backlit gaming keyboard features grade 3 adjust brightness and 2 breathing modes as well as 4 colors circular breathing led gaming mouse.
With 104 keys, gamers can easily press or hold multiple keys simultaneously without fear of missing or unexpected key presses. This gaming kit is super responsive allowing for a super easy and comfortable gaming atmosphere.
As one of the best options out there for gamers, children are sure to have plenty of fun sitting back, relaxing and playing their favorite games. The light show will enhance any gaming experience and can be set to play through exactly how your child would like.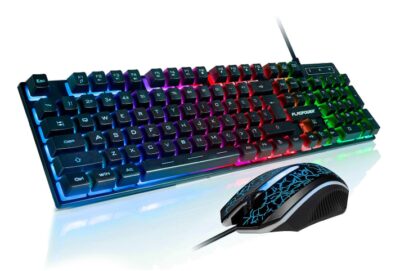 9. Keyboard Bundle with Phone Stand
If you're searching for a uniquely designed fun kit then this is it! The futuristic yet ergonomic design even comes with a phone stand for placement of mobile phones! The mouse has a one-of-a-kind shape to be built like GUNDAM characters, while the wired gaming keyboard offers a comfortable gaming environment.
Colorful backlight modes can be customized and make it particularly useful for night use. With ultra-thin suspended keycaps, the spill-resistant keyboard has a 104 keys full-size keyboard layout inclusive of 19 anti-ghosting keys which provide simultaneous operation of up to 19 keys without conflict.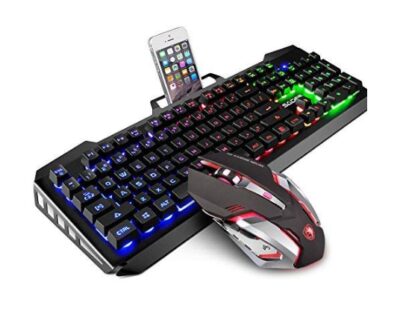 10. USB Wired Keyboard and Mouse Combo Kit
This ultra-cool USB wired combo kit includes a gaming keyboard, mouse and mouse pad providing everything needed for an ultimate kids gaming session! If you're searching for colored keyboards, this set sure makes an impact.
The backlight color can be switched up and it features an awesome cracked effect when in red looks like molten lava. The keyboard is designed ergonomically for total comfort and an easy typing experience. The 114 Keycap glow and laser engraved letters are guaranteed to never fade, either!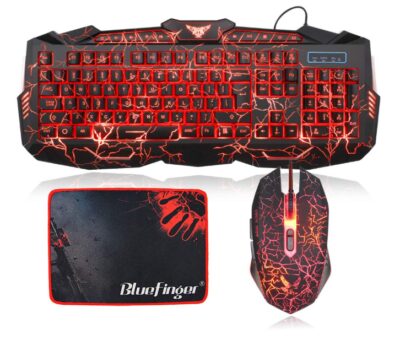 Now that we've come to the end of our top children's keyboards and mouse sets, it's time to present our best overall pick and budget buy. As you can see from the list above we've found lots of awesome computing accessories making it a difficult decision to make! Below we've put together some additional information to help you grow your awareness as to how having access to a computer at home can have a positive impact on children.
Contrary to popular belief, computers can be enjoyed by kids of all ages so long as a responsible adult supervises any activities.
Best Overall Pick
Our best overall pick has to be this awesome gamer set which features one of the best computer keyboard & mouse for kids. The mechanical keyboard is super easy to use and the set also includes a mouse pad and gaming headset featuring a microphone for online conversations with friends.
The red backlighting gives the keyboard a very dramatic feel making it great for night time gaming challenges! All parts of this set are highly responsive and guaranteed to last thanks to their high-quality. The headphones reduce external noise and their close cup pads are stitched expertly to avoid wear and tear from occurring.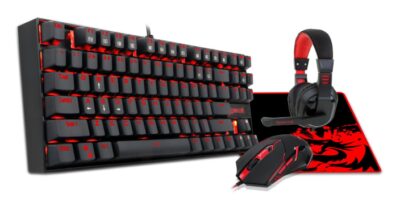 Best Budget Buy
Our best product buy has to be this beautiful and uniquely designed combo for kids. Bringing about a fun, stylish feel while providing quiet typing, the 97 round keycaps have a glossy and smooth edge for comfortable typing.
We love the color palette used across this set as its soft pastel colors make it ideal for gamer girls. The keyboard turns into power-saving mode when not in use and they're guaranteed to be responsive for up to 10 meters too.
We love the clean look of this set and think it's perfect for either boys or girl who want to keep their computer setup minimal. Perhaps your child has a white and blue themed room, this keyboard would be the perfect accessory to complement other interior decor in the environment too.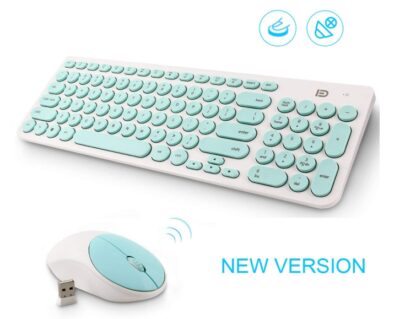 Before we move on to the buying guide, take a look at some other choices:
Best Ways for Kids to Learn How to Use Keyboard and Mouse
Wondering the best ways to teach your child how to use a keyboard & mouse? These are vital skills that are sure to be built upon in school and later in life when working, however, it's essential to get a head start when it comes to computer use.
Keyboard/mouse use is great for improving hand-eye coordination, reactions, and fine motor skills. With such skills, your child can study, play games which may be used to strengthen further skills and be adept at using a computer for everyday needs.
The best way for a child to learn how to use a mouse and keyboard is by practice! You'll find lots of awesome kids sets out there that can make the activity fun. Make sure that you have a comfortable set up at home for your child to practice using a computer. It will take some getting used to but even children as young as 4 years old can get going relatively easily.
It's also a good idea to show your child directly how the keyboard works. You'll want to familiarize them with the basic keys which include the letters, enter and backspace. You can do this by sitting down with them and working through the alphabet on the keyboard and have them type each letter.
They'll soon come to remember the positions of each key and grow quicker with their typing skills. There are also multiple keyboard games online which can be great for familiarization with keys too. From fun online challenges to kid's typing speed tests, there are lots out there on the web to take advantage of!
Games to Teach Kids How to Use Keyboard and Mouse
If you're looking for specific games to help to teach your child how to use a keyboard and a mouse you'll find that your child will be spoiled for choice. From games, online that only involve clicking on corresponding answers to questions to those that involve using the space key to jump for example. It's good practice to encourage your child to involve themselves in a range of different online games for this type of activity.
For kindergarten-aged children, there are special laptops for playing games that can get kids used to using keys and navigating a mouse. Check out children toy manufacturers such as Playmobil and Leapfrog for examples of these types of toys.
What Are The Benefits Of A Good Keyboard Set?
With so many advising against children being so involved with computers, mobile phones and video games at all, you may be left wondering just what the benefits are of exposing your kids to computers. There are lots of ways in which having access to a computer set up with a kids keyboard can help a child.
Firstly, as mentioned above, physically using a keyboard and also a mouse will strengthen hand-eye coordination for any kid and encourages independence. They also learn reasoning skills as they understand that certain actions have certain effects and are introduced to the world of STEM. Introducing your child to STEM skills from an early age can have a profound positive impact on their learning later down the line.
Children can get involved in all sorts of activities if they have access to a computer. From playing math games to learning a new language or simply relaxing by watching their favorite series. Consider setting up a computer complete with a gaming set for your kid if they could do with some extra educational stimulation at home.
Is It Safe To Allow My Child To Browse The Internet?
If you're concerned about your child's safety and welfare when browsing the internet, this is completely normal. As parents, we want to protect our kids in any ways we can to ensure they're not exposed to harmful content. Luckily, there is a wide range of parental restrictions that you can put in place which limits what a child can and can't browse.
There are many ways to practice healthy and safe internet boundaries with a child and you should teach them the following:
To keep personal information limited – make it clear to your child that they should not be giving out any personal information about themselves to strangers over the internet.
Never post personal photographs – unless you have a teen child who owns a social media account and can take responsibility for who sees their content, your child should never post images of themselves online for others to see.
Do not respond to threatening emails/emails from unknown people – cyber-bullying is a real issue in the modern world and sadly children can fall victim to this/become involved. Make it know to your child that they shouldn't engage in conversations online or reply to any threatening emails they receive. Rather they need to report this to an adult to take action.
Supervise! – it is always worth supervising your child while they browse online. Of course, all kids should have a certain amount of freedom but safe internet practice should involve a parent's input.