Looking to find a gift for a teen that is educational and fun? STEM toys are educational, making them great for learning through problem-solving and developing new skills while having fun.
There are 20 different types of toys for teens who like science, all science-related and really cool to spark their interest!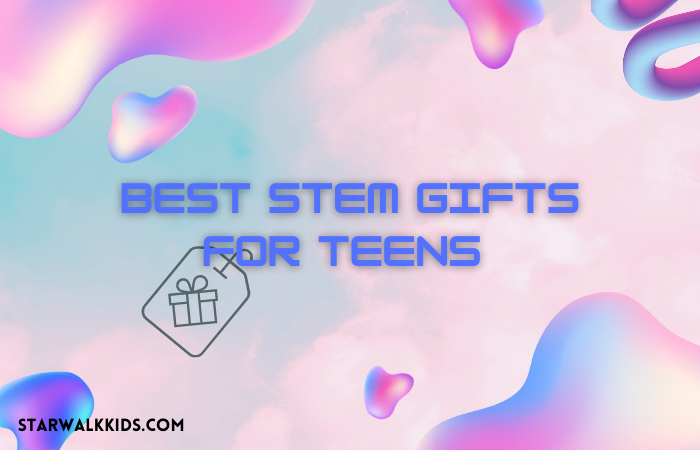 Considerations choosing Stem Gifts
According to Gosciencegirls.com, teaching STEM at an early age will increase the thinking and reasoning skills to kids. STEM gifts play a vital role in imparting STEM education. There are quite a few considerations you need to make when choosing a STEM gift for your teenager, in order to make sure that it is the correct gift for them.
TOPIC – The educational topic is a big thing when it comes to the interest of a gift. If your child is into the more mechanical side of science then an RC car is going to be a great gift for them, but if your child is more into the biological sciences then a microscope could be the gift you're looking for.
DIFFICULTY – Some of the gift ideas mentioned below would be for an older age group, with harder components used and also more difficult instructions to follow, the guided age range on the box of the product will be a good indicator if it is the right gift for your child.
MULTI-BUILDS – A kit with multiple building projects will keep your child entertained for hours on end, as they can create and dismantle then create a whole new design again, keeping them entertained. This is a strong consideration when choosing a new STEM gift.
AGE – STEM has gifts for 15-year-old boys, right down to younger children and there is a wide variety of activity types to ensure engagement. Make sure to check that you right gift that matches the teen's age.
Some boys develop later than others and maybe our 12-year-old gifts are more suitable, loads of STEM options on our gift section for 12-year-old boys.
Gender – All of the below items are the best stem gifts for girls and boys. Science is now more about learning than gender.
Table Top Robot – Best for 8 Years Old Robotikits Solar Robot – Best for 13 Years Old Water Rocket Kit – Best for 14 Years Old
Best Picks for Teens in 2023
1. Table Top Robot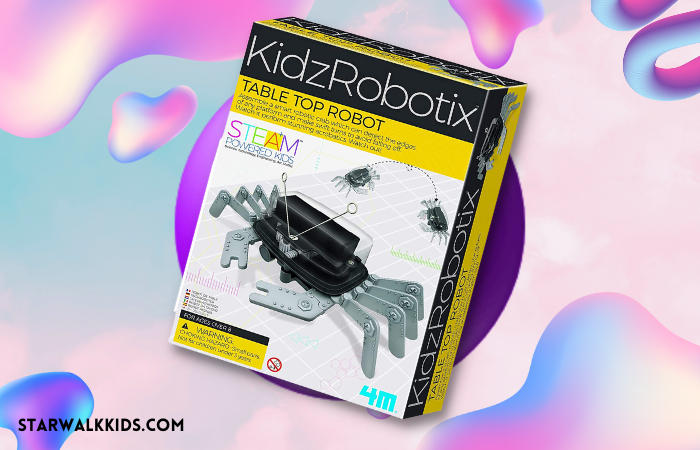 If you're looking for some of the best building kits for teens, the Table Top Robot could be exactly what you're looking for. This amazing science toy is a hands-on scientific set that teaches your child the basics of robotics by building a fully working robot crab. When assembled the robot crab will walk and scurry around powered by itself, changing directions when it collides with a wall or obstacle.
Placed on a tabletop, this amazing robotic crab will perform stunts and tricks for your viewing pleasure. The Tabletop robot is recommended for ages 8 years and older and doesn't require any special tools or knowledge to complete the build. The box contains all the parts needed and also detailed instructions.
2. OWI Robotic Arm Edge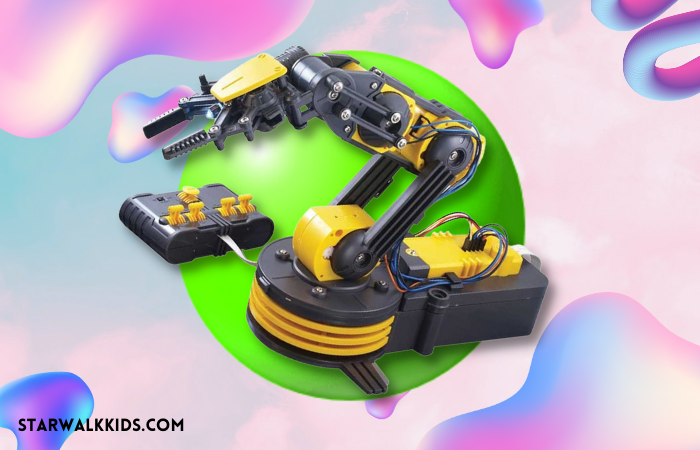 Science toys for teens come in all shapes and sizes and this robotic arm from OWI is one of the top gifts for teens available at the moment. Your child will be able to instruct the robotic arm to complete multiple functions and movements. No soldering is required in this kit and when completed the grip on the end of the arm will open and close, holding the weight of up to 100g.
The base of this arm has a movement of 180 degrees but a rotation of a super big 270 degrees. The wrist motion of the arm will turn up to 120 degrees, and the elbow will extend to a range of 300 degrees, making this robotic arm one of the best of its class. Educational toys for teens are needed in any development stage and one of these robotic gifts would be a great introduction into this field. 
3. Smart Circuits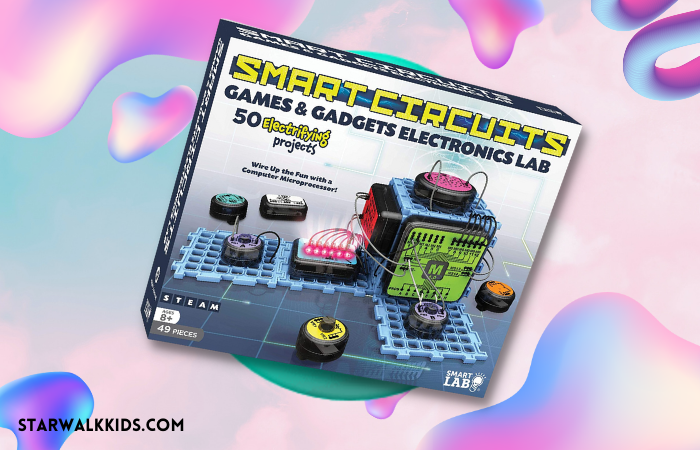 Engineer kits for kids are becoming a household favorite and the Smart circuits kit by Smart Lab is a great example of giving your child hours of STEM learning electronics fun. Snap together boards help your child build amazing games with lights, and sounds. A modular system and microprocessor make sensors able to use, customizing electronic creations in 50 different step-by-step projects.
This amazing 48 piece kit contains a microprocessor, speaker, Light sensor, a variable resistor, a battery pack, tricolor LED's, a tilt switch, 2 push-buttons, 6 modular boards and 31 Jumper wires that come in 4 different lengths. A 48-page illustrated manual is also included which begins with 10 builds that will teach your child electronic basics, then proceed to advance in the complexity of tasks.
All of this kit requires 3 x AAA batteries which are not included in the box. Building sets for teenagers like these are a great learning tool in the developmental years, and this kit will help your child gain confidence as they build these endless circuit projects in electric currents, conductance, sound frequency, RGB color and many more. 
4. GraviTrax Starter Set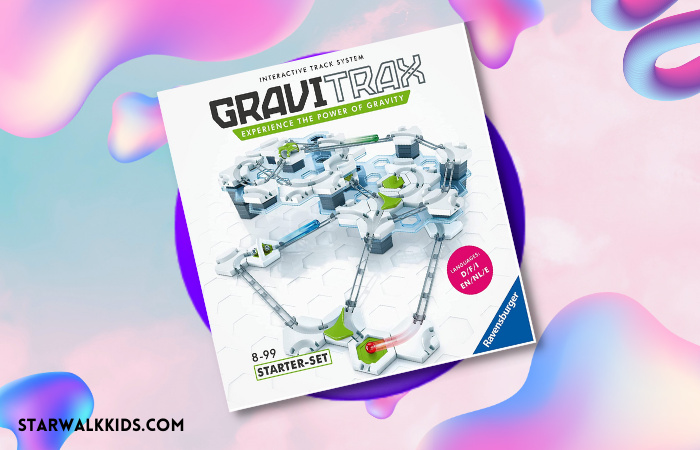 GraviTrax is one of the leading manufacturers in STEM gifts for teens and this starter set is no exception. This amazing marble run and STEM toy for both boys and girls comes with 122 pieces and is the perfect birthday gift for kids with an interest in science and technology. As one of the best STEM toys, 2018 shown in the New York Toy Fair this set comes with clear instructions which allow your child to start building within minutes, engaging in the different learning tasks that can be developed from this amazing toy.
The GraviTrax track will allow your child to design and make their race tracks whilst experimenting with gravity, magnetism, engineering and, kinetics to propel the ball to the finish line. Developing critical skills are a big feature which playing and building with this science toy will do. Building spatial reasoning and planning skills, all without being known to your child, playing and learning working together in the best possible way. 
5. Water Rocket Kit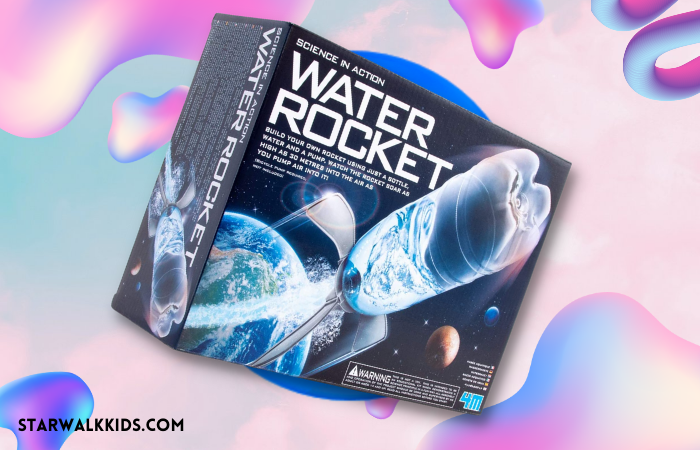 This amazing water rocket kit from 4M uses the power of water pressure to shoot its rocket up 90 feet in the air. The kit comes with all the required parts to transform a plastic bottle into a fully functioning water rocket and is also a great way of having fun in the home and recycling. Any child with a keen enthusiasm for science especially those around space will love this set.
4M educational toys focus on a large range of educational subjects a lot regarding science and technologies. It has an age range of 14 years and above and comes with clear concise instructions for use and care, but is recommended that there be adult supervision. This kit requires a bicycle pump to gain the pressure needed for atrial flight, but this is not included in the kit. Awesome STEM gifts for 14 year old boys!
6. Structural Engineering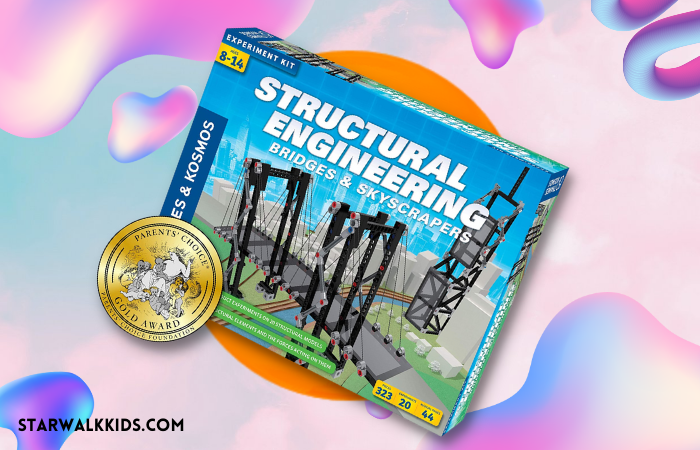 If engineering toys for teens are what you are looking for then the structural engineering kit by Thames and Kosmos is the choice for you. In this amazing kit, you can build up to 20 different bridges and skyscraper models that will each educate your child about force, compression, load, tension and much more. This set includes over 285 interchangeable plastic building pieces and comes with a 36 page illustrated assembly guide and experiment manual.
This box will encourage your child to learn the basics of structural engineering with each model demonstrating a different principle of mechanical physics or structural engineering in a creative hands-on way. The age range is recommended to children 8 to 14 and will get kids to learn additional information about the forces acting on structural elements which are found in the 'Check It Out' sections of the manual, a great learning tool used in this mechanical toy. 
7. AmScope Microscope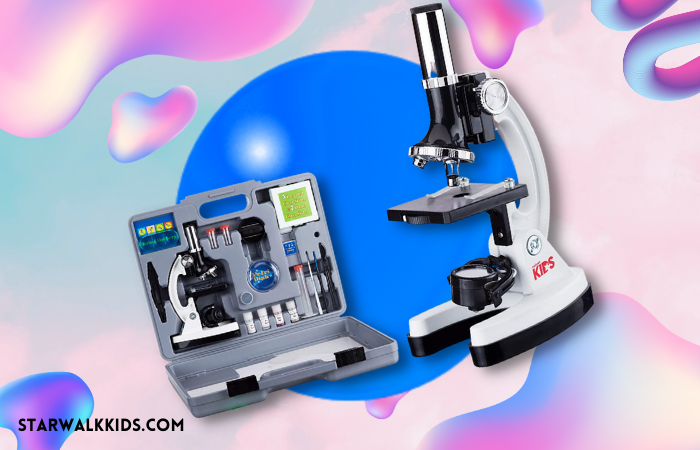 This 52 piece kit is a must-have for any kids with a keen interest in science. The forward-facing rotating microscope provides 120x, 240x, 300x, 480x, 600x, and 1200x magnification levels making it a great piece of kit for your kids to take a real close look at anything they desire. The monocular sight has LED's and mirror illumination to make seeing things that much clearer and easier.
A stain-resistant white metal frame is strong and durable holding the focus mechanism in place. This could be one of the top gifts for engineering students and scientists alike. In the box comes reusable blank slides and covers, tweezers, eye dropper, Petri dish and more. Your child will be able to see the life cycle of tiny ocean creatures which are included in the box gaining hands-on experience in this scientific method, visual analysis and take notes. 
8.
Elenco Teach Tech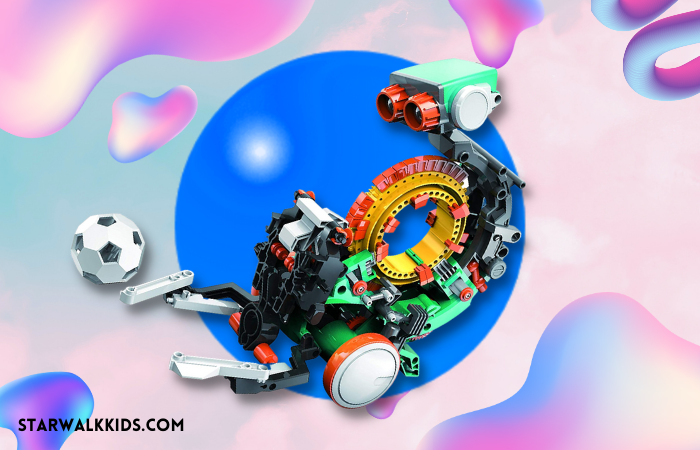 Robot kits for teens are always popular when it comes to gift buying, and the Mech-5 is a one-of-a-kind Mechanical Coding Robot. This task-based robot is created to inspire young children with a keen interest in engineering to learn about mechanical engineering principles and coding basics. This amazing STEM robot can do many tasks like throw, lift, kick, draw and much more, and all programmed by snapping the coding buttons onto the coding wheel.
Teach Tech products explores different ways of using renewable energy and coding without using a computer or app and this kit focuses on the coding aspect of the brand. The Mech 5 build it ourself robot will teach your child the basics of robotics and coding while involving problem-solving and creativity. Mech-5 is an amazing coding robot that will keep children challenged and engaged for hours, while still having fun. The Elenco moto is to learn by doing, gearing their products to future engineers. 
9. KidzLabs Robotic Hand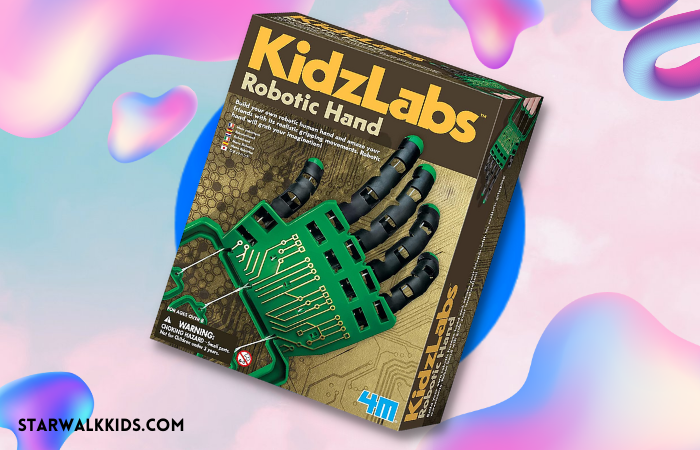 Searching for toys for teenagers can be a challenging task when you want to give them something they can play and learn with but the robotic hand from Kidzlabs does just that. Containing all the necessary materials needed to build a robotic hand with fully-articulated fingers, this kit will teach your child about engineering and robotics in a cool, fun way following the STEM learning methods.
This set comes with a detailed instruction booklet which will guide you and your child through the step-by-step processes of completing this robotic hand. A pull cord makes the fingers of the robotic hand move inwards in a realistic gripping motion. The completed hand is around 9″ long and doesn't require any batteries to work.  These are cool stem gifts for boys and girls who love robotics. 
10. Eco-Engineering Solar Rover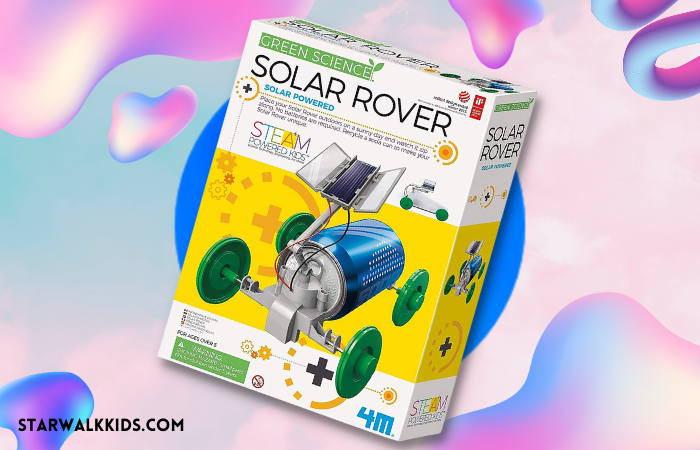 The Solar Rover kit combines recycling with educational play in a superb way transforming a recycled soda can into a solar-powered rover. This gift is perfect for any child with a keen interest in science and mechanics being a great educational tool. A detailed instruction manual is included within the set and it also includes all of the necessary parts to build one solar propelled car.
Start to challenge your child's young developing mind with this great educational toy from 4M. No batteries are required for this solar-powered car promoting renewable energy which is becoming more and more prevalent in modern technology. 
11. Robotikits Solar Robot

Robotics kits for teens come in all shapes and sizes, create and transform this solar robot into 14 different modes with different movements and designs. The 14 in 1 educational robot can be changed from a walking crab to a rowing boat, a running beetle to a zombie chaser, and many more. The robot doesn't require any batteries as it is powered completely by solar power.
This renewable energy source is playing a massive role in how technology is being produced, so there is no better time to start than now teaching your child concepts of renewable energy and robotics. There are two different levels of difficulty for the robot builds, and an educational instruction manual is included in the box. Each kit demonstrates the STEM learning of science, technology, engineering and, mathematics. Differently to just teaching these subjects individually, each build-your-own robot will show your child all of these educational concepts in a connected way which can also be transferred into real-life situations.
These types of stem gifts for 13 year old boys are ideal for teens into robotics!
12. RC Car Mechanical Master

 Scientific gifts for boys and girls can be a super fun learning tool, bringing education and play together. The RC car kit technic Building Blocks kit gives the best combination of both creative and educational play while your child is still having fun. Educationally this set is designed to improve your child's creativity, problem-solving, logical thinking and it can also help with working as part of a team.
Create a fully motorized race car which when fully charged has a drive time of around 25 minutes. The rechargeable battery takes 1.5 hours to charge fully with an easy USB connector while the remote control requires 3 AAA batteries which are not included. Two amazingly different designs are to be created from this box (Not at the same time) giving your child hours of educational fun. 
13. OWI Hydraulic Arm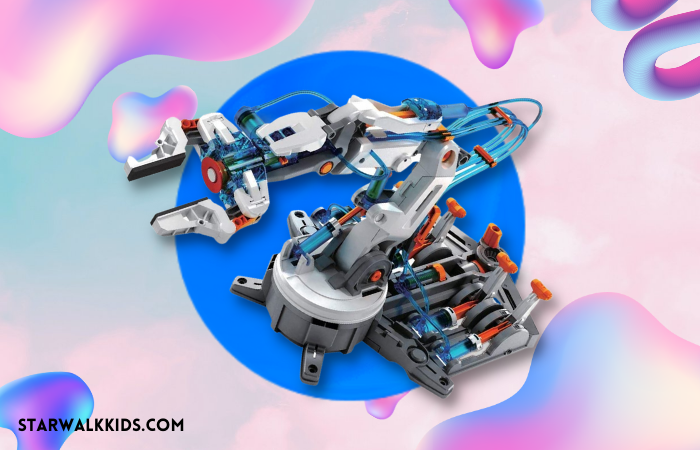 No electricity or batteries are required for this fully functioning hydraulic arm as your child will discover hydro-mechanical technology in a hands-on way. The arm comes with fully detailed illustrations in the manual and two separate types of use with the removal of the gripper enabling the vacuum design to pick up different objects.
Tech gifts for teenagers like this offer a lot in your children's developmental stages. This arm has 6 axes of movement starting with the gripper which opens to nearly 2 inches. Wrist movement will rotate 180 degrees and will have the mobility of 98 degrees. The elbow and shoulder range both offer a 45-degree motion and the base will rotate 270 degrees. This amazing hydraulic arm will keep your child entertained for hours on end, and with no power needed makes it an even better stem kit for teens. 
14. Gravity Maze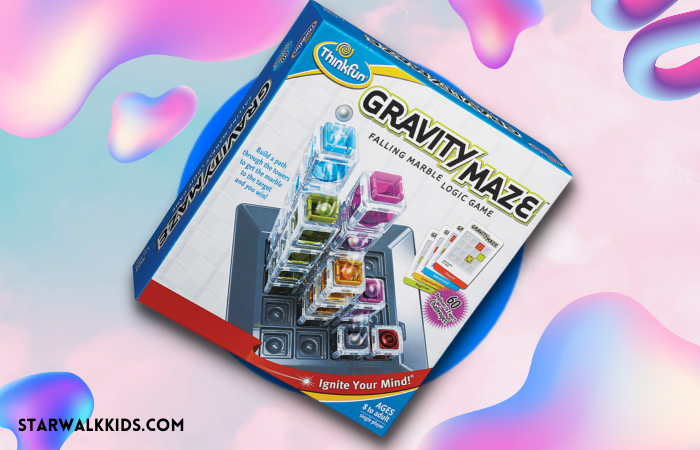 This is an ideal gift for any curious child. These stem activities for teens have with it a collection of cards, placing the blocks within the right directions and dealing out which of them will make the ball reach its destination. This awesome gravity-powered logic maze game requires you to position the Gravity Maze towers strategically within the game grid to guide your marble to the target. Your child will strengthen their seeing and reasoning skills making this one of the top stem toys for teens.
15. Discovering Structures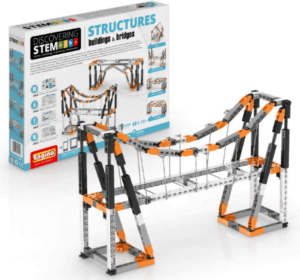 Engino has brought difficult ideas into clear focus for young scientists with amazing components and a step-by-step illustrated guide your child will discover all types of forces used in buildings and bridges and how they are designed to hold massive amounts of weight support.
9 working models can be built such as a suspension bridge, Truss bridge, house and much more. Inside the box contains 12 pages of theory and facts, 6 pages of experimental projects, a 3-page quiz and 16 pages of. instructions to build all these amazing structures, accompanied by 3D rendered illustrations. This award-winning kit has been chosen as one of 21 best STEM toys to get kids into technology. 
16. Maxxrace Headless Quadcopter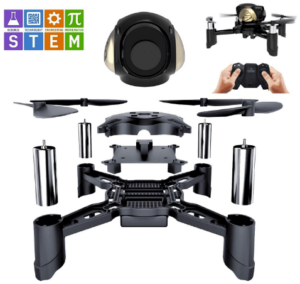 Christmas gifts for engineers can sometimes be hard to find, especially when they are teenagers with a keen interest in this kind of stuff. The Headless Quadcopter. is a 6-axis gyro quad-rotorcraft, strong and stable this craft can easily perform various flight movements and with strong resistance to wind, it is easier to control.
This Build it yourself drone will teach the central disciplines of science, technology, engineering, and mathematics. Flexible movement control comes from the DIY drone with a 360-degree range making stunts and atrial flips a possibility when the skills have been gained by your child. This is the perfect gift for our child, combining learning and fun. 3D Roll and Flips, Altitude Hold, Headless Mode, One Key to take off, One key to landing all controlled by the remote provided. This box comes with a detailed manual that gives precise instructions about the control and function of the drone. 
17. Hover Racer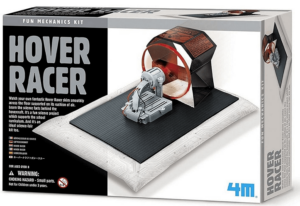 Science gifts for teens can be cool and fun and the Hover Racer by 4M is both of these. Your child will learn the facts about the hovercraft with this scientific toy that will start the interest of your child in this great scientific piece of machinery. The amazing hover racer glides smoothly across the floor supported by its cushion of air.
Built by using safe, high-quality materials the Hover Racer will last through all your child's developmental years. This kit includes all of the necessary components and accessories to build this project with an easy-to-follow instruction manual that will guide your kid through the whole process. A Phillips head screwdriver and four AAA batteries are needed and are not included in the box. 
18. Doodle Robot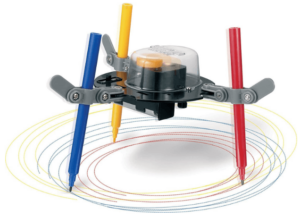 The Doodling Robot from 4M uses vibration and spin generated by its motor to create beautiful works of art. An adjustment of the angle and height of the robot's colored pens is all that is needed and you can watch it work.
The kit includes detailed directions and all the parts that are needed to build this amazing robotic creation. If your child has an interest in robotics or is just enthusiastic about science then this is the kit for you. One AA battery is needed but isn't included and your robot will spin and vibrate its way around the paper to create a frame-ready piece of art.
19. Adeept Robotic Arm Kit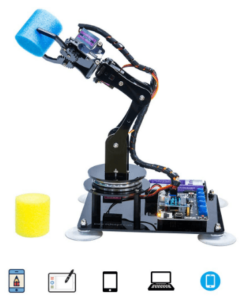 Looking for cool toys for tweens? Developed for robot lovers, the 5-DOF robotic arm kit has multiple control methods compatible with Arduino IDE. A detailed manual can be found online vie PDF and a variety of interesting Arduino code routines can also be found. This robotic arm can be controlled manually and remotely, combining both hands-on interaction and computer development skills.
There are lots of features this robot arm can do, like drawing, imitating and even self-learning. For a more stable performance overall this product's driver board and Arduino UNO R3 are both integrated into just one PCB. Another great thing about this product is the online forums and blogs created, using videos and quick response chats the technical support is amazing.  
20. Da Vinci's Catapult

Take a step back in time and history by building a tabletop catapult, like the one Leonardo da Vinci improved in the 15th century, a powerful machine, a medieval artillery weapon. This catapult will send projectiles up to 15 feet in the air with its awesome power. Each of these engineer kits for kids is fully functional and comes with 8 projectiles plus 6 paper targets.
Everything your child will need to build each project is contained in the box and will take 1 to 3 hours. No special tools are required, the laser-cut wooden parts, rubber bands and sandpaper all come together easily and clear, simple instructions will guide your kids through the whole process. A perfect STEM school project or to play with at home. 
Best Overall Stem Gift
Overall the Robotiks Solar Robot is the best STEM gift in our opinion. It has 14 projects that your child can create, keeping them entertained for hours on end. It helps with many different developmental areas with these different models designed for water, hard surfaces and more. It just overall feels the most versatile product, being suited to a varying array of interests that many teenagers can enjoy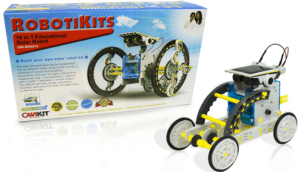 Best Budget Gift
The Eco-engineering 4M is our Best Budget Gift, being on the lower end of the price budget but including a to of learning items within the instruction manual provided. The materials used are also very good for durability so it will be a household favorite for a long time.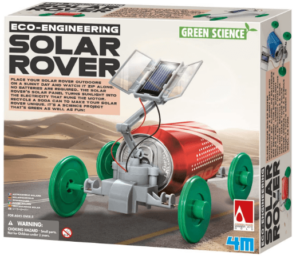 Here are some other great toys that you should check out: