All parents want to provide their children with fun, educational toys, however choosing toys for a toddler can be a confusing process, with so much choice available. Here, we have compiled a guide of 11 educational toys which can be enjoyed by toddlers of all ages and abilities. The toys below teach toddlers a variety of skills, and are also parent-friendly, with each product priced under a reasonable $40.
Considerations
There are many things to consider when choosing a toy for your toddler, such as their age and ability, your budget and of course, the educational properties of the toy. The toys listed below range in suitability but generally cover the age range of 1-4 years. They have benefits such as teaching little ones about colors, numbers and animals as well as helping gross and fine motor skills, problem solving and language development – crucial skills for a toddler to learn.
1.Playskool Busy Poppin' Pals
This is a classic educational toy with many benefits for toddlers, teaching them about colors, animals as well as motor skills and problem solving. This toy is suitable for younger babies too, who will be delighted watching the different animals pop up. Older toddlers may enjoy learning the noises the different animals make and the toy can also be used to teach youngsters the names of colors.
This toy also has the educational benefit of showing your toddler about cause-and-effect, rewarding them with fun animal characters. Whilst this toy is one of the more expensive on our list, the sturdy plastic design can withstand rough handling by curious toddlers, ensuring your child will have years of fun!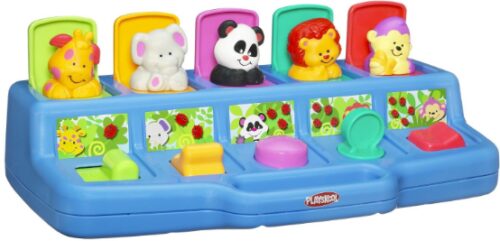 2.Alex Toys String a Farm Animals
This set of lacing beads is great for slightly older toddlers and will help develop fine motor skills and hand-eye coordination. The farmyard theme is appealing to both boys and girls who will love being taught the names and sounds of the different animals as they thread them onto the lace. The large wooden beads can also be used as a playset, allowing toddlers to create their very own farmyard scene.
Whilst the manufacturer recommends this toy is suitable for those ages 3 and above, with parental supervision 2 year-olds would benefit from the developmental value of this toy too. This product is also available in a vehicle design, and there's also a set featuring all the letters of the alphabet, so there's sure to be something to appeal to all tastes, or why not collect them all!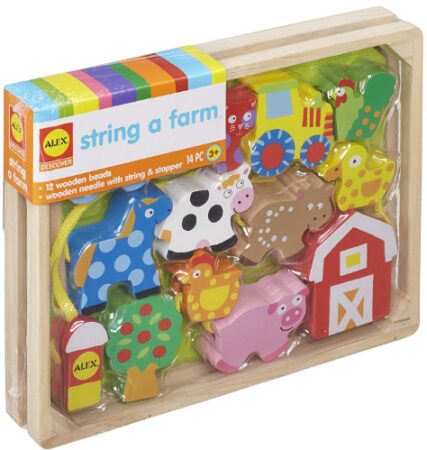 3.Melissa & Doug Classic Wooden Peg Puzzles 
These wooden puzzles are a classic learning toy popular with toddlers of all ages, and the three different puzzles in this set guarantee that toddlers will never get bored of solving them. The bright colors make the puzzles attractive to curious toddlers, and the sturdy wooden construction ensures young children can enjoy years of play.
These puzzles provide many learning opportunities for toddlers, as they can name the objects shown under each letter, or name the animals on the counting puzzle, therefore aiding with speech development. The puzzles also aid fine motor skills and hand-eye coordination as well as helping toddlers with shape recognition and language development. Overall, this is a good value set from a well-known brand.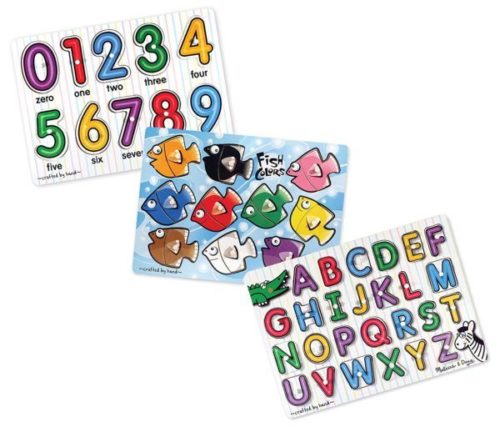 4.Baby Shape Sorts Colors Board
This fun toy is perfect for all sorts of learning games with curious toddlers. It can be used to teach your child about shapes, colors and numbers, as well as improving the physical skills of problem solving, hand-eye co-ordination and many more. The bright colors are sure to be a hit with little ones, and the compact size makes it perfect for toddlers to carry around, as well as making it portable for on-the-go entertainment.
Whilst younger toddlers will benefit from the educational aspect of this fun toy, parental supervision is recommended due to some of the parts being on the small side. The durable plastic makes this product long-lasting and easy to clean – a parent-friendly product at a budget price.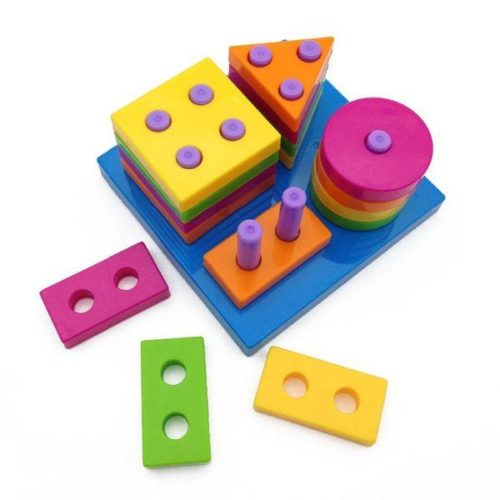 5.Mickey Mouse Clubhouse Flash Cards 
These flash cards are fantastic for aiding your child's early language development. The cards are a good size, so they're not fiddly for little hands to use, however they are a little thin so can't withstand too much rough handling. The Mickey Mouse characters will be sure to catch the attention of any toddler! There are suggestions of games to play using the cards ensuring you and your toddler will never get bored with this set.
This toy is very educational, with one deck showing your child colors and shapes, and the other deck teaching them all about numbers and counting. This product would be best suited to slightly older toddlers, making an excellent and unique gift for a 2 year old girl or boy.

6.VTech Drop and Go Dump Truck
This is a fantastic toy which teaches young children all about counting. Toddlers love push-and-pull toys so this truck is sure to delight both boys and girls. The chunky buttons with their bright lights will fascinate young children, who will love to hear the fun songs the truck plays. The dump truck provides over 30 tunes and phrases, ensuring hours and hours of fun learning for your little one.
The sturdy construction, popular brand and budget price make this an excellent choice for parents looking to get the most for their money, and you can be confident that the product will withstand a little rough play from their curious toddler. This toy would make a fantastic 1st birthday gift, although it is also suitable for babies as young as six months old.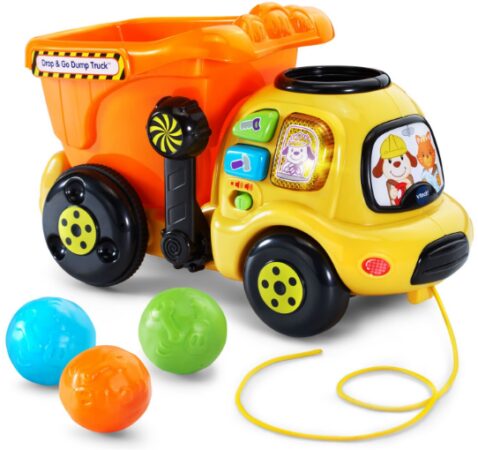 7.VTech Sit to Stand Ultimate Alphabet Train
This toy provides toddlers of all ages and abilities with the ultimate fun learning experience! It can be used by younger children sitting on the floor, as a push along toy to help the transition from baby to toddler, or as a fun ride on train or pull-along wagon for active toddlers. The educational possibilities with this toy are endless, and with over 100 melodies, parents won't get tired of hearing the same songs over and over again.
Whilst this is the most expensive toy on our list, it has the potential to provide years of entertainment and education for your toddler. Toddlers will have their imaginations stimulated with the attached phone, as well as learning about letters and numbers. They will love dropping the blocks into the chute and watching as they reappear on the other side. Overall, this is an excellent all-round learning toy for young children.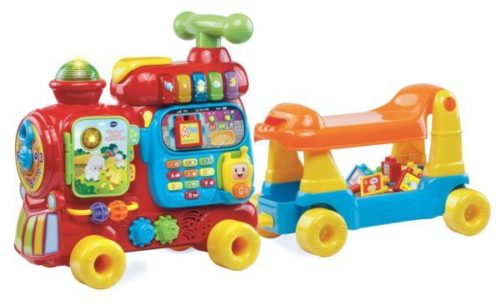 8.VTech Drill and Learn Toolbox
A toolbox is a perfect choice for encouraging imaginative play as well as stimulating physical development. Both boys and girls will love 'helping' mom and dad with DIY jobs! The chunky pieces are perfect for little hands and the colors and sounds catch youngsters' attention. Toddlers will learn all about different tools and how they're used, as well as the sounds they make through the fun tunes the toy plays.
The instruction cards teach your toddler all about counting and colors through role-playing fun. With over 100 phrases, young children are sure to have hours of fun 'fixing' things with their toolset. The toolbox only requires two batteries, making it parent-friendly too!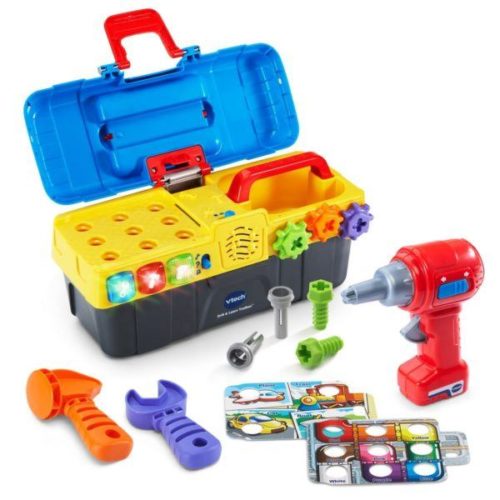 9.LeapFrog My Own Leaptop
This is another educational toy which is the perfect choice for toddlers who want to be just like mommy and daddy! This toy is not too noisy and it's portable, with a carry handle, making it the perfect choice for families who travel often. The keyboard is the perfect size for little fingers and the letters are very clearly printed on each key.
This toy provides fantastic learning opportunities not found in many other toddler toys, such as pretend emailing and teaching youngsters how to spell their own name. The fun animal animations and games mean this toy will be popular with children well into the toddler years and perhaps even beyond, making it excellent value for money.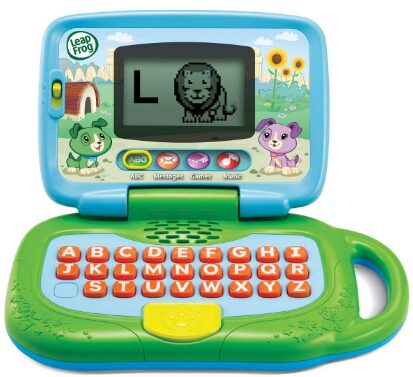 10.VTech Ring and Learn Cash Register
A cash register is a perfect choice for stimulating a toddler's imagination, with endless possibilities for fun games, such as role playing, counting and recognizing food items. This toy is durable for toddlers to use over and over again and the colorful light-up buttons will grab their attention. The basket of food could be used to play other games such as tea parties or 'cooking' – there really are endless possibilities with this budget toy.
The toy also features a scale and a pretend credit cards, so toddlers will be delighted to be just like mom and dad! There isn't any money with the cash register but this means that there are no small parts which may pose a choking hazard for young children.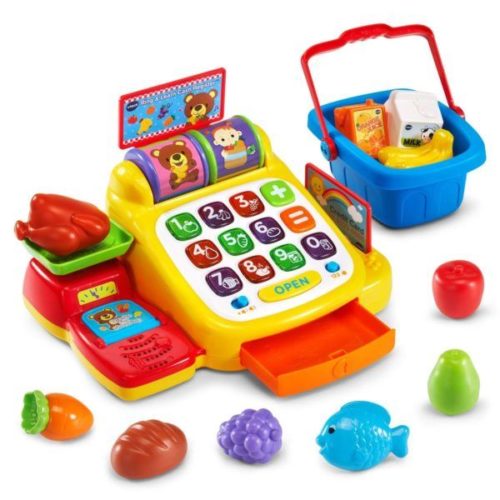 11.LeapFrog Number Lovin' Oven
This singing oven makes learning how to count fun for little ones! It also encourages imaginative play thru the use of recipe cards. Kids will learn about time with this unique, educational toy as well as work out how to cut food into equal parts. The oven has realistic features such as sizzling sounds, sure to fascinate toddlers!
This toy also has the unique benefit of teaching little ones all about sharing, a feature sure to impress parents too! Parents will also love how everything fits back inside the oven when playtime is over. The range also features a picnic set and a tea set, meaning you can add to the collection to provide even more fun learning opportunities.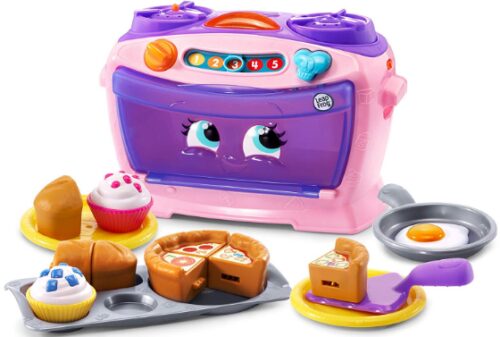 Best Overall Product
VTech Alphabet Train
The VTech Sit-to-Stand Ultimate Alphabet Train, whilst costing more than the other products on our list, provides excellent value for money. As the name suggests, this toy provides the ultimate learning experience for toddlers, in every area imaginable – letters, numbers, motor skills and more. Although this toy is larger and pricier than others, it is well worth the investment as it will provide years of educational fun for your child. The Alphabet Train also reduces the need to purchase several different toys for your toddler thanks to the range of features it has, saving space and money in the long-run.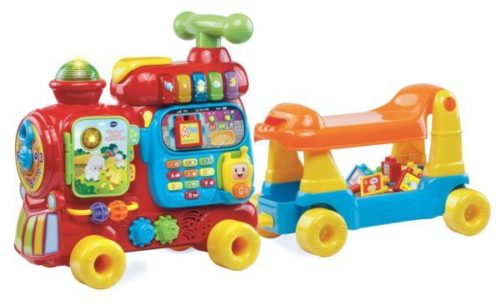 Best Budget Pick
Leapfrog's My Own Leaptop provides unique learning opportunities rarely found in toys aimed at toddlers, and at the bargain price. This is a great-value toy which teaches toddlers about animals and letters, whilst also providing fun games.
The wide range of features means that all ages can enjoy playing and learning with the Laptop, providing excellent value for money. This toy is perfect for on-the-go fun on long journeys, thanks to no small parts which could get lost, and the hours and hours of fun it provides. Toddlers will love having their very own gadget, and parents can rest assured that they will be constantly learning whilst playing with this toy.