Almost every new parent will buy a baby swing seat for their newborn. It offers a great place to safely leave a young baby whilst parents get on with meal prep or chores. There are so many different options available ranging from basic seats to Bluetooth-controlled products with music and different rocking options. Here, we have chosen our favorite baby rockers and highlighted their key features, to help you make the best choice for your family.
Considerations
There are a few things worth bearing in mind when looking for a swing seat for your baby. The most important is the age of your baby and how long you plan on using the seat for. Make sure it is safe for your child's height, age and weight. Many are suitable from birth onwards but it is worth double checking to ensure your baby will be safe.
Also think about what features you want the swing to have. Some budget-friendly seats don't have many fancy features, but they are still great to keep your baby safe and in one place whilst you work on something else. They're also ideal because you can give you baby any toys to play with whilst they are in the seat, and they will also be able to see mom and dad better without any fancy mobiles distracting them. Some higher-priced baby swings offer high-tech features which will keep babies entertained for hours. For example, they might offer different rocking settings, or have the ability to play music via MP3.
It's also a good idea to think about the materials the seat is made from. You'll probably want to look for something which is easy to clean, ideally with a removable cover for easy washing. Also ensure the materials used are high-quality and durable, so they can withstand months of daily use by growing babies!
Fisher-Price Geo Meadow Bouncer
This cheap baby bouncy seat is perfect for those on a tight budget. It offers all the features
you need to keep your baby safe and calm. For example, there is a 3-point safety harness, a detachable toy bar with 3 different colored toys and optional vibrating function to help soothe young babies.
The swing is perfect for parents too – the seat pad can be removed for machine washing and is also soft and comfortable for your baby. The seat has non-skid feet, to keep it secure even as your baby grows bigger and stronger.
The seat is suitable for use from birth onwards until baby weighs around 25 pounds. The toy bar is great for little ones' development – babies will be encouraged to reach and grab when they see the interesting toys hanging just above them. They can also practice batting the toys as they gain a little more hand-eye co-ordination. For the price, this bouncy seat is definitely worth considering.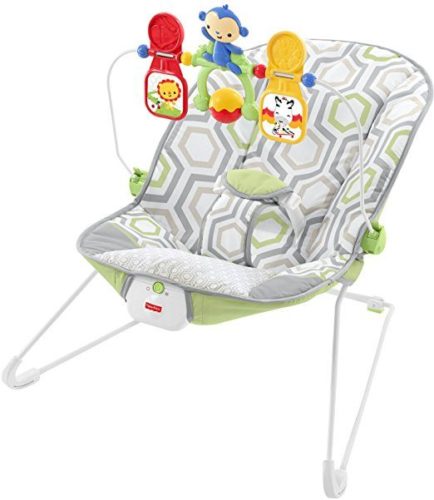 Fisher-Price Cradle 'n Swing
This Fisher Price infant swing can be used by newborns, and will continue to entertain babies until they weigh around 25 pounds. It can be used to swing either side-to-side or head-to-toe, and there are 6 different swing speeds. Therefore, you're sure to find the perfect motion to help soothe your baby as they grow. The swinging motion can be powered in one of two ways. There is an adapter included to save on batteries, or if you aren't near an outlet it can be powered by 4 D batteries too.
The infant swing also includes 16 calming songs and nature sounds, perfect for those moments when your little one just won't settle. There are 2 reclining positions, to ensure baby is comfortable whether playing or having a rest. The seat comes with a comfortable seat pad and head support, making it ideal for newborns. The pad is machine-washable too, meaning the seat can be used for feeding time, without having to worry about how to clean it afterwards.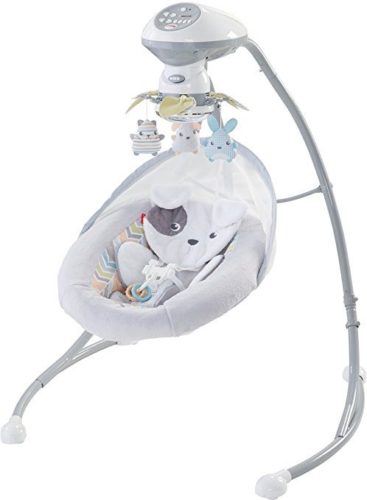 Graco Simple Sway
This baby cradle swing is ideal for babies from birth until 30 pounds. The seat comes with a head support, which can be removed as baby grows bigger and stronger. There is a 2-speed vibration option, perfect for soothing youngsters. There is the option to plug the chair in, to help save battery life. However, it also runs on size D batteries if you won't be near an outlet.
The small frame of the swing makes it ideal for those who need to save space at home. It can be easily taken about the house, to keep baby close no matter where you are. There is a mobile with 3 toys hanging above the seat, perfect for stimulating baby's vision and keeping them entertained. The seat also offers 10 different songs and 5 nature sounds, perfect for amusing or calming your baby every time.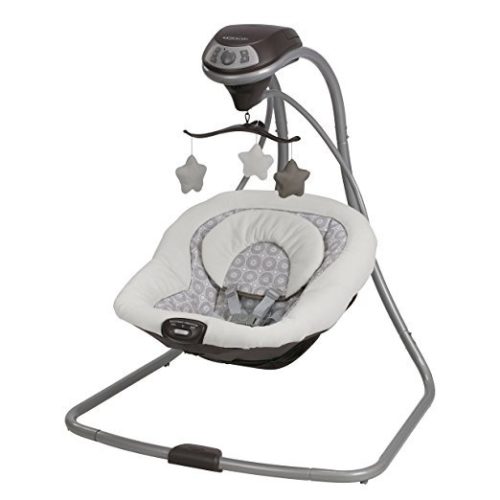 Ingenuity Portable Baby Swing
This portable baby swing is perfect for those who often visit family and friends' homes. It folds easily to a compact size, making it easy to take in the car. The seat can be used right from birth, and comes with a removable headrest for younger babies. Parents will love how easy the seat is to clean – some parts can even be put in the tumble drier.
The rocker comes with a foam toy bar featuring 2 cute plush toys. The bar has a pivot, allowing easy access to the baby. There are 4 different color options on the seat, and each comes with different toys on the bar. This means the swing is perfect for boys or girls, and there are also neutral options for those who don't know the gender of the baby they're expecting.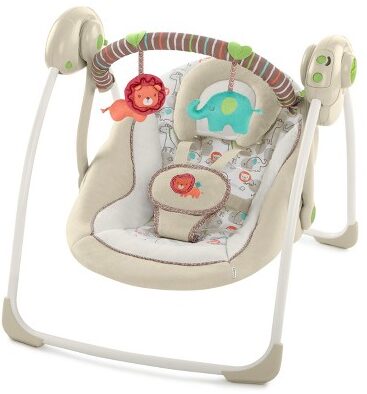 Fisher-Price 4-in-1 Rock 'n Glide Soother
This electric baby chair has 4 different rocking and gliding motions to sooth babies. It can move head-to-toe or side-to-side, and has 3 gliding speed options. There are also 2 recline options to ensure baby is always comfortable. The seat also offers calming vibrations to help sooth young babies off to sleep.
The seat of the baby rocker can rotate 360 degrees, so you can always keep an eye on your baby. It also offers several tunes and some nature sounds, making it perfect for any occasion whether it's naptime or playtime.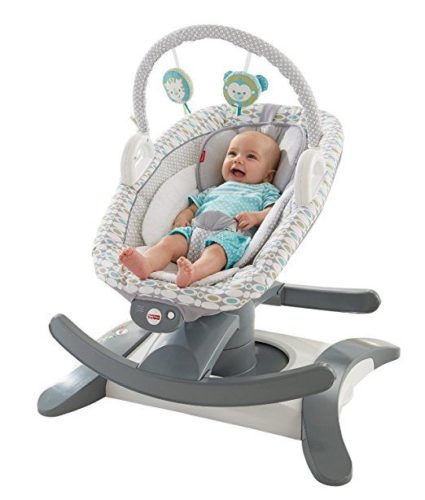 4moms rockaRoo Baby Swing
This smart, electric baby seat works using an AC adapter, meaning parents won't have to spend a fortune on batteries. It is ideal for babies aged up to 6 months old, and can be used right from birth. The seat cover is easy to remove and can be machine-washed, making it ideal for new parents who want to spend more time with their newborn.
The infant swing seat comes with MP3 connectivity. This means you can choose any song to play for your baby – perfect for playtime or when they are trying to calm down or sleep. It offers 5 different rocking speeds, so you can easily find what suits your baby. The seat is perfect for those in smaller homes, as it is only around 1/3 of the size of a standard baby rocker, whilst still offering some amazing features.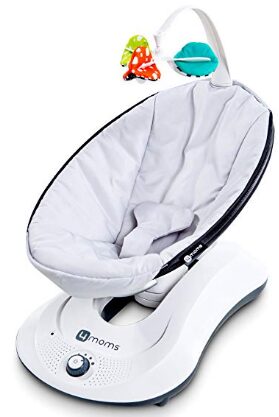 Fisher-Price Infant-to-Toddler Rocker
This infant and toddler swing seat is perfect for children from birth right up until they weigh 40 pounds. There are optional vibrations which are perfect for soothing babies who find it hard to settle without movement. There is a kickstand on the seat which allows it to remain stationary, or it can be rocked manually, by the movement of the baby or by a parent.
The newborn baby swing comes with a removable toy bar featuring two toys. These are great for young babies to bat at, and are great for providing visual stimulation. By removing the toy bar, the chair can easily be used by toddlers, providing a great comfortable place for them to read or watch television. The seat can also easily be cleaned – the cover clips off and can be put in the washer.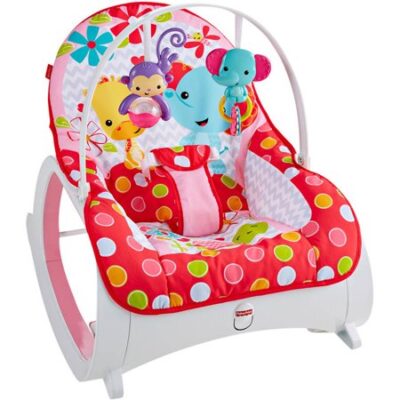 Baby Graco Slim Spaces Swing
This compact swing is ideal for those who are looking to save space at home. It comes in a choice of 2 colors, making it suitable for either boys or girls. The legs of the swing can be adjusted in height, meaning it easily goes from compact to full size. It also easily folds, and has a carry handle making it really easy to store when you need space, or to move to any room in the house.
The electric swing has different speed options making it ideal for using no matter what mood your baby is in. There's also an overhead toy bar to keep little ones entertained, but there's also room in front of the baby for them to hold their own toys. The seat can be used from birth until baby weighs around 25 pounds, meaning it will provide several months of use for your baby.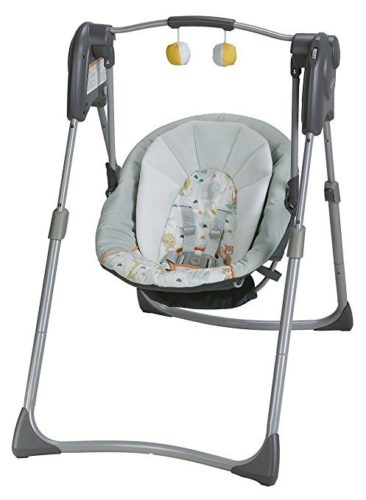 Fisher-Price Take-Along Swing & Seat
This Fisher Price swing offers both soothing swinging motion and the option to use as a stationary seat. This means it's perfect for relaxing your baby ready for a nap, or sitting still to have a snack or a bottle. The rocker can be used by babies from birth until they reach 30 pounds, or are able to sit up independently.
The infant rocker offers 10 songs and nature sounds for your baby's entertainment. There is also the option for the seat to vibrate to further help soothe young babies. The seat offers 6 different swing speeds meaning it's perfect for all occasions and baby will never get bored.
The folding baby seat is perfect for moving between rooms of the home, or for taking to others' homes. It's also easy to store when you need more space. The rocking chair comes with fun toys to bat at, and provide some visual stimulation for little ones, too.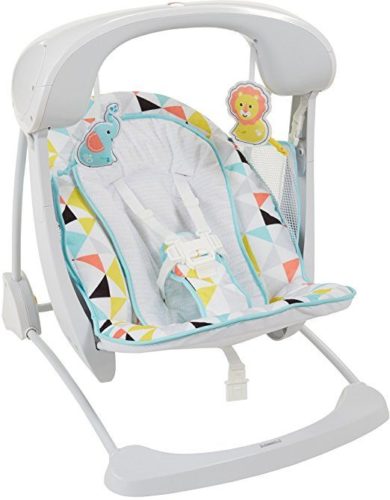 Best Budget Buy
The Fisher Price Geo Meadow rocker is ideal for those on a budget. It still has great features to keep babies safe and entertained, including a toy bar with 3 fun toys. The vibrations are ideal for keeping babies calm, and the cover can easily be washed if there are any accidents.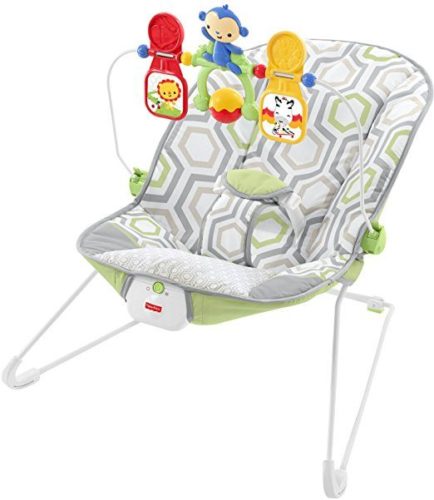 Best Overall Baby Swing
4moms rockaRoo is certainly one of the best baby bouncy seats on the market. It has excellent features sure to keep babies entertained for months. The MP3 connectivity is a unique feature which makes the seat perfect for any occasion – parents can choose the music to suit their baby's mood. The compact size makes it ideal for those who don't have much space at home, too. It is the most expensive baby rocker reviewed here, but the range of exciting features make it well worth the higher price tag.