There are several science kits to choose from and we know it can be confusing sometimes knowing which types are ideal for younger children to begin experimenting with. Therefore we have picked some really cool science kits. In this review, we have reviewed a whopping 32 science kits for kids that stand out as the best overall, so choosing couldn't be easier. All have an appropriate age guide so you can't go wrong with picking.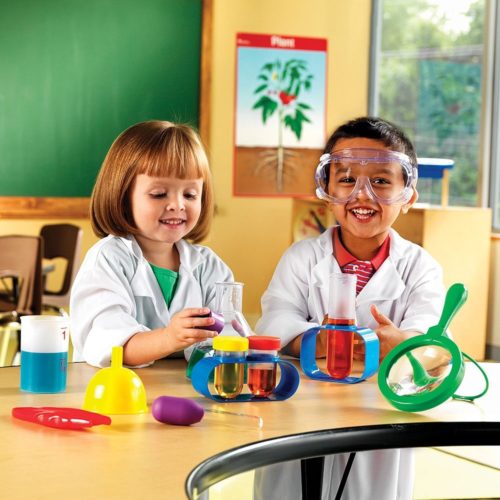 Science is awesome and with various branches of the discipline, there is always something to explore and discover. Throughout this article, we will explore some of the best ways to encourage your children by using science kits for kids, which are everything from pure sciences, life sciences and the sciences of matter.
Biology gear exploring living organisms.
Geology gear for looking into rocks and the earth's core.
Physics and the study of matter and motion, and its behavior through space and time.
Human Biology set, which focuses on the anatomy.
Oceanography for discovering the ocean and its creatures.
Robotics for those kids eager to build robots.
Chemistry set for teenager that are interested in knowing how the many atoms and elements interact.
Education and the sciences go hand-in-hand and one without the other is a sad time for any child indeed. There are loads of ways to ease your children into the sciences and the sooner the better. One way is to have fun with scientific inquiries that use hands-on investigative techniques. This approach is ideally what young scientists want to do and the less theory the better, especially when they are so young.
The latest kids science kit comes kitted with all sorts of lab equipment like utensils, beakers, test tubes, filter funnels, safety glasses and a range of devices to make discovery and experimenting exciting. One of my favorite ones is how to grow and watching how a caterpillar turns into a butterfly, which is very beautiful. With so many to choose from, one is definitely going to fit your child's needs.
The following are the best science kits for kids for the diverse ages.
3 Years Old +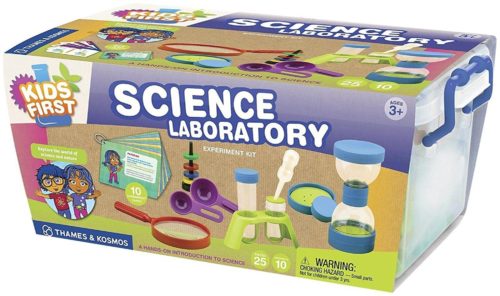 Ocean Science Discovery Box 
Ocean sciences is an example of science kits for preschoolers. It makes creative kit box sets for younger children to begin to explore the complex world around them and in this case, it is the ocean.
This is an award-winning eco-friendly science kit for kids and although not strictly an experiment this does eases them into opening their minds to imagine and appreciate the world around them.
There are loads of concepts like "ocean motion and movement" and explores the sea ranging from; coral reefs, oil spills, jellyfish and felt sea life that could potentially could be caught in a net. This toddler science kit comes with the following features.
Features
Recyclable
Made in the USA
Parents choice gold award
Designed for 3 years and older
Combines the sciences with art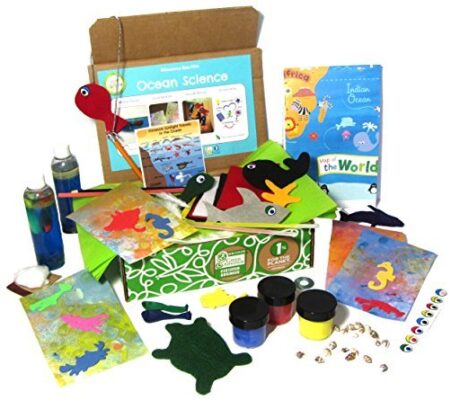 Volcanoes Discovery Box
Green kids craft is a STEM eco-friendly activity for promoting awareness and gets them actively playing whilst investigating and discovering. This is an award-winning toy named by Dr. Toy's green award and won parents choice.
This involves painting, stone identification and basic geology for the young enthusiastic geologist in the making.
There are hours of play in this and with an adventure guide, they can follow step-by-step guides to use all the available resources.
Features
USA made
3+ years
recyclable and sustainable
Creative and Artistic with loads of activities
Real gems and stones
User manual and guide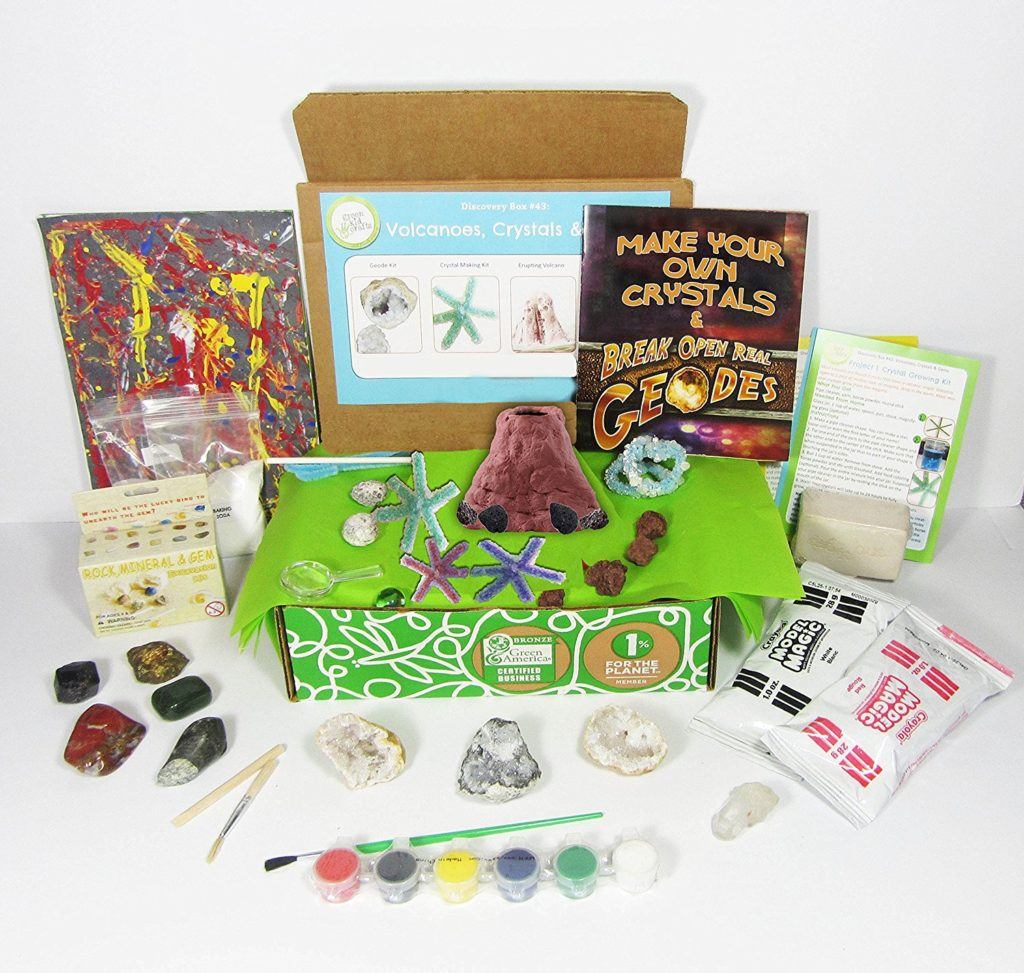 Insect Lore Original Butterfly Garden 
This growing assembly helps toddlers appreciate the beauty that nature has to offer, which can be seen when a caterpillar turns into a butterfly.
The science experiments kits for kids comes with all that is needed to watch them up close and personal, which includes complete step-by-step guidelines.
This kids science kits do not come with the caterpillars and will need to ordered separately, but it's well worth for a once in a lifetime experience.
Features
Waterproof shell made of PVC, mesh habitat and 11.5 inches tall
Up and close transformation
Feeding instruction with pipette
Raise your own butterflies
Set you buttery free activity
Ages 3 years old +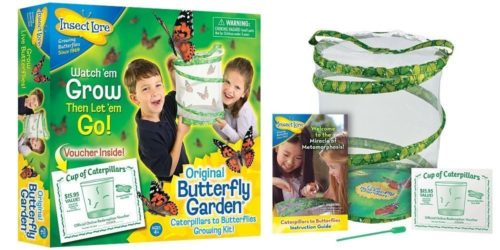 Cubelets SIX robot blocks 
These children's science kits are an exciting way to encourage your children thinking outside the box and become future think-tanks that pave the way for many cool deliveries.
They case their idea on robotics and they aim to teach the fundamentals for constructing robots. This kids science set teaches the design and complex systems for taking the tiny cubes to making huge robotic designs.
These kids science kits for middle school are really simple to handle and with a convenient charger and micro USB cable, this can be used throughout the day.
Features
Over 500 robots can be made
Magnetic faces for unique cubelet's
16 varying cubelets possibilities
Ideal and children 4 years old to 15 years +
The dimensions are 4 x 4 x 4 inches and simple to handle and use
No assemblage and is really safe for children to use


Droid Inventor– Star Wars Theme
This is an excellent science kit for boys, especially older children and teenagers. Your child will love building their very own Star Wars-themed droid with this cool set. It includes everything your kid needs to build and operate their very own droid and can be customized in any way they choose.
There is an app available for iPhone and Android which can be downloaded and used to teach the droid new skills. The app can also be used to set the droid Star Wars-based missions. These science kits for teens is great for encouraging your children to be creative and use their imaginations, giving their droid its own unique personality.
The droid can be dismantled and put back together in new, diverse ways giving your child endless possibilities. This gear is compatible with other bits from littleBits, meaning you can combine them to give even more opportunities. The droid can be controlled via a remote control available on the app, or it can be set to self-navigation mode. Your children will be amazed to see their creation roll around the room by itself without crashing into any objects in its path.
Features
Offers a number of operating modes
Endless possibilities to create your own personalized droid
No adult assistance or assembly required
Compatible smartphone app allows more features to become available
Science kits for 7 year olds and older
Dimensions are 16 x 12 x 6 inches
Weighs 4 pounds
Includes battery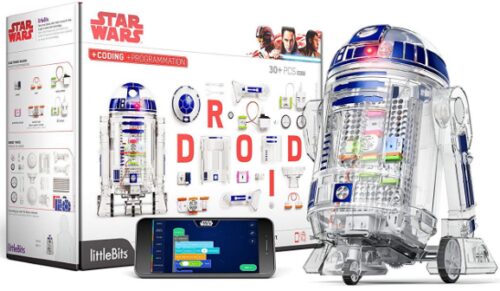 Kids First The Human Body Kit
The anatomy of the human body is fascinating and this science kit makes it interesting.
This kid's first kit uses the five senses to experiment with and finds out where each body part it.
The box comes with a fingerprint game to help learn about the uniqueness of each person. The kit comes with a stethoscope to check the heartbeat and find out more about how blood works. This is one exciting science kit kids would love to have.
These children science kits teach the fundamentals of biology and how the human body works. This is a step by step guided kit for experimenting with a hands-on approach, which is great for young children at school.
Features
Explores the anatomy in a simple step-by-step way
Exciting science experiment kits for middle school children
Smell memory games
Test lung capacity game
Blindfold game which tests you tongue
Magic telescope
Explores the human body and then focuses on muscles, skeletons with anatomical visuals.
Experimenting with the aid of the 5 senses
Equipment and tools include stethoscope, manual, booklet and loads of simple to use tools
Ideal science kits for 5 year olds and above.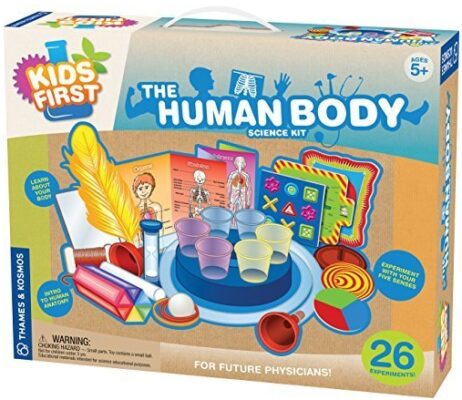 The Magic School Bus Chemistry Lab
Although considered a tough subject, this game does very well in making this exciting. By teaching complex concepts in a creative and exciting way, they have combined the popular "magic school bus" series into an activity to teach young children.
They will learn to use some of the fundamental beginnings of lab work that children would eventually do at school, but this will help them proceed ahead of the class.
Features
Litmus paper handling
Test and measure pH levels
Create slime
They learn about volcanoes and how to produce a milk rainbow
Loads of activities
51 colorful cards
Notepad for keeping track of the experiment
Miss Fizz to assist each step of the way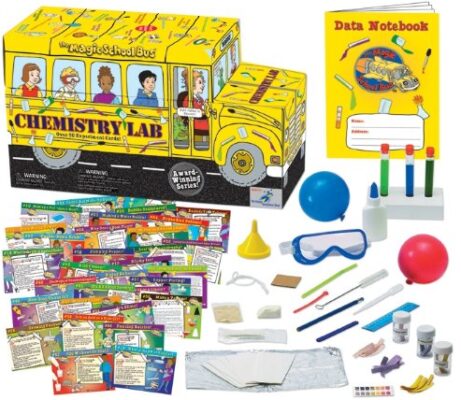 ROCK ON! Geology Game
This is a cool way for children to learn about earth treasures from a geological perspective.
There are loads of specimens and each is highly polished and helps the rocks come to life with individual names and identification guides.
This is a game that includes tests that are ideal for elementary and early developers.
Features
15 specimens
60 colorful rocks and minerals
Exciting Game for up to 6 players
Made in the USA
Simple to handle and Stem-based
Ages 5+
A simple game where you need to collect 6 horizontal cards and then aim to uncover all your rocks, which is engaging and exciting.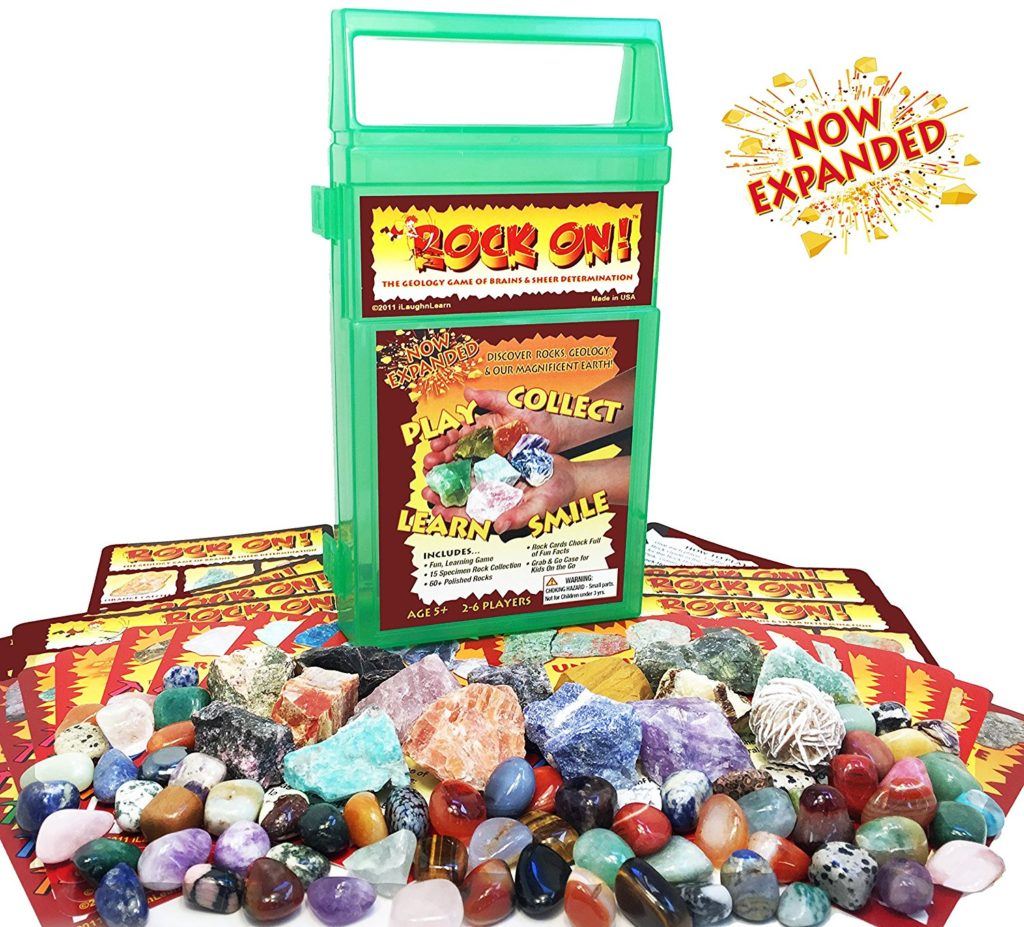 Experimentation kits for kids aged 6 years and older
There is a difference for children and below you will find some of the best science tools for children that the current market has to offer. Each one is filled with exciting ways to explore concepts and scientific ideas that are usually not accessible to a kid. Each one has been designed with careful planning and that is why these are the best for children aged between 6 – 8 years. There is everything from weird and funny investigative studies to more focused and fascinating one, but each is special with the thinking behind it that let's encourages the children to develop in an engaging and innovative way. The scholarly benefits for children enjoying and sponging up knowledge at the same time, has the ability to transform the world and create a better way of understanding education as a whole.
Scientific Explorer Magic Science Kit for Wizards Only
Loads of activities for little wizards wanting to learn about all the magic of science and with this gear they can figure out some innovative ways to produce colorful potions and more.
There are 9 activities in total and each highlights a chemical reaction to something. The Hocus Pocus can be exciting when frothing, foamy and color-changing potions come to life.
This comes with a few test tubes and that helps add another layer of excitement to the game for children with a wild imaginations.
Features
Create glow in the dark potions
Use elements such as; citric acid, vegetable oil and create potions.
Stickers and paper to create the activity guided
12 color tablets
1 small scoop
Simple instructions
6 years old +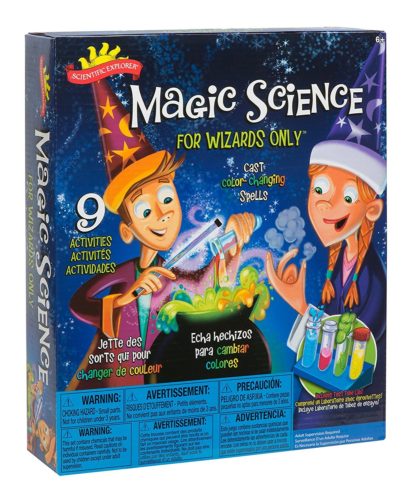 Sick Science Slick Tricks
This is a science kit with a kick and makes 9 cool experiences come to life with engaging activities about how the center of gravity works and loads more.
This introduces the  children to problem-solving and encourages thinking like a scientist would.
Try the root beer trick that involves genie-like magic and all that's needed is some short rope and the ancient tricks come to life.
Features
Stop and Go pendulum is about the art of deception and increasing one's own perception
Teaches to suspend water and defy the laws of gravity with a cool experiment that uses surface tension to create an illusion
STEM initiative and highly endorsed by parents and teachers alike
Simple manual and the equipment is safe
Appropriate for children aged 6+ years old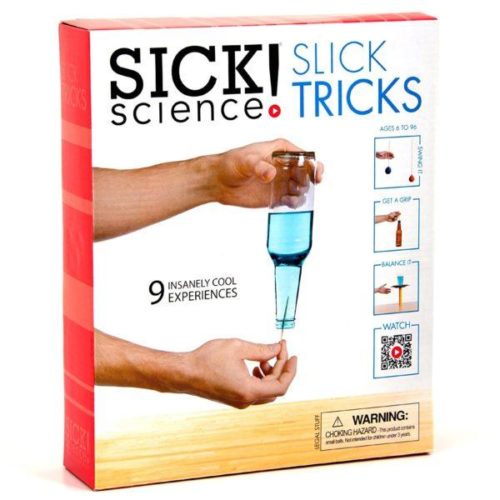 Sick Science Fast Physics Kit 
This game uses 9 physics principles and brings them to life. Children will attempt to convert potential energy into kinetic energy. This is combined with other concepts like gravity and acceleration to begin unfolding complex ideas into manageable step-by-step lessons.
Features
Newtons beads game and activity
Pendulum catch that makes the magic hex nut trick
Releases activity with a popsicle stick
9 exciting experiences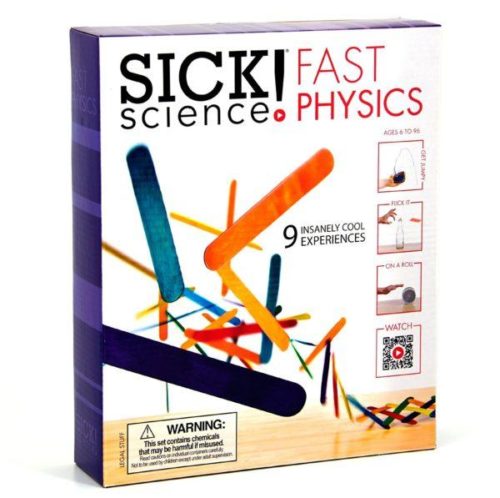 Mega Crystal Growing Lab
kids.nationalgeographic.com have created an amazing game to turn crystals into glowing rocks. They glow in all sorts of colors and are fascinating to watch.
This is a simple way to show children how the natural world is stunningly beautiful and has mysterious beauty.
There are loads of collectible gemstones and with this gear, you can watch them light up and shine brightly from the comfort of your home.
Features 
Award-winning toy with millions of parents agreeing
5 real gemstones included – calcite, fluorite, amethyst, geode, rose quartz
4 silicone chambers that you can watch them grow in
Colors from – yellow, blue and loads more too
Nightlight display as each rock glows
Dr Toy's seal of approval and Alumni award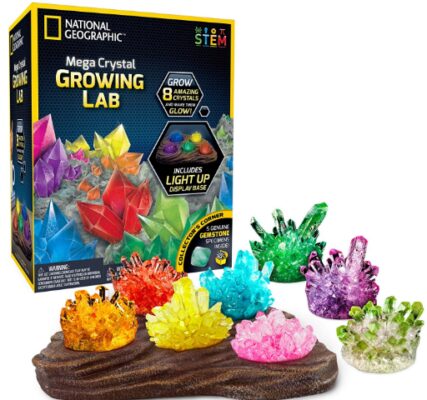 The Thames and Kosmos Chemistry Set
This 'Kids First' activity box set is a guided experiment to bring the excitement back into learning, which is essential when the little ones are struggling with chemistry.
This slowly introduces several concepts and chemical components like carbon dioxide and allows the invisible effects to be the highlight.
Features
48 pages of guided instruction which are all in color
hands-on with 25 guided experiments
Explore complex concepts in a way that is easy to understand
Helps identify disparate compounds and chemicals
For children aged 8 years old and over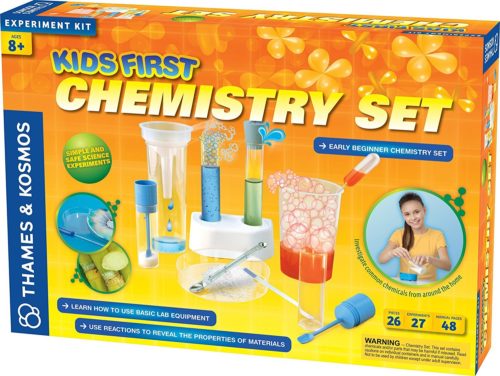 Break Open Real Geodes Kit 
There are many exciting ways to get your children into natural science and Geodes are one way. This starter kit has 7 unique and fascinating ways to assist the discovery of the mysteries of the earth crust. Geodes are natural and a wonder to many who like to collect, but even as a one-off this is a great way to stimulate thinking in kids . It is exciting and the breaking aspect always makes things interesting for those that need some initial enthusiasm.
Features
Stunningly beautiful geodes with crystals inside waiting to be found
Break-open and find two unique and wondrous crystals inside with gem-like properties
STEM toys make science exciting and this is another tool for bringing the magic into understanding complex concepts
Includes geodes, guides, booklet, goggles and loads more in the box
Helps start the rock collection and can be added to later on for pack expansion and collectors go crazy for these
Ideal for the slightly older children aged 8 years and over
Home-schooling is a good method and using activities like this make being a stay at home mom easier with everything included in the box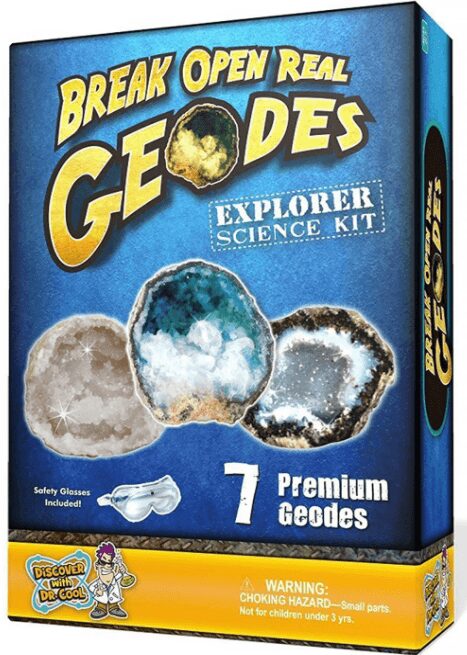 Scientific Explorer Tasty Science Kit 
This Kids tasty experimental kit go down as a treat, especially when the end products are edible. You can test your child's culinary skills with educational activities and eat them afterward.
This scientific explorer shows how cakes rise and why soda pop makes that fizz. This combined with all the food flavorings, sprinkles and food coloring's makes this exciting for a combined effort for child and parent bonding.
Features
Tasty experiments
Contains inside 12 baking cups, litmus paper, and 4 test tubes
Learn about cooking and produce awesome treats
Activity guide and easy to use instructions
Recommended for 8 years old and older

Big Bag Of Science
This is a bag fully loaded with over 70+ scientific activities that make humor, excitement and education come together.
This comes with loads of equipment and features a large array of materials which combine seamlessly to give fascinating experimental options.
There is everything from witty experiments where you have to figure out why a diaper is so absorbent and even learn why a magnet and compass are important.
Features
Step-by-step instructions
Over 70 experiments with humor content
The box includes powder and weird goo-like material
Magnifying glass, test tubes and loads of educational instruments to make it exciting
Instant snowmaking powder which the lab-book shows how to make
8+ years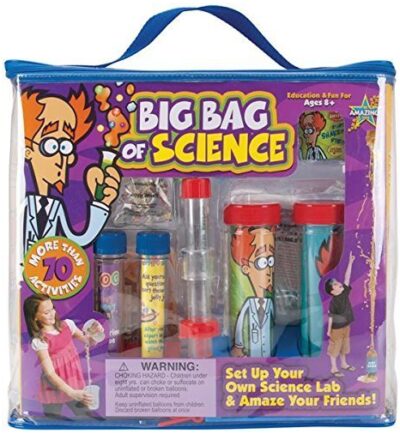 4M Rocket Race Car Kit
This is an experiment to make the child's imagination run wild with excitement and wait till you see the anticipation build.
You will see the bottle fly at surprising speeds and will make a rocket out of an old bottle. Every child at some stage wanted to make a rocket to go to the moon and this rocket racer is as close as they might get to the real thing.
Features
Uses water and air to propel the rocket at speed that's awesome fun
Eco-friendly and from recycled waste
Rocket car with all the kit contained in the box
Helps teach and assist your kids in understanding the concept of green energy
Detailed instructions that make the step-by-step guide into the next member for NASA
4M design and their toys are always top-notch
Combines the arts and crafts with the nuances of life sciences
science kits for 9 year olds, and older.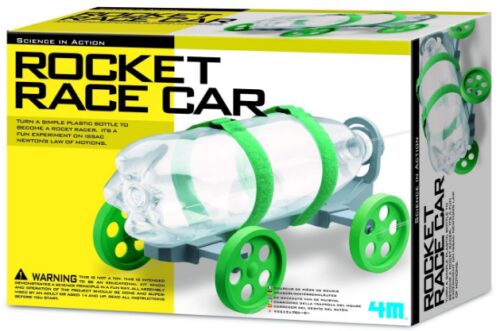 4M Eco Science Toys
Understanding how to use everyday household items in a way that is environmentally friendly is a fantastic lesson for all children to learn.
Green science is a leading brand and makes excellent toys and educational kits for kids. Contained in this box is how children can take everyday items and use them in a way that reduces waste and help promote a recycling mindset.
The activities are varied and the booklet makes this a step by step guide to finding how this can complex area of concern made really easy if you focus on the excitement surrounding it.
Features 
7 different toys each with it's own unique experiences.
Watch how they can get a robot to walk or a tornado to form
Use some household items to make the scientific magic begin
color book with loads of illustrations and guides through each stage of the process
Packed and loaded with scientific facts and figures
There are also other gear from the same brand "green science" like; weather station, windmill Generator, green rocket and dynamo torch.
Science kits for 8 year olds, and older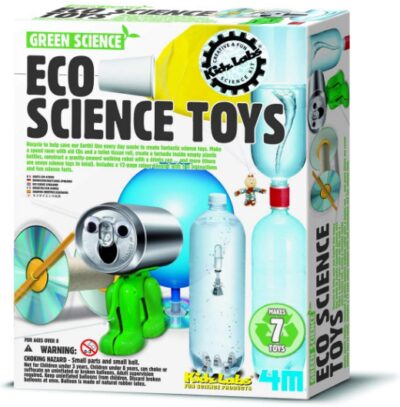 Robotics MOSS Exofabulatronixx 5200 Model Kit 
This is for the kids that are tech savvy and want to produce the robots for the future.
This is designed to get your child thinking like a robotics engineer and with the double brain block, they are well equipped to begin the long road ahead in understanding the concept of robotics.
This is a unique gift and for those parents wanting something where the imagination is set free to explore creation with a little guidance then this is the bit of kit they can rely on.
Features
Connects to iOS and Bluetooth with devices like Android
MOSS designed and made, which are a leading robotics toy manufacturing company
Steel spheres and a well-constructed model kit, which lasts the test of time
The combination of joints, hinges and a strong construction has developed this into an excellent robust kinematic toy.
The pack includes 140 steel spheres, MOSS blocks totaling 52, which offers loads of combinations that produce unique robots.
For children aged 8 years and older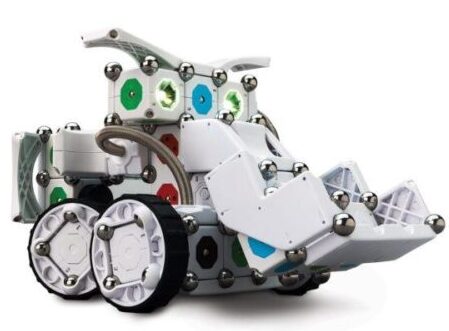 4M Weather Station Kit 

Kids get to learn about weather and observe the conditions around them through a systematic set of tools and principles. This takes happenings from around the home and sheds wisdom of how the weather can be observed and then used for other purposes.

This is a unique toy full with educational tools to measure local conditions and weather. This is ideal for parents with children that are interested in the marvels of nature and like to spend time in the greenhouse already.

Features

The box includes anemometer, rain gauge, and thermometer
Uses recycled bottles and turns them into a terrarium to see the effects on plants
The 4M brand has an ethical stance and likes to produce science kits with a policy of making the world more environmentally conscious
Exciting way to learn and brings together complex ideas in an easy instructions guide
Teaches about climate change and how to track weather patterns and rain

Recommended for 8 years and older kids

Disgusting Gags and Pranks Science Kit
Science pranks and funny gags are some of the best ways to get kids into having fun and learning at the same time. Science explorer makes educational toys and experiments with the fine line that sometimes happens back at the labs downtown.
There is loads of laughs and giggles to be had with this kit, which is filled with loads of gross and disgusting gags that make people horrified into concern. There is a capsule to fill your mouth with blood and another one to pretend you're finger is cut off.
Features
Loads included with 12 funny pranks to try out on an unsuspecting parent
Itchy powder gag
Turn drinks solid prank
Foam and spill gag that will make things seem outrageously funny for the kids
Includes; rubber bands, washer, dice, gelatin capsules and various safe to use chemicals
Designed for 8 years old +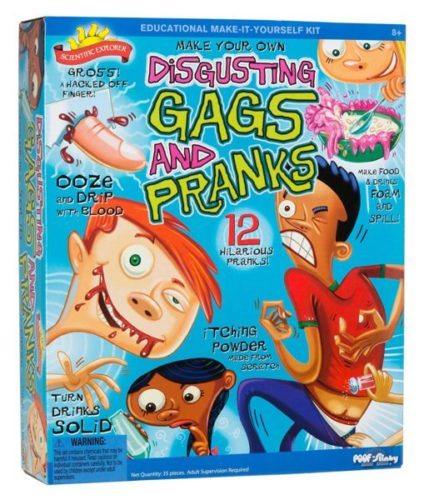 SmartLab Toys Ultimate Secret Formula Lab 
This comes with an experimental station to begin exploring 40 unique experimental options that need a little scientist to use and take control with.
The Smart-Lab have taken the basics of chemistry and created a game that looks great and highlights ways subjects like this can be exciting to learn about.
There is loads of tools and equipment for them to begin using in the quest for knowledge. This has been designed for children and although some of the chemical sounding names can be confusing this is very safe and simple to use.
Features
This includes test tubes, cylinders, snap clips, calcium chloride and loads of laboratory tools and devices for using.
Simple to use and follow booklet with step-by-step instructions.
STEM-Focus design with excellent attention to detail at a great price
The station is a good size and can house 40 unique experiments
Kids 8+ is recommended by the manufacturers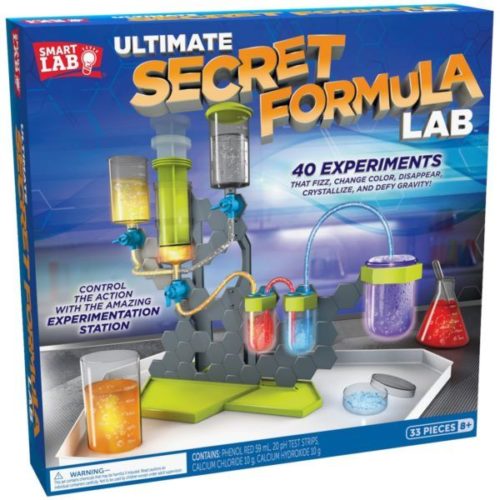 Microscope Kit and Storage Case
Balance Living produces quality microscopes and this all-in-one kit is ideal for children who like to explore and appreciate the smaller things in life.
This introduces scientific research in a exciting and friendly way with simple to use slides, which get the creative exploratory ideas flowing.
This has large magnification lenses can zoom in on objects that are very small, which combined with the 2AA battery light design makes this easy to carry and use.
Features
A magnification of 120x all the way to 1200x with 3 power objective
5 prepare and unique slides
7 blanks slides for using and experimenting with
Comes with dissection tools and instruments for preparing each slide
Batteries included and over 50 scientific accessories
Eosin dye, containers, slide covers and needles for preparing specimens
Helps children understand the different microorganism and their composition
Designed for kids over 8 years old and over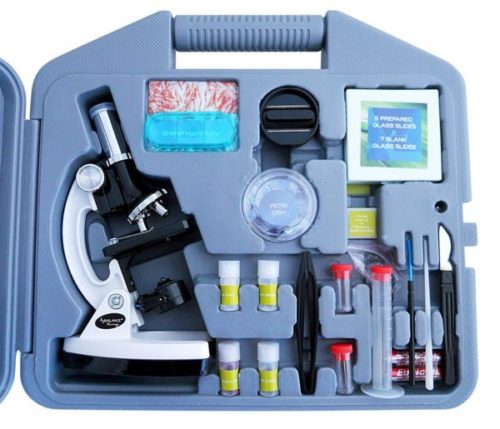 Magnetic Science Kit
This magnetic game is full of exciting ways to learn about magnetism through games and educational activities.
The magnet is powerful enough to perform the experiments and do things most others wouldn't.
There are games that involve racing, dangling things and yachting with a compass. Each activity is designed for children 8 years and older, but the hands-on style really suits a wide range age.
Features
Fishing games included
Mysterious Dangler
Magnet racing
Everything you'll need for testing and comparing magnetic strength
10 exciting experiments
Magnetic sculpture games
Superpower magnet wand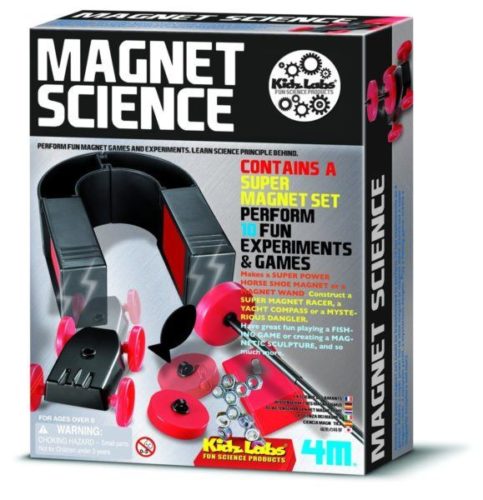 Experiments kits for kids aged 9 years old to 13 years 
Children aged 9+ start to want more detailed experimenting activities, which shows they are ready to begin exploring real-life sciences. Whether they have interests in physics, chemical analysis or robotics there is always something to get them started on their way. Some tops are harder than others and ensure you read all the features and facts so that you find the ideal gift for your child.
There are some well-known brands in the production of scientific games, box set and gear. Thames & Kosmos are one that does create some of the best. They are a German producer and produce sets that are simple to follow and exciting for testing. Ensure to read which ones are and you will be very happy with them.
Physics Pro (V 2.0)
Thames & Kosmos are a brand that creates and produce many experiments for kids. They aim to educate and make science enjoyable through experimental games and activities.
This is a physics kit with 212 parts in total and explores topics like air and water resistance. This is the beginning before moving into complicated physics like; hydraulics, energy, and pneumatics.
This physics pro kit gets your child to build and explore hydraulic and pneumatic mechanics by building a machine. The models are easy to use, but still challenging enough, which is why they get the kids to build a wind tunnel and hydraulic lift.
Features 
25 models
18 unique experiments
manual with 96 pages of helpful tips and guides
10 years old and up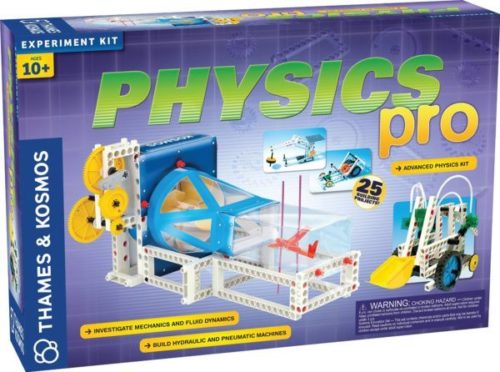 LEGO Mindstorms Robot Kit
There is always a time when the scientific community uses intelligent AI to their advantage and with the scientific programming, children can use their knowledge now to begin to design their future.
By creating and commanding your child will slowly begin to understand the language of the programmer and with every bit of technology governed by this, it's a good thing to try to learn about.
This slowly takes and guides the user to a place where they can combine the scientific knowledge with art to produce fully functioning robots.
Features 
Intelligent EV3 design with a processor that is powerful enough to move and control the functions of the robot
3 motor setting and remote control so things can get exciting for what is possible
App availability and iOS too so this can be used with tablets and other devices
5 robots included and easy to use Apps for expanding this toy
Infrared sensors and 4 motor ports for connecting to the robot, which is through a WiFi connection of your choosing
Compatible software and easy to use programs for kids
Age 10 +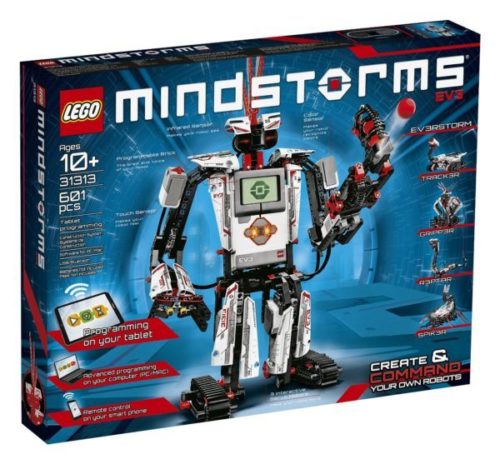 Thames & Kosmos CHEM C3000 Kit
A great unique educational set that is designed to advance kids understanding of the complexities that surrounds this branch of science.
This contains within the box 103 unique pieces of lab equipment that offer excitement as well as scientific knowledge , which is great for young enthusiastic kids to start taking chemistry seriously.
There are loads of ways to start experimenting and finding out new and cool facts. There is a total of 333 experiments that can be done with combining different chemicals and these help the Chem C3000 offer more than just a day's worth of activities.
Features
Secure storage box for all the various supplies
333 unique and cool experiments
192 pages with detailed experiments for a step-by-step guide to help many and produce safe lab work
103 lab components and devices
Hands on approach with safe to use chemicals for children aged 12+ years old and over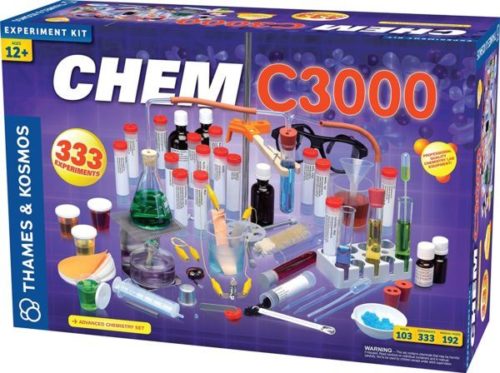 Nanotechnology kit by Thames & Kosmos 
The smallest things in life are sometimes the most fascinating and with this experimental nano kit the kids can look at tiny structures that most would never stop to think about or appreciate.
There are nano-particles in everything and they are used in everyday life. With this box set, they can begin to find and uncover the nanoscopic world.
Features
72 pages of manual that are easy to follow and in full color
60 unique pieces for discovering who the nano-world operates
41 different experiments for testing with
Board game included for extra excitement and helps interconnect the principles with practical hands-on use
Use and finds out about 5 topics; secrets of the gecko, water attraction and how it also repels, suspended particles and each one is different and makes the imagination ponder.
Manufacturing guidelines are for 15+ years, but some use and play as soon as they hit their teens