There are few different types of dirt bikes and each has a unique design and features, which suits a wide age range and riding ability. Below I have put together a wide range of dirt bikes that will suit various children of all ages and capabilities, so make sure to home-in on the ones that are a great match.
Best for 6 and Under

 
1. Vroom Rider 6V Battery Powered Dirt Bike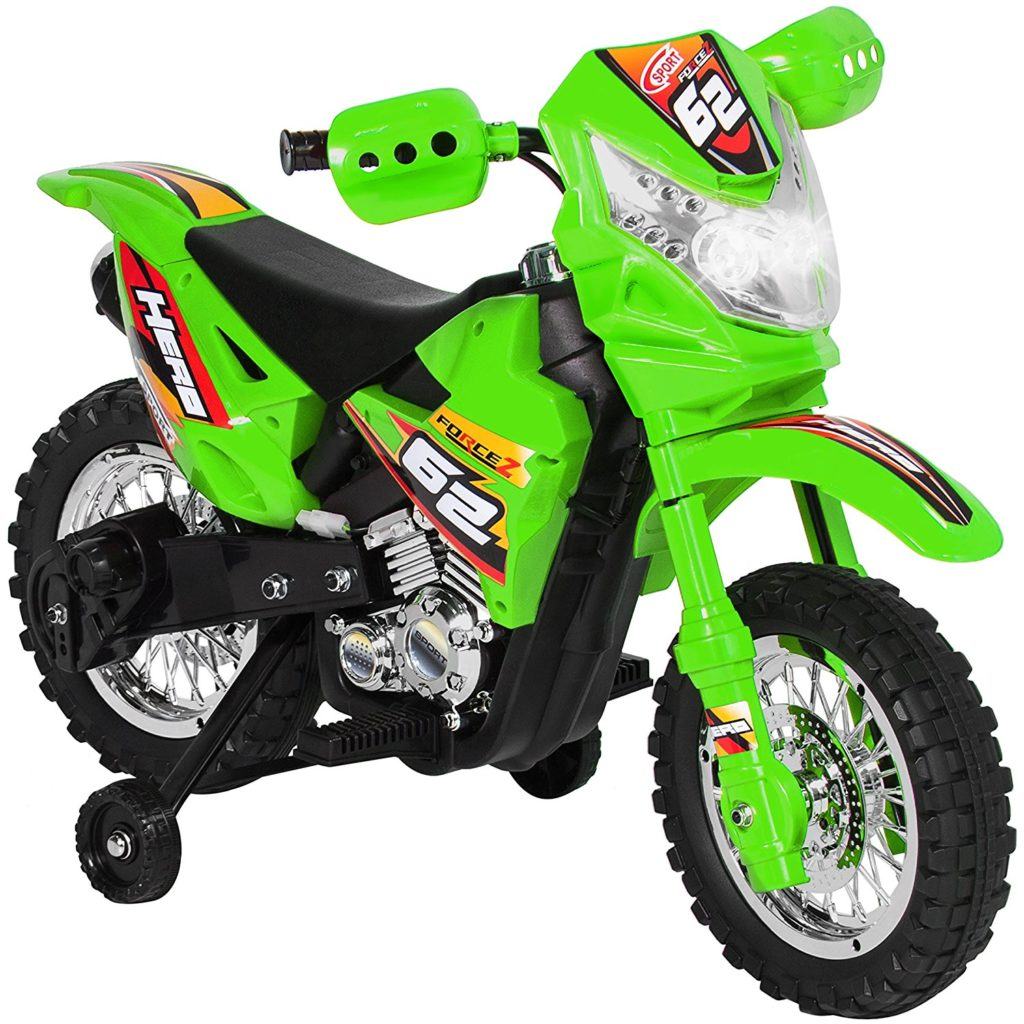 Power and acceleration – The max-speed is maxed out at 2 mph (3km/hour) and usually lasts up to 1 hour if used constantly.  The on and off switch makes it easy to use without needing any assistance, which some of the larger bikes need, like with a kick-start.
This easy to use bike doesn't go backwards and sometimes can be frustrating to some users, but this overall doesn't make a huge difference at such a young age.
Safety –  The bike in many ways is ideal for the beginner as it has built in training wheels and will ensure maximum safety whilst minimizing potential risk. Some kids need this and shouldn't be overlooked in protecting and making them have fun, it's a fine balance.
This bike is safe for 3+ years and older and can be a fun ride for those young enthusiastic riders ready to climb the dirt bike ladder, but if the kid are whizzing around doing one-wheel stunts then think again and opt for something bigger.
Construction – This dirt bike uses a 6 volt battery and operates with a push of a button to make the ride is to handle and loads of fun. The dimensions are 28 inches high and is easy to hop on and begin. The width of the bike is 20 inches and the length is 41, which includes the safety wheels. The materials are made of plastic mainly and the rest is electronic components, which are designed to be ultra safe with integrated safe guarding measure to ensure safe use, however is extreme heat and really cold weather the bike has been know to malfunction.
The easy switch on/off button makes starting super easy, which is perfect, especially when their little legs can hardly kick hard enough to start the later editions. The front has a light that switches on/off and there is music which plays too, which will keep your little one cruising listening to music and smiling merrily. This bike is for the first time rider and particularly for kids less than 55 lbs max-capacity.
Assemblage – This little dirt bike doesn't come as a whole and needs to be assembled. This is done in 7 steps and requires a parent to assemble, but the manual is easy to understand and use, especially cause all the tools for construction are provided. Charge fully at the beginning for 4-6 hours, but never over 15 and make sure the battery is always left flat on charge.
Maintenance – The only maintenance for this type of bike is the battery and it is very rare that any major changes are needed.
Features – I have seen kids using these bikes younger than 3, but this is a decision you have to make on your own, but the manufacturing guidelines state for 3+.
Pro's and Con's – The major Con's for you is that this bike is a little slow and only goes up to 3 mph, leaving a lot of kids tending to find themselves a little frustrated after extended use, meaning they want an upgrade by the time the next Christmas comes around.
The Pro's are it's price and that this is a lot cheaper than others in this review, the stabilizers that assist with learning and the easy to use riding style with on and off switches and twisting acceleration.
2. 6V Kids Ride On Electric Motocross Dirt Bike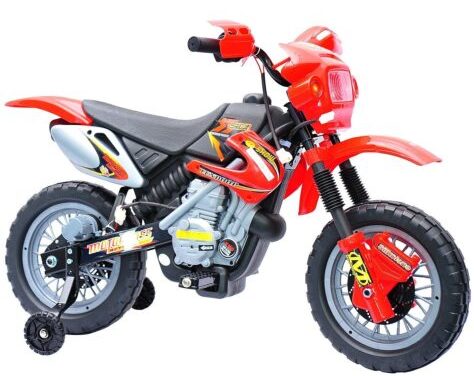 Power and acceleration – The top-speed is 2.5 mph and usually lasts up to 45 minutes riding if used without rest.  Switch the little dirt bike on and off makes it easy to use without needing any adult help. This Aosom 6V bike is a little slower than the previous one and .5 mph slower.
Safety –  The motocross bike is ideal for the beginner riders and has 2 training wheels for keeping smaller kids safe whilst learning. The bike age range guide is for 3 years old and above, but I feel younger children can also ride this in relative safety if accompanied with an adult at all times.
Construction – This dirt bike uses a 6 volt battery the same as the previous bike for kids under 6 years old and operates with a similar feature button to make handling easy and fun.
This bike uses a plastic cover for the frame and because it is an electric ride on toy dirt bike the body is light, durable and built to be used time and time again on smooth surfaces. This is not meant for off-road use, which is similar to the 6V fun wheels dirt bike.
Assemblage – This red dirt bike is easy to assemble with most parents agreeing that this is almost ready out the box, just some simple instructions and its ready to use.
Maintenance – This dirt bike requires very little maintenance and up-keep to maintain and enjoy without breaking down. The 6V battery needs to be charged right first time round and then after that there is no time needed to maintain the dirt bike like the others below this bike.
Features – I like that it is red and that it is slower than any other bike, because some kids need a slower bike for confidence building and this is a great dirt bike for first time riders.
Pro's and Con's – The Con's of this dirt bike is that it can only go 2.5 mph and slower than the others.
The Pro's is down to its cheap price and compared to the others this is very reasonable for some families not wanting to spend too much until they know there child is enjoying the thrill of riding a little dirt bike.
3. SAY YEAH Twist-Grip Electric Dirt Bike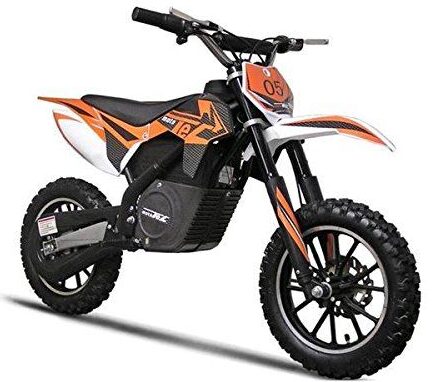 SAY YEAH are a fantastic dirt bike make whose brand has been around for a long time. This bike has been designed for children who want to have a great time riding and with adjustable speeds and setting parents find this a all rounder great bike to begin with.
Power and acceleration – The bike can go up to 15 miles per hour and has 3 different speed settings. This is great for children who need to begin learning to ride with speed restriction in place until they are ready to ride faster. The lowest speed is 5 mph and the middle speed setting is 10 miles per hour which make this great for staggered progression.
Safety – The SAY YEAH brand uses all the latest safety features in the design and this is a safe choice with speed restrictions available for parents to stay in control. The bike rides easy and the grip on the tyre can handle a wide variety of land surfaces.
Construction -This is a tough and rugged dirt bike with a suspension that has been designed to last through a couple of season and more. The dimensions are 32 inches by 49 inches along, so although some guides recommend this for older children I know this is meant for younger ones to ride with between 5 years until 12 years old max. Note – Designed for 13 years old and above as stated by the seller.
Assemblage – The bike is ready to go and use on arrival straight out the box. The bike should have a charge in it but it is always advisable to check before heeding out.
Maintenance – The upkeep and repairs will be at a minimum with this bike and because it has been designed for ease of use this also includes maintenance. Electric is always less messy and easy to look after, so if you the parent ends up cleaning then electric is a good option to buy. There are always spare parts that can be bought if in the unlikely event of a broken part, which is good if your little kid is a hardcore rider at heart.
4. Kuberg 2023 Start, Electric Motorcycle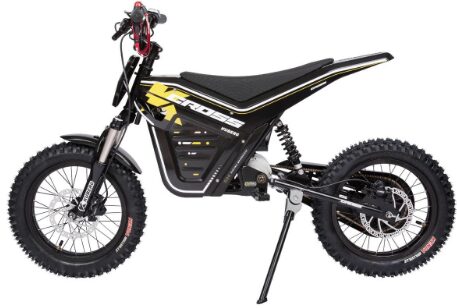 Kuberg Originally formed in the Czech Republic in 2010 and has been continuously developing great bikes. The founder Michal Kubanek and his enthusiastic team of engineers pride themselves on attention to detail and high performing electric dirtbikes.
Power and acceleration – Don't be fooled by its small size this bike can reach a top speed of 15mph and for the young kids wanting to take dirt-biking seriously they can with this.
Safety – This is a fast bike for a young kid, but if you want the best for your children in terms of speed with safety measures in place then this is the best little dirt-bike all round. The speed controller allows you as a parent to set speed limits to match their ability, so as they becoming better at riding, instead of buying a new bike you can just increase the acceleration.
Construction – This is another high-spec well-made dirt bike and the team Kuberg have made riding for little kids awesome fun. The steel tube frame makes this bike light and it has durable plastics with it, so it'll be able to last the test of time. The chain guard has been tucked away and provides an easy to use first-time dirt-bike experience. This little light weight bike is heavy-duty and built to handle almost all terrain, so if the kids love the outdoors and rough environments to explore then this is the one.
Assemblage – Easy to assemble and within no-time they will be up and riding.
Maintenance – Electric bikes are always easy to maintain and this is no exception. This comes with a dedicated team of experts more than willing to provide help over the phone, but if all you need is some spare parts then this too is possible.
Features – The iOS and Android apps are fantastic and pair with you on the move. This allows full control and the ability to customize your preferred settings.
Pro's and Con's – The battery lasts around an hour and is great compared to other 3 years + dirt-bikes in comparison. A Con…well there isn't much and for the quality of the bike the price is right, but for some this might not be possible. This is a quality brand of dirt bikes and for those with the budget it's worth considering.
Best for 5 to 12 Year Olds
1. Razor MX400 Dirt Rocket 24V Electric Dirt Bike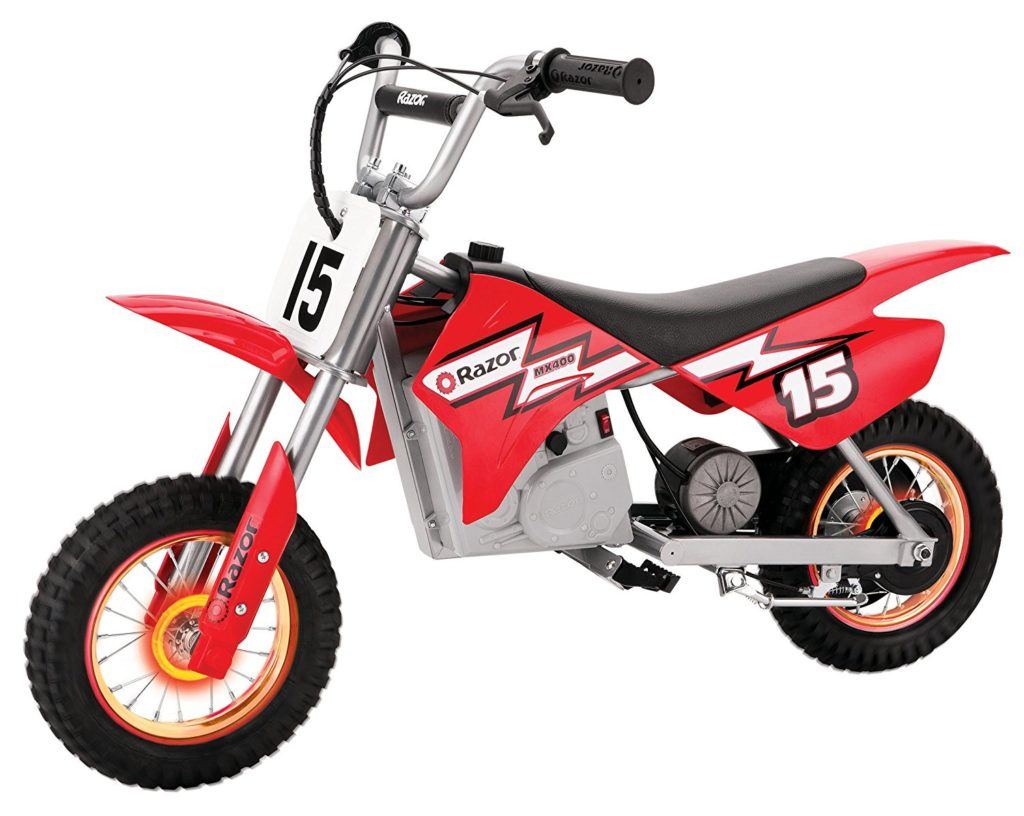 Razor dirt bikes are well known and there are loads of different types to choose from. The MX400 is ideal for younger children wanting to ride and is an easy twist grip throttle for ease of use.
Power and acceleration – This dirt bike can go fast with an easy to use acceleration up to 12mph and because it is electric there is constant speed until top speed.
Safety – This bike is very easy to use and safe for younger children, which is why we recommend this for children under 6 year of age. This dirt bike is small in height and some kids find it too low to the ground, which is why some of the other bikes in this review are best suited for older children who are slightly taller.
Construction – The well-known dirt bike brand Razor produce a consistent quality and have lasted the test of time. This MX400 is no exception and the reviews all round have been good. The dual suspension and adjustable handlebars make this great for children using at different levels of progression.
Assemblage – This is practically ready to use straight out the box and won't let you down with laboursome setup.
Maintenance – Being an electric bike the maintenance and continuous care is less labour intensive like with gas dirt bikes, which is great for both parents and children.
Features – With an easy to use assemblage and battery recharge this a reliable dirt bike for children using them up to 30 mins at a time. This is a cheaper dirt bike and ideal for the first time users.
Pro's and Con's – The cost of this bike is low and compared to the one below it's a 1/3 of the price and for the overall difference I think you are getting your value worth. The Con's about this bike is the speed, which is only an issue if your child is a speed freak, otherwise this little kids MX400 dirt bike is a fantastic choice for buying as a gift.
2. Kuberg 2023 Cross Electric MX Bike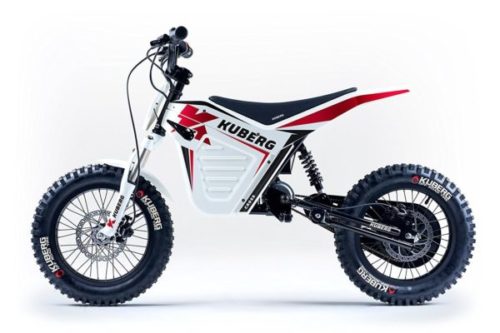 Power and acceleration – The top-speed is 17 mph and is really fast for the overall size of the bike, but in comparison to the "MM-B80 Youth Mini Dirt Bike" this bike is 6 mph slower. This dirt bike gives a continuous speed from start to top-speed and the torque is power and linear. The powerful bike is silent with 3,000 watts and ideal for urban areas too. 
Safety – Kuberg and the team state that this is for children aged between 5-12 years, but depending on the country of origin the safety standards are different and here however we advise the same. There is a kill switch if needed in an emergency and a top speed setter for those parents wanting to restrict the speed at the beginning. There are 3 settings to manage the amount of power, which allows for your child to have an appropriate setting for riding, especially over the rough terrain, which a time needs a reduced speed.
Construction -This is a rugged dirt bike with the steel frames the awesome overall build quality, it really is meant to last through the rough riding terrain. The seat height is 25 inches and is smaller than the "Razor MX350 Dirt Bike" and "MM-B80 Youth Mini Dirt Bike", so make sure to consider this when choosing. The 16-inch tires are knobby off-road and designed to handle the difficult conditions that nature provides. The bike is 77 lbs and is slightly heavier than the rest in this review.
Assemblage – The assemblage is really easy in comparison to the other dirt bikes and with the Cross bike you need to simply unpack, charge fully up to 100% and then ride it slowly for the first time, but on return after your first ride make sure to fully charge again. This is important for the first few time to ensure you get the full potential out of your 36V battery.
Maintenance – This electric bike for kids is easy to maintain doesn't require long hours of man-handling, so this break downs to not needing oil or gas, which is usually a dirty process in maintaining. With electric bikes, there is less need for spark plugs and carburetor, so this means fewer exhaust fumes and cleaner in general, which is what most parents want for them and their kids.
Features – Offers a new app for iOS and Android, which can pair with your bike, sets top-speeds, specify settings, monitor stats, automatic updates and help manage this distance traveled, so you can decide how far is a safe distance.
Best for Teens
 1. 70cc Dirt Bike for Older Kids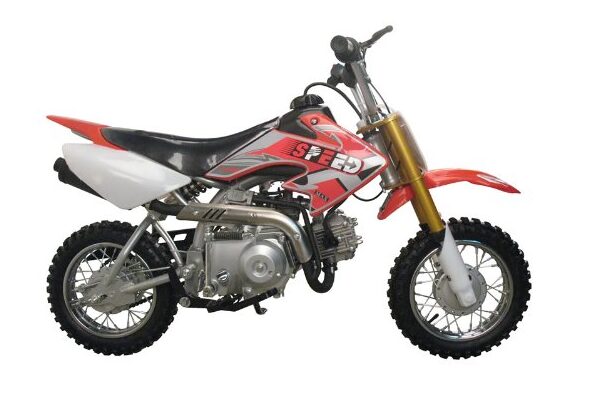 After extensive research, the origin to me is unknown which makes me think this is possibly a replica of another dirt bike that has the same specifications but has slightly different features, such as graphics etc.
Power and acceleration – The engine is a whopping 70cc and comes with air cooled engineering and for those kids with a little more experience and desire for more. With max speeds of 55 km/h this dirt bike in comparison makes others seem slow, but with speed comes responsibility, so make sure you know what you're buying.
Safety – Some people have said this bike should have every nut and bolt tight to the threads to keep safety high, so make sure to check regularly.
Construction – The engine is 4 stroke and comes with a torque of 4.0W and the horsepower is strong enough to be significant felt in comparison to any other bike here. This is a kick start bike and has a CDI starter, which all requires motor engine oil and means more maintenance and upkeep compared to the electric dirt "Kuberg 2016 Cross bike". The max-weight of this bike is 50kg and the size of the bike is 61.2 inches tall and 26.8 by 29.1 wide. This bike is the largest yet and in comparison, it's ideal for the larger rider.
Assemblage – This is easy to assemble and in less than an hour it will be ready to ride, all parts are provided, however, it, s advisable to get a qualified mechanic to check before riding.
Maintenance – The oil that comes is not meant to be used without a top-up or change with non-synthetic oil, which will help with the life span of the bike. This means don't turn this bike over (start it) unless the new oil is added, which is a huge benefit over the long run.
Features – This bike is great for handling and ripping through rough land terrain, it's really easy with rear brakes and force suspension.
Age Recommendation – This is one of the fastest in this review and this could be a dirt bike for 13 year olds and older teens.
2. Razor MX350 Dirt Bike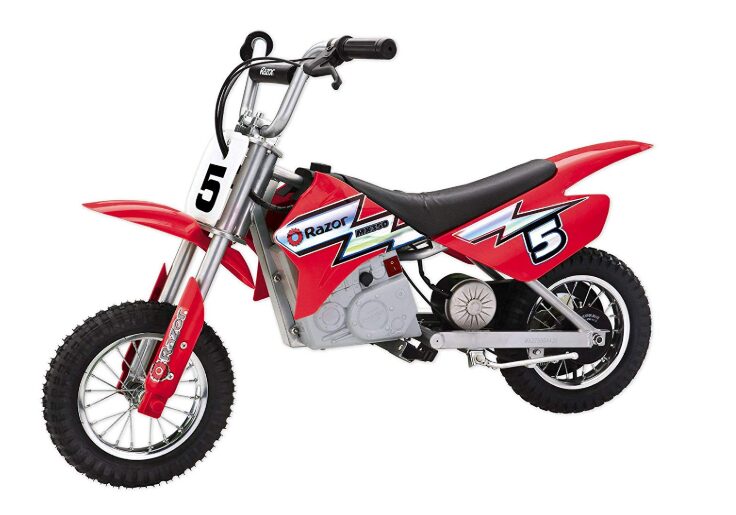 Power and acceleration – This miniature rocket is chain-driven and goes up to 12 mph and is great dirt bike for kids around 12+, but many use it younger, just depending on their own development rate.
Safety – This bike is an easy to use bike and the only real concern is the setting up of the bike itself, which needs to be done with someone who is handy with tools
Construction – The high torque of this bike is accelerated with the twist grip that is also operated in conjunction with the rear-brakes. The handler bars can be raised and lowered if the child grows for example. The dimensions are meant to be assembled at 44 x 24.5 x 31 inches and are a larger bike in comparison to the previous two in this review. The battery lasts up to 30-35 minutes of continuous and needs roughly 4 to 6 hours to recharge.  The battery is 24V are split between two 12V batteries and have similar speeds to the bike above (Razor Pocket Rocket Miniature Electric Bike) and includes and battery charger, but remember this also includes an initial 12-hour charge.  
Maintenance – This bike is easy to maintain and electric engines are always in comparison, but make sure to read all instructions. Razor have good customer service and can be contacted too. The battery, wheels and, parts can be replaced and the manual assists with step by step guide instructions which is why to always make sure to save and put aside just in case of a needed repair.
Features –There are different speed options and is guaranteed to keep you child on the go having fun. The blue design is pleasing to the eye and has an off-road appeal that the kid's rant and rave about, it offers a real beginning to the potential of their career, but with a little less risk. The folding peg is an easy-to-use feature and makes for standing upright easy.
Assemblage – This takes 15 minutes to assemble and then a 12-hour initial charge for ensuring the battery lasts. There is a plastic bag that comes with contents usually; charger, tools, handlebar clamps and owners manual. The required tools are a 5mm and 6mm allen wrench, 10 mm wrench and spoke tightener, however, most tools boxes have these items so don't fret. Remember to:
Checking Spoke Tension
Tightened the handlebars to ensure good handling and less movement, which could cause a crash
 The Front of the bikes Fender needs to be attached
Inflate tires and using a PSI checker is ideal
Pro's and Con's – Th Pro's are that it's a mid-range bike, easy to buy and use without breaking the bank balance and has the balance between speed and durability. The dual suspension and adjustable handle bars are fantastic and this combined with high torque makes this a great gift for any child. The Con's, I'm sure you would agree are that the bike doesn't offer the safety that the "Fun Wheels 6V", but for some children, this really won't matter. The setting up is a little tricky, but nothing majorly difficult, but sometimes bikes that come already fully constructed are easy, but yet that is also part of the learning experience. 
Age Recommendation – This is another similar dirt bike for 13 years old kids and above. This isn't one of the fastest in this review but the manufacturing guidelines have recommended this dirt bike for 13 year old kids or teens.
3. MB200 Gas Youth Mini Dirt Bike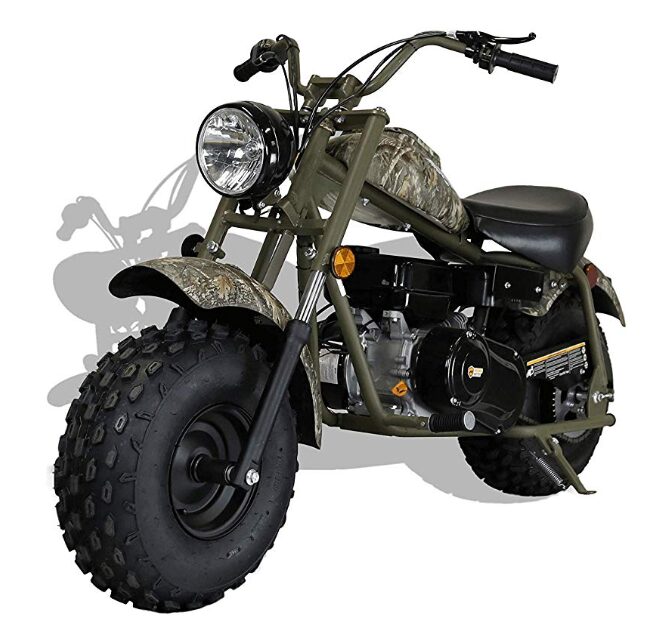 The gas dirt bikes for kids is by the brand Monster Massimo and is well known they have been producing specialized gas dirt bikes for a number of years. They are originally from Dallas and are a USA based company with great customer service and if you have questions about the model type just specify this number (MB200) and they will be happy to assist.
Power and acceleration –  This has a real kick and is quick with 2.5hp, which has a max speed of 23 mph, which is the fastest yet in this review.
Safety – This is for children aged 12+ however there are much younger kids on these and some naturally have a little more flare than others and if so this bike would be ideal for them, being more for the advanced driver and not for a first timer. The brakes are adjustable and easily made to suit the child, so make sure you ask what is favorable for them and adjust accordingly.
Construction – The 4 stroke engine is 196cc and designed with a little more power, which includes a stronger overall frame for rough terrain and can handle more vigorous use in general in comparison to the two previous dirt bikes. This weighs 91 lbs and the dimensions are 15 inches in height and 50.3 in length, so a relatively low rider, with such a comfy seat it's cruising. This has a kickstand and quickly fires-up with a front plate that stands out as a cool design feature in the construction. This
Assemblage – The set-up is easy with this and only needs the handlebars fitted, which don't take long and then lastly the gas and the bike is ready to ride. The bike is super comfy and comes with a large mini bike seat. The footing pegs are situated and the throttle style is easy to handle.
Maintenance – There is a library of resourceful information to access both video and step by step guides, which are really helpful if needed. This is a gas bike and needs oil, gas and regular maintenance, but is fairly easy to do and is a good task for children to manage for development. Make sure to always add fuel and try not to let it run out before topping up, which same rules apply with the oil. Change the air filters from time to time and follow the guide lines in the manual.
Features – This bike boasts with super grip tires and reinforced frame. The weight of this bike is 91 lbs and designed to handle adults (200 lbs) as well as children. The wheel size (14.0 x 5.7 x 6.0)  and tires are tubeless pneumatic with rims made of steel to handle all off-road terrain. The brakes are operated with your hand and the cable runs to the back to the rear disk to give an easy slowdown if needed and sharp when essential. The run time is usually for around 1 hour and sometimes less, but this is continuous use and usually you would get more time due to starting and stopping the bike, which is a lot longer in comparison to the "Razor MX350″ and the "razor pocket rocket".  The throttle is snappy and the torque and engine will easily get you to 23 mph without needing too much time at all.
Age Recommendation – This bike doesn't have an official age recommendation on Amazon and I am unsure what exactly it should be, but for safety reasons I wouldn't recommend this dirt bike for kids ages under 12 to 13 years old unless experienced.
Note: The company does not ship to California..
4. Razor Miniature Electric Bike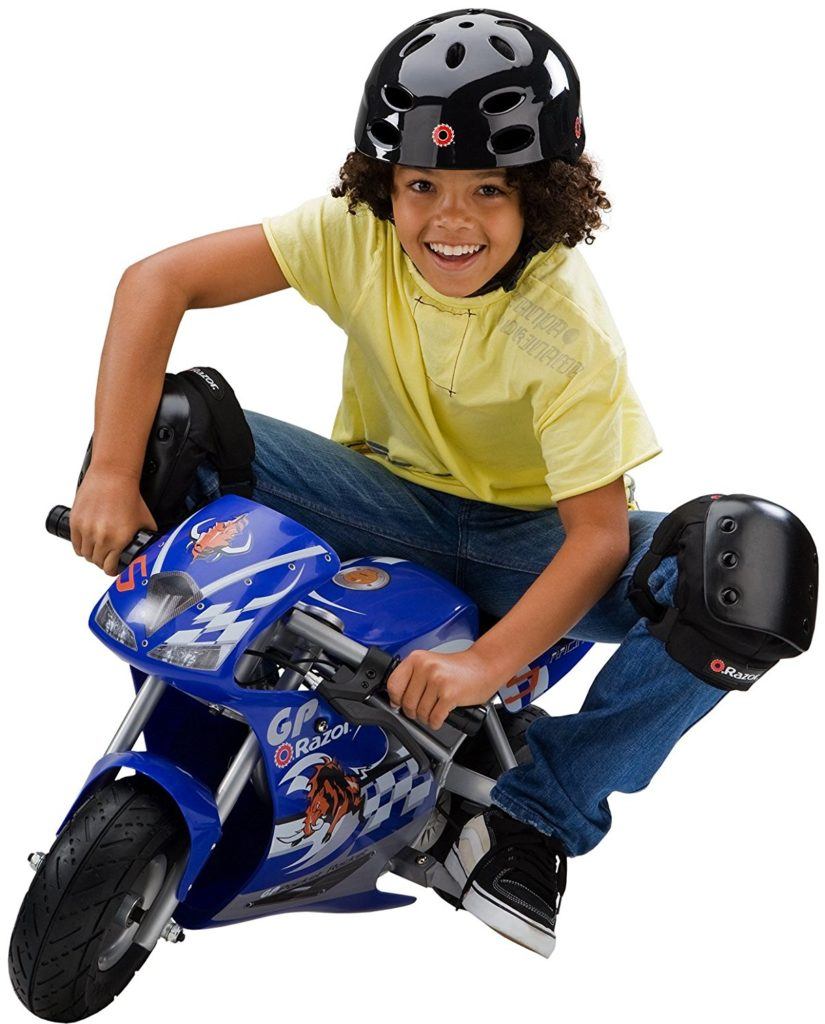 While this isn't strictly a dirt bike, it's a good all rounder that can be used in the garden, on a pavement, or in light country paths. I've added it in here because of power wise it sits in between the 6V Fun Wheels and the
Power and acceleration – The speed goes up to 12 mph and is chain driven with a twist grip to ensure easy use. I like the easy twist grip, it is ideal for all younger children who need an easy twist and go mechanism.
Safety – The single speed and twist grip is the design for the throttle, which is again easy to use for young children. There is a Back Brake Adjuster on this dirt bike down at the bottom of the left-hand side and allows for extra control.
Construction – This bike has a 24V battery and splits that over two 12V acid sealed batteries. The battery will last around 30 minutes and a full charge is 12 hours, but can sometimes be less.  The grip on this is a little better than the 'Fun Wheels 6V' and this is mainly due to the speed and design.  The dimensions are slightly larger in comparison to the 'Fun Wheels 6V' and 36 x 20 x 21 inches, but smaller in width due to the safety bars. The bike's weight is 42 lbs and is made to hand a max capacity of 170 pounds, which is surprisingly large and might even allow dad to have a go.
Assemblage – This bike needs to be assembled and some parents should expect a minimum of 30 mins to do that and once done the let it initial charge for a full 12 hours, which is ideal, but the usual afterward. Some parts for example needed are; hexagonal key wrench and bicycle pump ideally with a pressure gauge. This one comes with tools, but the user manual recommends a mechanics graded tools.
Maintenance – This electric bike is easy to use and maintain, there aren't any requirements for oil, gas and general replacement of parts as gas bike need.
Features – This bike is very quiet and different from the gas powered bikes, so it might be worth noting for some people in residential areas. This not got as much as the Kuberg 2016 in terms of suspension, but it does do well on flatter terrain. Most of the parts can be replaced and in the unlikely event, a part does need to be replaced this bike is relatively easy to fix. The user manual has step-by-step information to assist, plus the Q&A are helpful if a possible situation occurs that you're confused about. This is a battery powered bike and is designed for 13 years and up but in my opinion, a younger child would be fine if they are combined with the dirt bike training wheels, which is highlighted above.  Most bikes in comparison review offer greater flexibility with terrain accessibility and can be seen in the type of bike design, however, this is a motocross style bike. I added this in for those mothers who expect their kids not to be riding off-road but more on flat surfaces.
Pro's and Con's – Major Pro's  are how it is easy to maintain and keep without any expensive repairs shortly after buying, which gas dirt bikes can have a tendency to need. The quick charge time is another and the increase in speed compared to the "Fun Wheels 6V", which has much less speed and acceleration.  Compared to the gas this produces fewer fumes and exhaust smoke, which is both dirty and environmentally some might say.  The price is reasonable and is mid ranged in comparison to some here in this review. The Con's are that this is a much slower than the "Kuberg", which is a comparable electric bike and has less adjustable features.
5. Razor mX500 Electric Bike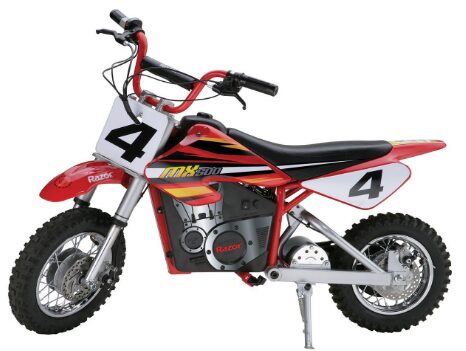 The Dirtbike is "Fast n Furious" and the type of ride that feels fast like a rocket. This is very popular with kid dirt bike riders right now and the ones into motocross bikes will appreciate this as a gift for their birthday.
Power and acceleration – This has a good speed and can reach up to 17 mph at full throttle for those who like a little extra speed. This will last for around 40 minutes of continuous riding time and is long enough for them to get a good ride out of it, which in comparison this is fantastic.
Safety –  This is designed for children who are slightly older and some parents will need to be aware this is for those who are more advanced, which means first-time riders should probably look for a smaller bike. However, if you are like many dirt biking parents yourself then this is tame and an easy ride for your child who most likely has years of experience already.
Assemblage – This is an award winning bike and with it being electric it is very easy to assemble and doesn't need much unpacking for it to be ready to use outdoors.
Maintenance – Parents prefer a dirtbike that has little maintenance needed and with this one they will not need to worry about getting dirty and oily with unwanted grease stains. Electric is always easy to handle, use and clean, which is ideal for those younger children learning to start riding. The battery takes 12 hours to fully charge and once done it will last around 40 minutes. The 36v is sealed lead and with the casing, these are safe for children to use with adults worry about fire.
Features – This bike has loads of cool features, like the graphics, which are stunning with a McGrath logo and a plastic casing that covers the electric engine. The speed is one of the main features and the weight is light for a dirt bike. The twist-grip throttle is easy to use and the dual suspension and solid steel frame make handling those rough terrains easy. The adjustable handlebars and grip are ideal for those beginners who a little older than the younger kids.
Pro's and Con's – The folding metal peg is convenient and easy to stand and quick to release and take-off again. The size of the bike is a good size for children who want a mid-sized bike and find some of the others reviewed not big enough. The geometry is good on this with a center of gravity that is ideal for kids wanting to feel in control when riding. The only Con is the fact that this is for slightly older kids and not for very young children.
Best Electric Dirt Bike for Kids Aged 12 Years Old +
1. Razor MX650 17 MPH Electric Dirt Bike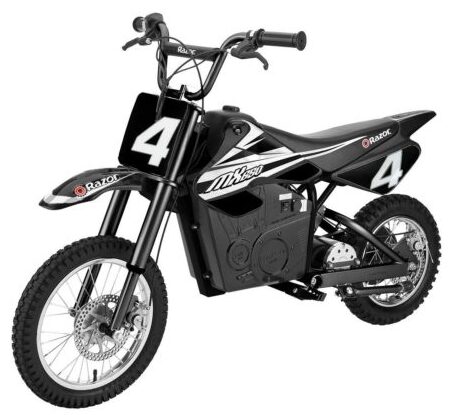 This electric dirt bike is a real monster, with some great power in its engines and a real solid construction all around.  We've even heard tales of some parents riding their kids Razor MX650 and it moving pretty fast for the added weight of an adult
Power and acceleration –This is quite a speedy little number and it can reach top speeds of up to 17 miles per hour.   The battery will also last a whopping 40 minutes, which is great for one of these little bikes.
Safety – As you might expect from a bike this fast, it is really only meant for kids who know how to handle a bike, so beginners should look at something a little less powerful.  If your child already has experience dirt biking, they should be right at home with this.
Assemblage – This does require a little bit of assembly, but it won't be too difficult if you know a little bit about bikes and have put a dirt bike together before.
Maintenance – This electric bike really does have minimal maintenance, and most parents only have to ensure that it is cleaned regularly.  As it has an electric engine, there's no oil or grease to keep things messy, and so long as your kids take good care of it, you won't have to open it up and try to fix it any time soon.
Features – This bike has a solid steel construction, so its a little heavy but very durable.  IT has a variable speed, high torque, chain driven motor,  so it is quite a powerful little machine and can really get some revs going.  Like most Razor bikes, it has a comfortable and responsive twist-grip acceleration control, and your kids will get the hang of it in no time.   We also really love its classic black and white paint job, which gives it a real rock and roll look.

Pros and Cons – As we said before, this is a really powerful little bike, and we've even heard that it can carry adults as long as you don't try to drive up any steep slopes.  As well, the batteries for around 40 mins which is a really long time for these bikes.  We have heard that it does take a really long time to charge though, and it might be a bit on the small side for older or very tall kids.
Buying Guide
Types of Dirt Bikes
Dirt bikes are great for kids of all ages, but sometimes some are better than others and being able to distinguish between bikes for 3 to 6-year-olds and a 7 to 9-year-old is very important. My youngest actually started at four, and he had an older brother that he was trying to emulate. His brother was 8 at the time.
The younger brother always wanted to be as good a rider as the older brother, but the types of dirt bikes for 8-year-olds aren't suitable for 4-year-olds, so I had to learn what kind of bikes were better for a 4 year old. However.. there was a slight difference in the type of bike that the older brother used. Mainly because it was gas, and it was a 4 gas cylinder engine, which seemed to be more powerful than the electric one.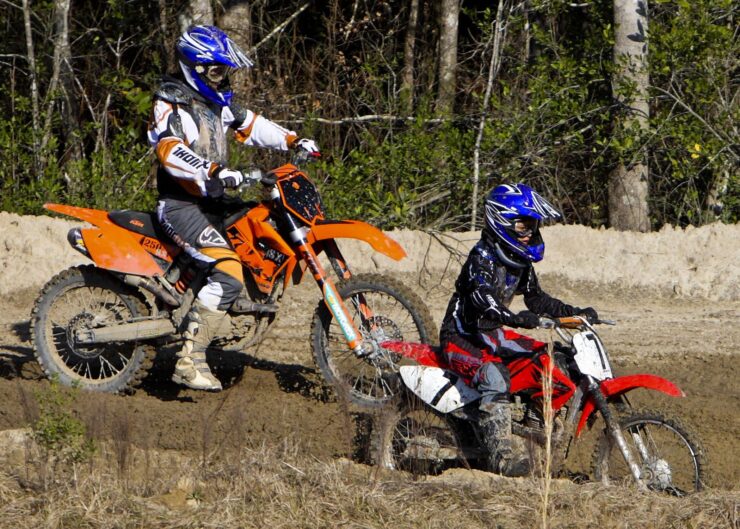 This inspired me to write about some of the nuances and differences that a parent might face when choosing a bike for their children. There are different types of bikes out there and most fall into the category of electric or kids gas dirt bikes, each with their own benefits and features. Kid bikes usually range between 50cc and 150cc, but as they advance they might even go up to 250cc, but hopefully not at the early stages as that might be a disaster!
There are 2 stroke engines and 4 stroke and the general rule is the less cc the bike has the safer it is and in my view simpler throttle-twists and go will be perfect for a first-time dirt biker. Bikes for under 6 years of age should usually only ride off-road 50cc bikes and less.
Anything bigger wouldn't be advisable in my opinion as a general rule, but this is very much dependent on the families circumstances. This being said, some parents have trained their kids how to ride since they were old enough to say mom and dad, but that is clearly not everyone, so with that in mind, I recommend sticking to the fundamentals to keep your child safe.
Some children progress into the 7-to-10 age range and want more power, speed, and adrenaline. This usually is between the 70-80cc range and will be a great increase without making things dangerous, but again base that decision on your child's personal dirt biking ability. The dirt bikes for 10 years old's are usually a good bit more powerful and are nearing the capabilities of a full-size bike. As they start reaching their teens the bike again goes up in size and they will want more of everything, especially if motocross is on their minds, it will be hard to stop them wanting a 100-150cc dirt bike with a big brand like Honda or Suzuki.
Top Dirt Bike Brands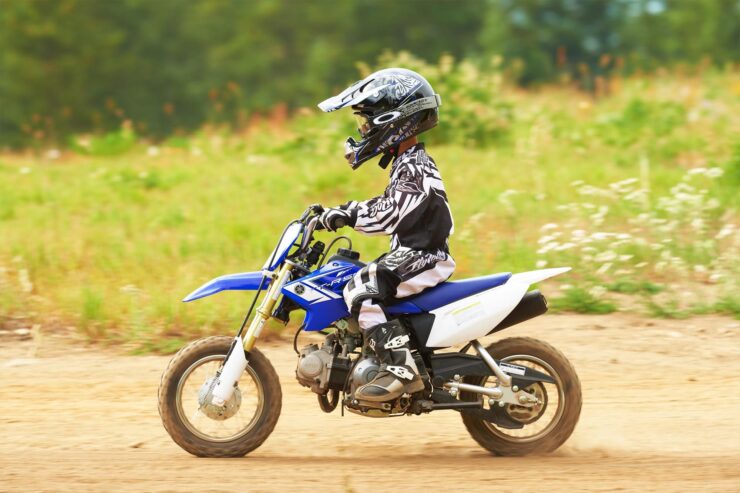 These are the top 10 brands:
Suzuki
Yamaha
Honda
Beta
Maico
KTM
Kawasaki
Hyosung
Razor
MotoTec
Age Guide: How to Choose the Right Bike for your Child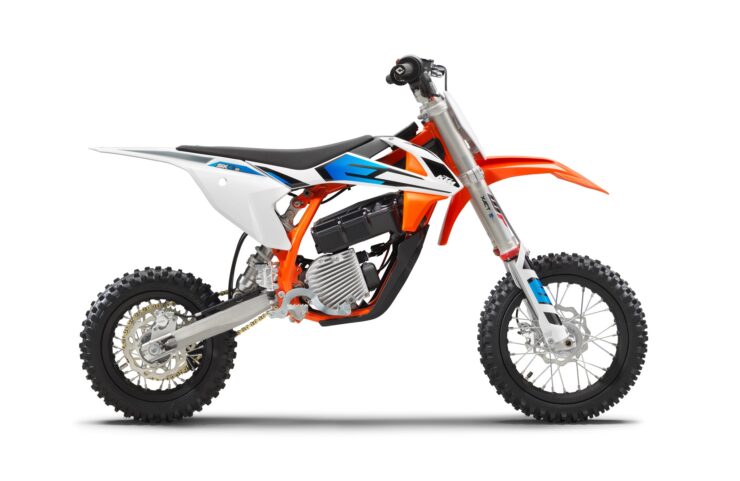 There is a wide range of dirt bikes available for kids of all ages and you need to make sure you choose the right kind of bike for your child. Depending on their age, it can be the difference between having a successful first attempt and them never wanting to ride again.  Here I have highlighted some factors to consider when choosing a bike: Do they want to ride dirt bikes?
I have found some fathers can be pushy and try to push their kids into the dreams they once had, like the idea "start them young and make them pro's", which is all too common, to say the least. Kids as young as 2 are getting into dirt biking these days. Safety is important and making sure you have the right bike for the right age is crucial for everyone's enjoyment and safety.
However, let's imagine you are the sensible parent and want a bike for your kid and you have all the right safety gear, like goggles, helmets, gloves and are ready to choose the right bike to suit their capacity and riding experience. Some considerations to factor in are:
Posture – making sure your child can support themselves in the upright position while moving over bumps is key. This means your child needs enough core body strength.
Hand Strength – Can they handle the bars with a tight grip. Can they hold back the throttle and maintain a steady course.
Price – there is a huge range of price and in my view, beginners are better with cheaper bikes in price, but not in quality. It's a fine balance.
Spacial awareness – seeing the terrain and being able to plan routes instead of only on the immediate obstacles is important.
Bike size – having the right bike that suits their weight, strength and ability will ensure safe riding
Power – some torque is too high for young children and being aware of the horse power will reduce the chances of falling
Suspension – 2 stroke or 4 stroke usually offer stability differences, but electric is another safe type of bike with battery powered strength
Avoidance ability – making sure they can steer away from oncoming obstacles is essential. Hand-eye coordination is crucial on off-road biking.
Toddlers
Although some may consider it a bit controversial to allow toddlers to ride a motorized bike, if you take the right precautions you'll be absolutely fine. A 6 Volt dirt bike with training wheels will allow your toddler to start getting a feeling for riding the bike so by the time he's 3 to 4, he'll be very comfortable behind the handlebars.
If you're particularly concerned about safety then you can get a lanyard and attach it to the back of the bike so you're in control of the speed your toddler can ride at. Here's a video of a parent who has attached a lanyard to the dirt bike for his 19 month old. Just keep the speed under 5mph.
3 to 6 Year Olds
Kid's this young, as a guideline, should be going speeds under 10 mph and there are loads of young dirt bike options that ensure that they have a reduced chance of injury. Speed is the main factor in my opinion that can cause issues.
The ability to process information whizzing towards them takes age, experience, and gradual development, so taking your child slowly down the path is a better way to get them becoming pro's than the other way round. The smallest dirt bike for 3 year old's will not go faster than 3 mph and is very safe compared to the dirt bikes for older children.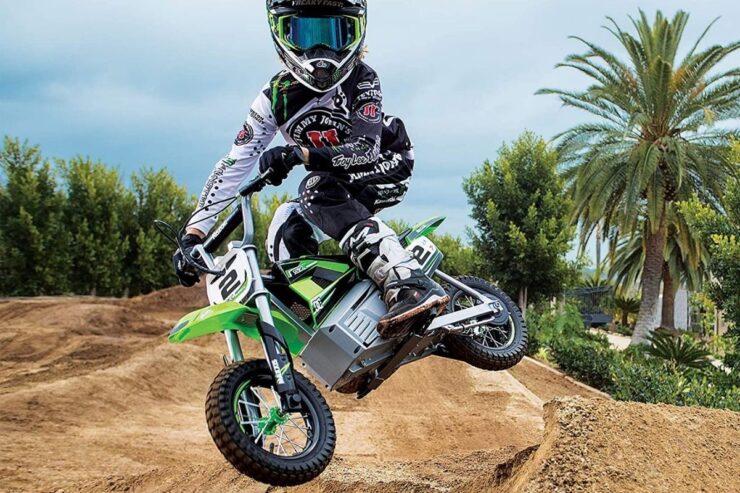 The bikes themselves are usually lighter and make for easier controlling, which is what should be fundamentally the key for beginners. These kinds of bikes usually begin in the back garden than the track, but again I am being on the conservative side, cause a lawsuit wouldn't be cool.
Children at this age don't have the strength and advanced spatial awareness, so using a push bike first and ensuring they are comfortable is a good tip. Otherwise, make sure you get safety bars that attach to the bike to hold the bike upright at all times.
7 to 9 Year Olds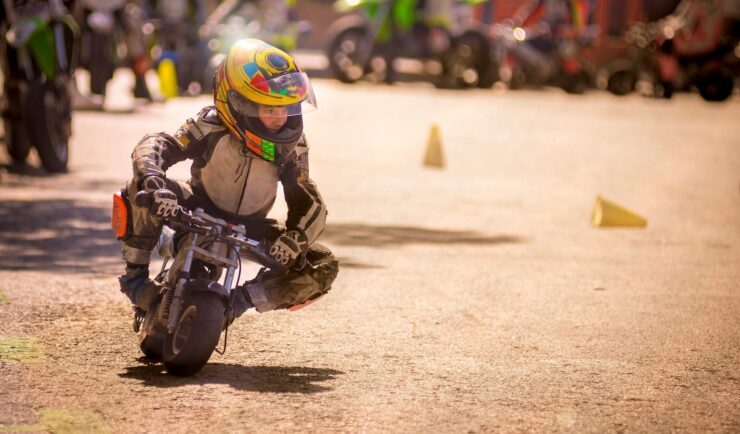 Kid's aged 8 and above are the most common times to start getting into dirt bike riding and this is when good bikes make the difference in the pro league tables. By this time the kids have developed the biking skills and ability to handle a large bike. The desire for bigger and faster is kicking in with dreams of being a star on TV jumping over mountains for a rumble.
The size of bike and type is usually not as important as the engine size and power. I would highly recommenced a 50cc if you're not sure always start with a small cc dirt bike, it'll be a safer option. Electric bikes are usually determined by max-speed and voltage and in my humble opinion, the future is in electric.
10 to 11 Year olds
By this point they are ready for jumping into the 50cc to 70cc range and love to feel the wind rushing between their ears, it's ideal for little ones with a desire for more, by that I mean more of everything. Speed, stability, engine size, bigger priced bikes and all the latest gear on go.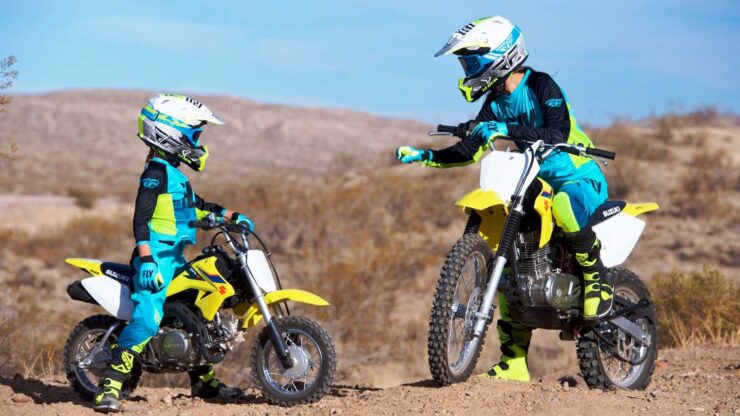 My children started around these ages and continued to bike into adulthood and the idea usually is the younger the better they become, so make sure you give them a little nudge forward but not too big a leap they don't want to continue. Both types of dirt bikes offer similar experiences, but they will love the bikes that make more noise or at least I found this with my boys and their friends.
12 Year Olds and Above
This when the bikes start to get better quality, better stability, power, endurance, torque and open the gates to competitions that pay out.
Dirt bikes for this age range are usually from the 50cc and above, but it's not uncommon for kids as young as 12 to begin riding bikes that go up to 250cc, which is a tremendous amount of power, so although the eager father sounds optimistic, the conservative mother says otherwise and in my opinion always listen to the woman of the house for such matters.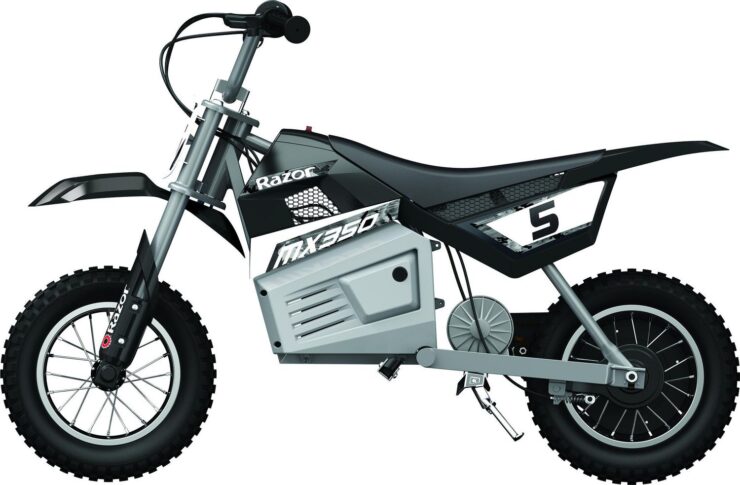 50cc to 125cc is ideal in size and ability and will not push the boundaries too far to cause the child to be in some danger, but by this time they might have had some experience of handling smaller bikes and outdoor high-intensity sports, so you'll know your child's ability range.
Below is a Table Comparison of Some of the Best Dirt Bikes for Kids
There are 11 Dirt bikes in total in this review, but only 6 in this comparison table below. We have highlighted some of the best bikes to help parents decide from a quick comparison point of view. There are also more information on Amazon for those who want to know more about manufacturing guidelines and specifications.