If you're a commuter traveling to work or school every day a folding electric bike will give you an easy, fast & environmentally friendly commute.
The folding aspect allows you to carry it into work or easily store it in the house.
Kids who live in college dorms don't typically have a lot of room and leaving an expensive bike strapped up outside.
What is a folding bike?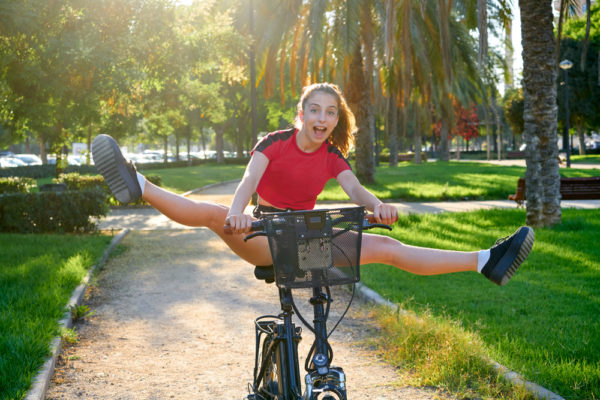 A key characteristic that sets folding bikes apart is their ability to fold in half. This reduces the real estate that they take up making storage easy. 
The collapsable mechanism of these bikes make them perfect for anywhere space is at a premium. So carrying them onto a train or a bus will be much easier. If you don't have any room in your college dorm or apartment a foldable bike is perfect. 
What is an electric bike?
An electric bike or e-bike is just like any other conventional bike but has a motor that assists your peddling. Electric bikes have become very popular over the past few years and now we have electric folding bikes too.
Primarily used by professionals who commute back and forth to work every day.
There is an increasing interest with teens too, electric bikes for teens are growing in interest as they are becoming concerned with their environmental footprint or looking for alternative ways of getting to school. 
Why would you buy an electric bike?
E-bikes for those working:
There are many reasons you would buy an electric bike. Perhaps you want to cycle to work but there is a steep incline all the way there. You don't want to start your working day exhausted, do you? Maybe you're recovering from injury and the added boost will assist your riding & ability to enjoy a nice cycle.
E-bikes for kids traveling to school:
Does your teen cycle to school every day with heavy textbooks in their bag? Is the commute to school too far away? If so your child will more than likely appreciate a bike to help them get to and from school/college/university.
E-bikes for the family:
Some members of the family might not be fit enough to enjoy a nice Sunday cycle with the family. Thankfully E-bikes allow you to keep the same pace as everyone else in the family, in fact, you'll probably be faster.
Best Folding Electric Bikes
In no particular order, here are the best folding bikes:
1. ECOTRIC Fat Tire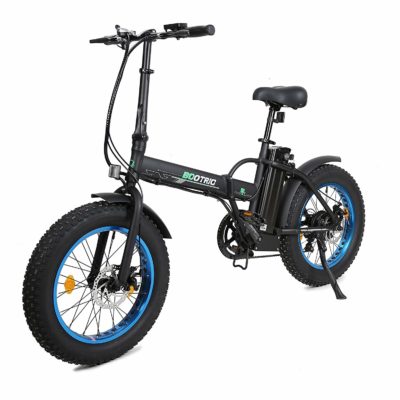 Description:
Up first, we have the Ecotric 20″ New Fat Tire Folding Electric Bike. Fed up with sitting in traffic? Sick of sitting on the train or riding the bus and getting no real exercise? The Ecotric Fat tyre is perfect for you if you want to feel the fresh air on your way to college/work.
This is a very well-made bike and handles well too. We put this bike first simply down to the affordability, easy assembly, speed & distance per charge. It is a highly capable bike for commuting back and forth to work. 
This bike also has 7 different options for speed.
Putting the bike together is very easy too. You do not have to be good at DIY to figure it out. 
The Pedal assist is great. The bike has a sensor that starts the motor when you start pedaling.
Key Features
500 Watt Motor Battery – Charging time 6-8 hours.
20″ Fat Tyres Suitable for all terrains.
The Top Speed is 32 KPH.
Specifications
Brand: Ecotric
Weight: 57.3 Pounds
Price: $750+ (prices vary)
2. NAKTO 26 Inch 6 Speed Gear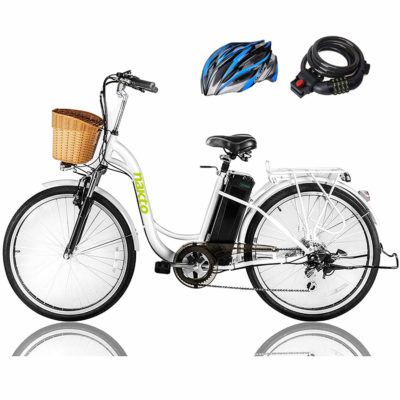 Description:
This Nakto 26 inch Hybrid E-bike is absolutely great for commuting back and forth to work or college. With a top speed of 40kph, your daily commutes will be a breeze. No more sweaty bike rides or cramped bus journeys, instead you can enjoy the fresh air while getting some light exercise. 
Key Features
40 KPH
Max Load – 250lbs
22-28 miles per charge
E-bike & Assisted Bicycle
Specifications
Brand: Nakto
Weight: 70lbs
Price: $600+ (Prices Vary)
3. e-Joe EPIK SE Sport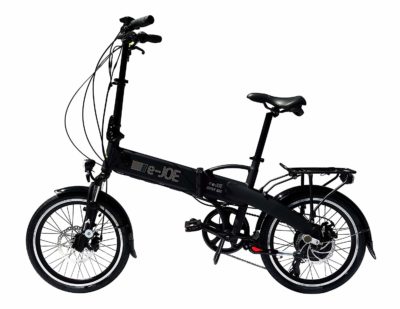 Description:
Internal gear motors give you a really high amount of power and torque for a relatively compact size & weight. Plus with the 20-inch wheels, you end up with a good mechanical advantage.
The other thing that really struck us is it has 180mm mechanical disk breaks which is a little bot overkill. So you've now got little wheels but a huge disk break providing a lot of stopping power!
Meaning the speed of this thing doesn't have an issue with a fast break.
The bike has a nice cargo rack at the back that can load up to about 25kg of weight.
Key Features
6 hour charge time
Max range is about 80 km.
One Year Warranty
Specifications
Brand: e-joe
Weight: 51.5lbs
Price: $1,500+ (prices vary)
4. ANCHEER 20 Inches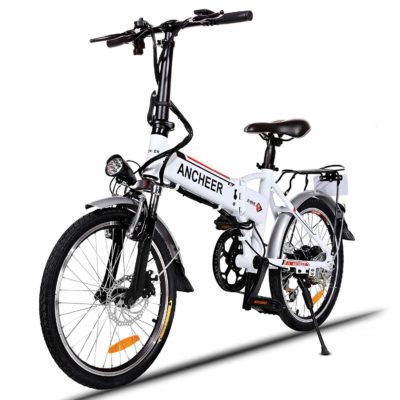 Description:
When it comes to e-bikes, Ancheer stand out from the crowd in terms of quality and price. They produce great bikes that do the exact job we need. 
This model has 3 modes, these are:
E-bike
Assisted Bicycle
And normal Bicycle
So you can use this to get a little bit of exercise in too or use it to zoom off to work if your in a rush. It has 21 gears and a tonne of power making hill climbs easy.
There is a horn and a light that make night riding safer.
It weighs about 60 lbs and can fold so transporting the bike isn't an issue either!
Key Features
100 percent lightweight aluminum alloy collapsible frame
Front and rear disc brakes give you great stopping power
Battery length 25-50km
3 modes – E-bike, Assisted Bike & Normal Bicycle
7 speed option
Charging time 6-8 hours
Specifications
Brand: Ancheer
Weight: 60lbs
Price: $700+ (prices Vary)
5. Shaofu 15 Mile Range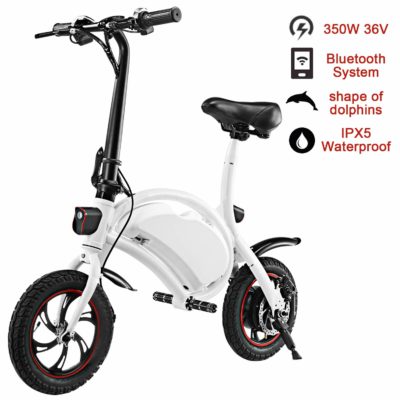 Description:
This model is the perfect bike to scoot around on. It's small, compact & does the job.
Key Features
Very Light
On the lower end of the pricing spectrum
Max speed is 25km
Easy to carry & fold up
Specifications
Brand: Shaofu
Weight: 26.5lbs
Price: $300+ (prices Vary)
6.  MEIYATU 36V8Ah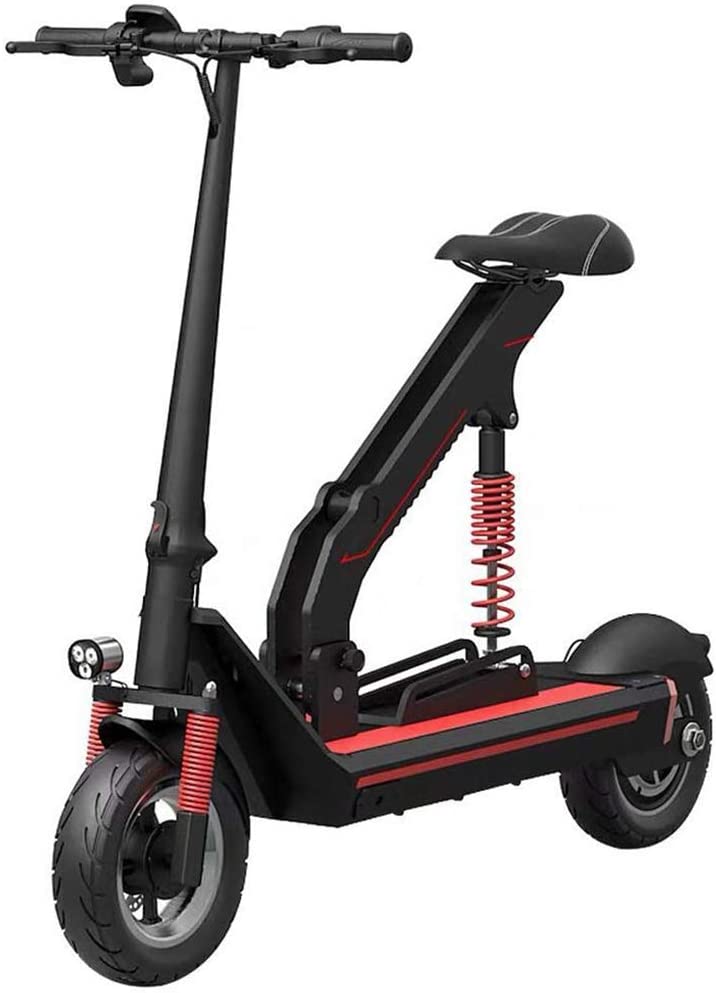 Description:
This model is a hybrid between a bike and a scooter. 
It is very futuristic looking and we love that about this model.
Key Features
Multiple Shock Absorbers.
Anti theft system.
Double disc brake for amazing stopping power.
Energy saving
Specifications
Brand: Meiyatu
Price: $1500+ (Prices Vary)
7. Swagton SwagCycle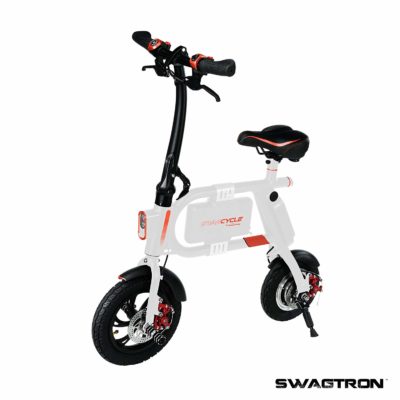 Description:
The Swagtron Classic E-bike can reach top speeds of 10 MPH. It collapses easily so storage shouldn't pose too much of a challenge.
The bike's frame is made of premium aerospace-grade aluminum, therefore, providing you with the sturdy design you were after.
This is a great bike thats easy to use. This bike is able to support children and adults that weigh up to 264lbs. It does have a rechargeable battery and the battery will take around 4 hours to get a full charge.
The cable to charge the bike is actually tucked away in a compartment on the battery. This is great because if you ever forget to fully charge your bike you can top it up in the office or at college etc.
A nifty little feature has to be the phone charging port. You can plug your phone into the USB charging port to give you the charge you need when your commute back and forth. Now you can charge literally any smart device.
It does not have a suspension or shock absorbers so hitting a small hole will be felt a lot more.
It will fit in the trunk of a small car very easily.
The handlebars are nice, it has a horn and a power emission too.
Key Features
Charging Port
Aluminum Frame
100% Electric and Emission-free
Specifications
Brand: Swagtron
Weight: 42 lbs
Price: $400+ (Prices Vary)
8. FIIDO 6 Speed Shifter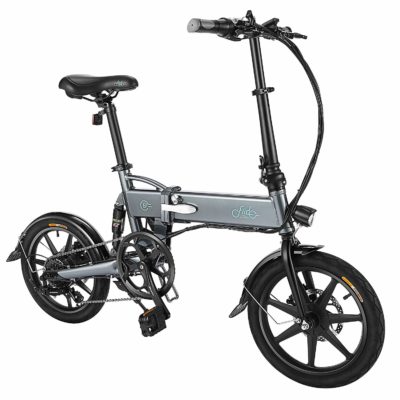 Description:
This thing is ridiculous because the quality is super nice, it is super punchy. The acceleration is great.
This has a built in 42v battery. The motor is 300 watts but it feels like its well over 500 watts. The power is impressive. It can reach top speeds of 25km/h and can ride for up to 50km.
There is 6 gears to control the speed.
There is two disc breaks and they work amazing, you won't have any issues with stopping power.
Just like the bike, the pedal is foldable. The bike is easy to fold and very light weight. It weighs 43 lbs.
The seat is adjustable & even the handlebar can be rotated. The handlebar has two switches, one is a key to turn the bike on. You will see the little LCD screen light up that tells you how much battery is left. The other switch is to control the front lights and there is a red button to control the horn.
It has a phone holder and a USB charge port on the handlebars too.
Its very to assemble but comes with instructions anyway.
The 16 inch tyres provide some great support, making your ride more comfortable.
Key Features
Phone Holder
Powerful & Punchy
Comfortable Ride
Specifications
Brand: FIIDO
Weight: 43lbs
Price: $300+ (prices vary)
9. Kepteen White 6AH

Description:
This foldable bike has some pretty cool features that make your commuting much more comfortable. Assembly is very easy, it basically comes all folders, so all you have to do is unfold it. Well, you might need to adjust the handlebars but that's it.
The bike is clearly of high quality, you can tell its a very durable bike and will last a while.
Key Features
Good value
Takes 3 hours to fully charge!
Max speed of 15mph
Specifications
Brand: Kepteen
Weight: 26.5lbs
Price: $500+ (prices vary)
10.
Korie 7 Speed Shifter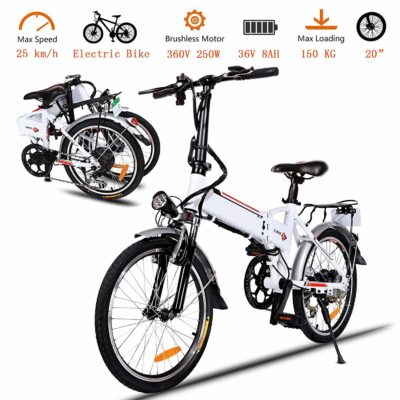 Description:
This is a great folding e-bike, made with exceptional quality and looks pretty cool too. its compact, yet sturdy and provides an amazingly smooth ride. Isn't that all you want in a bike? 
Well, here is everything else this bike has to offer. It has front and rear disc breaks that provide all the stopping power needed for the power this bike can unleash. The front fork is made with extremely high-quality carbon steel and the premium shock absorption will provide a smooth ride.
We have to warn you that the front brake is extremely strong and very sensitive. It's perfect for emergency stops but braking too hard and too fast could flip the bike and you could over the handlebars.
Instead, use the feathering breaking technique, essentially this is lightly and rapidly squeezing the breaks.
Like the rest of the bikes, this can fold in two for easy storage.
This bike is a great starting point if you're wanting to invest in an electric bike.
Key Features
Amazing brakes
Easily Foldable
6 Speed Settings
Specifications
Brand: Korie
Weight: 50.71lbs
Price: $650+ (prices vary)
12. Hurbo 19 Inches 36V 250W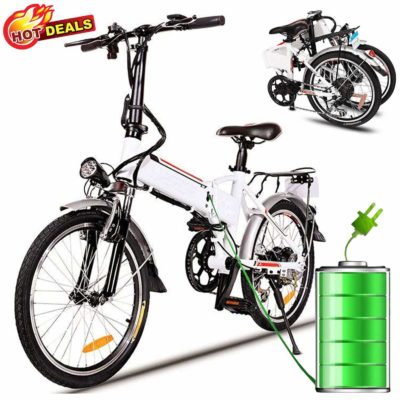 Description:
If your looking to reduce your carbon footprint this bike will definitely help with that, and its another great entry e-bike. Its very sturdy and has no issues with speed.
It has a front light and a horn that make it a good bike for those darker nights. It has two modes too, e-bike and assisted bicycle.
Key Features
Sturdy Design
Front Light for Night Time Rides
Specifications
Brand: Hurbo
Weight: 50.71
13. HighWing Aluminum eBike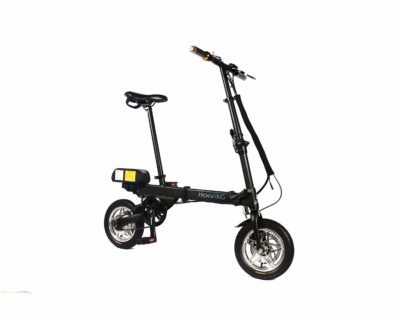 Description:
This aluminum folding e-bike is perfect for scooting around town. The battery can provide about 20 miles with a full charge. It takes about two hours to fully recharge the battery too. 
The seat is adjustable and could be used by someone who's 6 foot 3. The bike can carry a weight of up to 270 lbs.
There isn't a security alarm but the battery pack is removable.
Speed can be adjusted by the throttle on the handlebars and can reach top speeds of 25 to 30 MPH. So it is pretty powerful.
Key Features
A fast bike that can reach 25 to 30 MPH
Specifications
Brand: HighWing
Weight: 41.4 lbs
14. ANCHEER Electric Mountain Bike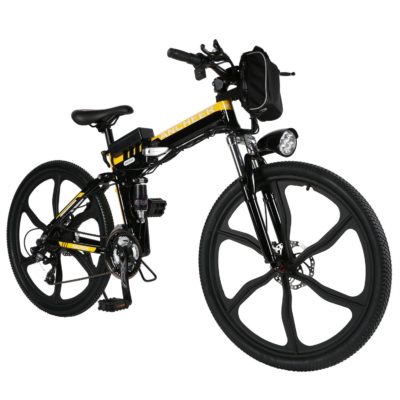 Description:
Slightly different to the rest, this is more of a mountain bike than a normal bicycle.
There are three things that seem to be important when purchasing an electric bike. One if the wattage of the motor, the amp power of the battery and the speed.
The distance is also pretty important. Are 250 watts enough? But it seems to be plenty with this bike.
This bike can also do about 30 miles without power assist so that's pretty good.
It will do about 15 to 30 mph, so its pretty good. Not the fastest but for sure the most comfortable. This has shock absorbers and pretty big tires so you'll not feel those bumps too bad.
The two anti-slip resistant tires are perfect for trails, gravel roads, pavements, backroads and more.
AND it folds… Which I think is great, it looks and acts like a mountain bike but you can still get the storage benefits of a folding bike too.
Honestly, out of all the bikes in this list, it looks the best and is the most modern-looking design out there.
We're a big fan of mountain bikes.
If you're looking to get your son an alternative to dirt bikes this could do the job.
Key Features
Great design
Handles bumps well
Top Speed of 30 MPH
Specifications
Brand: Ancheer
Weight: 55 lbs
Price: $450-600
15. Mophorn 15-21 Miles Range eBike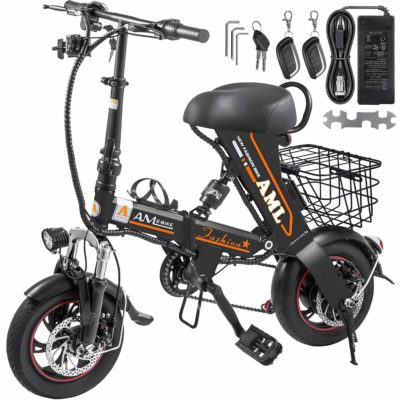 Description:
If you're looking to shorten your daily commute, make a more environmentally friendly commute or whatever the reason is, this bike can help with just that.
Constructed with high carbon steel, this incredibly responsive bike is well worth the price. It has a sort of futuristic hipster vibe going.
The bike has small fat tyres as you can see, the thickness will help absorb any shocks from bumps in the roads. It also has two shock absorbers, one at the front and one in the center.
So you've got more of a chance of cushioning your fall when you go over a bump.
Another nifty feature is the USB charging port the bike comes with. This makes it very easy to use your maps for directions or change the song on your phone.
This bike can carry a weight of up to 330 lbs!
Key Features
Phone USB Charger
Ultimate Shock Absorption
Max load of 330 lbs.
Made with high quality carbon steel
Specifications
Brand: Mophorn
Our Guide to Buying An Electric Folding bike

There are so many different things to think about when picking the perfect bike for your everyday commute. The first point to consider has to be the style, are you looking for an old school bicycle look? Or is a Mountain bike style more suited to you?
The next thing to consider is tyre width. A thicker tyre is better for rougher terrain but a thin tyre can produce more speed as the bike tends to weigh less.
You should also consider the weight of the bike. These e-bikes are designed to be folded up & carried about. I.e carrying them up the stairs into the office.
Ways to choose the best e-bike for your child/teen
There are many benefits
First, it's important to think about your child's ability – if you are choosing their first bike, don't overestimate their ability level. Choosing a bike which is too advanced can be dangerous and difficult, and will put your child off wanting to learn to cycle.
Let your child be involved in the decision-making process when it comes to picking out a new bicycle. That way, they will choose something they like the look of and will be excited to ride, meaning you won't waste your money on something the kids will never use.
Make sure the bike can be adjusted to perfectly fit your child's body shape. You'll want the seat to be able to be raised for when they grow, and it's also ideal if the handlebars can move to make sure your child doesn't get a sore back or neck from being incorrectly positioned on their bike.
Cycling to work & college reduces your carbon footprint
Does switching from driving to cycling really reduce your carbon footprint? If so, how much? Well, lets look at the chart below. Bikes do not require fuel in the same sense as cars. The rider does however need fuel and the chart below gives us a rough idea on how much CO2 emission is released to feed the average cyclist.

Interesting, right? Okay, so how much CO2 emissions does an ebike release?
We won't bore you with the maths but the average CO2 emission for an e-bike is 22g of CO2 per kilometer.
Compare that to a car that releases 271g of CO2 per kilometer!
Saving 249g of CO2 of emission per KM. You're doing the world a lot of good!
If these weren't enough, check out some other picks from Amazon also: