Looking to find the best gifts and toys for children aged 7 years old? We can help you pick a present! Buying toys and stuff for children aged 7 can be fun when you have a mega guide to compare with. In this review guide of the best 56 different toys and cool gifts, we compare what the the toy market has to offer for kids turning 7.
As I am sure you are well aware, children at this age are easier than most to buy gifts for. They are not too old where everything has to be either designer clothes or the latest cool toy out, but instead are open to new ideas, activities, and games. This is why finding toys for 7 year old boys are easier than other age groups and are at a great time to pick presents for!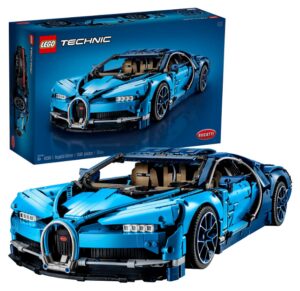 Top Gift Ideas in 2023
Now we know a little more about finding the latest presents for boys, let's review some of the top picks out there. You'll find everything ranging from robots to outdoor toys, so there is something for all tastes and interests.
1. Kids Magnetic dart board
This dart board is one of the most fun gifts for 7 year old boys. It has the feature of the classic dartboard, the difference being that it comes with an inbuilt magnet that holds the dart firmly to the board. Making it much safer for kids, and equally protecting the wall from damage.
The dart is also magnetic and made of materials that are light enough to be thrown by kids as young as seven (7) years old.
Darts is known to greatly improve the eyes and hands coordination of the player. Aside from this; it can also help stimulate your child's brain for basic mathematical calculation since it involves score counting and subtraction.
It's also a game that can be enjoyed by a group of people; thus improving social skills.
Imagine the dartboard hanged somewhere in your child's room? What's cooler than that; for a seven years old kid?

2. Toy Hover Ball game for Boys who Love Ball Games
Does your child love to throw things around? This is the appropriate gift to get them. The hover ball is designed to mimic a typical soccer sport that can be played both indoor and outdoor.
Designed with safety in mind, the edges of the spherical shaped ball is made of soft cushion that protects your child from getting hurt when they play with their foot, and also against the wall when being played indoors.
It's a game that promotes interaction, between parents and the child. Physically, it gets your kid moving about, as against getting engaged in passive activities.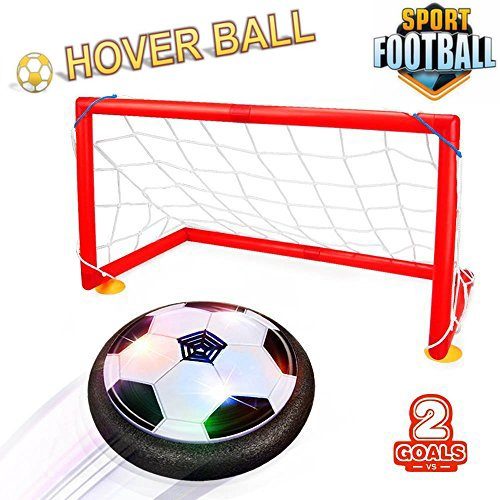 3. Walkie Talkies Gift Idea for Boys Who Play Outdoors
Bring out the security detective side of your child by getting them this little walkie-talkie. If you have kids between the ages of seven (5) and ten (10) in your house, and you're looking for ways to create bonding between them; this is arguably one of the best gifts you can hand over to them.
They've seen movies where police officers talk over walkie-talkies, giving them the opportunity to try the same with their brother is as cool as it can be.
Made of materials that are considered safe for both the kids and the environment. In comparison to other walkie-talkies in the market, the distance covered by this particular product is quite impressive, as it covers roughly two (2) miles with three distinct communication channels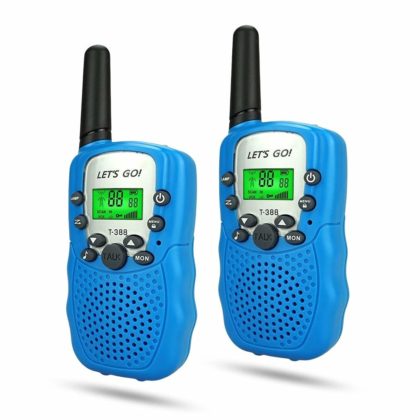 4. Transformers Megatron Action Figure Toy
Megatron action figure will make a cool addition to your kid's action figure collection. It is designed to convert into varieties of shape.
Aside from making a nice addition to the collection, it also brings back the memory of the knight legend, especially for kids that followed the transformer series; it's basically bringing their imagination to reality.
It's a great toy that can help improve social skills in children, as they engage their imagination and discuss different transformer situations with their friends while playing with the action figure.
This is one of the best boy toys age 7 + especially if they love toy action figures, like mine do, then this is a great choice!

5. DROGRACE Children's Camera
It's a known fact that kids like to keep records of their activities; mostly for future use, and partly for their friends. Getting your boy a waterproof digital camera is a cool gift in this era.
If you're worried about getting them a phone with a sophisticated function, then this kid camera is the right way to go. You're basically achieving two things are the same time; getting them a really cool gift, and also stimulating their interest in photography.
This product is designed with top-notch features; it comes with seven different color modes for videos, and an LCD screen for previewing what is being captured. Images and videos are also of high definition quality.
Because kids a notorious for breaking stuff, the product comes with a year warranty, just in case something goes wrong.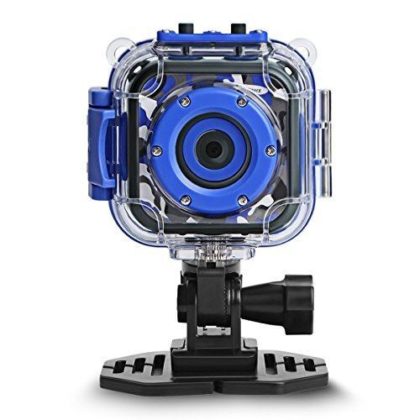 6. Swimline Giant Shootball
For kids and adult, water sport is always fun filled. The Swimline shoot ball toy will add another fun twist to your child's swimming session.
It's like having a basketball hoop right in the middle of the swimming pool. Watch your kids enjoy their play time to the maximum as they target the hoop from different angles of the pool.
The toy promotes physical activities in kids, as well as social interaction because it is well enjoyed as a group game.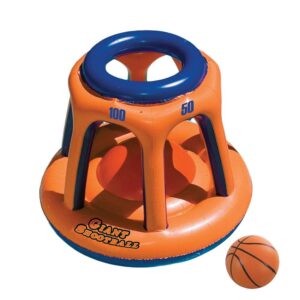 7. Kids Binoculars
When you hear binocular, the first thing that comes to mind is outdoor learning. Kids can learn much more from outdoor activities with a pair of binoculars in their hands.
If you're a family that goes on outdoor activity quite often, getting your boy a binocular is a good idea. They get to view birds and other creatures from a far distance.
This particular product has been carefully designed to withstand the rigorous handling that comes with usage from kids.
The rubber covering is made of materials that are considered healthy for kids. The image rendered is of great quality, as the product comes with a superior lens.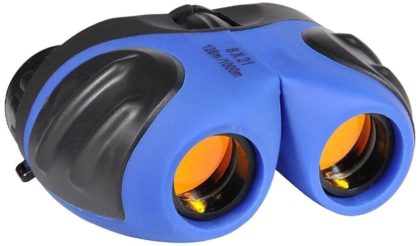 8. LEGO Chain Reactions Craft Kit
Everybody likes watching chain reaction; both kids and adult. It's fun and exciting to see what happens next once the process is triggered.
Encourage creativity in your child by getting them this chain reaction Lego kit. It does not only keep kids occupied, but it also put their hands and mind into a working mode.
This product has ten awesome machine arrangement, the reaction produced ranges from ringing bells to amusing the pet or discarding light item into the trash can.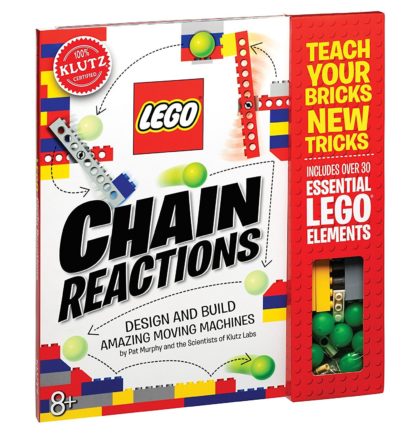 9. Relay Walkie Talkie & SOS Button
Empower your adventurous kid to go father and stay safer. If your 7 year old wants to ride bikes with friends, walk to the park, and be more independent, Relay allows you to stay in touch and always know where he is.
With GPS tracking and an SOS function built-in, Relay is the perfect way to keep in touch with kids who are too young for a cell phone. Kids can talk to parents and pre-approved contacts walkie-talkie style, and with 4G LTE, range is unlimited, nation-wide. Parents can send and receive messages via the free Relay app for Android and iPhone. It even has wearable accessories so kids can't lose it!
Relay is the perfect way to keep independent kids safe: water resistant, durable, with a multi-day battery, your child will love the freedom and fun Relay brings.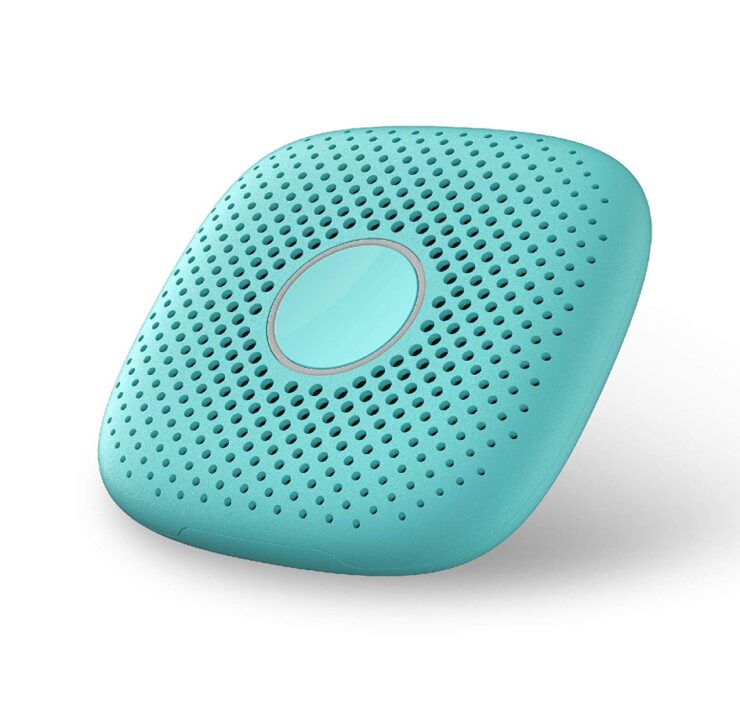 10. Light-up Terrarium Kit
A terrarium is not something you see every day, quite frankly when you hand this over to your child as a gift, you might have to work them through the concept of how it works. But once they understand how it works, they're good to do.
The idea behind a terrarium is to create a garden environment in a jar. The kit comes with various miniatures that could be found in a typical natural garden. Different layers of soil as well as flowers that can be arranged as the child pleases.
It's also made to glow in the night, as the cover comes with a cover with led-light that can be easily recharged using the micro USB cable that comes with the kit.
If you're interested in teaching your kids about the environment, this is one of the best gifts to get them.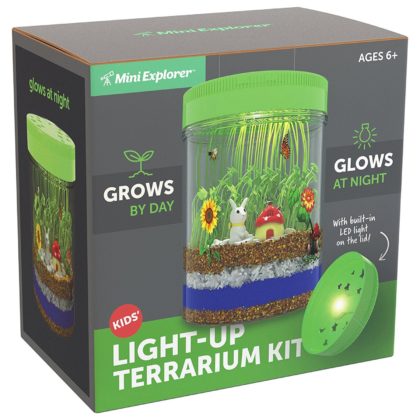 11. Outdoor Exploration Gift Idea
Get your boy geared up for some outdoor with this adventure kit. Usually, educational kits are not fun to use, but this kit has managed to put fun and education together in a bag.
The kit designed for camping, hiking and other outdoor play activities for kids. It comes with a binocular, flashlight, compass, magnifying glass and a whistle, together with a backpack that can be used in carrying the equipment as they step outdoor for fun.
With this adventure kits, engaging your kids with this outdoor equipment has never been easier.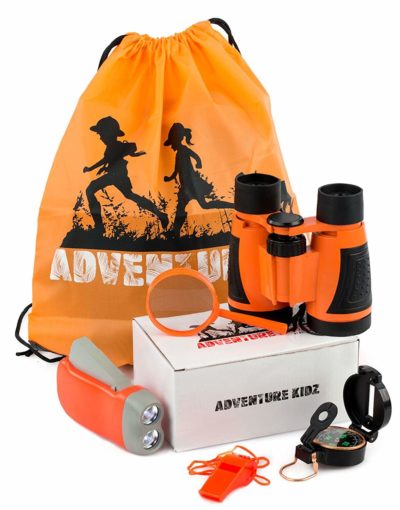 12. Stomp Rocket Stunt Planes – Top Science Gift for Boys
The science of rocket does not have to be theoretical to your kid when there are kits like Stomp Rocket Stunt Planes.
This is cool gift item is designed to give kids maximum fun as they launch their rocket by stomping on the launcher designed to propel the plane attached to the kit.
The kit comes with three different planes with different stunts. The stand is designed to be adjustable so as to influence the direction and angle at which the planes are propelled.
This science kit is designed to be enjoyed as an individual and equally, with friends, it does not only serve an educational purpose, it helps develop kid's social skills while keeping them active as they jump about launching the planes.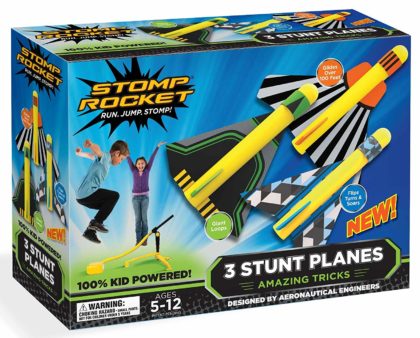 13. LEGO Jurassic World Stygimoloch Breakout 75927 Building Kit
If your child has seen or read Jurassic World, then you should get them the stygimoloch Breakout lego kit. The kit comes with over two hundred (200) pieces that can be used in building their own laboratory.
The educational benefits of the toy include but not limited to; creativity stimulation, memory stimulation, as well as spatial reasoning. For fun; kids attempt to build a laboratory that supports the story behind the breakout from the laboratory.
The good thing about Lego pieces is that; they always compatible with other LEGO construction pieces; giving your child more options for creativity when the pieces are combined with their previous LEGO set.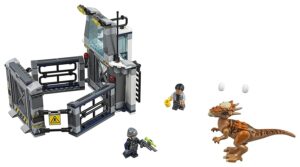 14. VTech Kidizoom Smartwatch DX
Boys like cool gadgets, no matter the age. Bring out the James Bond in your child by getting them this smartwatch as a gift.
The smart device comes with a lot of features, such as camera, games, voice recorder, calendar as well as a calculator. Using this smartwatch requires a certain level of intelligence, which makes it a good approach to stimulating your child's curiosity about tech gadgets.
Aside from the cool features, it also comes in beautiful colors. It's waterproofed and designed to withstand the rough handling that might come from kids.
The battery is rechargeable via the USB cable that comes with the packing. Images and videos captured with the smartwatch can be easily transferred to a computer through the USB port as well.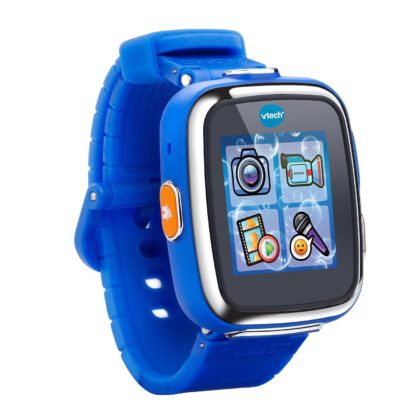 15. National Geographic Dinosaur Dig Kit
Dinosaurs may be extinct, but kids still read about them in schools, and most kids within the ages of seven (7) and ten (10) would have at some point read or seen a movie about a dinosaur.
Getting them this dig kit is a good way to bring their imagination of the extinct animal to life.
The kit is developed for educational purposes, allowing your child to have fun while learning about dinosaurs, as they use various equipment that comes with the kit in excavating fossils from the dig kit.
Turn your child into an amateur paleontologist as they gently uncover real fossils of dinosaurs from the kit.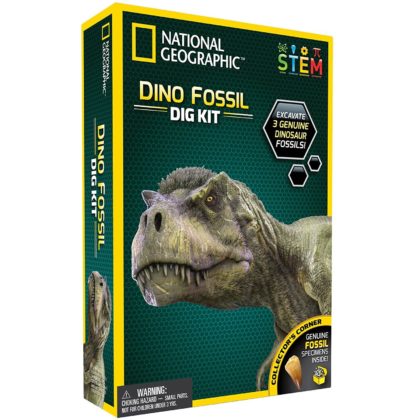 16. Coding Robot Kit – Amazing Geeky Boys Present
This robot is designed to introduce your child to basic programming. The robot is small enough to fit into your child's pocket. It can be programmed to move forward, take a turn, and spin. Aside from that, it can also identify color makers when moving along the path created by the user.
The device comes with markers of different colors, and when the robot runs into the color line, the led light automatically changes to the color of the line.
Educationally, it will introduce your child to coding, develop their critical thinking ability and also teach them to come up with solutions for problems. Creativity is also developed, as users get to decorate their robot with different stickers and colorful wraps.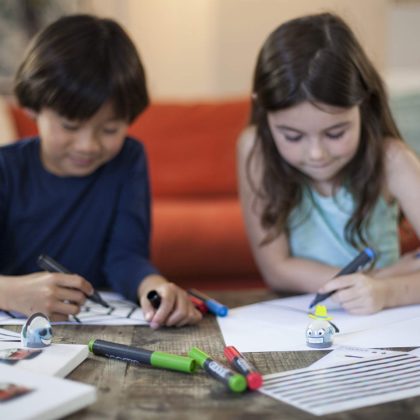 17. Foam Finger Rockets Slingshot
Getting kids to go outdoors and engage in some physical activities is becoming more difficult as most of them would rather stay indoors and watch their favorite TV show or surf the internet.
This rocket slingshot is designed to engage kids in outdoor fun activities. It gets them active, as they move from one point to the other, launching shots towards their target; which are friends or family members in most cases; thus creating a group play environment.
The dual benefit of this toy is to improve physical activities in kids, and also encourage social interaction as they engage in group play using the rockets slingshot.
It is made of foam, thus posing no danger for kids. The rocket also glows in the dark, providing additional play time even into the night.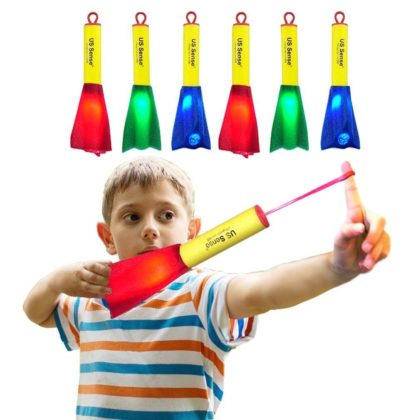 18. Magic Science Box set for Boys into Science
It's never too early to introduce your child to science, and seven (7) is about the right age to get started. This kit is designed to introduce basic science activities to kids.
It comes with four test tube, scoops of two different sizes, citric acid, baking soda, zinc sulfide, some color tablets, and magic wands to make the magic happens. Included in the kit is an activity guide containing various experiments that could be done using the kit.
While carrying out the experiment, parents or supervisor can use the opportunity to teach kids about the fundamentals of experimental science.
This is one of the best toys for 7 year old boys who are into science and magic!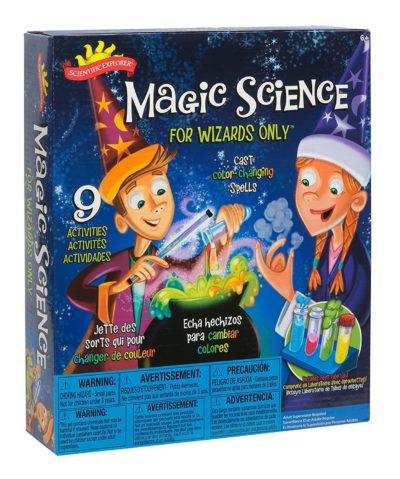 19. Construction Worker Costume – Present for Boys into Dressing-Up
Showing kids construction tools such as hammers, plier, screwdriver etc, might not be enough to get them to remember what it is being used for. But getting them a complete costume play kit would go a long way in reinforcing the name and function of the tools in their memory.
If you're thinking of the appropriate party game of stuck with making a decision as regards the next Halloween costume, this is an appropriate solution. Aside from the educational purpose, it also encourages social interaction, as children tend to discuss the tools and how it is used with their friends.
The material from which the costume is made is easy to clean and also considered safe for kids health.
These are popular boys toys for 7 yr olds into building and pretending to be like dad the builder!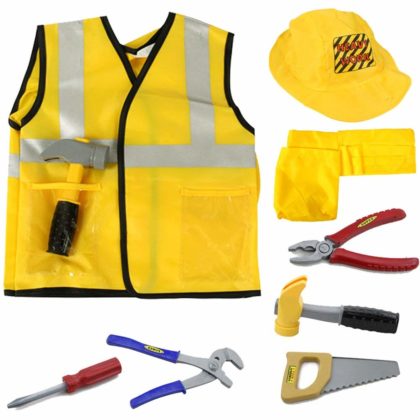 20. Remote Control RC Robot
If you are looking for the ideal gift for 7 year old boy, a robot is simply a great idea! This robot is much more complex than the previously reviewed robot as it is capable of making a more complicated move. Most importantly, the design of the robot is highly futuristic. Very similar in design to robots we see in movies.
The robot comes with a remote control that allows its movement to be manipulated within a 5meter radius. For power, it comes with a USB charging cable, and the battery can be fully charged within two (2) hours for up to three (3) hours of play time.
Children can play with it by themselves, or get into a competition with peers with a similar robot.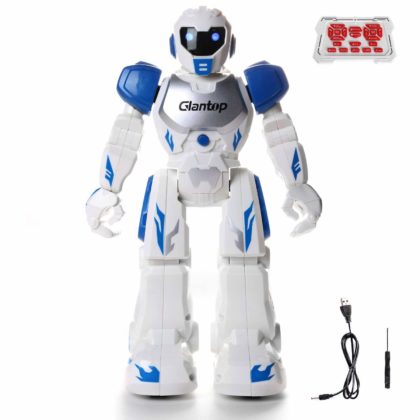 21. Hot Wheels Criss Cross Crash Track Set Gift for Boys who Love Cars
A very fun game to watch and play for kids, it keeps kids engaged for a very long time. The idea behind the track set is to load miniature cars on the track and see who's car would stay on the track at the end of a specified period.
It's a game that can greatly improve your child's social skills as they compete with their friends on who would be the last man standing. The track comes with different spins, greatly increasing the tendency of cars falling off the track.
At the end of the game; there are three possible outcomes to loaded cars, they either fall off the track; crash, or get parked in one of the parking space on the set, or they keep running around the track.
It is made of plastics that are considered safe for kids and can be easily set for both indoor and outdoor use. It is powered by disposable batteries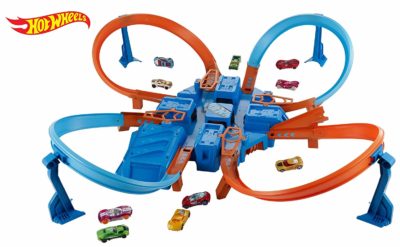 22. Amphibious RC Car Morphibians Killer Whale Toy
The toy is designed to run on frequency control, and the shape is a very interesting one as it is modeled like a whale with four strong tires. The shape of the car is something kids would find very fascinating.
The tire of the car is designed to run through different terrains without any difficulties. As compared to other sophisticated remote controlled car toys, the controller for this particular toy is quite simple, with just two buttons.
Batteries are needed to power the toy.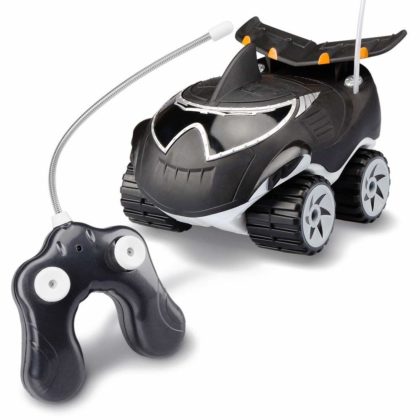 23. Mini Drone for boys Who Love Flying Toys
Drones are a good way to introduce kids to the concept of flying as well as aerial photography. But the best of drones are expensive, making it a good idea to use toys like this to teach kids about flying a drone before they advance to something more sophisticated.
This mini-drone does not have a camera function and is controlled only by the controller that comes with it. It has an inbuilt battery that can be easily recharged using the USB cable that comes with the device.
To make it easy for kids to take off and land, the controller has a dedicated button for this purpose. Another notable feature is the speed adjustment option, allowing you to set the appropriate speed as your child master the drone flying skill and graduate into higher proficiency.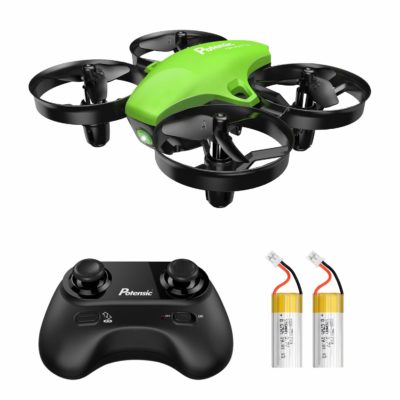 24. Door Basketball Hoop For a Sports Gift Idea
Getting kids to separate clothes that are due for laundry is a difficult task. More often than not, they prefer to throw dirty clothes all around their room; making a mess of the room itself.
The idea behind Wham-O-Hamper is to add fun to the process of sorting laundry due cloths. It's designed like a typical hoop for basketball, but with a zipper bag attached to the bottom of the hoop.
It can be easily attached to the back of the door as it is designed to fit perfectly over the door. Kids can also use the hoop for basketball by unzipping the laundry bag when it is not in use. Thus providing additional benefits of keeping the room tidy and encouraging physical exercise in kids.
For kids into throwing hoops and playing ball, then these are the best toys for 7 yr old boys into basketball.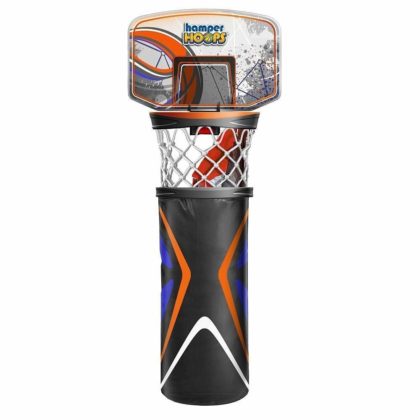 25. Outroad Web Swing
This is the perfect outdoor swing gift for your child. It is designed to encourage kids to stay active. Made from a thick rope that can withstand kids weight without falling apart; roughly 200LBS as suggested by the manufacturer.
The swing comes with a hanging rope as well as a ring. The hardware is also very easy to install and also can help create quality family time with the kids. All you have to do is find a good place for it in the backyard, and you're ready to go.
Aside from the physical activities benefit, it can also help build courage and perseverance as they go back and forth playing with the web swing. Kids can go about pushing one another by taking turns on the swing.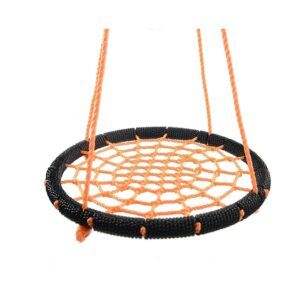 26. Educational Construction RC Racer Building Blocks
Engage your kid's creativity by getting them one of these racing blocking set. From the block set, they can create two different cars by arranging the pieces in different forms.
The racer built can be controlled using RC. The remote control is powered by AAA batteries, while the toy engine itself is powered by a rechargeable US battery.
If you're interested in improving your child's hands-eyes coordination, as well as stimulating their creativity. The game also helps in building social skills. Kids can engage in racing competition with their friends as they maneuver the toy using the remote control. They can also place obstacle along the path and try to dodge the obstacle; making it more fun to play with.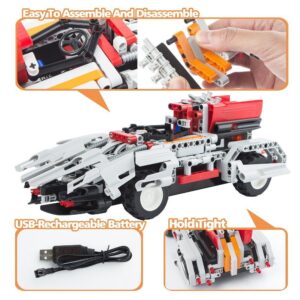 27. Playz STEM A+ Kids Chemistry Junior Experiments
The best way to learn is by showing how it is done. This is exactly what the Playz STEM A+ kit offers. It's like gifting your child their own minilab. It literally brings a chemistry experimental laboratory to your house. And for kids with great interest in science, it's a perfect educational toy.
The kit comes with over 32 different science experiment that can be done right with adult supervision. The basis of these experiments is chemical reactions, and they're carefully designed to initiate discussion about complex chemistry concepts such as reaction rate and the overall basis of chemical reactions.
It also comes with a comprehensive guide for each of the experiments. so you don't have to worry about how to get it to work as a parent. It can be used as a group science kit, or individually by the child.

28. Tot Tutors Kids' Toy Storage Organizer
Often are times when kids toy and playset gets littered all over the house. In most cases, they don't bother storing it properly once they're done playing with it.
This storage organizer is a good way to keep everywhere neatly arranged. It's basically a storage for kid's toy. The benefit for them is that they get to access their toys easily when they need it, on the other hand for parents, it means keeping the house cleaning, and avoiding the stress of searching for kids favorite toys when it is needed.
The organizer comes with twelve (12) plastic bin, giving room for more items that the toy. Some people use the bin for other purposes; such as collecting dirty laundry as well as books.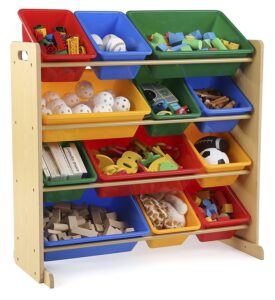 29. Interactive Talking World Map for Kids
Educational toys are designed to be fun and educative at the same time. This toy fulfills both objectives perfectly. Teaching seven (7) years olds about different countries of the world is a difficult task, but it could be extremely easy when you have tools like this at your disposal.
With over 92 facts about countries pre-installed on the map, kids are bound to have a fun time when they play with the talking map.
The talking map is battery powered and can be easily replaced when needed. It is designed to fit perfectly on walls and floors, depending on the user's preference.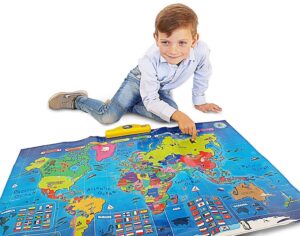 30. TOP BRIGHT Toddler Toys
This car race ramp is made of wooden material as compared to the previously reviewed race track. It's a completely mechanical toy and does not require a battery to function.
It has four wooden track that different level, which is carefully positioned for the cars to slide from one level to another. The game is designed to stimulate social intelligence in kids, as it is best played with friends.
The finishing is of bright colors, making it more attractive to kids. It equally stimulates natural observation in kids and helps improve fine motor skills. It keeps the kid entertained all they long as they try to figure out the mechanism behind it's functioning.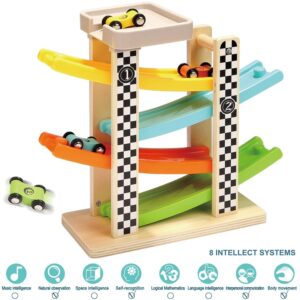 31. Ball Pitching Game Machine
This machine can be used in pitching both baseball and tennis. If you have a kid with a great interest in a sports activity that requires a partner; baseball or tennis for example; it's required that you dedicate enough time for them when they want to practice. But what happens when you don't have the luxury of time as well?
This is exactly where this pitching game machine comes in; it basically throws the ball at your kid, taking the place of a second player. It is designed to slowly release the ball from the first channel and then propel it at a higher force from the machine.
The machine uses 4D batteries and can store up to six balls at a go. Like all other sports; it can encourage kids confidence as well as exercise outdoor.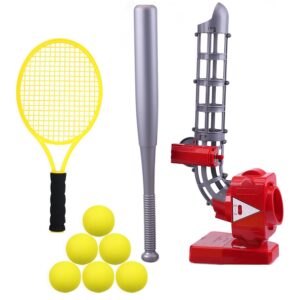 32. Infrared Laser Tag – Laser Gun Set
Bring your kid's imagination to life by getting him this laser tag gun toy. They've seen laser technology in their favorite movies, and as such would find such gift very cool when handed over to them.
There are a wide variety of games that could be performed using the laser toy gun. It comes with four different types of ammunition with a traveling distance of roughly 100ft.
This help in developing kids social skills as they interact with friends while making use of the toy. For safety and health purpose, the materials from which the toy is made is completely non-toxic ABS plastic. And the infrared is equally very safe as it emits below 1mW laser.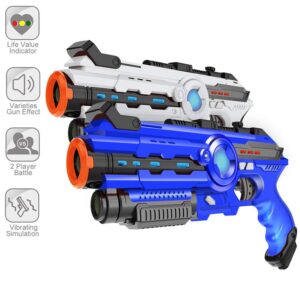 33. iPlay, iLearn Golf Toys Set
The game of golf requires great attention to details and good hands and eyes coordination. This toy is developed to encourage your child's interest in golf.
It is designed to mimic the actual game with a slight variation. The golf ball is in a dozen, and the kit contains two gold club. It's an interactive game; best played between an adult and a kid. The idea is to create an emotional bonding between the parent and the child.
Other than improving the hands to eyes coordination, it also encourages physical activities, being a game that requires constant physical movement, social interaction as well as patience is also part of the things kids can learn from the game.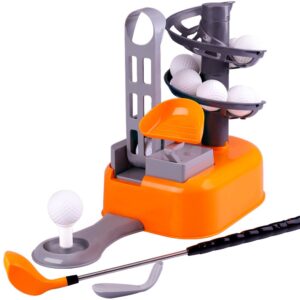 34. Delta Children Chair Desk With Storage Bin
Kids love to have their own space; when it comes to eating or completing artwork. This sturdy chair and table is the perfect gift for such instances. The desk is designed to be used by kids for eating or playing purpose.
It comes in three different designs, two Disney character, and a PAW patrol design. All of which is very colorful and would attract your child to frequently make use of the desk.
It has a bin beneath the seat, where playbook and other small play toys can be stored and easily retrieved. Made from recycled wood, the desk is very sturdy and can withstand a reasonable amount of weight. The color and the plastic parts are made of non-PBA materials, making it safe for kids.
It is also quite easy to clean, in cases of a spill or color stain, and the color does not fade away over time.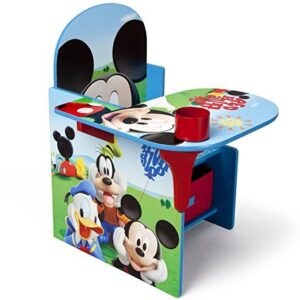 35. Joyjam Toys Wall Climbing Car RC Cars.
When you hear car toys, only the floor terrain comes to mind in most cases, but this particular car toy is different. Its uniqueness lies in its ability to run both on the floor and on the wall without crashing.
It's a remote controlled car toy, with infrared technology installed on the controller, allowing more distance between the car and the controller.
The car is designed to make forward, and backward movement, as well as a 360-degree rotation. This makes the entire experience more fun for kids. The car is fitted with an inbuilt rechargeable battery, while the controller uses six (6) AA batteries.
The design is quite elegant for kids and the materials from which the RC car is made of if non-toxic.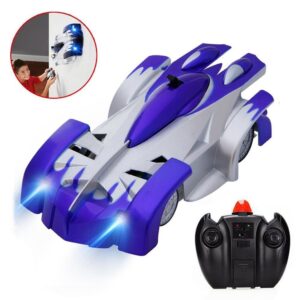 36. LEGO Technic BASH! 42073 Building Kit
With over 120 pieces of lego, improve your child's spatial reasoning ability as they build a 3D fast racing car from their lego pieces.
As compared to other car toys that have been reviewed so far in this article, this Lego technic is built to run mechanically without any battery or power source. It is designed for impact, such that the engine pops out once it runs into a barrier and the child is left with the task of building the car all over again.
The toy is compatible with other lego creative building piece, giving room to more fun and creativity.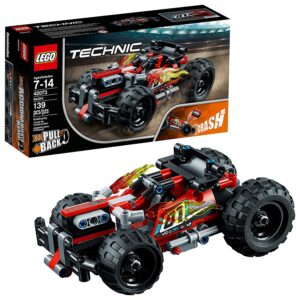 37. TrueBalance Educational Toy
Taking a break from the battery operated toy, the true balance toy is made from well sphere shaped plastic, stacked on one another, and does not require any power source. Kids and adults find this educational toy very fascinating as it gives an educative obsession over a cell phone.
The objective of the game is to develop cognitive learning as well as coordination in both kids and adult. The toy is built to withstand kids rigorous use.
If you're keen on improving your child's fine motor skills and focus ability, this is the best toy to get them.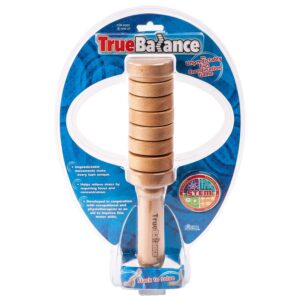 38. Razor A5 Lux Scooter
This scooter is built for older kids, as it comes with extra large wheel, and capable of supporting up to 220lbs of body weight. The tube is made of strong aluminum providing an extra layer of safety for kids.
One of the major issue with scooter and bike is storage. This product is very easy to store and move about. Made to be customizable to your child's specification, with an adjustable handle, and equally super comfortable with the extra foam grip.
It's designed to be ready for use on the go, with no need for assembling.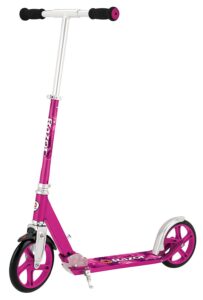 39. Rimila Electric RC Stunt Car 2WD Off Road Remote Control Vehicle
Strong, fast, powerful and stunning are the right adjectives to describe the RC stunt car. It is capable of making forward and backward run, turn left or right or make a complete spin all with a push of two buttons. It comes with a tri-axial suspension system, allowing maximum control manipulation in different directions.
As regards the speed, it can go as fast as 12km/hr, and the distance between the car and the remote car be as much as 60meters.
Made from materials that are non-toxic for kids. With a new battery, it can provide roughly 30minutes of run; non-stop.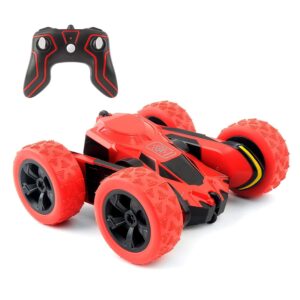 40. Dynacraft Magna Throttle Boys BMX Street/Dirt Bike
Bikes are for big boys, and what better way do you make your child feel like a big boy than getting them a big boy gift?
This Dynacraft Magna dirk bike is built to last for years. With the ability to support up to 105lbs, and a patent frame design, your child is good to go as he rides about the street.
The saddle is well padded for comfortability purpose, directly extending riding time for kids. Whether he's just learning how to ride or not, the braking system is very important. The bike comes with a coaster brake on the rear wheel of the bike, giving complete control of the bike speed. If the saddle is too high for your boy, it is completely adjustable making it perfect for kids of varying heights.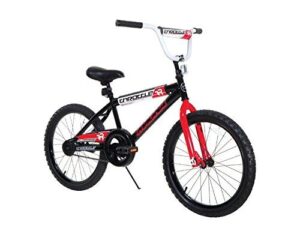 50. Battleship with Planes
Board games make great gift ideas for 7 year old boy, and Battleship is a classic! This one has a new and exciting twist – it now includes airplanes as well as ships. This is a two-player game and the cases are easily portable making it a great game for traveling with. Players take turn to guess coordinates and their opponent replies if they have hit their ship or not. The winner is the first player who correctly finds all of their opponents ships on the board and sinks them all.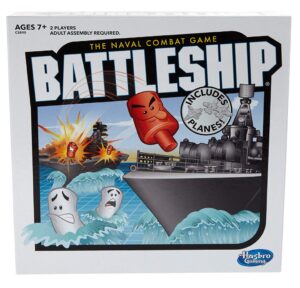 51. Bounty Hunter Junior Metal Detector
Are you looking for more unique and interesting 7 year old boy gifts? Then this metal detector could be the ideal choice. It has discrimination control to ensure it won't pick up on unwanted items, and has 3 target ID categories. There's a battery level indicator to show how much battery life is left, so it won't run out unexpectedly. The detector is lightweight and ergonomic making it easy for little kids to hold and use.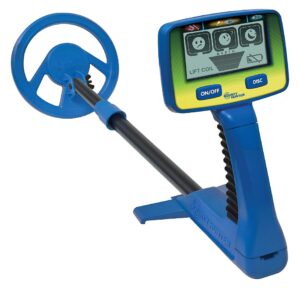 52. Disney Hedbanz
Party games are ideal 7 year old boy toys, great for giving on his birthday when he can play them with his guests. Disney Hedbanz is great for Disney fans, and is suitable for up to 4 players. The headbands are shaped as Mickey Mouse ears, and there are 48 different characters included. There are also 55 clue cards which are used to help players figure out who they are. The game is great for promoting reasoning abilities, and is loads of fun too!


53. Osmo Genius Starter Kit
Osmo is one of the coolest gifts for a 7 year old boy! It's an interactive iPad game which combines physical elements with video gaming for a unique, educational gaming experience. It's suitable for kids up to 10, so you can be sure he will get many years of enjoyment from the game. The game comes with pieces such as tangram shapes, number and letter tiles and 5 games to use the pieces in. Various generations of iPad are compatible, including the mini and pro, although of course this needs to be bought separately.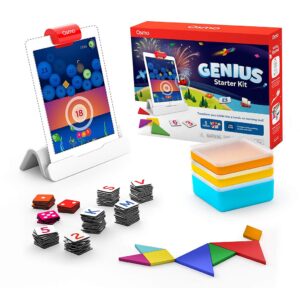 54. EzyRoller Drifter
The EzyRoller is the best gift for 7 year old boy who loves to play outdoors. It's a unique ride on toy which is easy to use, simply move the feet in an alternate pattern to propel the kart forwards. The rear wheels are designed to allow easy drifting, which ensures boys are in for a fun ride! The seat is comfortable to use for long periods and there are extension pieces which can be used to extend the footrest as your boy gets taller. It can hold up to 150 pounds too, so they are sure to get many years of use from it!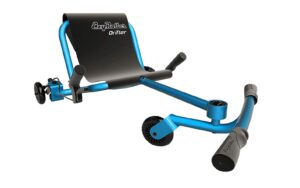 55. LEGO Ninjago Stormbringer
LEGO is one of the most popular toys for seven year old boy, and the Ninjago range seems to be well-liked at this age. This kit has almost 500 pieces and is used to build an impressive model of the Blue Dragon. It comes with 4 minifigures and weapons for the ninjas to use. The dragon's mouth can open to reveal a spring-loaded shooter and the tail can also swish from side to side. The neck, legs and wings are posable, so kids can have hours of fun playing with the dragon, or leave it on display in their room.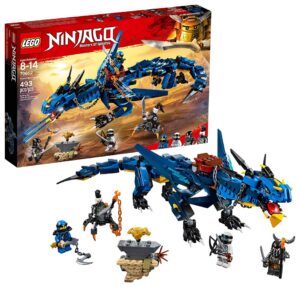 56. KNEX 100 Model Kit
KNEX is one of the top toys for 7 year old boy and this set can be used to build a whopping 100 models. There are over 850 pieces included – classic KNEX rods and connectors which can combine in a variety of ways for versatile building. The strong suitcase is ideal for keeping the pieces, and half-finished models, safely stored together when not in use. So, boys have no excuse for not tidying up after themselves!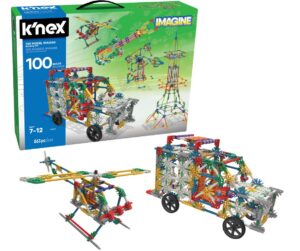 Best Buy Overall
Our top gift for 7 year old boy is the coding robot kit. It's never too early to start getting your son interested in coding, and this robot does just that, in a fun way which is easy for 7yr olds to understand. They will have hours of fun learning new skills and expressing their creativity. Who wouldn't want their own pet robot on a special occasion?!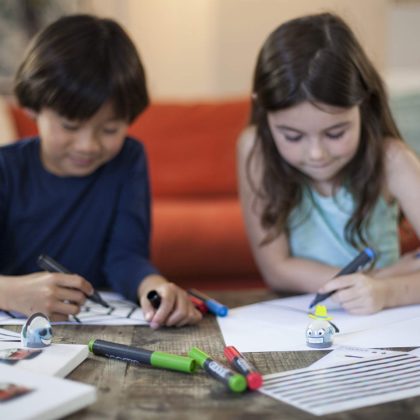 Best Budget Gift
Our best gift idea for those on a budget is Battleship. It's a classic game which parents will love to play with their son, and is also easy to take when traveling. Boys can use and develop skills such as reasoning and planning ahead when playing Battleship, so it's fun as well as educational!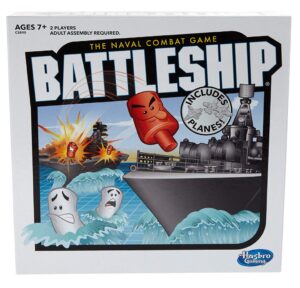 Considerations when choosing a present for 7 yr old boy?
Children at this age are more capable of doing certain types of activities and out sports, so a gift idea that involves being outdoors is something to consider. At this age, they should be able to ride a 2 wheeled bicycle and perform certain movements like spinning, twisting and fast turning. There are certain toys and games that we have added into the review that are ideal for improving their skills as well as have fun!
What to get a 7 year old Boy on his Birthday?
Birthdays are important to kids and for them, it's one of the most important days of the year, so finding the boy an amazing birthday gift is probably, in his eyes, something mom and dad should take really seriously! There really are loads of gifts for kids aged 7 and with some casual online browsing, you'll sure to find something that will make his birthday unforgettable! In this review, there are creative toy ideas, Lego games, indoor and outdoor toys. Make sure to pick a birthday toy that he will get hours of fun out of, so depending on whether your child enjoys playing outdoors or indoors there really isn't too much to consider. I would always spend a little time, however, finding out what his latest interests are and see if he casually mentions something he wants or if like mine he will just get right out there and let you know!
Best Types of gifts for boys aged 7 at Christmas?
Everyone at Christmas likes to play some type of family game or board game, it's a great time to spend together having some family bonding time. There are loads of 7 year old boy Christmas gift ideas in this review that fit the remit and will help keep the kids entertained for hours.