Magnetic toys are popular with children from the age of two right through to teenagers. There are a variety of magnetic toys on the market, but which one is best suited to your child? Here we look at the top 12 magnetic toys and review each one, helping you to choose the best magnetic toy for your child.
Remember, magnets to play with are not suitable for children under the age of two due to small parts and the risk of swallowing magnets. Please ensure any older children play with the magnetic toys away from younger siblings, and that they tidy the toy up behind them. Supervision should be given at all times when children are playing with magnetic toys.
Below we have listed 12 cool magnets to play with, from unique children's magnets set to magnetic dart boards and loads of other sets to give to your child some educational fun and new activity to enjoy.
12 Best Magnetic Toys for Kids
1. LeapFrog Magnetic Letter Set
This yellow magnetic toy for kids. It comes in 2 different colours, yellow and pink. They are very reasonably priced. This toy is designed to stick to the fridge along with the magnetic tiles. It is designed for your child to sing along and learn the alphabet. It includes 26 colourful A-Z tiles that can talk and a magnetic tile reader. There are many different skills your kid can learn with this toy, including their phonics, their vocabulary, the alphabet and fine motor skills. As well as the alphabet, this toy also sings wheels on the bus. Place the tiles on the bus window and press them to hear. Hearing the sounds will help with learning your phonics, reading and it will strengthen the child's coordination skills. Over all, this is the perfect learning toy from ages 3+.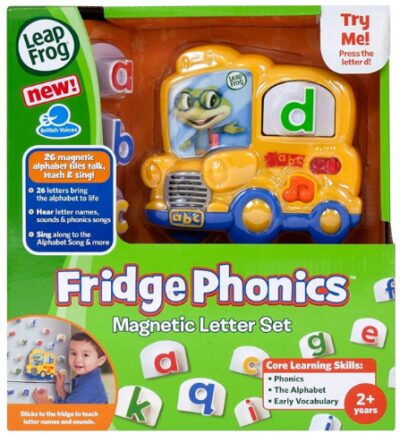 2. Magformers Magnetic Building Blocks
This toy is a 30 piece set containing magnetic building blocks. It comes in 4 different styles, classic, my first, inspire and standard. All magnets toys for kids styles vary in price but are all well priced. This toy is recommended by parents. Magformers magnetic building blocks are made from plastic which makes them easier to build with. The shapes come in 4 different colours which are blue, teal, purple and pink. The set contains 30 pieces that consist of 12 triangles and 18 squares. The magnets are made from Neodymium. Neodymium is Rare-Earth magnets for guaranteed connectivity with the blocks. This toy is also adaptable with any other Magformers shapes and accessories.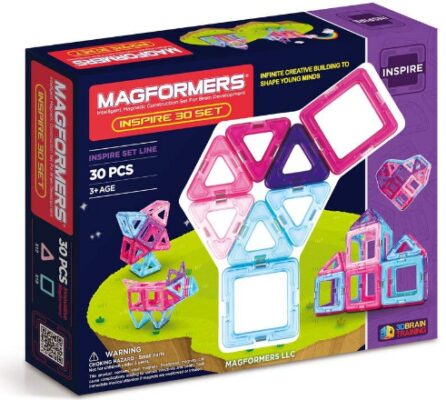 3. Magformers Log Cabin
Magformers Log Cabin is an entertaining, bright and colourful building set for children aged 3 and up. This product I currently on sale at a bargain price. This set includes 87 pieces. 10 of which are accessories. The accessories make the building much more fun because you can style it how you like. It has many geometrical shapes. You use building techniques to create your very own cabin, tree houses and much more. When building this toy, you will always hear the Magformers click. This is because each shape contains magnets that never reject. Decorate your creative project by connecting walls and balconies. You can also add ladders and windows. Not forgetting that you can plant trees, lay turf and build fences. This toy is very high in quality and is a great reliable product. It is a fun and creative toy for kids to enjoy.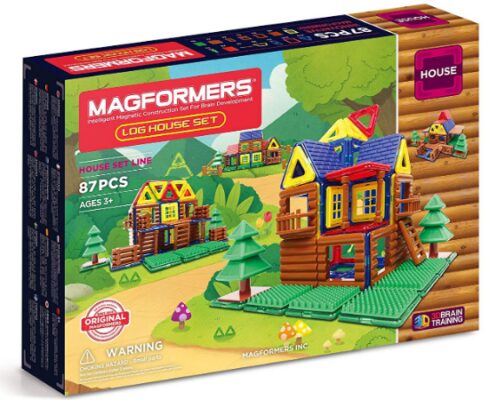 4. Girls Sweet House Magnet Set
Magformers Sweet House Set is a 64 piece set aimed at girls. This is also an extremely good price and perfect to buy your child as a gift. This toy is not suitable for children under the age of 3 years due to small parts causing a choking hazard. It has 4 geometric shapes and even comes with a step-by-step idea booklet guide. This toy can be used with any other Magformers sets which makes playtime more fun. The magnets are Neodymium magnets for certified connectivity. You use different building techniques to build your own creative hotels, mansions, houses and many more. With the accessories included, you can add your very own windows, balconies and stairs. You can even create your very own stories and build a vacation villa for yourself. Magformers sweet house sets and endless building opportunities that will keep you child entertained for many hours. This product is very high quality and reliable.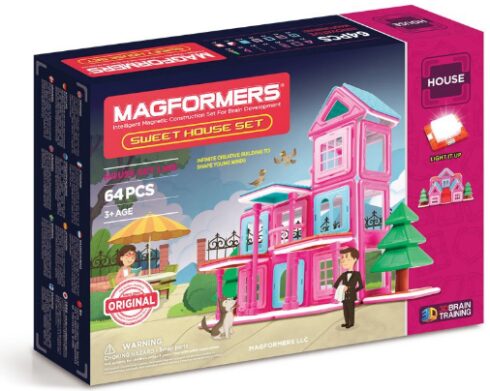 5. Magformers Magnetic Tiles Kit
Magformers Magnetic Tile Kit is a 26 piece building set for kids aged 3 and up due to small magnets that it contains. This is highly rated and recommended by parents who have purchased this and is very affordable. This building kit comes with one LED light. This makes the set more appealing and fun to kids. You make 3D builds from 2D nets. It also comes with a step-by-step idea guide for inspiration on what to build. The magnets inside are Neodymium for certified connectivity. The building blocks are squares and triangles so you can make whatever 3D structure you like. Some things you can build are houses, towers and your very own magic ball. Magformers Magnetic Tiles Kit has endless building opportunities and the LED light will make your project look 10 times better. Your child's imagination will allow them to build anything they can create. It is made from high quality ABS plastic. All kids will love this toy and will keep them entertained for hours on end.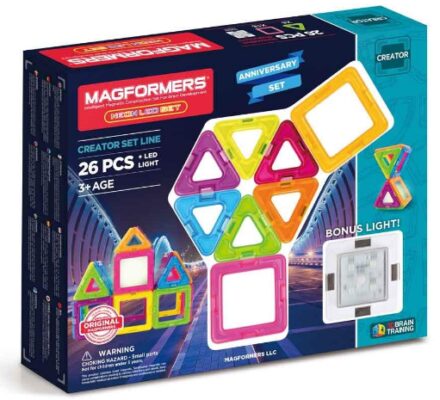 6. FunEdu Magnetic Toy Set
FunEdu Magnetic Toy Set is a 100 piece set for children ages 3 and up, parent supervision is advised if the child is under this age. It comes with various shapes and wheel bases. It even comes with tiles that have animal images on for the younger children. This product is made from high quality and non-toxic transparent ABS plastic. ABS plastic is prevents the tiles from cracking or scratching. This is a bonus because kids love to throw things around. The magnets are exceptionally strong and this will save the building from crashing down. This toy is also adjustable with other brand magnet toys. It is very colourful which is appealing to kids, it is extremely good for the child's creativity. Their imagination allows them to build what they want. FunEdu Magnetic Toy Set has hours of endless fun.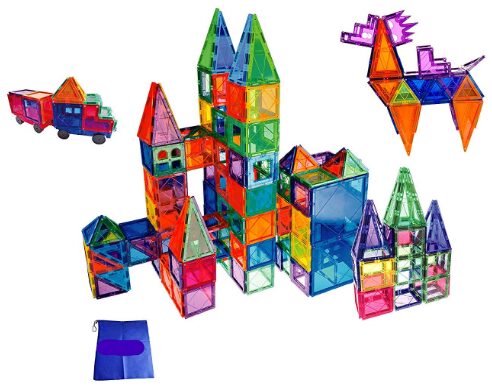 7. BizyBeez Sensory Magnets
BizyBeez Sensory Magnets is a 41 piece toy for ages 3-12 years. It is rated 5 stars and is recommended for children who suffer from Autism, ADHD, anxiety and other special needs. It is also made for both boys and girls. The product is a little more on the pricey side but highly worth it. This toy is amazingly high quality that lasts a lifetime. It is not recommended to children who become frustrated easily as their construction may fall apart. There are 4 fascinating textures that will help kids mind be focused and calm. This toy is perfect for preschools, nursery, home school, daycare and occupational therapy. BizyBeez Sensory Magnets will engage with your child while stimulating cognitive development. It contains 41 jumbo sized building set, portable play board and colourful textured pieces. The play board makes this product excellent for traveling, it is used as a base so it can be used anywhere. This toy is made from non-toxic ABS plastic, it also comes with a storage bag. It is hours of imaginative fun for your child.
8. Playable Building Set Blocks with Magnets
Playable Building Set Blocks with Magnets is a 100 piece thinking game. It comes with many different accessories and is suitable for children of all ages, boys and girls. It is perfect for families or kindergarten. It is said to have been the "perfect gift" to keep children busy. This is highly recommended by parents who have previously purchased this. With this, you can build 3D projects such as towers, animals and cars of any kind. It keeps toddlers engaged for hours on end. This is the perfect gift for any occasion, it helps kids discover and learn new things. This is an amazing toy to introduce children into engineering. Playable Building Blocks is made from ABS non-toxic plastic which does not scratch or crack as these toys are built to last. It is very high in quality. It also has reinforced screws to stop the magnets from falling out. This game encourages children to analyse physics. It gets them thinking as it uses science.
9. Popular Playthings Vehicle Magnets
Popular Playthings Vehicle Magnets is a 21 piece mix and match set for children of all ages, if the child is under the age of 3 then parental supervision is advised due to small parts that are a choking hazard. This toy is affordable and recommended by parents. It keeps the child very busy. If your child loves anything to do with transport then this toy is for them. It contains 21 pieces that makeup 7 magnetic vehicles, the vehicles you can make are a train, boat, car, space shuttle, plane, fire engine, and a hot rod. They are extremely easy to put together with the magnetic locking system. This toy allows you to make over 1000 vehicles with only 21 pieces as you mix and match. Playthings Vehicle Magnets gives your child hours of intense endless fun.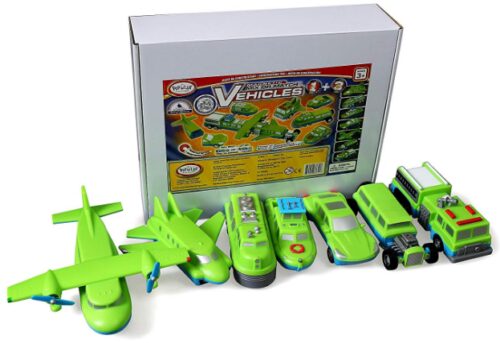 10. GLOUE Blocks Box Set
GLOUE Blocks Box Set is a magnetic toy that retails for an exceedingly cheap price. It is highly rated and recommended. It is made for children aged 3 years and over. This toy is very colourful which is appealing to children and has 64 pieces. It contains 30 triangles with 4 longer ones and 30 squares. The pieces come in a clear plastic container to store them in and also with a idea booklet for inspiration on what to build. The plastic is non-toxic and durable (made from ABS plastic). The edges are rounded off, not sharp points. This toy uses the child's imagination and creativity. It also challenges their problem solving and thinking ability. This toy is very good quality and is long lasting. GLOUE Blocks Box Set is very entertaining and educational as it allows the child to be as creative as they want. There are hundreds of different structures you can make with these shapes. This toy is hours of fun for kids and it keeps them busy for hours.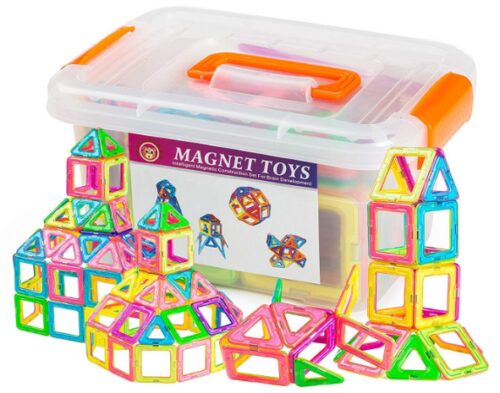 11. Melissa & Doug Wooden Magnetic Set
Melissa & Doug Wooden Magnetic Set is a responsibility chart for kids. It comes in 2 different styles, personalized or standard. They are two different prices but still so affordable and worth buying. This chart has 90 magnets. Some magnets say things like "clean room" or "set table" others then have rewards such as "brilliant" or "amazing job". The chart has a column for everyday of the week. It helps the children be the best version of themselves. It helps children set and achieve their goals, they receive awards for all of their achievements. Keep the magnets well away from small children. You will see your child's behaviour improve massively and they will take full responsibility for their actions. Some parents have said this chart has improved their child's behaviour in many ways.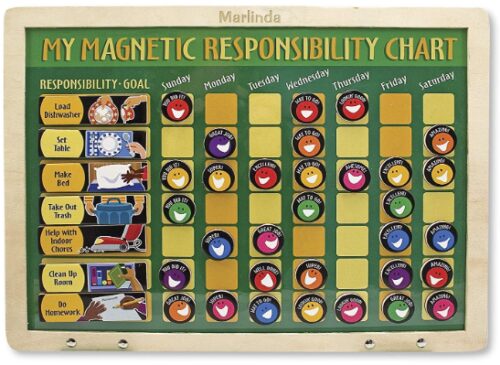 12. Magnetic DartboardDeluxe Set
Magnetic DartboardDeluxe Set is a deluxe 2-in-1 reversible magnetic dartboard. It is very cheap to buy and great entertainment for everyone. This toy is highly recommended to keep the children happy with hours of fun ahead. The dartboard has standard darts on one side and a game of baseball on the other. It comes with 10 magnetic darts, 5 of which are red, 5 are yellow. It is a fun game to play in the playroom, bedroom, office, school, home and much more. It is a great game and very easy to hang up. The magnets are very strong and do not fall off. The game is recommended for ages 5 and over but it is a family friendly game and safe for youngers. The dartboard is good quality, lots of fun and a spectacular gift.
How we Evaluate the Best Magnetic Toys for Kids
Toddlers aged 2 Years old 
It is important to give close supervision to toddlers whilst playing with fridge magnetic toys or other various types of magnets, to ensure they do not put them in their mouth or swallow them. The Playable Building Set Blocks comes with 100 pieces and is designed to keep toddlers engaged for hours. Parental participation and supervision is essential. Help your children to build cars, houses, towers and more. The set is constructed with nontoxic plastic and reinforced screws to keep the magnets safely in place.
Toddlers aged 3 Years old and Up
For toddlers aged three and over, the Melissa and Doug reward chart is ideal for reinforcing good behaviour. Parental supervision is essential to ensure the child does not put pieces in their mouths. Your toddler will love this magnetic play set as it helps them achieve goals and practice good behaviour. We have some of the best magnetic blocks available in this review and are great for younger children.
Kids aged 6 to 8 years old 
Kids in the 6 – 8 years old age range will enjoy magnetic games that are both educational and fun. The Magnetic Dart Board Set will provide the family with hours of fun. The easy to hang dartboard makes a great gift. Children of this age can play more independently with magnetic toys and don't require such a high level of supervision.
The Bizy Bees Magstick STEM toy is brilliant for children aged 6 to 8, particularly for those with sensory issues. It stimulates cognitive development whilst being fun.
New Toy Learning Magnetic Principles 
Magnetic toys provide the opportunity for children to learn through play. The variety of magnetic toys available can offer children to learn thinking skills, language skills, coordination skills and maths skills. There are a variety of STEM magnetic toys on the market that will enable older children to learn science, technology, engineering and maths skills. Learning through play is vital for children of all ages. Magnetic toys are suitable for children from the age of two years old, however, they require parental input and constant supervision to prevent the child putting the magnets in their mouths. There are a variety of magnetic games available geared at certain age ranges. Ensure the magnetic toy you buy is age appropriate and matches the abilities of your child. As the child gets older, they can play more independently with magnetic games and can learn through experimentation. Some games such as the magnetic dart board allows children to play in pairs or small groups to foster socialisation skills.
F&Q's
Are certain types of magnetic toys dangerous for kids to play with?
When selecting magnetic construction toys for your child, ensure you check the age range the toy is aimed at. Buying a magnetic toy that is aimed at a higher age range than your child could mean it contains small parts or small magnets that may be easily swallowed. Always supervise your child when they are playing with magnetic toys, especially toddlers. Whilst most of the toys are created with non-toxic plastic, it is still important that your child does not put the toys in their mouths. Swallowing magnets could be dangerous. If you notice you are missing magnets from a toy set, or that your child has found the magnets whilst you were not present, seek rapid medical assistance.
Magnetic toys for older children are safe, as long as they are not prone to putting toys in their mouths. Remind the child to ensure all of the magnets are carefully put away after use.
Will they allow my child these magnets on the airplane?
According the Transportation Security Administration in the USA, children can take magnetic toys in both carry on bags and checked in bags. Magnetic toys provide a great distraction to your child on a long plane journey, and are ideal for helping to pass the journey time.
Can older children play with magnetic toys without getting bored?
There are a number of kids magnet sets suitable for older children. STEM toys, in particular, are aimed are older children and helps them learn science, technology, engineering and maths through play. Magnetic toys for older children can keep them entertained for hours.
Where is the best place to buy this product?
All of the products in this review are available online from Amazon. A number of the toys can also be picked up from local toy stores or educational stores. Buying from a physical store can allow you to look at the product in more detail and decide which ones are best suited for your child/children. However, all of the details of each toy are listed if you decide to buy online.
Do magnetic toys distract kids from play with their online devices?
Magnetic toddler toys are a great way to get children away from the TV or games console. They can provide hours of fun and learning through play and are an excellent distraction from online devices. Playing with magnetic toys offers your children learning opportunities that are not afforded to them when playing online, such as perfecting manual dexterity and fine and gross motor skills. They also offer coordination and problem-solving skills.
Our Sources 
Jenn Choi, Informative feature guide – Parents are buying the wrong toys
Informative article on the Dangers of Magnetic Toys by healthychildren.org
Great Tips by Johanzynn Gatewood on "keeping keeps busy on airplanes"
Informative Guide by Kuwait Times on magnetic toy hazards