One of the most difficult choices parents have when it comes to buying toys for their kids is finding that delicate balance between things that are fun but also help our child develop and learn.
As child psychologists and behaviour specialists have been telling us for decades, toys and play sets which are designed with learning and education in mind will give perfectly complement the learning that our children have in their education, and help advance their abilities in problem-solving and analytical thinking, and many of them are designed with STEM learning in mind.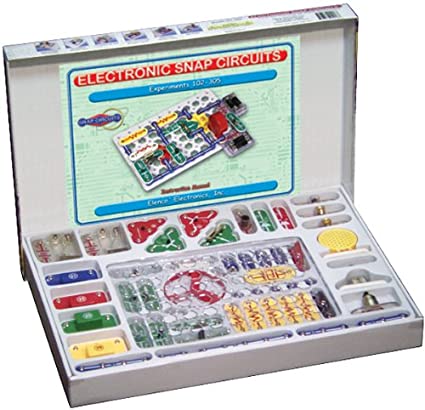 Science toys and gadgets for kids perfectly fit into this niche; your children will have a blast playing with them, yet they have immense benefits to their motor, cognitive and soft skill development. As you might expect, a huge industry has grown up around this area, selling science kits, science gadgets for kids, physics toys and all manner of educational play sets. As parents ourselves, we've taken a long time to look through a huge amount of science toys to find the best ones, and after sifting through a lot of the junk, we are pleased to share with you our knowledge and top picks.
Reviews: We'll help you make the right choice
Best for 5 Years and Under
1. Mega Bloks 80 piece Plastic Building Bloks
There's no better place to start for your little builder than with this Mega Bloks building set. These colorful blocks are specially designed for little hands, making this a great gift for a toddler, and they'll have an amazing time making all kinds of models and buildings with this great starter set.
This comes with a nice storage bag to help make clean up easier. Also, they are available in a variety of different colors, meaning that they make great building sets for girls and boys. Plus, if your child wants to make some huge constructions and needs more blocks, these are compatible with any other mega block set, so you can always add them with more.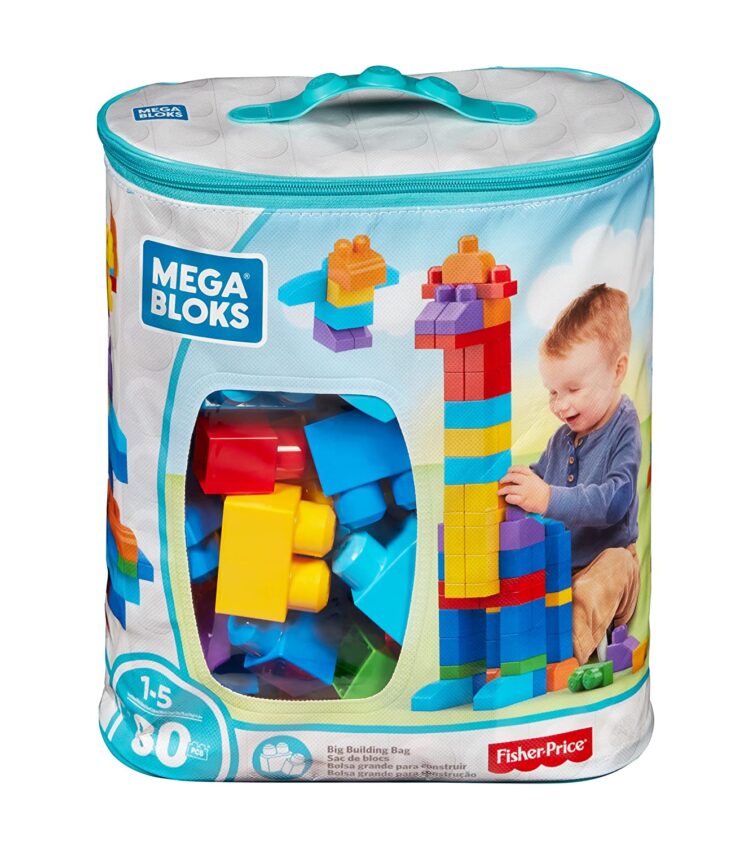 2. ETI STEM Building Block Set
This is a really fantastic engineering toy set for 3 years old and over. Designed with STEM learning at its core, this 101 piece construction set will be both challenging and fun for your child as they use the blocks to build all sorts of cool machines like trucks, helicopters and robots.
You'll literally have to drag your kids away from this set, as it not only comes with an 80 page E book of 12 toy designs to get them started, but once they have gotten some practice they will be engaging their creativity and inventing all kinds of wonderful new vehicles and bots.
You can also be confident that your children are learning as they are enjoying these engineering blocks. This will help with motor skills, hand to eye coordination and give them a great way to express their creativity at the same time.
We also love the fact that these blocks are washable, as ETI obviously knows that some of my kids toys spend more time in their mouths than anywhere else. Finally, you won't have to worry about storage issues as this block set comes with its own handy storage tub.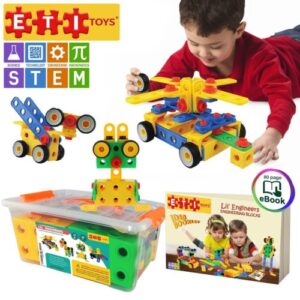 3. Lincoln Logs Wooden Building Block Set
My kids were born with a real affinity for nature. So much so that they feel compelled to thrown themselves into every pond they see, climb ever tree with low enough branches, and roll around every grassy place they can find! Therefore we got them a set of these wooden blocks, and they adore them. Each block is made of real wood, and has little grooves where they can connect to other pieces. Children also exercise their brains while using them, as they have to analyse where each piece will go and how it can connect to the others.
These wooden blocks have been a stable of american children's STEM toys for over a hundred years, and watching my lot play with them, its easy to see why. The instructions offer three building ideas, including a tower and log cabin, and they liked building these. But the real enjoyment comes with making their own crazy designs and inventions. And will 111 pieces in this building set, there is a lot of scope for kids imaginations to run wild.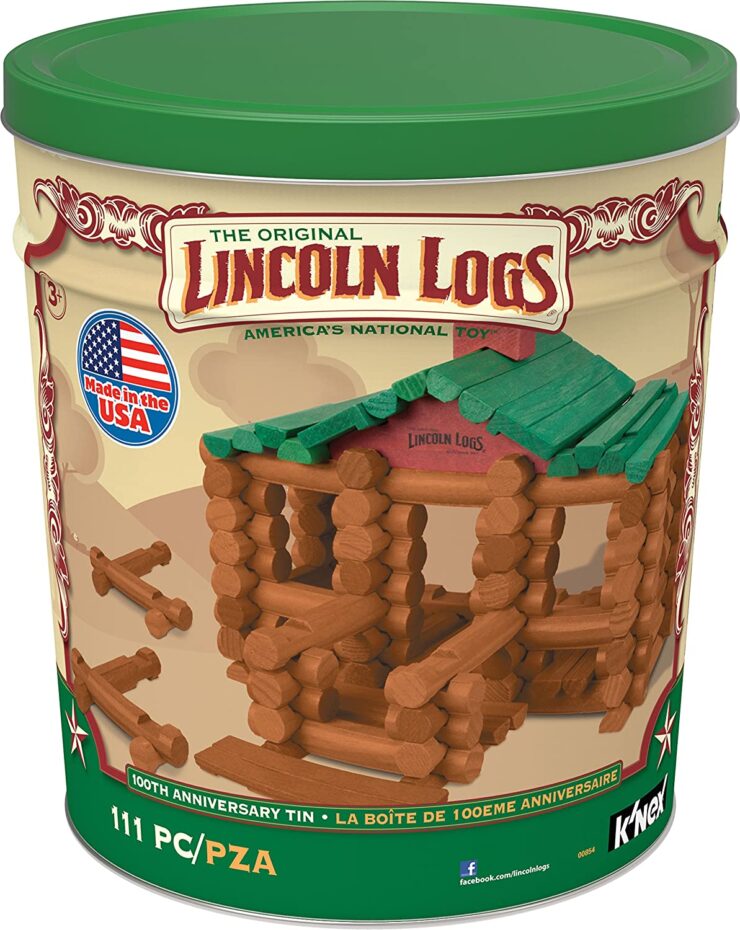 4. Tinkertoy Build a Car Toy
Learning is made fun and easy with this cool building set. With 76 durable pieces, such as rods, flags, washers and wheels, this awesome engineering toy will have your kids building their own crazy and colorful cars and other contraptions. They'll not only enjoy making their own crazy racers, they'll have a great time playing with them for hours too, as the materials are durable and all the parts snap together firmly.
This toy supports key areas of your child growth as they play. Whether they follow the designs in the instruction book or make up their own, they will be using problem solving skills, and exercising their spatial awareness and imaginations. We were also really impressed that the pieces in this kit are made in a zero waste factory that doesn't use landfill sites, so you can be confident that they are an eco friendly company.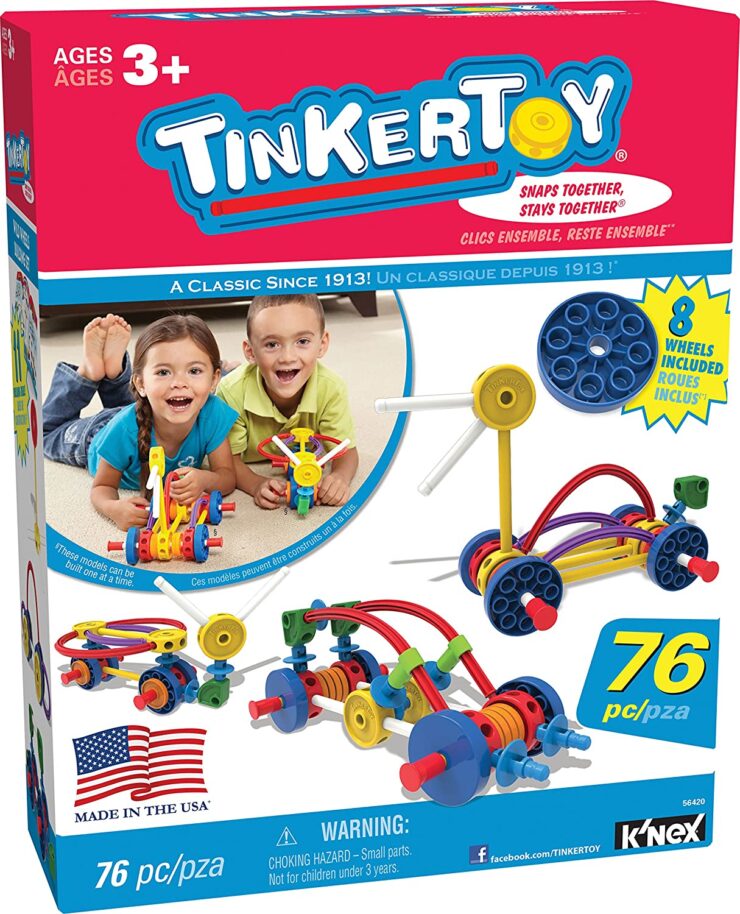 5. Design and Drill Engineering Toy
My parents always used to say that kids are never too young to help out around the house, and this awesome kids tool set will be a great way to let little handymen and women get started in the world of DIY. This comes with a chunky activity board, 120 colorful plastic bolts, a super cool kids drill, plastic wrench and screw drivers. Your children can recreate the pictures and designs in the activity book or make their own pictures and patterns, all the while having amazing fun with the drill.
This toy tool will make a wonderful gift for a toddler or preschooler as they'll love using the tools and making color pictures on the board. Finally, you can be confident in the quality of drill toy set has also won multiple awards, including the Oppenheim Toy Gold Seal.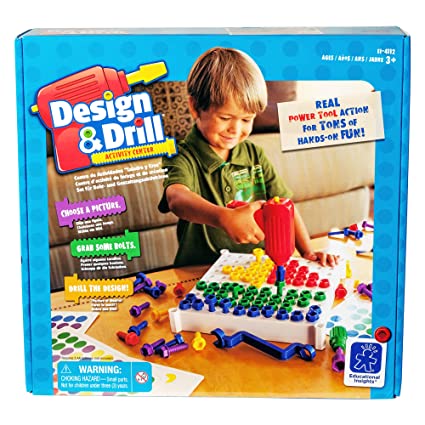 6. Picasso Magnetic Building Tiles
Toys that encourage building have been a firm favorite with parents and children for generations, as building toys work on so many levels. They allow children to be creative and artistic while also learning about shapes and geometry. Our kids just love playing with this Picasso Tiles magnetic building set, as its 100 colorful magnetic shapes can make fantastical castles, dragons, space ships and just about anything else they can think of.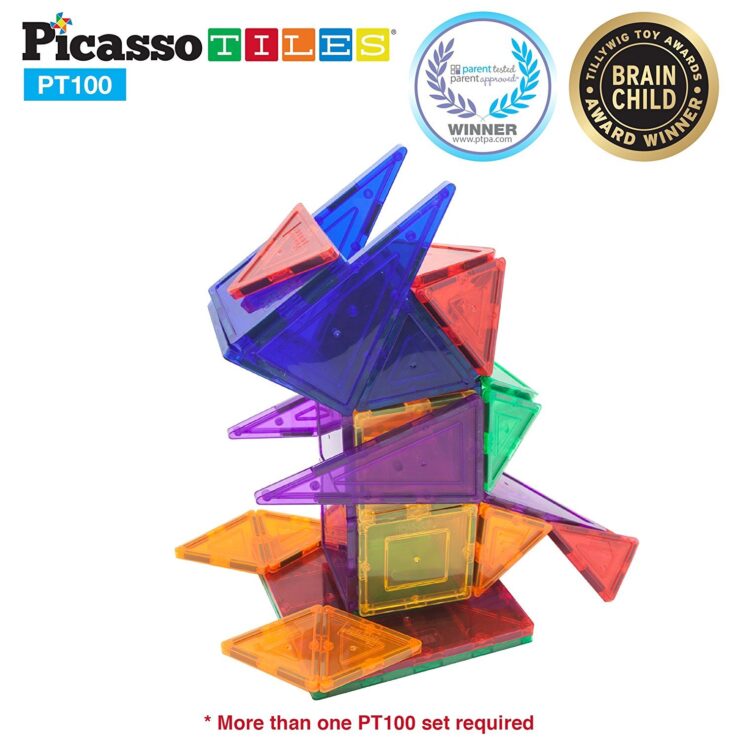 7. Tengu Magnetic Block set
Tengu Blocks are the perfect gift for preschoolers or toddlers. These simple and colorful magnetic wooden blocks make for great playthings that help kids get in touch with their inner builder, all the while learning about shapes and colors, and they will adore the satisfying click-clack sound of the blocks coming together. Your children's creations can defy gravity and push their imaginations to the limit. From buildings to giant monsters, Tengu Blocks can do it all
This starting set comes with 14 colorful magnetic building blocks, and if the perfect place for your young one to start their collection. Here at StarWalk Kids, we've fallen in love not only with the blocks themselves but with the social and environmental concerns of the Tengu company, which is dedicated to helping its home country of Honduras with eticiak business models and practices while also support reforestation and educational development.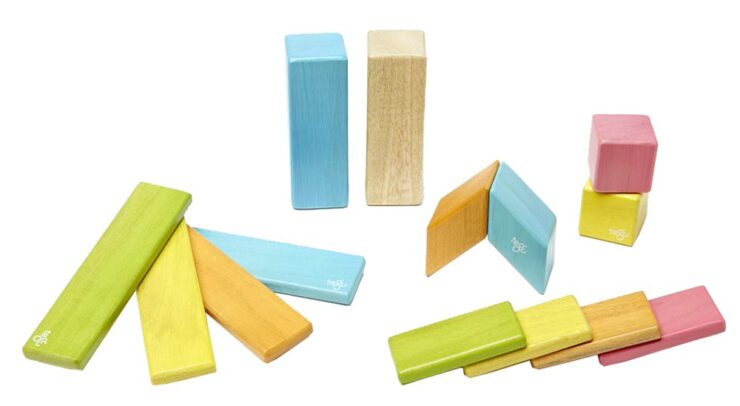 8. Infinity Cube Kids Gadget
This awesome little gadget toy will make a great present for any child (or adult) who can't stop fidgeting. This cool little cube has a great ergonomic design that lets you play around with it and change its shape. It's not really a puzzle box, but rather a toy to occupy those who can't stop fidgeting.
This is really great for a bit of stress relief, as playing with it can help anxious young minds calm down a little bit. It is also great to help improve focus while studying or doing homework, and getting your kid to play with this every time they want to bite their nails or crack their knuckles will help them iron out those nasty habits.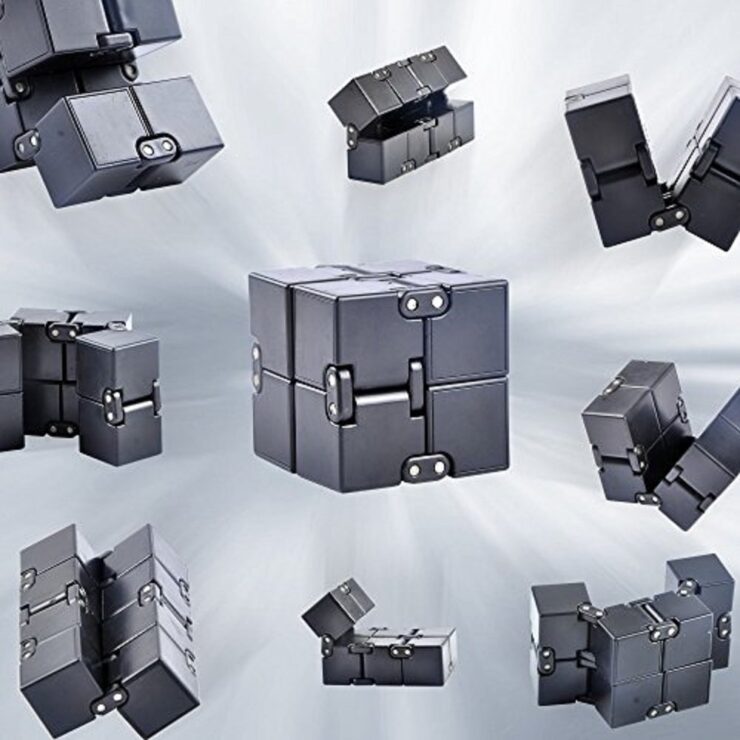 9. IQ Challenge Puzzle set
These brain games are brilliant for challenging your children's IQs and inspiring them to use there creativity to solve these neat puzzles. The set contains 7 different puzzle toys, all specially made for kids and 100% child safe. They have been specifically designed to teach perseverance and enhance the mental alertness and deduction of younger children, who will love trying to solve them.
They also come with detailed instructions showing how to solve each problem, so if your child does get stuck, you can have a quick peak at the solution and them give them a few hints. If you want your child to grow up to be a mastermind, this is a good toy to start with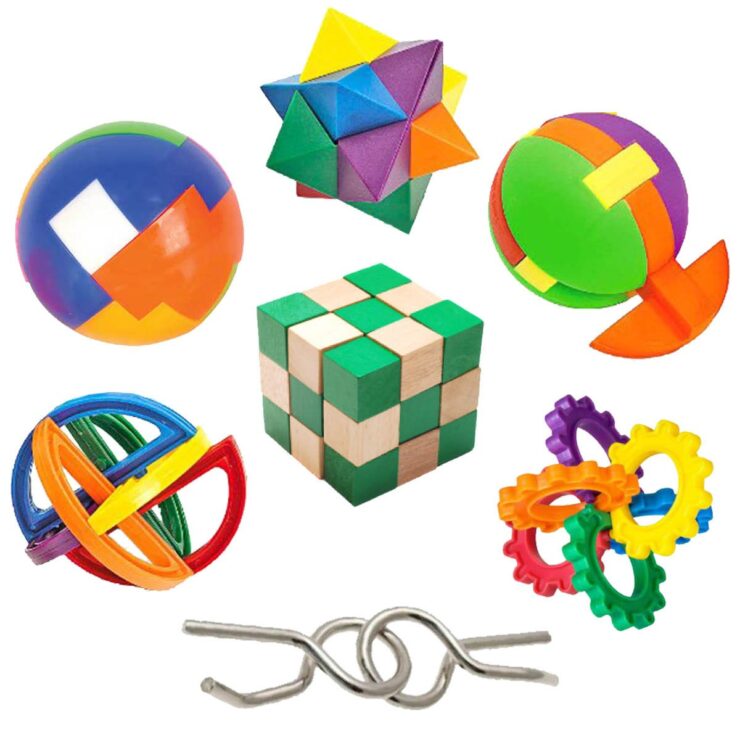 Best for 5 to 12 Year Olds
1. Brain Flakes Building Set
Both boys and girls will love letting their creative impulses fly with these amazing connects toys. This set of 500 interlocking discs makes a great alternative to building blocks while also providing the same educational and creative fun. We've seen our kids make everything from giant lions to weird and wonderful abstract shapes with these.
Brain Flakes are a wonderful way to get your children into the basics of engineering and spatial thinking, while the almost limitless creations they can make with these colorful discs will bring them hours and hours of joy.

2. Osmo Genius Puzzle Set
This award winning science toy helps you turn your iPad into a full-on learning tool for your children. You start by slotting your iPad into the Osmo base, then choose the game your child wants. It then teaches your children in a number of different games, including wordplay, math, problems solving and art. Whats really cool about this is that your iPad can detect the puzzle pieces your child is using, and it will tell them if they got it right. This really is one of the most innovative and creative science toys we've seen in a long time, and it would make a great choice for Apple fans who want their children to develop powerful minds and have blast at the same time.
Please check with the manufacturer that your iPAd is compatible before purchasing.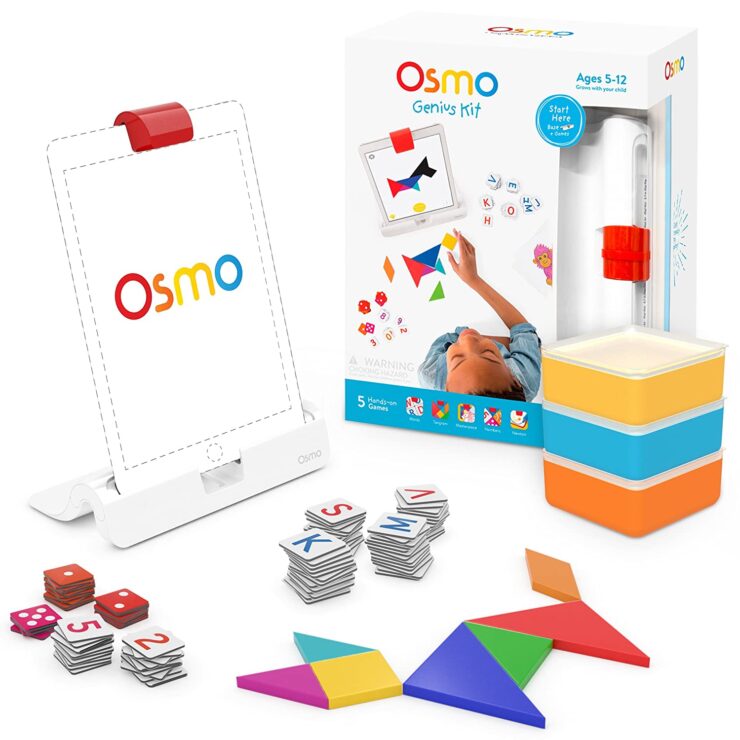 3. Snap Circuits Electronics Kit
Looking for something fun, yet highly challenging? These electrical circuits building kits are just that. The instruction booklet has over 300 projects, which teach kids the basics of electronics and circuits through building real world objects, like alarms, radio systems all the way up to complex things like a lie detector!
Even though this sounds a bit dauting, especially for mums and dads who know nothing about electronics, but don't worry. All the parts are color coded to help you identify them, and the instructions are clear and precise. Perfect for a little inventor.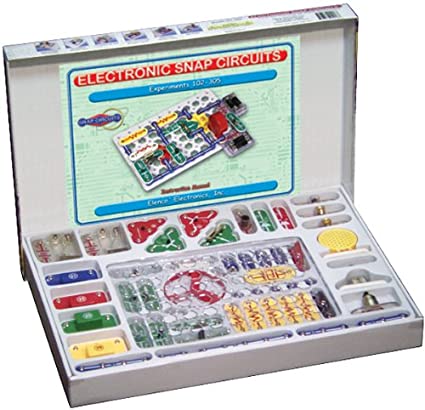 4. Amscope Microscope For Kids
This AMscope is the best microscope for kids we could find; in fact, this won the award for being the best student microscope in 2016. But don't let the 'beginner' tag fool you – this is a serious piece of apparatus that your middle schooler will love using.
This is going to be a great educational toy for boys and girls interested in biology an chemistry. It also comes with a whole set of tools for preparing your childs own slides, so they'll be using this for their experiments for years to come. Best of all, it comes with a book giving an introduction to microscopes and containing lots of experiments and activities.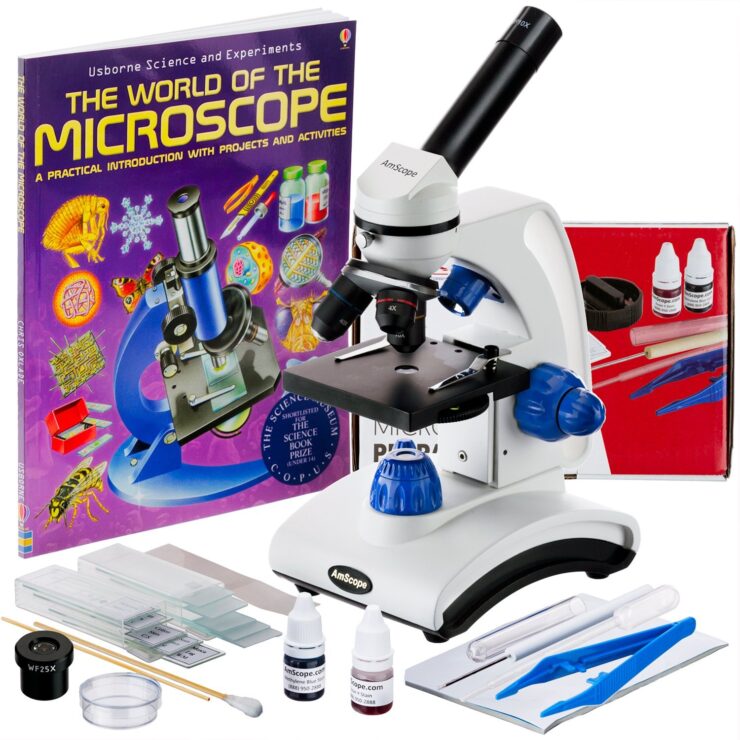 5. K Nex Building Block Set
KNEX make great building sets for older children, as 8 and 9 year olds will really love getting to grips with their more complex pieces. Unlike many other building block sets, KNEX let kids make models that can actually move! Whether its wheels, rotors or wings, KNEX can do it all. So if you've got a little engineer looking for a way to get creative, this 700 will make a great gift.
This engineering toy is going to have your kids spending hours not only creating their own toys but playing with them too. There's also an instruction booklet which teaches your children how to make 70 models, just in case they need a bit of help getting started. Also, it comes with a convenient storage box that helps keep all these little pieces from getting lost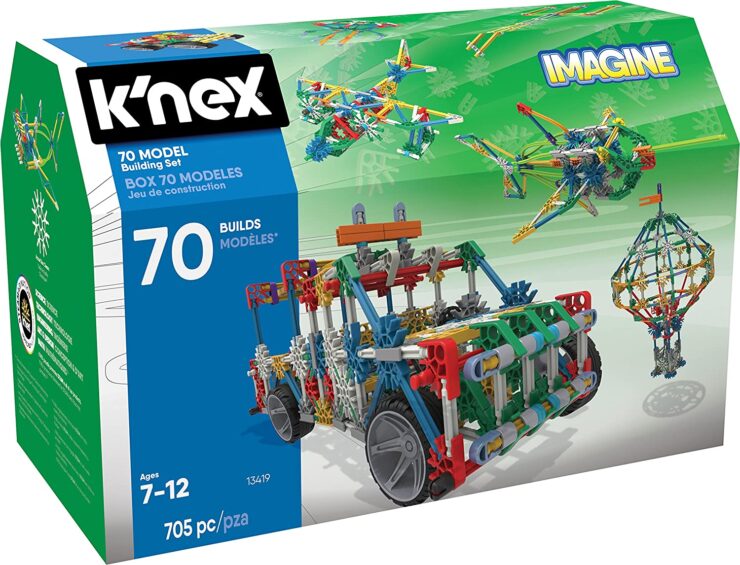 6. Lego Minecraft Blocks
Based on the popular Minecraft video game, this great little building block set will have children mining for precious ores and using them to build their own little caves.
Young lego builders will go on epic quests down into the mines and battle zombies and spiders as they go. This will make a brilliant gift for any kids who are fans of the video game.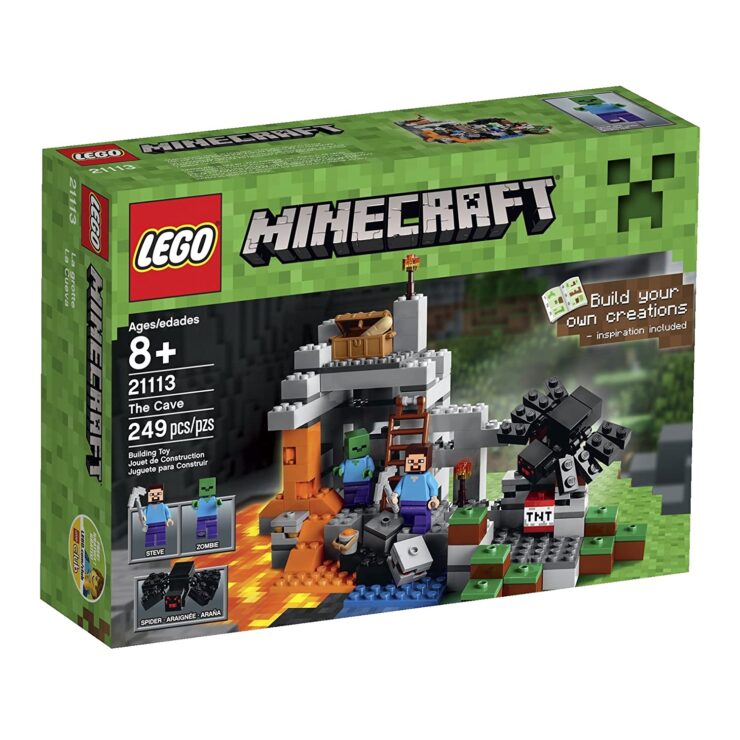 7. Telescope for kids
A telescope is a wonderful science toy for a kid who wants to explore the mysteries of space. This educational toy will let your child investigate the cosmos and have an amazing time gazing at the stars and looking at the craters and features of the moon. This DIY telescope also comes with a whole host of accessories including different eye pieces, a tripod, and a focus adjuster. It is also super light, which is great for a kid to use.
The only that thing w can say about this amazing telescope for kids is that it doesn't come with any books about astronomy. Therefore, we recommend you pick up some kind of booklet or find some type of website that is going to help them get the most enjoyment and learning that they can out of it.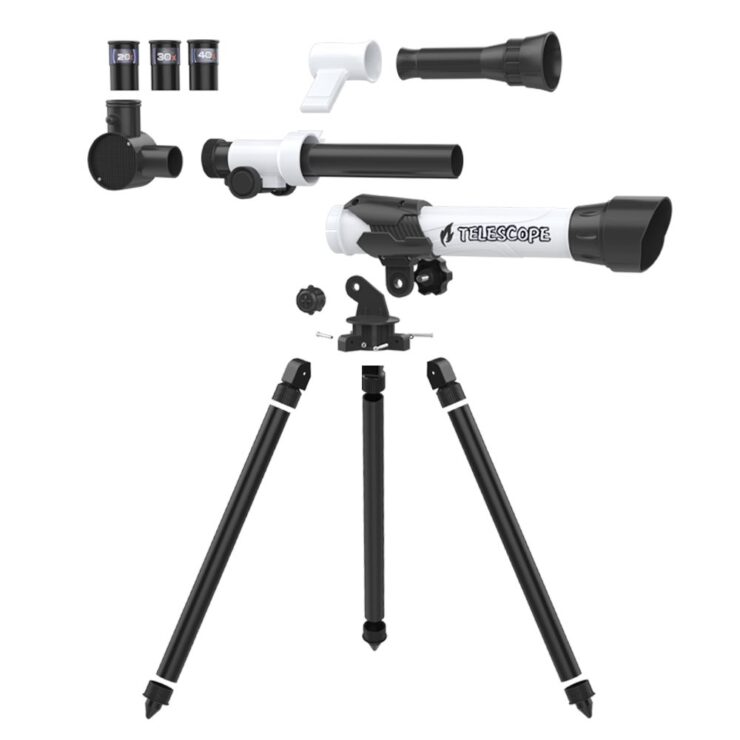 8. Tin Can Robot Set
This simple robot building kit helps your kids to learn about the importance of recycling by taking an empty can and turning it into an adorable, googly eyed robot. Its a very simple yet interesting thing to set up, and your child will have a cool toy to play with once finished. They can also keep swapping out the cans.
This is a wonderful and compact little science toy that will make a great present for a 9 year old science enthusiast.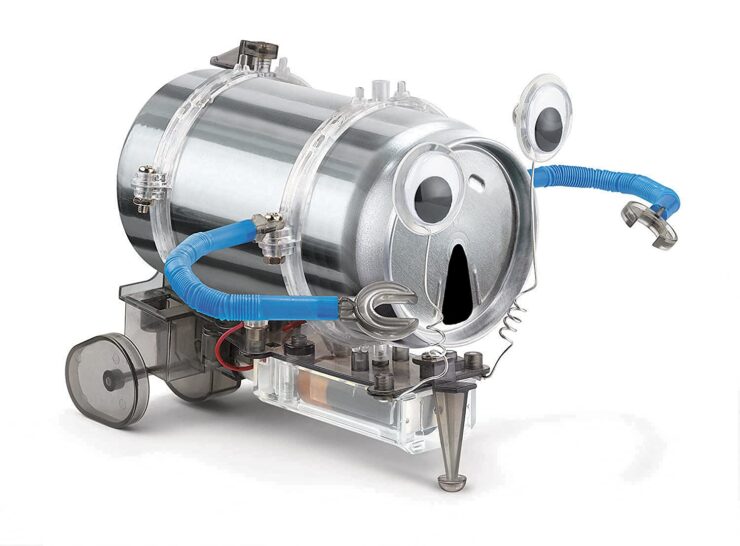 Best for 13 Year Olds and Older
1. Build Your Own Engine Set
This awesome little engineering set is sure to be a big hit with any teen car lovers out there. With this kit, your little mechanic will build a full working model of a car engine, giving them and very enjoyable challenge while also educating them about engines and mechanics.This engine has an electric motor with over 100 parts, and its spark plugs light up for extra effect.
This package contains all the parts and tools you need to build then engine, and all you'll need to add is some batteries and a little vegetable oil. Its easy to understand instructional manual also gives a clear step by step guide to completing the project. This is a serious challenge, and your 14 year old might need a bit of help from mum and dad in order to make it through. However, we fully recommend working with your child as they build this; there's nothing quite like a father and son bonding over a car engine.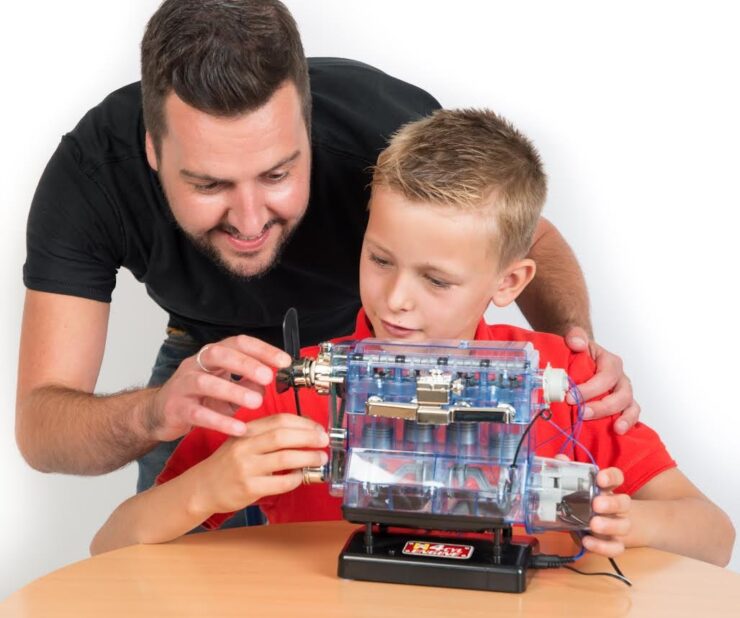 2. Robot Hand Kit
If you have a 13 year old who is fascinated by robots, why not get them this awesome robot hand kit? This neat little package is a nice introduction to the world of robotics and could inspire your child to take up a career in this exciting area when they are older. Through building this cool robot hand, they will have handson educational fun with the kit, learning some scientific principles along the way.
The box contains everything your child will need in order to build this functioning artificial hand, and one they are finished they will love playing with it and pulling the chords to make the hand grip.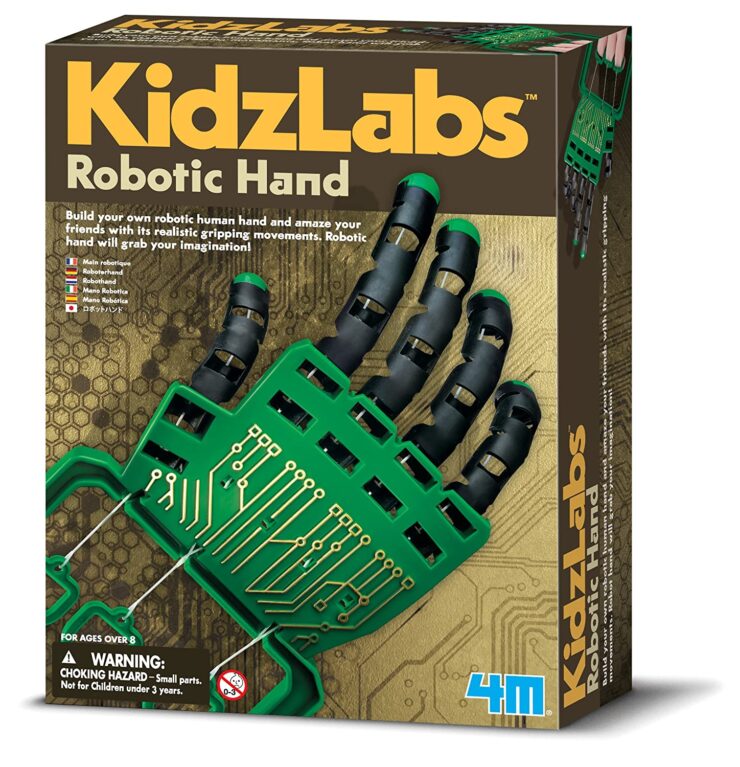 3. Dynamo Torch Gadget
This sweet science toy teaches older children about the value of sustainable clean energy sources in a new and dynamic way. Once built, the dynamo transforms hand motions into electrical energy, which is used to light up the electric light bulb. Detailed instructions are included, and no batteries or additional materials are required.
This educational toy will be a wonderful science gift for any teen science enthusiasts and offers valuable lessons about green energy as well.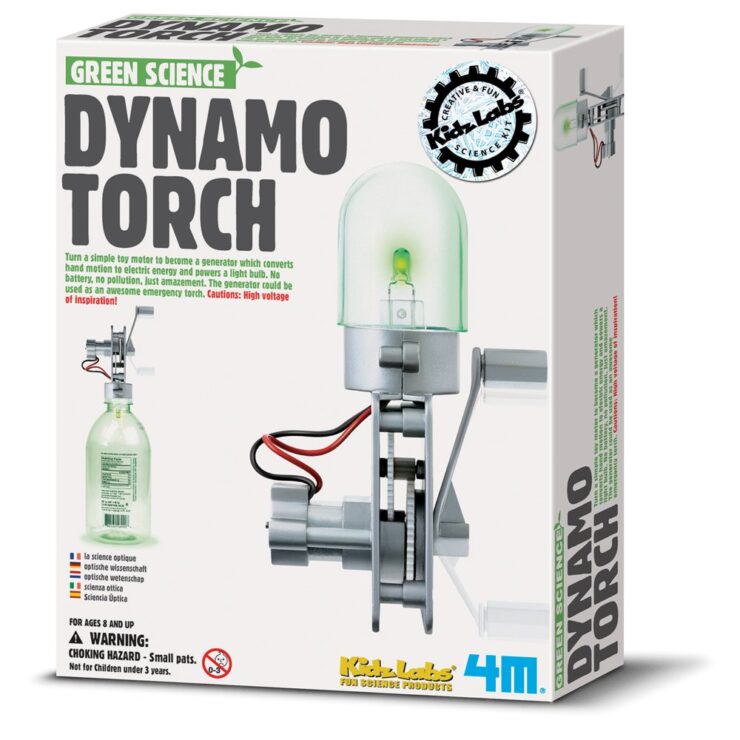 4. Laser Tag Set
Laser tag has always been and will always be cool. This great set has 4 guns, so your little soldiers can get a bunch of their mates round and have a fun laser battle.
Great for indoor or outdoor play.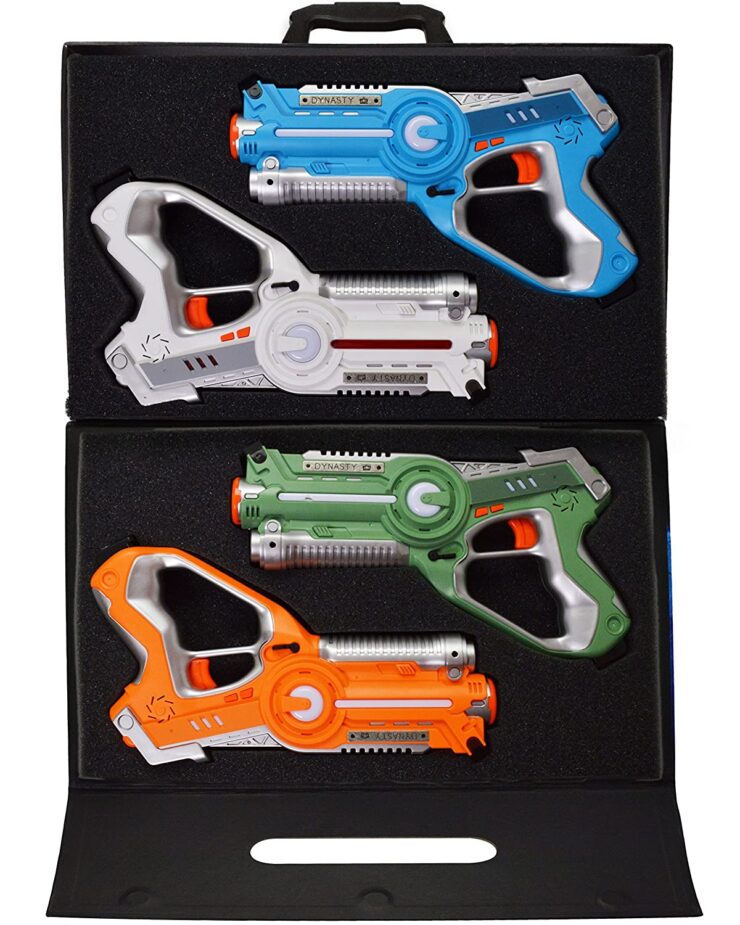 5. Air Power Car
Another great gift for ecologically-minded teens, this cool little gadget toy breaks down air power into its simplest form in order to make a great science toy that will bring heaps of enjoyment with it. Through this set, your child will gain valuable insights into the power of air compression and also have a lot of fun watching this thing shoot off into the distance.
After a simple assembly, your child uses the pump up bar to fill the bottle with compressed air. Then all they have to do is release the air and then the car will shoot away to distances of up to 50 meters. You might be a bit worried about all that compressed air, but you don't need to be. This thing is made with safety at its core, and emergency valves will open and bleed the air out if the bottle becomes too full.
This cool science toy was built not only to be fun but also to open up your child's mind to the power of clean energy!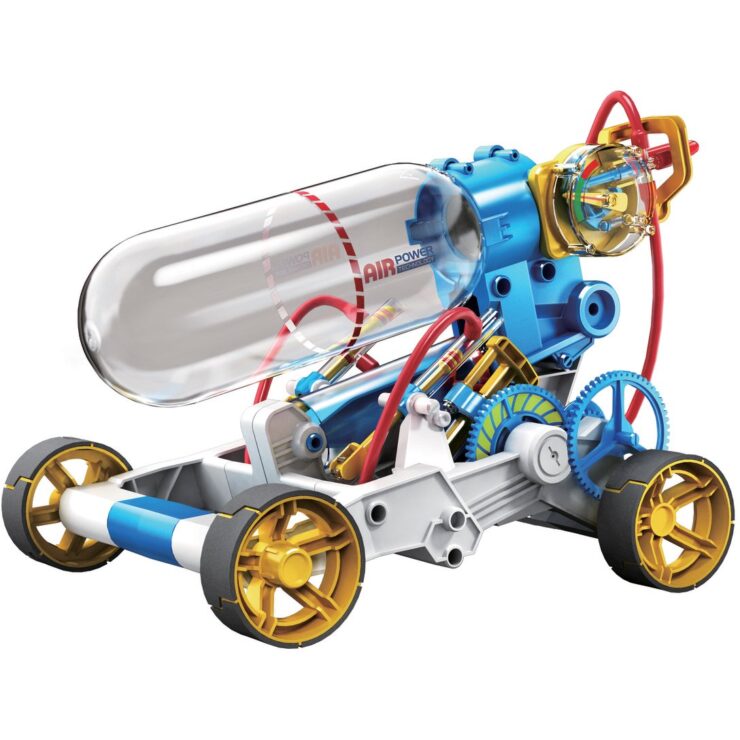 6. Wooden Puzzle Box Set
Wooden blocks are not only for kids, and this puzzle set will make a great present for teens and even adults. Inside the lovely wooden box you will find different wooden puzzle blocks of different shapes, and they will be a real challenge for a 13 year old to figure out how to unravel them. The objective is to rearrange each of the blocks, which are all in different shapes, such as stars, into a perfect cube. But that's only half the fun. A real master then has to return to cube to its original shape!
Not only are these tricky little blocks great brain games, they are also beautiful to look at, and are fully made of natural wood, making them great to touch and feel in your hands.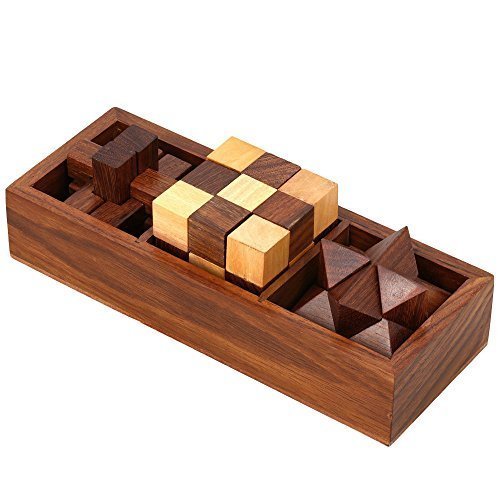 Best Overall Science Gift
Choosing the best toy overall was not easy for this review, as there were some many cool things to choose from and so much variety. At the end of the day, however, we kept coming back to the Picasso Magnetic Building Tiles.
For starters, these magnetic tiles are just some of the best we've ever seen in finding a toy that combines learning and developing spatial skills with the freedom for children to really go with their imaginations and build everything from futuristic castles to flying space monsters.
Plus, as your kids get older, you can always build on this by buying them more Picasso Tiles sets, giving them even more tiles to play with and letting them build even more complicated things.
Another thing that we really loved about these is how they challenged our kids to build gravity defying objects and structures that wouldn't be possible with normal building blocks. Plus, there are little books full of designs available cheaply on Amazon if you want to give your kids a little helping hand.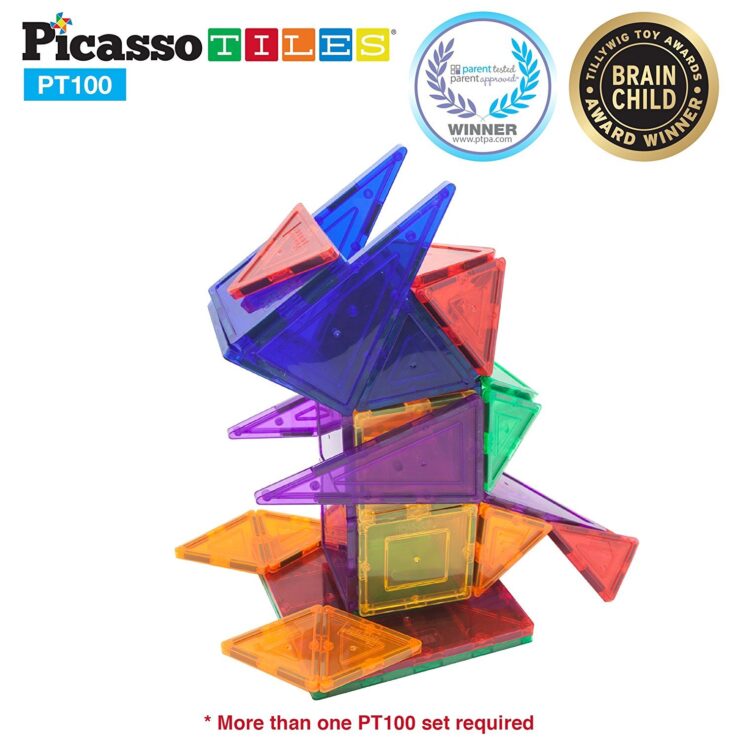 Best Budget Pick
If you're on a tight budget, or maybe you just don't have enough space for big science gifts and gadget toys, we'd recommend picking up the Soda Can Robot. This little guy is cheap, cheerful, and a surprising amount of fun to play with. Plus, you don't have to worry about complicated construction or anything like that; all you need is a battery and a soda can. The only bad thing we can say about this is that you need to wash the soda can out first, otherwise it can get a bit smelly.
My kids also loved the fact that they can swap out the empty soda can for another one any time they like, which means that they keep going back to this robot over and over again. They also decorated their cans with little cardboard wings they made and painted them, which extended the fun quite a bit.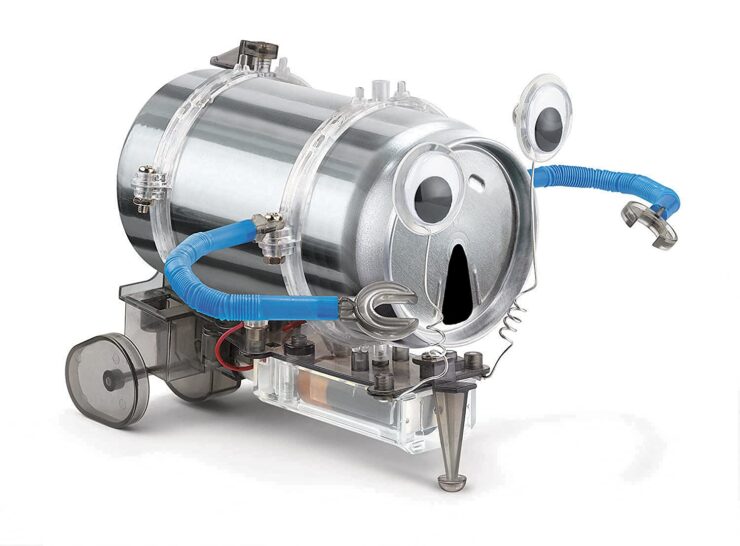 Benefits of Science Toys in Child Development
Finding the right educational gifts for kids is import for you and your child. Toys should be thought of as a tool for the development of a child and with the right developmental toys for kids you can ensure their healthy development, whilst they play happily with their favourite toy.
A head start in learning If you provide your young one with some quality science toys for kid. Your kid will have some familiarity and prior experience when it comes to the things they do in class, which will not only help them keep their grades up, but they will also be a positive influence in the whole class as they can help their fellow students.
Supplement what they learn at school Another great reason to buy science gifts for kids is that they can build and expand on what they learn in school. If your child has their own chemistry set or microscope, they can recreate that fun experiment they did in class at home, but with enough time to try all sorts of different things.
Also, these toys aren't homework, and don't underestimate the affect that can have; your child will be taking a proactive action on his or her own education.
Inspire curiosity and inquisitiveness These toys are designed not just to be fun distractions, but to be investigated and experimented with. This always leads to your child developing more curiosity about how the world around them works.
Cool science gifts and educational gadgets inspire inquisitive children who are always thirsty for more knowledge.
They make learning fun If your kids are anything like mine, you'll know full well this struggle. They seem to have got it into their heads that anything remotely educational or relate to school is 'lame', and its night on impossible to get them to do their homework without some form of protest.
But you know what? They'll happily sit with their electronics sets for hours at a time, despite the fact that they are learning. It seems that science kits are cool; take advantage of this fact!
Parents and children can learn together Because some of these gadgets and sets need supervision, you'll be spending a bit of time with your children as you use them. This is a great way to bond with your children, helping them educate themselves and having a blast at the same time.
Just be prepared for that inevitable time when you can't get the experiment to work but your child can; they'll never let you forget it.
Considerations
Age Range While there's usually a little bit of leeway in following a manufacturere's recommended age range, when it comes to these kind of products, we recommend sticking to the quite strictly. You want your child to learn and have fun at the same time with their science toys.
However, if you get your child something that is too hard for them to use, it'll just make them frustrated and disappointed. Also, some of these cool gadgets and kits will have moving parts and possibly even liquids and chemicals in them; you don't want to buy something that could be dangerous in a younger child's hands.
Safety As we touched on above, you must pay special attention to safety when buying a science toy. Some might have lots of different parts and components, which could be dangerous if given to smaller children. Also, you'll want to make sure that you do everything you can to make sure your child has safe fun with their new toy.
Anything with chemicals or liquids should be stored appropriately, and its a good idea to supervise your children if their science set has anything electronic or chemical in it. For chemistry sets, you should also look to see of safety gloves and goggles are included; if not, you really must pick some up separately.
Finally, if you get your child a set with something alive in it, like an ant farm, make sure that it is placed in a nice safe spot where it is not going to be knocked over and broken.
Your child's interests There are such a lot of toys out their in this range, and you really want something that is going to occupy your child for a long time to come. Therefore, its best to get something that caters to their particular interests. For example, you can find physics toys, like telescopes or magnets, electronic toys, like robot building kits, or biology toys like microscopes and mineral collections.
These are only a few small examples of ehat is out there, but in order to ensure that the cool new science gadget you bought doesn't sit on the shelf collecting dust, figure out what is going to capture their attention.
Is everything included? Like we've said many times before, there is nothing worse than a kid who's grump and disappointed because they can't play with the new toy that just arrived this morning.  One way to avoid that is to check if there is anything else needed, or if the box contains everything your child will need.
Does it need batteries? Do you need to add water or salt or anything? Does it have a power cable?If extra stuff is needed, we advise you order it at the same time so that everything arrives together.
Types of Science Toys and Kids Gadgets
Magnetic building toys There are all kinds of wonderful magnetic building sets out there for your children to really get stuck into. Magnetic building blocks are very popular with kids as they work on so many levels. They can make some really incredible structures and buildings, much crazier than anything with traditional blocks, and they can let their imaginations go wild. Also, younger kids can start to learn about physics through playing with these cool building toys.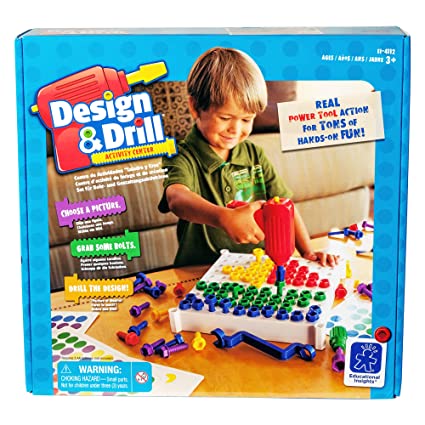 Engineering Toys: These things come in all shapes and sizes, from mini building sets, toy tools and metal construction toys. These are a lot more popular with boys than girls, as they love pretending to be builders or engineers. These toys are great because they not only stimulate fun play, but children learn a lot about shapes, spatial thinking and problem solving by playing with these sorts of toys.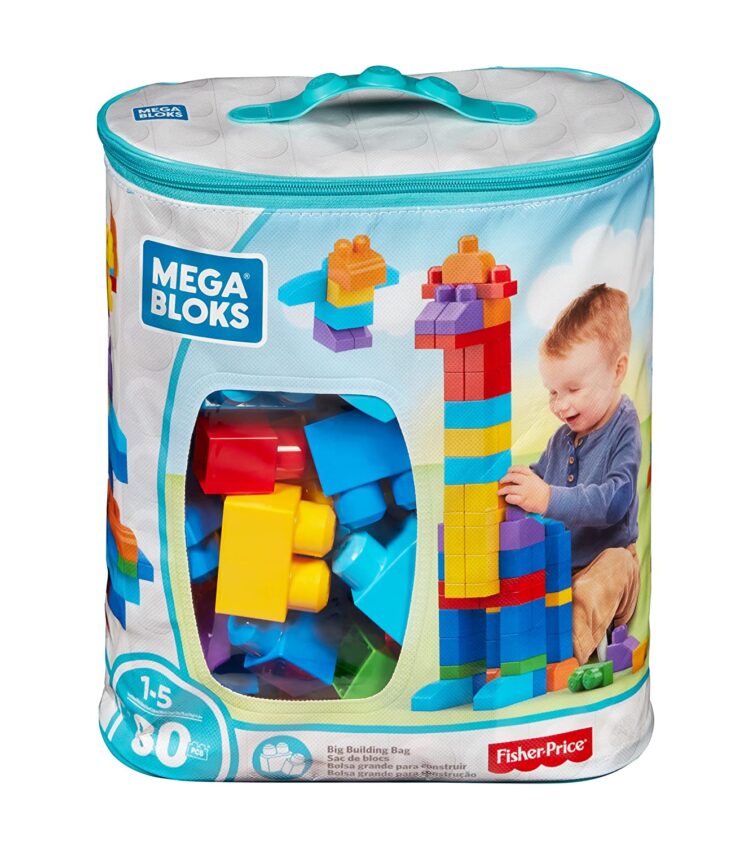 Building Blocks Toys A classic toy that never seems to go out of style. From simple LEGO blocks or wooden block to complex 1000 piece sets with gears, wheels and rods, if you are looking for an educational building toy for your little ones, we're sure you can find a great building block set that they will really treasure.  Whats great about these sets is that they combine learning and play in such a great way.  As your kids are building, they not only  let their imagination go wild, but they are also learning about spatial thinking and problems solving as they work out how everything goes together.  Also, most sets come with instructional booklets full of different thing to make, so your child can work through these at first in order to get the hang of it, then make their own creations later.

We also love the variety there are with these toys, from wooden building toys, plastic block toys, and even metal construction sets for older kids.  Building blocks have been a staple of children's upbringings for many generations – don't let yours miss out!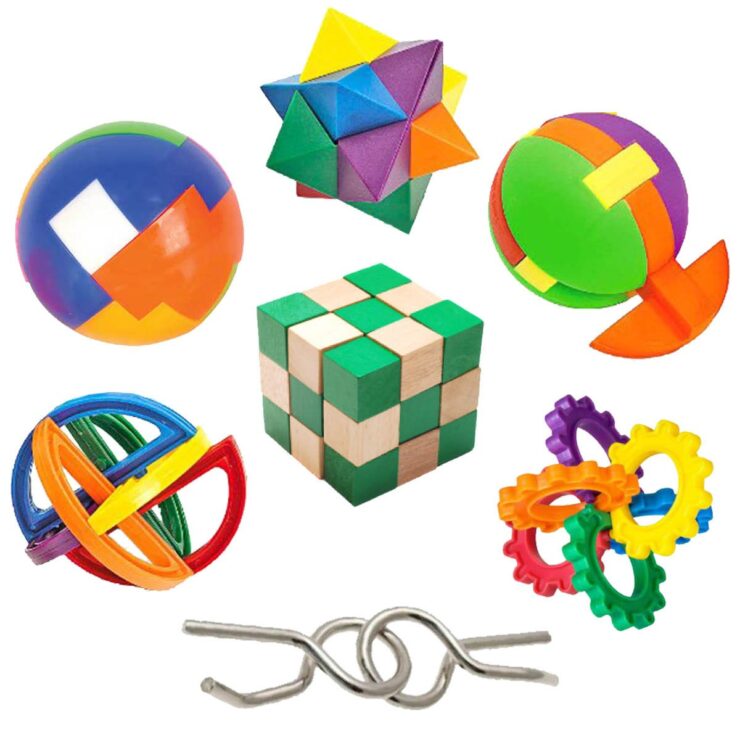 Puzzle sets for kids Play doesn't always have to be easy.  Giving your kids a challenge now and again is good for their development, as it teaches them not to give up and encourages them to start using problem solving skills that they will need throughout their lives.  Also, the sense of achievement they get when they work out something hard will spur them onto more difficult things and teach them the value of working hard to overcome an obstacle.  That's why there are so many great puzzle toys on the market, and not just jigsaw puzzles (link).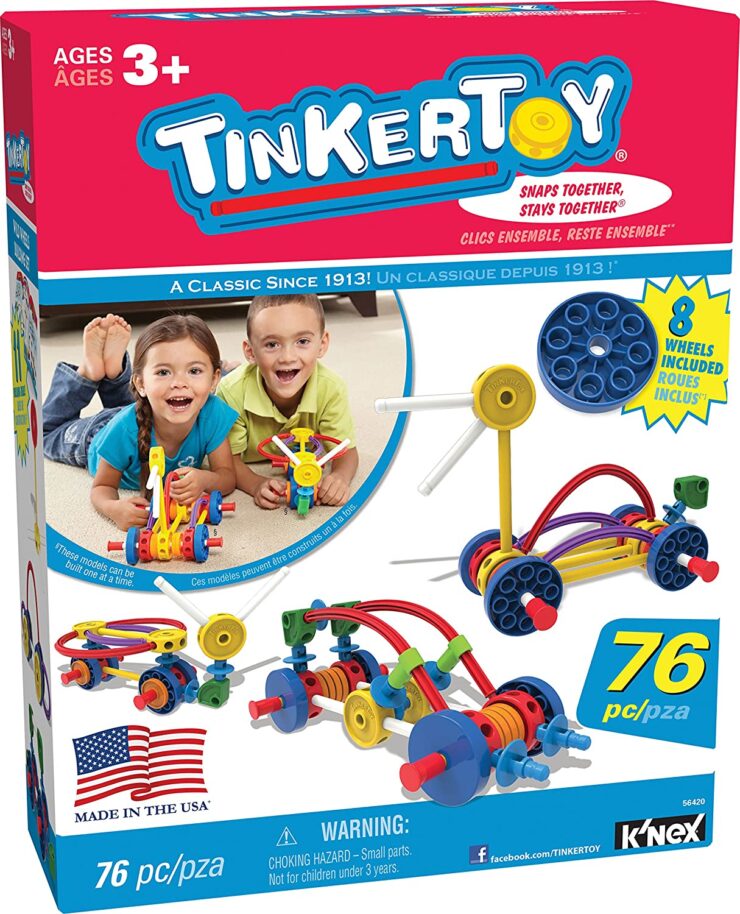 Building Kits  There are some toys your children will just build.  There are some that they will just play with.  But the ones that they first build and then play with will be some of their favorites.  They will get a real sense of accomplishment by constructing the toy, and then this attachment will lead to a lot of enjoyment playing with it, not to mention the educational benefits of the building process. My kids absolutely love their build a toy car sets, and I'm sure yours will too.
Age Guide: How to Choose the Right Building Toys for your Child
Babies
You might think your little baby is a bit on the young side for scientific learning, but you'd be surprised at how many cute little science toys are out their for babies.  While there's nothing as complex as a chemistry set for babies, things like science flash cards and periodic table building blocks might be the first steps in the realm of science for a future NASA mastermind.
Toddlers
New parents often think long and hard about how to help their littlest ones kick start their cognitive development, and science toys for toddlers are a sure fire way to get those little brains all fired up.  Parents with 2 and 3 year olds should be looking for the simpler science toys and gadgets on the market.
Popular choices are building blocks, puzzle toys, water toys, simple geometry sets and cool little gadgets such as mini binoculars.  As you well know, you want to avoid anything complicated or complex, and anything you look at should be completely toddler proof, and you shouldn't buy anything over the manufacturers recommended age range.
3 to 6 Year Old Kids
After advancing through their toddler years, children make some of their most fundamental and important intellectual developments over the next 4 or 5 years.  Their brains grow rapidly, and by size years old, a child's brain is almost the same size as an adults.  During this crucial time, you'll want to find science gifts that stimulate this development but also provide them with a whole lot of fun too!
Safety is still a primary concern, as 4 year olds don't have the same awareness or hand eye coordination as 8 year olds, but you can find some really cool gadget toys for children in this age range, like simple science lab sets, magnetic building sets, anatomy games, math blocks and such.
7 to 9 Year Old Kids
Round about 8 years is always a tricky age group to choose for as they're in a bit of an in between phase; they're not quite teens yet, but they're growing out of a lot of a lot of childhood tendencies.
So you'll need to find something a compelling and interesting, yet not something that's going to be so complex that it is discouraging to them.  Some of our favorite picks for this age group include microscope sets, mini ecosystem kits, ant farms, volcano sets, and snap circuit kits.
12 Years Old and Above
Now this is where the fun really starts!  Teenagers require something quite in depth in order to get their creative juices flowing. Also, they can handle much more complicated devices and processes, so you can find so many cool science gadgets toys for children as old as 13 and 15 years old.
In fact, the biggest issue here is the almost endless choice teens have in this area.  Really your imagination is your only true limit here.  Some of the coolest things we've looked at include
telescopes for kids
FM radio kits
Microscope sets
Robot building Kits
Electronic sets
Some of these toys are almost bordering on the kind of equipment you'll find in labs and workshops, so if you choose right, you'll be getting a serious piece of kit that will really push your 12 to 16 year old kids.
The biggest problem you'll have here is making sure that you get something age appropriate, as things designed for under 10 years old are unlikely to hold your teenagers attention for very long.
Top Building Block Brands
Lego The old classic! Lego have been making some of the best building blocks since the 1930, and they have a wide range of products ranging from simple Duplo blocks for kids down to incredibly complicated robot kits.  If you buy with lego, you can be confident that your are buying from a company that has been making some of the best kids toys in the world for almost 100 years.
Mega Bloks These building block sets are some of the most popular on the market.  Mostly geared for the young children, Mega Bloks have are a real competitor to the big brands like Lego and K'Nex.  Toddlers and younger children will love their Tomas the Tank Engine branded lines, but they also have some more complex lines for older kids as well.
KNEX A step up from the simpler block sets, K Nex has gears, rods, wheels and all other kinds of components which go together with their blocks to give your children a lot more scope to make more complicated buildings.  KNex is aimed at older children, (5-12 year olds) but they also have a line called Kid KNex which is aimed at younger children.  Older children will love the wider possibilities that KNex will give them.
Tengu magnetic blocks These are some of the coolest building block sets out there.  Tengu blocks come in all different shapes and sizes, and by using their magnets, kids can craft all kinds of crazy and cute from little animals to huge castles and buildings.  Tengu blocks are one of the most unique magnetic building toys out their, and they will inspire creativity and long hours of fun for your little builders.
Tree Blocks  These block sets are really cool and have a great rustic look to them, which will be perfect gifts for any little nature lovers you need to buy presents for. Also, there made of 95% sustainable materials, including reclaimed, recycled and sustainable harvested wood.  These high-quality blocks are brilliant for both your kids and the planet.
Green Toys  A perfect choice for little eco-warriors and environmentally conscious families out there, Green Toys make some wonderful eco-friendly block sets that are perfect for younger kids.  The manufacturers recognize that building blocks sometimes spend as much time in kids mouths as they do as part of a construction, so they've made sure that their toys are safe to chew on!
These non-toxic blocks are made of 100% recycled plastic milk containers, so you can rest easy knowing that your child's toys aren't damaging the planet.