When summer starts making its first appearance, we know that all you parents out there are starting to think about getting some sandals for those tiny toes in your family; whether they are a one year old just starting to toddle, or whether they are a typical, energetic 4 year old, racing around at full speed!
There is a huge variety of choice in sandals for toddlers out there, and it can be easy to become overwhelmed with different styles, types and designs, but try not to fret, because our list will narrow down for you some of the best options out there for your little one's feet in the summer months.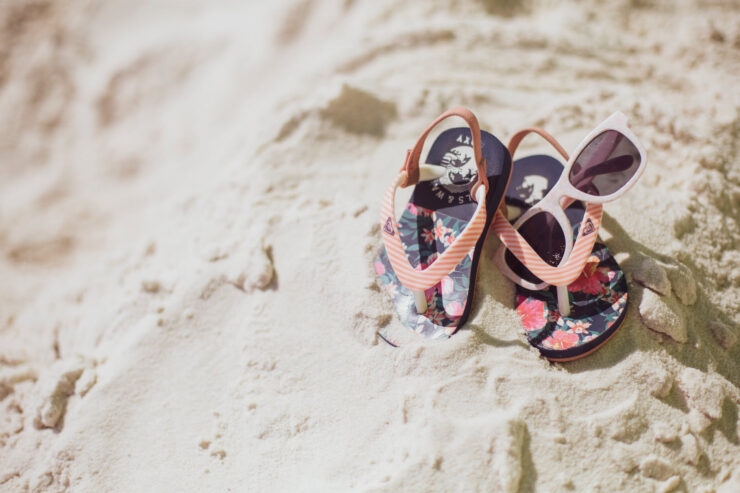 Things to Consider When Shopping for Toddler Sandals
Design/Color Scheme
The choice is endless, for boys and girls sandals alike. You can opt for flowery pale pastel designs, or even white, but it's important to consider how quickly they might get dirty. If you're looking for sandals for your little one to wear to a wedding or special occasions then pale, pastel or white is perfect, but if you're looking for toddler sandals for everyday use on holiday or in the garden during the summer, then a darker color might be better.
You can purchase more modern, edgier designs if you prefer your child to have a more fashionable look, such as a utilitarian or military style, and these are a good choice as they grow – they won't look childish. Or a final option is to get a themed design in a favorite character or cartoon – Disney perhaps or Paw Patrol – you'll know which one they like the best!
Fit (Closed or Open)
Sandals for toddlers come in a varied set of shaped designs. Usually, you can get closed or open sandals, which, believe it or not, can greatly affect the fit and also have an impact on how much room for growth and wear they will get out of the pair of sandals. Backless sandals also can be considered, but are they really sandals?
It's also worth making sure the pair is securely fastened, so backless might not be helpful. If you opt for a closed sandal, their toes are slightly more protected but there is less room for their growing feet, which as we all know, can grow rather quickly!
If you choose an open toe sandal for your toddler, then the chances of them being able to wear over summer and the following spring are more likely.
Type of Material
Rubber, jelly sandals, fabric, plastic sandals, canvas, leather – there are lots of varied materials that toddler sandals can be made from. It can depend on your beliefs in sustainability and the environment, or you might have a vegetarian, vegan or even freegan lifestyle, so the consideration of what material the sandals are made from might possibly be quite important for you.
Generally, most parents opt for a hard wearing, reliable material and one that doesn't chafe or rub when the child is playing or running in hot weather so make sure to think about which one is right for your toddler. The material they are made from will generally dictate the price, for example if you're looking for cheap toddler girl sandals, then the jelly or rubber might be the best choice.
Top Summer Sandals
So what choice is available? You might be looking for sandals for boys or girls' sandals for toddlers. If you want to have a good idea of the toddler sandals available on the market today, then these reviews might just help you make up your mind about what is right for your child.
1. Crocs Crocband II

A well known and popular brand, Crocs are always a good choice for any child's feet. This pair offer comfortable wear but also promise a 'stay on' fit – we've all been there when a sandal comes flying off as your child runs across the garden!
The fact that the design includes a hook and loop feature, means that they are quick and easy for you or your child to take on and off when necessary. They are made of synthetic material and are definitely more of the sporty design. Another bonus is the fact that the closure can be adjusted to fit any foot – be it slim or broad.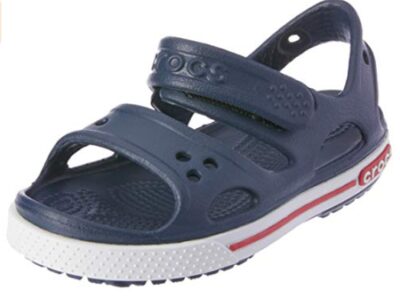 2. OshKosh Girl's Sandals

This pair tends more to the sneaker/sporty style but retains a little of that 'pretty' sandal that little girls like to wear. It also has hook and loop closure at the sides and these girls' sandals are made of fabric with a footbed and rubber sole.
There is a stretchy bungee-cord mesh at the front, allowing for freedom of movement and flexibility so that your toddler can run and play without restriction – the shoes will move with them.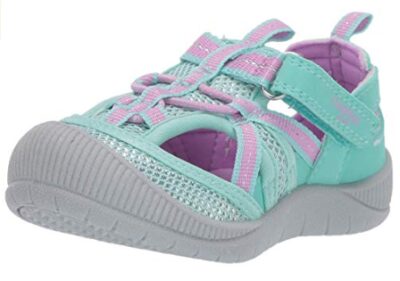 3. Carter's Shark Sandals

I know, you can't help it, you've started singing 'Baby-Shark DoDo DoDo Do Doooo', haven't you? Nowadays you can't escape the baby shark phenomenon, and as a result kids are demanding all sorts of shark themed clothing and toys. These boys' sandals are a good choice, with a quirky design that will appeal to children and is practical for parents.
They come in a choice of gray or navy and they are made of synthetic material with an adjustable hook and loop closure. The footbed is slightly padded so that it cushions the foot helpfully. Children will enjoy showing these off to their friends and pairing them up with matching shark themed clothing.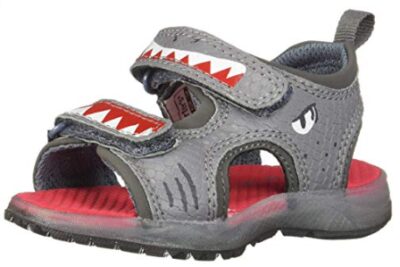 4. Genuine Leather Femizee Sandals

If you're looking for white toddler sandals, this leather pair might be the right choice for you. They come in four pretty colors and you can choose to have one large flower or three smaller ones as an embellishment on the front.
A princess sandal design, they are suitable for pairing up with a pretty summer dress or jumpsuit or can even accessorize a bridesmaid or flower girl dress at a wedding. They are made of genuine 100% leather and have a cushioned footbed which encases the foot gently and comfortably.

5. Keen Kid's Seacamp II

Sneaker sandals are increasingly popular for boys and girls. Let's face it, kids prefer to run around the park or garden or playground at full speed, and a sturdy sneaker sandal is hopefully going to protect their feet while they bounce around using up their energy!
These boast a AEGIS Microbe Shield lining and a rubber toe bumper for extra protection as well as a rubber sole for extra traction and security. They also have a mesh lining to make them more breathable. Made of synthetic material and polyester, they come in a very wide range of eighteen colors so there is an amazing amount of choice for you – you could even buy several pairs!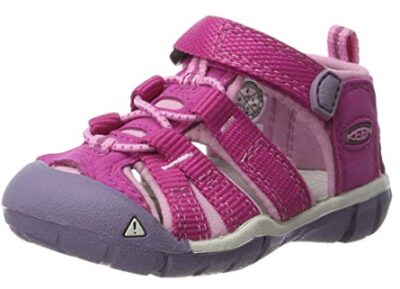 6. Bodatu Closed Toe Sandals

Another sneaker sandal this time, but made of fabric and synthetic materials. As toddler girl sandals go, these ones seem pretty durable and they're also in a handy range of 11 colors, so you can pair them up with a range of outfits. The design incorporates a breathable mesh overlay which allows for more movement and flexibility when running and playing inside or outside.
The hook and loop strap allows ease of getting on and off and even your toddler will want to be able to put them on independently. A particular selling point of these is that the lightweight sole offers shock absorption so your toddler's feet and ankles are offered some protection.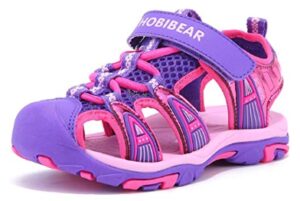 7. Stride Rite Fisherman

What every parent dreams of a boys sandal (or girls!) that is machine washable! So often, our little tikes get themselves into filth, muck and sand and we despair at their lovely sandals or shoes being ruined beyond repair.
This synthetic pair comes in a choice of four colors and can be popped in the washing machine for a quick spruce up. They also boast anti-stink linings so that the days of smelly feet are no more – another big bonus. The footbed is also made of memory foam, so they offer more bounce and comfort for hours of endless play.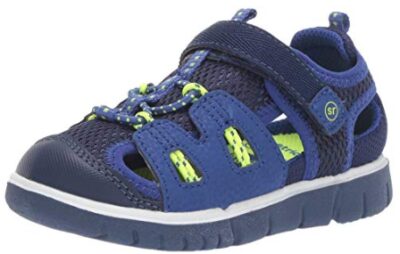 8. Carter's Sunny G Girl's Sandal

The Sunny G Girl's sandal definitely offers a few helpful features. Working well for the summer months, it has a backless aspect but it won't fly off those little feet in a hurry because it has a sturdy strap with adjustable hook a loop design so that it remains in place all day.
The footbed is cushioned so your child's little feet will feel secure and comfortable. The colors have a nice contrast, use of pinks and navy which means this pair of sneaker sandals will easily work with jeans, shorts jumpsuits or any other outfit.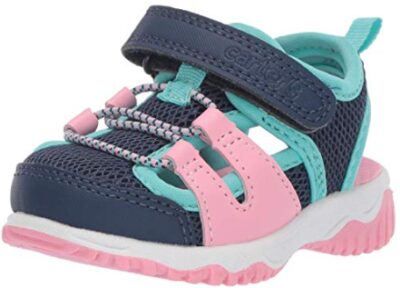 9. Dadawen Flowery Closed Toe Sandals

This pretty pair of synthetic leather sandals for girls are very cute and sweet. They have a sturdy rubber sole so that little feet can grip helpfully on the ground but they are also very fashionable and stylish with embellished flowers that will work in summer and spring.
This type of sandals can even probably be work with small light ankle socks. With helpful hook and loop closure, they are secure and quick to strap together in the mornings when you are ushering your brood out the door. They're kind of an all occasion child's sandal, useful for parties, playing or just everyday wear.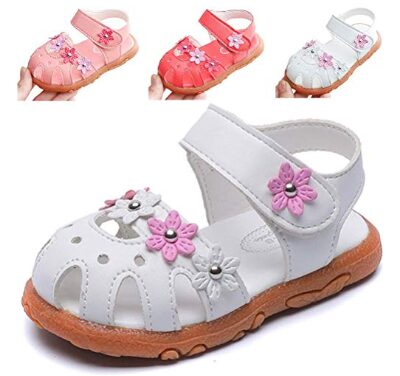 10. Gold Pigeon Snap Lock

Another useful design feature for a toddler's sandal is the ability to be waterproof. This pair, although they are of course open sandals, are also waterproof which means they won't get soggy and damaged during those summer showers or if your little one is paddling in the ocean or enjoying the pool.
It adjusts in three separate areas, around the toe, ankles and heels so you can really fit it carefully to your toddler's feet securely. It has a shock absorbing sole and is completely slip resistant so no more worrying about your child falling over while running around merrily. It is also machine washable which means it can be freshened up when it gets dirty.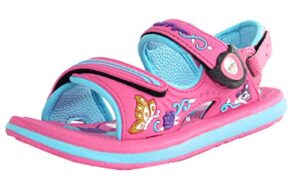 11. Apakowa Soft Sole Sandal

A more fashion style sneaker sandal, this is made in the USA and has a helpful hook and loop strap for added security. The insole is made of leather, so it is likely to last longer than other insoles made from different materials and the sole is rubber so it has an effective grip when your child needs it most.
What is also useful for your child's growing feet is the mesh and elasticated front, which is designed to flex and move with your child's movements and also expands a little as your child's feet start to grow.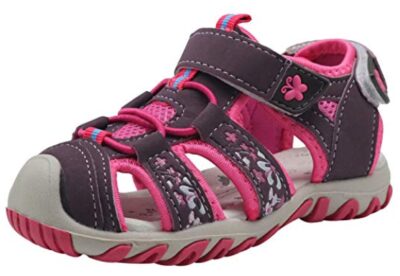 12. Teva Kids' K Hurricane

A more lightweight and 'strappy' style of sandal for your toddler is this synthetic soled design. Very quick to slip on and off, it has hook and loop closure and you're able to specifically adjust the strap to get the fit exactly right.
The foot bed is crafted of EVA foam so it has a good amount of cushioning and comfort for your child. The shank is made of nylon so it is soft yet durable. This sandal also comes in a great range of thirteen colors so there is a lot of choice available.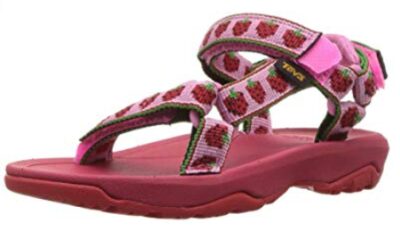 13. Timberland Adventure Seeker

Timberlands of course are an ever popular brand and this style is quite sporty and athletic, and much more minimal than some other children's sandal designs. They come in eleven colors, including black and have two helpful straps that can be adjusted with a hook and loop feature.
The fact that there are two straps means that you have more of an opportunity to fit the sandal as closely as possible for extra comfort. This sandal is also water friendly so it's okay to get it wet – it won't suffer! The heel is a bit bigger than usual, at one inch and the food bed boasts odor control with EVA foam for extra comfort.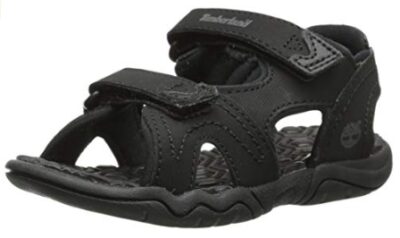 14. Crocs Isabella Sandal

Another Crocs brand, this sandal is made from synthetic material and has a helpful Croslite foam cushion on the foot bed which means that it will be comfortable and soft to walk or run in.
Crocs say that this is a relaxed fit so that it should be easily slipped on and off during a busy day of playing at home or outside. The cut out details make it breathable and it is easily wiped clean of any stains or dirt.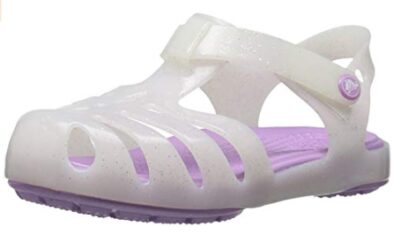 15. OshKosh B'Gosh Skye Buckle Sandal

Very kawaii and almost cartoon like in design, this pair of toddler buckle sandals are fantastic for the spring or summer. The buckles are faux, so you are getting the fashionable look for your little one's feet but with the practical hidden aspect of an adjustable strap closure underneath.
It's a suitable sandal for every day use or for an occasion, easily worn with a skirt or dress, but they would also work well with trousers or shorts. The heel is synthetic and measures around .75 inches. A really pretty option with an open toe that you will get plenty of wear out of.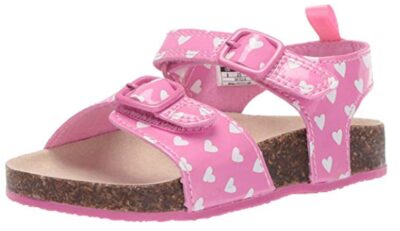 16. Leather Closed Toe Sandals by Skoex

Harking back to more traditional designs, this leather closed toe boy's sandal is one of the few handcrafted options in our list. It has a helpful rubber sole as well as a padded collar on the inside of the heel to protect from chafing and rubbing.
The lining is also leather and the foot bed is cushioned and flexible. It comes in traditional colors also, black or brown and has a durability to it as well as a hook and loop closure allowing easy on and off.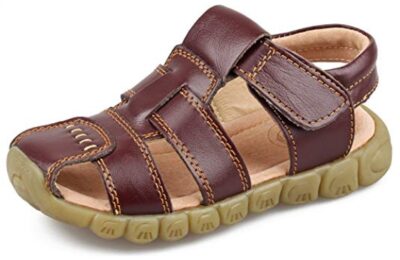 17. Naxo Kids Flip Flops

Thong sandals are always in fashion, even for children. This pair has a very pretty design and is a good choice for the poolside or if you are heading to the beach for the day.
Rainbows are a popular motif for children and also never get dated or go out of fashion and they are easily carried in a beach bag as well as managing well in and around water. The pretty rainbow embellishments add an extra happy touch to the design.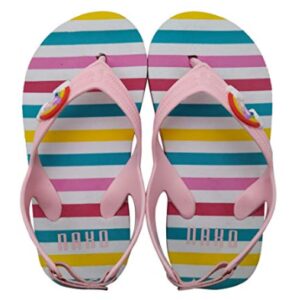 18. Spider Man Light Up Flip Flops

Of course we had to include every boy's favorite superhero, Spiderman. With a thong design at the front, but a helpful elasticated, reinforced strap at the back, then this sandal is less likely to fall off when your child is running by the pool or around the beach.
The thong is made of nylon so it will last for ages and won't chafe. It's also officially licensed Marvel merchandise so you're buying from a trusted source.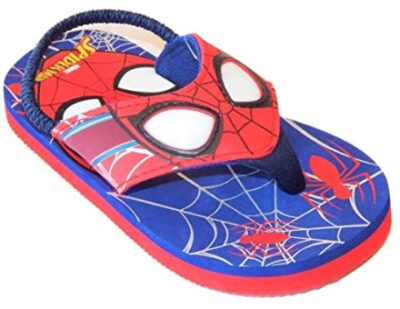 19. Roxy Girl's Sling Back Flip Flops

This girl's flip flop has a vintage style to it, harking back to the 1950s with its stripey design and cute peach cover. It is also available in navy and is made of water friendly material and a polyweb lining for more comfort.
The strap at the back is elastic and will prevent the flip flip from coming off when your child is running around with their friends.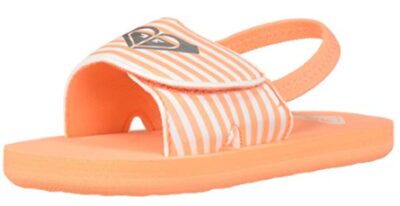 20. Baby Disney Havaianas 
There had to be a Disney option, didn't there? This is made of 100% rubber and has a rice pattern sole to prevent any slipping or sliding. This company pride themselves on making flip flops for toddlers since 1962, so they have a proven track record of quality. This flip flop comes in five colors and it promises not to over heat in the summer sun.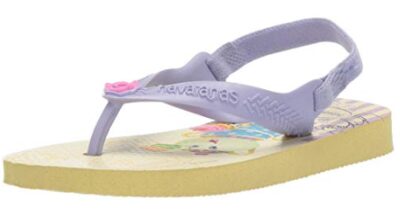 Overall Best Sandals for Toddlers
Keen Kids' Seacamp II
We had to opt for this versatile pair of sandals as our top pick in this list. Not only because it is available in a range of eighteen bright and cheerful kid-friendly colors, but it had other features to recommend it as a useful purchase.
The AEGIS Microbe Sheild lining and rubber toe bumper and sole seem to offer extra security and comfort, and it seems like a reliable and dependable pair of sneaker sandals. The mesh lining also offers breathable fabric and would keep them fresh for longer. We think both kids and parents would appreciate this useful pair of sandals.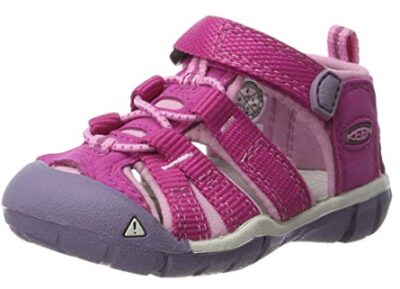 When Should My Toddler Start Wearing Sandals or Shoes?
It's really personal preference when you think you should start introducing your toddler to wearing footwear. Some parents like the idea of sandals because it offers flexibility, allowing the growing foot to move and flex naturally as it grows.
Other parents prefer a fitted shoe for their toddler, as they feel it provides more security, protection and support, but in the summer months, it is less comfortable in the heat than a sandal.
How Can I Prevent the Sandals from Rubbing?
We all know that kids' feet aren't standard sizes, they are all so different and individual so its important to make sure you choose a pair of sandals that don't chafe or rub their delicate little feet.
Kids' feet definitely give shoes and sandals a harder job to do, they are always on the move, jumping, running and so forth, so the risk of chafing and rubbing in the summer is higher.
If you have baby powder in the house, then you can try this trick; sprinkle or shake a small amount into the sandal before slipping it onto your toddler's feet – it will create a comfortable barrier and prevent the risk of rubbing. Also maybe give them a little stretch to loosen them up before wearing.
Are Sandals Protective for Toddler's Feet?
Yes of course they are! Some sandals are more protective than others of course, that stands to reason. But sandals offer some protection in the heat of the summer months as your child grows, develops physically and has endless hours of fun; running, climbing, skipping and exploring.
If you're wanting a tiny bit more protection there isn't anything wrong with adding an ankle sock to create further protection. The strong but flexible soles of a sandal are good for your child to move about in and features like front bumpers and adjustable straps allow for extra protection and security.
Here are some other options: