Wondering what is the easy to use, safest and best thermometer for a child? In this review, we will explore the Kids thermometer and compare different types of available options.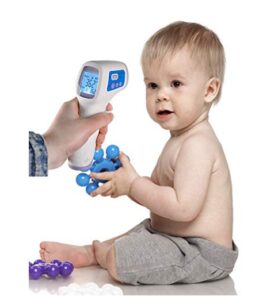 A reliable and accurate thermometer is on every new parents shopping list and is a device that will be invaluable for any family with children, no matter how old they are. Often a thermometer can give you the first indication that your child is ill, by detecting the presence of a fever. Many thermometers will categorize the fever as mild or high, indicating whether medical intervention is required. As an important indication on the health status of your child every household should have a child friendly thermometer ready to use. Modern thermometers can have more than one use, with the top of the range devices being able to detect the temperature of certain items, including baby bottles and the temperature of the bath. Others can detect the temperature of the room, ensuring that your baby is comfortable in its environment. If you are looking for a gift for a new parent then a thermometer would be the perfect present.
When choosing a thermometer you are looking for one that is suitable for all of the family to use, so check the method used to take the temperature and make sure that it will be tolerated by your child. Many thermometers will use a simple forehead measurement that means that you can still get an accurate temperature even if your child will not sit still. Many modern thermometers are user friendly, so are simple to use without having to practice and the functions can be quickly changed for each use.
With the large range of options available it can be difficult to decide what the best thermometer for children are. This review will help you to decide which one is the easiest to use with small child or wriggly toddler without needing to research many different digital thermometer reviews.
Best Kids Thermometers
1. Basal Thermometer Baby Forehead
This Simplife Baby Forehead Thermometer it a good thermometer for kids as it can take temperature readings using both the ear mode and the forehead mode making it easy to use. There is a handy background light so that the thermometer can be used in the dark and will not disturb your child. The thermometer has a fever alarm and will give 10 short beeps and show a red display if your child has a temperature and the alarm can be muted if needed. With quick and accurate results in 1 second this thermometer is ideal to use with wriggly babies and it takes the stress out getting an accurate temperature reading. It is easy to switch between Fahrenheit and Celsius and can store 20 of the previous readings for easy review. This thermometer does need 2 AA batteries, which are not included in the set. As a useful extra this thermometer can read the temperature of objects making it a useful gadget to have around the house. A great all round thermometer that has proven clinical accuracy when correctly used, so would be the best thermometer for a toddler and a valuable item to have in the house.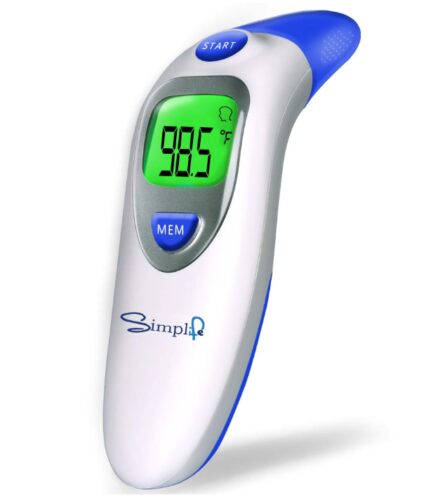 2.  Kids Forehead and Ear Thermometer
The Vigovrun Forehead and Ear Thermometer is a simple and easy to use thermometer with a high accuracy probe to give correct results. As the best child thermometer it is versatile as it can take readings using either the ear or forehead mode making it convenient to use with babies and small children. With a quick 1 second reading and useful large LCD back screen light this thermometer can be used anywhere. There is a useful fever warning that can muted if required and an orange or red back light warning if a fever is present. The orange light shows a low fever and the red light shows a high fever for easy differentiation. The thermometer also has the ability to read the temperature of objects, such as a bottle of milk, making it a handy tool to have around the house. It also has a memory for 35 of the previous temperatures making it easy to track previous readings. There are 2 AA batteries included in the set so that the thermometer is ready to use as soon as you unpack it. With its handy travel pouch this reliable thermometer is a great option for around the house and on travels.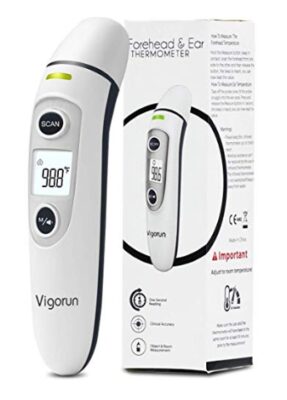 3. Mosen Child Thermometer
A comprehensive Baby Thermometer by Mosen that has many useful features. This 4 in 1 thermometer can take both ear and forehead temperature readings, and it can also be used to monitor the temperature of a room or an object. With its infrared technology it gives accurate and reliable results and there is a useful fever alarm that can be muted if needed. The LCD back light has 3 different color modes depending on the temperature reading with green for a normal temperature, yellow for a low fever and red for a high fever. This allows the thermometer to be used in the dark and it will still be easy to read. As a best childrens thermometer it is quick to use and gives a true reading in 1 second and with it being easy to switch between Fahrenheit and Celsius function this straight forward thermometer is simple to use. This good thermometer has a large memory with the capacity to store the last 32 temperature readings and has 2 AAA batteries included so can be used immediately. With its many useful features this Mosen thermometer is a reliable device to have at home.

4 Caroune Childrens Digital Thermometer
This Caroune Childrens Digital Thermometer is an easy to use thermometer that is safe for your child to use. It has a dual function that records the ear temperature and the forehead temperature making it the best thermometer for toddlers. The ear mode is recommended for babies over the age of 3 months. With the use of infrared technology to measure temperatures it produces accurate results even in the youngest of kids.  The 32 temperature memory recall makes it easy to look back over previous temperature results. This thermometer can also convert between Fahrenheit and Celsius so is convenient for all users. It has a useful fever alarm and a fever back ground light that shows an orange screen for a low fever and red screen for a high fever making it easy to differentiate between normal and high temperatures quickly. The alarms can be muted making it perfect to use with sleeping children. A useful thermometer that kids will be happy to use, that can provide quick and reliable results in a second, making it the perfect thermometer to have around young kids.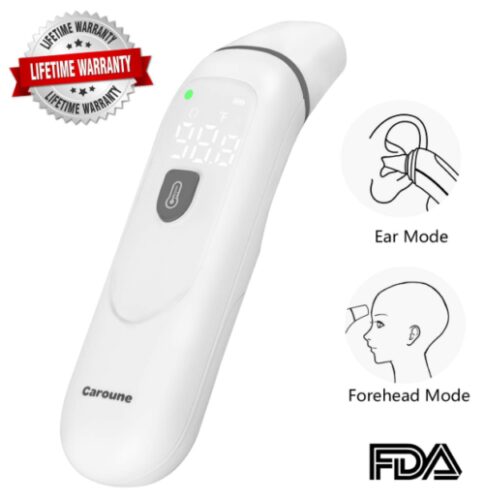 5 Oral Medical Thermometer for Little kids
A handy Oral Medical Thermometer for Little Kids that has been proven to give accurate results. This thermometer is designed to be used either orally or rectally and only takes 10 seconds to give results. This is the best oral thermometer and it can be trusted to give reliable results so you do not have to spent time retaking temperatures. This professional grade thermometer has a waterproof flexible tip so is easy to use and is easy to clean, allowing it to be hygienically disinfected. It also comes with a handy hard storage case, making it perfect to take out and about and you can be sure that it will not get damaged. This thermometer has a smiling face display system for quick temperature understanding which highlights a low fever and a high fever, giving a clear indication of when medical advice is required. This is the best oral digital thermometer that is simple to use and suitable for use with all children.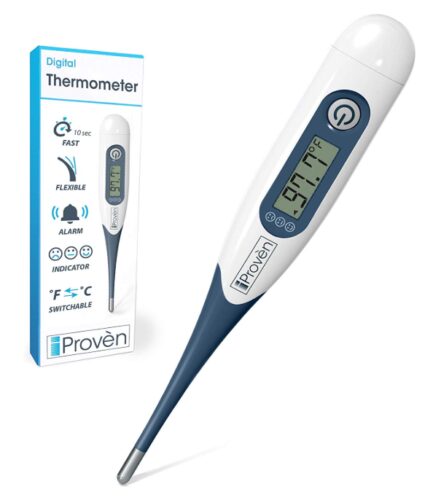 6. Clinical Infrared Indicator Toddler Thermometer
If you are looking for a reliable and versatile thermometer then look no further than this Hobest Baby and Toddler Infrared Thermometer. This top rated baby thermometer has the ability to take temperatures using its forehead or ear mode, and with results in 1 second it will enable you to take the temperature of even the most active of toddlers. This is a highly sensitive thermometer that can also read the temperature of objects and rooms, making it a useful environmental temperature gauge. The thermometer has a clear LCD display that color changes to red to indicate a fever, so it is suitable to use in the dark and means you do not need to disturb a sleeping baby to take their temperature. The fever alarm gives an alert when there is a high temperature, though the alarm can be muted if wished. The thermometer requires 2 AAA batteries that are included, and with a 30 second auto shut down you will not waste battery life. With its memory that can store the previous 20 temperature readings it is easy to look up previous temperatures as you require. It is simple to use and easy to change from Fahrenheit and Celsius making it the perfect toddler thermometer to have at home.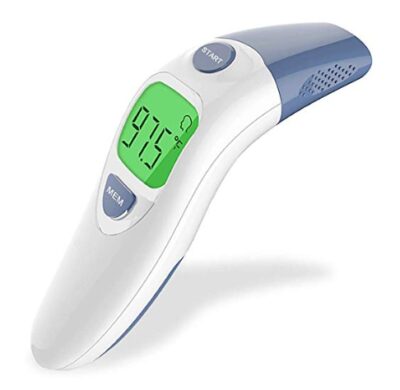 7. Kids Forehead Thermometer by iProven
A good value kids forehead thermometer by iProven that is simple to use while still giving you accurate results. This infrared thermometer can record the temperature of your child when you are 2-6 inches away, meaning that you can monitor the temperature of your sleeping child without needing to touch them. There is also a mute button so there is no risk of waking them up. This thermometer can also measure the temperature of a room or object so is ideal for checking the temperature of your childs bath or your babies bottle of milk. The large screen with back light allows the device to be used in the dark and the color change from green to yellow or red highlights the presence of a fever, so you can quickly detect a raised temperature before reading the value. It is a quick and reliable thermometer that produces a reading in 2 seconds. This is an essential item for every family and with its dual temperature recording function it is the best thermometer for toddlers.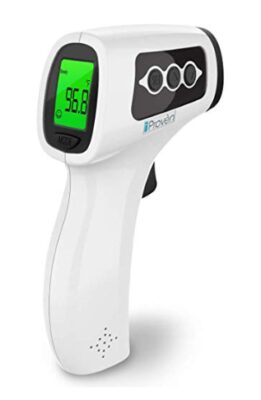 8. FDA Approved Boy and Girls Thermometer by Purple Safety
An easy to use, quality baby digital thermometer by Purple Safety that is always gives reliable results. The set even comes with a spare battery so you it will always be ready for use. This simple thermometer can be used orally, under then arm or rectally for accurate results to the nearest 0.2 Fahrenheit, so you will always be able to pick up any fevers as soon as they start. The thermometer tip is soft and flexible for safe use and comfort for your child. It also has a waterproof outer coating allowing you to hygienically clean the device. Produced for professionals this is the best digital oral thermometer that has been designed with safety in mind. This thermometer has passed numerous tests to be CE and FDA approved ensuring that you are buying a good quality item. With results in only 30 seconds this is the best oral thermometer for home as well as being perfect for taking out travelling.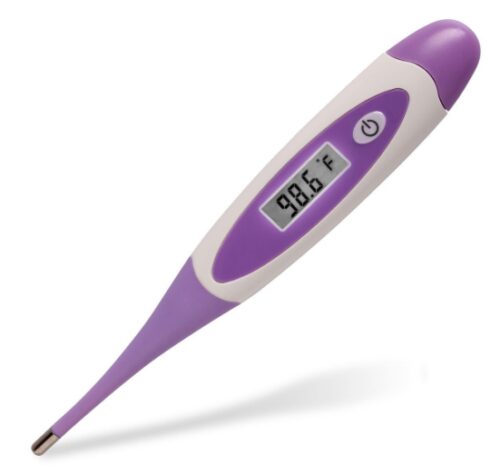 9 New Thermometer for Kids by MCNICK & COMPANY
This Forehead Thermometer for Kids by MCNICK and COMPANY is a handy thermometer that records accurate temperatures without you needing to touch your baby, perfect for when you do not want to disturb them. With its top of the range infrared technology it is the best thermometer for kids that enables you to pick up every abnormal temperature and with a reading taking only 1 second this quick and reliable thermometer takes the stress out of taking your childs temperature. The memory function enables 32 temperatures to be stored so previous recordings can be easily accessed. Batteries are also included so this thermometer is ready to be used as soon as you open the packet. This thermometer has a useful extra function as it can also measure the temperature of objects and the room, a useful tool for making sure your childs surroundings are at the correct temperature. This is a great value thermometer that is ideal for all parents to have in the house.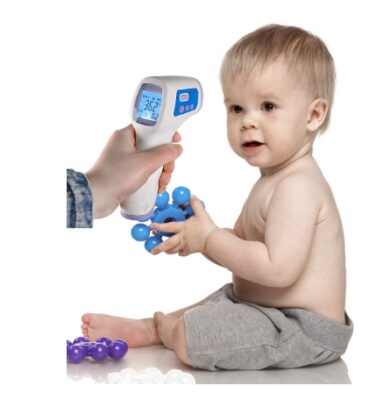 10. Braun Babies Digital Ear Thermometer
A top of the range digital ear thermometer by the popular brand Braun that uses infrared sensing to measure temperatures accurately. This clever thermometer has a pre warmed tip to ensure that every temperature is correct and making it the best ear thermometer for toddlers. There is an 8 temperature memory recall so your childs fever can be easily monitored over time. This digital ear thermometer also has a guidance light that flashes during use to show that the thermometer has been correctly positioned, making it easy to use and reassures you that you have used the device optimally to get your child true temperature. Disposable lens filters are used over the ear probe to maintain hygiene levels and this set comes with 21 lens filters, giving you plenty to get started with. The set also comes with 2 AA batteries so the thermometer is ready to use as soon as you receive it. The thermometer can be used in Fahrenheit or Celsius so is suitable for every user. The best doctor recommended thermometer for around the house and travelling, you will never need to buy another thermometer again.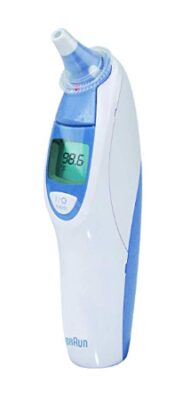 11. Equinox Digital Thermometer for Children of all Ages
The ultimate digital thermometer for children by Equinox that is fast and easy to use. With its 3 in 1 functions you will never need any other temperature recording device. This poplar brand has the best digital thermometer reviews ensuring you are making a great purchase. The infrared technology allows the temperature of your child to be recorded with no contact, almost instantly, ideal for a young baby that you do not want to disturb or a child that will not keep still. This thermometer can also measure the temperature of objects and rooms, so you can be sure that temperature of your childs environment is ideal. The unique design of this thermometer makes it easy to hold and use so it can be used anywhere. The LCD screen has 3 different colors depending on whether the temperature is normal, slightly increased or high, so it is easy to understand the temperature recorded. This thermometer best known for monitoring temperatures has a large 32 temperature memory. With it being easy to switch between Fahrenheit and Celsius this super simple thermometer is the ideal medical device for any parent.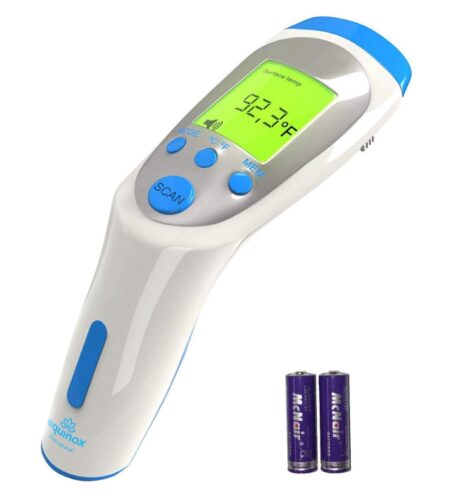 Top Pick
The Mosen Child Thermometer is our top pick and is the best kid thermometer. It has been designed so that it can be used easily with any child. The 4 in 1 function means this device has many uses and will become an essential item that you will not want to be without. There is the option of using either the forehead mode or the ear mode for taking your childs temperature with and both options produce accurate results. So it is perfect for children who will not keep still making it the best thermometer for toddlers. The thermometer is also easy for you to correctly use so you can trust every temperature reading is accurate. You can be assured that this thermometer is accurate and reliable, meaning that you will detect every fever early, allowing you to get prompt medical treatment for your child. A good value thermometer that will never let you down and is ideal for every family.

What is the top thermometer for home use?
The thermometer is an essential piece of medical equipment that every house should have, especially if you have a child. When choosing a thermometer for your home you are looking for one that is reliable and has a long battery life or spare batteries so that it is ready to use at any moment. As a medical device, you should choose one that is easy to clean and disinfect to maintain hygiene levels, so one with a waterproof outer casing will be the best at home thermometer. There are also thermometers that use disposable lens filters to go over the ear probe, which remove the need for cleaning but still maintain a hygienic device. With our busy modern lifestyles a thermometer that is quick and accurate is ideal, so that taking your childs temperature is not a time consuming process and does not need to be repeated to check you have the correct result. The perfect family home thermometer it will be ideal for every member of the family to use, from babies through to adults.
What is the best thermometer for a child?
Taking a temperature should be an easy and straight forward process. However, for some parents the thought of having to make their small child sit still, while working out how to correctly record a temperature can fill them with dread. Add into the mix a crying baby or irritable poorly toddler then it can seem like an impossible task. However, there are a selection of modern thermometers on the market that solve these problems and make it easy and simple to record that temperature. The best children's thermometer will offer a range of functions to make it simple for the parent to use and not noticeable for the child. You should be looking for a thermometer that can take a temperature within a couple of seconds with the best of the range being capable of giving an almost instant result. The easiest way to take a temperature is to use a thermometer with either an ear probe or a forehead mode and the best ones have the capability of offering both functions, so you can decide on which way you prefer. This makes for a safe thermometer that is easy for even the novice temperature taker to get an accurate result, without having to practice first. The best childs thermometer will not disturb your child when they are sleeping but still enable you to get a reliable result.