You probably love days out in the sun, hanging out at the beach and need to get your children a good pair of water shoes that will protect their feet. I have put together a few of the best in terms of shape, protection, material and overall durability. These are the main criteria on which I've based this review, but you will also hear about some individual styles, features, and reasons to choose one particular brand over another.
Considerations
Choosing the ideal type of shoe for kayaking, for example, isn't necessarily the same as climbing and as a parent, I'm sure you want to know the difference. Some water sports require differences in support, material, and quick dry features, because if you're going from wet to walking then you want to make sure your pair of shoes dry quickly so that no blisters occur.
How to choose your shoe really comes down to knowing how you intend to use the shoe and if it's for light use at the beach, then an easy slip-on and off pair is ideal. However, if you're needing ankle support and thicker soles to take some of the rough-surfaced material your tracking around, then make sure to get thick synthetic soles. Shoes with thick soles are my preferred type of sole and if you're not sure exactly the activities your child will be doing then opt for thicker.
Some shoes with grip can offer great traction when walking on slippery surfaces and by finding a good pair you will ensure your child has one solid foot in front of the other. Closed-toe might be worth considering if you're wanting a grip on rugged terrain, like crossing a stream with rough-stony bottoms, even wading through mangroves.
Water shoes vs flip-flops is the difference from leisurely strolls along the beach to rocky environments that have sharp rough-edged floors, which demand foot protection, so make sure you pick the right pair!
Below are 7 of the top options that the market has to offer and you will certainly find the one that's best for you and your family.
Kids Speedo Surfwalker Pro 2.0
This Surfwalker shoe has good synthetic soles and can handle most floor surfaces, which combines with the thermoplastic water management design known as S-trac and helps with getting things dry.The mesh and inside panel is specifically made to release the intake of water and helps maximize the drying process.
The textile is soft to the touch and stretchy, which combined with the adjustable strap helps kids slip in and out quickly. The stretch can make the on and off feature ideal for those wanting to put them on as quickly as they want them off, especially with the 4-way stretch design.
The size is a little large as a general rule, so be aware that sometimes a snug fit can be better in general, especially if the activities are getting interesting.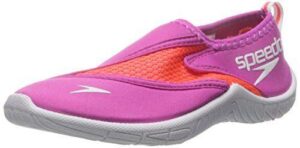 SeaSox Kids Aqua   
These wet shoes offer superb traction and make walking and swimming easier than ever, especially when you're inclined not to take them off. The design of this shoe makes prevention from stubs, scrapes and possible-ripping-off of the toenails decreased.
Some types of water footwear provide thicker soles than others and this SeaSox aqua shoe has been designed to handle versatile water activities, so whatever the days out this can keep things going.
These are extremely durable and can be worn playing sports or at the beach. The mesh is easy to dry and also allows water to flow out immediately for the next activity after the play in the pool.
Northside Brille II Kids 
This is a shoe that can be used for small hiking activities or a play in the pool. The drainage holes allow the passing of water to be quick and makes walking become quickly enjoyable.
These particular type can be used as boat shoes. When the fishing trips in the deep blue sea begin and you like to have grip these can make catching a large-one that little bit easier. However, if water shoes for hiking are your goal then these too can be used and these are really adaptable with a strong grip, and thick sole to help cushion the foot.
This particular water shoe has ankle support and unlike others can offer more protection to the stability of your child overall.  These have laces that tie-up with a pull and make it easy to adjust under tricky conditions.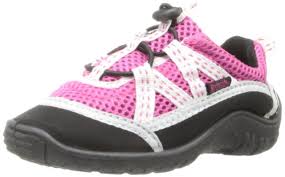 EQUICK Quick Dry Kids
This has to be the footwear of choice for swimming pools and is especially good because the water shoe is without laces and acts more like a flipper than footwear.
Exploring the great outdoors is every kid's dream and these can be used for activities that are not too rough and rigid, unlike some of the others in this review. This is however very lightweight and easy to slip on and off, which is most children's preference for days at the beach.
The anti-slip sole is made from rubber and has been designed to protect from falling or slipping on slippery surfaces. The comfort of the shoe is great for breathing and makes things cool on the hot days.
These can be used for all sorts of water activities from snorkeling to volleyball and with the 7 featured water circulation design, this can easily go from one to the other.
Body Glove 3T Kids Barefoot 
These ones with separate toes are ideal for those who want grip and extra non-slip shoes, these types are common for surfing and outdoor water sports, because of the agility and flexibility.
These can also be used as water shoes for running and offer protection from the varied surfaces, which can change quickly outdoors. These type of shoes with toes are great from bending and having grip whilst climbing and moving from one height to another. The heel is flat with a zero-lift design feature, which works well with climbing.
The drainage is quick and the hybrid out and in water design combined with the rubber sole makes this synthetic shoe a good contender in this review as being one of the best. Kids will be able to run around without leaving marks, because of the non-marking sole, which is ideal for certain surfaces.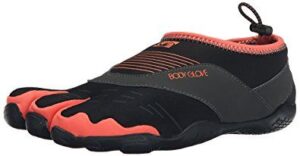 Chatties Kids Aqua 
Some water shoes with good grip come with a price but these a great on the wallet and are cheap for those wanting a good all-around pair without breaking the bank balance, especially with loads of children to provide for.
The design produces a quick drainage via the mesh-holes, which is also extremely breathable for those wanting instant drainage and most toddlers love these types because they are super-lightweight and comfortable.
The thick sole has a rubber made a bottom and is stable and secure on all surfaces, so whatever type of water sport or activity the kids are well protected in this pair of shoes.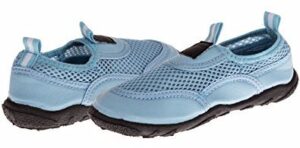 NBERA Kids 
Most options for water aerobics are specifically made to be tight fitting and flexibility in the water and with as little resistance as possible, which makes for movement in the water particularly easy and enjoyable.
Some people prefer water sandals rather than shoes because of the lightweight design, but these are the latest innovation and combine the lightweight feature with strengthened grip all around. The material is a mix of polyester, polyurethane, and neoprene and makes the shoe really light and quick to dry.
These fit like a glove and for those children and clumsy-toddlers these will keep a tight grip even when they are trying their best to kick and splash around, which might suit some parents.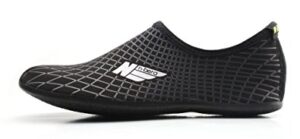 Best Overall Pick
The best overall pick with the best traction and overall features has to be Body Glove 3T Kids Barefoot Water Shoe, which has superior-grip and a drainage IDS system. The synthetic material is super-lightweight and makes moving on any surface as easy as can be for a reasonable price. The grip and snug feeling around the toes make this water effective and resilient regardless of the activity your kid chooses to do, whether windsurfing or sailing. 
Best Budget Pick
The Speedo Surfwalker Pro 2.0 is the best out of the bunch as far as price and provide a great overall budget product. They are flexible, tight-fitted and easy to slip on and off. They also dry quickly and let the flow of water come and go with a design that makes any outdoor activity easy and light.