Sliding for kids is fun! Toddlers love climbing on everything they can find, so climbing toys are ideal gifts to give them. Climbing play sets or toddler activity gym is a fun option for your kids to learn new skills and interact socially. Kid slides, monkey bars and climbing toys are the best toddler gifts, your little ones would be able to have fun both indoor and outdoor. It puts smiles on parents faces when they watch their toddler have fun with kids climb toys. However, there are so many different styles of climbing toys available for toddlers, it's difficult to know what to choose. This is why we have created this list of our top picks for the best toddler climbing toys.
There are toddler climbing toys here suitable for younger toddlers, as well as some which will still be loved by five year-olds. Some are more basic, whilst others have a range of fun features such as kids slides and ball activities. All are ranging in price from around $80 up to $400, there is something to suit toddlers of all ages here, right up to little kids.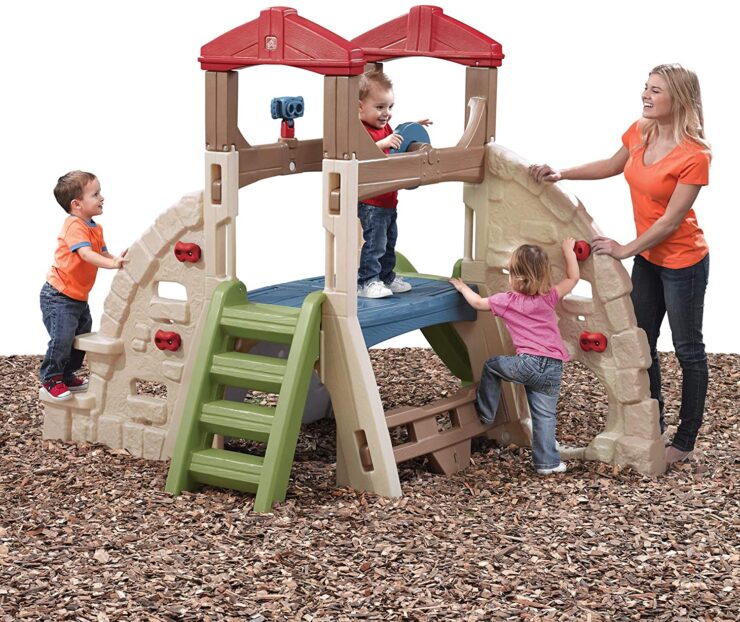 Considerations
It's important to consider your child's size and ability when choosing the best toddler climbing toys for them. If your child is too big or heavy for the toddler climber, it could be dangerous and won't last them long. If you have more than 1 child, think about whether or not they are likely to use the climbing frame too. Should this be the case, you may wish to purchase one of the larger toddler climbing toys which can hold more than 1 child at a time.
Make sure to factor in where you plan to set up the toys. Most of those listed below are outdoor climbing toys, but if you have a large living area indoor, these toys can be set up indoor and outdoor.
It's important to consider your child's preferences. There are so many different toddler climbing toys in different designs and awesome patterns. The secret to buying the best toddler climbing toys is to consider mostly what your kids want, and also to consider if your kids are more likely to play indoor or outdoor. Think about how you are going to store the toy when it's not in use. Choose something which you are able to store safely in bad weather so the toy doesn't get damaged or weathered.
Top 10 Toddler Climbing Toys for Boys & Girls
Here we have reviewed 10 of the best climbing toys for toddlers. There are loads of different types from climbing frames, climbers with a kids slide and even climbing toys with a tunnel attached.
1. ECR4KIDS SoftZone Play Set
This colorful climbing toy is ideal for any active little ones. It comes with 5 different foam shapes that you toddler can use to build, climb, or slide on! The bright design is sure to catch your child's eye, and with a handy non-slip bottom they're guaranteed hours of safe fun!
The SoftZone Climb and Crawl play set is ideal if you're looking for a climber that's soft and easy to use. The variety of different shapes will encourage your little one to use their imagination, while also developing important skills such as balance! You won't have to worry about keeping it all clean either, as these durable foam shapes are incredibly easy to clean.
This toy is sure to be popular as your child gets older, too. Older children love to make a blanket fort or play-houses, and these fun shapes are perfect for imaginative play. Your little one is guaranteed to get great use out of this climber for years to come!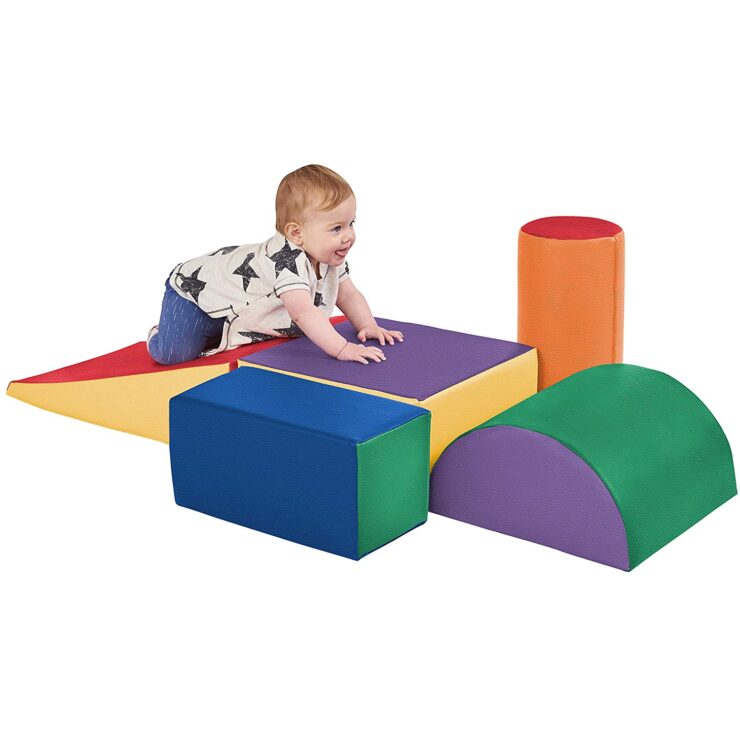 2. Edushape Blocks
This toddler climbing set is incredible value for money, as it includes 52 colorful blocks for hours of fun! These soft toys come in 3 different color variations, and the easy-grip design makes them super easy for your little one to interact with!
With so many blocks included in the set, the only limit is your imagination! Build a playhouse with your toddler, or encourage them to make the biggest tower they can. The Edushape Blocks really do carry a range of possibilities, and they're the perfect gift for encouraging your child to learn through play.
The bricks themselves are all made of cardboard, making them an incredibly lightweight and safe option. They're great for taking on the go, and are a perfect addition to your play room. With the ability to hold an impressive 100 pounds, these bricks are really durable, and are an excellent option for any growing child, too.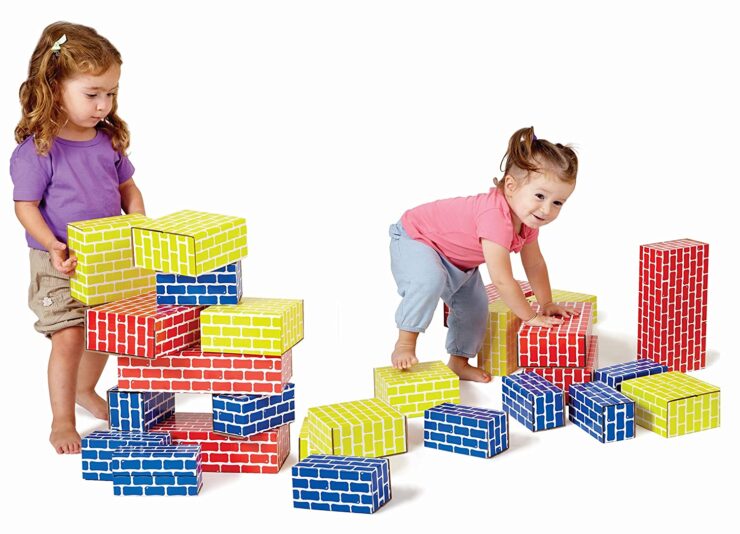 3. Crawl Tunnel and Ball Pit Play Set
If your little one adores trips to the soft play center or jungle gyms, then this unique play set is sure to catch their eye! This colorful pop up crawl tunnel has 3 different tents for your toddler to play in. It's super easy to assemble, so nothing will stop your child having fun and learning more about the world!
The play set is made of soft and durable polyester fabric, and is really easy to compress and store after a long day of playing! There are so many ways to use this item, with a built in ball pit, basketball hoop, and target. There's even a shape sorter feature to help with your child's motor development!
If you're looking for play structures that your little boy or girl is guaranteed to adore, then you can't go wrong with this play set! It's also an excellent option for using with friends, and is sure to be a hit at birthday parties or holiday celebrations!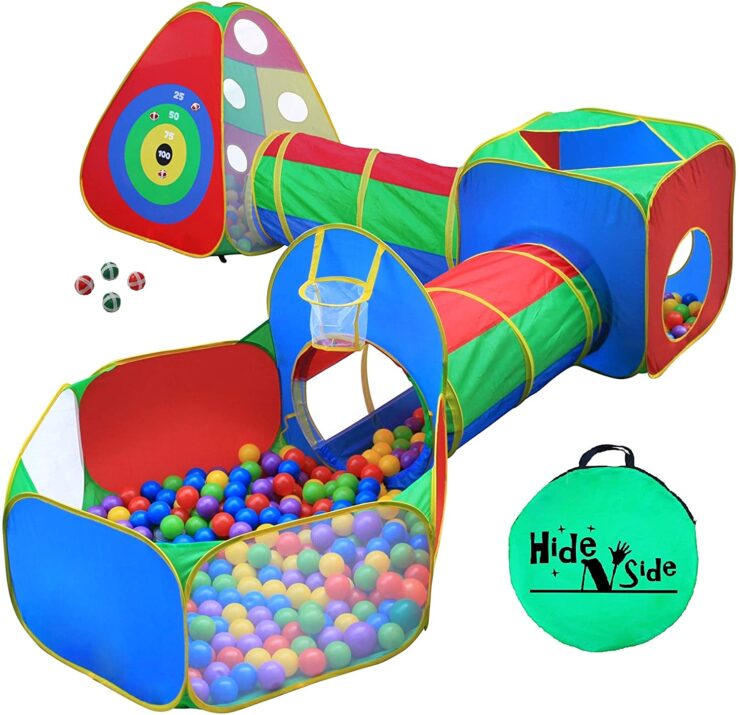 4. ECR4KIDS Caterpillar Climbing Play Structure
When it's too rainy to go outdoors, why not bring the fun of the playground into your living room?
This quirky play set is perfect if you're looking for something your toddler can use all year round! It's a durable option which is both fade and weather resistant, so it's ideal for indoor and outdoor play!
Kids are sure to love interacting with this friendly creature, whether they're taking a ride on his back or crawling through the tunnel! The smooth plastic construction is incredibly strong, and also very easy to clean – so you won't have to worry about wear and tear, either.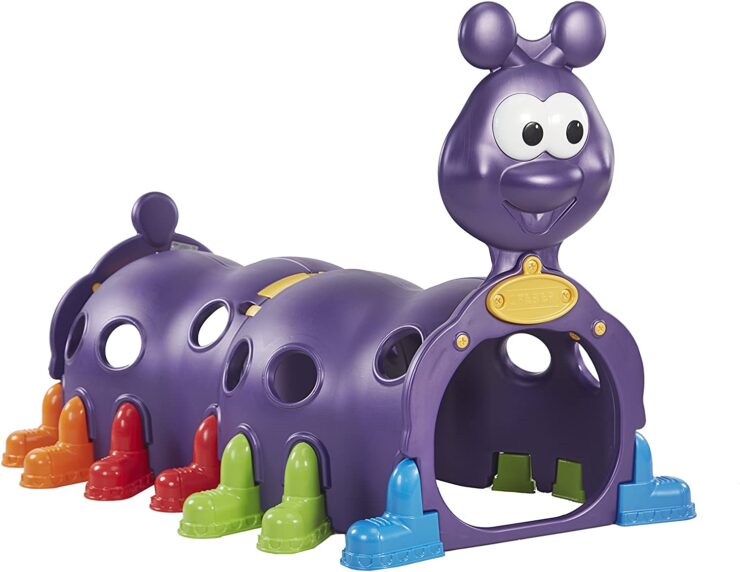 5. Radio Flyer 500
This amazing toy includes so many different ways to play that it's sure to make your toddler's birthday a memorable day! Whether they're racing down the ramp, playing with the car tracks, or riding the race car around the garden, a Radio Flyer 500 is guaranteed to provide hours of good fun!
The ramp itself is over 6 foot long and very sturdy, so your child is sure to have fun while staying safe. The track also has side rails to ensure the car rides smoothly, and to boost safety even more! The car itself is super easy to use with its very own steering wheel, so it's perfect for indoor or outdoor play.
The Radio Flyer 500 is sure to be popular at parties, and when the day is over it's easy to store everything in the base, which doubles as a handy storage box.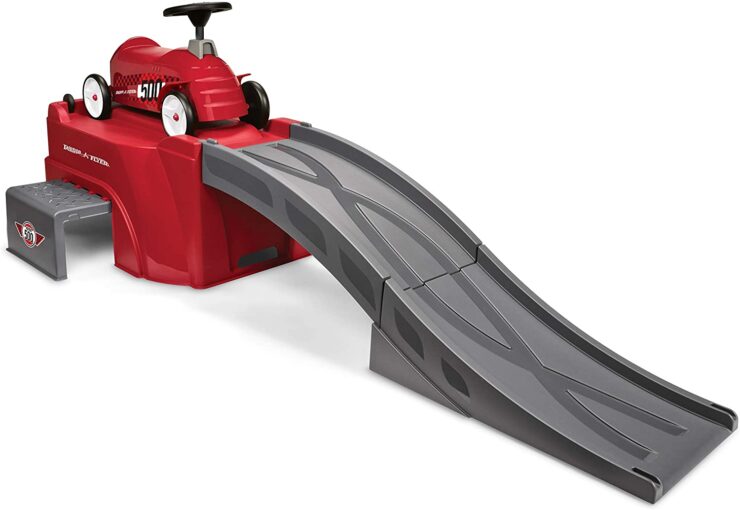 6. Wooden Playground Play Set
This wonderful wooden playground play set is ideal for any indoor area. The colorful wooden components are beautifully painted and varnished, making it a gorgeous addition to any playroom or bedroom, and something to pass down through the family.
There are so many different innovative areas included in this playground play set that it's sure to provide hours of enjoyment for your toddler and their friends! They can choose from the traditional ladder, rope ladder, slide, monkey bars, or climbing rings for hours of imaginative play and climbing fun!
This option is also perfect for when you want to encourage climbing skills, balance, motor development, and muscle strength!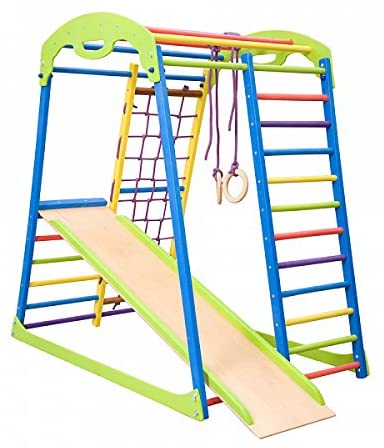 7. Play Fun Climber from Step 2
This cool climber is 1 of the best toddler climbing toys, it is one of the best toys for toddlers who like to climb. This fun outdoor toy is perfect for toddlers to burn off some energy. They will love climbing up high and sliding down the slide over and over again. Two children can play at once due to the ball activity provided on the side of the climber.
Children as young as 1 year old can enjoy playing underneath the frame, and they will love watching the balls drop through the pipes. You can also add water to the ball play area for even more fun, and there is a plug to allow it to drain afterward.
This is 1 of the lowest-priced toys on our list, but it provides excellent value for money. It's small enough that it can be used at home when the weather is poor, meaning parents will really get their money's worth. Putting it together is quick and easy too, taking around 15 minutes so your toddler can start climbing right away.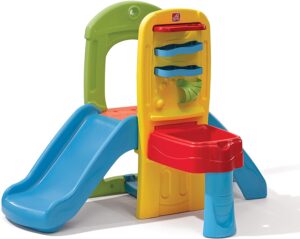 8. Monkey Bar Tower by Toy Monster
The monkey bars tower frame is ideal for toddlers of all ages, as it can hold up to 150lb. This means the monkey bars deisgn is perfect for two or three kids to play on at once.
This toy is simple to put together and even easier to store when not in use. Kids will get years of fun with this toy due to its large design, weight capacity and fun monkey bars.
The way the bars link together to form the climbing frame make it very strong and durable. The self-locking springs mean you don't need to worry about the toy collapsing, yet it is still easy to dismantle if you wish to do so.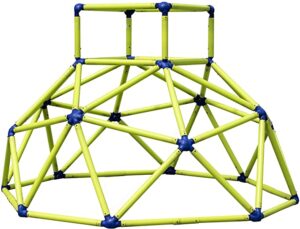 9. Step 2 Sports Climbing Toy
This fun climbing frame with a basketball hoop and slide. Kids will have hours of amusement playing with 1 of the best indoor climbing toys for toddlers. This indoor playset for toddler is a must have as it allows kids to practice a variety of motor skills with this toy, such as climbing, sliding, balance and shooting the ball.
This is perfect for children to share with their friends or siblings, as there are enough things to amuse everyone. This toy will last your child well into the toddler years and beyond, providing excellent value for money.
There is a ball included, and the activity center can be assembled in 15-20 minutes, meaning your toddler can start having fun right away. This toy doesn't take up too much room, meaning it can be used in your home during poor weather.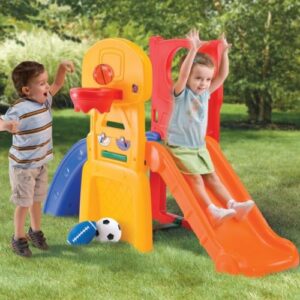 10. TCF-323 Constructive Playthings
These soft vinyl material covered foam blocks are perfect for toddlers who are just finding their feet and taking their first steps. The bright colors and different shapes are sure to catch their attention, and they will love creating different arrangements to play with.
There are other items available in the range, so you can expand your collection as your child grows. They are made from high-quality materials which are effortless to clean, making this perfect for a toddler's playroom.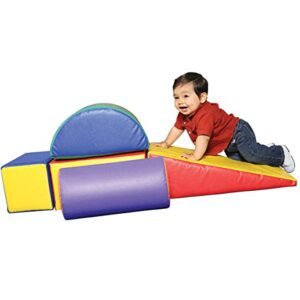 11. ECR4Kids Play Boat 
This pirate-themed climber is sure to be a hit with both boys and girls. They will love being able to climb up high and steer their ship! This makes it perfect for encouraging children's imaginations and is also ideal for two children to play together.
Putting it together is easy, simply click the pieces together and you'll be ready to play in no time. The plastic is very sturdy meaning your children will be able to enjoy many years of play with this toy.
The Pirate Ship climbing boat isn't huge, so it's ideal for younger or smaller children. However, its smaller construction means that it is easy to clean and it can be used in your home, too.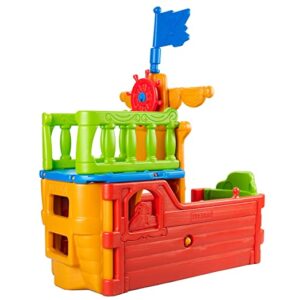 12. Woodland Climbing Toys by Step 2
This outdoor woodland-themed climbing playset will look perfect in any backyard due to its natural color scheme. The ladder is easy for younger children to climb, yet the climbing wall gives older toddlers more of a challenge as they grow in confidence. This means it's perfect for building muscle and improving gross motor skills such as coordination, making it 1 of the best toys you can gift your little one.
There are plenty of things to keep busy toddlers amused and there's enough space for them to share. Younger children can enjoy playing in the area under the climber, and the slide is perfect for children up to the age of four or five. You can also use a sandbox in the area under the climbing area, and it will be kept clean and dry.
All of the wall and climbing features make this like a toddler climbing gym and is easy for them to climb up and grip into the grooves that the design has. This 1 is a great selection for an all-around playground set.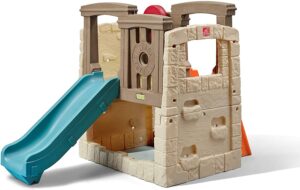 13. EZPlay Panda Indoor Playground
This is the only climbing toy your toddler will need, as it is perfect for use by kids aged 1-5 years old. The indoor jungle gym for toddler has a bright, colorful, and fun design that's sure to catch your toddler's attention – they won't want to stop playing with this toy.
This toddler jungle gym is perfect for play-dates, as several toddlers can play at once. It can be folded away for easy storage, meaning it's perfect even if you don't have a lot of space indoors.
This toy is made from wood, in the USA, and can be put together in a matter of 30 minutes. It can hold a maximum weight of 160 lbs, meaning it's sure to withstand years of play by growing toddlers. Although this is 1 of the pricier products listed here, your child is guaranteed to have years of fun playing with 1 of the best toys ever!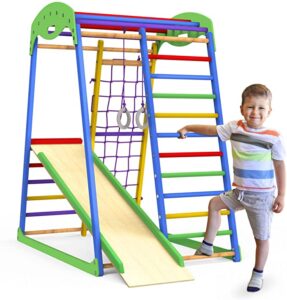 14. Step 2 Panda Climber
This is a basic option which would be an ideal first climbing frame for a young toddler. They will love crawling beneath the platform and climbing up the stairs to slide down over and over again.
This climbing frame is ideal for smaller spaces and younger children, as it is relatively small. If you have more space, it would be recommenced to choose options that are a bit bigger so that they will last your child longer. However, the toy can safely hold a child of up to 60 lbs. Two small children can play at once, but no more than this.
Parents will be thrilled at how easy to clean this product is. It's also strong and safe, so it won't be able to tip over with even the most boisterous toddler using it.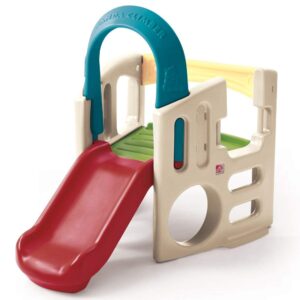 15. Caterpillar Climbing Toy from ECR4Kids
Toddlers of all ages are sure to be delighted by the fun style of this climbing playset. It's perfect for indoor or outdoor use thanks to the heavy-duty plastic construction. It's also fade-proof, meaning it will be looking great year after year.
This is perfect for larger families or having play-dates as it is capable of holding several children at a time. Older kids will enjoy climbing and playing on this toy too, and it is more than capable of carrying their weight.
The window holes on the caterpillar tunnel help keep the inside nice and bright so your toddlers won't be afraid to go inside. It comes with all the bits you need for a quick and easy assembly, so it'll be ready to go in no time.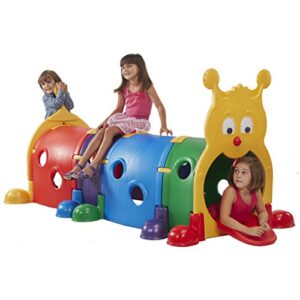 16. Little Tikes Climber
This brand is known to create the best toys and they have not disappointed this time. They are known to create quality indoor and outdoor pieces. Children love this climber because they are light and easy to set up, making it fun to use both indoor and outdoor. If you want your kids to have fun playing with 1 of the best toys, this is the toy to get. This gorgeous little climber is 1 of the few toys for babies who like to climb. It's also perfect for developing your child's hand eye coordination.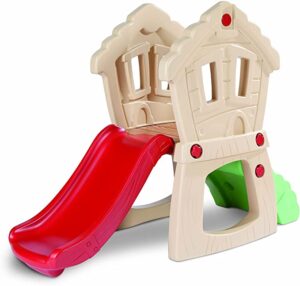 Best Overall Pick
The Step 2 Woodland climbing frame is the perfect outdoor climbing toy for your busy toddler. The size means it's not too big for younger toddlers, yet it's large enough that it will last well beyond the toddler years. The area underneath this toy is large enough for your toddler to sit and enjoy playing or eating – they will love to have their own little den!
The steering wheels and high platform are perfect for encouraging children to play imaginative games. This toy is sure to look great in any backyard thanks to its beautiful color scheme. It's easy to build and clean too, making it parent-friendly as well as toddler-friendly!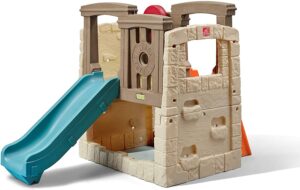 Best Budget Option
If you're looking for a cheaper climbing toy that will still bring your toddler lots of fun, the Step 2 Sports climber is ideal. This item has loads of fun features for your toddler to explore.
It's perfect for helping your child improve their basketball skills, as well as gross motor skills like climbing and balance. The size of this climber is perfect for indoor or outdoor use, meaning you'll get great value for money as it can be used all year round. The smaller size means it's ideal for toddlers aged 1 or 2, but it's perhaps better to spend more money on a bigger toy if your child is older than this.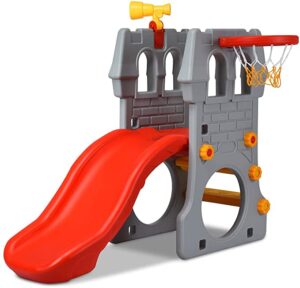 What climbing toy is Ideal for toddlers who love to climb?
We all know monkeys love to climb which is why the "Monkey Bar Tower by Toy Monster" is a great idea! The construction and design of the climbing frame make this a favorite amongst children who love to climb. This is again ideal for toddlers and is safe enough for parents to leave toddlers out in the garden playing on.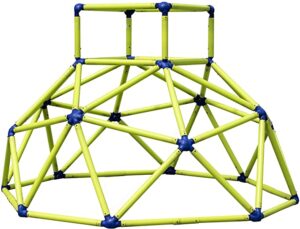 What climber with slide is best for my toddler?
The Panda Indoor Playground with slide is the biggest and best choice for toddlers. There are loads to do on this playground and the slide is 1 of them, it's really long packed with fun! The ash wood is quality and the design is 1 of the best, which is also reflected in the price.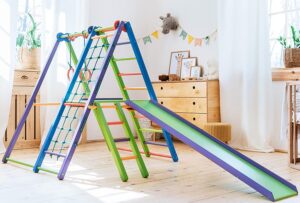 Here are some other worth mentioning products that may be interesting to you: