Getting your kid a watch as a gift serves two purposes; it shows how much you love and care about them and also it helps them get better at telling time. There are some watches that are labelled as time teachers – ideal for young children who are learning how to tell the time. Other watches are designed for kids who can already tell time, and are ideal for helping them to be punctual for school and social events.
Kids watches comes in different colorful designs, and some feature fun characters they see on cartoons. This will help make sure your child is interested in learning to tell the time and will want to wear their watch every day. Here, we look at over 20 great watches for kids of all ages, so there is sure to be something they will love.
28 Best Kids Watches To Purchase
1. Purple Kids Strap Watch
This Timex analogue watch is made in the USA and is designed as a time teacher to make learning to tell the time an easy process. The hands of the watch are labelled, the longer hand has 'minutes' while the shorter one has 'hours' written on it, and the right side of the watch face says 'past' whilst the left hand side shows 'to'. The strap is made from an elastic fabric that makes it adjustable to fit well and washable when it gets dirty.
The analogue display of the watch is made from quality acrylics, which makes it crystal clear and also protects the surface. However, it is not waterproof so can't be used to swim or deeply immersed in water. It has 12 other different designs to pick from; it's an awesome gift idea for younger children.
The pros of this watch are: the strap is a washable fabric and the watch is durable and easy to use.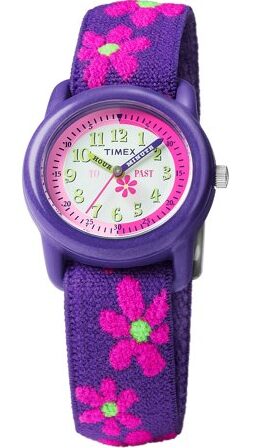 2. Ninja Turtles Digital Kid's Watch
This is a watch that comes with fun – it features the faces of all four ninja turtles displayed on the face. It looks really cool with the matching green strap too.
It has a LED light that flashes different colors of light for kids to see the time clearly in the dark. There is a button which can be used to easily change the colors on the watch face. It has an adjustable strap that makes it easy to fit and buckle comfortably.
The ninja turtle kid's digital watch is durable and can fit almost any child's wrist, however it is not water resistant.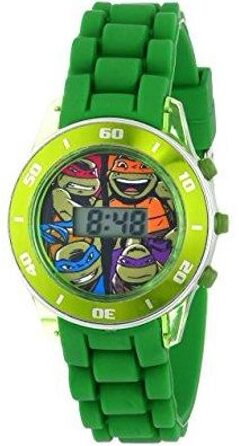 3. Dc Comics Batman Watch
There are different kinds of comic watch with different characters – this one is inspired with the Batman black and yellow logo. The strap is plain black and there is a Batman logo on the face.
It is easy to use, as the digital display means kids can simply read what they see on the screen. Whilst it won't help them learn to tell time using an analogue display, it will still help ensure they are always on time!
This watch is sure to be adored by kids, especially the comic devotees. It has a simple and convenient strap which can be adjustable to fit the desired wrist size. This watch is only available in one color scheme – Batman's signature black and yellow.
The pros of this comic watch is that it is comfortable for kids to use and is adjustable to fit right. However, the main con is that it's not water-resistant.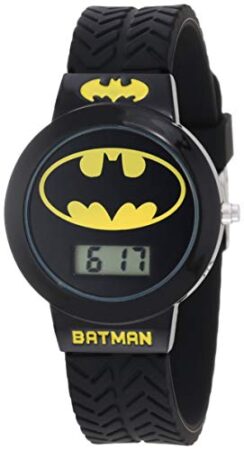 4. Azland Sport Waterproof Kids Digital Watch
The Azland sport watch is a strong, rugged and tough digital watch for kids. This watch is multi-functional; it has three different alarms, a dual time and date display, a stop watch, count down time, and can also function as a daily reminder. Also it has beautiful and colourful light-up display which enables children to have a clear view of their wristwatch even in the dark.
It is water-resistant, so can be used for swimming and diving. However, the buttons can't be pressed under water, as this will reduce the life span of the watch. The main benefits of this watch which make it stand out from others available is that it has LED lights and is very strong.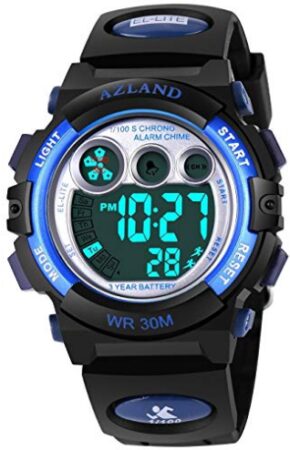 5. 3D Disney Quartz Kid's Watch
This watch is so attractive to kids, especially those who are fans of Disney cartoons and Minnie Mouse. The Minnie Mouse design on the watch face means kids will want to check the time constantly to look at the cute design! The hands of the watch are brightly colored to ensure they stand out, making telling the time easier.
It's available in a pink color, which makes the watch especially attractive to young girls. This reliable and strong watch is a great gift idea for children. The straps is made from rubber, which is flexible and comfy, it's quite adjustable to fit the desired wrist size.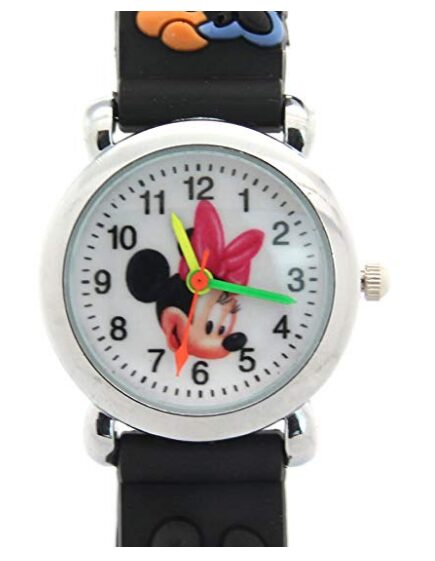 6. Batman Black Rubber Band
This digital watch is fun for kids – perfect for Batman lovers or kids that love comic characters. The watch is plain black with batman logo design on it.
This watch is made from one piece – the band and watch face flow into one another seamlessly. It has a special buckle design feature that makes the watch fit so well. It has a crystal clear display that is well protected but doesn't have water resistance. The watch is reliable to last for a very long period of time.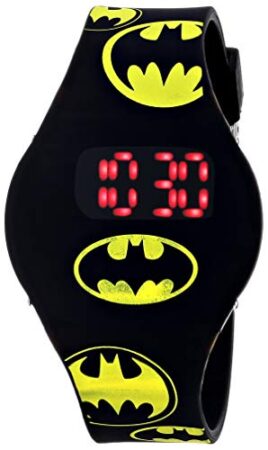 7. Lego Quartz Multi-Colour Watch
This LEGO bracelet watch is designed to look like a LEGO minifigure. It comes with twelve different colorful watch links that are replaceable, so the strap can be extended and reduced to fit different wrist sizes.
The analog face is simple and easy to read. The LEGO watch is not water-resistant for swimming or submerging under water, but it can handle a small splash. It is durable and will give a lot of enjoyment to kids who love LEGO!
This watch is a great gift for any child who loves building LEGO – they will love being able to build their own watch! It's a lot of fun changing the links to colors which suit your child's mood or tastes.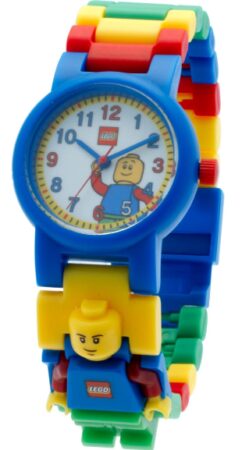 8. Leather Strap Quartz Watch
This leather strap watch is very cute and it comes in different designs. This watch is not just limited to kids – teens and adults can also use it. It is made from real leather that is ultra-soft and comfortable to wear.
The watch is an accurate timekeeper and is attractive too. It should not be submerged in water, so it's best to remove it before showering or swimming. This watch is likely to appeal more to girls – it is a great gift for tween girls who have everything! The watch has an elegant design which means it doesn't look too childish – it is sure to be enjoyed for many years.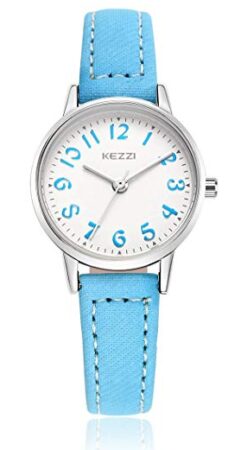 9. Waterproof Digital Sports Watch For Kids
This watch is best for kids who like sports or like the sporty look. The watch can be worn while swimming or diving, although you can't press the buttons underwater.
It's a very comfortable and durable watch. A multi-functional watch, it gives the accurate time, displays the date and features an alarm, backlit display and stopwatch.
The surface glass is made from a clear resin material which makes the glass rugged and durable. This watch can stand up to whatever your child can throw at it, and will last for many years to come!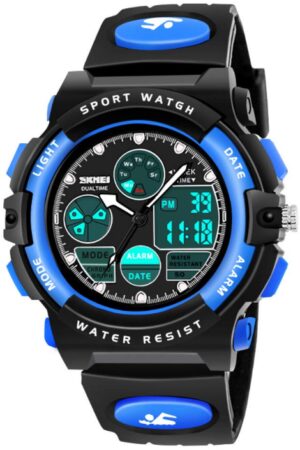 10. Disney Quartz Rubber Watch
This is a watch that not only looks fun, it is also easy to use and learn from. This Disney watch features Lightning McQueen on the face display, so it will be loved by boys and young children who love the popular movie.
The short and long hands are labeled to help kids tell the time right. Also, the minutes are displayed around the edge of the watch, to help kids read both the hours and minutes easily. It has an adjustable strap with a buckle to ensure the watch fits properly on the wrist. The watch has a long life span and will be loved and worn for many years.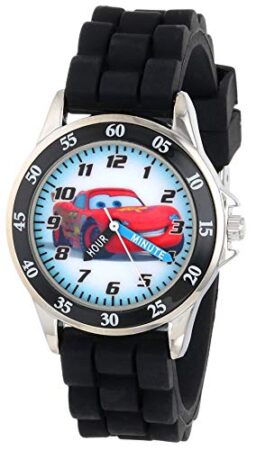 11. 3D Digital Cartoon Sports Sun Team Silicon Wristwatch For Kids
A 3D watch is always appealing and charming, as they usually represent different cartoon characters or other fun designs. These 3D designs on the strap are designed to make the watch appealing for young children to wear.
The color of this watch is classic and unique, it is durable can withstand some pressure as it has a strong face made from a clear resin material.
The strap is made from quality silicon material which is comfortable to wear and very easy to wipe clean. This watch shouldn't be submerged in water however, as it is not water-resistant.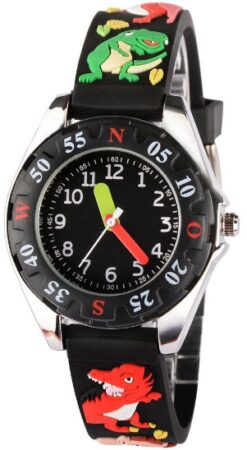 12. Kids Soft Band Watch
This kids watch has a soft and comfortable band, meaning kids will love to wear it and won't find it uncomfortable. The strap is made from high-quality rubber, so it fits most wrists well. This is a perfect gift idea for girls of any age – even tweens and teens will love wearing it.
The watch keeps accurate time and has a long lasting battery. It can match any outfit and occasion thanks to the plain white strap and colorful face. This is a watch which is very durable and will last a long time, which is why it is perfect for children.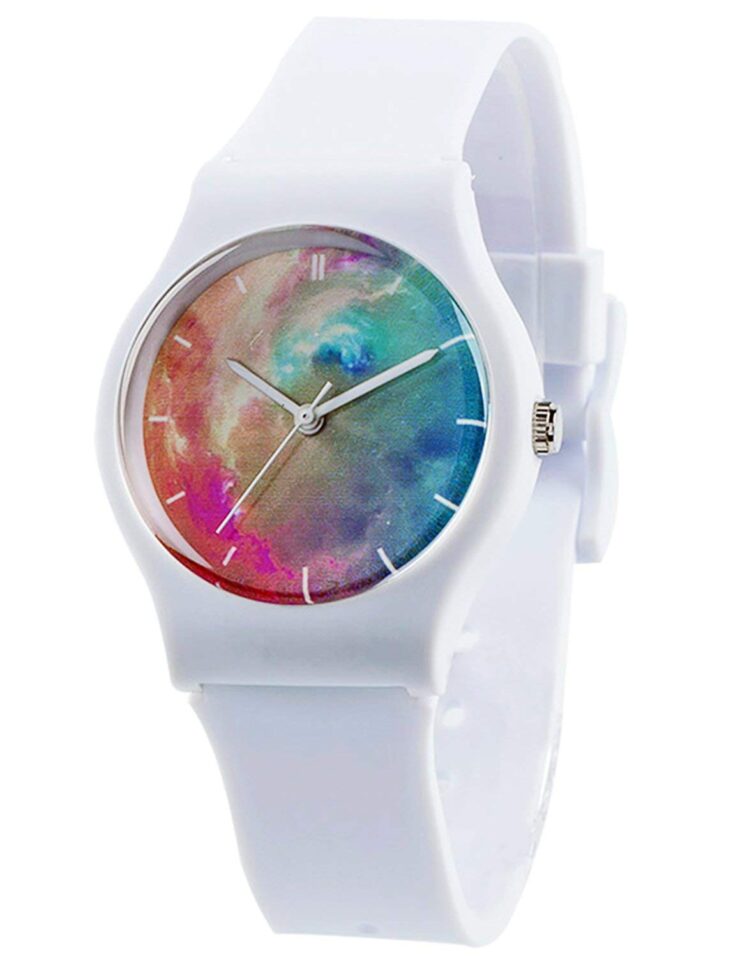 13. Zeiger Fashion Watch With Resin Strap
This durable fashion watch is made from silicon material so it is flexible and comfortable. This stylish, fashionable watch has a brightly colored strap which is sure to appeal to older kids. The surface glass is made from resin, which won't scratch easily meaning kids can always clearly see the time.
This watch has an LED light that enables the child to see the time clearly even when it's dark. The light is activated using a simple button. Unfortunately this watch is not water resistant, but it keeps an accurate display of time and has a long battery life.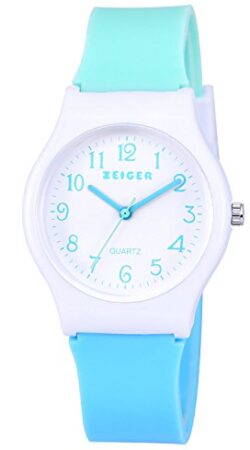 14. Cute Rabbit Shape Digital Watch
This watch is very stylish; the surface has a cover with an adorable rabbit head shape to protect the glass. It comes in beautiful colors to suit a range of tastes and preferences. The strap is very easy to buckle and can be adjusted to fit almost all wrist sizes. This digital watch is a perfect gift particularly for younger girls.
It is non-water resistant, but can be worn while washing the hands – a small splash of water won't affect the watch. It is made from high-quality silicone material which is flexible and comfortable for kids to wear all day long.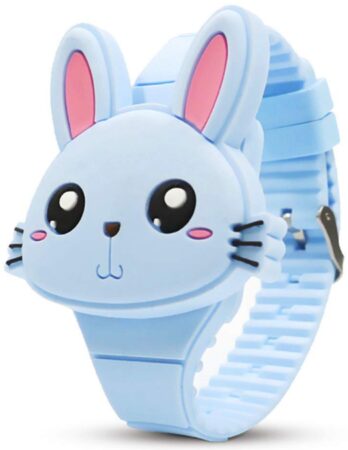 15. Purple Disney Frozen Analogue Kid's Watch
This is a cartoon graphic watch featuring a Disney Frozen design – perfect for encouraging kids to learn to tell the time. This is a great gift idea for girls who love Frozen – they will love to see Elsa and Anna on their wrist! The hands are labelled and the minutes are boldly written around the side of the face.
It's an analogue display watch with a plastic band that stays securely on the wrist. It has water resistance and can be briefly immersed under water. The watch is durable and reliable and is excellent for helping kids learn to tell the time.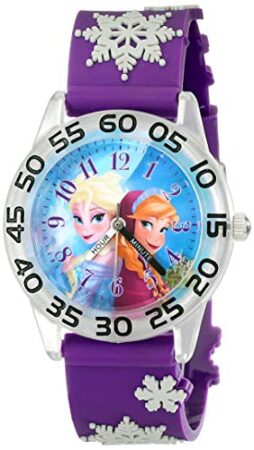 16. Casual Xoxo Rubber Watch
This Xoxo watch is a perfect choice of gift for your child – it comes in a cute case which includes a complete watch with seven other rubber straps to mix and match with. This means the watch can be used for different occasions and will match any outfit your child wears.
The glass is crystal clear, made from a quality resin material, while the straps are made from rubber. Therefore, they are flexible and comfortable, and the battery on the watch is long-lasting as well. Each strap has an adjustable buckle that lets the watch fit well.
This watch is not water-resistant, so it's best to avoid getting it wet in order to prolong the lifespan. Kids will love this watch and the interchangeable straps – they will have so much fun choosing different ones to match their outfits and their mood!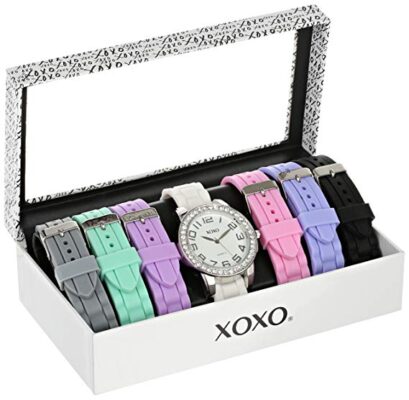 17. Multi Functional Uswat Kid's Digital Watch
This is a fashionable digital kids watch with many different functions. It displays the time, including the hour, minute and seconds and week, and also features a daily alarm, a calendar and an hourly chime. The watch offers a long battery life as well as water-resistance to 50m deep.
The watch has an EL backlight which brightly lights up the display in the dark when activated. There are several different colors, shown below, so kids will never be stuck for choice!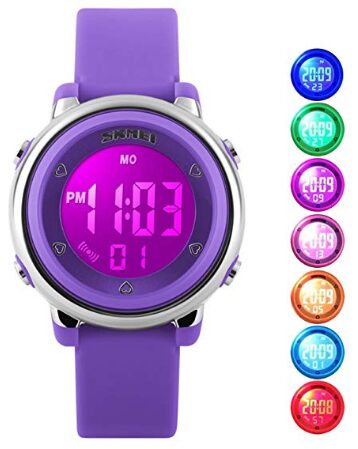 18. Ovvel Time Teacher Kids Watch
Ovvel is a brand offering different styles of watch – this particular Ovvel time teacher watch is designed with a Japanese mechanism to help the watch movement remain accurate and give the precise time.
This watch is ideal for learning to tell the time. The hands are labeled; the short hand is labeled hours while the longer one is labelled minutes. Also, it comes with different sets of numbers, the first one is for hours while the second one is for minutes. This watch is easy to use and read, and is excellent for helping kids learn how to tell the time quickly.
The watch is ideal for young girls – it is very stylish and goes with any outfit. The benefits are that it has a long-life battery and it is made from high-quality materials which makes it durable.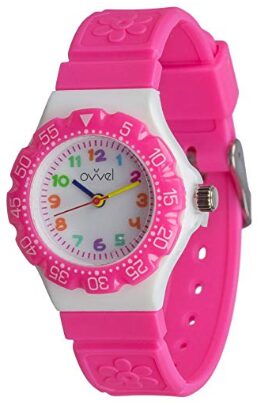 19. Outdoor Waterproof Digital Analogue Watch
This is a water-resistant watch you can use when washing the hands, showering, and swimming. However, it should not be put under hot water nor should the buttons be pressed under water.
The watch is easy to learn to use, yet it has so many useful functions. It has an analog and digital display, it provides the date, the week and also has an alarm. It has an LED light that comes on when you press the back-light button, enabling the watch to be read in a dark environment.
The watch is made from high quality steel material and has a PU band. Light in weight and with easy to clean and dry straps, this watch is really practical. The strap is adjustable to fit various sizes, and is durable and comfortable to wear. It is a perfect gift for kids, especially for sporty boys.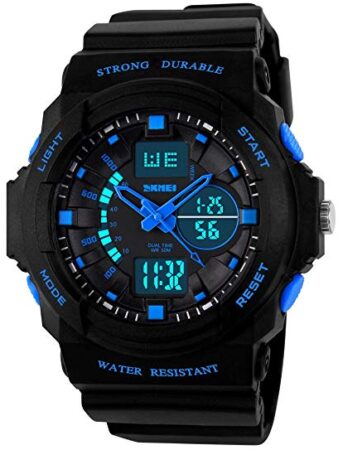 20. Digital Outdoor Screen Touch Sport
This is a touchscreen watch, it has a 12/24h format and also an LED light. This LED light is used mostly in the dark, it lights up when activated so kids can see the time clearly.
The watch is water-resistant to light splashes, but can't be immersed into water. The battery on this watch is expected to last for a year before needing replaced, so it offers excellent value for money.
There are various colors available to choose from, making this a unisex watch. It has a simple and minimalist design, which is ideal for kids of all ages. It is quite large and somewhat heavy, so it is best for older kids and teenagers.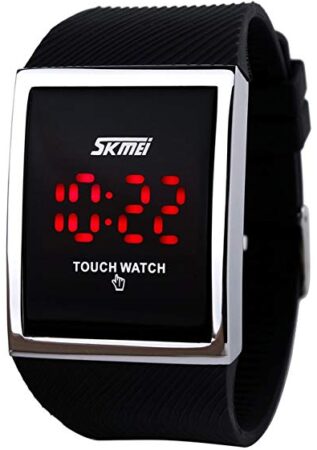 21. Tie Dye Disney Kid's Rubber Band
This Disney watch has a unique and colorful tie dye strap which is sure to appeal to young girls. Kids will love the fun Minnie Mouse design on the face of the watch – her arms are the hands of the watch! Around the edge of the watch, 15, 30 and 45 minutes are labelled to help kids learn to tell time.
This watch has a strap that is washable as it's made from rubber. It is also adjustable to fit most children's wrists. Girls will love this colorful watch and won't want to take it off! It matches just about any outfit so can be worn for a variety of occasions.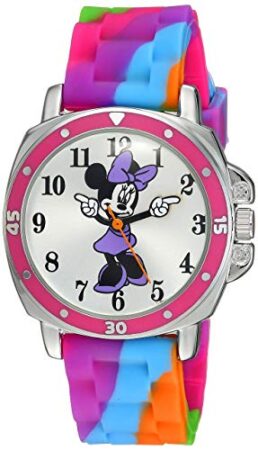 22. Waterproof Digital Sport Led Kid's Watch
This is a great watch for wearing during sports and activities, and the design is likely to appeal to both boys and girls. It can be used to check the time at night – when you press the back light button it has seven different LED light colors; red, orange, green, pink, dark blue, purple, and sky blue. This makes the watch attractive to young children, and also means it is practical.
The watch can be used to shower, swim and dive but do not press any of the buttons underwater. The strap has multiple holes, allowing it to fit most wrist sizes. Kids will have a lot of use with this watch, as it is suitable for all ages.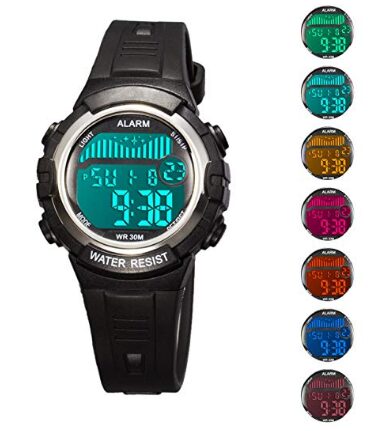 23. Despicable Me! Kid's Slap Watch
This watch is perfect for kids who love Minions and Despicable Me – as most kids do! They will love the bright yellow color and the 3D minion character. There are two different styles, so kids can choose their favorite minion. This is a great way to encourage kids to learn to tell the time – they will love wearing their favorite character on their wrist!
The snap-band design makes this watch easy to put on, and also ensures it fits virtually all sizes.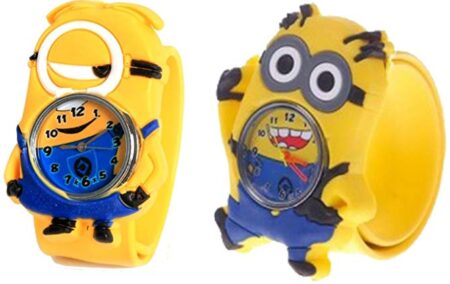 24. Kidper Sports Digital Watch For Kids
This watch has the ability to give the precise time daily, it has a dual time zone, and it includes an analogue and a digital display. It is multi-functional; you can design your date and calendar window, it has an alarm, shock resistance and a backlit display that illuminates in the dark for kids to see the time clearly.
The watch has a 12/24h format and a stop watch, and is waterproof. It can be used when bathing and swimming so long as the water is not too hot. The watch has a durable strap, and the face is also made from strong materials to ensure it has a long lifespan.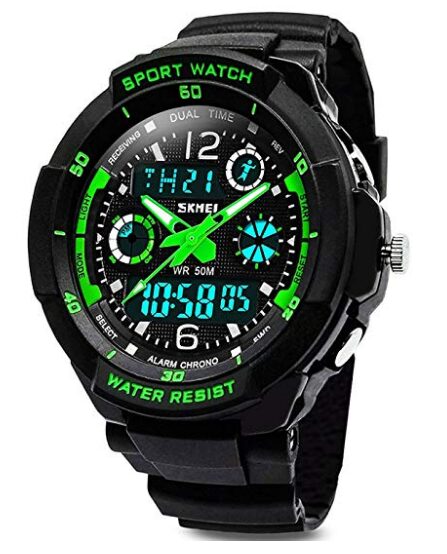 25. Military Luminuous Quartz Watch
This watch is adjustable and washable, and it keeps accurate and precise time. It has a soft yet durable nylon strap that absorbs sweat, so it is comfortable to wear. It is suitable for any occasion, mostly for kids who like to have a sporty look.
It is an easy to use watch which can fit just about any size wrist, with the Velcro fit strap. It's comfortable and reliable and the battery life span is long, however this watch is not water resistant.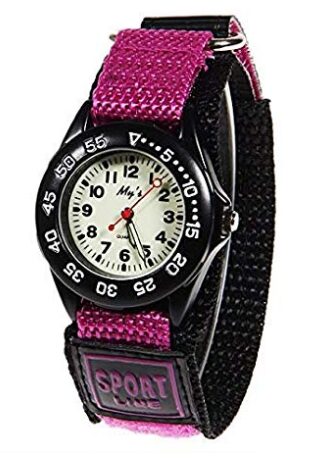 26. Outdoor Digital LED Watch For Kids
This outdoor digital watch comes with an LED light for easy viewing of the time no matter what the lighting conditions. It displays the accurate time and the battery life is long. The watch is waterproof, although it's best not to press the buttons underwater as this might lead to damage inside the watch.
If your child's favorite color isn't blue, don't worry because this watch comes in other color options too. The watch can be adjusted to fit most child's wrist sizes and it is durable enough to withstand many years of heavy use.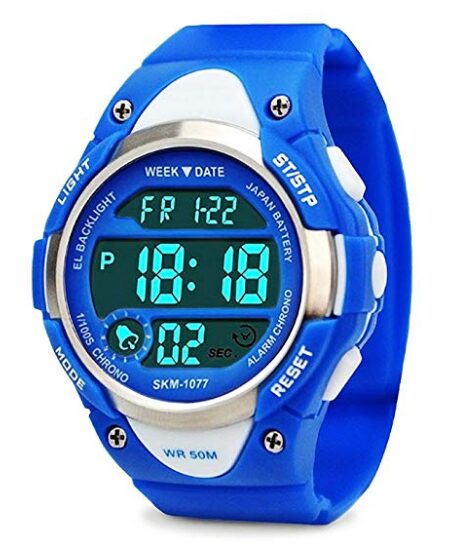 27. Rainbow Coloured Electric Watch
This rainbow colored watch is a great choice for kids who love all things bright and colorful! It flashes many different colors at the same time, as shown in the image below. There are two choices of color for the strap – either black or pink.
The watch is waterproof and it's ideal for kids who love playing outdoor sports and games. The surface glass is made from clear resin, making it strong and durable enough to last a long time. The watch also has a long-lasting powerful battery.
The watch band is washable as it is made from silicon. It is comfortable to wear for long periods. It is a unisex watch and a good gift idea for kids of all ages.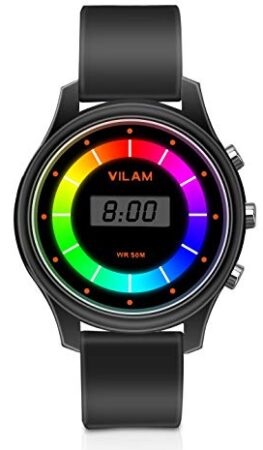 28. The Avengers Digital Watch for Kids
This is without a doubt the best watch for kids who are fans of the Avengers comics and movies. The whole watch, including the strap and the face is covered with Avengers-themed graphics. It's bold and colorful and sure to get your child noticed!
It has a LED light which allows the digital time display to clearly be seen at all times. This watch is not water-resistant, however it is made from high-quality plastic which ensures it has a long lifespan.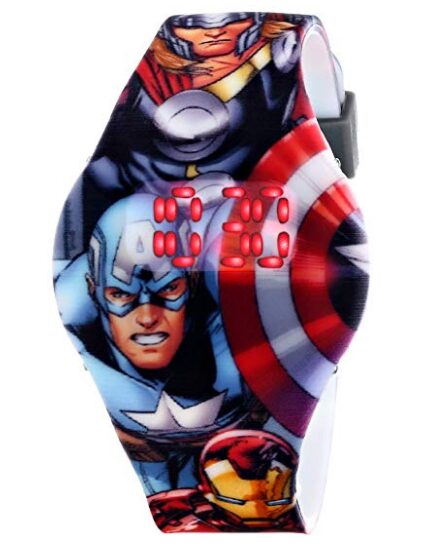 Conclusion
Watches aren't meant for adults alone, even kids can now join in the trend. Nowadays, watches don't just tell the time, they have other useful features such as setting alarms, GPS tracking, LED lights, games and many more. There are loads of great kids watches available to choose from – the one you should choose really depends on the child's age, gender and interests.
Considerations when Picking Boys Watches?
There are loads of great boys watches to choose from, so there are a few things worth considering before making a choice. You should think about what he is interested in – such as movie or cartoon characters. Also consider whether he needs a watch to help him learn to tell the time, or maybe he prefers a digital display. Consider choosing a watch which is durable when buying for kids, and also one which can adjust to fit a range of sizes to ensure it lasts for many years.
Tips on Choosing Popular Watches for Girls?
Again, there are many lovely watches for girls so it's important to choose wisely. You can also think about what cartoons or colors are her favorite to find a style she will love to wear. It's important to find a watch which is age-appropriate – older girls such as tweens and teens probably won't appreciate a watch with cartoon characters on it. Many girls like bright and bold colors, sparkles and lights on their watch – there are plenty reviewed above to choose from!
How to Pick a Cool Watch for Kids Aged 10 Years Old and Above?
Kids over the age of ten are generally becoming less interested in cartoon characters and are rather looking for a watch which is stylish and functional. Many boys this age appreciate a digital sports watch with different functions – waterproof ones are particularly popular. Girls will appreciate something sleek and stylish which they can wear with any outfit, on any occasion.
FAQs
Do all these children's watches come with an alarm?
No, although many digital watches include an alarm. This is ideal for allowing your child to waken themselves up in the morning, or to remind them of any classes or appointments they have. Check the individual watch before buying to ensure it has an alarm if this is a feature you desire.
Should I get my child a waterproof watch?
If your child is a keen swimmer, or would prefer to keep their watch on at all times then yes, this is a good idea. However, most watches can be worn when washing the hands or when it's raining – light splashes are fine for the majority of watches and won't cause damage.
What is the difference between kids and toddler watches?
Toddler watches and those aimed at younger kids tend to have time teacher functions. This could be labelled hands, minutes around the edge of the face and a clear, easy to read display. They also tend to be small and light, so they are easy for younger kids to wear.
How to choose a watch for my kids first watch?
If you are buying a first watch for your child, it's a good idea to choose one which is a time teacher – to help them quickly learn to tell the time. You should also choose one with their favorite characters or colors, to encourage them to want to wear it all the time.
What are considered the top rated watches in 2023?
All of the watches reviewed here are excellent quality and have fun features, however they are not all suitable for every child. It really depends on age, gender and personal tastes. It's worth noting that some cartoon character watches tend to be slightly cheaper quality, whereas digital sport watches are often more robust and durable.
Are sports wrist watches best for outdoor use?
Sports watches are ideal for using outdoors, as many are waterproof. The digital display tends to be easier to read quickly, and they are also generally more sturdy and durable. This means they will last well even if they are handled a little roughly during sports and exercise.
Can watches for 8 year olds be used for children aged 6 years old?
If your six year old can tell the time, there is no reason why they shouldn't wear a watch aimed at older kids. However, do check the size and the weight of the watch to ensure it will fit snugly around the wrist and won't be too heavy for your child to wear all day.
What are the best kids digital watches with stopwatches?
Many digital watches come with a stopwatch function – we have reviewed some such watches here. Kids will love using the stopwatch to time themselves and their friends having races!