A pack and play is a vital piece of kit for many parents of babies – they are extremely useful for a variety of purposes. Not only can they be used for your little one to sleep safely when traveling away from home, but they are also ideal for providing a safe place for them to play whilst you are unable to give them your full attention. A portable play yard can be taken just about anywhere, whether to be used as a playpen or as a crib, so it's definitely something worth investing in whilst your little one is young. They come in especially handy once they get on the move – they're great for keeping babies safe for a few minutes whilst parents take a bathroom break!
These playpens all have different features and frills, so we've composed this guide to help you sort through the different options available, in order to find the one which best meets the needs and requirements of your family. You'll find some helpful tips and advice as well as reviews of 15 of the best options on the market today. So, you're sure to find just the one you are looking for here.
Considerations When Choosing the Best Pack and Play
First, let's note a few things worth considering when shopping around for the best playpen for your baby. Here are some of the main factors to keep in mind.
Size and weight
The first thing to look at is the dimensions of the crib, as well as how much it weighs. Make sure it's big enough for your baby to sleep or play comfortably, but that it will also fit into the space you have available, especially if traveling. The weight is also important to consider if the crib will be used outside of the home – taking something too large and heavy can be a great inconvenience. Check the maximum weight and height limitations for babies to use the portable crib you choose, too.
Features
Some of these playards are more basic, whereas others are packed full of extra features. For example, some come with bassinet attachments for very young babies, changing tabletops, and storage pockets on the sides for toys or changing supplies. Many also come with toy arches for babies to enjoy. Some have wheels for easy movement around the room, which could be a feature worth investing in for many parents.
Mattress
If you intend on using the playard for sleeping, check that it comes with a suitable mattress. Ensure it is safe for overnight use and that the mattress is comfortable for your baby to sleep on.
Ease of folding and unfolding
This is another key consideration, as these products are notoriously difficult to assemble! It's worth looking out for those which are designed to be set up and packed away easily within a matter of seconds, as this can save a lot of stress and hassle.
Materials
The last thing to think about before making a decision is the materials used to make the item. Look for things that are easy to clean and wipe in the event of a spillage or accident, as well as sides that promote airflow and allow you a good view of your baby when they are inside. Some travel cribs have removable covers that can be machine washed for maximum convenience and hygiene.
Top Pack and Plays for Babies Reviewed
Now we have looked at some of the key considerations, it's time to move on to review some of the best playards for babies on the market today. With 15 to choose from, you are going to be spoiled for choice!
1. Lotus Crib

Our first pick of the best pack n play is the lightweight Lotus from Guava. It is a great pick for families who frequently travel, particularly by air, as it folds to the size of a backpack and weighs only 13 pounds. Setting this one up only takes 15 seconds, so it won't waste any time when on vacation either! The sides of this crib are mesh all the way up, to ensure maximum airflow and breathability, as well as allowing parents to easily keep an eye on their baby.
One side of the crib has a zippered door, which means it's easier to put your baby in compared to reaching in over the top. This also allows you to cuddle and comfort your baby easily, without having to lift them in and out of the crib whenever they need this. The pack n play mattress measures 42 x 32 inches, and the height of the crib is 25 inches. Toddlers up to the age of three can sleep overnight in this one, and it's equally suitable for newborn babies thanks to the thick, foam mattress.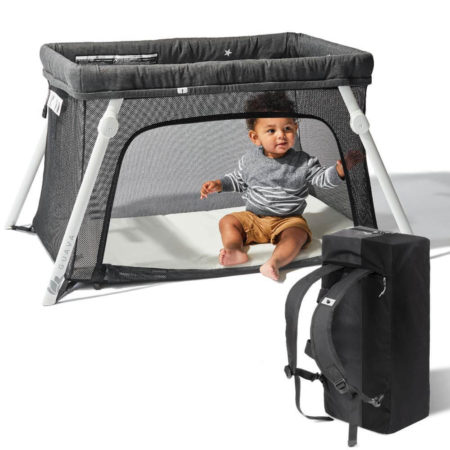 2. Graco DLX Playard
This playard is a great choice as it comes with a changing table as well as a vibrating chair for babies to rest in. The changer can be used by babies weighing up to 30 pounds, and makes diaper changes easier on parents' backs, as well as providing a convenient place to change them when staying away from home. This crib plays 10 different soothing sounds and classical songs in the chair and the bassinet which is perfect for helping your little one drift off to sleep or to calm down. The seat part is fitted with a canopy to keep light off your baby, and underneath the crib are shelves that offer plenty of storage for clothing, spare sheets, and more.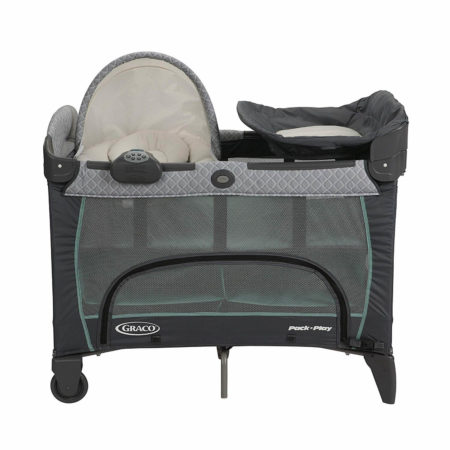 3. Joovy New Room2
Next up we have this larger option from Joovy, which offers an impressive 10 square feet of space inside, which is 50% larger than most other travel cribs. This means it's a great choice for parents with twins, as there is plenty of space for them both to play together. Although this one is larger, it still has two wheels so it's easy to move around. It also has a low center of gravity for maximum safety. For sleeping, this crib is suitable from birth onwards, until a baby reaches 35 inches in length. It comes with a padded mattress to ensure they'll always have a good night's sleep.
There are two colors of this crib to choose between – black or charcoal gray. It comes with a longer two-year warranty and also comes with a cotton sheet included for the pack and play mattress. Every side of the crib is made from mesh, to ensure parents can always keep an eye on their little one. There's an additional insert available for this crib which offers bassinets for young twins to sleep in as well as a changing table for babies up to 25 pounds.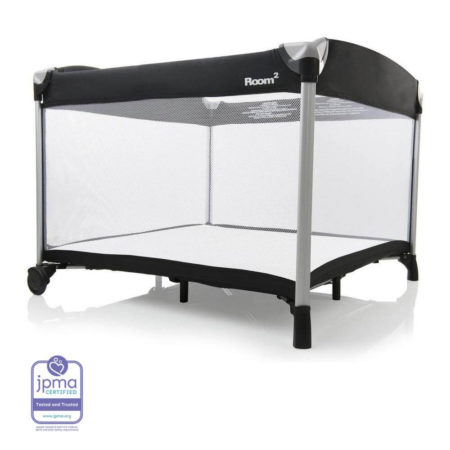 4. 4moms Breeze
If you're looking for the baby pack and play which is the quickest and easiest to set up, this is almost certainly the one to go for. It can be both opened and closed in just one step and using one hand, so it's sure to make life a lot easier! This one is suitable for babies from birth to 30 pounds or 35 inches, so it's sure to provide a lot of use within that time. It comes with a travel bag for taking it out and about, and it also includes a pack n play bassinet and changer, which are removable when the baby gets too big for them, around 18 pounds. The mattress has dimensions of 40 x 28 inches.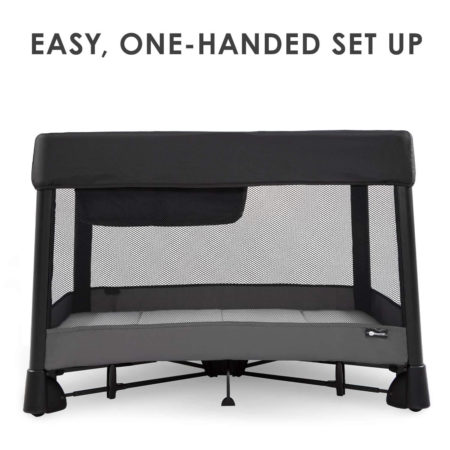 5. Baby Trend Lil Snooze
This playard has loads of awesome features making it one of the most convenient picks for overnight trips with a young baby. It grows with babies through all ages and stages, starting with the small napper on top, which is removable when baby gets too big. It has a canopy to protect them from light, as well as some interesting hanging toys to keep them entertained as they use it. There's also a changing surface, which flips over for use and back for storage. You can find a storage pocket beside it for keeping changing supplies handy.
As well as the compact napper, there's a full-sized bassinet for young babies, before they are big enough to use the main cot area at the bottom. The cot comes on two wheels, with brakes, and can be locked into place with a single hand. There are loads of different colors and styles to choose from, so you can find one which suits your tastes, and which is ideal for either a boy or a girl.

6. Chicco Pack and Play Lullaby Dream
This Chico play pen can be used from birth onwards and has loads of useful features so it's not just for sleeping in. It has a newborn napper for very small babies, a bassinet, a changing station, a storage compartment and a mobile with toys and music. The latter is perfect for soothing babies off to sleep – there are cute elephant toys to look at as well as calming lullabies and nature sounds.
The playpen mattress has a cover that can easily be removed using the zipper, and the changer also has a cover that comes off. The newborn attachment can be used on its own as well as on top of the crib, so your little baby can always have somewhere safe to rest. There are two color options to choose from, so you can pick the one you like best.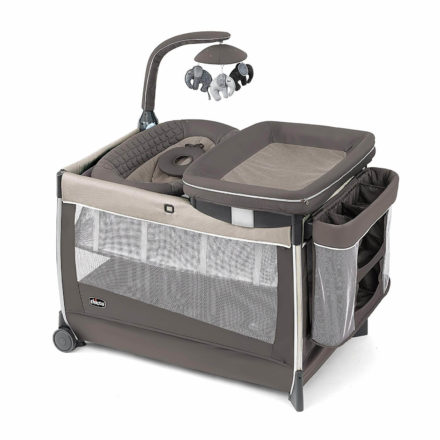 7. Babybjorn Silver Travel Crib
This travel pack n play is very lightweight, weighing in at just over 13 pounds. So, it's a great choice for parents who are frequent travelers. It's also easy to set up and fold away after use and has a sturdy carry bag to keep it clean and tidy between uses. The crib offers a 360-degree view of your baby when they are inside, so you can always keep a close eye on them.
The mattress is soft and comfortable on this crib and comes with washable sheets. It comes in a choice of silver, pictured below, or black, so you can pick which best suits your tastes and decor. It's suitable for use from birth up to 3 years old.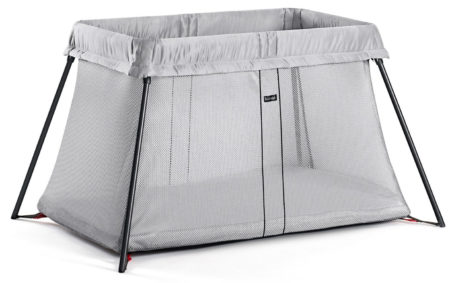 8. Cosco Funsport
Next up we have this budget-friendly option from Cosco. It comes in loads of colors and styles, so there is something for boys and girls and to match the decor of any room. It's lightweight and easy to move around, and can also be set up quickly. In fact, it takes less than a minute to set it up. There's a carrying bag included so the Cosco crib can easily be taken in the car when visiting others, to ensure your baby has a safe place to sleep and play.
This crib has two wheels on the bottom so it can easily be moved around the house when set up. This is a great one to use as a playpen, to give you a few minutes of peace to get jobs done. However, the built-in mattress is not very well-padded, so it may not be the most comfortable for overnight sleeping.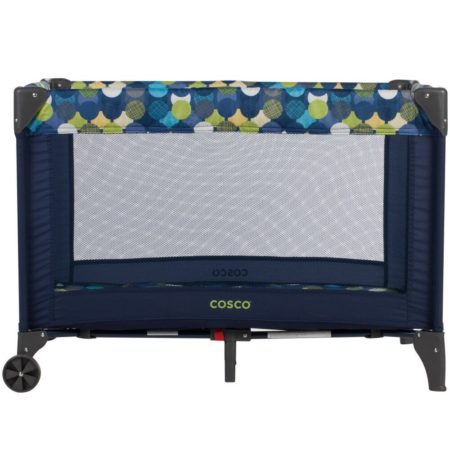 9. Summer Infant Pop & Play
This playard is suitable for both indoor and outdoor use and it has a good play area of 14 square feet inside. Despite the larger size inside, it only weighs 12 pounds, so it is easy to transport and light to carry. The base is canvas and weatherproof, and the sides are all mesh for maximum visibility at all times. The playpen folds up compactly and comes with a bag with a carry strap for easier transport. There's the option to purchase a half or full canopy which is ideal for when the playpen will be used outside, to keep the sun off your little one.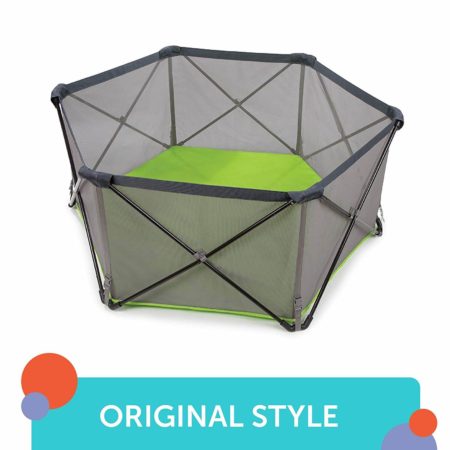 10. Disney Minne Mouse Crib with Storage

Our next pick is this adorable Minnie Mouse crib, which is full of practical features to make parents' lives a little easier. There is a changer on top to give a clean and safe place to change diapers when out and about, and it's a good height to stop parents from getting a sore back. The crib also includes a bassinet which is ideal for younger babies who cannot yet sit or pull themselves up.
This one is suitable for babies from newborn onwards and can be used until they reach the age of 3 years old. It also comes with a toy arch complete with three hanging toys for entertaining your baby when they are in the crib. There's a very useful organizer at the end of the crib to keep changing supplies, clean clothes and anything else you might need close to hand.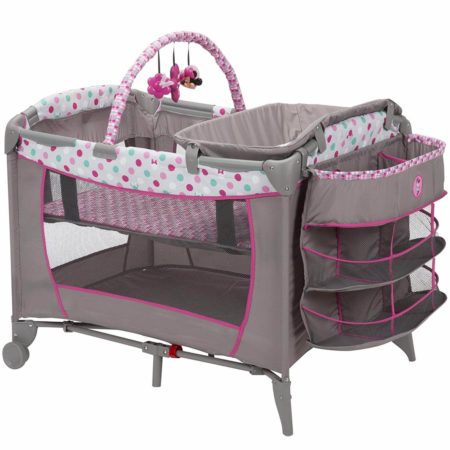 11. Baby Trend Twin Bassinets

Next up we have a great choice for parents of twins. It comes with two bassinets that are removable and can also be used standing on the floor when the rest of the crib is not required. Each bassinet has a carry handle and a canopy to keep baby sheltered from the light or from the sun. There is also a fold-away changing surface for convenient diaper changes, as well as a parental organizer to keep changing supplies tidy and easy to access.
The crib is on wheels and comes with an electronic center with nightlights, calming vibrations and music. The materials used in the crib are soft and plush, so you can be sure your babies will always be comfortable when using it.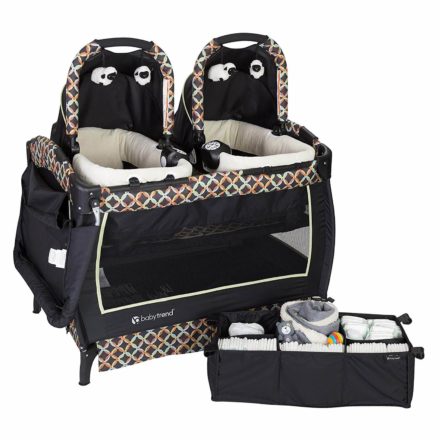 12. Evenflo Play Space
Next, we have something a little different. The Evenflo play space is a versatile frame that can be set up anywhere, indoors or outdoors, to give babies a safe place to play, anywhere! This is a great pick for babies and toddlers aged around 6 to 24 months old and it gives over 18 square feet of space to play. The legs of the play frame have stakes for use on a lawn, but they can also be reversed if the non-scratch floor pads are required when using indoors instead. No tools are required to assemble this, and it's quick and easy to set up. It can easily be folded when not required and set up again afterward. There is a carry handle built into the frame to make it easy to move around the house or backyard too.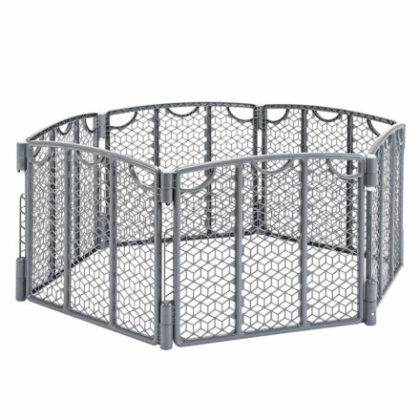 13. Big Oshi Pink Playard
Our penultimate pac and play is perfect for baby girls. The two long sides are mesh, and on another side, you can find storage pockets for changing supplies or anything else you might like to keep close to hand. There are two wheels for ease of movement, and it also comes with a mosquito net to keep your baby safe. There is a fun toy bar included with this crib, as well as a storage bag for easy transport. Parents of little girls will love this adorable crib!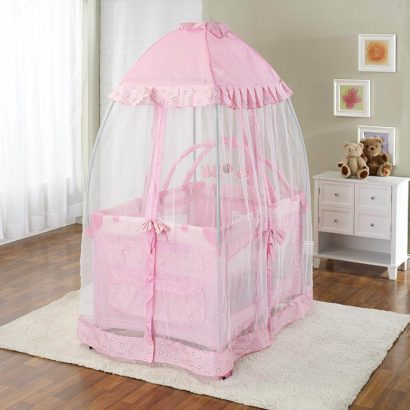 14. Delta Children Play Yard
Our final pick is this cute safari-themed playard from Delta children. This one is recommended for babies weighing under 30 pounds and less than 35 inches tall, who are unable to climb out. Internally, the dimensions of this one are 36 x 36 inches, and a mattress is included. It's quick and easy to fold so it can be taken when traveling to visit family and friends.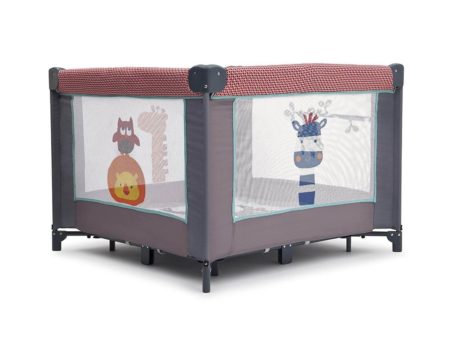 Best Buy Overall
The easy-to-set-up crib from 4moms is the winner of the best overall pac n play. It can be opened and closed in one simple step and comes with a useful bassinet and changer to make traveling with your baby a whole lot easier. It's ideal for providing a safe play space as well as using for sleeping in when visiting friends or family.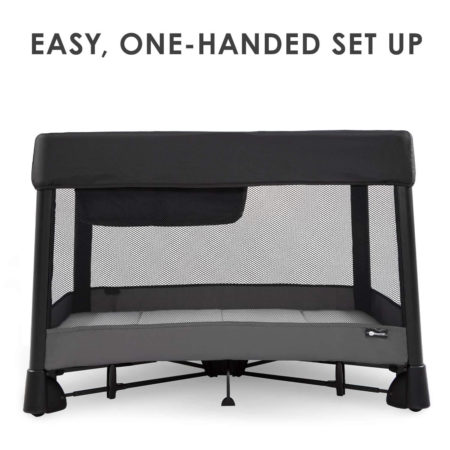 Best Budget Pack n Play
If you are looking for a cheaper option, the Joovy Room2 is a great pick. We love the much larger internal dimensions of this crib, which gives babies more space to play. It's suitable from birth and can be until babies are around 35 inches tall. It comes with a sheet for easy cleaning and there are different color options – there's nothing not to love about this crib!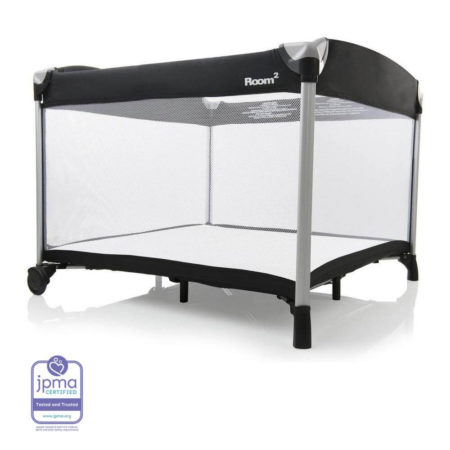 How to Set up These Cribs?
These products can be difficult to set up for the first time, as the steps often have to be done in a particular order to ensure it will be set up properly. It's best to check the manufacturer's instructions, as the steps aren't the same for every product. If you're really struggling, it's worth checking on YouTube for a video, as this can make it easier than following written instructions.
What Are the Dimensions of a Travel Crib?
Again, each product is different, but most are around 37 x 26 inches. Do check with the manufacturer, as some have more or less space inside. It's useful to know the size of the mattress when buying sheets to cover it with.
How Long Can Baby Sleep in These Cribs?
In general, most of these cribs are designed for toddlers up to the age of around 18 months old. After this point, it can sometimes become dangerous to use them as toddlers are likely to be able to climb out or topple the crib over. Of course, the will probably be getting too big to sleep in it by this point too. The minimum age varies, depending on whether or not an infant bassinet insert is included.
How to Clean a Travel Crib?
Cleaning a pack & play isn't too difficult, provided it is made from easily wipeable materials. A gentle soap and warm water can be used to wipe up small spillages in most cases. Some have removable covers that can be machine washed for convenience. It's best to protect the mattress with a sheet, a waterproof one if possible, to help prolong its lifespan and make cleaning up after an accident easier.
How to Break Down Pack and Plays?
Packing away a travel crib after use can be almost as difficult as setting one up in the first place in many cases. Again, it's best to refer to the included instructions or look for a video online which clearly shows the stages of packing it up. Most of these products come with a useful carry case to keep them clean and all the parts together when not in use, as well as making them easier to transport.