When babies begin to move around by themselves to get to their toys, a cat or a family member, they require a playpen to keep them safe in case their caregivers are not fully concentrating on them. A playpen provides a safe space for babies and toddlers to play without the need for full attention of their caregivers.
When your baby begins to move around, almost every room in the house becomes dangerous for them, because you do not know what they might touch or put in their mouths when you are not watching them. A playpen or playard will provide enough space for the child to roll around without any danger of choking, falling or getting electrocuted by live electrical appliances.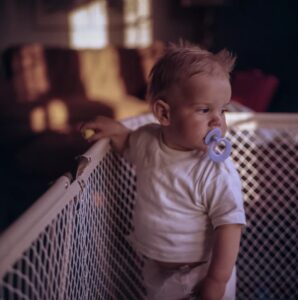 Considerations When Choosing a Baby Playpen

The best baby playpen is easy to set up in almost every location whether in the house, at work or in a park during a picnic. They should also be packed down as small as possible for easy portability and storage. When deciding on the type of playpen to purchase for your baby, you should consider where it will be frequently used. For example, if you intend to use it at home, then you do not have to worry about how small it can be packed down or its weight because you will rarely carry it outside the house.
You should also consider your baby's size when buying a playpen because if the playard is too small for the child, then it would not serve its purpose. It will lead to frustrations and inconvenience if heavy and difficult to set up or pack down.
Best Playpens for Babies in 2023
Here are some of the best playards and playpens to purchase for your babies and toddlers in 2023:
1. 16 Panel Playpen 
This playpen comes with features such as a space big enough to allow the kid to learn how to walk, run, stand or even roll without any danger of getting hurt. It is also easy to set up and pack down making it suitable for outdoor use. Whenever you want to get busy with house chores, you can quickly set up the 16-panel playpen in the kid's play area for play without any worries.
The playard also has eye-catching colors that grab babies' attention and even act as a learning point. The designs on the playard come in unique shapes such as stars and triangles, so your baby can begin to learn the names of shapes and colors.
This beautiful playpen is manufactured by Ashtonbee, who guarantees you a lifetime warranty when you order the product from them directly. Furthermore, it can serve for both indoor and outdoor use, making it a great all-rounder. It's the best playpen for crawling babies as it offers them plenty of space to move around.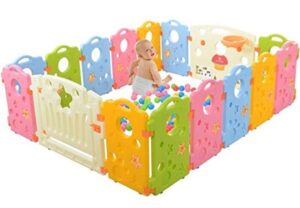 2. Evenflo Versatile Play Area for babies
The Evenflo versatile play area is built to be versatile for use in both indoor and outdoor environments. The Evenflo Play Area offers over 18.5 square feet of space for the kids to play, run around or roll. It has reversible legs with outdoor stakes for stability during outdoor events and anti-movement floor pads for the interior surface. It is also quick to assemble and disassemble since you do not need any tools.
Its features include a unique hinge design ensuring a quick connection and a smooth pivot, a spacious panel covering a maximum of 18.5 square feet and a height of 28 inches. You are given an extra two–panel extension to add to the playard when you want more space.
The materials used to make the playard are also UV resistant, which makes them suitable for summer picnics. This playard can also be used to restrain pets. However, you must ensure that the pets are large enough not to squeeze through the openings on the gates.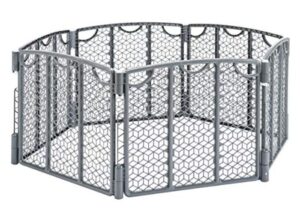 3. Summer Infant Portable Playard
The Summer infant play yard has a total area of 14 square feet, measures 48 inches in width and is about 26 inches tall. The metal frame is lightweight and comes fully assembled.
The Summer Infant portable play yard is easy to set up and also unfolds quickly making it suitable for use in areas where time is a crucial factor. It also has mesh sides for easy visibility and a weather resistant canvas for its floor. This is one of the best travel play yards because it comes with a travel bag that has a shoulder strap. If you love lightweight playpens, then you will find this one great.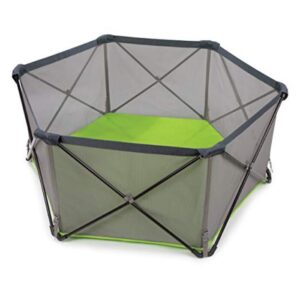 4. North States Super Yard
The North States Super Yard can be used during different stages of a child's growth. It comes in multiple colors making it easy for your child to forget about the caregiver and focus on their immediate environment. The playpen is also extra-large measuring up to 34 square feet and 26 inches tall.
The eight-panel yard is easy to assemble because all it takes is to unfold the playard from its compact travel bag and reconnect the plastic panels. It also comes with skid-resistant pads making it stable on indoor and outdoor surfaces. The North States Super Yard also comes with a convenient carry strap making it convenient to carry around. This weather-resistant playpen can also be cleaned using mild soap and water to maintain hygiene for your child's health.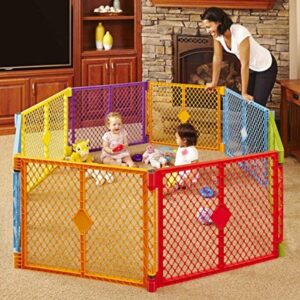 5. Regalo Indoor and Outdoor Playpen
The Regalo Indoor and Outdoor Play Pen is easy to disassemble and fits into small spaces for ease during storage and transportation. It is ideal for both indoor and outdoor use because it is lightweight and can be quickly set up and folded, making this one of the best portable play yards.
It features soft ventilating mesh sides to ensure the play area has an adequate flow of air, a nylon bottom that is resistant to dampness and can be easily cleaned using mild soap and water and an adjustable size that can accommodate babies from the age of 6 to 24 months. The frame is made of steel making it stronger and durable compared to other types of playards. It measures 62 inches in width and 26 inches in height. Its safety gate has been certified by the Juvenile Products Manufacturers Association, and finally it has a 90-day warranty.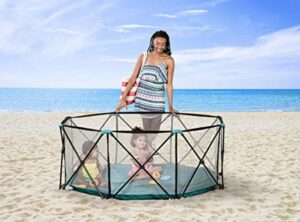 6. Regalo 4 in 1 Baby Gate
This is the best baby play yard gate as it is super wide, opening up to 192 inches in width and 28 inches in height. It can also be converted from a wide gate to an 8-panel playard with no tools required. The baby gate is suitable for large rooms, doorways, hallways, angled openings and bottom of stairs. It is durable and strong because it is made of steel.
The baby gate also has a walk-through door with a safety lock feature to enhance the security of the child within the play area. It is suitable for children up to the age of 24 months. It folds down easily for set up and storage making more convenient compared to other types of playpens.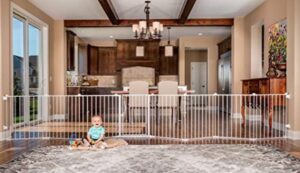 7. Kidzone 8 Panel Play Center
The Kidzone playpen comes in various colors and has a swinging hinge door with a safety lock. It is an 8-panel playard whose size can be increased or reduced by removing or adding the panels. The playpen also has rubber suction cups to secure the playpen to the floor and other hard surfaces.
It features an activity board that contains a picture house, spinning balls, and play phone. The Kidzone 8-panel play center can be manipulated into different shapes from octagon to hexagon to square and rectangle depending on the size of space available for your child to play. It is also suitable for babies and children up to the age of 24 months. Its assembly is also quite easy taking a short period to complete.
This playpen is BPA and LEAB free and does not have any harmful plastics that could be dangerous to you and your kids. The 8-panels assembled diameter is 74 inches, and the height is 23.5 inches.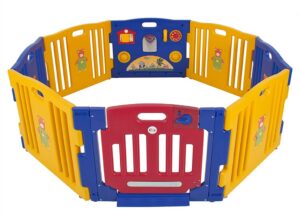 8. Graco Pack n Play Playard
The Graco Pack n Play playpen features a bassinet suitable babies weighing under 15 pounds and unable to push up on to their hands and knees. The bassinet is removable, so when your child grows it can be taken out of the way. The playpen comes with a toy bar that contains soft toys to keep your child entertained while you are busy with other activities.
This playpen is easy to pack-up and store because it features automatic folding feet and wheels. You can also travel easily with it because it is lightweight and easily folds to fit in your car. Graco portable play yards come with a convenient carrying bag for easy transport. This flexible play yard is suited for indoor and outdoor use since it quickly folds thanks to its signature Graco Push button.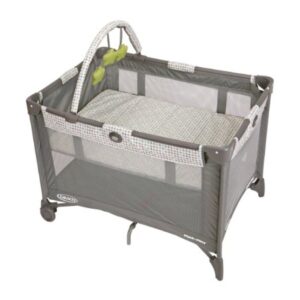 9. Baby Foam Play Mat with Fence
If you are looking for a neutral colored play mat for your baby, then this is one of the best on offer. Unlike many foam mats which are brightly colored, this one has a monochrome color scheme which will look stylish in the home rather than turning it into a kindergarten. It is safe for your baby to crawl and stand without any worries of slipping. When the tiles get soiled, all you need to do is wipe the waterproof surface and get your child back to the play area.
It features interesting shapes to keep your baby engaged within the play area. The play mat with fence can be used in any room, and its tiles are thick and versatile.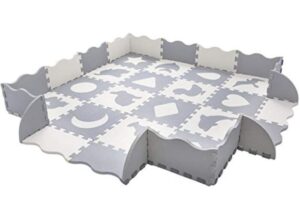 10. Ingenuity Smart and Simple Playard
This playard can accommodate babies between the weight of 6 pounds and 30 pounds. It features a bassinet to keep your child warm and comfortable during naptime. The playpen is also foldable making it convenient during travel. It comes with side pockets for storing essential items when on the move.
It can be divided into three pieces; the dream center, the mattress and the changing table which are machine washable. It also comes with a travel bag – this is perhaps the best playard with bassinet on the market today!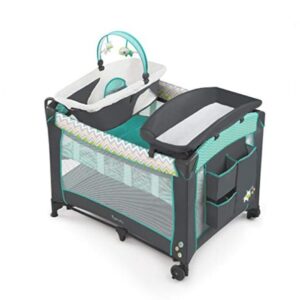 11. Skip Hop Playard and Travel Crib
This playpen can be transformed from a playard to a travel crib in a few seconds. It features a mattress pad and sheet for sleep mode and a wipe-clean mat for play mode. The travel crib also has airy mesh fabric sides to ensure proper ventilation and visibility. It comes with a travel bag making it convenient to carry around.
Its convertibility from play mode to sleep mode makes it stand out as possibly the best travel playard. To convert, the sides are simply unzipped allowing them to expand, creating a larger play surface for your baby.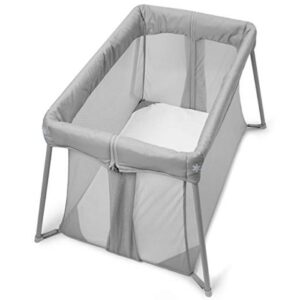 Overall Best Baby Play Yard

The Regalo indoor and outdoor playpen is the best play yard to go for for numerous reasons. It can be used by kids within the age of 6 to 24 months – which is a long period. The playpen is lightweight and easy to assemble and disassemble. It is also easy to clean, and most of its materials are weather resistant, which makes it ideal for both indoor and outdoor use.
Moreover, it is made of steel making it durable and stronger than some other models. It is also BPA free and thus, does not pose any health risks to you and your baby.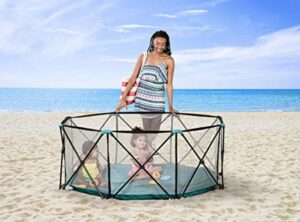 What are the Different Styles of Baby Play Yard?

There are three main types of playpens:
Standard playpen: This playpen has a raised floor and mesh sides. It is suitable for indoor use and lacks the whistles and bells that usually raise the cost of a playpen.
Playpens without floors: This type of playpen comes without a floor. It has a lot of space compared to the standard playpen, and its primary function is to keep the baby within a restricted area while you are busy doing other things.
Travel play yards: These playpens are smaller than all the other types of playpens. They are best for travel because they can easily fit in the car.
What are the Benefits of Using a Playpen?

Safety: Playpens are designed to restrain the child into a specific play area to prevent them from roaming around the house unguided.
Makes your child get used to your absence: Playpens help your child get used to not seeing you around. You may not be there for them all the time throughout his or her early years!
Comfort: Playards are comfortable and engaging. For example, they have interesting colors and pictures of animals and shapes to keep your little angel engaged.
Is it Safe to Leave My Baby in a Play Yard?

Yes, it is safe to leave your baby in a playpen as long you have interlocked the panels securely and set everything up properly. It is much safe leaving your child in a play yard when performing a task indoors since few external factors can put your kid in danger. However, if you are in an outdoor setting, the risks can be high if you move far from your baby. For example, somebody can easily kidnap the child. So when you are outside, ensure that you are near the play yard and can see your baby at all times.