When it comes to choosing the best toys for 11 month old baby, it can be difficult to know which is the best to choose. With so many different options out there, how do you know which are the most worthy to purchase? We are here to help with 30 great suggestions, which will entertain your baby as well as helping with their development in various areas.
Whether you are looking for something to help them learn to walk or a smaller toy to keep in the diaper bag, we've got you covered with these popular toys and activities for an 11 month old baby.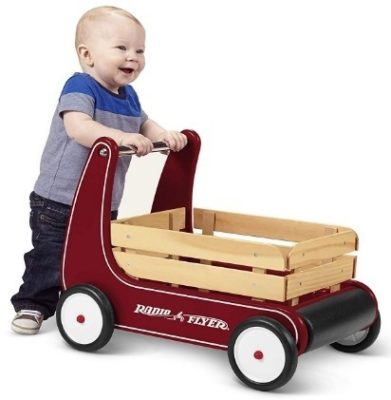 Considerations When Choosing Baby Toys for 11 Month Olds
Wondering what kind of toys should you buy? There are a few things worth considering to help you find the perfect toy for your little one. First, think about what you are looking for from the toy. Do you want your baby to learn something new? In that case, you will want to look for some of the best learning toys for 11 months old girls and boys – we have noted some of the key educational benefits of many of the toys included below.
Also, decide the budget for your toy – perhaps you want to splash out and choose something big which will entertain your baby for a long time. Or maybe you want something smaller if you are looking to save money for their first birthday next month!
Age-appropriateness is also worth considering when looking at the different toy options available. All the toys we have chosen below are suitable for a baby of 11 months, but be sure to check with the manufacturer's guidelines when looking at alternative options.
Top Picks for 2023
Now we know how to pick the best toys for babies, let's move on to the reviews. Below you will find our top 30 picks – there is something for all tastes and budgets here.
1. Smart Sports Center
VTech has some great toys for 11 months old boy, such as this sports activity center, which is perfect for encouraging them to move around. It has a basketball hoop as well as a soccer goal, and shows your baby how to count up to ten.
The toy plays loads of different sounds and songs to keep your baby entertained every time they play. Babies will be able to practice their motor skills with this fun VTech toy, and they will enjoy it, even more, when they are able to walk and run around.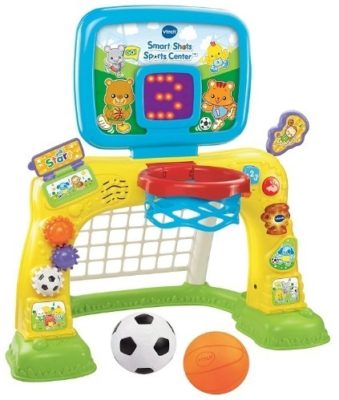 2. Shop & Cook Walker by Bright Starts
Are you looking for a baby walker to encourage your little one to take their first steps? This one offers four different modes so it grows with your child and never gets boring! The walker is good for imaginary play as it has fun elements on top which allow kids to pretend to cook!
There's the popping popcorn on top, which pops as the walker is pushed around. You can also remove the top from the walker to use it as a grocery cart, so babies and toddlers will have years of fun with this toy!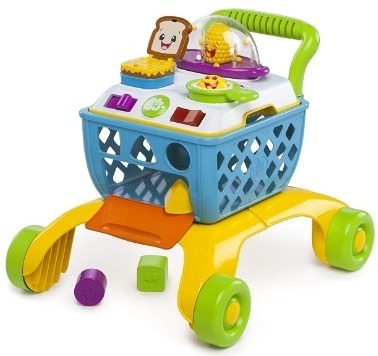 3. Baby Einstein Table Activity
An activity table is a great toy for babies because it encourages them to stand up as they play, which is great for strengthening the leg muscles. There are loads of fun activities on the table, such as piano keys which light up and teach numbers and colors to your child.
You will also find musical instruments on the table top such as a French horn and a guitar – babies will love making music! There are three languages to choose from – English, French and Spanish, so it's excellent for introducing your baby to a second language from an early age!

4. VTech Learning Table
Here we have another awesome activity table, this time it's from top brand VTech. There are six activities for babies to learn from, and these can be enjoyed in either English or Spanish. There's a steering wheel which can be used to drive a cute bear character around the table.
There's also a book with flipping pages, which plays nursery rhymes as the pages are turned. Babies will love to use the toy phone to call mom and dad! Babies can learn so much from this toy and they will enjoy playing with it for a long time.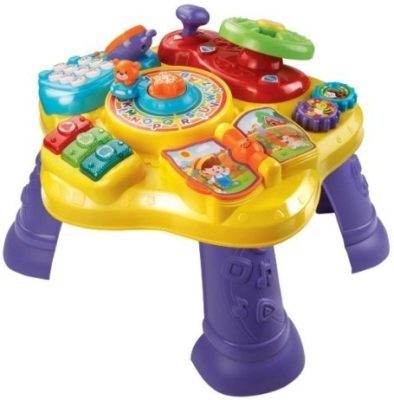 5. Yellow Learning Driver Toy
Here we have another fun toy from VTech, this time it's the Turn and Learn Driver! It is great for babies to pretend to drive, and they will love to turn the steering wheel to make the dog move back and forth. There are three different modes to explore – music, animal and driving, so babies can always learn and discover something new.
This appropriate toy plays over 60 phrases and songs to keep them interested every time they play. Babies will love to look at their reflection in the mirror! They will also love to see what happens when they press the various buttons and pull the levers.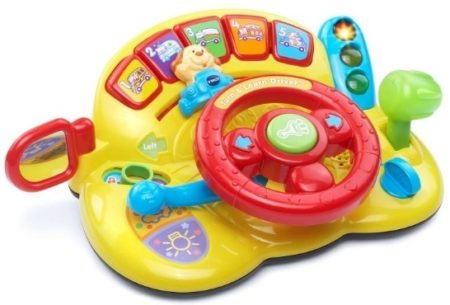 6. Crawl and Wiggle Yellow Ball
This VTech ball is ideal for crawling babies, and is an excellent way to make sure they keep moving! It moves around the room independently, encouraging babies to chase after it. They will love the flashing lights and fun, playful songs the ball plays.
The animal buttons are sure to attract your baby's attention, and they will enjoy pressing them to hear the fun phrases. They are sure to love chasing after the ball as it moves around! A pink and purple variation is also available.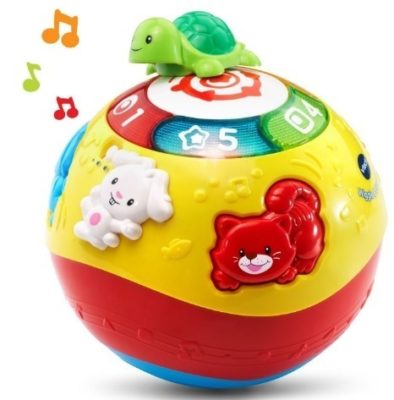 7. Black Remote Toy by VTech
We've already seen some great VTech toys for 11 months old girls and boys, and this remote control is another excellent pick. It might help keep your baby away from the real remote or your cell phone! The remote can be used to pretend to browse through nine different channels, each featuring different subjects such as weather or news.
The buttons can help introduce babies to colors, shapes and numbers – it's never too early for them to start learning! This toy is ideal for carrying in a diaper bag to keep your baby entertained on the move.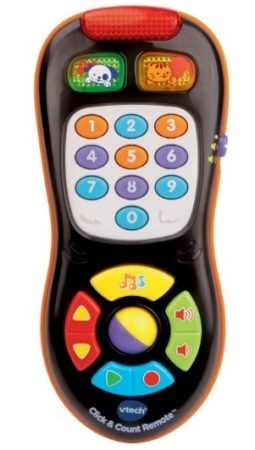 8. Multi Discover Activity Red Cube
Activity cubes are great for babies' development, and this one has seven fun activities for babies to explore. It plays over 70 different sounds and has five different sides to play with. There are five piano keys to play which can help babies learn about colors and animals.
There's a book to turn the pages of, a spinner, sliding animals and spinning beads – all excellent for fine motor skills. The activity cube is also fitted with a shape sorter which is an excellent learning activity for babies.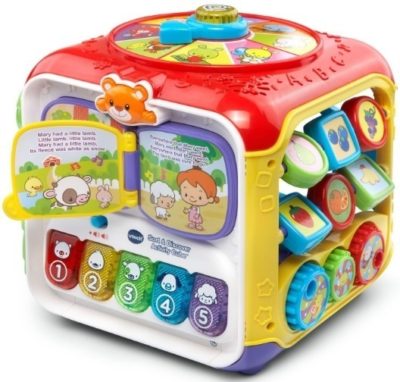 9. Multi-functional Musical Wooden Toy With Mini Xylophone
This pounding bench is sure to delight your baby – they will love being allowed to hit their toy and make a noise! Babies can use the hammer to hit the balls through the bench, and they will make a tune as they roll over the xylophone keys. Or, pull out the xylophone and let your baby play a tune on it, without using the pounding bench.
There are two colors to choose between – red or multicolored as pictured below. This toy is great for your baby's musical development, not to mention loads of fun too!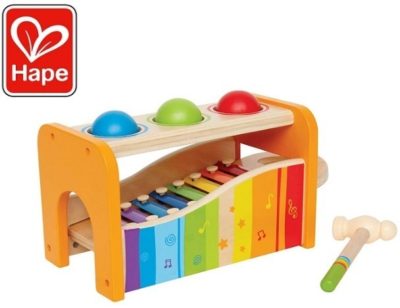 10. Blue Tent with Tunnel By Sunba Youth
Play tents and crawl tunnels are some of the best toys for 11 month old boys and girls, and this set has three pieces to keep them entertained for years to come! There's a tent, a ball pit with basketball hoop and a tunnel to connect the other two pieces together. There's also a storage bag to keep everything together when not in use.
This set is great for crawling babies – they will love to go through the tunnel! The set can be used either indoors or outdoors, and has breathable mesh panels to allow good airflow and ventilation.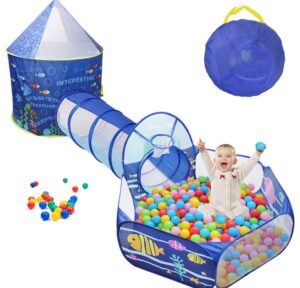 11. Musical Hammer Toy
This fun toy will help your baby improve their ability to grasp, and can also help them learn to count from 1 – 10. When the hammer hits something, it lights up and makes sounds to encourage your baby to continue playing. The eyes change as the hammer is pounded which is sure to make your baby giggle.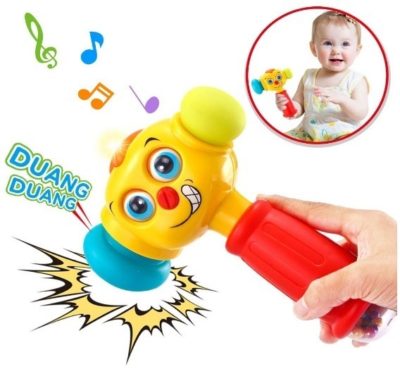 12. Multi Activity Walker by Fisher-Price
Are you looking for gifts for 11 month old girl who is learning to walk? This Fisher Price puppy walker is an excellent choice! It can be used to sit and play, then when your baby is strong enough they can use it to push around as they learn to walk. There are seven activities to keep baby entertained including piano keys, a roller, flipping pages and many more.
The toy has Smart Stages technology so it grows with your baby as they learn and develop to ensure it stays age-appropriate for longer.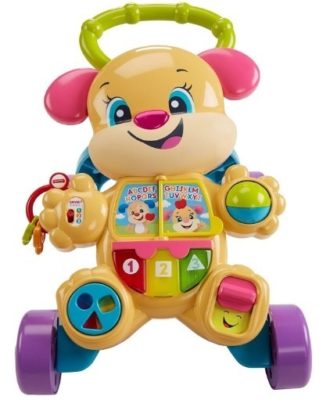 13. Musical Cube
If you're looking to teach your baby about music, this Munchkin cube is an excellent pick. It plays eight masterpieces by Mozart, and babies can press the large buttons to add or take away different musical instrument sounds. Sounds include harp, flute, violin and more, and there's an orchestra button to play all the instruments together.
The sides of the toy light in time with the rhythm of the music and each is a different color to encourage babies to recognize the different colors.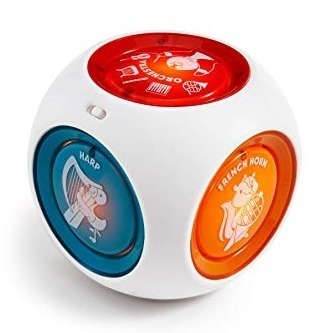 14. Alphabet Train Toy
This ride on toy is great for helping hit those 11 months milestones. It has loads of fun games and activities and can be used in different ways so it's always exciting for your baby. There are three great colors to choose from – blue, pink or red. Babies can sit and play with the toy on the floor, ride on it, push the train part like a walker or pull the carriage section as a wagon, so it's great for all stages of development.
It comes with 13 letter blocks, each of which is double sided so all letters of the alphabet are featured, When these are placed into the special compartment on the train, the train will tell your baby which letter is on the brick. So, it's great for early language development and letter recognition.

15. Musical Colorful Rings
Stacking rings are a classic toy, and these colorful ones are sure to appeal to your little one. The monkey on top lights up and plays songs to help keep your baby interested, and the base is wobbly to make stacking the rings even more challenging! There are different textures and patterns on each ring for your baby to explore.
The pieces are BPA free so you can be sure they are safe for your baby to chew on.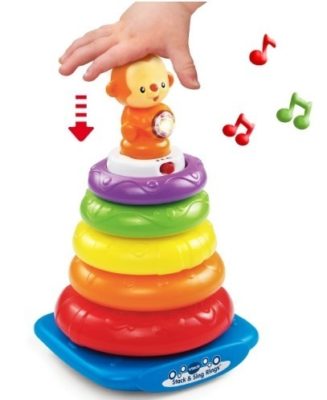 16. Push and Go Trucks
Toy cars are very popular for older babies, and this set of four are friction powered so they can travel really far when pushed! Babies will love looking at the different types of vehicle in the set – a tractor, bulldozer, mixer and dumper truck.
No batteries are required for these cars – parents will love them as much as babies do! Each vehicle has interesting moving parts such as the bucket on the bulldozer which moves up and down. Babies will enjoy these cars for a long time, and they are a great size for taking out and about in your diaper bag.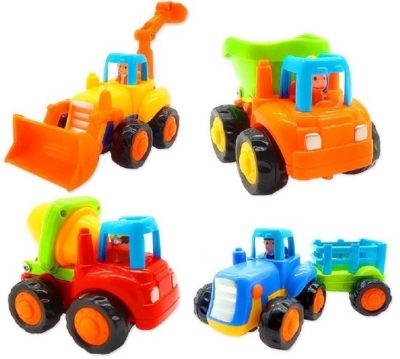 17. Board Book Learning Yellow Kit by Teach My Baby
Are you looking for educational toys for 11 month old babies? This Teach My Baby Kit is one of the best! It will help your infant learn numbers, sounds, first words and self awareness, using simple board books and matching flashcards.
There are also finger puppets which can be used to help keep your baby interested and engaged. Everything can be stored in the included carry case with clasp for convenience.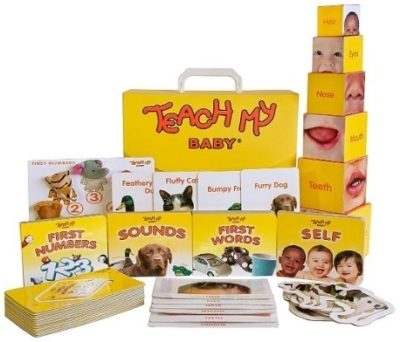 18. MiniSpinny
The MiniSpinny from Fat Brain Toys is a unique, sensory toy which is sure to draw your baby in time and time again. They will love to watch as the pieces spin down the pole over and over again.
The toy can be used to talk about colors and counting and babies will also enjoy feeling the different textures. It's a great travel toy and is very durable so your baby can enjoy it for longer.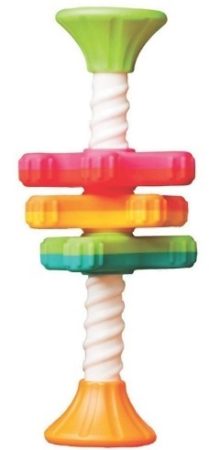 19. Kids Swimming Kit by Delicacy
Does your baby love spending time in the water? How about this swimming float to take on their next trip to the pool?! It allows them to stay safely above the surface whilst also holding them at the ideal angle for learning how to swim.
The float is designed to prevent babies from being able to roll on to their backs. Even better, it fits kiddies up to 30 months old so you can be sure you will get great value for money.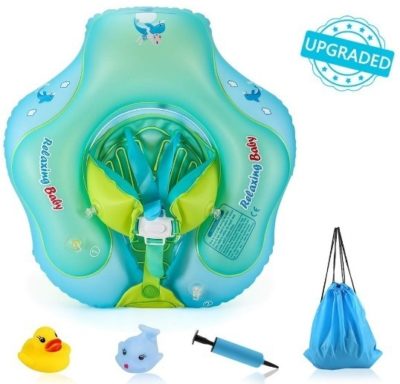 20. Giraffe Scoot Toy
Ride on toys are excellent at this age, and this one is ideal because it has a large back wheel for stability as well as handlebars which help steer, rather than relying on babies pushing with their feet. The toy can be used outdoors or indoors and comes with stickers to make the 'spots', so it can be customized!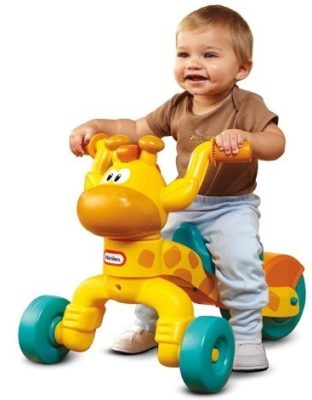 21. Activity Colorful Garden Playset
The activity garden from Little Tikes offers hours of fun to your baby! It can be set up as a house, shown below, or opened up to a double sided play center. Some of the activities on this toy include a telescope, shape sorter mail box, mirror, spinning gears and a mini slide.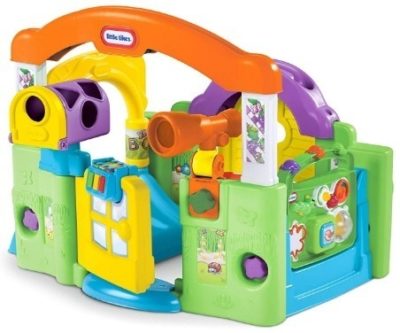 22. Blue Car Activity
This static car toy is great for helping many areas of your baby's development. It has three different modes – learning, imagination and music, and there is a ramp for babies to push the included balls down.
They will also love to sit inside and pretend to drive! The car has activities and games all around, so it encourages babies to stand up and cruise around.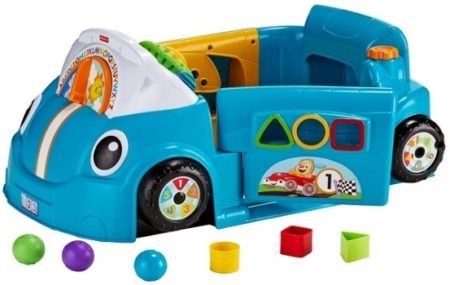 23. Colorful Stacking Cups
These stacking cups come in a pack of ten and can be used in various different ways to ensure your baby is always learning and having fun. The maximum height of the tower when all the cups are stacked is an impressive 25 inches! Babies will love to knock the tower down after you help them build it up. The cups can also be used in sand or water for even more fun.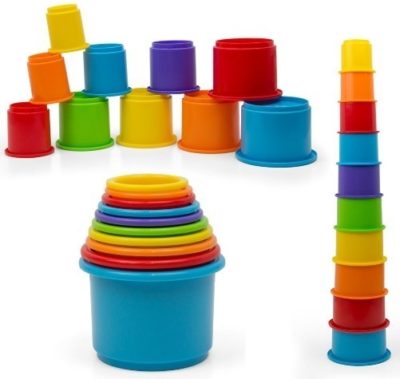 24. Red Walker Wagon
This classic Radio Flyer wagon is the perfect way to encourage your baby to take their first steps in style. It has wooden sides which can be removed, so babies can take their favorite toys along for a ride, or remove the sides and they can sit in themselves! The wagon has a useful bumper along the front to keep furniture safe from your little toddler!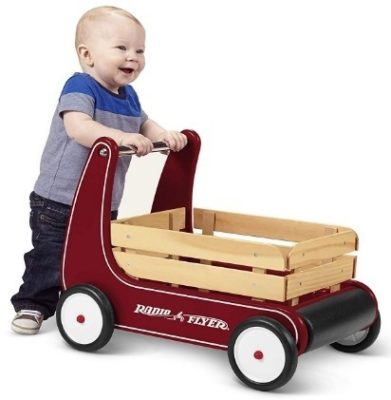 25. Educational Turtle Toy
This musical toy can help babies practice their problem solving skills as well as improving social skills and creativity, amongst many more. It can move about like a real turtle and plays fun songs, as well as counting and saying the alphabet. Babies will love to press the different buttons and see what happens!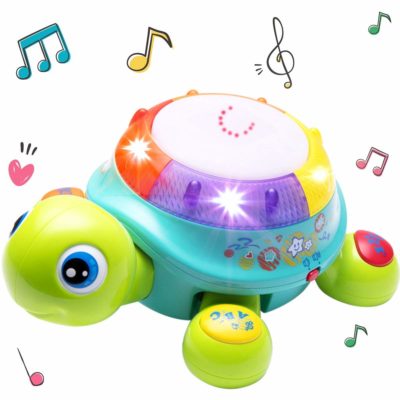 26. Red Tugboat
Looking for a new bath toy for your baby? This tugboat is sure to be appreciated! It is made from recycled milk containers, making it the perfect choice for environmentally-conscious parents. The toy can be used like a watering can for pouring water – babies will love to do this over and over again!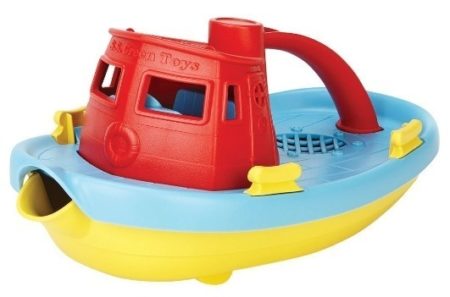 27. Ride-On Toy by Ybike
This cool ride on toy can easily turn in all directions and holds up to 44 pounds, so you can be sure your baby will continue to make use from it as they grow. It comes in three colors – red, blue or pink. It can also be used as a push toy, and the wheels are designed to be safe to use on indoor floors without causing damage.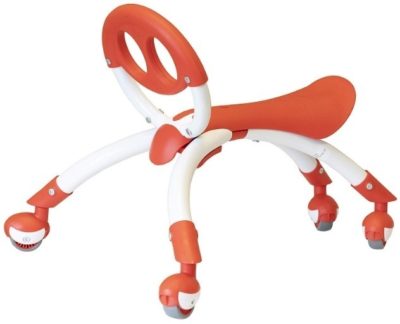 28. Singing Soccer Ball
This musical ball can help babies count up to 10 and plays fun songs all about colors. Every time the ball is shaken or pressed it will make a sound, so babies won't want to put it down! The ball sings about rolling fast and slow as well as playing with friends, so it's great for teaching your baby early sportsmanship skills!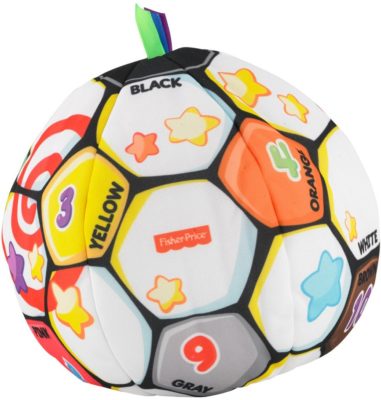 29. Scoot And Ride Blue Elephant
Here we have another cool ride on toy, this time it's Fisher Price's elephant! It can be used in three different modes as your baby grows and develops. It plays songs and phrases and has lighting buttons to keep babies interested as they ride along.

30. Learning Walker
This classic walker is the perfect companion for your baby as they take their first steps. It comes in a choice of colors to suit boys and girls. The front panel can be removed to play with separately and has activities such as piano keys, flashing buttons and a removable play phone. The toy rolls well even on carpet – there will be no stopping your baby once they are up on their feet!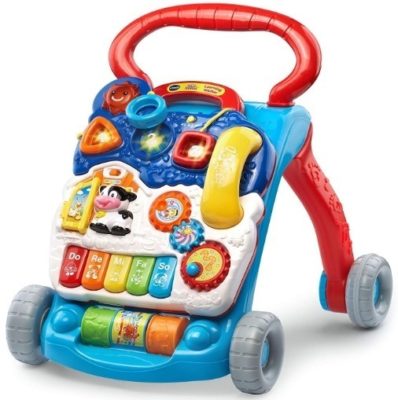 Best Overall Pick
Now we've looked at 30 different picks, it's time to determine the very best toys for 11 months old baby. This activity table from VTech takes the top spot thanks to the huge number of activities it includes, as well as the high quality of the toy. It's great for promoting various areas of development so you can be sure your baby is learning as the play.
The table is also ideal for encouraging babies to stand and cruise around to see the different activities.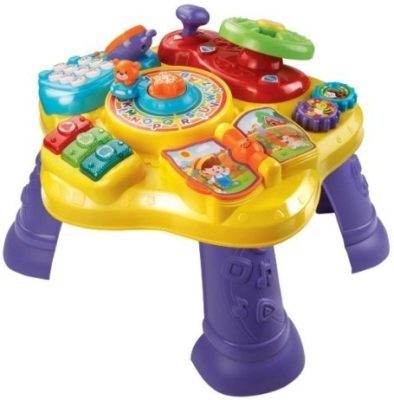 Best Budget Buy
If you're looking for a cheaper option, the swimming float is ideal. It's a fun change from many of the toys on offer to babies this age, and will help get them confident in the water. The float will help babies stay safe in the water and is excellent for helping encourage them to begin learning to swim. It's never too early for them to learn this valuable skill!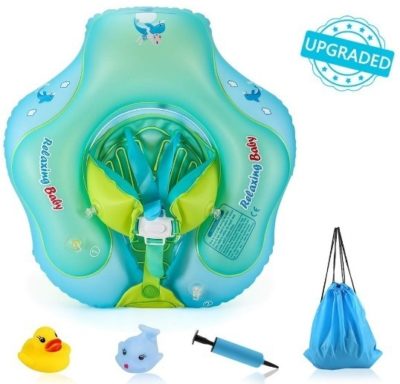 What Kind of Toys to Buy for 11 Month Old?
There are loads of suggestions of different types of toy babies this age enjoy playing with. Some of the most popular options include ride on toys, baby walkers, musical toys and activity tables. Toys which encourage standing are excellent at this age, as your baby will probably start taking their first steps within the next month or so!
What Activities are Good for an 11 Month Baby?
So now you have chosen a great new toy for your baby, perhaps you are also wondering about which activities you can enjoy with them? Activities which encourage your baby to stand and perhaps try and take their first steps are ideal. So, encourage them to reach for interesting toys using solid furniture to support themselves.
Stacking is something many babies enjoy around this age – make a tower and let baby knock it down, or encourage them to stack the blocks and see if they can beat their record! Babies of all ages love to hear you read and sing, especially when you add fun voices and actions. They might even babble along if you sing their favorite nursery rhyme!
Toys for babies by Month of Age