Newborn babies are in need of care and attention from their loving parents, especially their mothers early on. We have to care and feed them, change and of course birth them, so naturally, we want the best for them. Sometimes the best is about taking care of yourself because a happy mom makes for a happy baby and here we think all mothers deserve happiness.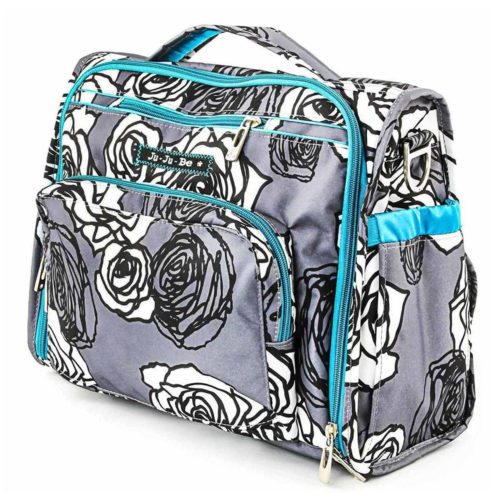 From diapers-to-formula, they go through an abundant amount in their first few months, it's into the hundreds in-fact, which means your gonna need to plan and organize yourself. So, I have put together a list of some of the best baby diaper bags that you will find and to make things easy I have filtered through which will make traveling, handling and managing that little bit easier.
Every mother needs a bag when they have a newborn, but even more so when the twins have landed, its full steam ahead with parenting, so having the right gadgets to hand can make things run much smoother, especially when this is the first time having children.
Diaper Bag by Hip Cub
This is a great functional twin bag and I love everything it has on offer, it's large in size and can fit everything I need plus more, it's really that large. The pockets on the outside as well as inside make for easy finding, so you can structure the layout with levels of importance.
The inner bag itself is secure with a zipper, so any preying eyes are stopped in their tracks with a possible glance of intent.  The massive side pockets can easily fit bottles of various size, so brand usually doesn't matter. The 3 spacious pockets inside make for departmentalizing easier than ever, which can have nappies, baby food and well anything you need.
The stroller straps are easy to pick-up and swing around the shoulder, which is handy for when you're in a rush, but if you're in the mood to stroll then you can use with the pram and cruise control can be set without the weight causing discomfort.
This Diaper twin bag is beautifully designed and would fit in well with most clothing, very neutral colors, it really is aesthetically pleasing to the eye, which is lovely considering the amount of time you're going to be spending with it.
This twin baby bag is one I personally would use outside of parenting and have for just a casual Saturday's shopping, maybe that sounds strange, but it really ticks all the boxes for me.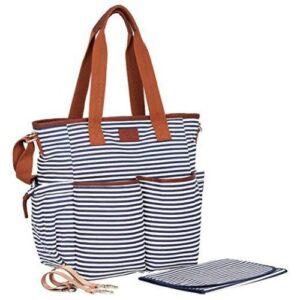 NimNik Baby Twin Bag
So, you want a diaper baby bag that will suffice all need to look elsewhere, then look no further and focus on what is in front of you, it has all the essentials and more. NimNik is a well-known brand and makes a very good bag, especially cause the price is less than the average, which can be music to the ear to some and for good reason as babies are expensive and you have "TWINS".
This maternity bag can fit diapers, changing mats, bottles and keep you stocked with baby essentials. The bag again is similar to the previous in term of space, but little extras like the diaper bag purse make those unwanted spills safer than ever.
The straps are Odour-free Polyester and BPA-free for those concerned. This twin bag has been well thought out and provides reassurance to a mother worrying about an easy to snap strap, which is common in some cheaper bags.
Expecting mothers always appreciate a gift and if you're looking for something, that's both practical and well presented, then this could be a good one to gift them. My friend's grandmother bought this for her and she rants and raves about saying "it's the best yet", so I have no doubt this will satisfy most people wants.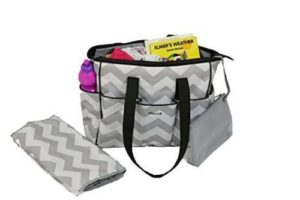 Convertible Spacious Diaper Bag
This twin kids bag is wonderful and looks great too, it really does have all the necessaries with added compartments, pockets, zipped lined storage, so no matter the plans for the morning the convertible baby twin bag is at hand to help.
The material is made from Teflon and is easy to clean, which will ensure all nasty unwanted stains are easily wiped away at ease. The pocket insulation is ideal for keeping milk at the right temperature, so the baby will keep all essential formula goodness regardless of the circumstances.
The cool baby bag holds it's shape and form even after a wash, which is great and handy for when the milk gets sour and starts to stink. There have been times when I remember the bag got a little smelly and it would seem never to get that fresh smell like when first bought, but with modern technological advancements cleaning in the washing machine makes this freshness possible.
This awesome diaper twin bag will help with staying ultra-organized and cool all at the same time, its funky design is neat and will be really adored by the mother who has some style.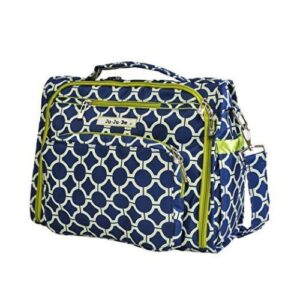 CheekyTummy Baby Diaper Bag
This product is for the mom that might have liked the show "sex in the city", with it's neat modern contemporary sleek look, its a stunning baby bag and with the twins alongside, you'll be looking like the lady of the town.
The super-design twin bag classic is high class and styling, to say the least, but you'll be happy to hear the diaper storage capability is just as good as the style is awesome to the eye.
The material is high class and made to last for many years to come, which means it will maybe last until the next set of twins turn up, hopefully not unexpectedly as it sometimes can be like. The light material makes for carrying around easier than some previous makes and the shoulder will thank you later on for sure!
The pockets, zips and inside compartments are plentiful and the twins gear will be easily transported without needing to worry about the cramping of bottles, diapers, and food all in the one compartments, there is plenty of room with this twin diaper bag.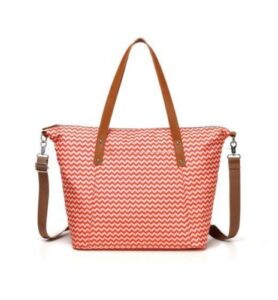 Doting Mum's Twin Diaper Bags for Baby
This bag is a large bag and measures 49 x 37cm and has enough pockets and compartments to fit all sorts from; diapers, bottles, food, purse and everything a mother needs to ensure her lovely twins have everything they could possibly need on the go. The 11 pockets are a whopping number and if you OCD you can have space in chronological order. 
The material is great and the PU leather is another ideal material to ensure strength and durability, but not lose any of its style and functionality as a baby twin bag, so out at the shopping mall, you'll still by styling.
The superb design is fashionable and in with the young hip mothers, it really does stand out and the adjustable strap lets you dictate the routine, so whether on the catwalk or walking in the park you will be able to fit any circumstance. The rings, hooks, and minor details are all top quality made with the purpose to late the twins way past baby and into their toddler stages.
This bag is usually sold with guarantees and offers a high standard of quality with a 12 months warranty, but make sure to always read the terms of purchase.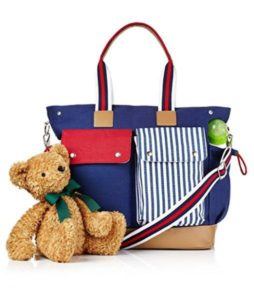 Lassig Style Baby Bag for Twins
This review is almost at its end, but before that does happen I want to show you the high-end possibilities for those with a few pennies to spare. This duo double bag is a cracker and looks more like a Gucci high-street purchase than a baby bag for twins, however, it is made to impress and maintain functionality all at the same time, it's for the mothers who want to be the queen of the town and looking good.
The shoulder bag handbag is neat, slick and won't miss a trick with the multi-use purpose design, it'll store your changing pads, milk bottles, diapers and all the day's events without needing to damper your inner beauty.
The spacious compartments have large diaper bags for two so no matter the little ones need a change the storage capacity ensure you will not go without, keeping you composed. The removable pouch keeps on the move easy, stroller hooks keeps fast-paced smooth, key ring keeps home close by and the food compartments stocked with a jar of food.
The straps adjust and suit the user without a problem and the different handles help with heavy weights or just looks good, so no matter the plan you'll be ready to take your twins to the party.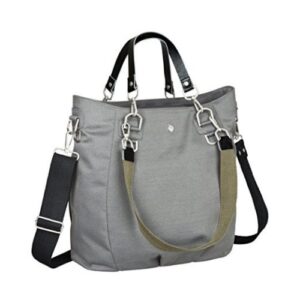 Best Overall Pick
The best diaper bag for twins 2017 has to be the "NimNik Baby Twin Bag", which is a stunningly beautiful bag and if money isn't a problem, you want beauty with functionality, then this is the winner, it really has everything a great bag should have. The large compartments are top of the range and have a capacity to make day outs easy and effortless with no worries about leaving things behind because of the lack of space.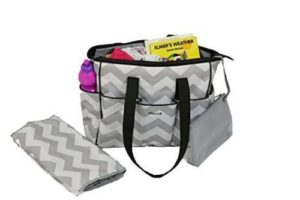 Best Budget Pick
The "Doting Mum's Baby Bag for Twins" is one of the large diaper bags for twins and is also the cheapest, which is great for mothers finding the past Christmas still hurting the bank balance. That all aside the bag itself is in-line with all the others in functionality and provides an awesome bang for the buck, so don't feel your not getting a great deal, if you decide on this.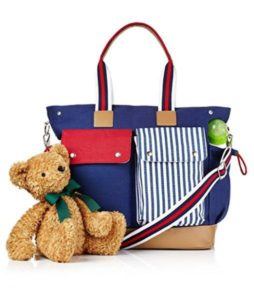 Size – TWINS are on their way and your feeling big, but soon they will be in your arms and all that weight will form into adorable little faces soon to be smiling back at you. However, this means it's time to plan ahead and make sure you get a twin diaper bag that can handle the weight and pressure of all the diapers, bottles and accessories that are gonna be part of your daily routine. There are 3 types: backpack, messenger and tote, each offering slightly different style and functionality.
REMEMBER…You are gonna have loads of stuff to carry and make sure you get a bag that can handle all this is super-important, so go for a good twin size and the larger the better in my eyes.
Ways to Organize – Remember to organize everything from diapers to bottles and diaper wipes all the way to formula. This is one of my crucial pieces of advice to new moms and just have a sense of being organized make me feel everything is gonna turn out great, strange but that's just me…
The Right Price – Twins are known to be expensive and that's why an organization is the key to reducing costs. Buying in bulk is always a good way find a cost reduction and going to the XL Superstores will cut prices. There is loads of sites that offer cheap clothes for newborns and by reaching out to others through social media you can get hand-downs from friends and family. I am saying if you're low on pennies then look for ways to save, it's also great fun finding a bargain.
Good Material Choice – Washable materials and wipe-able material will make things easier, not to mention cleaner. Magnets have been known to burst open, so maybe zipper is preferred, also if you're unsure about how all the accessories are gonna look after it's jammed-packed into the twin bag then zipper is the way forward. Waterproof is essential for those scattered families in cooler parts of the U.S. Straps with good double lining will hold with large weights pressing and the last thing you want is a broken strap while out at the mall.
Open and Close – There are loads of options to choose when deciding how your bag opens and closes. There are zippers, magnets and Velcro, each with a slightly different feel. I prefer zipper, but these have been known to break when forced shut, so maybe Velcro is better, while others like magnets for the easy to use functionality.
Choosing Color and Style – Style and price have always been enemies, but bags these days are becoming cooler than ever and in this review, you will have some great bags to choose from. Bright colors are usually favorable and easily seen from across the room, which is good when you're running around after twins. Light colors for inside the diaper bag will make for easy spotting where your accessories are, simply because of contrast.
Brand – There are loads of famous bags and twin bags are no exception. I have a great selection for you to compare here and hope you find one you like…
Some parents, especially fathers, do not realize the number of accessories we mothers have to cart around with us. From diapers to bottles, formula, ourselves, wipes, dummies, hand sanitizer, changing pads, sippy-cup of milk, plastic bags, snacks, water…the list can go on, so therefore having an awesome diaper bag that makes carrying all this less labor-some is a godsend and not to be skimped out on or overlooked.
Having twins really turns one's life around, its almost like a full 180°, one day your wondering how to spend your afternoons, enjoying herbal teas and making sure everything is easy as can be with as little stress as possible, then all of a sudden it's all about trying to keep up with the new arrivals and making everything as efficient as possible, cause time is precious and your clearly overworked.
This is why having the right bag for twins is essential, because not having could possibly mean no space, which means no diapers and with no diapers, the disaster just got nasty to a whole new level and anyone close by won't be best pleased.
There are loads of diaper bags for two and if space is what you're looking for in this review then fantastic! I have put together a list of some of the best twin bags with all the essential pockets, clips, long straps too short and everything a great bag should have.