Are you looking into buying diaper cakes for a boys baby shower? If so, then in this review we look at some amazing diaper cakes that make great gifts.
Over recent years, diaper cakes have become an increasingly popular option when choosing a gift for expectant parents. They are useful, make an impact, and really provide that extra bit of love as a centerpiece for a baby shower or a baptism. They are often a great present to give at a shower, baptism, or the celebration of a birth and the choice of styles, sizes, and design are seemingly endless. There are shaped diaper baby cakes, in the form of all sorts of objects, vehicles, and animals, which can appeal to a range of tastes and types of families, and this gives the opportunity to really personalize your gift.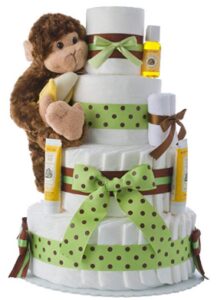 But getting that chance to see which type is best for your occasion can be tricky, so this list of the best diaper gifts for boys might be helpful to get you started. Not only is it an attractive present which suits baby shower or other occasion, but its simply downright useful! Forget the other guests who are bringing the new parents mounds of toys and piles of baby-grows, you will definitely be in the good books if you bring an endless supply of baby diapers – I mean, anyone who is a parent knows how important it is to have a steady supply! There are lots of options here for a range of tastes and persuasions, and even some ideas on how to make diaper cakes for baby boy.
Considerations When Choosing a Boy's Diaper Cake
Price
These gifts can suit any budget, and its important to remember that the gesture is appreciated regardless of whether you buy an inexpensive one or a pricier version. Remember to consider that if you work out the price per baby diaper included, then you can decide if it is worth the money. Also, don't forget that the diaper cake is handmade and usually has other decorative accessories that are to be considered in the price.
Size
Some baby boy diaper cakes are actually huge. But of course, that means that the recipient will have the bounty of more diaper cake than they can shake a stick at. They can make a great centerpiece and really have a fantastic effect as a decoration as well as being a useful gift. But a smaller cake will be equally appreciated.
Brand of Diaper
Parents are always grateful to receive a supply of nappies for their little one, although it might be important to consider the brand of the diaper that is used. You might want to be in keeping with any issues that companies have with sustainability or recycling if the parents have a strong belief in this. Also, certain baby diaper brands are simply better quality, so this is also a consideration.
Delivery
Collecting a large diaper cake as a gift can be a hassle, and you might want to consider a company that is able to offer delivery of the diaper cake to the venue, or the parent's home, then you can make a flourish with what will be a memorable gift and you won't have to worry about doing it any damage if you have to handle it.
Accessories and Added Extras
These cakes originally began very simply. A few tiers of white diapers with a little ribbon and some cellophane, but now they are real show-stoppers. You can now opt for a themed cake with added extra love of a soft toy or pacifiers , and they come with the most colorful and spangly decorations to add that extra special touch. If you want to choose a theme to suit a baby boy, perhaps trains, animals, or the ocean, then this is something to think about. You can also use some basic diaper cake ideas to make an awesome gift for that new born and nursing mother.
Best Diaper Cakes for Boys in 2023
1. Tricycle Diaper Cake
What could actually be cuter than this sweet tricycle cake for a little one's arrival? Complete with a Gund Brand toy astride this creative product, it also uses Carters, Gerber, and Parent's Choice diaper brands, all of which are welcome favorites for any new parent. The tricycle cake is arguably the best of the readily available diaper cakes for boy's baby s. Wrapped carefully and assembled safely, every item that accompanies this diaper cake is reusable and the shower gift is ready as soon as it is unwrapped. Another bonus of this unique diaper cake is that every item is made to order with the recipient's taste considered.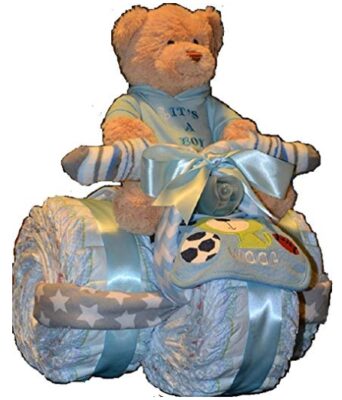 2. Monkey Diaper Cake
A shower gift of animal-themed baby diaper cakes always gets a good response, especially monkey themed ones!. Its a symbol of love for the little ones. When parents are welcoming their own little monkeys into the world then this diaper cake is very appropriate. It comes with 72 diapers, which are Pampers Brand Swaddler Size 1 and the entire product is completely handmade and very pretty. The monkey doll is a Gund brand and his name is 'Mambo' – a lovely addition to including so that the baby has its own little toy to cuddle from its earliest days. The cake is wrapped in white tulle which adds extra softness and prettiness and It will look good as a centerpiece. It is also four tiers high, (12 inches wide and 16 inches tall) so it's definitely impressive.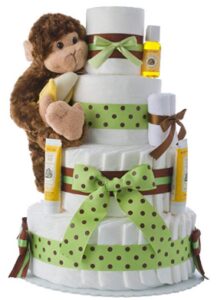 3. Personalized Diaper Cake
Many parents like to know in advance the gender of their little one and have a themed baby shower according to gender, or the name that they have chosen for their child. As ideas go, this works well for this type of gift because you can personalize the diaper cake for the name of the baby in lovely brightly colored foam letters. To make the baby shower gift even more adorable, you can also include ribbon and have it wrapped in tulle. This brand is made with 42 usable diapers in Pampers Swaddlers Stage 1 Brand. A lovely touch of a gift card is also included in the price for your own message.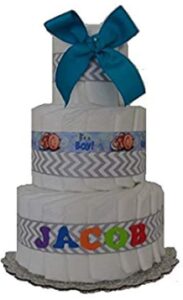 4. Baby Shower Blue Diaper Cake
This one really does look like an actual cake. Parents would love it Made with blue accents using baby socks shaped into roses as well as a pretty blue ribbon and finished with cellophane and gift tag. It comes with quite a bundle included, and you can have a choice depending on what the parents' preference is; either 105 Huggies or Pampers Stage 1. Other added extras include 2 bodysuits made of 100% cotton, 25 pairs of socks, as well as 6 receiving blankets. It really is a striking shower gift and would definitely look impressive at any baby event. If you're looking for a gift with some added bonuses, then this is a good choice.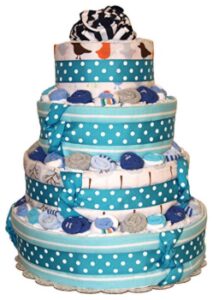 5. Quad Bike Diaper Cake
This is a unique diaper cake product is definitely for the more modern parents, and has all sense of fun about it. Not only does it include many added extras and helpful accessories, but it comes with 44 Pamper Swaddler Diapers in a size 1. Shaped as a quad bike, this has an added element of excitement for families, but it also includes a baby bottle, a pacifier dishwasher basket as well as a cotton receiving blanket, a pair of baby socks, a bib and a cuddly toy bear. It is completely handcrafted, tied lovingly with bow, cellophane and a gift card, and ready to give as a gift. This definitely offers a little more and it is cleverly assembled.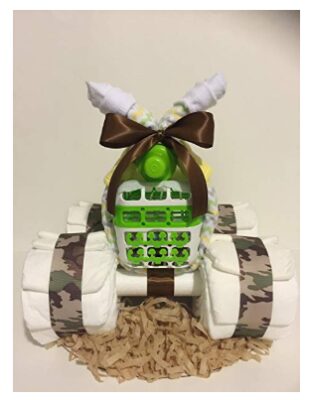 6. Pastel Color Baby Shower Diaper Cake
Measuring 12" x 12" x 12″, this diaper cake is more understated and simple and harks back to the more original tradition of simply just diapers and pretty ribbons. The use of blue in this boys' cake is a more soft, pastel-hued version, and would suit a more traditional celebration. This streamlined baby shower cake contains Pampers Swaddlers Stage 1 diapers and they are all usable. This company prides itself on not using any adhesives in the making of their products and it is all assembled using simple ribbon.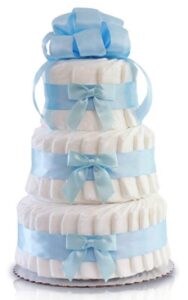 7. Blue 3 Tier Diaper Cake
This is striking and fun, with modern, quirky decorations and is assembled using socks transformed into roses as well as beautiful bodysuits. If the parent has a preference for diaper brand, then they can opt between either Huggies or Pampers Stage 1 diapers for their little bouncing baby boy. What makes this one particularly striking is the large rose on the top made of bodysuits, made to resemble icing. The design is adorable, and will stand out as the center piece of a boys' baby shower. This cake also comes wrapped carefully in cellophane and has a gift tag for your message.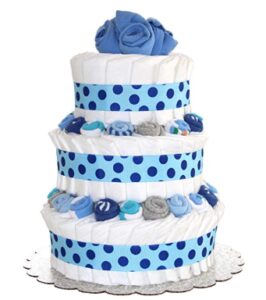 8. Giraffe Baby Diaper Cake
Using the popular brand of Pampers Swaddlers Diapers, this pretty, colorful cake is assembled using 25 diapers. It has a delightful topper of a cuddly giraffe (which is also a rattle!) with a cute bow tie, a really gorgeous toy for any playroom or nursery. This is also used green and yellow accents that tie in prettily with the toy giraffe and it also includes the addition of 2 washcloths and a fun little rubber ducky that can accompany the baby at bath time. It works very well as a focal point for a christening or baby shower event as it is eye-catching and fun.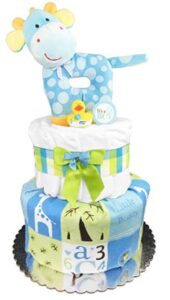 9. Baby Boy Diaper Cake with Teddy
A three-tiered design can be impressive and is a great idea, and this one is well constructed. This adorable baby diaper cake is made with 42 diapers and in Pampers Swaddler Size 1 brand, which is a popular choice for boys. It has a cute little cuddly teddy and also helpfully includes some baby skincare items, made by Johnson Brand. It is wrapped in white tulle and really will be welcomed by any new parents as a helpful and adorable diaper gift.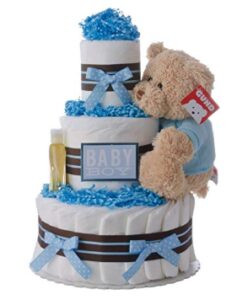 10. Assemble Your Own Diaper Cake Kit
People sometimes wonder how many diapers are needed to make their own diaper cake, and this approach really is more for people who have the time and creativity to go the 'DIY' route. If you would prefer to create your own version, there are many diaper cake ideas you can employ, then you can use these helpful accessories to make it yourself. It includes the base, which measures 13.4 inches and also comes with a bow and a fabric pennant banner as well as a pretty centerpiece with the words 'It's a Boy!' which is perfect for any little boy's baby shower or christening. It should be noted that this does not come with any diapers, and you must purchase your own to create the cake.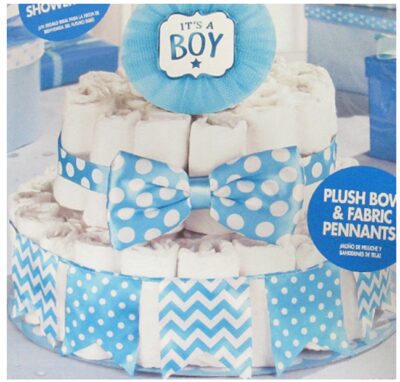 11. Elephant Diaper Cake
Another animal-themed diaper cake parents would love for their baby shower, but this time it's a cute little elephant themed one. People are a sucker for elephants, and they really seem to go with the baby boy theme. A nice change of using lots of blue, the addition of gray is stylish and pretty and this diaper cake will look well when used as a centerpiece for a baby shower or christening. It has a soft elephant toy measuring 6.5 inches and is wrapped in a pretty tulle wrapping. It also uses 32 diapers in Size 1 in the Pampers Swaddlers brand and offers 2 washcloths also.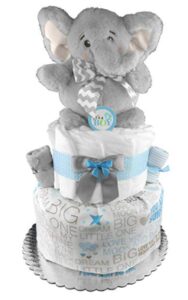 12. Woodland Animal Diaper Cake
Offering a more quirky design, this gender-neutral animal-themed diaper cake is really eye-catching and can be used for a boy's baby event. It includes Pampers Swaddlers in a Size 1 and has a generous offering of 50 usable diapers. The decorations and accessories that adorn this diaper cake are beautifully coordinated and result in a show stopping piece that really will get a reaction from the recipient especially when it is presented as a baby shower gift. It also has a very gorgeous little fox made of plush fabric as a cake topper, that is an added extra for the little arrival. It also has clever little touches of greenery that add wonderfully to the woodland theme.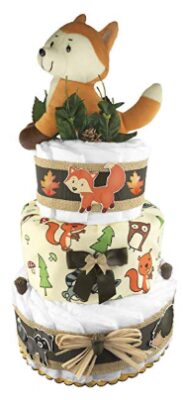 13. Mustache Diaper Cake
Definitely one of the more stylish and modern designs for a boy, this mustache themed gentleman's cake is three tiers high and measures 11 inches. It has a cake topper hat with 2 bows and lots of pretty champagne colored ribbons encasing each diaper of which there are 60 Pampers Swaddlers brand. If you wish to tie a gift like this one into a particularly edgy, modern shower theme, then this product will definitely fit in well. The colors can be adapted to the buyer's taste and the makers will also add personal accessories on request. Tulle wrapping and matching ribbons also complete the finished piece.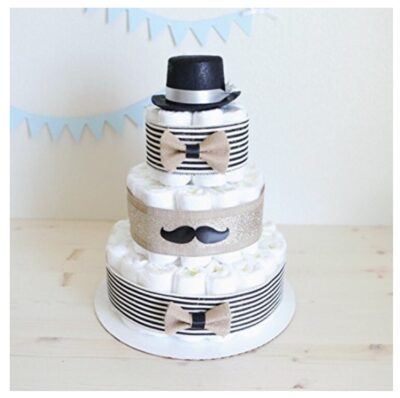 14. Adventure Diaper Cake with Dog Plush
Not only will this delight expectant parents, but any who are husky owners or even dog owners will really love this useful baby shower gift. Another bonus is that if there are any toddlers in the family, then they will probably think it is a Paw Patrol cake! Including 50 Size 1 Pampers Swaddlers, it also has the cutest plush husky puppy toy, for the baby. to cuddle as it grows. There are pretty touches to the decorations, including coordinating ribbons in navy and gray which is completed with soft tulle and ribbon ties. This really would make an excellent focal point for a family gathering to welcome any little baby boy, and parents will love this diaper cake .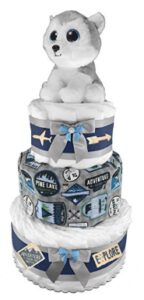 15. Classic Pastel Diaper Cake
This is quite a generous diaper cake regarding the sheer amount of diapers, and with three tiers it boasts sixty diapers wrapped up by band with pretty eye-catching bows and ribbons. This boy diaper has lots of layer and I think a new mom would love this for her baby! The diaper cake measures around 12 inches so would look striking as a centerpiece at a boy's baby shower and would definitely be a talking point. It is packaged with white tulle to give it that extra luxury and softness and you can even tie additional products and accessories around the outside to personalize it even further. The nappies are Stage 1, so are useful for the newborn stage.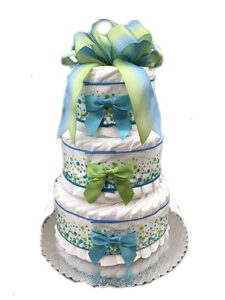 16. Praying Bear Boy Diaper Cake
This boys' diaper cake is really very sweet and thoughtful diaper cake ideas. Wrapped in attractive pale blue ribbons and bows, it is packed full of Pampers Swaddler brand and also has some nursery accessories and baby skin care products as an added little bonus. The bear diaper cake comes handily wrapped in transparent cellophane and has beautiful ribbon also. It comes with a gorgeous little praying teddy bear as an extra and it is a particularly suitable choice if you are buying for religious parents. It looks like a quite abundant gift with all the little added extras tacked onto the side, so it will make a generous impression on the parents and will also prove useful when they run out of creams and shampoos as their baby boy grows.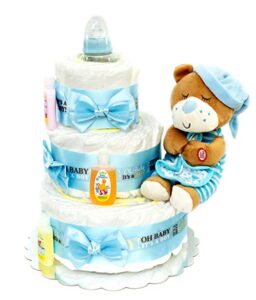 Overall Best boy diaper cake to Buy
Giraffe boy Diaper Cake – At number 8 in our options, this adorable baby diaper cake idea seemed to stand out as not only eye catching and stylish, but also seemed to have more to offer with the toy not only being a quirky, uniquely designed giraffe, but the fact that it doubled up as a rattle felt you were getting two gifts in one. The color scheme suited a boys' theme but also had an element of multi-color which was engaging and we could imagine this diaper cake gracing the center of any table at a family celebration. The parents would love it! We were also won over by the cute rubber ducky, which we know would delight both parents and baby boy alike!. Apparently, no one wouldn't fall in love with this adorable diaper cake.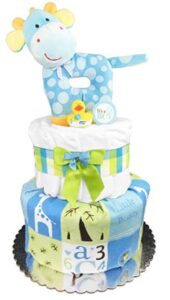 What are the Different Types?
These baby boy diaper cakes come in many shapes and sizes and types. Depending on what the parent would love, you can gift many baby boy diaper cakes for a baby shower . You can also make a DIY diaper cake personalized for special party using diaper cake ideas. Some diaper cake comes in traditional tier styles, like a proper 'cake' shape. Many have embellishments in the form of roses or pretend 'frosting' which is made from baby socks, bibs and onesies. They also can be purchased in two tier or three tier diaper cake designs. More modern diaper cake versions come in the shape of vehicles such as motorbikes. Some of this cakes can be shaped as castles and others in the shape of strollers, there are many creative and adorable diaper cake ideas and you are welcome to choose any type you like that you feel best suits as a baby shower gift or other occasion.
What Does a typical Diaper Cake for boy Contain? 
There is much choice regarding the content of this type of gift, and varying budgets will be able to afford a range of different elements that make up the diaper cake. Some are simply just tiers made up of adorable diapers for baby boy wrapped together with ribbons and adorned with bows. Others offer a little more, such as washcloths in matching or contrasting colors, as well as toys, rattles, pacifiers, pacifier cleaners, baby socks and onesies as well. This diaper cake is usually topped with one or some of these items and stand on a cake board to give them structure. Occasionally, some diaper cake package may also include baby skincare products, usually made from a trusted brand. Companies usually offer a choice of diaper brand, if you prefer a certain product in your diaper cake.
Wondering how to make baby shower diaper cakes for boys?
Yes, of course you can! . There are many DIY adorable diaper cake ideas for baby boy. It's an increasing trend. If you're wondering how to make adorable diaper cake for a baby boy, then as we've seen above you can purchase a kit that helps you craft, create and decorate your own baby diaper cake for a friend or family member who is awaiting a little ones arrival. They usually come with instructions and you are then able to do a DIY version of a diaper cake to your own design. An example of the different baby boy diaper cakes ideas available is the Tractor Diaper cakes where loads of baby diaper are arranged as a mini tractor. Of course, you will have to purchase your own nappies to make this unique baby diaper cake , as well as possibly having to source a diaper cake board, but it helps in cases when you prefer to buy a particular brand of baby diaper due to the parents' preference.
Baby shower diaper cake ideas
When it comes to DIY baby shower diaper cakes for boy. There are many diaper cake ideas you would fall in love with. These boy diaper cakes are unique, adorable and equally easy to make. You can shape the diaper cake to different form such as tractor diaper cake, minne mouse diaper cake like, little ducky diaper cake or a Bassinet shaped diaper cake. These are lovely diaper cake ideas that the parent will surely trip over at a baby shower. Also, the diaper cake ideas can be easily customized to meet the need of a particular baby occasion. The tractor and motorcycle shaped diaper cake are popular baby boy diaper cakes idea. Seemingly, no one wouldn't fall in love with this adorable diaper cake ideas.
When Should I Gift a Diaper Cake?
There are several opportune moments when you can give this adorable diaper cake as a gift to your expectant friend or family member. Some prefer this diaper cake as baby shower gift. The do-it-yourself diaper cake ideas can be personalized to meet different baby parties. Baby boy diaper cake can be useful when the baby's gender has been revealed to the guests. It can also be helpful to do this in advance, as some expectant parents prefer to have all that they need well before the baby arrives. Another useful aspect of this timing is to use the diaper cake as a centerpiece for the baby shower, which is always appreciated. Another time to gift a baby diaper cake is when you visit the baby for the first time, or when you hear the news of the arrival and want to send a gift. Alternatively you can use DIY diaper cake ideas to create a customized diaper cake to the christening as a special offering.