Kids love to play dress-up, so choosing a farm animal costume for your little one can be great fun! There are so many styles to choose from, ranging from full body onesies to simple masks. We have chosen a range of styles, and different animals such as cows, pigs, sheep, ducks and more! There are costumes to fit children of all ages and sizes, from toddlers up to around 9-10 years old – there's sure to be something to suit your child here!
Considerations When Choosing a Farmyard Costume for Your Child
Choosing the perfect costume for your child can be tricky – there are so many to choose from. First, think about which animal your child is the most interested in. Or, if they are playing a part in a play they might be looking for a specific animal.
Also make sure the costume is the right size, keeping in mind what your child will likely be wearing underneath. Think about what materials the costume is made from, to ensure it won't cause irritation on young children's skin.
Halloween Pink Pig Costume
This farm animal onesie comes in a range of styles and sizes, making it perfect for everyone! The costumes are machine washable, meaning they can be worn whenever your child wants and easily washed afterwards.
The pig costume is made from flannel polyester material, meaning it's comfortable enough to double as sleepwear. The costume is made from one piece, with a cute piggy detail on the hood. There are no hand or feet pieces on the suit, making it easier for kids to play in. The costume is loose enough for a child to wear thin clothing underneath to keep warm – ideal for going trick or treating!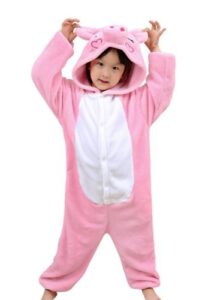 Children's Chicken Onesie
This is one of the sweetest children's farm animal costumes on the market! It is loose fitting, making it really comfortable for playing in. The all in one is also ideal for sleepwear on cold winter nights. It comes in a range of sizes to fit those between 3′ to 5′ tall, meaning it can fit children of all ages!
The farmyard fancy dress costume features cute details on the hood, and has built-in gloves to keeps hands cozy when worn outside. The button fastening makes it easy to take the costume on and off, even with other clothes on underneath.
The chicken costume is made from super soft polar fleece – kids won't want to take it off! It's also thick enough to keep kids warm when worn alone – the onesie is really versatile and will provide months of use!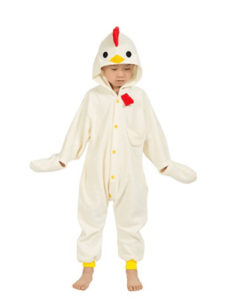 Plush Chicken Costume for Toddlers
This toddler Easter costume fits kids aged around 2-4 years old. It features the body with hood, and the feet covers separately. The costume is perfect for Easter or Halloween, or your toddler might just enjoy playing in it! The plush material is soft and comfortable against the skin – kids will love wearing this costume.
The chicken costume doesn't come with the orange leggings pictured. They really complete the look, so it's worth looking for a pair to go with the costume. The chicken fancy dress outfit has cute facial details on the hood, and even has a little tail on the back!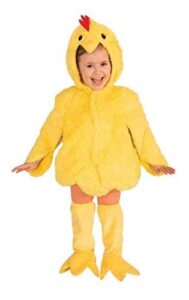 Grey Donkey Outfit for Children
This cute animal onesie is ideal for dressing up at Christmas or for Halloween. The loose-fitting costume can easily be worn over other clothes or on its own, making it perfect for indoor or outdoor use.
The farmyard fancy dress costume has a zipper front, making it easy to put on and take off. The costume includes sweet details on the hood, as well as a long fluffy tail! Therefore, you don't need anything else to finish the costume, making it ideal for those on a budget.
The farm animal dress up is suitable for children aged around 4-6 years old – they will look so cute in it and won't want to take it off!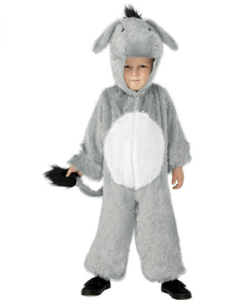 Farm Animal Visors
These barnyard animal masks are ideal for wearing as part of a costume, or for using to play fun party games! The masks make a great, inexpensive addition to any young child's dressing up box. They are held in place by a piece of elastic, meaning they can easily be made to fit almost anyone.
The animal masks are great for a barnyard costume party – they come in a pack of 12 making them great for sharing with friends. They're also ideal for school groups or plays – kids will have so much fun playing with these no matter what the occasion. There are 3 of each design – pig, cow, horse and duck – meaning there won't be any fighting over the characters!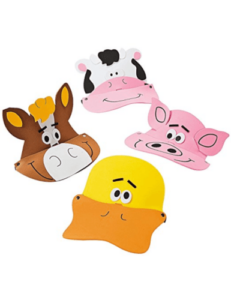 Brown Horse Halloween Costume
This fun farmyard animal costume is great for costume parties. The horse costume comes with an attached tail, and a separate headpiece with the face and mane details. The booties are also separate, which means parts of the outfit can be worn individually.
The animal costume fits children aged approximately 4-6 years old. It's great for Halloween, parties or for just playing dress up. Kids will have great fun running around pretending to be a horse with this super costume on!
The horse costume is very well made, and will last for several years. It will likely remain in good enough shape to pass down to younger siblings or friends too, making it excellent value for money.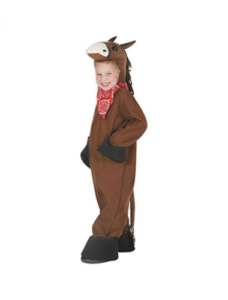 Child's Duck Costume
This cute duck costume is perfect for children of all ages, as it comes in a range of sizes. It is made from polyester material, and is warm and comfortable, with room to wear over other clothes.
The farmyard animal outfit has a zipper on the back of the top, and an elastic waistband. The hood is attached to the shirt, and has padding to make it look even better. The shoe covers slip over regular shoes, held in place by elastic.
The children's duck costume is ideal for Easter, Halloween, or any other occasion when fancy dress is required.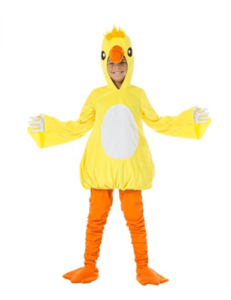 Baby Chick Costume
This is one of the sweetest baby animal costumes on the market! It is great for parents too, as it is machine washable, and shrink/ stretch resistant. The costume consists of the bubble body and the hat with duck face details. This means it can be used in any climate – use as it is for warmer weather, or add layers of yellow or orange clothing for a cute, and warmer, look.
This super cute baby duck costume comes in sizes 0-2 years. It's perfect for a baby's first Easter, and will make for some great photos for the memory box! The costume is also ideal for Halloween, when you want your little one to look sweet, rather than scary!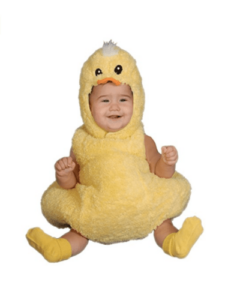 Plush Cow Fancy Dress Outfit
This is a great animal costume for kids of all ages – it comes in sizes from 2T up to 10 years. It consists of a one-piece jumpsuit, with attached head and tail. The cow outfit is loose fitting, meaning it can be comfortably worn on its own, or over the top of another outfit. It is fastened with Velcro, making it easy to get on impatient toddlers quickly!
The toddler farm animal costume is ideal for Halloween, or just for playing dress up. Kids will love letting their imaginations run wild, playing fun games dressed up in their new costume! The sizes run small on this onesie, so best to order a size up, especially if you want to ensure plenty of use from it.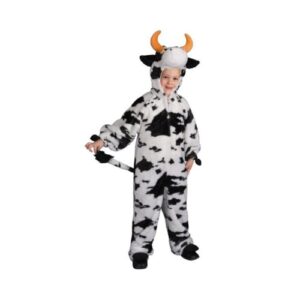 Older Kids Sheep Halloween Costume
This cute farmyard animal outfit fits children aged 10-12 years old. It comes in several parts – the bodysuit with padded legs, hoof shoe covers, and the hood. This means it can be used all together, or individually as needed.
The sheep costume is loose fitting, meaning it can be worn over other clothes, or on its own. The headpiece is fastened under the chin with Velcro – it stays on well during wear.
The animal dressing up outfit is great for Easter, for performances, or any other occasion you can think of. Children will love dressing up in this fun costume for any event!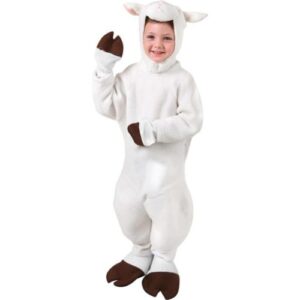 Best Overall Buy
The horse costume is a great choice for those looking for a top quality farmyard fancy dress outfit for their child. It will last for a few years, and is made from great quality materials. Kids will have so much fun dressing up and playing in this outfit – they won't want to take it off!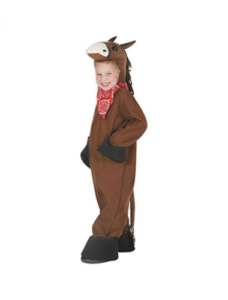 Best Budget Pick
The baby chick costume is ideal for those looking for a super cute costume at a great price. It's great for a baby's first or second Easter, or for dressing up at Halloween. Little ones will be the talk of the party in this sweet costume!