Kids of all ages love to learn and play the xylophone. Whether it's a toy for a young baby, or a first musical instrument for an older child, there are different types of kids xylophones to suit all ages and abilities.
Here, we have outlined some of the things you should consider when shopping for a musical xylophone gift for your child depending on their age.
Then you will find reviews of what we feel are the best xylophone and glockenspiel toys for children, broken down into sections for different age categories, so you can quickly and easily find the ideal xylophone for your child.
The Reviews: Best Children's Xylophone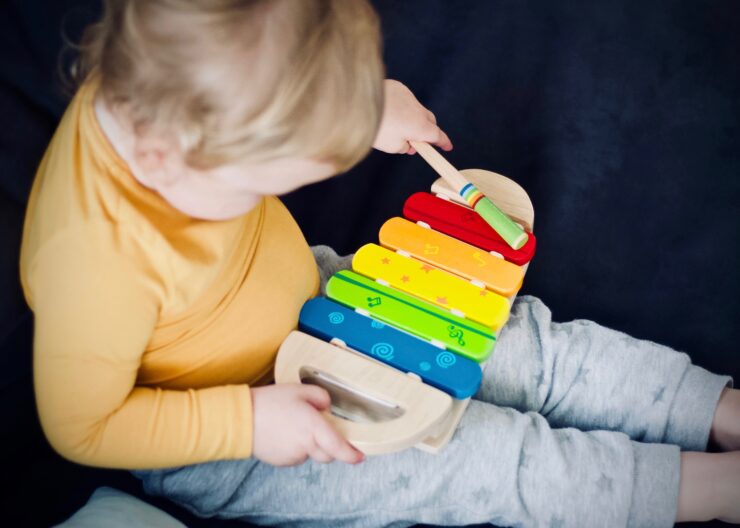 Below, you will find reviews of what we feel are the best xylophone toys on the market today. To make things easier, the reviews have been broken into 3 sections, one for babies and toddlers, one for children aged around 4-6 years old and one for those aged 7 and above.
Each section contains several products, giving you plenty of choice meaning there's sure to be something your child will love.
Best Baby & Toddler Xylophone Toys
In this section, you will find the best infant xylophones to let your little one make music! Our picks for baby and toddler xylophones are brightly colored and nice and sturdy – perfect for children aged around 6 months up to 3 years old.
1. Hape Pound & Tap Bench with Xylophone
This fun, colorful toy is the ideal xylophone for a one-year-old. It offers two different ways to play. Kids can either hit the balls with the hammer and watch as they roll down and out of the side. Or, the xylophone part can easily be slid out and played on its own.
The wooden xylophone for toddlers will be enjoyed by growing kids for years to come – it is recommended for those aged up to 3 years old. The materials used are very high quality, and will last well even with heavy use by babies and toddlers.
The paint is safe for even the youngest babies, and the balls are large enough not to be a choking hazard. This makes it the perfect first xylophone toy for babies, too.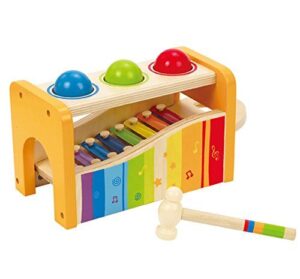 2. Liberty Imports Rainbow Xylophone with Drums
This baby xylophone offers several ways to play – there are drums and a bell too! This is a great way to develop musical skills in little ones and gives them plenty of variety to ensure they never get bored.
The children's xylophone includes a music sheet, making it ideal for toddlers, too. They'll love trying to follow the music, or watching as mom and dad play popular songs!
The unique design of the xylophone toy makes it attractive to young children – it's sure to keep them interested. Each bar is numbered and has a different animal picture, to give more learning opportunities for your toddler.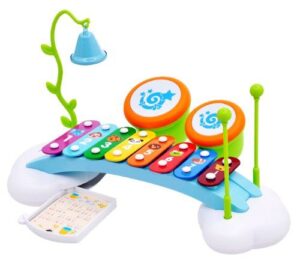 3. Toysery Piano Xylophone with Songbook
This baby toy piano xylophone is really easy to play, making it perfect for even the youngest musician. Babies can simply bash the keys to make a sound, whereas older children can use the beaters to play the xylophone part. It is made from sturdy, durable plastic, making it ideal for young children.
Color coded music sheets are included with the xylophone piano toy, meaning it can grow with your child, teaching them how to start reading music. the musical toy offers a nice, natural sound which won't annoy parents no matter how much the kids want to play!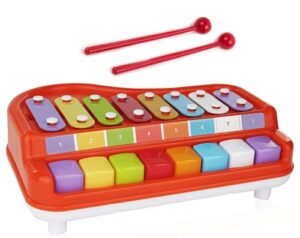 4. Skip Hop Explore & More Xylophone
This push and pull toy xylophone is ideal for kids who have just learned to walk. Young toddlers will love pulling the fox-themed xylophone around and making music everywhere! The mallet is attached meaning it won't get lost, so kids can play music wherever they take it.
The musical xylophone is ideal for one year olds, and will continue to be enjoyed for years to come. The string which holds the mallet is long enough to reach each key, but not so long that it would be a strangulation risk for young children.
The 8 keys provide a full range of notes, meaning kids (and parents!) can play just about any song. Overall, the explore & more xylophone is the ideal first musical instrument for young children.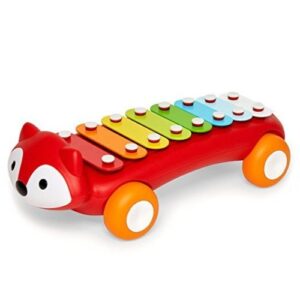 5. Fisher Price Classic Xylophone
This child's xylophone toy features an attached mallet which means the toy can also be used as a pull-along toy by toddlers. The toy is great for developing hand-eye coordination skills, as well as balance skills when used as a pull toy.
The Fisher Price Classic Xylophone is a traditional toy that remains popular with babies and toddlers today. The mini xylophone's colors are sure to keep little ones' attention and can be used as a learning tool to help toddlers recognize colors.
The musical xylophone is easy to play, and is suitable for children over the age of 1 year old. It will continue to be enjoyed by older toddlers who can learn how to play simple tunes, meaning it will give many hours of entertainment – it is great value for money.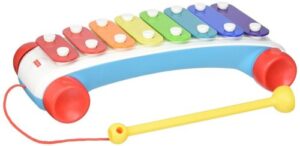 Best Xylophones For 4 to 6 Year Olds
In this section are the reviews of glockenspiels and xylophones which are suitable for children aged around 4-6 years old. Some of them come with music cards to help your child learn how to play their new instrument properly.
1. D'Luca Xylophone with Music Cards
This attractive, colored kids xylophone comes with color-coded music which is easy for children to follow. There are 5 cards included, each of which is double-sided giving a total of 10 songs to learn. There's also an instruction card that teaches kids the basics of how to play.
The toy glockenspiel is suitable for children over the age of 2 years, however, we feel it would be better suited to older children who are starting to play properly. It is well in tune and will allow kids to play just about any song thanks to the full range of natural, sharp and flat notes. Overall, it's a great starting point for those who want to learn to play a musical instrument.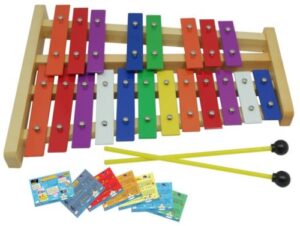 2. ALEX Toys Rub A Dub Xylophone Bath Toy
This fun, musical bath toy is great for kids who want something a little different for their bath. There are waterproof music sheets included, so kids can learn how to play a few popular songs. The toy is sure to make bath-time more fun for little ones!
The pieces of the xylophone can be used separately or together – they are made of foam meaning they can either float or stick to the walls of the tub! The toy can also be used out of the bath for even more musical fun. With only 6 notes, the instrument can't be used to play a whole range of songs, but it's perfect for giving kids something different to do at bathtime, whilst helping them understand how to read music at the same time.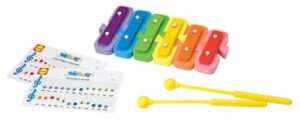 3. Boseno Wooden Glockenspiel With Maracas
This wooden child's glockenspiel set produces an excellent sound which is sure to be loved by parents! There is a small music book included so children can learn how to play simple songs to perform for friends and parents. There are also 2 maracas included, making it perfect for when your little one wants to start a band with friends or siblings!
The pull-along wooden xylophone comes with a spare set of beaters, meaning it's great for young children who are prone to losing parts of their toys. The bars are nicely colored, as well as numbered. This is great for helping kids follow the included music book, and the names of the notes are also on each bar making it easy to play other songs, too.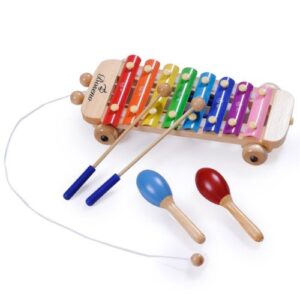 4. HappyFishes Kids Xylophone With Music Cards
This colorful kids toy wooden xylophone is ideal for children who want to learn to play simple songs. Each bar has the name of the note on, and there are color coded music cards to teach kids how to play a few popular songs. This makes it easy for young children to learn how to read music, so they can eventually start to play other songs, too.
The wooden child's xylophone comes with a mesh storage bag, for easy transport. The xylophone toy would make the ideal gift for a boy or girl's 4th or 5th birthday, and will continue to be enjoyed for many years.

5. Grover Trophy Glockenspiel for Kids
This kids metal glockenspiel comes with a strong plastic carry case making it ideal for taking out and about. It is perfect for young children who are just starting to learn to play properly, as it includes a full range of two octaves. There are legs to raise the instrument off the table for playing. It produces a pleasant sound, perfect for parents of children who love to practice a lot!
The lightweight glockenspiel is budget-friendly and ideal for practicing on. It's also a useful too for those who are learning to play piano, or who are thinking about getting a more expensive xylophone or glockenspiel. For children aged around 5 to 7 years old, this is an excellent choice which will surely spark their interest in learning to play the instrument and will last for many years.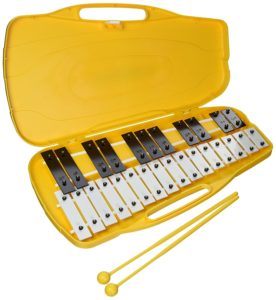 Best Glockenspiels For 7 Year Olds +
In the section below, you will find some high-quality instruments for children who want to learn to play properly. The products in this section have a full range of notes including sharps and flats, meaning any songs can be played.
1. Giantex Kids Glockenspiel With Practice Pad
This kids all-in-on xylophone starter kit is ideal for kids who are keen to improve their musical abilities. The instrument is made from aluminium and wood, to give a durable and long-lasting finish. Also included in the kit is a music stand, a stand for the glockenspiel to sit on, a set of mallets and sticks, and finally a practice pad. This is great for kids to practice anywhere and at any time.
The glockenspiel has a 2.5 octave range, meaning it can be used to play a wide variety of songs. The tone of the bells is pleasant – parents will love to listen to their children practicing every day! The instrument is easy to set up, and doesn't take up much space. Everything can easily be stored in the handy carry case, making it ideal for taking to practice sessions.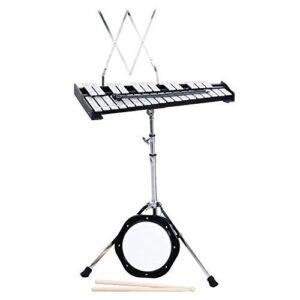 2. ProKussion Professional Kids Soprano Glockenspiel
This kids large xylophone is ideal for children who wish to learn to play properly. It has removable keys to help with teaching, and features a wooden frame with metal keys. This gives a lovely, bright tone which will sound great when your child can play a few songs.
The wooden child's xylophone is ideal for those who are learning to play at school and wish to practice further. It even comes with a guarantee which means any lost keys will be replaced for free, within the first year of purchase.
This means it's a great choice for young kids who might be prone to leaving things lying around! The glockenspiel will provide years and years of use, and will be enjoyed by teens and adults as well as children. The two wooden mallets are also included.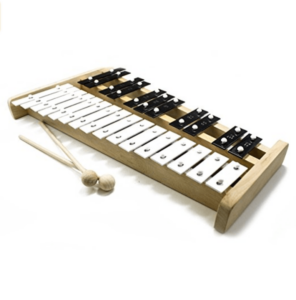 3. Gearlux 32 Note Glockenspiel with Carry Bag
This children's glockenspiel starter set is ideal for older children who are getting serious about learning to play. It comes with everything you need to get started, including a carry bag for easy transport, a music stand and a set of beaters.
The 32 note glockenspiel covers 2.5 octaves, meaning it can be used to play a huge range of songs, and they will sound great! All the accessories can be stored neatly inside the bag, making it ideal for students who often need to transport their gear to lessons and practice sessions.
It's also great for kids to keep all their gear in great condition, without anything getting lost. The carry case even features backpack straps to make it really easy to carry around.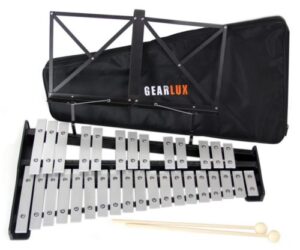 4. Ravel 25 Note Kids Glockenspiel
This blue, possibly for boys, small xylophone features a nice 25 note range which is perfect for beginners. It comes in a molded plastic case, meaning it is ideal for children to take to school. The case offers a great level of protection – a glockenspiel in this style is the best choice for children who tend to be a little rough or accident-prone!
The case also has small legs which allow it to be raised off the table slightly, to produce louder volume.
The color coded keys feature the note names to help kids who want to learn to understand music properly. There are also sharp and flat notes, meaning a whole range of songs can be played on this xylophone.
The beginners' xylophone includes a pair of plastic mallets, so your child can start playing straight away. Overall, this is a great, budget-friendly option for those looking for a first xylophone instrument.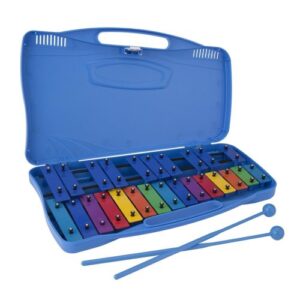 5. Lyons 25 Note Kids Xylophone With Case
This metal kids xylophone is ideal for older children who have joined a school band and need to carry their instrument around a lot. The individual notes can be removed for teaching and training, making it great for teaching children about playing scales.
The 25 note xylophone comes with a pair of mallets which fit well into the case – ideal for preventing them from getting lost. The notes are well tuned for a cheaper glockenspiel, making this model ideal for children of any age, including older kids and teenagers. The instrument cannot be removed from the case, but this is ideal as it can be played just about anywhere!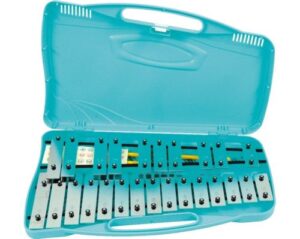 Best Overall Pick
We think the best xylophone for kids is the Giantex set with practicing pad, although this depends on the age of your child. It is ideal for those aged over 8 years old approximately, and can be used by teens and adults too.
The wood and metal glockenspiel is ideal for slightly older children who are learning to play seriously, or who wish to learn another instrument at a later date. Everything you need to get started is included in the box, meaning kids can start playing straight away!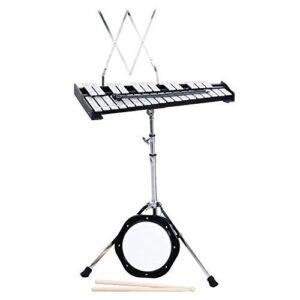 Best Budget Buy
There are so many great children's xylophones at low prices, but we feel one of the best is the HappyFishes colored toy xylophone. It comes with nice, color coded music sheets to help children understand how to begin reading music.
The xylophone is stylish and well-built, and comes with a handy mesh storage bag which is great for fun on the go! The note names are marked on each key of the xylophone toy, meaning it is a great starting point for those who are looking to learn to play seriously when they are a bit older.

Considerations When Choose a Xylophone
There are a few things worth keeping in mind when shopping for a kids xylophone for your little one. Here are some of things we think are worth looking at:
The right Size of Xylophone

Babies will benefit from a smaller xylophone toy, but with bigger bars so it's easier for them to hit. Older children are more likely to enjoy a 'proper' xylophone or glockenspiel, with all the notes they will need to play popular songs.
Xylophones come in a wide range of sizes, with some requiring the player to stand behind them – although you will need a lot of space at home if you choose this type!
Best Brands of Xylophone
Top xylophone brands for babies include Fisher Price and Melissa & Doug. For older children, good xylophone brands are Lyons, Mendini and D'Luca. These brands of xylophone are also ideal for beginners of any age, including teens and adults who are just starting out.
Different Types of Xylophone to Consider 
Xylophones for kids can be made from many different materials, and come in a range of different styles. This is what makes them the ideal instrument for children of any age or ability level. There are strong, plastic models with a few buttons which are perfect for babies. Xylophones also come in wooden varieties, which are perfect for toddlers.
Parents will love these too, because they tend to be quieter than their metal counterparts! Glockenspiels are made of metal and give a higher pitched sound than xylophones. They are really versatile and have several bars meaning they can be used to play a range of songs, making them ideal for more advanced players and older children. 

Where to Buy a Xylophone that is Affordable?
Now that you have decided that the xylophone is the perfect instrument for your child, you might be left wondering "where can I buy xylophone?". You can pick up some cheaper, toy xylophones at the local toy store, and it's likely that a good music store will have some high-quality options.
There are also plenty of websites offering xylophones for sale. In the reviews section below, we have provided Amazon links for each product – you can have them delivered to your door in just a few clicks. What could be easier!
Age Guide: Choosing the Right Xylophone
You will be looking at different types of xylophone depending on how old your child is. Here, you will find an age guide, showing the types of things you should consider when looking for a xylophone, depending how old your child is. We have broken this down into 4 sections, from babies to children up to 10 years old and above.
Babies
Even young babies will love bashing a sturdy baby toy xylophone. It's a great way to get them started with an easy to play musical instrument, and they will love hearing all the sounds they can make! In the reviews section below, you will find what we think is the best xylophone for a 1 year old.
If you are buying for a baby, it's best to choose something which is strong and durable, and can withstand being dropped or thrown. Strong plastic is the best choice of material at this age, and babies tend to prefer bright and bold colors.
Toddlers
Just like babies and older children, toddlers of all ages and abilities love playing with a xylophone. Toddlers will be able to enjoy either a metal wooden xylophone.
Another great option for kids this age is a toddler xylophone piano – kids press the piano keys to make music rather than striking the xylophone with beaters. You can see why this might be a good idea for boisterous toddlers!
3 to 6 Years Old
There are loads of xylophone kids toys for children in this age group. There are loads of great musical instruments for 3 year olds, but we feel the xylophone makes the ideal choice because it is really easy to learn. The beaters are easy to hold and xylophones come in nice small sizes which are prefect for children of this age.
Children who are around 5 or 6 years old might enjoy a metal kids glockenspiel, for a different sound. Kids in this age group can start to follow simple, color-coded music with help from parents too, so look for something which offers this option.
7 to 10 Years Old + 
For children in this age range, there are loads of kids xylophones and glockenspiels to choose from. They will probably benefit from a 'proper' xylophone rather than a 'toy' one at this age.
You could also get them a book for beginner players too, so they can learn how to play a couple of songs. If your child is learning to play the glockenspiel or xylophone at school, see if you can find something the same as what they play at school, so they can improve even quicker.
If you buy your child a good-quality xylophone at this age, it should last them years if they want to learn how to play seriously.
Take a look at these also: