Baby boys love their toys and games, which is why we have collected 21 different types of toys to help you find the best one year old toys and gifts online. Some parents understand that choosing appropriate gifts is not as easy as it might seem at first, especially when there are so many toys that don't really help their development.
Here are some helpful factors good parents like to consider when buying toys for 1 year old boys, ones that enhance motor skills, toys that increase language development, motor development and when combined with creative color and flare they are fantastic ways to get them having fun while learning.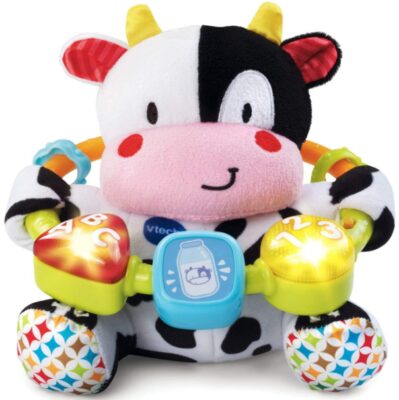 When buying a gift for a baby toddler, especially birthdays, it is crucial you get not only they will like but also what mom and dad will too. Time and time again people get what they think is perfect when really it is not ideal for the child whose birthday it is. I highly recommend texting to ask mom what they as a family need or would like because toys are getting more confusing with vast choices available, people tastes are widely different and not to mention the costs involved too. Why waste a perfectly good opportunity for everyone to get something they want, so, by combing a thoughtful and unique gift with practical, everyone wins.
There are a few things to consider when buying a gift for a young boy and some things I initially overlooked. Some parents have particular needs and if you are taking this gift to where the party is, presents will be opened on the day, it's probably then a good idea to know the mom and dads personal preferences. Some parents find certain toys inappropriate and if you have seen the "pregnant barbie doll" you will totally understand my point here, but for here's sake we assume this has all been thought out already.
50 Best Toys for 1 Year Old Boys
 Lamaze Peek a Boo Forest Soft Book 
Soft books are a great gift for every child and one that encourages learning that will assist them to develop healthy patterns of reading.
This is soft and nice to the touch and the fabric is made from polyester and synthetics. The materials are colorful throughout and are visually appealing for those who appreciate a tropical feel.
This is designed for 6 months old and older, so ideal for a 1st birthday party gift. The story is fun and sets the imagination off with a gentle story about animals in the forest. The owl theme is cute and fosters imaginative ideas for them to begin the connective process into toddler thinking and learning.
This is easy to turn and flip from one page to another, which makes this another ideal for them to play with and handle. The characters in the book are fun and foster ideas of sharing and healthy social skills, like taking turns and making worldly decisions. This is a great gift for one year old boys for and for the caregiver for bonding, nourish a healthy, loving and caring relationship.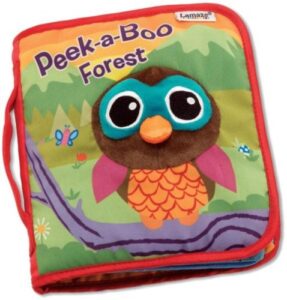 Step2 Whisper Buggy 
This blue ride baby toy buggy is the second addition type and is sleek in design, brimming with automotive ingenuity and makes toddler toys come to life. The toy encourages children to stand and eventually walk, pushing the toy as they go, so it is great for helping them learn this vital skill.
This might be on the slightly more expensive side, but it does offer developmental skills like, motor skills, hand-eye coordination and will get them walking on their own super-quick.
This might be on the slightly more expensive side, but it does offer developmental skills like, motor skills, hand-eye coordination and will get them walking on their own super-quick. This is easy to use and folds away for convenient traveling, so whether on a family day out at the park or just at home this is the gift for promoting toddler development.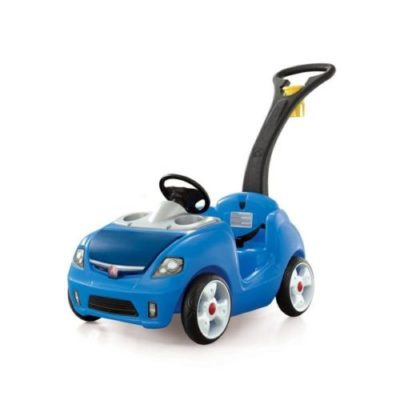 First 100 Words Toddler Book
Every parent should have this book and if you or a friend does not have then this is the perfect birthday gift for a boy. This book encourages both the child and the mom/dad to get those first essential words associated with pictures. There are loads of fun illustrated pictures and images that make the toddler want to point and try to say the words that are on the tip of the tongue.
This learning development tool might be in the form of a book, but it is an ideal gift for those parents wanting to encourage their children early and prepare them as soon as possible for the real world. Reading and associating words with images is the fabric to how we understand the world around us and this is why this book is fantastic as a gift.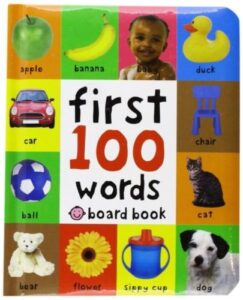 VTech Learners Cube
This busy learners activity toy is a gift for keeping and with 5 sides to explore and figure out the toddler will be amused for hours of play.
I like how the 4 buttons light up and make it easy to use, subtly introduce concepts like animal names, shapes and unique sounds. This encourages motor skills, which assists babies in becoming a toddler with fun and challenging activities.  The motion sensor is one that gets the child sensing and encourages imagination and pattern recognition.
This toddler toy cube is very safe, BPA-free, comes with 2 AA batteries and is fully assembled and ready to gift to the birthday boy.
With 25 sounds and unique songs that play melodies that keep the birthday boy engaged both on his birthday and beyond. They usually play with this up until they turn 2 years old and then they're onto the next upgraded toy. This is one of the best 1st birthday gifts for boys who love touching things and learning!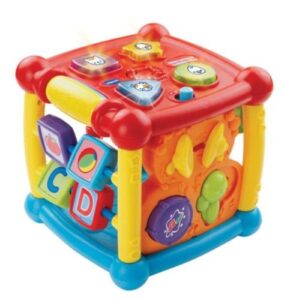 Squeeze and Stack Block Set
These soft and squeezable blocks are always a well-received gift at any party gathering. The good thing about these blocks is the fact they are soft to the touch and numbered, shaped with animals and shapes.
These are BPA free and designed for children aged 6 months and over, which is perfect for a baby turning into a toddler. The block comes with a bag and is easy to store for travel to grandmas or extended family.

Vtech Rhyme and Discover Book
Interactive books are a fun way to engage children with learning and with some classic rhymes, this nursery book is a perfect gift for a toddler. There are 6 nursery songs and each one offer different sound, unique melodies, 40+ songs and phrases that help with early development.
There are loads of toy ideas out there and finding the right gift for the birthday boy can be a challenge. I have compared hundreds of toys and have put together a detailed comparison to ensure you find the perfect toy gift, so let's have a look and see which one suits your kid's needs. Might it be this one?
The 5 colorful buttons are meant to be like a piano and are a gentle way of introducing instruments, colors, and sound. There is 2 modes of play and are interactive and stimulating with a light-up star that flashes. This rhymes book needs 2 AAA batteries and is ideal for ages 6 months old and older. Great gifts for 1st birthday boys!!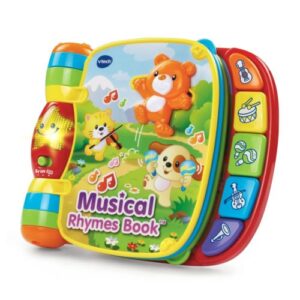 Octopus Bath Toy
Nuby is a Bathtime Octopus toy, ideal for those kiddie pool days, and will be a great companion with lots of rings to enjoy and splash around in the tub too.
This toy is a gift for developing hand-eye coordination and will stimulate their little senses. This is a good gift for a child and the toy is well-made with no little holes for mold to build up in, which is ideal for long-term use.
The toy floats and the aim of the game with this bath time companion are to throw the hoops and stars onto the octopuses tentacles, which keeps things splish-plashy with laughs all-around. The recommendation is for toddlers and is BPA free, which adds to the reasons why this 1st birthday boy gifts are great.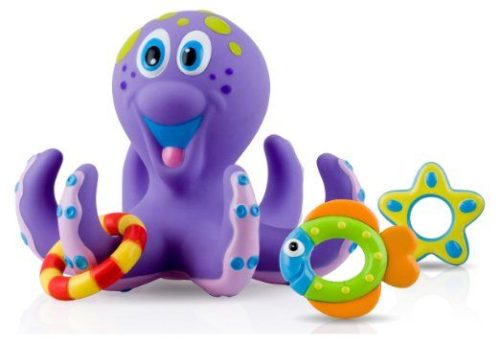 Soothe and Glow Seahorse 
This Fisher Price Soother toy is an ideal gift for babies that find it hard to get to sleep. Moms and dads everywhere use this soother toy, which is why it comes highly recommended as a birthday gift for everyone.
There are 8 different soothing lullabies and each song plays for 5 minutes total. The sounds of the ocean are soft and smooth and ease the children off to sleep. There is adjustable volume, activates by squeezing and helps teach about the concept of cause and effect, which is a good early learner activity to develop their comprehension.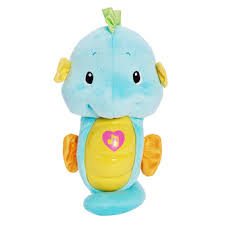 Grimm's Giant Marbles
These colorful wooden marbles are a safe fun toy for toddlers and have been made big enough to be ideal for 1 years old baby boy and over.
They are a range of rainbow colors, great for grasping and developing motor skills. The egg carton makes them easy to store and a fun toy to bring out for rolling games. Their little hands find clasping and grasping easy with their marbles, which is why these are learning toy and not a hazard like smaller types can be.
This wooden toy has been designed in Germany and made to a high standard, which is why they are non-toxic and safe. The creativity and imagination combined make this an ideal gift for a birthday boy who likes games with balls.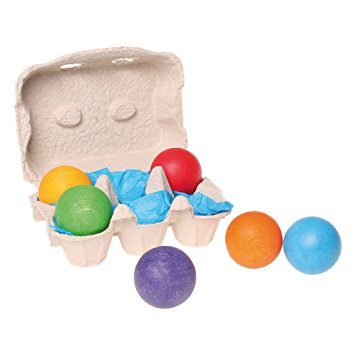 Tomy Hide and Squeak Eggs
These come as 6 eggs on the outside shell and they hatch into 6 chicks on the inside, which is a done when the shell cracks. This reveals the little chicks inside and with each color and shapes this makes the game fun, especially with a little chirp once they are pressed down on.
The size and shape are perfect for toddlers and early learner who are developing their motor skills and abilities to grasp. This also makes for one of those cute toys for 12 month old baby boys and girls for Easter.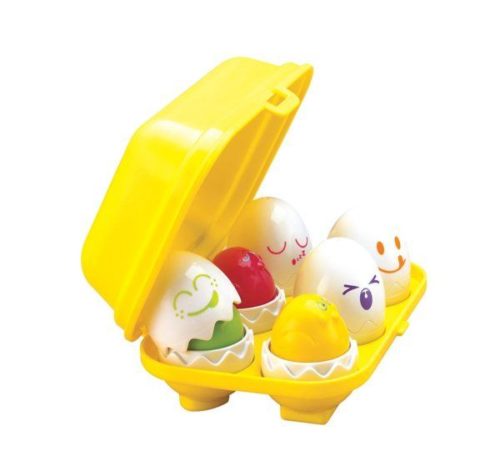 Mega Bloks First Builders
Fisher-Price is well established and a brand that produces great toys, which is why this 80 mega bloks set is a perfect birthday gift.
The bag for storing makes this easy to use and store away after and will guarantee hours of play. The size is perfect gift for 1 year old boy and the shape is easy to use for little hands. Exploration with hands is a motor skill that young children are developing and certain toys, like blocks, makes this a solid contender in this review.

Toddler Music Kit
This boy toy gift idea is a fantastic children's choice with loads of different musical toys to spark their hidden creative talents.
This music kit comes with loads of musical instruments like the baby equivalent to a xylophone, which is a great place to get them started. The recorder is a little advanced but they will love blowing into it or watching how mom does it. The baby tambourine needs not the introduction and they will play and shake until their little hearts are content. The harmonica is one to ease them into and with time will strengthen their lung capacity. There is also the kazoo and funny egg shakers and each instrument are made with high standards of quality and craftsmanship.
Music is the spice of life and the younger children learn the better they become and with this musical kit bag, they are off to a flying start, which will develop their skills and musical talents ready for nursery and beyond.
Parents wanting to get their children into music early should consider these as some of best toys for 12 month old babies.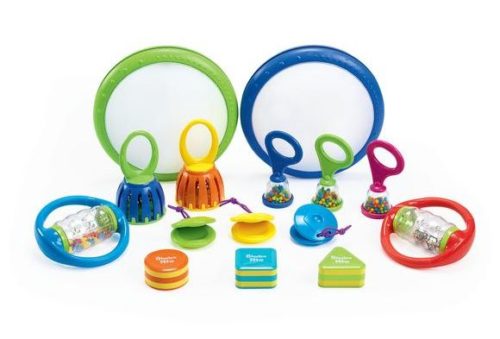 K's Kids Car Toys for Baby Boys
These 4 vehicles are made by Melissa & Doug and designed for Toddlers with a pull-back vehicle style and are soft for safe and fun ways to engage in the world of cars and trucks.
The carry case that comes with this makes it easy to store and carry for family days out to see the extended family or the grandparents.
This toy helps 1 old boys with fine-tuning their motor skills, problem-solving and language with a gentle approach to hard concepts. The 4 motor vehicles are different and one is a bus, fire truck, police car and a normal car. I like the diversity and I end up making noises with each soft toy car to make the games fun for us both 🙂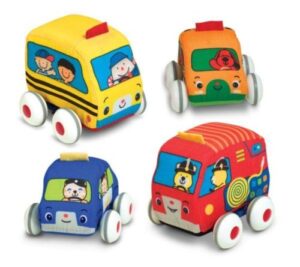 Melissa and Doug Shape Sorter
This 1 old boy take along toy is for shape sorting, having fun learning and is an activity for the toddler to enjoy while growing, which is why I think this is another great gift for any baby reaching their toddler-hood.
The padded case is perfect for babies between 9 months old right through their toddler years. The gift would include 2 activity sides that can be used in conjunction with 9 colorful shaped blocks that have a soft texture and are easy to use.
There is a baby boy toy picture under each flap and keeps things interactive with familiar images for learning purposes. This is a great developmental toy and a is Melissa & Doug's range of K's Kids line, which encourages motor skills, sensory development and gets them using their hands.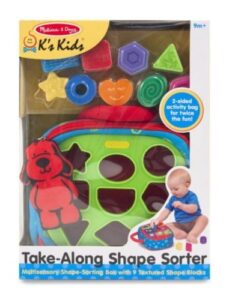 Buckle Boy Toy "Bongo"
This is an early learner travel activity and is for helping develop the basic life skills that benefit children as they grow.
This plush toy travel activity buckle is designed for children to use and enjoy, which some parents find ideal for when traveling to see the grandma.
There are 6 buckles and with a variety to choose from, they can learn to clasp and fasten each buckle, which is often young children struggle with. This activity will develop their cognitive skills, problems solving and help develop an approach to solving problems in a hand-eye coordinated manner, which is why this gift is perfect for a parent with a newly turned toddler.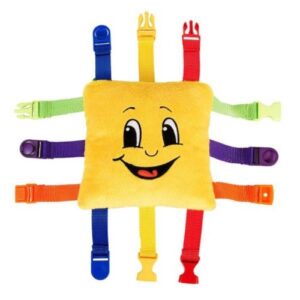 Baby Boys Play Car Rug
Every 1 old boy needs a play mat or rug and one that has a community design embedded into the carpet is perfect for sparking the imagination.
This will provide hours of comfortable play and allow them to use their car collection and drive around town on their community rug.
The material is very soft and the colors are vibrant, which makes this an ideal companion for the room. The playroom is ideal and for those with the dedicated space and the birthday boy can have all his friends round to play. The carpet has shops, roads, railways, trees and is perfect for teaching him the wider concepts of the world, but in a gentle and appropriate way.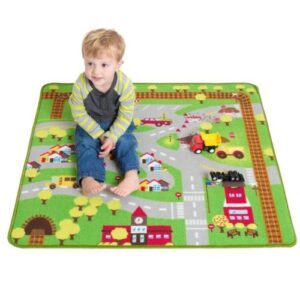 Catch and Count Fishing Game 
Melissa & Doug product line of K's kids has designed a fish and count game that is a great learning activity that uses up to 8 numbered fish to help teach how to count and to catch and release fish.
I love the simplicity of this game, but yet appreciate the dexterity and fine motor skills required to master it, which makes the little ones love it. The interactive nature of the fishing game is a super gift for any boy or girl and with a birthday coming up this is the ideal gift for a 1 old boy.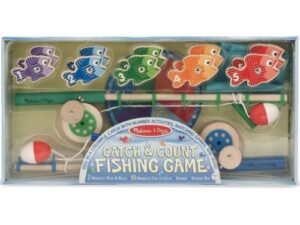 Baby Babble and Rattle Microphone
Your boy will love a toy microphone as they try to sing happy first birthday through this microphone along with everybody else.
Making their voice louder, it's a fun way to get them to explore the power of their own voice. It has over 60 songs, melodies, sounds, and phrases. Including animals and instrument.
Not only will they begin to identify different animal sounds, but the rattle will develop their motor skills as they rattle this toy to their fulfillment. The product needs 3 aaa batteries to be used and is recommended for ages 3 months to three years, so ideal for a one year old boy gift.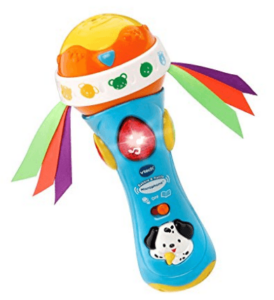 Wooden Pull Along Animal Boy Toy
This animal toy Giraffe, elephant, and Zebra fantastic choices, which are individually wrapped set of three wooden pull along toys. They will keep your child entertained for hours. The bright colors and exciting shapes are great for your child's sensory development and they'll never get bored of them.You could even wrap three of them separately so they have three gifts to open on their birthday.
Being made entirely from wood, you can rest assured that they are eco-friendly and will last much longer than their plastic counterparts. Being made from wood, you know that they'll be no nasty plastic toxins that will cause your little 1 old boy harm.
Fun and one of the best toys for one year old boys that are also educational, makes this a great opportunity to teach your child about animals and colors.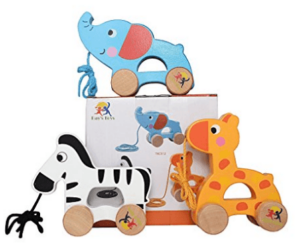 Lil' Rollin' Giraffe Baby Boy Ride on Toy
This is a great outdoor toy for boys aged 1. You'll get so much joy from seeing your little boy scoot around on this little giraffe all day long.
Designed for use indoors and outdoors, the oversized back wheel is designed with stability in mind, meaning that your child won't be falling down anytime soon. Little tikes know that one year olds boys vary in height and that's why they've added an adjustable seat to this little scooter.
Included in the package are your own decal spots, so you can truly make this giraffe your own.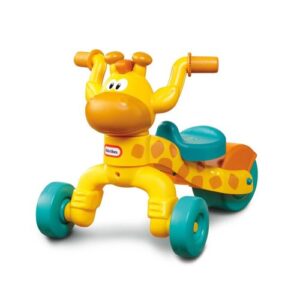 Happy First Birthday! Sneaky Snail Stories
Sally Hemlick North wrote and illustrated this beautiful book for one year old boy story. Meaning that the design and writing really mirror each other in ways no other books can meet.
Written in simple rhymes, it's a great book to keep your little one engaged on his birthday. When your soon to be turning 1-year-old baby boy is growing its something everyone wants to celebrate and shower him with presents, which is why finding the right toy gift is important. This is a great keepsake from his first birthday. In years to come, you'll look back at this and thank the heavens that you bought it.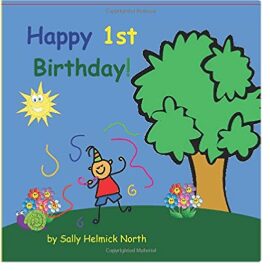 SportsPower My First Swing
This outdoor swing set from SportsPower is perfect for babies and toddlers. Suitable from 9 months, it has a sturdy construction of powder coated steel and is built to last. Whether you place it inside or outdoors, your baby will love being pushed back and forth! The kids' seat is secure and the swing features a safety harness, so parents can rest easy knowing their precious child is safe. It takes just 10 minutes to assemble, so your little one will not need to wait long to enjoy the fun! This swing can be used indoors or outside and is suitable for children up to 55 pounds. Parents can enjoy peace of mind as all SportsPower play sets meet or exceed ASTM safety standards.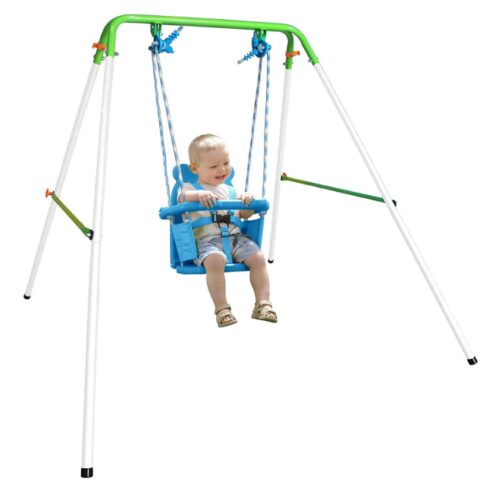 Little Tikes EasyScore Basketball Hoop
For your little sports fan, this EasyScore Basketball Hoop from Little Tikes would make a great gift. Its oversize ring and fun net mean it is perfect for toddlers and the junior size basketballs are the ideal size for little hands. The basketball hoop can be used inside and outdoors. The height adjusts with six options from 2.5 feet to 4 feet, so it will grow with your little one for years of enjoyment.
Dads into basketball love this toy that might help encourage them to develop a love for the game. The bright colors and chunky plastic materials in this Little Tikes set are safe and fun. The oversized basketball hoop makes sport and exercise fun and rewarding for toddlers, as baskets are easy to make. Playing basketball with this set can help little kids to develop hand eye coordination, balance, stability, and confidence with independent play. For extra stability, parents can weigh the base down with sand.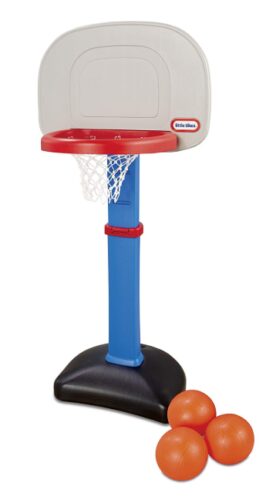 Little Tikes Rocking Horse
This classic plastic Rocking Horse toy from Little Tikes is a staple toddler toy. In vibrant blue or pink, this rocking horse is sure to appeal to your little one. It has a minimalist design, with smooth edges and rounded corners to ensure it is safe for toddlers. Through learning to rock independently, kids can develop skills with balance, coordination, and feel great! The rocking horse is suitable for use in the home or outside, wherever it is located your little one will have tons of fun playing with this fun rocker. It features a low saddle designed for extra stability and a high seat back to keep your toddler steady while rocking. The easy grip handles make it simple for kids to use the rocking horse independently. The rocker comes fully assembled and is suitable for little kids up to 50 pounds in weight. This is a cool rocking ride on toy for 1 year old boys learning to develop balance and coordination.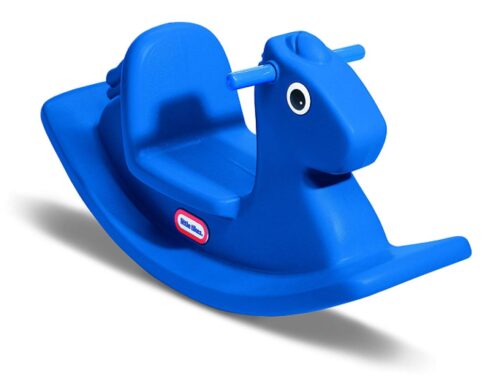 Drop and Go Train
This baby boys toys called "Drop and Go Train" by VATOS is sure to keep your toddler interested at playtime! The colorful and vibrant train set comes with 3 balls. When your kid drops the balls into the train, they will spin around in the train's chimney or roll out from one of the doors. Your little one can choose between 4 play modes, including the train moving automatically, or staying still while the balls loop around the train. The train also lights up and plays fun music and sound effects to further engage your child.
The components of this train toy are designed to be safe for toddlers and children. The balls are large enough to ensure they do not pose a swallowing or choking risk. The train's edges and corners are smooth and rounded to make sure your little one cannot hurt themselves with the toy. Toddlers are sure to have fun playing with this bright train, while also developing hand eye coordination and motor skills.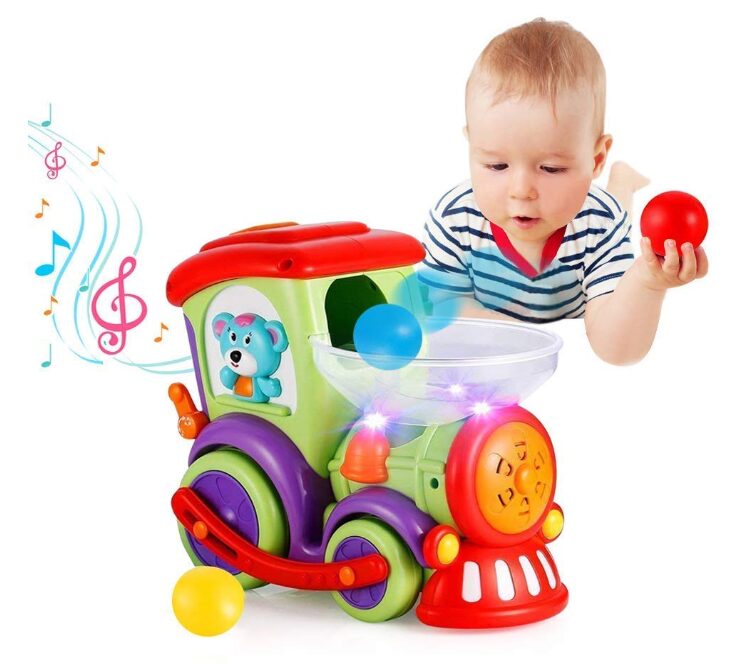 Little Tikes Garden Play Table
For a fun outdoor play gift, check out this Little Tikes Garden Play Table! Little Tikes is well known for making high quality fun and vibrant toys for toddlers in bright colors and chunky materials. With this Garden Play Table, your little kid can use their imagination as they pretend to plant and water flowers. Featuring a tabletop with basin, a tray, 4 flower pots, 2 soil discs, 2 flowers, a sifter tray, a rake, a shovel, and a watering can. All materials in this set are in beautiful primary colors to appeal to a toddler's eye. There is even enough space for siblings or friends to enjoy playing together.
Fill the basin up with water and let your little one's imagination run free, scooping up water and repotting the pretend plastic plants. Cover half of the basin with the lid and make an instant work surface. The tray forms a lid for the other half when the table is not in use.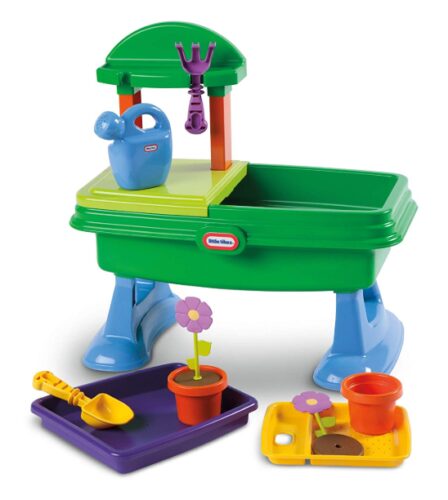 Toddler Balance Bike
Your little one can enjoy riding their very own bike with this Toddler Balance Bike from Ancaixin, which are great toys for 1 yr old boys. With a sturdy carbon steel frame, the balance bike is strong yet comfortable, featuring a soft and supportive seat. The enclosed wheels mean that kids' feet are safe when they are riding around. The steering wheel is limited to 135 degrees to minimize the risk of toddlers falling to the side. Designed for babies and toddlers who are learning to walk and balance, this bike is a great introduction to cycling and helps kids to develop leg strength, self confidence, and motor skills while having lots of fun. Another reason to buy one year old toys for boys is to help them grow, like with a balance bike, which has been certified safe in compliance with a number of safety standards, including ASTM F963, CPSC 16 CFR, CE, and EN 71. With a tool free easy assembly, your little one can be biking around in only 2 minutes!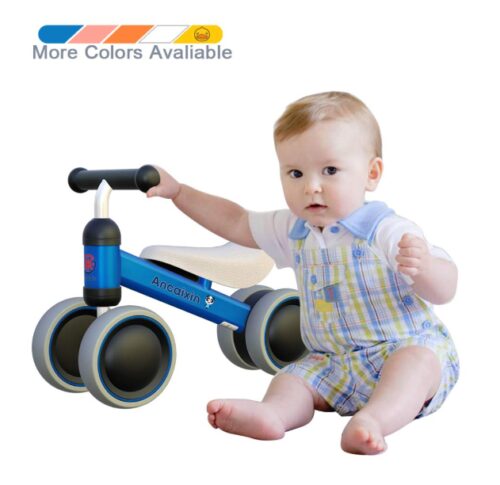 Piano Keyboard with Microphone
If you have a music lover in the family, take a look at this adorable little kids' piano from LIUFS-Piano. Designed for children aged 1-6, it is the perfect gift for your toddler to helping increase their musical skills, creativity, and hand eye coordination. With a realistic piano keyboard, it is a fantastic introduction to musical instruments and is sure to stimulate your little one's curiosity. The piano also includes a microphone, so your toddler can enjoy singing along with their music making. A kid sized chunky stool completes the set, perfect for practicing or simply having fun making this another great one of those 1st birthday gift ideas for boys.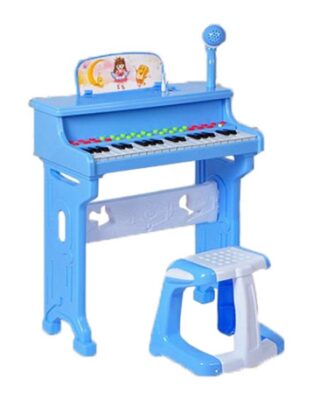 Top Bright Activity Cube
An activity cube is one of the best toys for boys aged 1. It features loads of fun, educational activities to keep them busy and learning for hours! This one from Top Bright is wooden and has five sides of fun activities. Little boys will love the bead maze on top! There's also a clock face with turning hands, a shape sorter, spinning gears and many more. The cube is painted using water-based paint which is non-toxic, making this a safe toy for children. Loads of skills can be learnt using this toy, such as hand-eye coordination and fine motor skills. The bead maze and shapes from the shape sorter can all be stored inside the cube for convenience.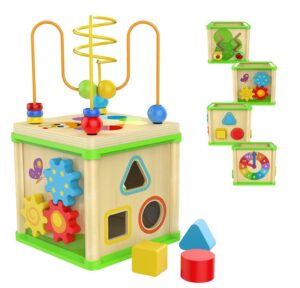 Top Bright Shape Sorter Truck
Shape sorters are perhaps the best toys for 1 year old boy, and this one is shaped like a truck to make it even more appealing! It comes with 7 different shapes, and each is also a different color. So, you can teach your child the names of shapes and colors and help him learn to recognize them. The truck comes with a string on the front, so when your toddler starts to walk, he can pull the truck everywhere he goes! There's also a little figure included to drive the truck. When the shapes are all inside, the cement mixer can be spun around and tipped up to empty, ready to start all over again!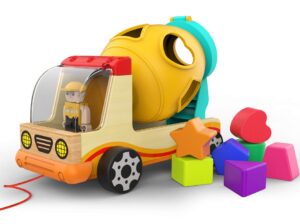 Mozart Music Cube
This musical toy is an excellent way to introduce your baby boy to the wonderful world of classical music. It shows kiddies how to combine different sounds in order to create a masterpiece. Some of the instrument sounds included are; piano, flute, violin and harp. The toy plays 8 Mozart pieces, and the buttons light in time to the tempo of the music. The toy is easy to use – press the orchestra button to play the full piece, or press the instrument buttons to add or remove each instrument to effect the way the music sounds. Parents will be glad to know the toy comes with a volume control!

VTech Learning Walker
If your little boy is just learning to walk, this is the perfect gift idea! It has a wide wheel base for more stability, which is great for helping keep toddlers up on their feet. As they get a little more confident, they will love to use it to get everywhere, faster! The front panel can be removed for playing with on the floor too. It has lights and sounds to keep kiddies entertained. They will love to press on the piano keys! There are also spinning rollers and a removable telephone which is great for pretend conversations. The wheels work equally well or carpeted surfaces or hard flooring.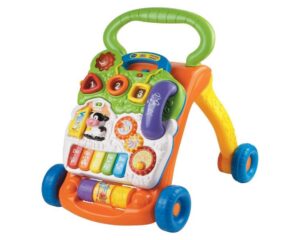 VTech Driving Toy
If you are looking for gift ideas for 1 year old boy, it's always worth considering something related to cars! This fun and interactive toys allows little boys to pretend they are driving, and is packed with fun sounds to keep them engaged. When the wheel is turned, the dog will move back and forth which is sure to delight toddlers over and over again. They will also love to check their reflection in the mirror. There are many moving parts which have different effects, so toddlers will love to explore everything this toy has to offer.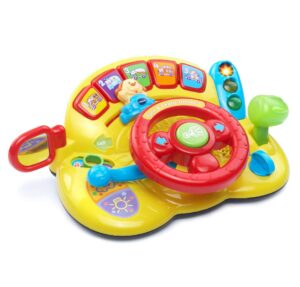 LeapFrog 100 Words Book
It's never too early to start teaching your toddler new words, and this book has over 100 of them! Each page focuses on a different category such as colors, food, animals and body parts. By touching each word, it will be read aloud, and you can also hear fun facts and sounds. This book is great for bilingual kids as everything can be played in both English and Spanish. It even has a carrying handle so it can easily be carried around.


VTech Sports Center
If you are wondering, what should I get my son for his first birthday, this Smart Shots Sport Center is a great idea! It's ideal for encouraging him to spend more time on his feet once he has learnt to walk. The toy has two different modes in one – a soccer goal as well as a basketball hoop. The scoreboard is animated and will count to 10 as baskets are scored. So, it's great for teaching toddlers how to count. There are buttons to teach toddlers about shapes and numbers, and the toy plays over 50 songs and phrases to keep toddlers learning all the time.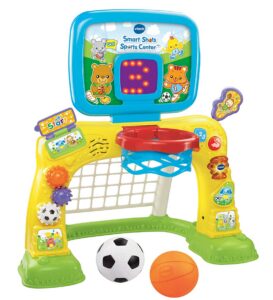 Fisher Price Piggy Bank
When it comes to gifts for 1 yr old boy, Fisher Price is always a good brand to consider. This unique piggy bank toy offers loads of fun learning opportunities. It comes with 10 colored coins which have numbers on one side and animals on the other. There are 40 songs and phrases played by the bank to keep toddlers entertained and learning. As your child grows and develops, he can change between the two learning modes to ensure he is always challenged. The toy is great for testing how well your toddler can listen to and follow instructions as the bank asks him to 'find another coin' or speaks Spanish words.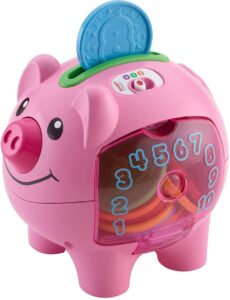 Hape Pound & Tap Bench
This wooden toy is is loads of fun – boys will love being able to whack it with the hammer! When the balls are hit, they will fall through onto the xylophone keys, making a tune as they roll out the end. You can also take the xylophone out and use it separately. This is great for developing their musical talent! Fine motor skills can be improved with this toy, and toddlers can also learn about cause and effect play.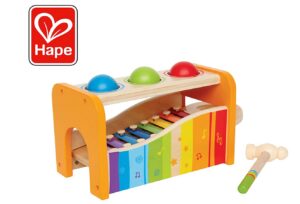 Eric Carle Hear Bear Roar
Books are great 1 year old birthday gift ideas, and this one has loads of fun sounds which makes it even more entertaining. There are 30 different sound buttons to keep toddlers amused – they will love to press them over and over again. On each page of the story, it tells you which buttons to press to complete the story. Toddlers will love to learn about the different animals and where they live – reading is a great way to help them expand their vocabulary.


Radio Flyer Wagon
This toddler wagon can be used in 2 different ways – lock the handle as shown below and the wagon can be used as a walker. This is perfect for toddlers who are just learning to walk. When they have mastered walking, the handle can be released allowing the wagon to be pulled along. It's the perfect size to put a few toys in – toddler will love to carry their own toys around everywhere! The wheels are wide set for maximum stability, and are also durable to ensure they last well even with frequent use.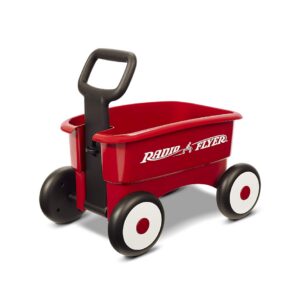 Fisher Price Smart Stages Chair
If your little boy needs his own special chair, this one is perfect! It plays over 50 fun songs and phrases and the Smart Stages technology means there are different levels of content so it will always keep your toddler entertained as they grow and develop. The songs will activate upon sitting and standing, and there is also a handy storage compartment inside the seat. There are interactive elements on the arms of the chair – a book with flipping pages and a pretend remote with functional buttons. The chair can be used to teach words, colors, numbers and more – it is educational, practical and loads of fun!

VTech Push & Pop Bulldozer
This is a great toy for little boys who are confident on their feet, and it's a great way to encourage them to keep active. As the bulldozer is pushed, the front loader lifts up to throw the balls back inside the truck. Then, they are launched through the funnel to land in the front loader and the whole process will start again. There are buttons on the side of the truck which have numbers and colors on them. The truck plays fun songs and has a lighting-up button to ensure it will capture your child's attention.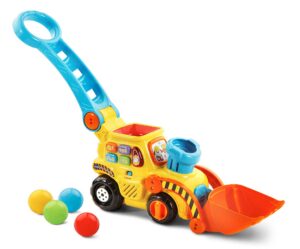 Pop Up Tent with Tunnel
If you're looking for outdoor toys for 1 year old boy, this tent and tunnel set is a great idea! It's perfect for a 1st birthday party, as there is plenty of room for little ones to play together. There are two tents and one tunnel included, but everything folds away nicely into the included storage bag. The tents have windows and doors as well as mesh sides to ensure maximum airflow and ventilation. Everything is made from strong materials which won't tear easily, even with a rough toddler! You can add a few bags of ball pit balls to transform one or both tents into a ball pit for even more fun!


VTech Gallop and Rock Pony
This fun pony toy offers two different ways to play – it can be used as a rocking horse or a ride on toy to gallop around the house on! It has fun buttons which teach kiddies about animals and colors, and there are parts which flash along with the sounds played. The horse makes realistic noises and plays more than 60 sounds, phrases and songs. The toy is fitted with a motion sensor so it will respond to your child's movements and encourage them to keep going. The rocking horse is the right size for toddlers up to the age of 3, so it offers great value for money as it will be used for years.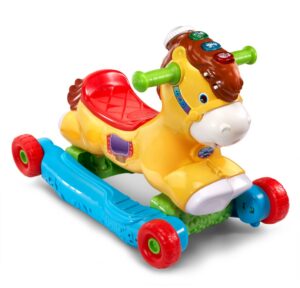 VTech Alphabet Train
This fun ride on toy from VTech is sure to give hours of entertainment to a young boy! It can also be used as a walker which is great for helping boys gain confidence on their feet. The rear carriage can be used as a wagon to pull along once your little one is walking confidently. The train comes with alphabet blocks, which, when placed into the slot on the train, causes the letter to be read aloud. There are 13 blocks which are each double sided, giving all the letters of the alphabet. Boys can learn so much with this fun, educational toy! It has a clock face and a book, as well as turning gears and can teach numbers, colors and much more.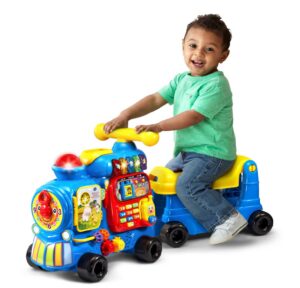 Step2 Playhouse
This outdoor playhouse from Step2 offers a fun place for little boys to play and use their imagination. It has open sides allowing parents to easily keep an eye on their little ones as they play. It has a working door and shutters on one window, as well as a mailbox, doorbell and a flowerbox. Inside the playhouse you can find a fireplace, clock, phone and kitchen features such as a table, shelves and faucet. There's even a grill window so kids can create their very own restaurant! The playhouse has a nice design which won't stand out in the backyard, instead blending in with its neutral color scheme.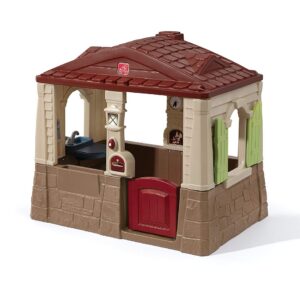 Little Tikes First Slide
This slide is perfect for younger kids as it is just 3 feet long and has two steps to reach the top. It can be used indoors or outdoors and also folds flat for easy storage when not in use. There are handrails at the top to help toddlers keep their balance. The slide can hold a weight of up to 60 pounds so it is sure to be enjoyed for many years before it is outgrown. It will be the hit of the birthday party!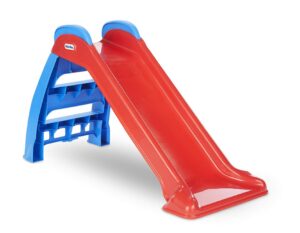 Color Matching Egg Set
This egg matching toy is a set of 12 which come in a perfect storage box, so they are great for traveling with. The eggs each have a different color inside and each is numbered from 1 – 12. The eggs have a corresponding number of holes or pegs inside, and your toddler's job is to find the matching pairs! It's a great toy for teaching counting and color recognition, as well as developing the motor skills and problem solving ability necessary to match them up properly. This is a great toy for one year old boys if you are looking for an Easter gift other than chocolates and candy.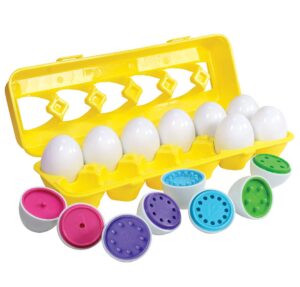 Fisher Price Learning Zoo Animals
This set includes 26 animal figures – one starting with each letter of the alphabet, as well as a zookeeper, car, interactive mat and a playset with trees, fences and more. When the letters on the mat are pressed, it will be read aloud, and will also play the noise the animal makes. Each of the animals has its appropriate letter printing on its body so toddlers can get used to seeing the written letters from an early age. The mat plays other fun learning sounds, such as the ABC song or it can ask questions about the different animals in the set.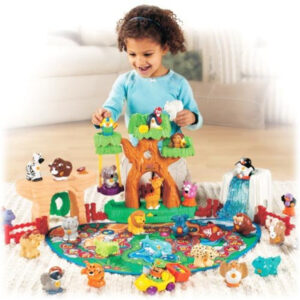 Aqua Doodle Mat
The age of 1 is a great time to introduce your little boy to drawing, and this is a fun and mess-free way to do so! The set comes with a large drawing mat which can be spread out on the floor, pens which are filled with water, as well as stamps and stencils to make fun shapes and patterns. To use, the pens are filled with water then it's time to start drawing! The water will dry within 5 – 10 minutes so the mat can be used again and again. It has different colors under the surface which will become visible when drawn on. Boys will have hours of fun scribbling on the mat and parents don't need to worry about the furniture or walls being drawn on!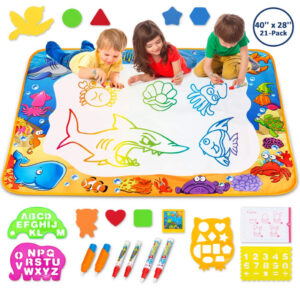 Fisher Price Little People Garage
Little People toys are great for young children – they have no small and fiddly parts and are durable enough to withstand being thrown and chewed on! This garage set comes with two vehicles with drivers built in as well as the multi-story garage with an elevator and a ramp. The metal bell rings as the elevator goes up and down and toddlers will love to watch the cars rolling down the ramp time after time. There are many fun interactive pieces for toddlers to use and develop their imagination, whilst having fun with the toy cars at the same time.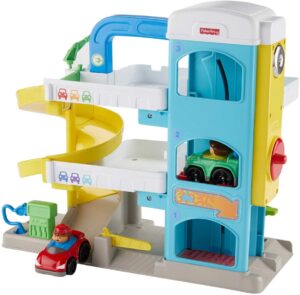 Best Buy Overall
Now we have looked at 50 great gift ideas, it's time to choose the best overall. Our top pick is the Alphabet Train toy simply because it will entertain your boy for hours, whilst also helping him learn. It's great because it can be used in different modes as your child develops, and it's never too early to start learning the alphabet!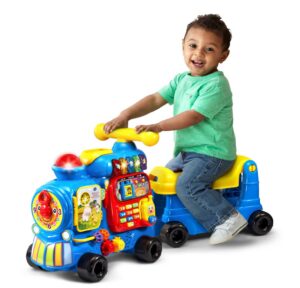 Best Budget Gift
If you're looking for a low cost gift but still want something which is fun for the birthday boy, the Musical Rhymes book by VTech is a great idea. It plays 6 well-known nursery rhymes and also includes the words for singing along. Little boys will love to press the buttons and hear the instrument sounds too! It's great for traveling with and won't break the bank either.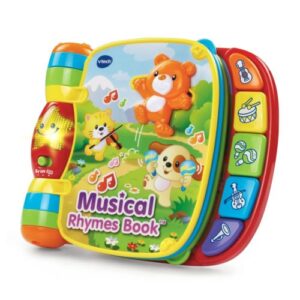 Unique Toys for 1 Year Old Boys
There are loads of toys for little boys, so how can you choose something which is unique and will stand out from the rest? Customization is a great way to ensure your toy will stand out – perhaps choosing something which can have the child's name added. For example, a wooden puzzle which spells out the child's name is a one-of-a-kind gift which is sure to be treasured for years to come.
There are some parents that have certain issues with their soon to be turning 1 baby boy. I always appreciated when a gift was specifically related to my child needs and therefore I thought was a thoughtfully gifted gesture. For example, there are great toys for parents that are struggling with settling down their baby, so a gift that helps soothe a baby that is currently struggling with getting to sleep is ideal. Therefore, a nighttime soother might be an ideal choice as a gift for a parent struggling with settling the baby. There are also some teething toys for those young children really struggling and sore. This can be a sensitive gift, which is received thankfully and remembered. So, whatever the intended purpose, I always think a little extra thought goes a long way. There are loads of great toys for 1 year old boys out there, so it shouldn't be too difficult to find something he will love.
We all need to be creative when buying a unique birthday gift, but even more so when for a baby boy. There are lots of options and all affordable in this review of boy gifts. There are some really interesting toys and educational gifts that are worth considering. Some examples are the 1st birthday book gift idea, which makes an excellent present if the gift isn't for your own child, but of course is also fine if it is.
There are some parents that have certain issues with their soon to be turning 1 year old baby boy. I always appreciated when a gift was specifically related to my child needs and therefore I thought was a thoughtfully gifted gesture. For example, there are great toys for parents that are struggling with settling down their baby, so a gift that helps soothe a baby that is currently struggling with getting to sleep is ideal. Therefore, a nighttime soother might be an ideal choice as a gift for a parent struggling with settling the baby. There are also some teething toys for those young children really struggling and sore. This can be a sensitive gift, which is received thankfully and remembered. So, whatever the intended purpose, I always think a little extra thought goes a long way. The Review now begins for Deciding what gift one-year-old Boys will think is the Best.
We all need to be creative when buying a unique birthday gift, but even more so when for a baby boy. There are lots of options and all affordable in this review of boy gifts. There are some really interesting toys and educational gifts that are worth considering. Some examples are the 1st birthday book gift idea, which makes an excellent present if the gift isn't for your own child, but of course is also fine if it is.