Christenings are one of the most magical moments of a lifetime and it's only natural to want to gift the special lady in question with something thoughtful. However, it can be difficult to decide exactly what to choose, with so many wonderful options out there! We've put together a guide below containing 10 of the top christening gifts for little girls out there, to help you make the right decision. Before we present our selections to you, here are some considerations to keep in mind before going ahead and buying your gift.
Relation to child
You may have been appointed as a godparent to the little girl and therefore be searching for goddaughter gifts for the big day. Or, you may be a sibling that wants to buy a sentimental gift to mark the occasion. It's important to consider your relation to the girl! There are plenty of themed gifts out there that come with text on them to highlight relationships, so you may want to consider one of these when selecting your present.
Age 
Christening gifts for girls aged 1 years old or younger come in lots of different styles to suit different girls ages. Lots of little girls won't have much of an opinion on the gifts that they receive if they're below toddler age. Because of this, you may want to buy a memory type gift that acts as a reminder of the christening. Older girls may prefer something that rings true to their religion such as a book. Whatever you choose to buy the girl, be sure to consider the age and factor it in…
Budget
Sometimes you may find the perfect baptism gift for a baby girl but may not necessarily have the funds to cover it. Don't worry as you can definitely still buy a beautiful gift even on a budget. Gifts with thought behind them are the best and in the list below we've added plenty of affordable choices, however, if you're really tight on cash you can always make your own gift too.
Personalized
There are loads of reason for buying personalized baptism gifts for a little girl. Firstly, it shows you have thoughtful selected a gift that is not just a quick buy from amazon, one without thought.
Best Baptism & Christening Gifts for Girls
Now that we've covered a few of the basic considerations that you should make before choosing baptismal gifts, it's time to reveal our top 10 ideas. We hope that you find plenty of inspiration below and something to mark the special occasion for the girl in your life.
1. Birthstone Earrings
These stunning birthstone earrings, made in the USA are suitable for girls aged 0-10 years and are made using sterling silver. They come with easy to use screw back earring backs and are boxed ready in gift packaging alongside a gift card. You can personalize this gift by selecting the birthstone and they're sure to be loved thanks to their simple yet elegant style. For personalized christening gift ideas for girls, these pretty earrings are sure to delight and they won't break the budget either!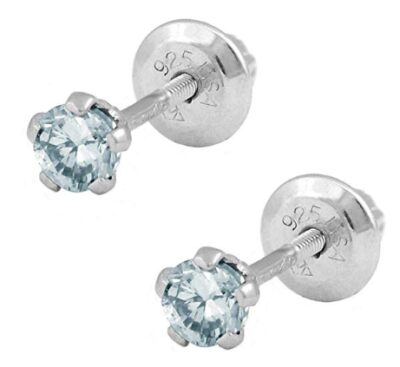 2. Personalized Baptism "God Loves Lauren!" Book
This super cute book is one of the top christening gifts for little girls available…It's bright and welcoming cover will pique any young reader's interest and it can be personalized for an extra special touch too. Easy to read and follow, children of all ages can appreciate this book and it'll be cherished into adulthood as a memory too. We love the bright colors used on the front cover and think that this choice is truly unique! Reaffirming god's love for the little girl in question, this gift is a great option for godparents who aren't sure what to get their godchild. If you're looking for something different to gift the little girl who is celebrating her christening, why not go for this book?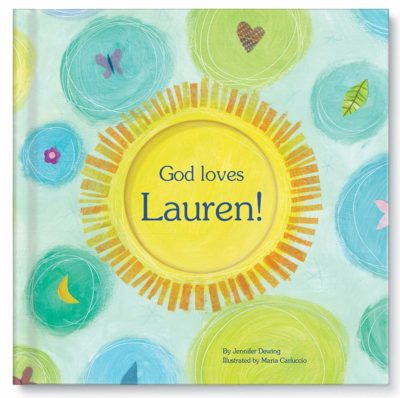 3. Bless Baby Book
Books certainly make great gifts for people of all ages and when it comes to a special occasion such as a baptism, what better opportunity to give one to someone special? If you're specifically searching for religious christening toys and gifts for girls, this lovely God Bless Bay book is a keepsake that comes with an adorable little lamb to keep the girl safe and protect her during prayers. The fluffy teddy is both comforting and symbolic of the child's baptism adding special meaning to this gift. We think that this gift selection is super cute and is sure to bring a smile to any little girl's face when she unwraps it!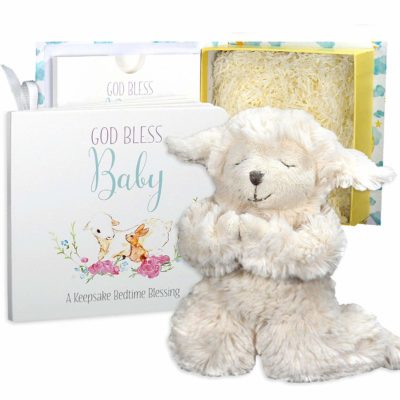 4. Baby Prints Book
There's nothing better than snapping the memory of a special day in a photo, right? Plenty of photos are taking during a baby girl's christening and a photo frame can make a perfect gift! We're huge fans of this thoughtful gift that allows parents to capture baby's precious prints using the Pearhead's "Clean-Touch" ink pad. With prints either side of the baby's photo, this is one of the most unique goddaughter gifts out there and is sure to be appreciated. A hand-finished, white wooden frame with a convenient hanger for easy wall mounting! The little girl who is being christened will have a permanent memory of themselves to look back on for years to come.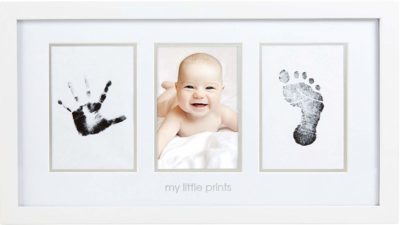 5. Baptism Blanket
If you're searching for simple christening gifts for little girls that also serve a practical use, this elegant baptism blanket is a great choice. Made of 100% acrylic, it's machine washable and measures 4″x9″. The christening blanket features a clean, pretty design with a woven cross at its center and in each corner for a beautiful religious finishing touch. The blanket can be packaged into a beautiful box for an extra special finish or wrapped with a bow to be presented. Either way, this lovely gift idea is sure to be used and will capture the memories of such a special occasion for the little girl into adulthood.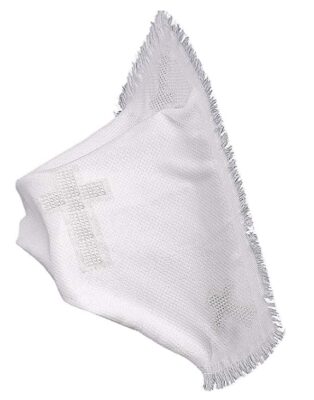 6. Christening Occasion Outfit
Perhaps you'd like to help the baby's parents out by choosing a christening outfit for the special little lady. If you're looking for christening presents for girls ideas in the clothing range, this cute cotton-lined lace outfit is sure to be a hit. Suitable for babies aged 0 – 26 months, the off white color is the classic choice for a baptism and it features the classic style embroidered design that so may moms love for their little ones. Soft and comfortable, we love this option as a traditional baptismal gift for a girl. The dress comes with a matching bow bonnet too for an extra pretty look that is perfect for a christening occasion.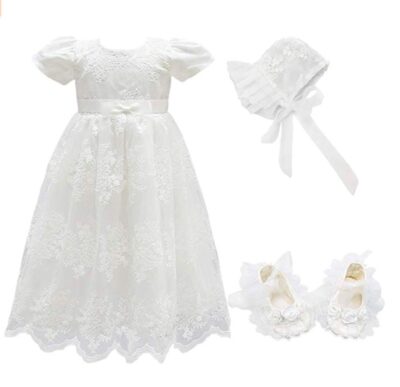 7. Baby's Bible Set
Featuring simple language, and bright clear pictures, any baby girl is sure to love this first Bible series. Providing an ideal first introduction to the Bible, its stories and characters are illustrated and depicted especially for infants and toddlers. The board book collection is written in an accessible, simple narrative, with sensory features to encourage learning. In the set, baby will receive the following stories: Adam and Eve, Noah's Ark, The Story of Jesus and The Story of Moses. For religious christening books for girls, this option isn't expensive and will be appreciated all round.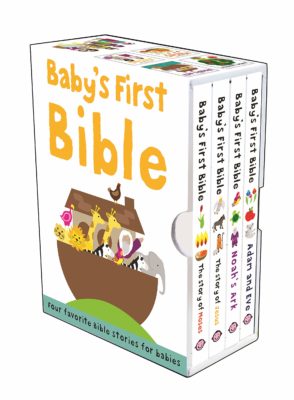 8. Rosary Beads For Baby
Jewellery is always a safe bet when it comes to baptismal gifts for girls and this beautiful set of rosary beads is a lovely keepsake. Contained in a ceramic pink jar, the beads can be kept and worn once the girl reaches an older age. We love the pink color palette used throughout both the design of the beads and the jar too which are effortlessly elegant and are personal to any little girl celebrating her christening. This one of a kind gift can be bought on a budget and will be treasured for years to come.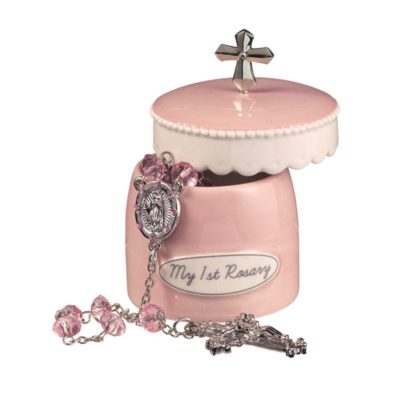 9. Keepsake Frame
Keepsake frames are great to mark any occasion and this stunning white photo frame is the perfect gift for a goddaughter from a godfather or godmother! This frame features a pretty cross design to mark the occasion and the artwork inside is protected with a glass front. Able to be displayed on a table or wall, the design is perfect to complement existing furniture thanks to its minimalistic style. The text contained in the cross of the artwork reads religious phrases and in the center of the heart 'precious goddaughter' can be read. This makes an ideal gift from any godparent.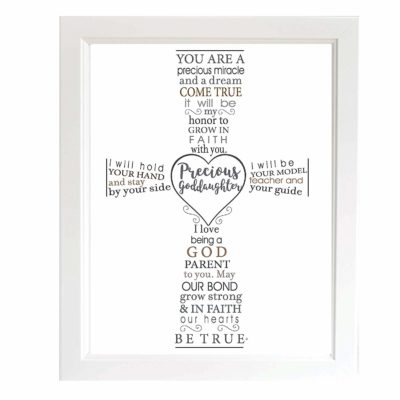 10. Crystal Charm Pearl Bracelet
Finally on our list is this one of a kind charm pearl bracelet that is handmade which is a lovely christening gift for any little girl. Available in 6 different sizes, the bracelet will fit a newborn to a 12-year-old girl. The elegant design features faux pearl beads that naturally glisten and shine in the light alongside a lovely cross charm, to commemorate the christening day. Baby baptism gifts come in lots of variations but if you're looking for a special gift that will stand out, this a great option for you. The top quality jewellery is guaranteed to maintain its polished look for years to come and won't stain the skin thanks to its silver components which are also hypoallergenic.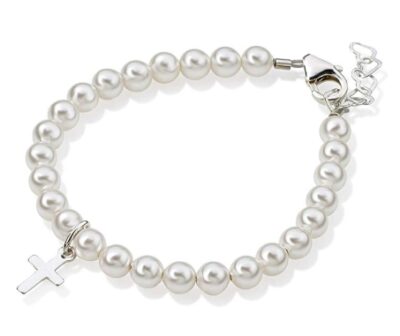 We've tried to add as much variation as possible to list of items above, but if you're still looking for further ideas we have some further useful information for you below. You'll also find our best pick based on quality, value for money and reviews from other buyers as well as a budget buy for those that need a cheaper gift idea.
Best Pick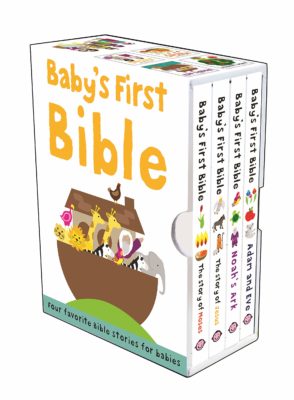 Our best pick from the selection of 10 gift options above is this wonderful baby's first Bible series of books. For those that don't want to choose a gift idea that is symbolically religious, books can be a great alternative for a christening present. And, this set is sure to be cherished as baby grows! We love the cute illustrations laid out across each page to aid with reading and to tell the 4 stories including Noah's Ark. The little girl will be able to learn about her religion while practising her reading skills at the same time. Perfect for bedtime stories or a day time activity, these books will provide hours of entertainment.
Best Budget Buy
When it comes to shopping on a budget, there's no reason to think you can't still choose a meaningful gift that is going to be appreciated. This pretty christening blanket is proof of just that! A simple yet effective gift, its practical purpose and minimalistic design mean that it is sure to be received well. For years to come, the little girl in your life will be able to cherish this blanket as part of her special religious day.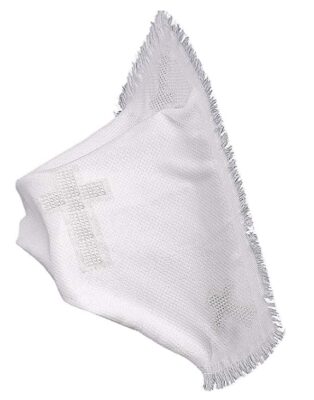 Where to Buy Christening Gifts for Girls?
There are lots of great places to source thoughtful and unique christening gifts. Most people will visit their local stores or a mall for a better selection of options. While shopping in stores physical is good because you get to see the items upfront before buying, there are also lots of places online too. Our list above is made up entirely of gifts that can be bought online from the well know retailer Amazon!
One advantage of buying online compared to buying in-store is that you can read customer reviews to get a better idea. You also won't need to make a trip out if the weather is bad and there are more options online. Amazon allows you to filter your search using the price you have in mind and even finer details such as the materials used too.
Read More all about Cool Baby Gifts if your still looking for presents and gift ideas.
What Are Good Christening Gifts for Girls From Godmother?
There are lots of good baptism gifts for girls out there. A lot of the time it can be difficult to identify what make s a good gift, but the truth is that there is no right or wrong answer. In fact, you should always base your choice on the recipient. Think about their personality, likes and dislikes and take practical factors into consideration too such as age.
When it comes to christening stuff for girls for godmothers, you may want to choose a sentimental keepsake option. Many girls will love having a special memory of their religious day to look back on. Other great gifts include jewellery and clothing too or a personalized photo frame too.
Baby Toys and Gifts by Age