If you are looking for the best baby bottles for preemies, you are on the right page!
Before showing you the top models to buy for your preemies, it's important to note that…
…there are different models on this page with different prices and qualities.
When buying baby products, just like buying any other product, the more you pay for, the higher the quality.
Well, you don't have to pay the highest price to get a suitable bottle for your baby. However, don't ever cheap out on the best.
In essence, you should be more inclined to choose based on your preferences. And your baby's need than on the price of the baby bottles.
Now that we have that out of the way, here are some of the best-selling models you can get for your newborn now.
---
Best Baby Bottles for Preemies (Updated for 2023)
---
1. Tommee Tippee Closer To Nature First Feed Baby Bottle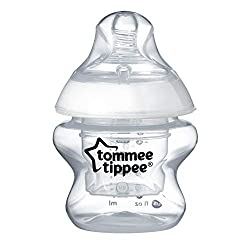 If you have tried your luck on multiple feeding bottles and are worried you won't find the best for your baby, this bottle for preemies is what you are looking for.
It's designed for newborns and preemies.
It comes with a milk storage compartment so that you can express and store your milk safely.
The nipple on the bottle is large and breast-like shaped to aid your baby to latch on to the bottle as well as make the transition to bottle quick and stress-free.
The bottle also contains a venting valve that helps in regulating the milk flow and minimizing air intake so your baby can feed in comfort.
In addition, the bottle comes in various sizes so it can grow with your baby.
You don't have to buy different bottles and waste money on models that may not work with your baby. Once your baby gets used to this bottle, all you have to do is switch them as your baby outgrows each one.
The Tommee Tippee Closer to Nature Baby Bottle is free from BPA as well as other chemicals that can harm your baby. With this bottle, you can feed your baby safely and with peace of mind.
---
2. Evenflo Feeding Glass Bottle with Premium Proflo Vent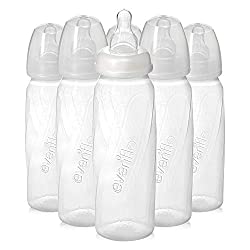 The Evenflo Feeding Glass Bottle is one of the best glass feeding bottles for your baby on the market.
The bottle comes with premium venting that ensures that your baby is free from air and gas, making for a comfortable feeding experience.
When your baby is safe from reflux, gas, or colic, you also enjoy the time you spend feeding your baby, so it's a win-win for both mother and baby.
Micro Air Vents
These vents are a little hole that is on the lid next to the nipple so as to prevent them from collapsing while your baby is feeding.
They also allow air to escape from the bottle so that only food goes into your baby's tummy. The combination of these two functions helps your baby to feed comfortably and reduce colic.
Tempered Glass
The use of glass on this bottle brings about sustainability, recycling, and better sanitization.
Being a glass bottle, it is safe for the environment. And the fact that it is recyclable makes it the preferred choice over plastic bottles for the mom on the go.
Because he tempered glass is so strong, it can withstand a few drops without breaking. Moreover, the bottle doesn't stain easily, making for easy and thorough cleaning.
Easy to Clean
There are only three pieces with fewer parts to clean and assemble. Not only does this make cleaning easier on you, but there is also isn't going to be anything to miss.
They are also very easy to put together and disassemble, so you can clean them between feedings without hassle.
The bottle is dishwasher safe, which shaves off cleaning time for a busy mom. Finally, the bottle can be sterilized using hot water so your baby is always feeding healthily.
Ergonomic Design
The classic and unique design of the bottles makes them easy to hold by the baby.
Once your baby grabs them, he/she can pin them to the mouth. The bottle also has measurement markers which are molded onto the tempered glass so there is no risk of washing off.
In addition, it's a great way of measuring and monitoring the volume of liquid your baby is consuming.
If you have standard breast pumps from other brands, you can use it with these bottles because they have standard neck sizes. Jump pump in them, store them and pull them out when your baby is hungry.
This is very handy for a traveling mom.
Not free from noises
With a lot of features, functions, and benefits, this bottle isn't free from a few downsides, which is generally known with glass bottles.
One of these is the loud sound the bottles make when it drops to the floor. If your baby is asleep when this happens, it might mean sleep is over.
Fortunately, this is a problem that can easily be solved by not allowing the unit to fall to the floor.
---
3. Philips AVENT BPA Free Natural Polypropylene Bottle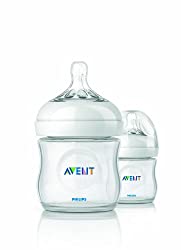 The Philips AVENT BPA Free Bottle comes with a natural nipple shape that makes it easy for your baby to combine breastfeeding with bottle-feeding.
The wide-shaped, soft nipple provides for a smooth latch on while the advanced anti-colic system prevents air from getting into your baby's food to reduce colic.
The nipple is built directly into the bottle for better milk flow and the bottle itself is constructed in such a way that there are no hard to clean parts.
The wide neck opening also makes it easy to fill or clean the bottle, making it easy for first-time parents to get along without much problem.
The bottle also comes with a range of flow rates to suit your baby at every stage.
And since you are shopping for the best bottles for preemies, a 0 Month+ newborn flow nipple is added to help you in the course of finding the best for your baby and reduce rejection.
---
4. Dr. Browns Pink Bottles 4 Pack – Another Great Option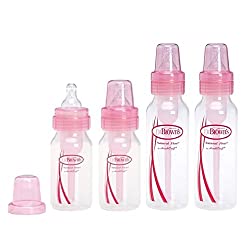 These Dr. Browns Pink Bottles come in four-pack of 2-8 oz bottles and 2-4 oz bottles with a positive pressure flow system that's developed by a physician.
The design ensures that less gas gets passed onto your preemie's tummy, which in turn helps your baby feed comfortably.
The design helps to vacuum air, allowing your baby to suck only the real deal (milk).
Therefore, the symptoms of colic, burping, or gas are greatly diminished.
It's similar to breastfeeding because the positive pressure design allows the milk to flow freely at a pace that's suitable for your baby, something that's important for a comfortable feeding experience.
In addition, the bottle is dishwasher safe and contains only a few parts. Thus, making the cleaning simple and quick.
Find out if are Dr. Brown bottles recyclable in our article.
---
5. Lifefactory 4-Ounce BPA-Free Glass Baby Bottle

The Lifefactory 4-ounce BPA-Free Glass Bottle is one of the top choices for those looking for a newborn baby bottle.
It has a shockproof glass so that it doesn't break when your baby drops it while feeding.
To protect it even further and so that you can enjoy it for longer, the bottle comes with a Medical-grade silicone sleeve that keeps the bottle safe and secure.
The sleep provides a haptic, non-slip grid so you can let your baby hold the bottle some of the time without being afraid of it slipping away.
Of course, you can remove the silicone sleeve when it's time to wash.
So, this isn't going to be more difficult than others in the cleaning department.
Another attractive thing with this bottle is that it takes the best spot for the best value for money.
If you can't afford the likes of the Philips Avent Bottle or other high-ranked brands.  This is a good option to try with your baby.
It's also possible to convert the bottle for other uses as your baby grows. This makes it stand out from the rest.
Also Read: Garbage Disposal for Septic
---
Final Words
---
Now, you have a list of the top baby bottles you can buy for your newborn. It's now a matter of choosing the most suitable one for you and your baby.
One thing that's important to note is that these bottles come from different brands with varying levels of quality. Therefore, you need to read more about each brand before choosing their bottle.
You don't necessarily have to like the brand. But make sure they produce exactly what you are looking for.
This will get you closer to your goal of choosing the best baby bottle for your preemies.
Also, don't forget to read the reviews and descriptions on the product page. You are likely to find many things that'll attract you and help you make an informed decision.
Finally, our recommended bottle for premature babies is the Tommee Tippee Closer To Nature Baby Bottle.