As a parent looking for the best baby bottles for acid reflux, you probably don't know the type that suits you best. Years ago, the only baby bottles parents had available were those that were made of glass. But glass has its drawbacks. It is both breakable and heavy.
So plastic bottles, when they were developed, almost completely replaced the old glass bottles. The newer plastic ones were both lighter and shatter-proof so most mothers favored them.
But how do you choose the best baby bottles for acid reflux?
Essentially, there are three types of baby bottles. They are glass, plastic and plastic with disposable liners.
For a time, there was a concern about plastic bottles that were made containing polycarbonate (BPA) because it is potentially harmful to babies. But that chemical has now been banned from all baby bottles.
If you are concerned about a particular bottle, you can check the recycling symbol on the bottle's bottom.
And if it has the #7 or PC, it most likely contains BPA.
If it has #1, #2 or #4 it was made with polyethylene and, if it says #5, it was made with polypropylene. All of these plastics are safe and contain no BPA.
Disposable bottle liners also do not usually contain BPA. Just look for the label that says "BPA free." Bottle liners are often more expensive than using bottles alone because they can only be used once.
If you prefer more old-fashioned glass bottles, they still work very well too. And if you are afraid they might break, there are silicone sleeves that can be put around the bottle to protect it.
---
But first…What's the Best Bottle for Acid Reflux?
---
Comotomo Natural Feel Baby Bottle, Green, 5 Ounce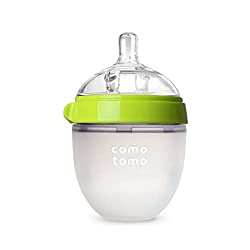 This specific baby bottle is the most popular for gassy and colicky babies!
One of the most popular brands out there when it comes to reliable baby bottles, Comotomo's nursing bottles are made of silicone and are in very high demand for coming really close to the experience of breastfeeding for babies.
Not only is it a safe product for the baby to use when they're nursing, but it's also easier for the parent or the caretaker to handle the product, be it washing or packing.
It's designed to help babies make a smooth switch from breast to bottle.
The wide mound and the naturally shaped nipple help your baby latch on to the bottle while experiencing little disparity between the bottle and breast.
Finally, it's heat resistant. Whether you want to use it with boiling water, in a dishwasher, or bottle warmer, the bottle stays consistent and safe.
Summary
Unlike other baby bottles that come with only one anti-colic vent and do a poor job of eliminating air, this bottle has two vents going for it. It all comes down to pushing the air into the bottle and releasing only milk to keep your fussy baby good feeding time.
These vents help to ensure proper circulation of air so that only the milk gets into your baby's tummy, further driving down spit-up, burping, and gas.
---
Want To See Other Reflux Bottles on the List? Read on…
Before we get into the nitty-gritty of our comparison, here is a quick table of content, followed by a bird's eye view of the best anti-colic baby bottles:
[toc]
If you would like to get started using the best baby bottles for acid reflux and understand the benefits the different types can provide, take a look at our ratings of the best baby bottles reviews below.
These are all reflux bottles that help with reflux and suitable for the busy mom-on-the-go:
---
Reviews of the Best Baby Bottles for Acid Reflux
---
1. Comotomo Baby Bottle, Green, 8 Ounce – The Best for Babies with Reflux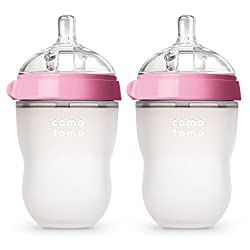 A lot of mothers have a problem with their babies refusing to go from breast to bottle. But now there is a company called Comotomo that has found the solution.
The Comotomo baby bottle is the first baby bottle that is made to feel like a breast, thus making your baby's transition to bottle feeding goes smoothly.
The Comotomo baby bottle is made to mimic the mound shape of a breast and feels like human skin. This revolutionary product has helped struggling parents worldwide get their baby latched on to the bottle.
Anti-colic Vents
With its wide mound design and two anti-colic vents at the top of the baby bottle, it is considered the best baby bottle available.
Also, the anti-colic vents really help to reduce spit-up, burping, and gas. The air entering the bottle simply allows the milk to go through more easily. What could be simpler than that?
It's So Soft
Babies tend to squish their bottles, and their hands can be everywhere during feeding time. So the Comotomo baby bottle is made extra squishy making sure your child has is comfortable during feeding time.
Simple To Maintain
The neck opening is very wide so there is no need to use a brush in order to clean your Comotomo baby bottle. You can wash it as you would with any other glass in your house.
Plus, you'll have no problems if you steam sterilizes it, put it in the microwave, wash it in the dishwasher, or put it into boiling water. This baby bottle is made in such a way that it makes your life as parents just that little bit simpler.
It is made from completely safe and tested materials
There are no materials that could be potentially harmful used in the manufacturing or packing of the Comotomo baby bottle.
Price
The price of the Comotomo baby bottle might be a bit steep for a baby bottle, but if you take into account how much easier it will be for your baby to make that transition, you'll come to the conclusion that it's worth every penny.
Bottom Line
If you're looking for one of the best baby bottles for acid reflux in 2019, then the Comotomo baby bottle is the most suitable for you. It's not expensive. But high quality.
---
2. Tommee Tippee Closer to Nature – Runner Up for Babies with Reflux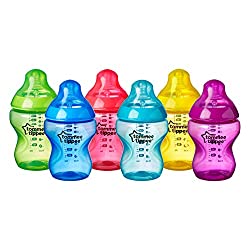 Tommee Tippee bottles are some of the best anti-reflux bottles and they have been available for quite a long time and offer an extensive variety of bottles and other products for babies including bottles, nipples, pumps, monitors and more.
Their new Closer to Nature bottles is intended to copy a mother's breast. Wide neck bottles with wide nipples permit you to easily switch between breastfeeding and bottle feeding.
As the name suggests, these Tommee Tippee bottles are made to mimic the normal shape, size and feel of the breast.
The flex, development and bending nature of the nipple are intended to imitate the mother's nipple. The Closer to Nature bottles includes Regular Feeding Bottles, Sensitive Tummy Feeding Bottles & Added Comfort Feeding Bottles.
They all have a similar outline and nipples.
Revolutionary Nipple
The nipple created with breastfeeding specialists and moms to imitate the breast's normal flex, movement and development, Closer to Nature Bottles make feeding time less demanding for mom and baby.
The delicate silicone nipple feels like skin, and tenderly prolongs and flexes amid encouraging to copy characteristic breastfeeding activity.
Super Sensitive Easy-Vent Valve
The moderate stream nipple with a super delicate valve wipes out unnecessary airflow, so the baby ingests more milk and less air.
3-way Compact Shape
The compact shape of Closer to Nature bottles allow the infant to feed in a normal position and to be closer to Mom or Dad.
The simple hold container can be held in three ways—supported easily in the hand, grasped the same way as a customary wide neck bottle, or held from the base making feeding easy for everybody.
Breast-like Shaped Nipple
The delicate silicone nipple feels like skin and tenderly flexes while feeding to copy regular breastfeeding activity. The breast-like nipple helps the infant lock on effortlessly.

Pros
Bottles have moderate stream non-vented nipple made only for this bottle to counteract air and vacuum build-up
Nipple mirrors characteristic feel, flex and development of breastfeeding
Wide neck nipple means less demanding latch on
BPA & phthalate-free
Cons
More parts to clean
No circle of the bottle & nipple
Some leakage
Conclusion
Closer to Nature Tommee Tippee bottles are, however, the go-to bottles. With Closer to Nature Bottles, moving from the breast to bottle feeding is less demanding.
The bottle is designed with an exceptional, simple lock on nipple shape to mirror the regular flex and movement of a mother's breast.
In addition to the bottle's super-touchy simple vent valve, this supports your child's natural feeding activity for comfortable feeding.
---
3. Philips Avent Natural Glass Baby Bottle


The Natural Glass Bottle from Philips Avent is a first-rate glass bottle that has been designed with a number of beneficial features while keeping the convenience of both babies and moms in mind.
This makes it a good option if you are looking for the best bottle for reflux and colic. It is made of high-quality BPA free borosilicate glass.
The resilient glass allows moms to know the level of the food or any other drinks without opening it. This also avoids the baby trying to drink from a bottle that is already empty.
It comes with a wide mouth that allows mothers to fill the bottle very easily.
The innovative nipple design gives the bottle an attractive look, besides making the bottle easy to clean.
Philips Avent Natural Glass Bottles are designed to offer real value for the money and they are appropriate for those who are looking for an eco-health bottle within their budget.
Overview of Features
Some of the good features include:
The Philips Avent Natural Glass Bottles come with a broad, breast-shaped nipple with inside comfort petals, which offers needed flexibility without the problem of the nipple collapse.
The nipple comes with a double valve design that reduces stomach pain in babies by allowing the air into the bottle. Furthermore, the narrow design of the nipple offers a comfortable and easy fit to the mouth of the baby.
The bottle is easy to clean, as it comes with a wide mouth that allows a cleaning brush to clean every nook and corner of the bottle easily. Moreover, the bottle comes with only four parts and that allows users to clean it quickly and effectively.
The glass bottle comes with soft internal edges that keep the food from hiding inside the bottle.
As the bottle is made from BPA-free borosilicate glass, it does not offer any bad smell and won't be scratched while using and cleaning the bottle.
Pros
BPA-free borosilicate glass.
Wide mouth baby bottle
Fewer cleaning parts.
Easy to clean.
Thick, breast-shaped nipple.
Affordable.
Cons
No sleeve.
Sometimes leaks.
Conclusion
The Philips Avent Natural Glass bottles are well designed, ecologically friendly glass bottles that will satisfy parents who are trying to avoid possible risks related to plastics.
The ergonomic shape, wide-mouth and the related nipple of the bottle are easy to use for both breastfeeding and bottle-feeding babies.
With so many models out there, selecting the best glass bottles for breastfed babies may be difficult. But this model has proven to be a good option so check it out.
---
4. Dr. Brown's Original Bottle, 8 Ounce, 4-Pack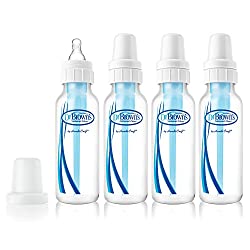 This is Dr. Brown's Original Bottle that comes with a vent system to eliminate/reduce colic, gas, and reflux. And that makes it one of the best bottles for acid reflux.
As you know, the less colic your baby is experiencing, the more sleep your baby can get.
Usually, when your baby's tummy is filled with food and no air, sleep becomes the nearest companion, giving you enough time to rest too.
The bottle fits most breast pumps, so if you are a busy mom on the go, you should be attracted to this feature.
Since you can pump and store, you may not even use the extra bottle vessels that come with your package.
If you are looking for Dr. Brown bottles for reflux, this is a good option to consider.
Wide Neck Design
Dr. Brown's Original Bottle comes with a wider neck than regular bottles. Compared to standard bottles, these bottles are shorter and squatter.
The advantage is that they have larger openings so you can fix a wider range of nipples on them. The broader base also prevents nipple confusion.
Moreover, if you are a formula mommy, you'll find they are better. They are easier and less messy to put the formula in them, which can be a great time saver.
It gets better if you are looking for anti-reflux bottles and you come across this feature that will make you and your baby's life easier.
Extra Parts But Useful
This bottle comes with extra parts compared to other baby bottles on the market. However, they take only a few to clean so they won't cause you any hassle.
Moreover, they help to slow the flow which is especially great for breastfed babies.
Although having the extra parts to deal with means more cleaning time, they are worth it as they are dishwasher safe and helps in minimizing gas and burping.
Wouldn't you prefer a baby that swallows less air and not scream while feeding to a baby?
Having fewer parts may mean you don't spend extra time cleaning, but it isn't worth it to have a crying baby during feeding.
Great for Slow Eaters
The package comes with slow flow nipples that are easy for the baby to latch on to. If you have an aggressive eater, it might be too slow at first, but your baby should adjust to it in time.
Anti-Gas Feature
Dr. Brown's bottles are some of the popular on the market for feeding babies suffering from reflux as they are designed to reduce gas and spit-up.
Does Dr. Brown Bottles Help with Reflux?
Yes. As you can see from the above, these bottles are some of the best when it comes to acid reflux. The bottles come with anti-colic vents, are great for slow eaters and come with a wide neck design to make life easy for you.
---
5. Playtex Baby Nurser Baby Bottle with Drop-Ins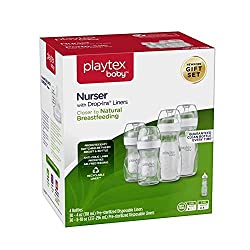 Looking for the best bottles for gas and reflux? Then you are on the right page.
This is Playtex newborn baby that's designed to mimic breastfeeding and reduce gas and colic. This makes it one of the best bottles for reflux on the market.
This is a great option for those mothers looking for a great bottle to help cure their baby's reflux.
The bottle is BPA free and has the capability to support your baby's feeding pattern.
It comes with pre-sterilized disposable liners that keep air out of your baby's tummy for a comfortable feeding experience.
Busy Mom on the Go considers this set as some of the best reflux bottles on the market. Therefore, if you are looking for bottles for reflux babies, especially preemies, check this out.
Easy to Use
If you are a new parent, then this bottle is a great option for you. Not only is it easy to use but there are not many parts like those of Dr. Brown's Original Bottle.
The liners make it easy to clean the bottles and the bottle itself can easily be disassembled for cleaning.
Finally, it is constructed in such a way as to keep air from getting into your baby's tummy, similar to breastfeeding.
BPA free
The bottles are BPA free, which means that your baby doesn't get to ingest any harmful chemicals. This makes you feel safe using the bottle, which is a feature for any baby product to have.
A Great Starter Set
Aside from being easy to use, the Playtex Baby Nurser Baby Bottle comes with everything you'll need to get started.
It also fit the manual pumps from other brands. The starter set includes liners, brushes, and a gift set, which makes it one of the most suitable best bottles for babies with acid reflux.
They are also great for travel and busy moms on-the-go.
The set has smaller sized bottles that you can use if your baby is small as well as bigger sizes if you have a larger baby, making for a smooth transition as your baby grows.
Bottles With Drop-Ins Liners
The package comes with drop-ins that make it not only easy to use the bottle itself but also makes it easy to clean.
What happens is that the drop-ins prevent milk from touching the bottle and the nipple pops out too from the ring so that it's easy to clean the whole thing.
This will provide for an enjoyable and comfortable feeding experience, which means less gas that might result in crying.
This creates more time to rest for you. Therefore, if you are looking for a package that'll mean less to clean, gas elimination and good bottle sizes, then choose this.
Although it may mean more expenses buying the drop-in, you can subscribe to Amazon Prime, which keeps your costs reduced.
---
Take a look at some other models available on the market:
Bottle Accessories for Your Colicky Baby
Sometimes, just buying baby bottles only for your baby isn't enough. You may want to store milk in the bottle and warm it later, which will require a warmer. What's more, you may need a baby drying rack to keep your baby dry at all times and keep them from turning into a hotspot for mold. You'll help your baby get the nutrition that's void of bacteria.
You also need to keep your baby's bottle in a clean and healthy state. And that means more than just throwing it in the dishwasher. With a baby sterilizer, you can easily protect all your baby's bottle from germs and infection. This is an excellent way of raising a healthy and strong baby.
Best Bottle Warmer for Glass Bottles
There are a lot of baby bottle warmers on the market. In fact, the amount may overwhelm you if you decide to start looking for one to suit a specific style of the baby bottle. This is why I've decided to research this. A baby warmer for glass bottles should be durable and sturdy and have enough space to keep your glass bottle.
It should also be able to heat evenly and able to sit on a counter or nightstand. After going through a couple of options, I have found the Philips Avent Fast Baby Bottle Warmer to be the best bottle warmer for glass bottles.
---
Frequently Asked Questions on Colic Bottles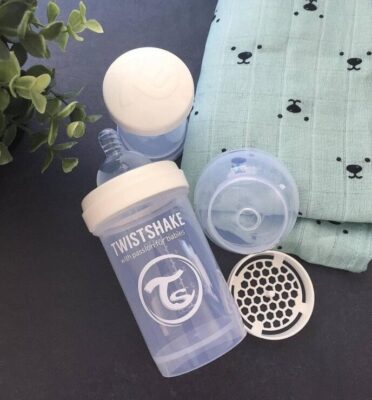 ---
Do Anti-Colic Bottles Help Reflux?
There is no definitive answer to this question!
However, if your baby has been diagnosed with colic/constipation, you may want to know if anti-colic bottles can really help with the condition. In essence, should you change to anti-colic bottles?
If you already have bottles that are not designed to combat spit up, there is no harm in getting those that are anti-colic. Test one or two of them and if they suit your baby, then make the transition.
Fortunately, there are many reputable brands out there making these bottles, including Tommee Tippee, Dr. Brown's, Comotomo, etc. These are the prominent ones that others recommend to combat counter reflux.
---
Are there Bottles for Reflux UK?
We see that some parents are asking this question and decided to answer it here.
Yes, there are a lot of these out there. What you need to understand is that these bottles populate the United States. However, the manufacturers have a good presence in neighboring countries like the UK.
So, you should be able to get enough of them over there, especially Comotomo, Philips, Dr. Brown's, etc.
---
What are the Best Teats for Reflux?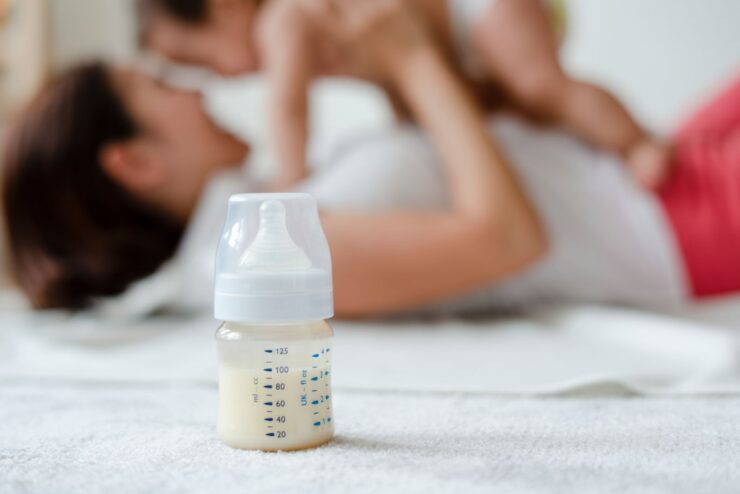 If your baby is on comfort milk (an easy to digest infant milk for the dietary management of colic and constipation), you'll need the best teats that'll help the milk flow better.
Some of the best out there are vari-flow, medium flow teats, etc.
These teats are great if your baby has silent reflux. It'll help your baby get the flow that's suitable. However, your baby may still have to work hard even when you're using the best teat for reflux.
You should, however, expect a better experience compared to others. The vari flow teats, for instance, don't have different levels like the slow flow nipples.
Instead, they help the baby get just the level of flow they need. The flow will only then depend on how your baby sucks at it.
Also, if your baby has silent reflux, with coughing/choking symptoms, you want the perfect teats so your baby can get his/her nutrition. If you lay your hand on the right one, it'll promote a smooth flow of milk.
Finally, some moms advice changing the milk too, especially if you try the above and it didn't work out. The one that stands out seems to be the Enfamil A.R. formula, which is designed to cure spit-up.
---
Colic Remedies to Soothe Your Baby
There are a number of colic remedies available. You can choose from calming techniques to a soothing massage, homeopathic medicines and so forth. It is important to choose a remedy that is natural and completely safe to calm your colic baby. You can read our ultimate guide to baby colic here.
---
Final Words on the Best Baby Bottles for Acid Reflux
---
While there are many baby bottles on the market for mothers to purchase, choosing the right one for a colicky baby might be tricky.
You have to understand that not all baby bottles can be used with a baby that's spitting up and you cannot trust the manufacturer's marketing claims completely.
This is why it's essential that you conduct your own research until you are sure about a particular bottle. After that, you need to check what other mamas are saying about the bottle – how it helps them and their baby – and if it'll be a good fit for you and your baby too.
This guide is an attempt at helping you choose the best bottle for a newborn with reflux. After going through dozens of bottle reviews, I've narrowed down to only a few that can suitably be called the best baby bottles for acid reflux.
Finally, our recommended baby bottle for acid reflux is the Comotomo Baby Bottle, Pink, 5 Ounce (2 Count).