There is always a sudden influx of things to be washed and dried when the baby arrives, but nothing more so than the baby bottles, which seem to be piling up next to the sink, which is common place in most parents home with a newborn infant. This creates a need for reorganizing the space around the house and especially the sink area with those baby accessories mounting, so this is why I have put together a review of some of the best baby bottle drying racks that are available right now.
Considerations
Max Bottle Capacity – Some baby bottles have a different drying capacity and some can dry up to 16 bottles while others less-so. Some have as little a 6 bottle max-capacity which includes some accessories, which if you have twins is gonna cause some issues, so making sure you choose the right product before buying is sensible.
Dish-washable – Some can be used in the washing machine and the easier to clean and maintain the better the drying rack in my opinion and in this review there are several that can be washed in the dishwasher. This helps with hygiene and maintaining standards and overall cleanliness for your infant.
Price – The cheapest compared to the most expensive is roughly 3 or 4 times of a difference and sometimes prices don't always necessarily mean better drying capacity. The price range goes from $10+ all the way to around $40 and offer slightly different features, but there are some that are cheap with good drying ability with space.
Accessories friendly – Some racks do not have the drying capacity and space, so the expected feature which should have dried the accessory doesn't and this can be a problem, especially if you needed it to do just that.
General Thoughts – The selection of baby bottles is based on size, multi-purpose use, easy to use, durability and quick drying time. These are the main areas that make up what I call a 'good drying baby bottle rack' and hopefully once compared you decide on one that'll make life that little bit easier.
Some parents preference is the versatile rack or large load capacity, which can be used for holding cups, utensils, training cups and the array of bottles that pile up so quickly. Whatever the reasons or purpose this review will give some guidance to getting you a great baby bottle rack for you child. Some moms want to have the best racks for glass bottles, however, all these have been selected to specifically be used with glass, so be comforted that these have a sturdy base and will not let you down.
Dr. Brown's Drying Rack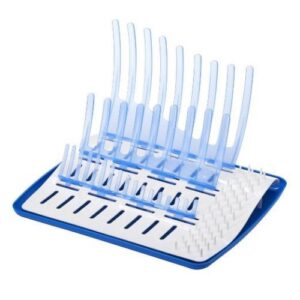 This one is the low-end of the price range and offers a basic drying system that will ensure your bottles and accessories get dry for the next feeding session.
The design as seen in this photo is universal and can offer an array of drying potential for any brand of bottles, which is ideal for those mothers wishing to make a few different purchases to ensure that the baby likes the bottle and suckle's easily.
Storing this one is very easy and can be flattened to allow for easy storage, which is important for times when it is not in use because cluttering up the kitchen is the last thing a parent needs at the early stages of parenthood.
The blue tray attached to the bottom holds the water and makes sure there isn't a pool dripping down the side of the countertop/floor, which might get slippy and dangerous. This baby rack is BPA-free and can be used in the dishwasher for when the deep cleaning needs to happen, which is essential for maintaining high standards of hygiene.
The raised platform allows for holding bottles and although there isn't the capacity for a vast amount of bottles to be dried all at once, it does offer around the 4-6 mark depending on the size of the bottles, so make sure you have an idea of a number of bottles you'll be washing at one time, if you have twins, for example, you might want to buy two of these.

Munchkin Rack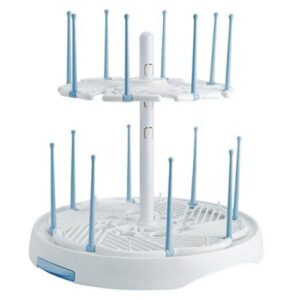 The Munchkin is ideal for twins and can hold up to 16 bottles in total, which to some parents will be music to their ears. Some mothers I know and care for have plenty of bottles, which they pile up and wash later on, so this is ideal for them.
The spinning function allows for a quick dry and is a new feature that many other racks don't have which is unique and ideal for those parents who want things to dry a little quicker.
The design makes drying easy with pacifiers, valves, bottles, nipples and all accessories that a mother usually needs at the beginning of their child's life.
The storage again is easy with a flat pack design, which will help hide away and clear up things on the kitchen surface.
This drying baby rack has an awesome grip attached to the base, so it's gonna be easy to spin and not fall off the counter, which is good in rushed times of drying.
The tray that collects water can either be drained directly into the sink or can be caught and held for a specific time, which is ideal to accommodate the different kitchen types in each home. 

Boon Grass Drying Rack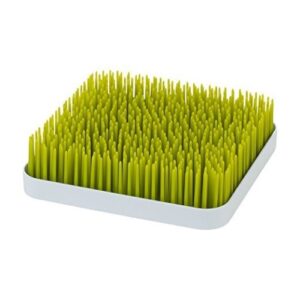 There have been mixed reviews about the Grass rack and some parent love it or hate it, so I thought I let you decide and hopefully give you the positives and some of the negatives to help make a good decision.
The design is very easy to clean, quick to dry and helps with the sanitized standards to remain high, although a number of items this particular product has is limited and won't be able to dry 16 bottles at one time like the last reviewed rack.
The Boon Grass accessories can handle bottles, nipples, lids, cups and all sorts of accessories and are not limited to any particular brand.
This one grass make and the material is BPA-Free and will ensure high levels of safety are maintained, which includes PVC-Free as standard. The grass will hold items upright and this in-turn will dry it as the drops slide down the bottle for example.
Personally, I like the look of this product and the boon patch is nice to look at and brightens the room up for those who might have some plants already on the windowsill.

Awesome Stuff4tots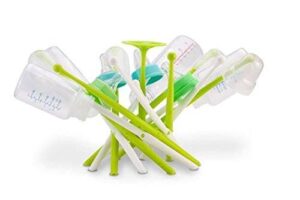 This rack is funky looking and stands out from the rest as some weird space gadget from Men in Black, but not it really is meant for drying baby bottles and not for extraterrestrials. This being said Stuff4tots have created a great product and if the design doesn't put you off then this is a good purchase for getting things dry.
This can be used as a water bottle drying rack or for formula, it is not difficult and weird set-up, it is ready to go from the offset, so you can get the drying done asap and onto the next feeding session.
This baby can handle a load of bottles and accessories, which might seem unlikely at first glance, but this won't let you down if you need a large capacity. The nipples will be easily dried, cups, straws and the full range of expected items can be used in conjunction with this rack.
The make is made to ensure no cheap materials are used in the manufacturing process and you'll be glad to hear it is BPA-free, phthalate-free, lead-free and latex-free.

Munchkin Sprout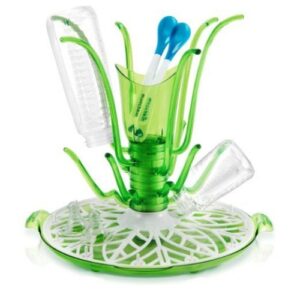 This reminds me of an expense vase or a luxury baby product, to say the least, it is very elegant and some moms might be saying "I can see that in my kitchen", which is what I thought at first.
The rack itself holds up to 12 bottles and it is a quick drying system with the bottles being almost vertical, so if drying quickly is an important aspect of deciding on the right one then this might be one to consider. Some mothers prefer the longer pegs for the bottles and flanges for the others.
This is another spinning one and will offer an additional level of drying power to those who demand it.
This Munchkin product is a design that could be bought twice and I know of some parents that seemed to like ti so much they bought 2, so if that is you then I suggest going with your gut.
The materials are Phthalate-free, BPA-free, PVC-free, Nitrosamine-free, Latex-free and although the product itself isn't free it is still at the affordable end of the range.

OXO Tot Drying Rack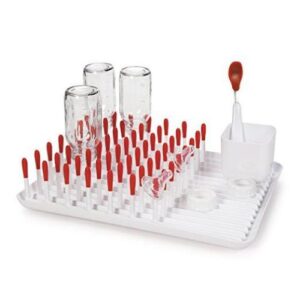 This rack is very similar to my own one at home and would not be out of place. This rack contains the capacity to hold 8 bottles that are disassembled and offers a large storage capacity in comparison to the boon, however it is not as capable in the drying capacity as some of the ones reviewed earlier.
The crevasses allow for the flow of water to run and be stored until the rack needs to be drained. The corners are designed for easy pouring and make emptying easy for the busy parent. The tines are flexible and help with the accessories, they allow for a quick easy drying point from which the water can run off in the walls below.
This can be used in the dishwasher and will keep things easy and less labor-some for those needing more time with their child and less at the kitchen sink.

Best Overall Pick
My top pick is the "Munchkin Sprout Baby Drying Rack" and the constant positive review's both online and from my personal experience ensures you can't go wrong with this product. This really is a top of the range sprouted option and offers the best experience in a few different ways, it's pretty and beautifully designed without losing any of its functionality, it's got a large drying capacity and can be used in conjunction with loads of brands and lastly it has all safe materials in the manufacturing process.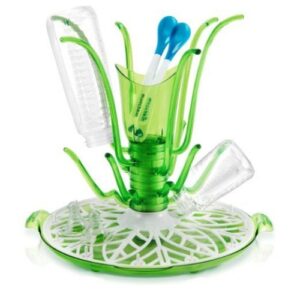 Best Overall Budget Pick
The "Munchkin Baby Drying Rack" is on the low-end of the price review and offers a massive 16 bottle drying capacity, so if you like a great deal and for a reasonable price then this is the one for you. The spinning feature is a favorite of mine and the "best overall" in this review both have this feature, so for a reasonable price, you get it all.