There are loads of different types of RC buses and some are even remote control buses. Choosing a bus over a car for a rc toy is a great change for kids who already have RC cars. Here, we have reviewed a few of the best RC buses on the market, to help you find the perfect toy for your child. We've chosen toys for kids of all ages, from toddlers to older kids and even teens.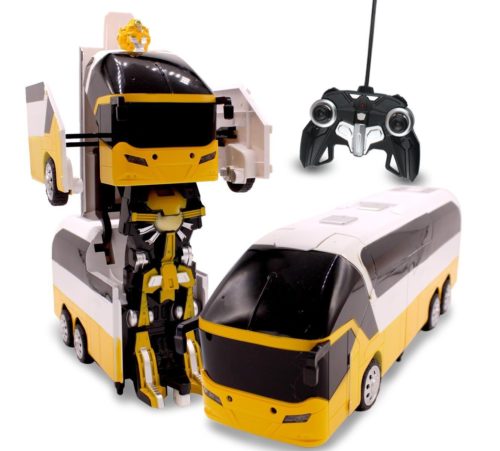 Considerations when Choosing an RC Bus for Your Child
Like any radio control toy, choosing the perfect RC bus requires a bit of thought. Most come ready ready to run, so require very little set up. This makes them the perfect choice of vehicle for beginner RC drivers. When buying any remote-controlled toy, it's important to check the frequency won't interfere with other toys you'll be using at the same time.
Also think about your child's age and ability. There are toys designed for toddlers, which have easy-to-hold remotes and simple controls with only a few buttons. Older children will appreciate a more complex toy, with more controls and extra features.
Remote Control City Bus
This bus toy is ready to run and is easy to use, yet is also ideal for older children. The bus can travel in both forwards and reverse directions, as well as turning left and right. It has an impressive range of around 100′, making it ideal for indoor or outdoor use.
The radio control bus also comes with LED headlights, making it ideal for night-time use. The rubber grip tires run well on different surfaces. The wheel alignment can be adjusted too, to give better control. The remote requires two AA batteries, and the bus comes with its own rechargeable battery. Overall, this cheap RC toy provides excellent value for money.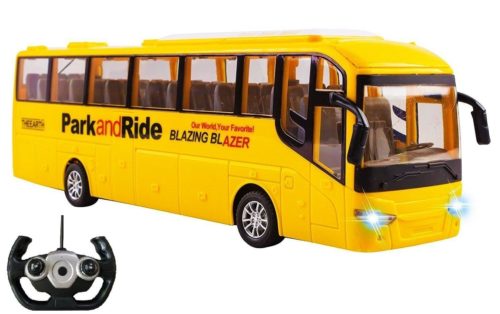 Kid Galaxy RC School Bus
This toddler RC toy is ideal for those aged 2 years old and above. It drives well on a range of indoor surfaces, and is really easy to control. There are only 2 buttons on the remote – one to go forwards and one to spin.
The remote control school bus is the ideal first remote-controlled toy for younger children. It is soft and squeezable, making it perfect for toddlers – who can be a little rough on toys! The toy won't break easily, and also won't leave marks on walls or furniture if your child has a crash.
Whilst this toy bus doesn't have a whole range of impressive or fancy features, it is great for little ones who are new to the world of RC toys.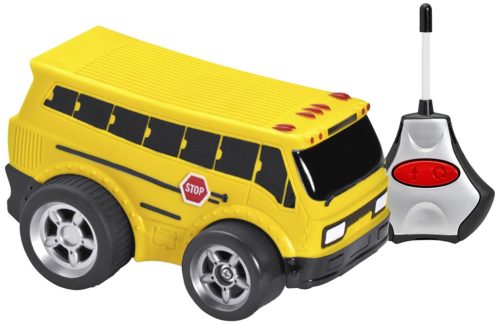 Fisca RC City Bus
This toy bus has a lot of great features, making it the ideal choice for slightly older children. Kids can use this bus as part of other games – it has opening doors, sound effects and flashing lights. This gives a more realistic appearance – kids will love to use this along with their other toy vehicles.
The bus toy comes in a choice of colors, either red, blue or a traditional yellow school bus. The control distance on this toy is great – over 300′ in good conditions. The bus can move in all directions, and also has headlights, taillights and turning signals. The toy comes with a USB charger for easy charging, and will provide up to 25 minutes playing time on a full charge.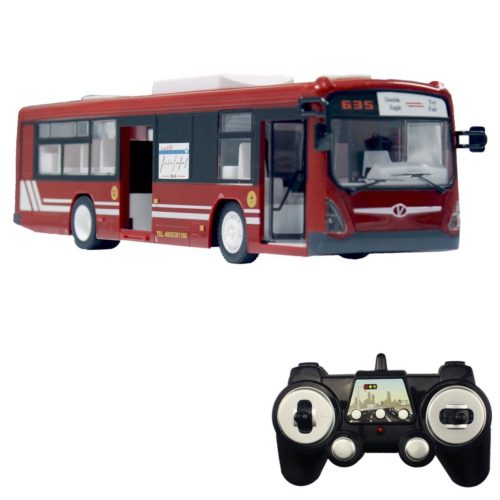 Transforming RC Toy
This transforming remote control toy is ideal for older children, around 8 years old and above. It comes in a choice of either yellow or orange colors. The toy is a great size – in the bus mode it measures over 16″ long. Once transformed it stands at 15″ high. Transforming between the two modes is easy – just the press of a button will turn your bus into a robot!
The RC transformer comes with working headlamps, and plays engine noises as well as music. The range is around 100′, meaning it can be used almost anywhere. The toy takes approximately one hour to charge fully, which will then give up to 30 minutes of play time.
Kids will have hours of fun with this bus toy – it won't get boring quickly. It's one of the pricier products on our list, but the range of cool and unique features make it well worth the price tag.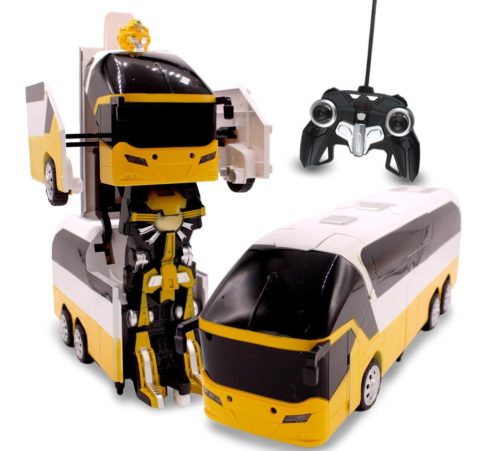 Kid Galaxy My First RC Bus
This remote control school bus comes with a steering wheel shaped remote. This is ideal for young drivers – it is easy for little hands to hold and operate. There are just two buttons on the control, one to make it go forwards and one to make it spin.
The yellow toy bus is ideal for toddlers aged around 2 to 4 years old. It works well on a range of indoor surfaces, including carpet. The bus is soft, meaning there are no sharp edges to cause injuries or damage furniture and walls. The toy operates on one frequency, so make sure this is different from any other RC toys which will be used at the same time. The bus takes three AA and one 9V battery, meaning you don't have to wait for it to charge.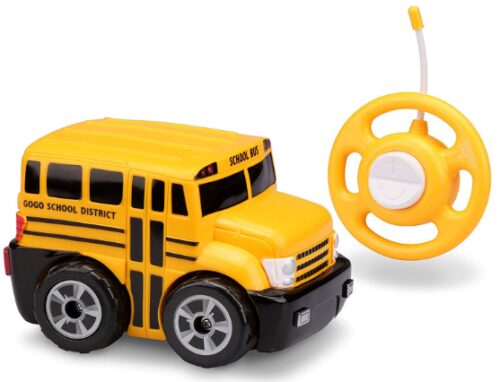 HAK125 Toy Bus

This radio control bus offers many excellent features, at a great value price. The bus can turn in all directions, as well as reverse. The front wheel alignment can be adjusted to give better control on different surfaces. The bus can be used indoors or outdoors.
The radio controlled bus toy looks great, and is sure to be loved by any young boy or girl. It has smart glossy paint and rubber tires. The bus requires 3 AA batteries, whilst the control requires 2 AA batteries. It also features functioning LED headlights, making it ideal for night-time use. There are also reverse lights which are activated when the bus is reversing. The remote controlled toy is safe for use by kids over the age of 3 years old, although the features are more appropriate for slightly older children.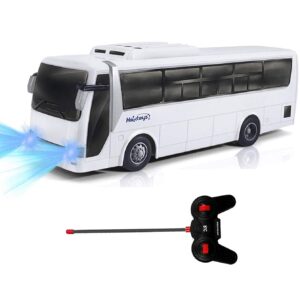 Best Overall RC Bus
The transforming RC toy is one of the best and most fun on the market today. It offers a range of impressive features, sure to be loved by young boys in particular. The sound and light effects make it stand out from other RC bus toys – it also means kids will get even more use from it.
The large radio controlled toy offers excellent value for money and will be used in a range of games. Kids will love watching the toy transform, and it will really encourage them to use their imagination when playing.