Trying to find toddler outdoor toys to keep them busy this summer? There are many different outdoor activities and toys to choose from. We have looked at over 35 unique outdoor toys for toddlers to ensure you have a wide range of toys to choose from.
In this review of the 35 best toys available, we compare outdoor toddler play toys from all major brands, like Little Tikes, Melissa & Doug and Step2 to ensure you find only the best and well-made quality outdoor toys!
We all know toddlers are spending more and more time sitting in front of screens, and as a result are becoming less active and more prone to various health issues as a result. So, why not tempt them away from their iPad with some new outdoor toys for kids?
There are loads of different types of fun outside toys to choose from, so whether your little one prefers to climb, kick a ball or play on the swings, there is guaranteed to be something here that they will love.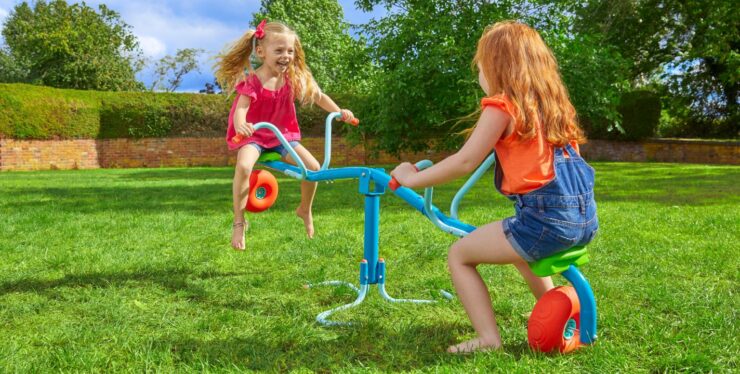 Considerations Choosing Toddler Outdoor Toys
There are a few important considerations that will help ensure you pick the toys your toddler will enjoy the most. First think about their interests, as this will help guide you in the right direction. There are so many different types of toys for outdoor use, it's best to narrow down your search by thinking about the type of toy your toddler enjoys playing with.
Also, think about the space you have available in the yard – some toys are quite large and you will also need a space to store them over the winter. Be sure your child will have space to run around safely when they are playing!
You might like to think about the materials used to make the toys. Plastic, wood, and metal are the most common, and each offers its own advantages and disadvantages. Plastic is often cheapest but can crack and become bleached by the sun. Wood is long-lasting but does require a bit more care. Plastic outdoor games for toddlers are probably the most common type – they offer a lot of choice and variety.
The budget is also important to consider here. Some toys can be pricey, so if you are on a tight budget you could consider DIY outdoor stuff for toddlers. There are loads of ways you can entertain your toddler outdoors using simple supplies you probably already have at home. Pinterest is a great place to find such ideas.
Top Toddler Outdoor Toys 2023
In this section, we will review 35 of the top outdoor toddler toys – you and your little one will be spoiled for choice!
1. Little Tikes Gas n Go Mower
Parents love Little Tikes toddler outdoor toy because they are always durable, reliable and loads of fun! This mower is great for toddlers who love to copy mom and dad, and it is also ideal for helping them keep active.
There are fun, realistic noises activated by pulling the cord, and little kids will love to watch and listen to the popping beads! Toddlers will love the mini gas can, clicking key and throttle – they will have hours of fun engaging in imaginative play with this durable toy lawnmower.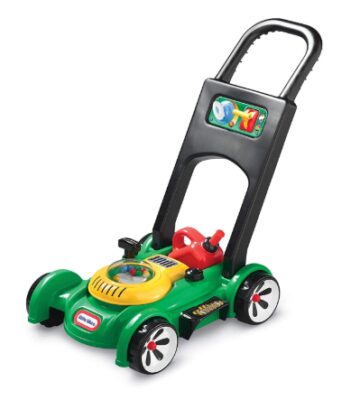 2. Liberry Kids Bowling Set
If you are looking for some slightly different toddler backyard toys, this bowling set is the perfect choice! It comes with 10 pins and 2 balls, made from strong plastic which is both durable and easy to clean and maintain. The balls have holes in them just like real bowling balls!
The set can be used by kids aged around 2 years old and will provide many years of enjoyment even as they grow older. Toddlers can learn and practice many important skills with the bowling set, such as hand-eye coordination and spatial awareness, making this an excellent all-round pick.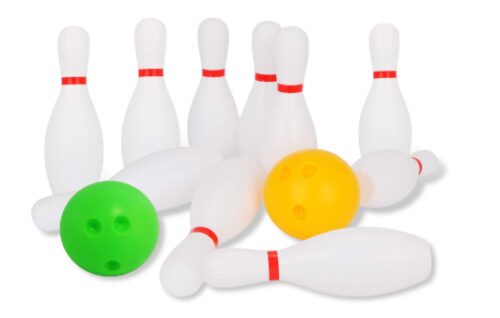 3. Large 68″ Splash Pad
Splash pads are perhaps the best outdoor water toys for toddlers – they are easy to set up and are less effort to maintain when compared to a kiddie pool. The possibilities with such a toy are endless! A garden hose can be connected to make the water sprinklers work – simply turn the tap on harder to make the water flow higher!
The mat has a 68″ diameter, so it's perfect for a few toddlers to play together. You can even put a slide beside the mat so toddlers can land on it when they reach the bottom of the slide – this is definitely one of the best, cool outdoor toys.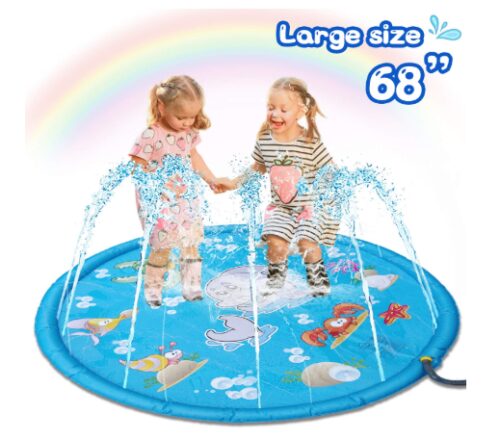 4. Melissa & Doug Sports Bag
Sports balls are classic outdoor play toys for toddlers, and we love these ones because they are super soft to ensure they won't cause any accidental injuries. There is also a useful storage bag included to prevent any of the balls from getting lost. In the set, you will find a soccer ball, football, basketball and baseball, each of which makes noises such as crinkling or rattling.
The balls are just the right size for toddlers, and you won't have to worry about them breaking anything if they decide they want to play soccer indoors too!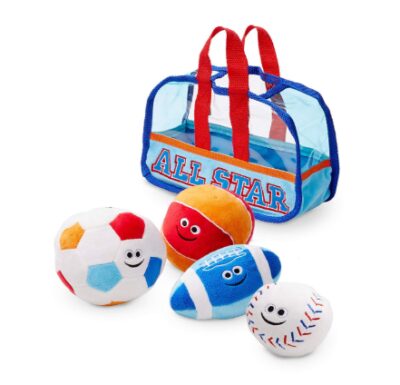 5. Spiralin Seas Waterpark Table
Perhaps one of the best water toys for kids, tables like this make great outdoor toys for 1 year old and over. They are endlessly entertaining and can help keep kiddies cool when the weather gets hot. Not only is the table loads of fun for little ones, but parents can also rest assured that their child will be developing their motor skills as they play. The table comes with a large spiral in the center, as well as some balls to drop through it.
There's also a Ferris wheel that can be turned to scoop up the balls from the water. A water cup is also included for toddlers to pour water into the table (and on themselves if they wish!) as well as 5 animals that can squirt water. Toddlers will never be bored in the summer again!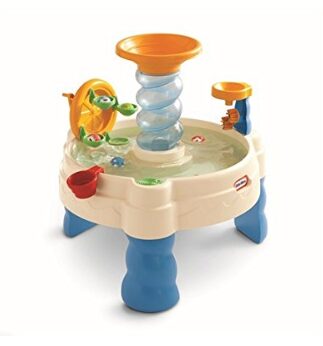 6. Garden Table Playset
If you are looking for fun outdoor toys for 3 year olds, then look no further than this gardening table! Toddlers love imaginary play, and this toy is perfect for helping them develop their ability to do so. The set includes the table with various compartments, four flower pots, two flowers, two discs of soil and various tools such as a rake and a watering can.
The table is not very high, so it's best used kneeling, or you can put some blocks under the legs to raise it slightly. Sand or water can be added to the table to make it even more fun, and it can also be brought indoors during the winter if your toddler just can't stop playing with it! If you are looking for indoor toys and slides then check out here.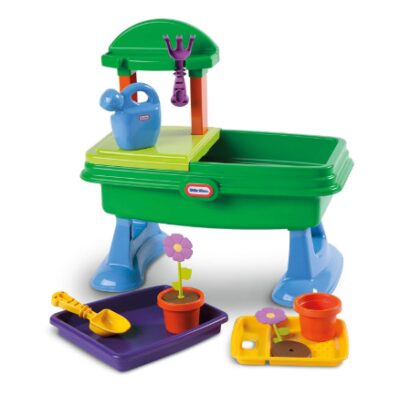 7. Easy Score Basketball Set
Basketball sets are perhaps the best toddler toys for indoors and outdoors. This one is ideal toy because it can be adjusted in height from 2.5′ to 4′ and is therefore suitable for kids aged 18 months – 5 years old. It also comes with 3 junior basketballs and has an oversize rim to make scoring easier for youngsters!
Playing basketball is a great way for toddler to keep active and work on their coordination and balance skills, and when they get a little older they can also practice their teamwork. It's one of the best first kids sports toys.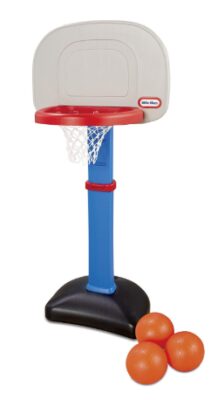 8. TotSports Easy Hit Golf Set
If you wish to buy cool outside toys, this golfing set is simply perfect! Perhaps you have a little boy who wishes to be just like daddy – they can spend some quality time practicing their putting together! That's why this is one of the best outdoor toys for boys.
The set comes with two clubs and three balls, as well as a putting hole and a caddy to keep everything stored together. The golf clubs can be used by toddlers aged 1 year and above, and are also ideal for sharing with a friend. They can be used both indoors and out, so no matter what the weather your toddler can enjoy a fun game of golf! This is a great sports toys for boys and girls!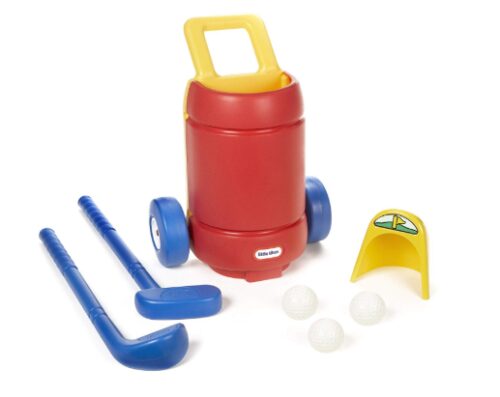 9. Simplay3 Adventure Climber
There are lots of cool outdoor activity toys for toddlers, but this one is great because it has loads of fun features for your toddler to enjoy. It's just the right size for under-3s, and it's durable enough to be used time and time again. There are small doors for toddlers to crawl through, a ladder for them to climb and of course there's the little slide for them to get back down again.
They will love looking out from the top of the tower, or hiding in the crawl space underneath. The toddler slide set is ideal for two or three kiddies to play on together, so it's ideal for playdates or if you have two tots close in age to one another.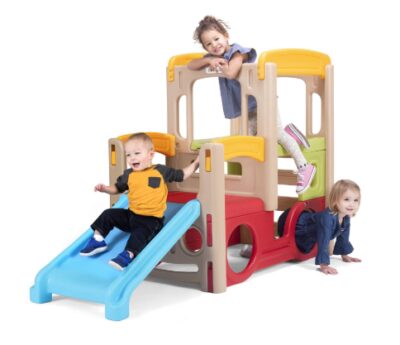 10. Pop up Tent Camping Set
We have looked at loads of great outdoor toys for toddlers so far, but this camping set offers something a little different and unique. It comes with a pop up tent and loads of accessories for your toddler to host a pretend camping trip in their backyard, or even in the house on a rainy day.
There's a toy stove with a cooking pot and toy food, a flashlight, a 'Swiss Army knife' and even a lantern which really lights up! The lantern and stove each require 2 AA batteries, so be sure to stock up before giving this set to your toddler, as they will want to use it straight away! This is one of the best toddler toys for boys and girls who love role-playing and using their imagination.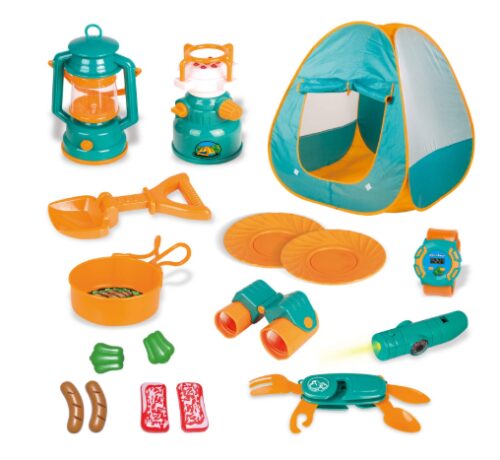 11. Eezy Peezy Monkey Bars Climbing Tower
This climbing frame for toddlers is easy to assemble and is also extremely durable. It consists of tubes and connectors which interlock, much like a building toy but on a larger scale! The maximum weight limit is 150 pounds, so toddlers and preschoolers will have years of fun with this toy.
It can be used for climbing, but toddlers can also climb inside and use it as their own special den! The plastic has UV protection to ensure it will last well when left out in the sun. It's one of the best toddler boy toys, as it encourages them to climb on something safe and is a great way to burn off their energy!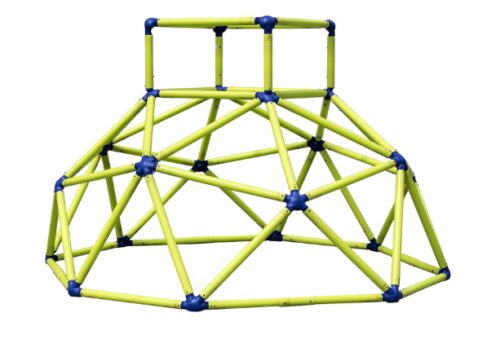 12. Little Tikes Jump n Slide Bouncer
Perhaps the best outdoor toys for toddlers, bounce houses never go out of style! This one is a great size for younger children, and it even features a slide for them to get off when they've had enough bouncing. The bouncer measures 10′ x 7′ x 5′, and the sides are mesh to allow parents to closely supervise their children.
There are anchor stakes included as well as an air blower, so you can get started right away. Kids up to 8 years old can use this bounce house, so they can have years of fun with it – it's a great value children outdoor toy. Two toddlers can use the slide at the same time, so it's perfect for racing fun!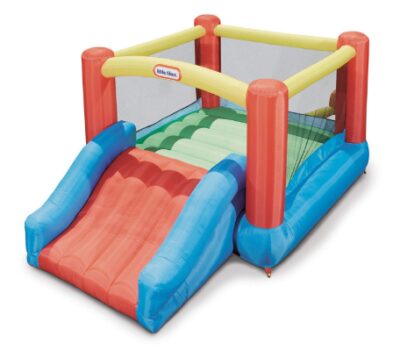 13. Blue Rocking Horse
This rocking horse is a classic toy every toddler must own! It's suitable for ages 1 – 3 years old, and can easily be cleaned and brought indoors when the weather gets cold. The seat back is high to help prevent accidents, and the handles are easy for little hands to hold on tight.
The maximum weight limit is 50 pounds, and the seat is low to the ground for more stability. The corners are rounded meaning there is less chance of injury should your child bump themselves on the rocking horse. It comes fully assembled and ready to go, and is also available in a lovely bright pink color for little princesses!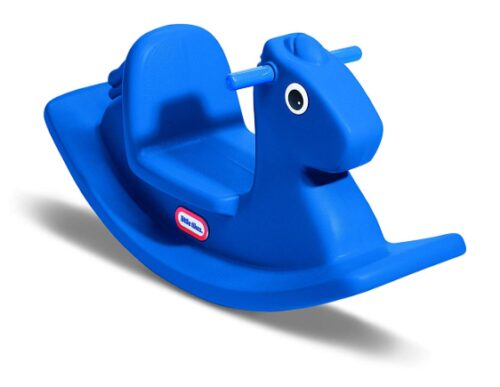 14. Fun Zone Dual Twister
This fun toy offers something a little different and is excellent for keeping kiddies cool in the summer! They simply sit on it, turn the handle to make the base spin and water will spray out as it spins! The toy can also be used without water, and is suitable for toddlers aged 2 – 5 years old and weighing under 50 pounds.
It is one of the best outdoor toys for 2 year old boy or girl as it will give years of fun when gifted at this age.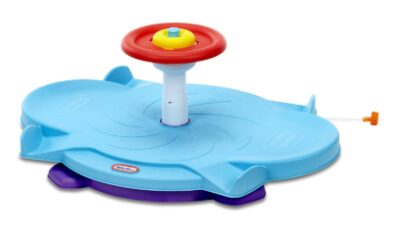 15. Costzon Kids Sandbox with Canopy
Sandboxes are very popular outdoor playsets for toddlers, which is no surprise as most toddlers simply love sand! This one is perfect as it comes with a canopy to give shelter from the sun, or even to keep them dry if they wish to play when it's raining. The sand box measures 55 inches, making it perfect for two or more children to share together. There are bench seats on either side, perfect for toddlers to rest after they've had enough digging and building, or ideal for mom and dad to watch the kids play.
The sand box is bottomless, so you can put a sheet under it, or excavate the lawn allowing it to be filled even deeper. Years of fun will be had with this kids sandbox – simply add some buckets and spades! The seats can hold up to 200 pounds, so there's no need to worry about toddlers outgrowing them any time soon.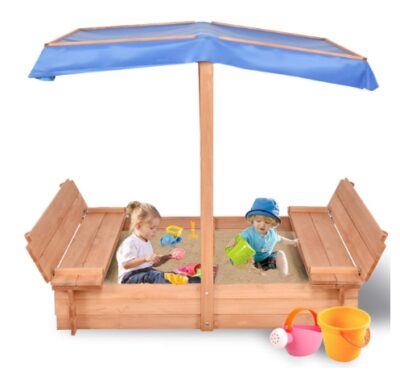 16. Toddler Climber and Swing Set
Wondering what to buy a one year old for their first birthday? This toddler swing set is sure to keep younger toddlers entertained for hours! They will love being able to climb up the small slide by themselves. The swing has a plastic safety harness/ handle, so parents can be sure their toddlers are safe whilst they play.
There is also a basketball hoop on the side of the playset, which is excellent for helping toddlers improve their motor skills. The toddler swings can be used indoors over the winter, as the structure is not too large. It's easy to assemble, with everything you need included, so parents will love it as much as the children do!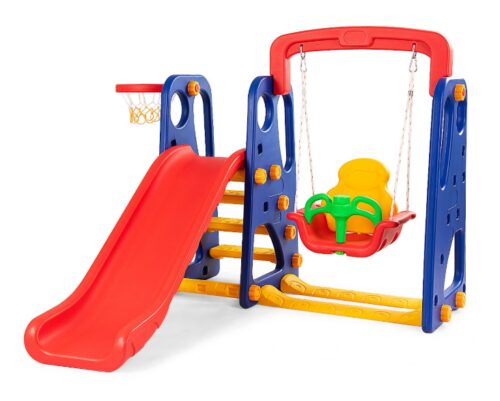 17. Step2 Toddler Slide Playset
This toddler playhouse with slide is excellent for encouraging little ones to use their imaginations – it features a lookout tower complete with a movable periscope. It's recommended for those aged between 2 – 6 years old, and the platform is 19 inches high.
There are steps to the top of the outdoor climbing frames for toddlers, which are easy to climb, and the slide is so much fun when it's time to come down again! Toddlers can also crawl underneath and create a den! The slide is sturdy and durable, as well as easy to clean and maintain – a win-win for parents and toddlers alike.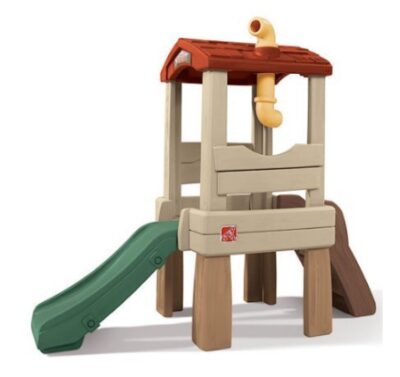 18. Junior Activity Gym
This is another great toddler play slide, which is perfect for practicing climbing skills as well as crawling through the tunnels underneath. Up to three toddlers can play together on this one, with the maximum weight limit for each child at 50 pounds.
So, it's one of the best outside toys for one year old children to use with friends. It's small enough to be stored in a shed or even used inside the house over winter, so toddlers don't need to miss out just because the weather is poor. Suitable for ages 18 months and up, this Little Tikes Slide is sure to provide many hours of fun.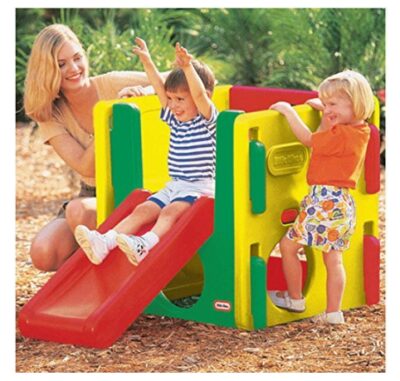 19. Step2 Neat and Tidy Playhouse
This playhouse is excellent for any young child who loves role playing. It comes with a sink, clock and fireplace, kitchen and even a flower-box beneath the window which can be planted with real or pretend flowers. The sides of the house are designed in such a way to allow parents to see their toddlers at all time, to ensure they are playing safely.
One of the windows features shutters, and there is also a functioning door for access. Toddlers will have so much fun with the mailbox and door bell – the house is perfect for letting their imagination run wild!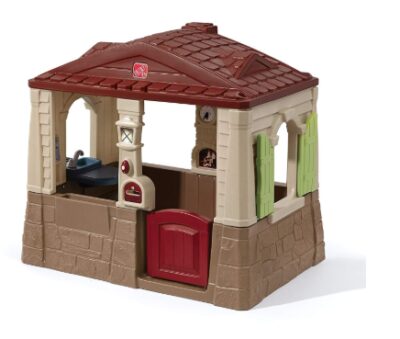 20. Classic Toddler Slide
This toddler slide is simple yet will provide endless fun for toddlers aged 1 – 3 years old. It features a few steps which are easy to climb, and has small handles at the top to help toddlers balance. The maximum weight capacity is 50 pounds, and the slide measures 18″ x 23″ x 39″, so it doesn't take up too much space in the backyard or in the shed when it needs to be stored away.
The solid plastic ensures this slide can stand up to whatever your toddler can throw at it, and also means it's easy to keep clean – perfect if you decide to bring it in to the playroom. The color scheme is gender-neutral, meaning this is ideal as a girl or boy toddler toy.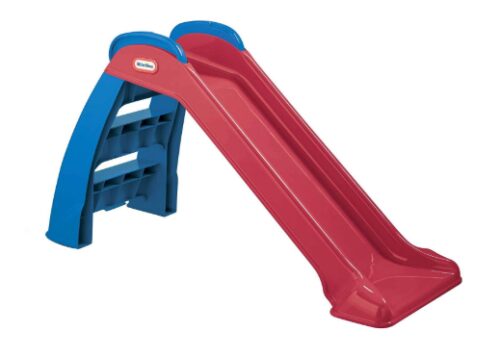 21. Bounce Pro 12′ Trampoline with Enclosure
This trampoline is a great size, making it perfect for toddlers to share with their friends. It's ideal for those aged around 2 years old and above, and they will have years of fun with it! The trampoline is very strong as it is made from galvanized steel, and the jumping surface is UV-resistant to ensure it won't become damaged when left out in the sun.
A safety net is also included so you can be sure your toddler is safe whilst they play.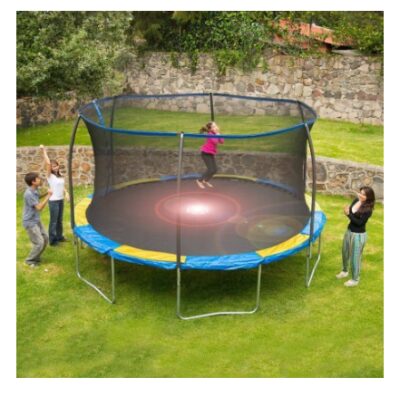 22. Mini Trampoline with Adjustable Handle
If your toddler is younger and not quite ready for a 'big' trampoline, this could be a better choice than the trampoline above. The handle is in the middle, so two kids can bounce together, one on either side. The height of the handle can be adjusted to one of five different positions making it suitable for all heights.
It comes in two different colors, and is easy to assemble. The trampoline is also foldable so it can be stored if space is needed.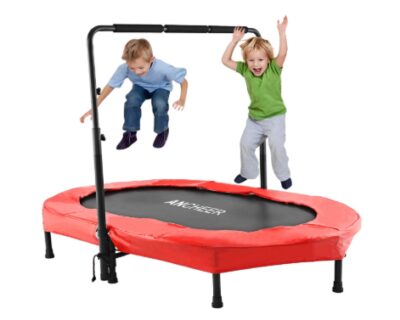 23. Toddler Swing and Slide Set
This toddler swing seat has a 3-point safety harness, making it perfect for even the youngest adventurers! The slide is small and slopes gently too, making this set perfect for babies and toddlers as young as 12 months old. The set is easily assembled as is sturdy, but will probably be outgrown by the time your child reaches the age of 3.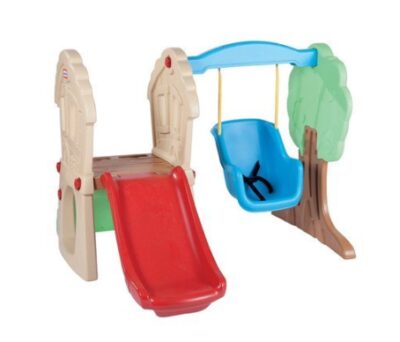 24. Saucer Tree Swing
This toddler swing is really versatile and offers loads of fun for the whole family! It can fit up to three young children, and a total weight capacity of up to 220 pounds. The swing is easy to assemble and hang – it can be hung from a swing set, a strong beam or even a big tree in the backyard.
There are different sizes and shapes available, including smaller 24″ models which are ideal for families with just one child, or with smaller spaces available. Toddlers will love to lie on this swing and relax as mom and dad gently push it!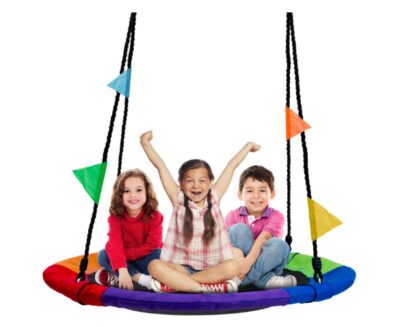 25. Spill & Splash Water Table
Outdoor water toys for toddlers are always popular, and this one is packed with fun features to keep them entertained for hours! It holds a total of around 5.5 gallons of water between the two pools, and there is an umbrella for shade.
When the upper pool is full, the water will spill over into the bottom pool for even more fun! There are loads of toys included, such as a fishing net, fish and human figures and cups for pouring water.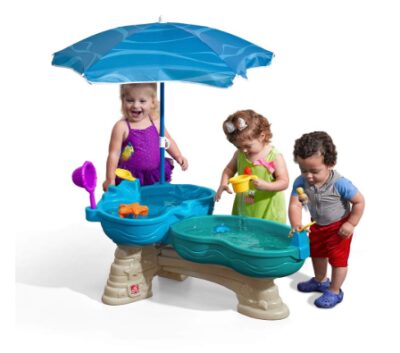 26. Step2 Thomas the Tank Roller Coaster
This has got to be one of the tops toys for toddlers to use outdoors, and even better if they love Thomas the Train! The roller coaster features easy to climb steps and the car has a high-backed seat, handle and footrests to ensure maximum safety.
There's also a small recess for the wheels to slot into at the top of the track, to ensure the train won't start rolling before your child is ready. There is 9 feet of track included, and the toy is recommended for ages 2 – 5 years old – it's one of the best outdoor gifts for kids in this age range!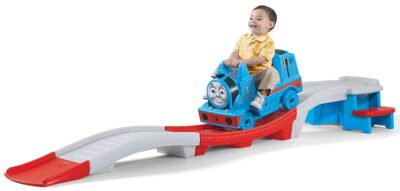 27. Step2 Panda Climber
There are many great climbing toys for toddlers outdoor use, and this one is simple yet fun. It comes in a gender-neutral color scheme which also won't stick out like a sore thumb in your backyard! The climber features steps, as well as a tunnel to crawl through at the bottom.
There's a platform to stand on at the top, which is surrounded by a safety rail for peace of mind. The maximum weight limit is 60 pounds, so toddlers can have years of fun with the little slide!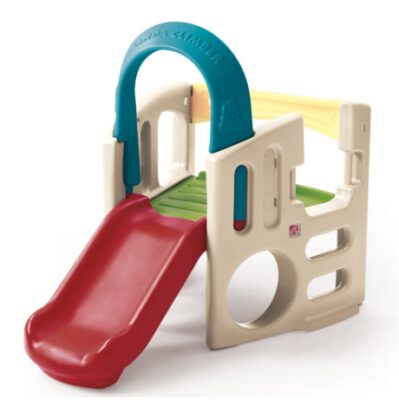 28. Step2 Folding Big Slide
This Step 2 toddler slide is a great size for toddlers aged around 18 months – 2 years old and up to 4 or 5 years old, so you can be sure they will get many years of use from it. It can be folded for easy storage when not in use, so it can be put away in a shed or garage easily after play each day, which will also help prolong its lifespan.
The three steps leading up to the slide are chunky for toddlers to climb easily, and the pink and gray color scheme is sure to appeal to little girls!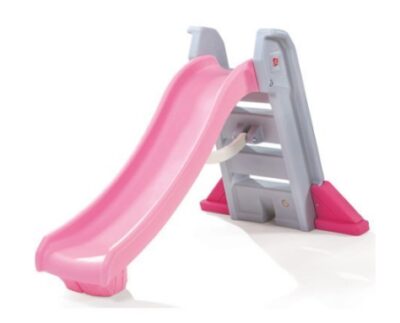 29. Tent and Tunnel 7 Piece Set
Nearing the end of our list of the top outdoor toys we have a great seven-piece set. This tunnel and tent set is pretty much guaranteed to keep toddlers entertained for hours! It's also ideal for many toddlers to share and play together – it's perfect for playdates and birthday parties.
There are seven pieces in the set – three tents, three tunnels and one ball pit (which also features a basketball hoop). There's also a storage bag included to keep all the pieces clean and dry when not being used. Various layouts can be made with the pieces, to ensure toddlers never get bored! There are no ball pit balls included, so it's recommended to buy a few bags to really get the most out of this toy.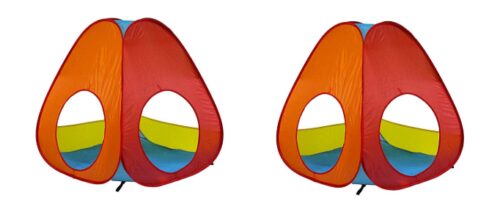 30. Peek a Boo Caterpillar Tunnel
This is one of the best outdoor climbing toys for toddlers – not only is it loads of fun, it is also great for developing important motor skills. Toddlers can crawl through the tunnel, peeking out of the windows as they do so, and of course also climb on top of it. It's perfect for ages 2 – 4 years old, so it's sure to get plenty of use before your toddler gets too big and you upgrade to one of the bigger kids climb toys.
If you're looking for small climbing frames for toddlers, this perhaps isn't the best choice. It measures 56 inches long, 37 inches wide and 48 inches tall at the highest point. However, if you have space, your toddler will love the caterpillar tunnel! It even features rounded edges for safety.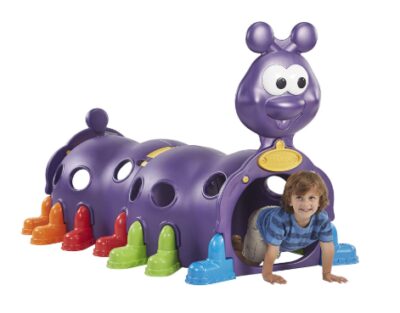 31. Rock and Roll Teeter Totter
When it comes to unique outdoor toys, this one is certainly worth considering. This teeter totter can be used by up to four toddlers at once, making it perfect for larger families or sharing with friends on a playdate in the summer. There are seats at two different levels, for kids of different sizes to sit comfortably. Once your child has had enough of rocking on the teeter totter, the whole thing can be flipped over to form a bridge with steps to climb either side.
There are drainage holes in the bottom of the toy, so it is weather-resistant and built to last. It's one of the best toys for active kids, as it will use up their energy and they won't get bored of it in a hurry!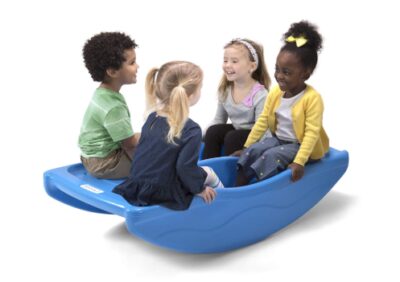 32. Little Tikes Lil Wagon
Little Tikes have many good outdoor toys, and a red wagon is a classic toy every toddler should own at some point! This one is sized just right for a toddler to pull along, and can be filled with toys and anything else they need to carry around!
The wagon is ideal for both indoor and outdoor use – the wheels won't damage the floors, yet are also durable enough to stand up to being used outdoors. The handle can be folded, allowing the wagon to be stored away when not in use.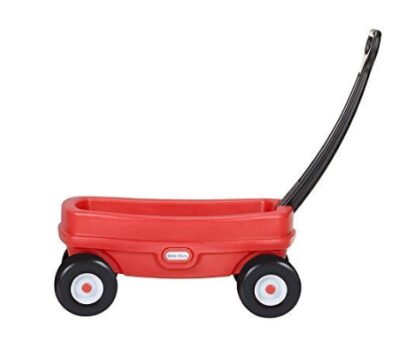 33. Fisher Price Barbie Tough Trike
There are some great Fisher Price toys for toddlers, and this one stands out for many reasons. It is sturdy and durable, making it perfect for rough toddlers! It also has rugged wheels for added stability, and there's a secret compartment under the seat for storing small items.
The maximum user weight is 55 pounds, so toddlers can enjoy it for a few years before they get too tall and heavy. It's a great first trike they can pedal themselves without any input from mom and dad! It's one of the best gifts for outdoorsy girls – they will love the pink Barbie design as well as the toughness!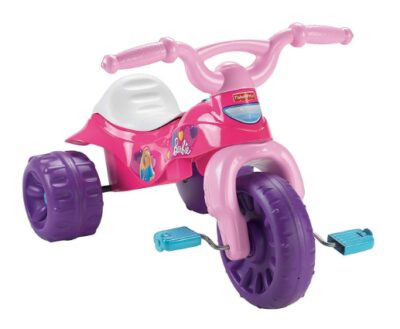 34. John Deere Pedal Tractor
When it comes to outdoor ride on toys for toddlers, a John Deere tractor is one of the best! This one comes with a front loader which really works, as well as a detachable trailer. It has a steering wheel and foot pedals for control, so it's great for helping your toddler learn coordination skills.
The tires are oversized with rubberized tread to ensure they are long lasting and help keep the vehicle in balance. Toddlers will have so much fun pedaling this around – it's great exercise and they can make up many fun games with it too.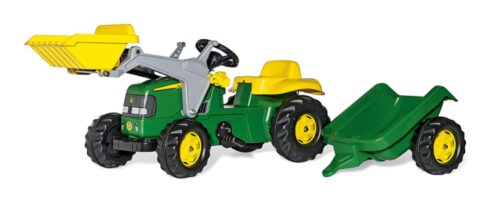 35. Little Tikes Dino Cozy Coupe
Perhaps one of the summer toys, the Cozy Coupe is a true classic! This newer version is themed like a dinosaur, making it perfect for little dino lovers! Instead of the traditional yellow and red, this one is green with dino spins on the roof! For younger drivers, there is a footboard and a parent handle so they can be pushed around.
When they get a little older, the footboard is removed allowing toddlers to 'drive' themselves using their feet. It also includes cup holders, a key and a working horn – toddlers will simply love this!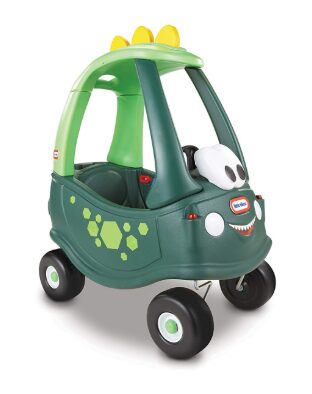 Best Buy Overall 
One of the best outside toys for toddlers has to be the sandbox with canopy. Toddlers simply love playing with sand, and this box has so many impressive features – sure to entertain your little one for hours on end! The canopy is excellent for providing shade from the sun, and the benches are fantastic for parents to sit and play with their toddlers.
It's an excellent design that will keep toddlers amused all summer! If you are looking for the best outdoor toys for kids in the toddler age range, you won't be disappointed with this.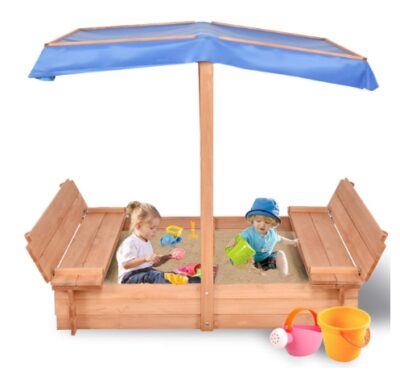 Best Budget Toy
There are many cheaper toddler outside toys available, so if you are on a budget we recommend the splash pad. This will keep toddlers happy for hours despite the very reasonable price tag – a worthwhile investment for any parent! It's so simple, yet toddlers will love it, and it's an excellent way for them to cool off on a hot summer day.
It's even easier to set up and put away than an inflatable pool, and much more fun with the water sprinklers too! We can guarantee if your kiddie likes water, they will simply love this great toy.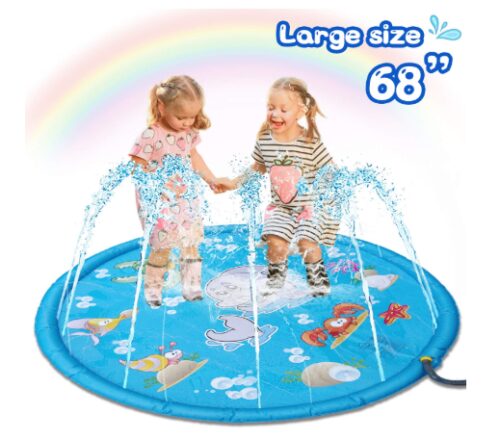 FAQ
How to Clean Plastic Outdoor Toys?
Plastic toys are relatively easy to maintain, and they are also perhaps the cheapest. Cleaning these toys only requires some soapy water a sponge, or you can hose off the dirt. If the toys have been left out over winter, it might be easiest to use a pressure washer, and they will look as good as new in no time!
How to Store Childrens Outside Toys
If you want to have many years of use from these toys, they should be stored correctly especially in winter when they won't be used for many months. Provided space is available, it's best to keep smaller toys in a shed or garage. If it's not possible to put toys away after use, it's a good idea to invest in some good-quality covers, to help prevent the sun from damaging them. You can also use an outdoor storage box as a toy chest to keep everything tidy and safe from damage.
What are Some Outdoor Toys Big Kids can Play on too?
Whilst we have focused on toddlers here, there are a lot of toys which can be enjoyed outdoors by kids of all ages. There are loads of great backyard playgrounds which are suitable for kids aged 3 years old +, which can be ideal when there's a big age gap between kids. Sand boxes are fun for all ages too, as are kiddie pools! Try choosing a pool which is shallow enough for your toddler to play safely, but also includes a slide for the big kids to have some fun.
Other toys that are fun for all ages include balls and teeter-totters and swings. Some swing sets include a baby/toddler swing as well as a 'big kid' swing, so they are perfect for older and younger siblings to play on together!
How to Protect Outdoor Wood Toys
Wooden toys for outdoors should be treated with a stain or paint to ensure they are protected from the weather, and pests, and will last for many years. There are many videos on YouTube that show exactly how to do this, but essentially, it's important to be generous and cover all exposed surfaces, paying attention particularly to crack and screw holes.
How to Repair a Crack in Plastic Outdoor Toys
Your toddler might be devastated if their favorite toy becomes cracked, but there is no need to worry as many cracks in garden toys can be fixed, or at least made less severe. If there is a large crack, you can use a plastic patch. To apply this, heat the edges of the hole and the repair patch using a heat gun before smoothing the edges.
Superglue is also a failsafe option for smaller cracks, although it may not give as neat a finish. Duct tape can also be used to patch up holes and cracks if you are looking for a quick, cheap fix.
What are the Benefits of Outside Toys?
Toddlers, and children of all ages, can benefit a huge amount from playing outside with toys such as these. First, the benefits of playing outside and keeping active are innumerable. But, using most of these toys is also ideal for helping improve various gross motor skills and strengthening children's muscles. Many of these toys can be used along with a friend or a sibling, so they can be used for improving social skills, too.
What are the Different Types of Toddler Outside Toys?
As seen above, there are loads of different types of toys to play with outside. Ride on toys come in a variety of forms – scooters, trikes, balance bikes, and more. There are also things like slides and swing sets, which will give toddlers years of fun. For the summer, water toys such as water tables with pouring cups and spinning wheels are excellent. They can help children keep cool, and the water always fascinates them too.
Toys which can be used to help in the garden are fun too – such as kids gardening sets. Or they can pretend to help out with a bubble mower or similar. Playhouses and play tents are always fun too. Toddlers can use their imagination to use their den for anything they wish!