American Plastic Toys Inc is a classic brand producing high-quality plastic goods right here in the US. The brand has been around since the 1960s, so many parents will remember playing with the toys as children themselves. They make everything ranging from dollhouses to dump trucks, meaning there's something to suit boys and girls of all ages. The toys are also priced very reasonably, meaning they're ideal for parents who are on a tight budget.
Considerations
There are a few things worth thinking about when shopping for an American Plastic toy for your kids. There are so many different toys to choose from, so the main thing to consider is the type of toys your child is interested in and what they are looking for. You don't need to worry about safety when choosing a toy from this brand – everything is made in the USA and is tested independently to ensure that every product is of the highest quality.
Purple Toy American Plastic Kitchen
This large plastic toy kitchen comes with over 20 accessories for your child to create a whole feast of delicious meals! The burner lights up and plays realistic sound effects, which is great for encouraging imaginative play. The doors of the oven and refrigerator open and close, allowing children to 'cook'. There are also pretend buttons and displays for kids to monitor what's cooking!
The toddler play kitchen is ideal for children aged 2 years old and above. The range of accessories make the kitchen great for sharing with friends. There is a toaster and a cupcake tray, as well as knives, forks and plates. Combine the play kitchen with some plastic toy food and your child will have hours and hours of entertainment.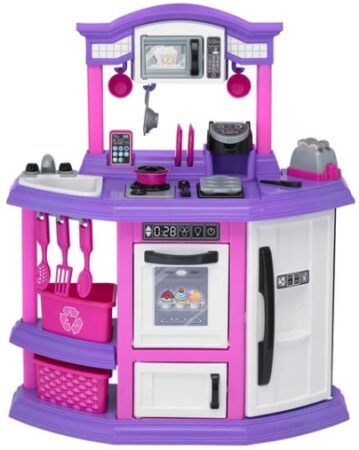 American Gigantic Plastic Dump Truck Toy
This huge toy dump truck measures an impressive 2' long and over 1' high and wide. This means it's ideal for children over the age of 2 years old, but will continue to be enjoyed by children much older than this too. The truck is ideal for outdoor play thanks to its large size and durable construction. It's also great for using in the sand box – perfect for kids to shift sand around to build a castle!
The gigantic dump truck is perfect for kids who love to use their imagination when they play. The large size means it can easily be used to carry toys around. Or, it can be filled with building blocks and used as part of a 'construction site'. The toy is perfect for toddlers, and is sure to be especially loved by young boys.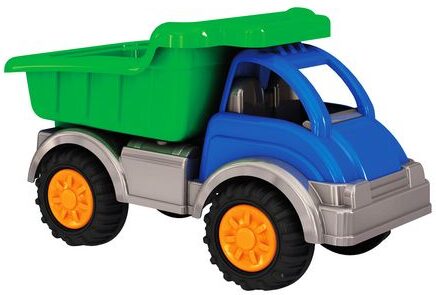 American Toy Dollhouse
This large plastic dollhouse features 25 pieces of furniture for dolls to enjoy! The house can be configured in several different ways, giving more flexibility for the space available, as well as providing different ways to play. The house measures 55" x 23" x 50" – this large size means its ideal for older girls as well as toddlers. It's also perfect for siblings or friends to play with together – there are plenty of rooms and accessories for everyone to share.
The dolls are not included with this house, however it fits any 11.5" dolls, such as Barbie. The house has 6 rooms which can be decorated in any way you choose. The range of furniture includes pieces to make a bedroom, bathroom, lounge and dining room – little girls will never get bored playing with this set!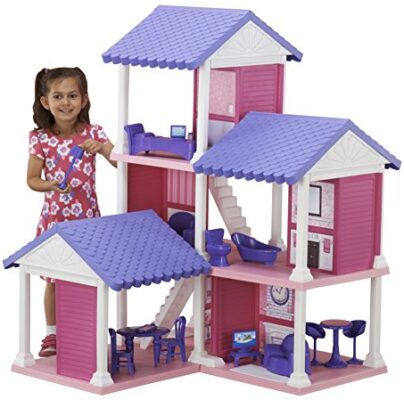 American My First Climber Plastic Toy
This sturdy plastic climbing toy is ideal for young toddlers who love to climb and slide! It isn't too high, meaning kids can easily climb up onto the platform where they will love to stand up high! Then they can have great fun sliding down ready to start again.
The American Plastic First Climber is suitable for outdoor use, but the smaller size means it can also be used indoors in the winter, or if you don't have access to an outdoor space. The slide is tested for up to 84 pounds, meaning it will provide several years of use for young children. It's recommended for those over the age of 2 years old, or who are able to safely climb up the climbing wall.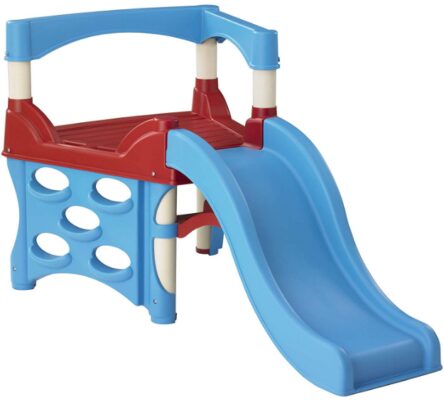 American Fire Truck Ride On Toy
This toddler ride on toy is ideal for children over the age of 1 year. Toddlers make the fire truck move by pushing with their feet, making it great for burning off energy! It's also ideal for those who are just starting to walk – it can be pushed around like a walker. The sit and ride toy can be used by children up to the age of 3 years.
The American made ride on comes in a range of different styles if your child isn't interested in fire trucks. There are designs to suit both boys and girls, including a school bus and a pink and purple car. The seat of the ride on lifts up allowing toys to be stored inside. This means it's great for parents who are looking to keep tidy and save space!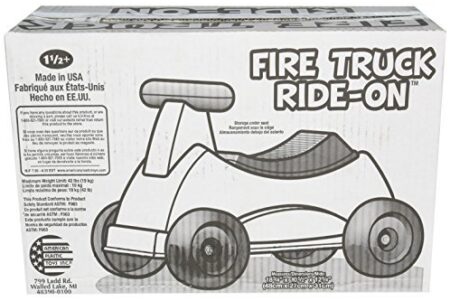 Pink and purple 4 Room Dollhouse
This American Toy dollhouse has 4 rooms and can be built up in a variety of ways. It comes with several accessories and furniture items, meaning the house can be customized by your child. The furniture includes items for the bathroom, bedroom, living room and kitchen. It is ideal for dolls such as Barbie or a similar size.
The plastic 4 room dollhouse is a good size for either toddlers or older girls. It stands at 3' tall and 55" long, making it perfect for several dolls to live in! The strong and durable plastic means the dollhouse will provide years of entertainment for any young girl.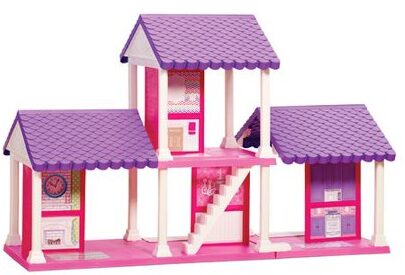 American Made Toy Cozy Comfort Kitchen
This kids' play kitchen is perfect for 2 year olds and above. It is ideal for little boys who love to cook thanks to the blue and green color scheme – a welcome change from the usual pink and purple play kitchens. There are 22 accessories included with the kitchen, which is great for getting your child started with some cooking! There are appliances and utensils, to ensure kids have everything they need to prepare some yummy meals for their family and friends!
Toddlers will love all the interactive elements of the Plastic Toys Cozy Comfort Kitchen. It includes all the main features found in a real kitchen, and the doors all open and close. There are realistic details which will keep kids occupied and entertained for years to come. The plastic toy kitchen would make an excellent gift for any young child. It can easily be added to with other food and accessory packs, too.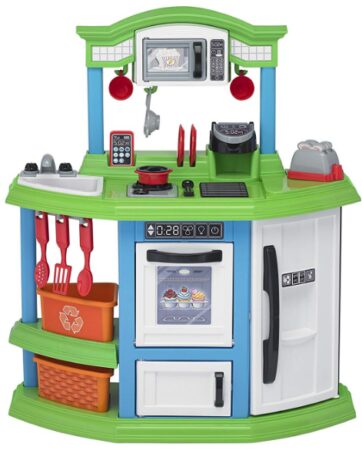 American Plastic Tool Bench
This work bench is perfect for any young child who loves to help out with DIY jobs at home! It is suitable for children aged 2 years old and above, as it stands at around 30" high. There is even a chalkboard on the back of the workbench, perfect for kids to make important notes! It also includes a cell phone to encourage imaginative play. It's ideal for your little one to phone their customers!
The American made tool bench includes over 30 accessories to keep little ones busy. There are several moving parts on the bench making it realistic and so much fun to play with! The turning gears are sure to entertain toddlers time and time again. The vice also turns, for fun and realistic play! Toddlers will love using the tools and the nuts and bolts to role-play fixing and making things, and will love 'helping' dad with jobs around the house!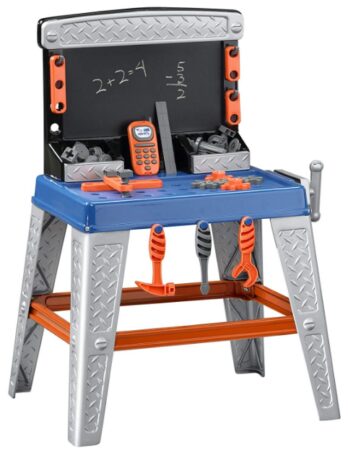 My Very Own Nursery Set
This dolls crib is ideal for little girls who love to play with their baby dolls. It has loads of handy features including a cupboard and shelf for storing accessories. There is also a sink for keeping baby clean, or washing your hands after a diaper change. The crib comes with a mobile for little girls to help soothe their baby dolls off to sleep!
The baby doll accessory set includes everything kids need to take care of their dolls. There is a spoon, plate and cup for feeding time, as well as a baby powder bottle for changing time. There is a feeding chair at the end of the crib for the baby to sit down for a meal, too! This all-in-one baby doll playset would make the perfect gift for any young girl who loves to play with her dolls. There is space for 2 dolls, meaning it is ideal for siblings or friends to play together.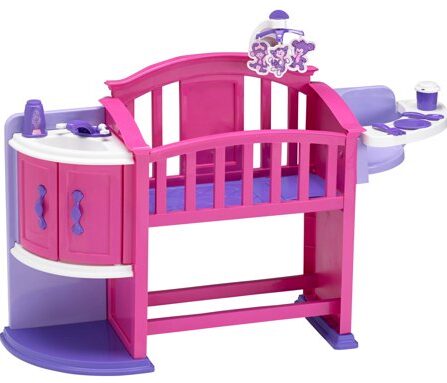 Best Overall American Plastic toy
The large dollhouse is one of the best toy available, especially for young girls who love to play with dolls. The 6 rooms can be configured into several different ways, and customized in any way you choose with the furniture pack which is included. The dollhouse is perfect to use with Barbie sized dolls or similar, making it the perfect addition to any collection.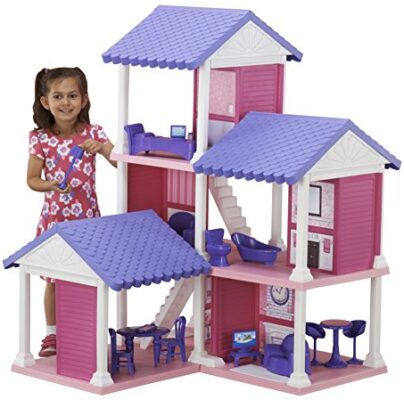 Best Budget Buy
For those looking for a reasonably-priced toy for their child, the plastic Toy gigantic dump truck is a great choice. Kids will be amazed at how large the truck is – they are sure to come up with loads of exciting ways to play with it. It's great for indoor or outdoor use, including sand and water play.