Are you looking for the best 2 month old baby toys? In this toy review guide, we compare many types of toys for 2 month old babies to help you find the perfect gift for a little baby boy or girl.
Choosing the best toys and gifts for 2 month old girls and boys needs careful consideration and although most manufacturers do their due diligence, adding another layer of comparison, both with features and benefits of these toys can help give parents, giving a thorough insight into what toys are available on the market and reason to buy certain toys and avoid others.
Though new babies do not need a lot of play time every day, they are starting to become interested in the world around them. There are lots of toys and items that can help parents to engage with their infants and support them in developing all the new skills they are working on learning!We understand that the 2 month stage is a precious early stage of an infants development and their toys are more than just a play thing, but an essential way of encouraging infant babies' capacity through Touch and Feel Activities.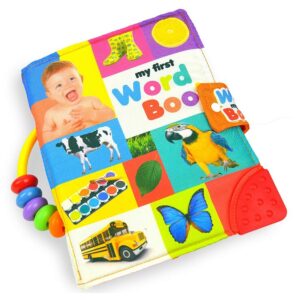 Considerations When Choosing 2 Month Old Baby Toys
Whether you are buying a toy for your own baby or a gift for a friend or family member's new addition, you will want to make the best purchase. By pausing to consider a few factors before you buy, you can be sure that your toy will be appropriate and well received. 
Safety: The most important consideration when buying a baby item is safety. Since 2 month olds are very small and unable to take care of themselves, it is essential that toys do not contain any hazardous materials, choking risks, or unsafe parts.
Material: Infants enjoy exploring a wide range of textures and materials to stimulate their curiosity and support development of motor skills. Choose a toy that has a lot of variety in terms of the materials used and it is sure to be a hit with young babies.
Price: You do not need to spend a lot to find good gifts for 2 month babies. Our guide will cover many gift ideas for small budgets so you are sure to find something that will fit the bill. But do not compromise quality for a low price, and always make sure that the toy is safe.
Age: Babies of this age are changing and developing very quickly. The good toys for babies aged 2 months old are not the same as those that will engage an older child. For this reason, look for toys and gifts that are designed for younger babies to ensure they get the most out of it.
Function: Even at such a young age, babies are developing new skills through play and exploration. So there are a lot of educational and developmental toys for a 2 month old baby as well as those designed just for fun. Spend some time thinking about the function of the toy or gift to narrow down the choice. 
Gender: This is less of a consideration since kids of any gender can, of course, play with any toy. However, if the baby's parents have a nursery or playroom theme in mind, look for a toy that fits in with that color scheme or aesthetic and it is sure to be gratefully received. 
1. Infant Ball Pit and Activity Gym
The Infantino 3 in 1 Grow With Me Activity Gym is one of our picks of the best toys for infants on the market. An activity gym and ball pit in one toy, it would make a great gift for your little one. Infants will adore lying on the animal themed play mat and watching the colorful hanging activity toys. The activity arch is designed in monochrome colors to help baby's eyes focus and stimulate visual development. This set contains four linkable sea pals that can be attached to the arches or played with separately. As your baby grows, connect the pop up mesh sides and add the balls to make playtime even more fun!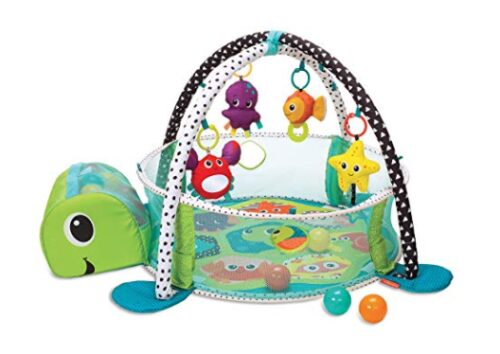 2. Cloth Baby Book Toy "Just like the Animals"
Babies love to feel and explore new textures so this cute cloth book would make a wonderful toy. It can be hard to find appropriate toys for a 2 month baby but this lovely book is sure to engage infants with its soft pages and bright pictures. The durable book is designed by experts to be as stimulating as possible for young babies and each page is packed with features for little ones to explore. Parents are sure to love sharing the activities in this cloth book with their infants, such as peek a boo flaps, mirrors, sounds, and touch and feel textures.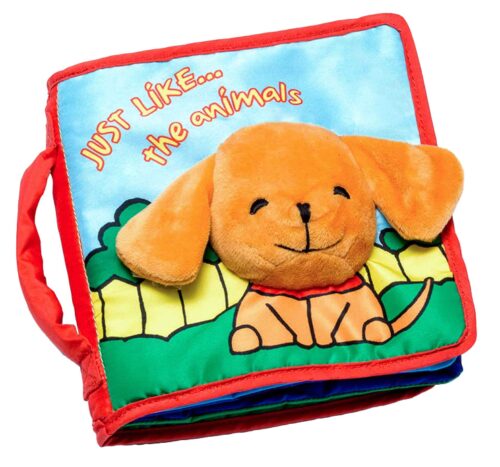 3. Baby Rattle Squeaker Toy
If you are looking for play toys for a 2 month old newborn, check out these rattle squeaker sticks from MerVeilleux. The adorable lion and elephant designs will appeal to young infants as they explore the textures and sounds of these rattle sticks. The rattles are made from super soft plush material designed to be soft for babies to hold. Babies will delight in the sounds they can make with these toys, including rustling the animals' fabric ears, pinching the tail to make a buzzing noise, and ringing the bells in the heads. These toys are designed to support baby's development, including visual and auditory skills and motor skills.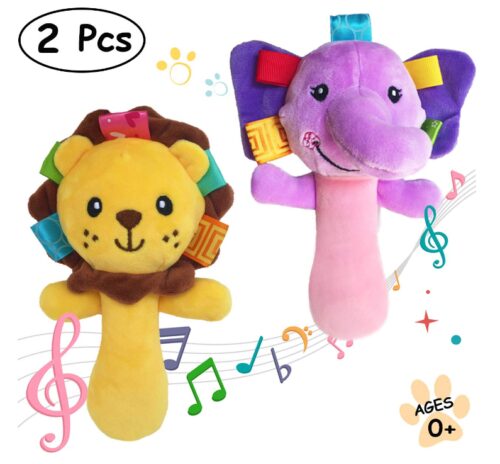 4. Manhattan Teether Toy
Manhattan Toy is a brand well known for making high quality and educational toys for babies and children. If you are looking for teething toys for 2 month olds, look no further than the Atom Rattle and Teether. This multi sensory toy has colorful globes and spokes for baby to explore. It is designed to encourage grasping and reaching, key motor skills for young babies to develop. The bright colors also help to stimulate and support babies' visual development. The Atom Rattle and Teether is the perfect size for little hands to twist and turn, and babies will love moving the rings around the spokes to make a rattling sound. The teether toy is BPA free and has passed strict safety standards, so parents can buy with confidence.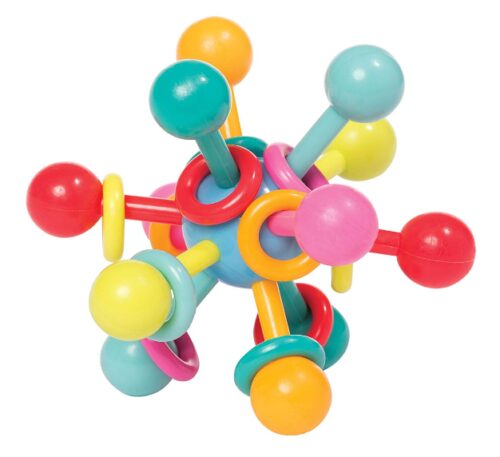 5. Soft Baby Blocks
Sometimes parents ask themselves what toys can a 2 month old play with, as babies of this age are so new and still waking up to the world around them! This set of soft rattle blocks from Beedool would be a great toy for young infants. Each block features brightly colored pictures of animals and letters, with a variety of textures for babies to explore. The four blocks also have additional elements to engage young babies, including a mirror, ribbon tags, hang ring, and teether. Gently shake the blocks to hear the rattle and watch as your baby begins to listen. The blocks are made from baby safe and environmentally friendly materials.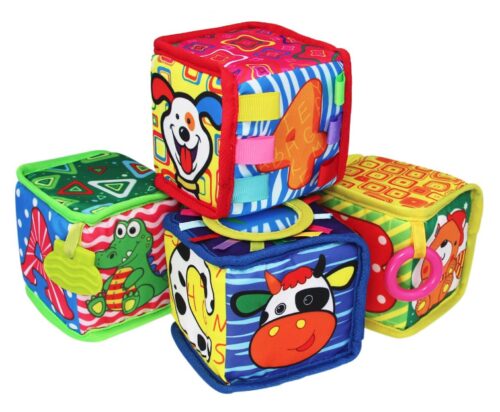 6. Cute Elephant Rattle Toy
The Elephant Rattle Toy from teytoy is one of the most adorable fun toys for babies aged 2 months old. It is designed to be lightweight for young babies to grasp easily and explore as they twist, turn, and shake. This fun elephant toy features a chunky O ring design to make it easy for babies to hold and move. There are plenty of sounds for babies to explore, including built in crinkle paper in the elephant's ears, squeezy BB equipment in the trunk, and a rattle in the head. The colors, textures, and sounds are sure to stimulate baby's senses and make playtime even more fun. The materials are non toxic and baby safe and the rattle is built to last.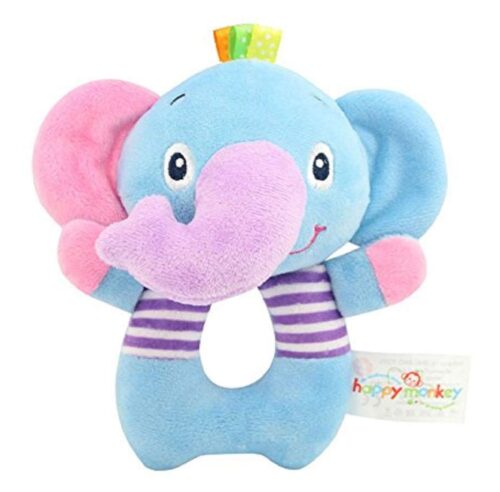 7. Plush Baby Toy by iPlay & iLearn
Babies love hearing new sounds and the more they hear, the more their brain and auditory systems develop! That is why these animal themed rattles make great play toys for babies turning 2 months old. The set of four soft rattles comes with its own house themed carrying case, making storage in your play room or nursery easy. Each rattle is designed in soft palette high contrast colors to stimulate baby's attention. With different shapes and activities, the set supports the development of motor, visual, and auditory skills. The rattles and carrying case are made from soft and eco friendly material that meets strict safety standards.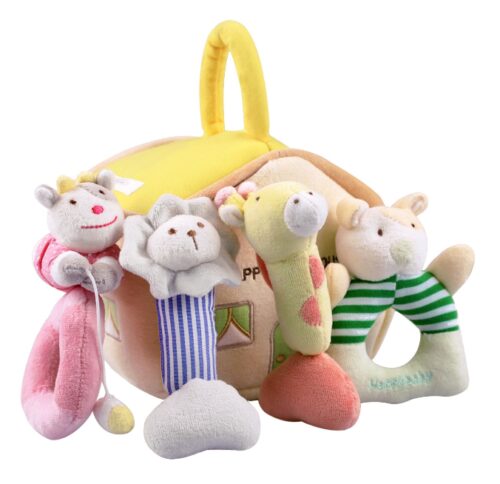 8. My First Word Book and Toy Activity
Looking for learning toys for your 2 month old? This fantastic cloth book from Mama Kiddie has been developed by educators to stimulate babies and introduce them to a collection of first words. Even young infants benefit greatly from being read to, long before they start speaking. The soft book is full of bright colors and engaging pictures of items in a variety of categories including mealtimes, food, toys, clothes, outside, bathtime, bedtime, feelings, animals, vehicle, and colors. There is so much for babies and parents to explore! The fun book is made from durable and soft polyester fabric that is non toxic and baby safe.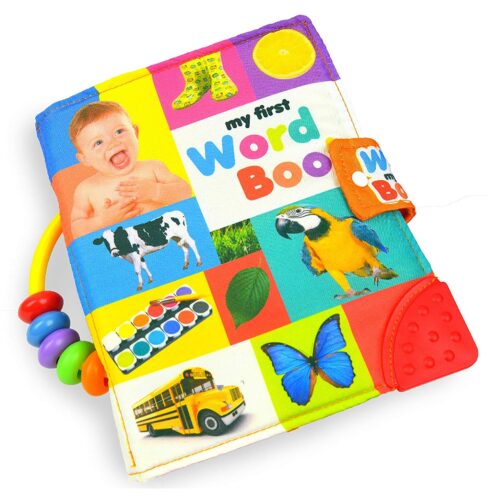 9. Toy Teething Mitten
One of the most popular types of toys for 2 month old babies is teethers. The Nibblit Baby Teething Mitten combines a fun toy with teething relief from its soft silicone surface. Place the mitten on your baby and they can mouth and chew the tips to ease their sore gums. The clever mitten is adjustable to fit most hand sizes and features a strong Velcro strap to keep it in place. It is suitable for both hands and can even be machine washed for easy care. Bright colored polka dots on the mitten fabric help to catch baby's attention and stimulate visual engagement. The mitten also contains crinkle fabric to further interest baby and keep them playing with this toy.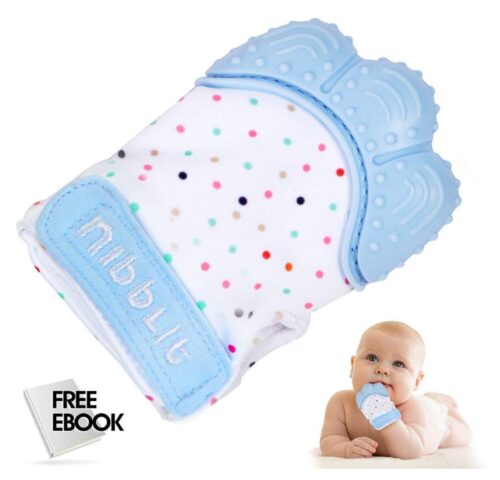 10. Manhattan Sensory Toy
Sensory toys are a great choice for young babies and the Winkel Rattle and Sensory Teether Toy from Manhattan Toys would make a wonderful gift. It features bright colors and an intriguing tube maze design that is sure to stimulate babies' curiosity. Even very young infants will enjoy holding, grasping, and reaching for this engaging and stimulating toy. The cube at the middle of the toy contains a rattle that makes a gentle sound while your baby plays. The Winkel is made from safe, teethable plastic that is BPA free and baby friendly so will not pose a risk to your precious baby.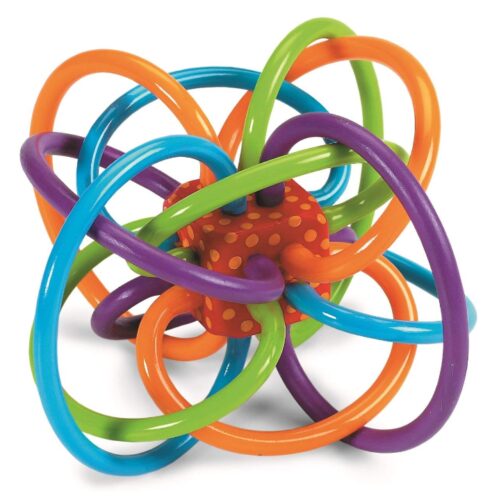 11. Baby Clutching Toy
If you are looking for developmental toys for infants, the Magica Wooden Baby Rattle from HABA is a classic toy. This lovely and bright rattle features wooden globes threaded onto strong elastic and is sure to delight babies as they explore the shapes. It is designed for babies who are learning to grab and grasp objects and will rattle when your baby moves it around. HABA toys are made with safety and responsibility at the forefront, manufactured with wood from sustainable forests in Germany. The vibrant shapes are durable and resistant thanks to the layers of water based solvent free lacquers carefully applied to each one. This hand crafted item would make a lovely gift for a young baby.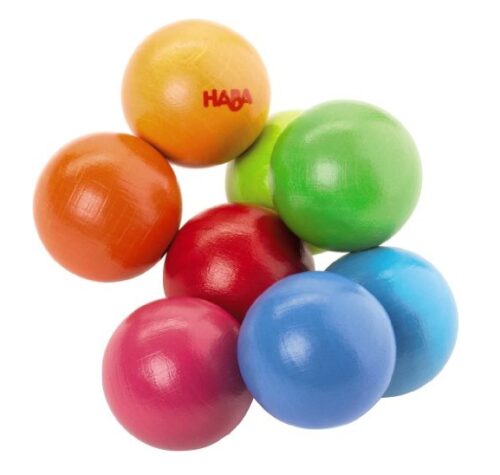 12. Lion Rattle Teether
Ring toys are great gifts for 2 month olds are a great choice because they are easy for babies to grasp, move, and hold. The Winkel Lion Rattle and Sensory Teether from Manhattan Toys is a simple yet effective toy for infants. It features a friendly lion's face at the center with a hidden rattle that will stimulate baby's hearing. The colorful BPA free plastic loops surrounding the lion are perfect for little hands and fingers to explore, and can also be used as teething rings to soothe sore gums. The Winkel can even be refrigerated to offer extra relief to teething babies. Babies will adore exploring this fun and simply rattle as they develop their motor skills.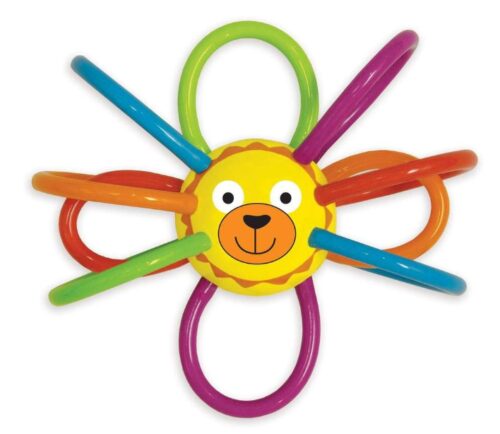 13. Stuffed Plush Toy
The Gund Tinkle Crinkle Caterpillar Rattle is a wonderfully bright toy that will instantly capture your baby's attention. At 16.5 inches long, it is the perfect size for little ones to snuggle with and will quickly become a firm favorite. Each individual segment of the caterpillar's body crinkles and rattles for fun sensory playtime with your baby. The bug's cute little eyes and nose are embroidered to ensure baby's safety, as there are no detachable or small pieces. The caterpillar's body is made from high quality plush so parents can buy with confidence knowing this toy is safe for their little ones.


14. Giraffe Toy by FOREAST
This Giraffe Toy by FOREAST has so much to engage your little one! The bright and colorful creature is designed to engage little babies, and will make a gentle rattle sound when moved. The long neck, legs, and body are made to be easy for little hands to explore and grab and can help your baby to build muscle strength. This toy features a teether shape for the tail, which can offer relief when babies are suffering from sore gums. It has a hanging plastic ring, so you can attach it to a car seat or stroller handle and keep it in reach of your little one when you are out and about.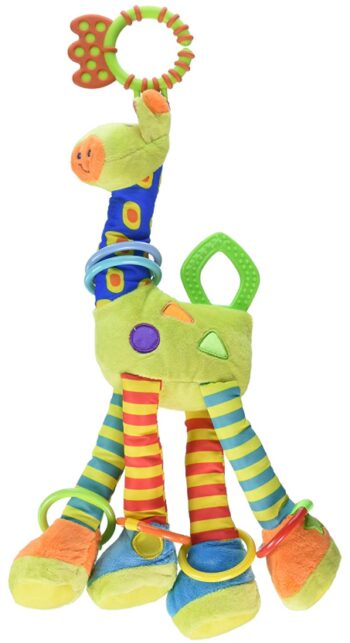 15. Baby Teether Banana Corn Cob Toy
How about a toy that is fun and functional too? Check out this cute Corn Cob Infant Toothbrush and Teether from Baby Banana! Even before babies cut their teeth, parents can introduce good oral habits with this sweet item. Its soft bristles at the tip of the corn are made from silicone and designed to gently massage babies' delicate gums. The large handles are easy for babies to hold and grip. Little ones can chew and mouth the bright 'kernels', which can offer relief when teething. The toothbrush and teether toy is made from 100% food grade silicone that is free from BPA, latex, and phthalates.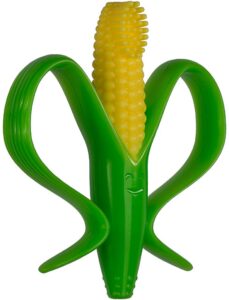 16. VTech Moosical Beads Baby Lil' Critters Toy
Playing music to your infant is a wonderful way to bond as well as stimulating their auditory and brain development. Easily add music into your baby's playtime with the L'il Critters Moosical Beads toy from VTech. Babies will love this cute soft plush cow, with lots of different textures for them to explore. This toy features over 30 songs, melodies, sounds, and phrases for your baby to enjoy. Simply press the light up buttons and watch your baby delight as they hear the variety of new sounds. The Moosical Beads toy is designed to be small enough to pop in a diaper bag so your little one can play on the go.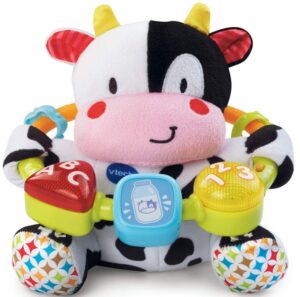 17. Baby Rattle Gift Set
This beautiful baby blanket and rattle set would make a wonderful baby shower or new baby gift. It comes with a chequered blanket in soft pastel colors, embroidered with a sweet message and embellishments. The blanket is designed to resist shedding or pilling so you can guarantee it will stay super soft for your baby. The set also includes a sweet cloth rattle with an easy to grab soft handle designed for little hands to hold. Its bright colors are sure to attract baby's attention as they shake and rattle the sweet toy. They will love exploring the soft ears which crinkle when touched.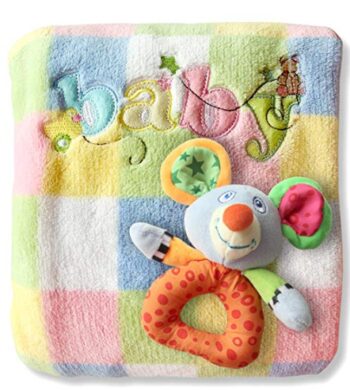 18. Activity Toy Arch
If you are looking for a great toy to take on the go, check out this OBall Flex n Go Activity Arch from Bright Starts. It is designed to attach to your baby's stroller or car seat and keep your little one engaged and entertained. Made from soft and flexible OBall material, it simply clips to the side of your car seat or stroller. The activity arch comes with three removable toys: an easy to grip OBall, a lion rattle, and an elephant with rattle. Babies will love gazing, reaching, and kicking at these fun and bright toys. There is even room for adding your own hanging toys as the arch comes with four additional linky loops.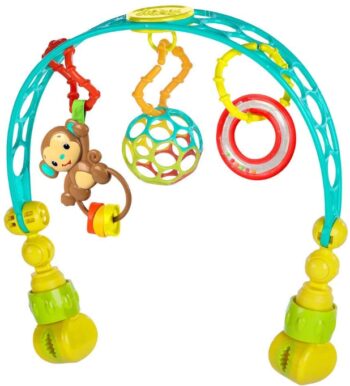 Best Overall Pick
We have presented a ton of ideas for 2 month old baby toys, showing that even for tiny babies there are lots of fun items for playtime! From this amazing list, our best overall pick is the 3 in 1 Grow With Me Activity Gym and Ball Pit from Infantino. It is a fantastic toy that will really last as your baby grows. For infants, it is a play mat and activity gym, with engaging toys hanging from the monochrome arches. Little babies will love reaching for the brightly colored toys and watching as they move. When your baby can sit up, the mesh sides can be attached to keep them safe while they interact with the hanging toys. Fill the pit with the plastic balls that are included for endless fun at playtime. As an added bonus, the balls can be neatly stored away in the turtle's head.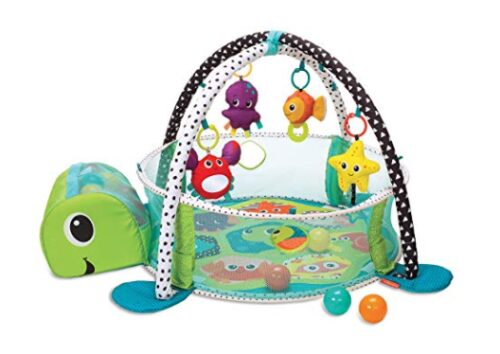 Best Budget Buy
There are occasions when we do not want to spend a lot of money on a gift for a baby. Therefore we will now present our best budget pick from our list of gift ideas for baby toys for 2 month olds. The Atom Rattle and Teether from Manhattan Toy is excellent value for money as well as being a wonderful toy or gift for infants. Young babies will love to explore this multi sensory toy, with its bright colors and interesting shapes. It is just the right size for little ones to hold and move around, and they are sure to enjoy the sound of the rattle as they play. Most importantly, it is baby safe, having passed strict safety standards, and the materials are BPA free.