A tote bag is meant to carry lots of stuff and therefore, it has a large size. In essence, tote bags can have varying sizes but the common thing is that there will be a pair of parallel handles on both sides of the bag.
At first, tote bags were made from fabric. However, now we can see a mix of varieties in them too. You can get the basic fabric bag or a stylish and fancy tote too.
So which one will you choose?
1. MKSCORP Glossy reusable grocery bag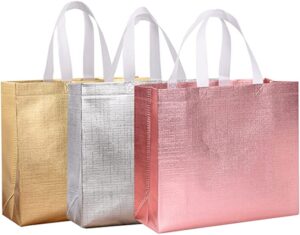 The first one on our list is a super stylish tote bag for everyday use. if you do not like the old-fashioned and boring styles, here is the glossy one. It looks like a gift bag with shiny, glossy finishing. So you can send a gift to someone. Moreover, there is a reinforced handle that gives strength to the bag. So it won't be a casual, fragile gift bag.
Furthermore, the material is reusable so the receiver can easily reuse this bag for different purposes. The most amazing thing about this bag is its glossy finishing. Although it looks like just a fancy thing, it is not. Yes, of course, it looks fancy and shiny but it is a waterproof layer. So you can carry even bottles in it. It is strong enough to bear the weight and leakages.
In addition to this, the bottom of the bag has cardboard that will maintain the shape of the bag. So use it as a shopping bag or send a gift to someone, it will allow you all. Thus, you will get something with great value. And above all, you will also get a guarantee. So if you do not like the bag, you can contact the customer care department and let them deal with it.
2. DIL cotton reusable tote bag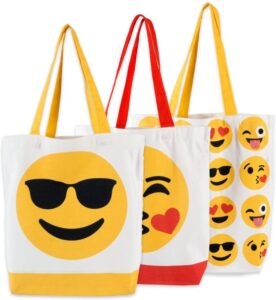 Here we have something really cool. This is a cotton tote bag that has exceptional strength. You can use it for grocery shopping or carry other stuff. The attractive thing about this bag is its appearance. It has emoji's on it. Thus, it looks quite attractive and stylish. So if you want to look cool while shopping, you will love this.
As it is 100 percent cotton material, it has got quite a quality. This tote can withstand a weight of 30 lbs. so whether you are buying things for repairing or getting school accessories, you can take it with you. Even if you do grocery shopping, you can keep anything in it. It won't only withstand the weight but is also washable. So even if you get it dirty, you can always wash it clean.
Apart from shopping, you can also use it for carrying lunch or as a school bag for kids. It has a fun and joyful look. Or you can use it while going out for a picnic. In addition to this, you can machine wash it but do it separately if the bag has mud or spillage on it. Do not mix your other clothes with them during the wash.
Read also: Beaded Clutch – DIY Bag Ideas
3. Burlap Market tote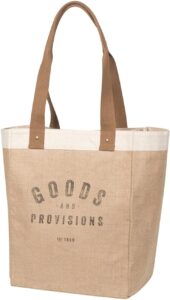 This is the most decent style that you can use to send a gift to someone. We all have friends who are extra cautious when it comes to the environment. So if you have any such friend, he or she wouldn't like a one-time use gift bag. Therefore, the best option for you is to go with a reusable one.
This bag has 55 percent jute and 45 percent cotton. Therefore, it looks quite stylish and also has great strength. There are thick web handles that can carry the weight of stuff easily. Therefore, it is not only good for sending gifts but also for shopping.
There is a laminated lining that will prevent discoloration on the outside. Moreover, the base is quite stiff so you can even carry heavy stuff in it. Moreover, there are inner pockets where you can keep your money while going shopping.
Buyer's guide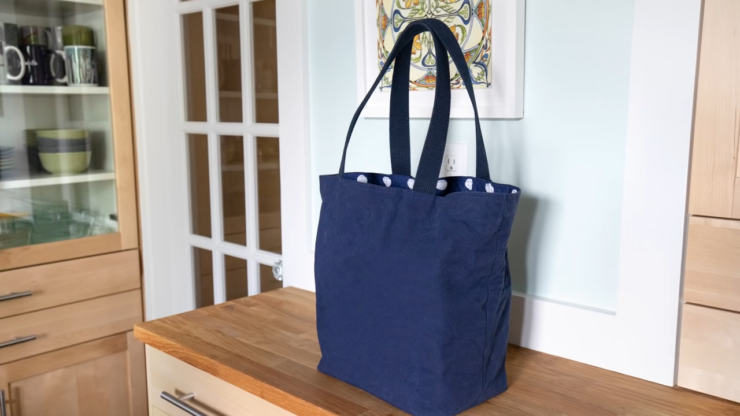 The size
Tote bags come in varying sizes. However, even the smallest one would be enough to carry a lot of things. Therefore, the size you choose completely depends on your purpose. If you want something for shopping, you will get the zipper style too. Unzip the bag to enlarge it. This would be for grocery shopping. Likewise, you can get a usual size for everyday use. You can take it to the market to shop for veggies and fruits.
Material
There is a variety of materials that you can find in tote bags. However, if you are looking for something that would last for a long time, cotton or canvas material is best. They are durable, strong, and can withstand more pressure. So you can use one of these bags for a really long time. Furthermore, they are much easier to clean. You can just throw them in the washing machine without thinking twice.
Ease of clean
If you plan to use the bag on a daily basis or for grocery shopping, you need something that is easy to clean. Although fancy bags look nice, they are problematic when it comes to their maintenance. However, if you get a cotton or canvas bag, it would be good for daily use.
Moreover, you can easily wash it whenever you want. The only thing that you need to be careful of is the color. Do not wash it with white clothes.
Eco-friendly
This is an important factor in today's time. We have already polluted our Earth with plastic bags. Therefore, now we should look for things that are eco-friendly. And because tote bags are made from fabric, they are eco-friendly. We can use them for a really long time and thus, there would be fewer shopping bags. Moreover, they will replace plastic bags and that would be a plus point for them too.
Check out some other picks from Amazon also: