When a girl is turning 16 years old it is a special occasion and worth celebrating. In this review we offer loads of different ideas of potential gifts to make the special day one to remember.
Considerations When Choosing Happy Sweet 16 Gifts
When you are choosing a bundle of sweet gifts for your daughter or niece or even a friend, it can be tricky to find exactly the right gift. You have to consider many things. Firstly their personal taste and preference play a big part in what sort of gift to buy them.
They might be a massive fan of Harry Potter, or be mad about science or ballet and you will want to make sure you buy them something that will really excite them, so a themed gift can really work. Other considerations are budget.
If you are parents buying sweet 16 gifts for daughters or sons then you might want to spend a larger amount on this special birthday. However, if you are a friend or another relative, you might have a smaller amount to spend and want to get an appropriate gift that won't break the bank.
The final aspect to think about is type of gift. You can get sentimental ones, funny ones that will make them laugh, precious ones such as jewelry or practical gifts that will provide some support or use to them. Whatever gift you decide to give them, it has to be perfect. Check out which are the best happy sweet 16 gift ideas!
Best Gift Ideas in 2023
1. Infinity Promise Ring

This gorgeous ring is one of those perfect sweet 16 gifts for girl. What could be nicer? It is made of sterling silver and has a beautiful infinity knot at the top to represent love for all eternity. This would make a lovely gift from a parent to a child or from a boyfriend to his girl.
The company that make this ring offer high quality carefully inspected jewelry so you can buy with confidence that this piece will be perfect for your lovely sixteen year old.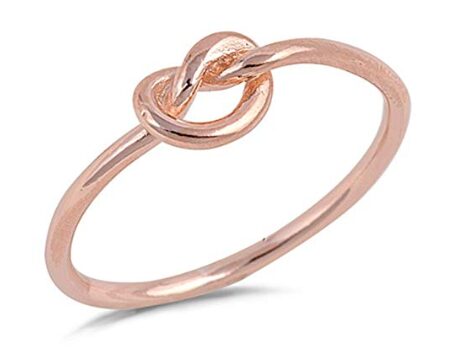 2. Sweet 16 Keep Calm Shirt

A great spin on the classic saying makes a great t-shirt for the birthday girl to wear on her special day. It comes in a range of 12 colors to suit all tastes and styles.
It is made of 100% preshrunk cotton so it is better to wash with cold water. It's a really useful gift because not only is it very practical and they will get a lot of wear out of it (and everyone will make a fuss of them!) but it is also a great talking point to wear on their birthday for all the celebrations. It comes in sizes small to triple x large.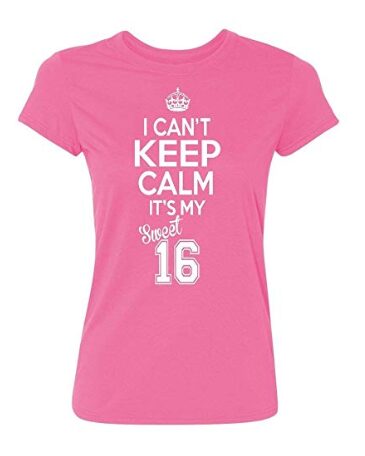 3. Encouragement Bracelet

There are many jewelry options for birthdays and this bangle is a perfect choice. It has a special quote that reads; "Your are braver than you believe. Stronger than you seem and smarter than you think" which speaks volumes of encouragement to the recipient.
The bracelet is made of stainless steel of excellent quality so it will never rust or develop corrosion. It suits size of wrist for six inches and it can be bent slightly to adjust. This is a really popular choice especially from an older sibling or a friend.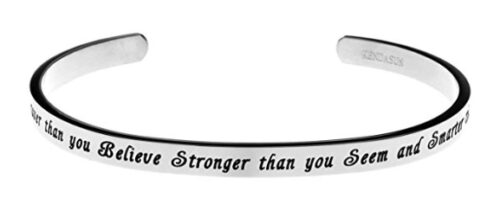 4. Teddy Night Light Projector

This is one of those really unique sweet sixteen gifts that people just love. It is a three dimensional night light that is crafted from a flat acrylic panel and is laser engraved which makes an amazing effect. Its definitely a more grown up type of night light so it would suit a teenager because it has a smart touch option and a remote control also.
The night light changes with seven different colors and you also have the option to set it to one main color too. It can be charged with a USB connector and it also helpfully takes batteries. The light that it emits is soft and warm and it won't harm or bother young people's eyes. The company offers a 180 day 100% refund if you're not happy with your purchase.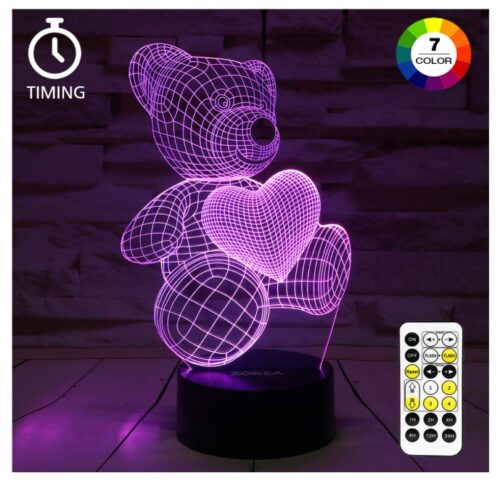 5. Sweet 16 Charm Bracelet

This gorgeous handmade charm bracelet is great for a sweet 16 gifts for niece or daughter, regardless of their taste. It will appeal to many girls, because of its trendy design and pretty motifs that are more grown up for a teenager who is increasingly aware of fashion and style.
The bracelet is made of stainless steel and is highly polished and eye-catching. The size can be adjusted and is 2.5 inches. The charms are made of environmentally friendly material and there is no nickle or lead in it, so anyone with an allergy can rest assured. The bangle comes in a beautiful gift pouch so it makes a truly lovely present.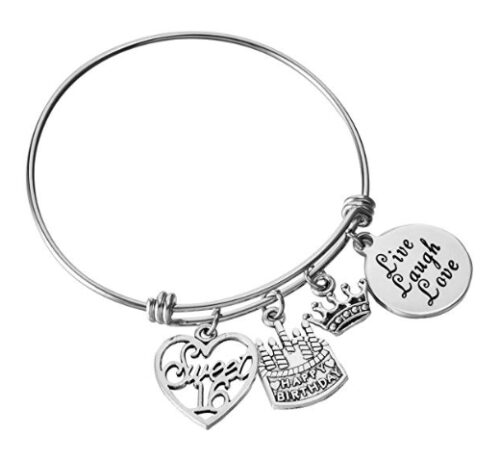 6. Mermaid Tail Crochet Blanket
One of the best gifts has to be anything to do with mermaids or unicorns. What is it with these trends? Well they are magical really, aren't they? This popular motif is used as a practical gift in the form of this amazing crochet blanket which not only looks great but can actually prove useful on cold winter nights at home, cuddling up in front of a movie or when they are feeling sick.
It is made with a hand knitted design and measures 180 x 90 centimetres so it can fit up to an older teenager quite easily. It opens easily at the back so that the wearer can smoothly slip in or out of it when they need to. It can even be used as a sleeping bag for slumber parties because it is made of the softest warmest wool to keep them warm.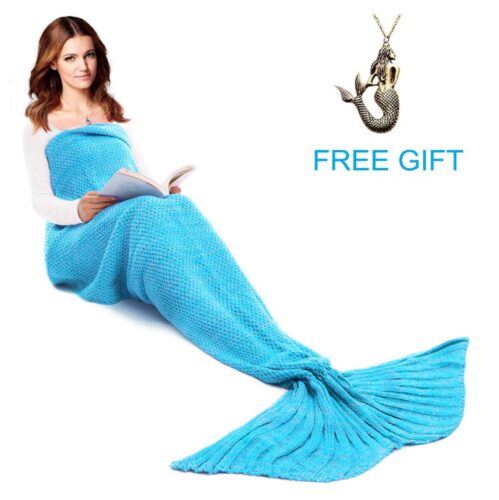 7. Leather Journal Gift Set

You can search online for hours about what good gifts are available for a sixteenth, but sometimes the more simple and traditional gifts are the most appreciated in the long run. This leather notebook measures seven by five inches and is 100% genuine material.
The leather is very soft so it is easily opened for writing and journal keeping, and we all know what a massive craze diary keeping is right now with teenagers. It comes with five properly bound sections of cream paper that is 100mg thick so it is amazing quality and will be durable for all sorts of projects. It has a pretty cord strap and can hold writing implements for you.
It comes with a 90 day warranty in case you're not happy with it and a full refund is offered so everyone is happy.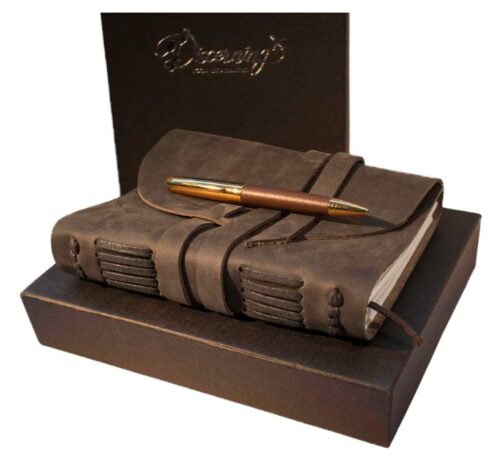 8. Infinity Collection 16th Birthday Bracelet

This delicate and pretty bracelet is a wonderful idea for one of those 16th best friend gifts. It is made from metal alloy and measures six inches around so it will fit most wrists quite easily.
The charms that adorn it are mostly heart shaped and have delicate and stylish motifs that are soon to catch the eye and help them feel stylish. One says 'sweet 16' and the other says 'love' as well as an encrusted bejeweled heart charm and a leaf charm.
The bangle is also adjustable so that feature will make it even more popular. It comes in a pretty velvet present pouch so it will have that luxurious feel before they even open it.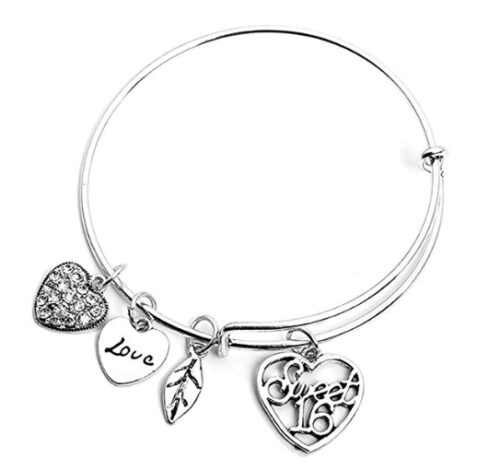 9. Made in 2003 T Shirt

This is another one of those useful gifts for friends on their sixteenth who like fashion. Available in a range of 11 gorgeous colors so there is a choice for all tastes, this 'Made in 2003' t-shirt is made of 100% cotton so it is comfortable and breathable for the skin.
There are seamless collars and hems so it won't unravel or fall apart easily like cheaper t-shirts do. Environmentally friendly ink is used to imprint the design onto the t-shirt so it is water soluble and sustainable.
It is then cured carefully with a clever heat process which makes sure that the color won't run or smear and will last and endure for many wears and washes. This is definitely a gift to keep and treasure as well as being practical.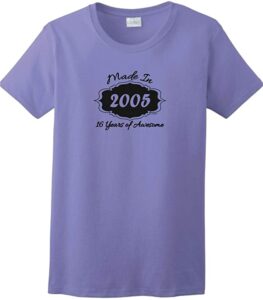 10. Birthday Charm Bracelet

Another charm bracelet but this one has a bolder design so depending on the taste of your birthday girl, this could also be a good choice. So many cute sweet sixteen gifts are the ones that last for years, and any proud and happy sixteen year old would enjoy wearing this well into their older teenage years, to remind them of your kindness and generosity.
It has many pretty motifs, such as stars, hearts, glass loops and other pretty and delicate beads that are shaped in plated silver. It comes in a gorgeous lined gift box trimmed with pink satin that makes it really girly and luxurious. The bracelet measures three inches.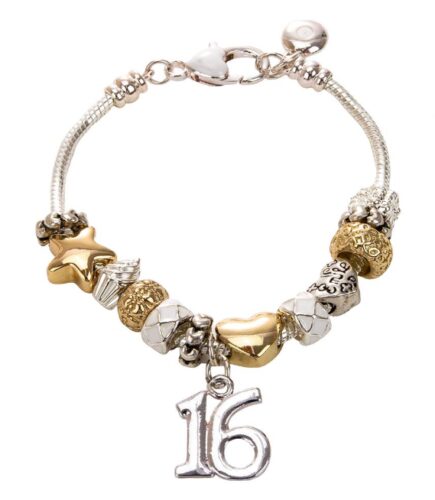 11. Awesome Since 2005 T Shirt

It's important to remember that boys also celebrate their sixteenth birthday also. This t-shirt is a great idea for a boy on his sixteenth birthday. As gifts for 16 year olds go, this is probably one you should think about as any boy would like this.
Boys can be difficult to choose presents for so clothes are always a good option. But it's even better to get them clothes that actually celebrate their big day, but do it in real style. It is made of 100% cotton and should be machine washed cold. It has a double needle fit sleeve and a bottom hem so it is well made and durable as well all know boys get lots of wear out of their t-shirts and they also needs lots of washing!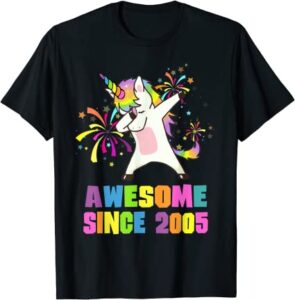 12. Lightning Reaction Reloaded Shock Game

This game is awesome and the teenager you buy it for will think so too. Gifts can be expensive but this one won't break the bank and will provide hours of fun. How does this game work? Each player takes a handle and watches the red light as it flashes to the music.
Once the light changes to green it is time to start pressing your trigger…if you do it last and too late then you get an electric shock!! It takes three triple A batteries which are easy to source and you can adjust the setting to low, medium or high velocity so that you can really play about with the fun in this game and up the stakes and excitement for everyone.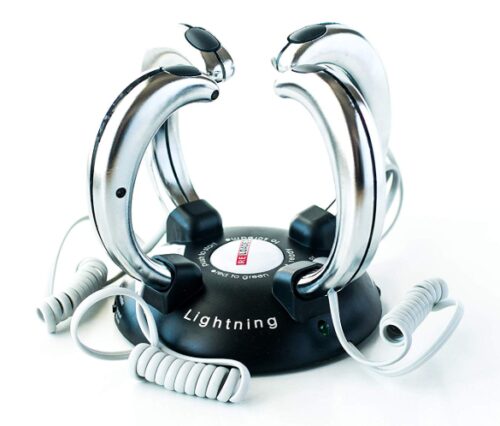 13. Lucky Feather Beaded Bracelet

Grandparents are often on the lookout for gifts for a granddaughter because they want to really mark such a special family occasion. This delicate beaded bracelet is a perfect choice for a sixteenth celebration because it is a piece of jewelry that will last them into adulthood.
It can be fully adjusted between seven and eight inches so it will fit most wrists quite easily. There is no nickel at all in this bracelet so it won't cause any irritation on the skin which means you know they will definitely be able to wear it comfortably and easily. The design is really elegant and sophisticated so they are bound to feel more stylish and grown up with this 14 carat beauty on their wrist.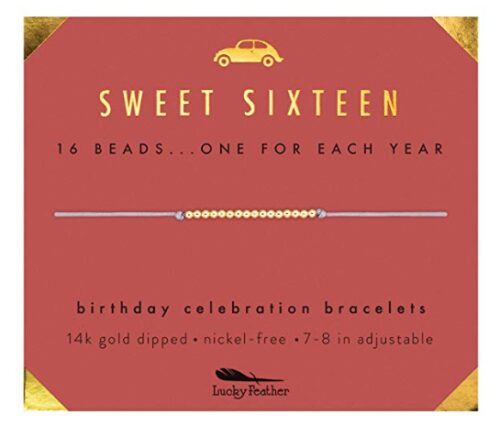 14. Teens Cook Book

Sometimes you might want to get them something quirky yet practical, maybe something like this teenager cook book would be a good one. Even if they are already into cooking or have learned in school, they might really benefit from this collection of simple yet tasty recipes to make themselves.
There are over 75 recipes so there is a lot of choice depending on their taste and they can have hours of tasty fun trying out lots of different dishes and cuisines. It is written by two experienced food authors so there is lots of know-how and tips and tricks for cooking well in the kitchen.
It is written in easy to follow language so teenagers feel comfortable and part of the process, rather than disconnected or patronised. A really practical yet fun gift that they will get lots out of.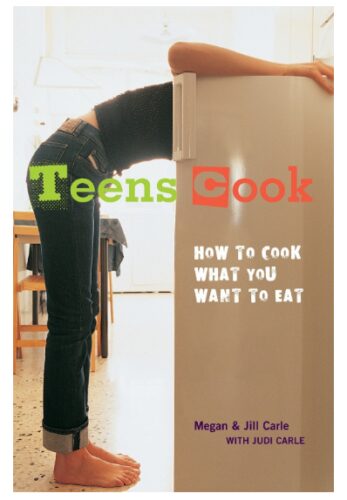 15. Leather Tree Bracelet Stack

Available in 23 different colors, this bracelet stack would suit a more alternative type of jewelry lover. It is one of those top sweet sixteen gifts that will be really popular with any girl on her big birthday. It is also connected to the Tree of Life design which offers really inspiration and empowerment to the wearer.
If you are buying for a teenager who is interested in alternative paths and spirituality, then this collection of bracelets is a perfect gift. The Tree of Life represents prosperity and abundance and brings good luck to the wearer so not only is it fashionable and stylish it is also a talisman of love and luck. It is made of leather and alloy so it is durable and strong. It offers a 100% money back guarantee if you're not satisfied.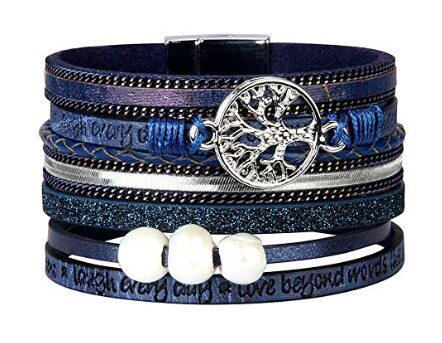 16. Lighted Mirror

A lighted vanity is an awesome gift for a girl. This one boasts LED bulbs that give off a natural glow so you can do your makeup in realistic lighting so that you can create a flawless look. As we know, young teenagers are getting more interested in the world of fashion and makeup so this gift is a really good gift.
It can be turned around to 180 degrees so that you can have a multitude of angles to look at and so that you get to use it at its best. The lighting is fully adjustable also, so you can have a brighter or dimmer light depending on your personal preferences.
The mirror can be powered with a USB cord or four AA batteries so you also have a choice about where you can put it in your room it isn't decided by where power outlets are. There is a guarantee with this and a full refund is offered where asked.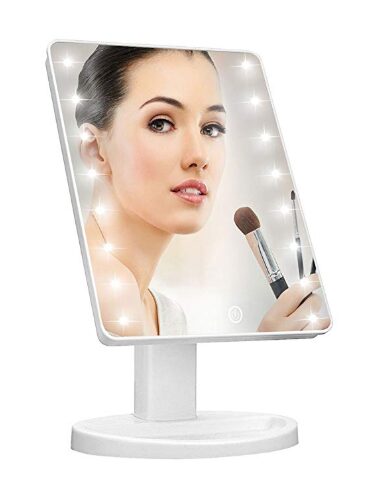 17. The Running Dream Novel
One of the more quirky gift ideas that's simple, is a traditional book to read. For all those teenage bookworms out there this novel is a great exploration into the journey of a young girl who overcomes adversity and endures a difficult period of life where she transforms, follows her ambitions and dreams and ultimately overcomes her difficulties and invites healing into her life.
'The Running Dream' follows the character of Jessica, who is told she will never be able to run again after a tragic accident. She learns quickly about her own inner strength and how to rely on her other skills and qualities after she meets a new friend who helps her learn more about her own inner power and resilience. A really inspiring read that will positively influence any young person in their life.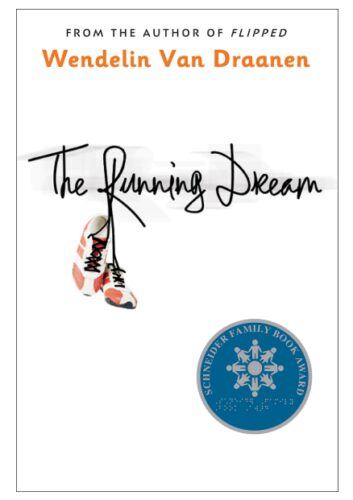 18. Butterfly Mini Drone

Sweet sixteen gifts girls will love are getting more and more technical and electronic by the day. If you are buying for a young person who likes the newest in technology and devices, this mini drone is a great choice.
This toy comes with a remote control that helps you tilt, lean and fly the drone wherever you please so there are hours of fun to be had out in the garden or park. This butterfly drone lights up and even does 360 degree flips and rolls when you move the remote with your hand so you really feel in control of this fun toy.
It is easily recharged and gives the user between five and seven minutes per charge and the batteries are completely rechargable.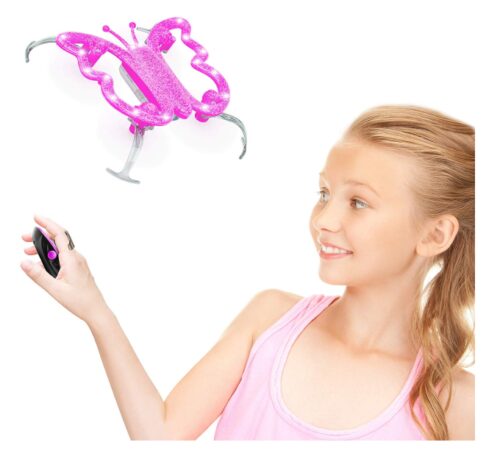 19. Inspirational Bracelet

Special gifts usually come in the form of a gorgeous piece of jewelry like this one. This charm bracelet is made of expandable wire and has a very pretty look to it as well as sporting a positive phrase that uplifts, inspires and empowers the wearer.
This would make a special gift from a friend or family member and it is plated in 18 carat gold that is completely genuine. You can opt to have the charms plated with a variance of gold, rose gold or white gold also, depending on your personal taste and preference.
The bangle is safe for sensitive skin because it is hypoallergenic so there will be no fear of rashes or irritation. If you're giving it as a gift it comes in pretty slide out box that has luxurious lining to make it look that extra bit more opulent.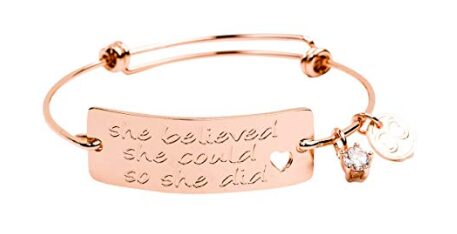 20. The Driving Book

If a dad is looking for ideas for the best 16th gifts for daughter because she is soon to hit the road with some new wheels, this amazing book is a great choice. This book covers literally any situation or scenario that a young new driver might come across in the new world of motoring.
It can be daunting and worrying for both driver and parent when they first begin to take their first steps into this new arena, so a book like this is not only reassuring but practical for them to use. It covers all sorts of lessons, such as how to change a tire or check oil as well as managing poor weather and many more challenging motoring moments.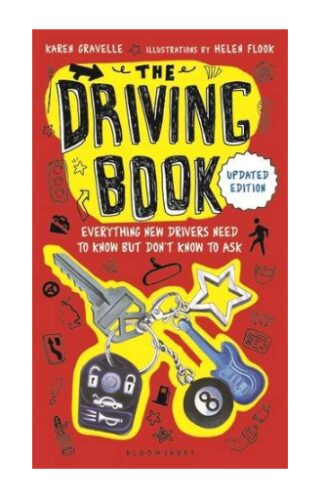 21. Canvas Laptop Backpack Set

Available in a wide and pretty range of fifteen different color and styles, this canvas backpack set is a great gift for a daughter from dad. It has lots of helpful compartments and sections to keep all your important items for school or your outings with friends.
It measures 11.6 x 15.9 x 4.7 inches so it holds a lot; your laptop, books, cellphone and anything else you need. It has a closure with double zip and also an exterior pocket to keep things to hand when needed more urgently. There are water bottle sections on each side and also has a matching smaller bag and pencil case that add to the prettiness of the design and offer lots more in the way of practical storage and travel items.
They would be great for a day trip, school or even vacation. The straps are fully adjustable and padded so this backpack would suit any one of any stature.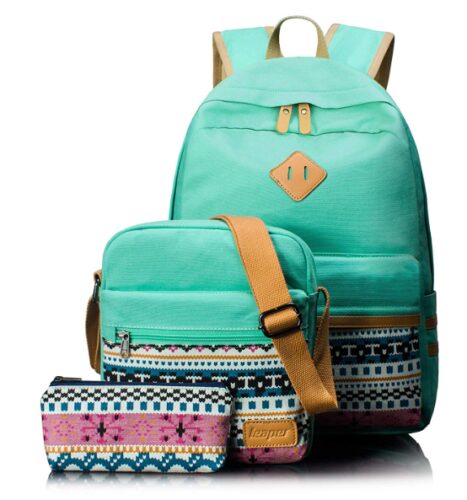 22. Inspirational Quote Dog Tag

If you're buying for a teen who prefers more alternative jewelry or accessories a personalised engraved dog tag is a good sentimental gift. This dog tag is inscribed with a positive message to inspire and empower the wearer and you can personalize it on the back for added detail and sentimentality.
You can add the person's name or a special date of importance (such as their birthday) or even a little message to inspire them. It is a good gift for any gender but particularly for boys. You can opt to have the tag in either zinc alloy or stainless steel.
They are made from such good material that they won't ever rust or warp or get damaged in any way. The message on the front says; 'Always remember you are braver than you believe, stronger than you seem, and smarter than you think and more loved than you know!' which is a great motto for anyone to live by.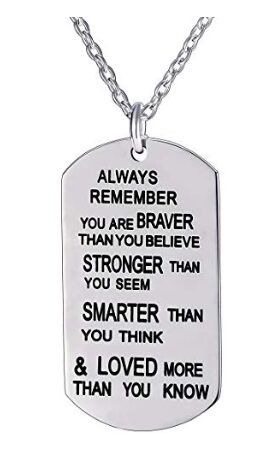 23. Butterfly Drawstring Backpack

Available in a wide variety of colors, styles and motifs and offers a range of choice for all tastes and preferences. It is a practical gift for anyone and would make one of those gifts for a girlfriend from her boyfriend. It actually has nineteen separate designs so you will be spoilt for choice.
It can be used for all sorts of things, if the birthday girl likes sports it can be taken with them to sports practice, swimming or the gym. If they are a backpacker and like hiking then it will be a helpful item to take along with all their belongings inside. It is even useful just to bring on a flight or long train or car journey to keep all your important items inside.
It is foldable and made of soft material but it is also durable and strong. It has a clever drawstring closure that means it is very easy to open and close quickly and seamlessly. There is also an internal pocket with a helpful zipper on the inside for things you want to keep separate.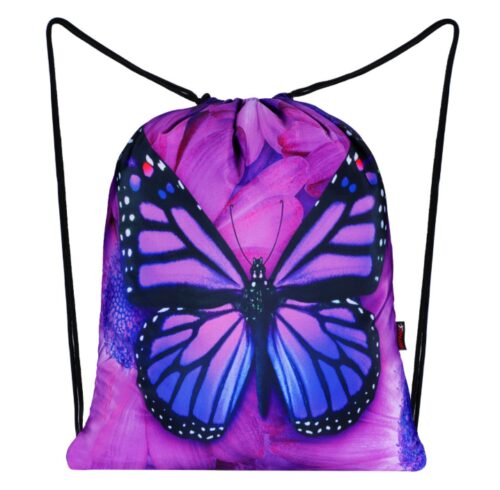 24. Keepsake Box

This beautiful keepsake box is a perfect present and is one of those girls 16th gifts that will serve them for many years in their bedroom. If they like to collect things, such as crystals, beads, small trinkets or toys then this will hold them all safely for them.
It has a lovely message written in beautiful writing on the front that says; 'Sweet Sixteen May Each and Every Year that Follows be as Special as You' which is a very loving and sentimental message to send to someone you love on such an important birthday. The artwork on the lid can be personalised with your own messages or photographs which adds that extra special element. IT measures 4.5 x 4.5 x.2.5 inches.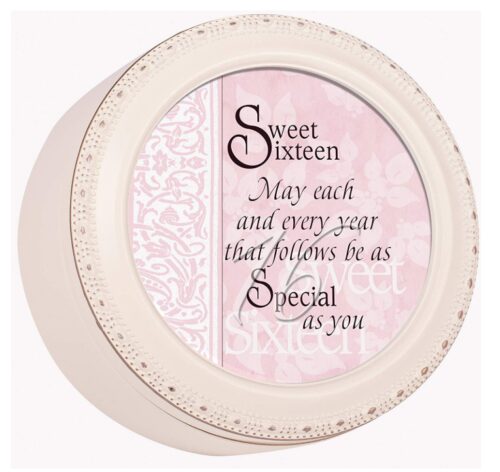 25. Musical Box

Getting a 16th gift for sister can be tricky because there can be almost too much choice. But sometimes it is a good idea to keep it simple and get them a keepsake that is memorable and also useful.
This musical box plays the song' 'You Light Up My Life' which is quite modern and attractive for teenagers and the cover can be personalized with messages from the sender as well as personal photographs also that are sure to bring a sentimental tear to their eye when they open it on their sixteenth birthday.
It is a good size for keeping all sorts of trinkets, memorabilia, photographs or jewelry in as it measures 8.5 x 6.5 x 3.0 inches around. A really lovely item for any sixteenth celebration.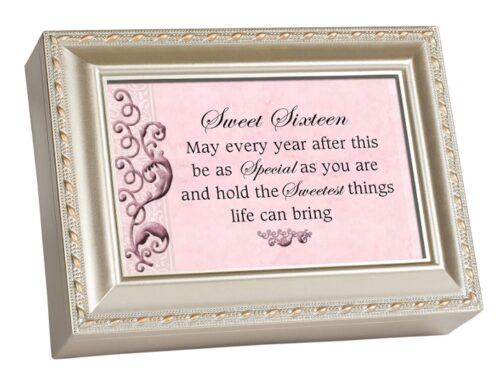 26. Cat Leather Wallet
Cat lovers pay attention! This cute little cat themed leather wallet is beyond perfect if you're looking something for the animal enthusiast in your life. It is made of 10% polyester and 90% PU so it is durable and flexible as well as being strong so it will last them for a long time.
The frame of the wallet is leather so it is excellent quality. It is adorned with three gorgeous cat characters that are bound to catch the eye of anyone who loves cats or has one as a pet.
It comes in five different colors also with similar cat themed motifs so there is a great amount of choice for all tastes. A really cute present that won't break the bank but will be very practical and useful for the recipient.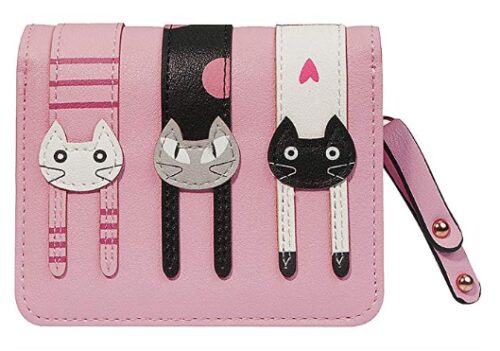 27. Laptop Backpack with Padlock
16th gift ideas are usually ones that are useful, attractive and long lasting. Nobody wants a gift that breaks fifteen minutes after it is opened or one that goes out of fashion. Sometimes even gifts can be too age appropriate and therefore the owner grows out of it too soon and doesn't get much use from it.
Not so with this wonderful laptop backpack. It has a useful padlock so it is perfectly safe on your back from any threat of theft and you can keep your valuables inside with a sense of safety and security. It is great for any gender and can hold a laptop or tablet computer as well as a few books or a pencil case for school or even for college when they get a bit older.
This laptop backpack will last them pretty much throughout their whole senior years of education and beyond. It has a USB charger within so they can easily charge their devices while they are stored inside the bag! It is made of strong nylon also so it is durable and completely waterproof. This gift is really excellent for anyone turning sixteen.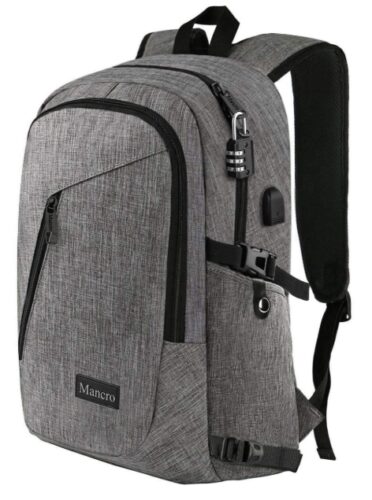 28. Floral Print Compact Mirror
Little trinkets like this make a thoughtful gifts. If you're stuck for ideas why not think a little differently? You could get the birthday girl a collection of helpful and pretty items to gather together as a gift so that they have lots of little items to open one by one.
This compact mirror is a great product to add to a collection because it is useful and gorgeous. It is small enough to fit into a purse and has a magnifying side for extra detail when you need it. Great for travelling, bringing to school or college or even on date or night out with friends, this little pocket compact mirror will probably last them a lifetime.
It has four layers of lacquered glass which are made of environmentally friendly materials and painted with oil paint. A really dainty, delicate and cute little gift.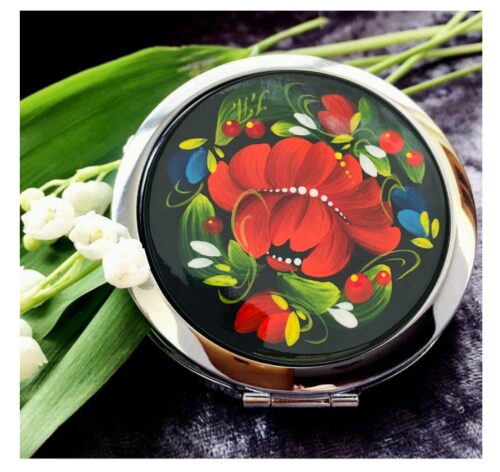 29. Baloray Striped Bag
Designed in an array of fourteen different motifs, colors, patterns and styles this cute lunch bag is great for bringing along no matter where you are going. You can pop your lunch inside and know that it will be kept cool, fresh and unspoilt until you are ready to eat it.
Use it for a picnic, lunch at work or school or even when you are old enough to go to college. It has a larger size to it than it looks, measuring 10 x 6.6 x 8.5 inches so it can easily fit several food items as well as a drinks bottle. It is cleverly made of aluminum foil which is BPA free so it is safe and totally non-toxic.
The outer layer is made of oxford cloth which is very strong and resilient so they will get years of use out of it. If your food it warm it will keep it so, and if it is cold it will also maintain the suitable temperature. One of those useful and clever gifts for a teenager.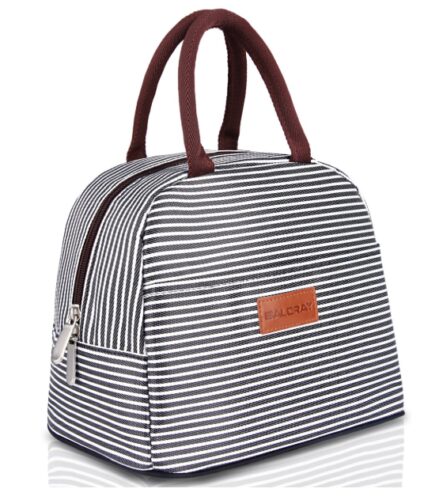 30. Spontuneous Board Game
A fantastic gift idea for either boy or girl on their big sixteenth celebration is this bestseller from amazon. It is a great way of kick starting the party and getting everyone laughing and having fun.
It is a musical game where a key word is provided and the players have to quickly think of a song that has the keyword within the lyrics. But of course, you have to sing the song at the top of your voice for extra fun and hilarity. The main aim of the game is to get the right answer before your opposition does so that you get the points.
It is a really good game to get generations playing together because there is bound to be a varied range of musical tastes and ideas from the youngest to the oldest, with laughs and screams as you play and compete to be the winner.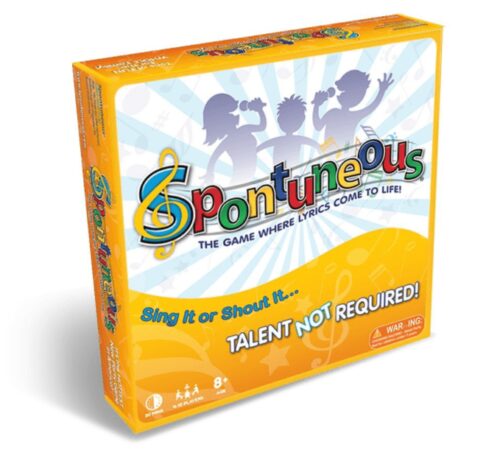 31. Leather Travel Journal

This beautiful blue leather travel journal really makes an impact as a thoughtful gift, and it doesn't break the bank. It is practical and stylish and is great for any teenager to write down and scribble their thoughts and ideas when they feel like it.
It is small enough to fit into a rucksack or handbag and can be used as a practical daily or monthly calendar planner or it has blank unlined pages for drawing or doodling also. It is made of genuine leather so it is durable and will withstand lots of use and will soon become an old favourite item and trusted friend to its owner.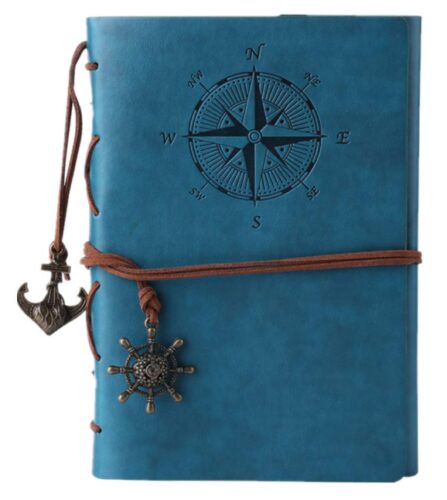 32. Fujifilm Camera with Accessories

There are hours of fun and creativity to be had with this amazing gift. Made by FUJIFILM this instant camera is not only stylish and funky but has an amazing amount of accessories that make it even more interesting and fun.
The photos you can take will make memories forever and they instantly print out the pictures at the press of a button, similar to the old polaroid camera from a bygone age. It has its own specially fitted case that fits the camera perfectly and there is a strap that can be detached when you need to do so.
The accessories include a photo album that measures  114 x 140 x 28mm so it an enjoyable size to keep your photo memories in. The kit also comes with 60 mini stickers and five brightly colored frames to display your pictures in pride of place. Believe it or not, there is even a selfie mirror!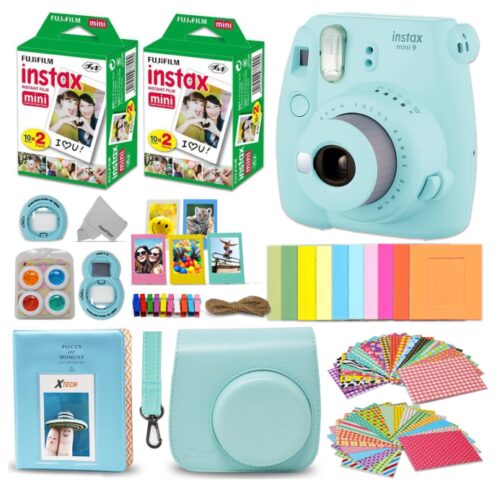 33. Holographic Scratch Notes

Cheap 16th gifts are great because you can buy several of them and present them together as something more substantial and meaningful. If you have a birthday girl who is interested in art, crafts or is a stationery lover then this set of magic doodler paper something to consider. It is a collection of little note cards that have a metallic sheen underneath that allow you to scratch a message or picture into them creating a colorful layer below.
They can have hours of fun writing notes and sending cute messages to friends and family with this seemingly magical scratch paper. The casing is shiny and holographic so it looks good sitting on a vanity or desk in their bedroom. The paper is great quality and is made of thick card like paper so it can be used and scratched on easily.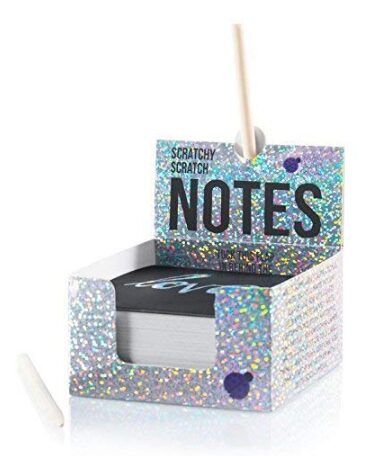 34. Kemy's Crossbody Bag

This bag is designed in seven different color choices so there is something for all tastes and styles. A useful little cross body bag, it is great for teenagers who are always out and about, going to friends houses, parties, practice or shopping and because it is cross body it is easy to carry and will go with almost any outfit they decide to wear.
It is a decent size and can even hold a six inch e-reader or mini tablet as well as a book for school, a wallet or cell phone. Teenagers are so keen to appear fashionable and cool and this bag really will make their style look grown up but fun at the same time.
Great for throwing over your shoulder at a concert, when going on the bus, train or plane or even just walking to the mall for some retail therapy.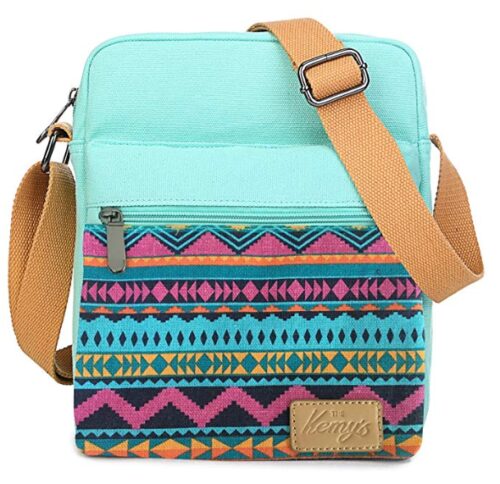 35. Custom Year Birthday Shirt

Made of 100% cotton this stylish t shirt comes in five different colors. Other versions have 50% cotton. It is a great gift for a girl or a boy and really does mark the special occasion with fun and lightheartedness. It is also really practical because teenagers are always looking for new clothes and fashion so this shirt covers a lot.
Because it is vintage style, it can be dressed up or down and it comes in a classic fit shape. There is a double hemmed sleeve and bottom sleeve also so it won't unravel or tear easily. The directions say to wash with cold wash to avoid any shrinking.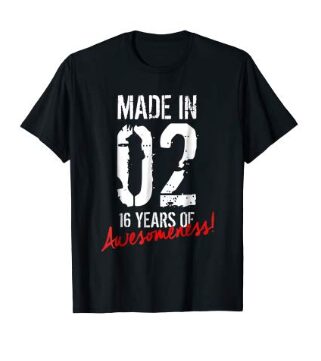 36. Personalized Flip Flops

This is beyond cute. Every teenage girl wants all the fancy accessories when they go to the swimming pool, to a pool party or on vacation and this pair of personalized flip flops will make them feel very elegant and grown up. It comes in white or black and can be embroidered with their name in a choice of twelve different colored threads.
This makes a gift that will last for a long time and they will always remember you when they use them. One of those fun, practical yet fashionable personalized 16th birthday gifts they will treasure forever.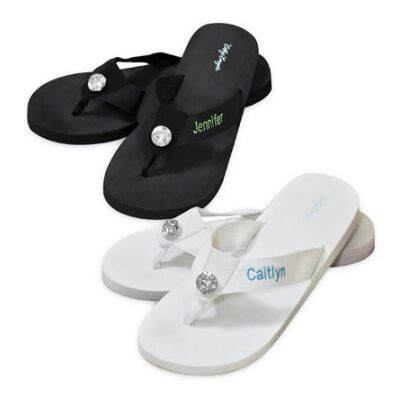 Best Overall Buy
Laptop Backpack
We had to pick this laptop backpack as the stand out buy because it suits either boy or girl and is amazingly practical and resourceful product. It is totally waterproof and is excellent for holding a laptop for studying in school, the library or at home.
It has clever sections to old iPad tablets, chargers or books, snacks or pencil cases so everything you need can be kept safe together. There is also a great slanted pocket at the front that holds anything you require to put your hand on in a hurry. It even has a USB charger built inside the bag so you can plug your cable to it and connect to charge things very easily.
It has a clever lock so it is theft proof when it is on your back. The nylon is sustainable and environmentally friendly too as well as having padded straps. This backpack really is a perfect sixteenth gift for any teenager.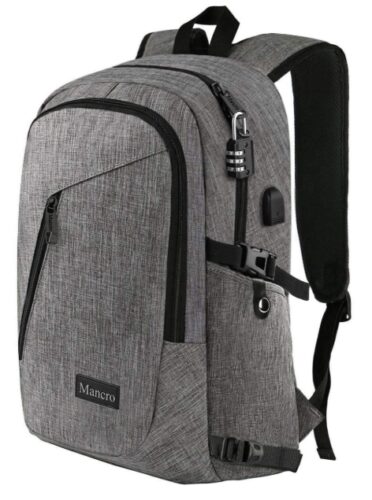 Best Budget Pick
Leather Writing Journal Notebook
We felt that this journal was a great budget pick because not only is it a thoughtful gift it was also practical. Your sixteen year old can enjoy recording their thoughts, feelings and ideas in this durable yet stylish notebook for months on end because it comes with lots of paper to record notes and scribbles.
The pages aren't lined so if a girl wants to doodle fashion designs or a boy wants to trace treasure maps then they have the freedom to do so. The journal is made of good quality PU leather and will withstand daily use easily. It is small enough to fit into a handbag, schoolbag or rucksack and is refillable with a range of inserts for years of use.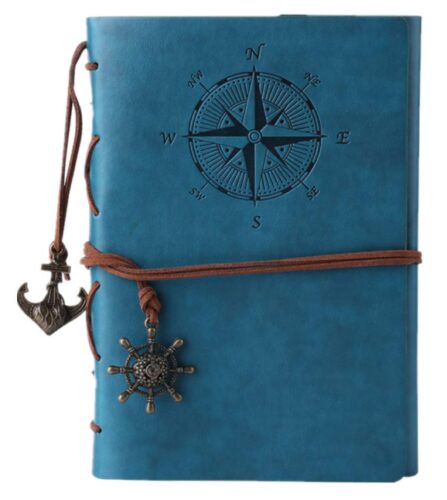 FAQ
What are Some Trendy Gifts for Sweet 16?
Gift ideas for teenagers need to be trendy, don't they? You can't buy something for a sixteen year old nowadays if they aren't going to find it 'cool' and fashionable. You've got to think like them in order to get the right sort of gift or try even to think about what you would like when you turned 16.
If you want your gift to be trendy, think about what the latest craze is in fashion, music or technology, and that will most definitely point you in the right direction. Some sweet sixteen jewelry always goes down well also as kids are increasingly interested in jewelry and fashion and always want to keep up with the latest trends.
Other trendy gifts include tickets to a musician or band that they like or even cinema tickets or a magazine subscription. Experience gifts are also really popular, such as horse riding, a theme part or car driving. There is so much choice.
Here are some awesome choices on Amazon:
How to Write Heartfelt Thank You for 16th Birthday Gifts?
There are several ways that you can write a really genuine thank you to the people in your family circle or friendship group. If they have been kind enough to give you something special, memorable or practical, then the least you can do is offer them a proper sense of gratitude. But how to do it?
You could simple give them a call or go and visit them or the more modern approach would be to write an email or a text. Whatever way you do it, its best to make sure you mention them by name and make a point of thanking them specifically for the present they bought you. It's a special way to make sure they know you appreciate their generosity if you mention the specific gift and why you like it.
Always make sure to tell them how much you appreciate their kindness and how you feel about them. Especially for older family members or special friends. Maybe even write them a thank you poem. Who knows, they might really love it.
What Gifts to Put in Gift Bags for a Sixteenth Celebration?
If you have lots of young teenagers coming to your home or venue for a fun party to celebrate a sixteenth birthday, then you will want to be able to send them home with something special to thank them for their generous gift and for simply attending to share your special day with you.
There are some amazing ideas out there for diy sweet 16th gifts and you can research lots of them online. One of the most popular types of gift bags are ones that are themed. There are of course countless themes that you can follow to make the gift bags special, you could follow the theme of the party – perhaps a particular color like rainbow or rose gold and you can continue this theme through to the items in the bags.
Other bags might be themed according to the party itself such as Harry Potter, Gymnastics, or Soccer, whatever the birthday girl or boy is interested in. You can use paper bags, jars, bottles filled with candy or even little cardboard boxes filled with special trinkets. You can even personalise them for extra special details that will make everyone gasp with delight.