Choosing a gift for someone can be a challenging responsibility. Luckily for you, potter-heads tend to love anything and everything from the wizarding world. They will appreciate whatever makes the Harry Potter universe feel a little bit more real.
This Harry Potter gift guide will help you choose the best gift for your Gift recipient.
If they like Harry Potter like we do, they will know it has this magical ability to grip the viewers and make them love the wizarding world.
The new Fantastic Beasts movies help younger children get invested into the harry potter world. So your average harry potter fans age will range pretty drastically, so we've ensured this guide contains gifts suitable for the kids and the adults.
17 Top Gifts Ideas
Here is the list of the best Harry Potter gifts for kids. Let's start!
1. Harry Potter and The Chamber of Secrets Hogwarts Whomping Willow
Based on The Chamber of Secrets movie, this set is perfect for the younger Harry Potter fan this LEGO set allows their imaginations to run wild.
Picture this, the magical flying ford is being flown around the living room avoiding the whomping willows spinning branches.
Your child will be recreating their favourite harry potter scenes from the film. This 753 piece set will provide hours of fun while refining core life skills in the process. It will take around a day roughly for an eight year old to build. An older child will manage just fine in a few hours.
The set includes 7 mini figures, these are:
Harry Potter
Ron Weasley
Hermione Granger
Seamus Finnigan
Argus Filch
Severus Snape
Hedwig the owl.
Included you'll find very easy to follow step by step instructions. They are broken down into bite size portions that make it easy for a child to follow. Once completed, not only does your child get a feeling of accomplishment but they now have a great set to play with.
If your child likes LEGO, check out this article for more Harry Potter LEGO gifts.
This set does attach onto the great hall set too!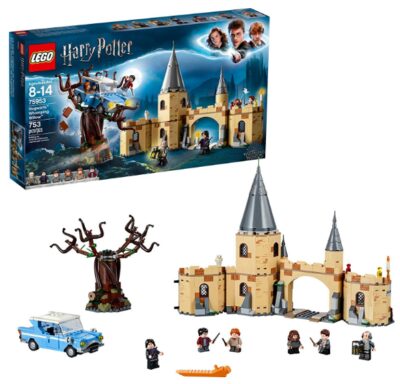 2.Harry Potter Wizard Set
This set allows your child to go head to head in the ultimate wizard battle. This 32 piece set gives you everything you need to play a great game of chess.
There are a lot of third party creators of similar sets but this one is officially authorised by Warner Bros.
Therefore the pieces are highly detailed and of a high quality. The size of these figures are great too, not too small, in fact your child might even end up using them as action figures too.
Putting Harry Potter aside for a second, there are a tonne of additional benefits to getting your children playing chess. Our brain is the most active part of our body when playing chess. This engagement actually increases and develops our brain functioning.
Playing chess actually increases your IQ. So if you want your child to shine, get them starting at a young age.
You'll find their problem solving skills improve too, chess forces them to think 2-3 steps ahead. This will help their spatial skills too, visualising objects move down the chess board. Picturing the position their going to move to.
And lastly, playing chess helps improve their memory. They've got to understand all the moves their opponents can make and consider them before they take action.
We highly recommend getting your child invested in something like chess and if Harry Potter is the best way to do that, get this set!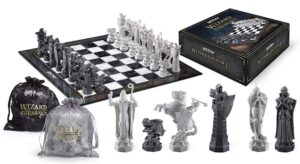 3. Harry Potter Card Game
This card game allows you to play as your favour Harry Potter character to defend the world from evil.
Work together to defend Hogwarts and defeat all the enemies. There are 7 games, each game gets more challenging and takes you through each of the movies. Don't let the dark arts get the better of you.
There are over 140 cards that you can use to enhance your abilities and get stronger.
The game is impressively designed just as you would like, there is no cheap materials or production errors. Nothing flimsy. Its filled with colour and great design.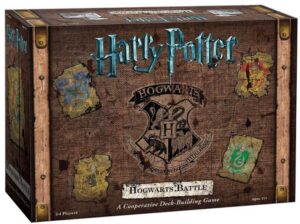 4. Official Gryffindor Child's Costume Robe
This officially licensed robe looks exactly like the movies. Your child will be thrilled!
It does lack pockets though, which would have been the perfect place for a wand.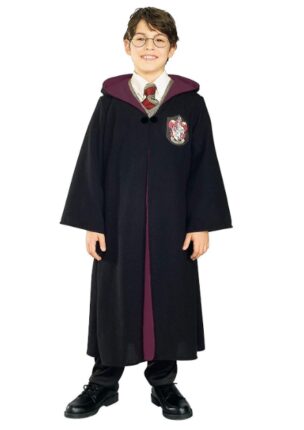 5. Harry Potter Bedding
This three piece twin sheet looks amazing, feels amazing and is vibrant and cozy.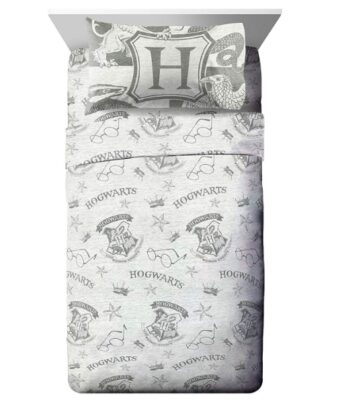 6. Harry Potter Wand
This wouldn't be a good Harry Potter gift guide if it didn't include a wand! This authentic looking wand will be amazing for youngsters who want to cast spells at imaginary death eaters.
This is an exact 1:1 scale reproduction authorised by Warner Brothers. So the quality is fantastic, it actually feels like wood. They have tried to replicate the texture as if the wand was forged by a tree.
You could impress your child even more by learning a couple of spells.
Riddikulus for example will transform a Boggart into something Bizarre!
Or Expecto Patronum to get rid of the scary Demontors.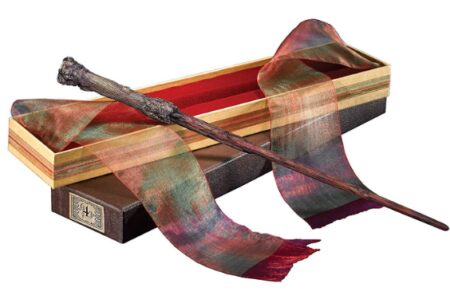 7. The Golden Snitch – Table Lamp
The Golden Snitch is a flying ball that is meant to be caught during a game of Quidditch.
This table lamp will light up the room, it is a great addition to a Harry Potter themed room.
The unique design makes the Golden Snitch appear like it's floating.
In terms of quality, it isn't the best but it does the job.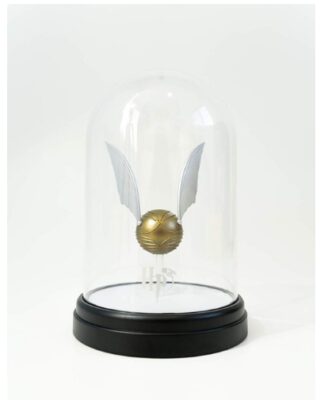 8. Hedwig Pet Owl Model
Hedwig was Harry Potters pet owl. Harry got Hedwig on his 11th birthday as a present from Hagrid. So it would be a fitting gift for an 11 year old. Wizards use owls to deliver mail in the wizarding world.
The owl is very detailed so you will not be disappointed. The paint job is lovely.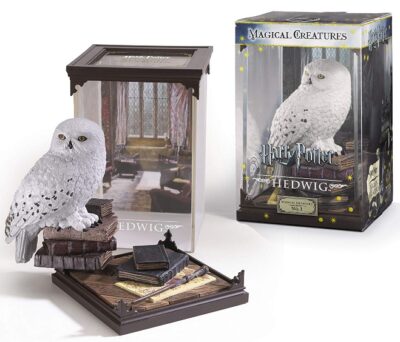 9. Harry Potter Hogwarts LEGO set
We love LEGO here at Star Walk Kids. If your child is an avid LEGO builder they will appreciate this 800 piece LEGO set.
It comes with:
Ron Weasley
Hermione Granger
Remus Lupin
The Trolley Witch
Harry Potter
A Dementor
And Scabbers
It provides tonnes of play potential. Children can recreate scenes from the Harry Potter Movies. The set is nicely detailed and even has Sirius Black wanted posters therefore its set around the time of the third movie.
For the station they have taken parts of King's Cross and some parts of platform 9 and 3/4 and made a sort of hybrid model. It works and the kids will still enjoy it.
You'll be glad to know that the train fits normal LEGO train tracks. If you are wanting a complete circuit, we advise getting a LEGO train set alongside this.
To conclude our review, we think this is a great set for boys and girls between the ages of 8 and 14. We can assure your child will be entertained for hours with this set.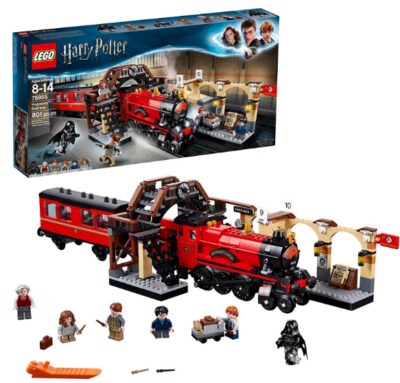 10. USAOPOLY Clue Harry Potter Board Game
This epic clue game is recommended for ages 9 and over. It features wheels which actually shift and contort the shape of the board creating secret passages!
This game allows your child to play as one of their favourite characters whilst investigating the disappearance of a particular student from Hogwarts school of witchcraft and wizardry!
Your child can choose to play as either Harry Potter, Ronald Weasley, Hermione Granger, Ginny Weasley, Luna Lovegood or Neville Longbottom.
This board game supports 3-5 players making it perfect for the whole family to participate in. The investigation theme of the game will keep your children entertained and thinking methodically – helping them develop their problem solving skills for later life.
Looking for an awesome, wizarding themed twist on the classic game clue? Then look no further. This game even includes features such as house points, moving staircases, dark mark cards and more unique features specific to Harry Potter!
You must figure out who made a student disappear, in what room and with what spell. Making it much more child friendly than a traditional game of Clue.
Overall, a great board game for teenagers.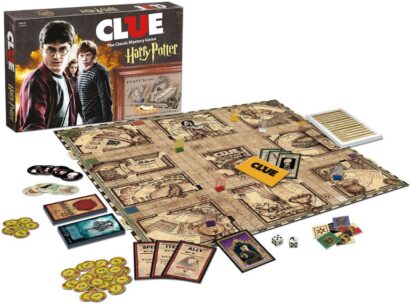 11.LEADO 32oz 1 Litre Motivational Water Bottle with Time Marker
This cute, harry potter themed water bottle features time markers to help the child keep track of how much water they're drinking. Perfect for kids who are very physically active and need to remain hydrated.
It also has a filter built in to allow you to infuse fruit or tea into the water for a delicious, less 'bland' taste. You can even put ice cubes in the filter to keep any water/juice tasting cold and fresh for longer.
The flip top cap helps prevent spillages when not in use and is convenient and easy to drink from.
It comes in a variety of colours, which can be personalised to fit your kids favourite colour.
It's lightweight and has a wrist strap to prevent damage to the filter when dropped. It's unique and ergonomic design mean it is much less awkward to drink from.
It can even come included in a gift box personalised to whoever it has been purchased for!
The designs are actually printed on to the bottle and aren't cheap stickers. Meaning they should last much longer and survive a fair few more washes.
Whether this is being used as a picnic companion or brought to athletic training to keep your child hydrated – you're sure to make great use of this water bottle and it's many awesome features.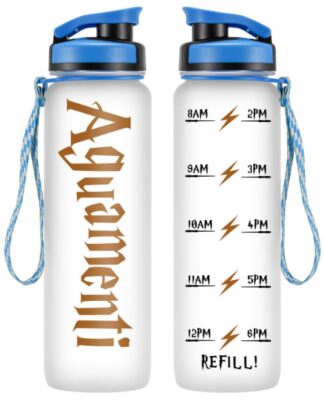 12. Harry Potter Hogwarts Alumni Knapsack Backpack
This unique, officially licensed Hogwarts backpack is bound to draw attention from fellow fans! This is bike whether you're looking to spice up your kids halloween costume or just get them a nice, convenient bag stylized after one of their favourite series.
Don't be fooled by the buckles, they're just decorative – it has a magnetic snap close. Meaning the decorative buckles will not deteriorate from use over time – keeping the bag looking pristine for even longer.
This backpack is also commonly used as a purse, due to its size and dimensions. Meaning it can double as a cheap replacement purse for any older Harry Potter superfans. You can personalise it too with Harry Potter badges and pins if you're looking to give it a more original feel.
It could also be used to store all your childs smaller Harry Potter themed toys in one convenient location, meaning they won't get lost and they're quickly identifiable.
The spacious interior is great for storing many things – books, notebooks, school supplies, water bottles or snacks. It's also made out of a sturdy polyester with a PU coating in place for waterproofing. Meaning it'll protect what you put in it if you get caught in the rain.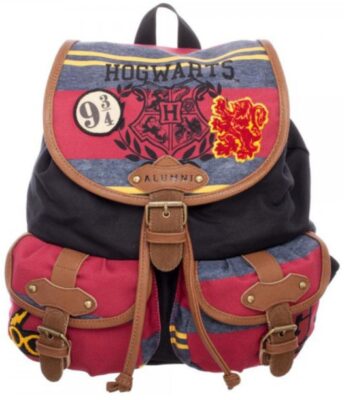 13. Harry Potter Lord Voldemort's Wand in Ollivander's Box
This officially licensed replica wand is absolutely perfect for the young Harry Potter superfan. This replica is built on a perfect 1:1 scale, meaning it's the exact same size as the wand used in the massively successful movie franchise.
Aside from being an incredibly accurate replica, it comes in a replica of the box provided to every harry potter character that purchases a wand from Ollivanders wand shop.
It's part of a larger collection of authentic movie replicas, whether your kid wants it as a decoration, a toy, or an accessory to a spooky Voldemort halloween outfit. They'll definitely be impressed by the realistic quality of the wand.
It has a decent weight behind it and as such should not break easily. It's also part of the much larger "noble collection" which recreates multiple different wands from the Harry Potter franchise. Does your child fancy themselves as a collector? Get them started today.
The presentation is truly over and above what is necessary as it comes with a little cushion in the box and some fabric gently draped over it. Giving it a very real, ethereal feel. It's certainly capable of wowing a child with even a modest interest in Harry Potter.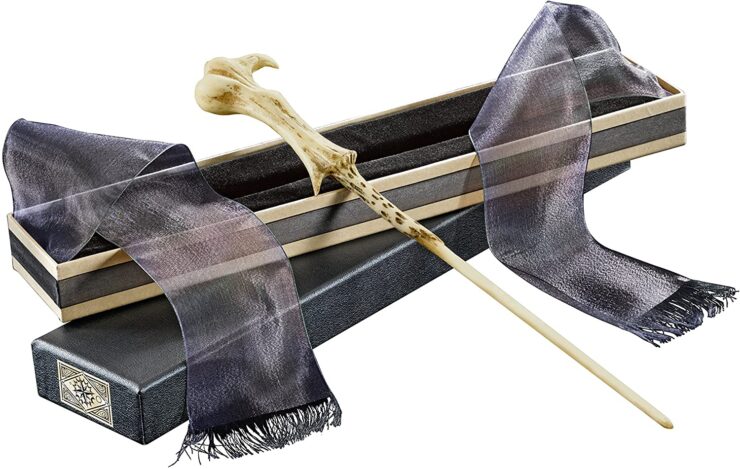 14. Harry Potter Top Trumps Match Board Game
This fun game features all of your child's favourite harry potter characters in one box! The way to win the game is by matching up 5 instances of the same character in a row. This can be done either horizontally or vertically. The game can even be simplified for younger players.
Help build your kids pattern recognition skills and quick thinking as they compete to match up their favourite characters.
It comes with an easy to carry case that locks up neatly allowing for no mess after games! The case feature means that this game is perfect for families on the move, travelling to or from a destination.
The sturdy design also means this will be difficult to damage during transit, making it even more ideal for travelling.
The simple but fair nature of the game means it's ideal for kids of all ages, and even adults too! Games can be finished very quickly but are just as exciting and wildly different on each now round.
This game can be played by fans of Harry Potter and non fans alike too, so if you have a little one who isn't as invested in Harry Potter then this may be the perfect game to get them to play alongside their siblings who do.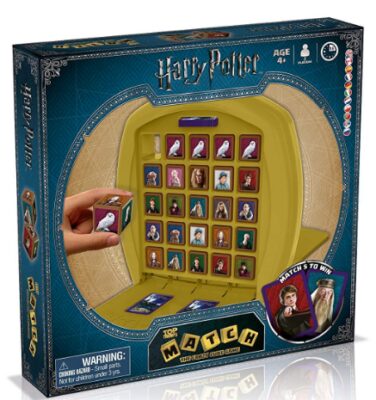 15.Hogwarts Astronomy Tower 3D Jigsaw Puzzle (875 pieces)
This set is a 3d jigsaw puzzle! It's eco-friendly as it's made from recycled cardboard, but despite this it's incredibly sturdy which is a relief for those worried about their kids effort collapsing in a heap.
This is sure to bring a great level of fun and enjoyment to your kids life. Not only is it fun, it's also educational. Puzzles, more specifically jigsaw puzzles are great for your child's development. Jigsaws puzzles actually exercise both the left and right side of the brain at once! Meaning the side responsible for creativity and the side responsible for performing logical tasks (such as arithmetic) are both being engaged at the same time.
Jigsaws puzzles actually improve your short term memory too, so if you're struggling to remember where you put your car keys this morning, engaging in a few of these activities with your child can actually benefit you too! No matter how simple the jigsaw.
This jigsaw is comprised of 875 pieces and has to be built on 3 dimensions rather than two. Meaning it's just challenging enough to keep everyone engaged but not so challenging you'll all want to throw in the towel.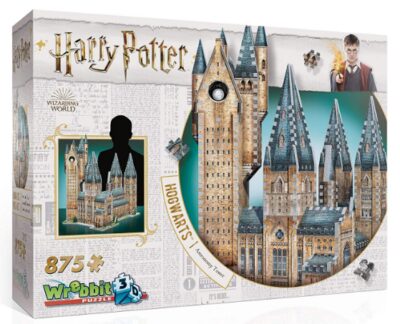 16. Harry Potter Paperback Box Set (Books 1-7)
This paperback box set is absolutely perfect for those interested in getting their child into reading. Experiencing the original book series in the way it was intended to be experienced is a truly unique gift for any child.
Many children begin reading with the Harry Potter series, and it's not uncommon for this to spark a lifelong passion for reading.
Have you been looking at getting your child into reading at a more adult level but have struggled to find something captivating enough to hold their attention? This classic book series will likely have them soaked up in the adventures of the magic trio.
Reading has a huge range of benefits for children, especially from a younger age. It allows children to practice their concentration skills, which will benefit them greatly as they progress through the various years of school. It also increases vocabulary and grants children greater speech skills. Reading even helps children develop empathy because it gets them used to imagining themselves in a situation they aren't actually in.
Apart from the benefits of reading, this beautiful paperback book set will help any shelf or bookcase look more complete. With its sleek design and large case. The font size is a reasonable size to accommodate for children who may struggle with smaller text.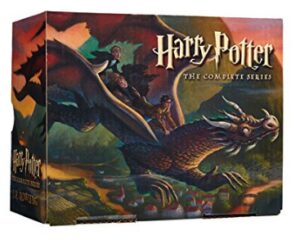 17. Dumbledores Wand – The Elder Wand
Dumbledore was the professor of Hogwarts. He was considered to be the greatest wizard of all time and is a fan favourite. This is an authentic replica of his wand, made of the same quality as the wands mentioned above.
Holding it will make you one of the most powerful wizards on earth! The material is a hard resin that looks like aged wood. This one is supposed been created by Death himself.
It is said to be the most powerful wand that has ever existed and is able to perform magic that would be typically impossible for even the most legendary wizards.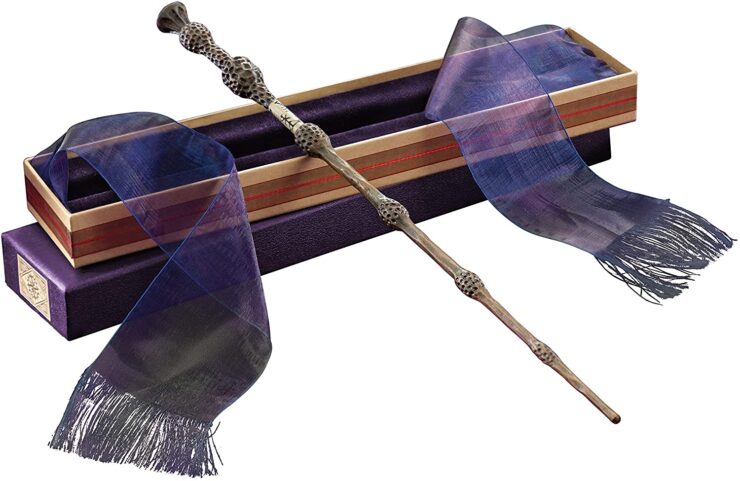 ,

What are the four main houses in Harry Potter
To choose the best gift, it would help if you knew the house or character your friend/family member likes best. Below you will find the four main houses and the notable characters from each house.
Gryffindor
Gryffindor is the house Harry Potter, Hermione Granger and Ron Weasley are in. Gryffindors mascot is a lion and the house colors are Scarlet and Gold.
Hufflepuff
The Hufflepuff mascot is a badger, and their colors are yellow and black
Ravenclaw
Ravenclaw is the house Luna Lovegood is in. Ravenclaws mascot is an eagle. This was the house Hermione Granger should of been placed in if the sorting hat didn't take her preference into account. The house colors are blue and brown/bronze/black depending on the medium.
Slytherin
Members of Slytherin are sneaky, resourceful and power-hungry. This house has produced the darkest witches and wizards, and the house seems proud of that. Notable members are Severus Snape, Bellatrix Lestrange, Lucius Malfoy and Draco Malfoy.
But the most notable member of them all has to be Lord Voldemort who was the villain of the entire series.
If your child loves a villain, the Lorde Voldemort wand would be perfect.
Overall this guide contains some of the best items to bring a bit of the wizarding world to your favorite Harry Potter fan. We highly recommend asking the odd Harry Potter question to point you in the right direction first though.
Here are some other awesome gift ideas for Harry Potter fans: