Chess is the ideal board game for all kids to learn how to play that is great for encouraging the development of their logical thinking skills and ideal for teaching kids the importance of planning. Kids will enjoy learning the rules for how each piece moves so they are ready to challenge family and friends to an exciting battle. In addition, parents will love that this brilliant game is screen free making it the perfect toy for ensuring that kids have fun while learning important skills in a stimulating learning environment.
Important lifelong skills can be developed through learning to play this exciting game that is enjoyed across the world by kids and adults alike. Everyone should learn to play chess as it is a brilliant game for socializing, enabling important friendships to be built. Do not worry if you are unsure of how to play chess yourself as there are many resources that answer the question, how to set up a chess for children?
As there are a great variety of chess boards for children to choose from you might find yourself asking where can I buy a chess set for my child and which one should I pick? This article will help you decide by taking you through the best 15 chess toys that are ideal for kids, so you find the perfect game.
Considerations Choosing Kids chess boards
Age
When choosing the ideal chess toy for your kid then you need to pick a game that is appropriate for their age. Often the minimum age is stated on the box of the set to help direct you to a game that is suitable. It is important that you buy a game that is aimed at your kids age, as a toddler chess set will simplify the game to a level suitable for a young child, whereas a classic chess game will be perfect for older kids looking for a stimulating game of chess.
Skill level
In addition to age you should also consider whether your kid has played chess before, as there are some amazing games for beginners that break down the rules of the game into fun mini games. While these unique chess mini games are perfect for the novice player an experienced player may not find them stimulating enough. For experienced players you might want to consider an electronic chess board for kids as this is perfect for times when they do not have anyone to play with, as they can play against the computer for continued chess fun.
Where will this game be played?
If the game is to be only played at home then most of the chess toys available will be suitable. However, if you want a game that can be played when travelling, then you want to look for a compact set that is lightweight and easy to carry with you. Some games have some great travelling features such as, a folding board and magnetic pieces, to give kids a great chess experience while on the move.
Top Chess Board for Kids
1. Star Wars Chess Game
If you are looking for a teen boy chess set with a modern feel then this Star Wars version of the classic game is the perfect option. It is a brilliant game for any Star Wars fans, as it has an appealing Star Wars theme that kids will love playing. Everyone who is familiar with the rules of chess will be able to get started with playing this wonderful game straight away but for any new players there are game instructions included, so they will quickly be able to join in. The highlight of this popular game is the 32 Star Wars chess pieces that are included in the set, with each piece being based on a popular character from The Force Awakens Movie. Every playing piece shows incredible detail that every Star Wars fan will be impressed with. During this exciting 2 player game you can either play as the light side which features the Rebel characters or the dark side as Imperial characters, adding an exciting spin onto this classic game. This amazing Star Wars game is a lovely gift idea that all older kids will enjoy playing.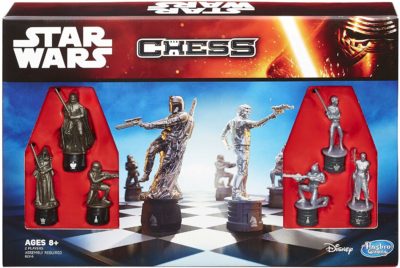 2. Wooden Folding Chess Toy
For kids who are looking to get started with playing chess then this Wooden Folding Chess Toy is a brilliant beginners game. With a large 15 inch weighted board that folds in half for easy transportation this handy game makes the best board for kids. For added appeal this game has been finished with a high quality feel that provides long lasting use. The board is inlaid with walnut wood and each handcrafted chess piece has a velvet pad on the bottom, to prevent the board from getting scratched which will keep the set looking as good as new. There are some great extra features included with this game such as, an e-book with the rules and play tactics so beginners can enjoy this great game and 2 extra queens that are ready for pawn promotion. This is a great quality game that both kids and adults will love.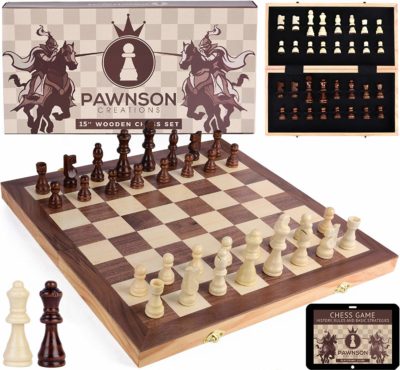 3. Batman Board
There are many different versions of Chess available to buy but few are as appealing to kids as this official Batman Chess Board Set. This wonderful game is suitable for all Batman fans as they will love playing with the famous Batman characters who make up the chess pieces and enjoy the Batman theme to the board with the recognizable black and purple color scheme. Kids can play as either the Dark Knight or the Joker with each fantastic character showing incredible detail, which will be instantly recognized by every movie fan. Players will love the Batman, Batgirl, Batmobile and The Joker pieces which add a fun element to this traditional game. This set is also the perfect size for kids to play with as there is large 18.5 inch board and each playing piece stands at 2 to 4 inches tall. For every boy and girl who loves the Batman movies this is one of the best chess games for kids that will be enjoyed over and over again.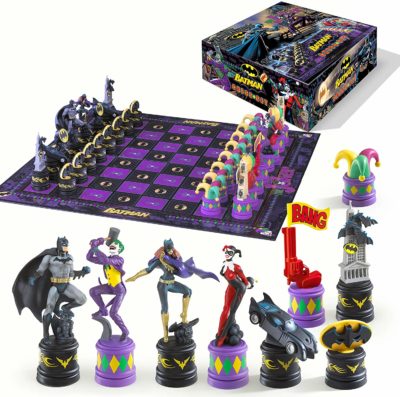 4. Chess Junior Game
All parents who are looking for the best beginner chess set for kids should consider this Chess Junior Game as the perfect starting option. Along with the classic chess game, this fantastic game set comes with full playing instructions for 12 mini games that will teach kids the rules of chess in short easy to understand steps. Each mini game takes between 5 to 20 minutes to complete so are the ideal length for young kids to join in with. This set has been designed with young kids in mind as each piece consists of a simple wooden chess cube with the well-recognized chess symbol on top, making the pieces ideal for helping kids learn the rules as they begin playing this wonderful game. All kids over the age of 5 years old will enjoy playing this game and learning all about how to play to chess, with the added benefits of developing their thinking and planning skills at the same time. This Chess Junior Game is also perfect for taking travelling as it is a lightweight set, making this the only chess game that kids need.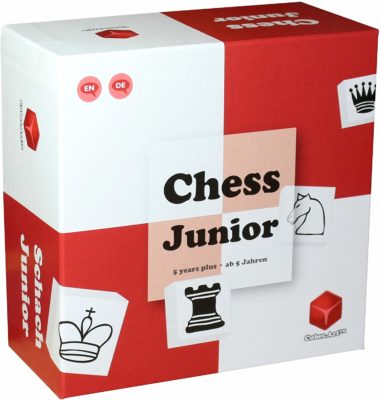 5. Amerous Magnetic Chess Travel Set
Board games make popular travel games that can be played to pass the time away, making this Amerous Magnetic Chess Travel Set the perfect travel companion. With a folding 15 inch board and lightweight finish, this lovely wooden set is great for playing anywhere. The magnetic board feature is also ideal for both kids games and for games on the move, as the pieces will stay in place on the board which prevents exciting games from being disturbed by moving pieces. For added appeal this lovely set has a popular classic feel with each of the wooden playing pieces being handcrafted and featuring appealing detail that both kids and adults will enjoy. The board has a smooth finish to give a more comfortable play experience and this particular chess version also includes 2 extra queens for more play options. This is the perfect game for introducing chess for kids that the whole family can join in with.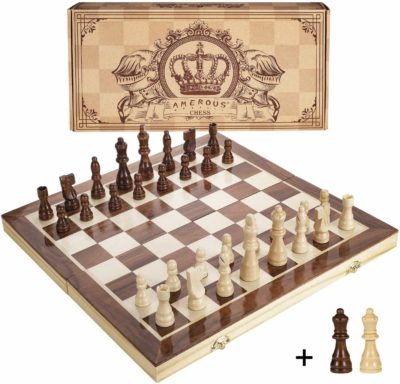 6. Harry Potter Wizard Chess
Kids who have always wanted to own their own Wizard Chess collection will love this official Harry Potter Wizard Chess version of the traditional game, which resembles the Wizard Chess characters that are seen in the movie, Harry Potter and the Sorcerer's Stone. This magical collection comes with 32 exciting pieces that each have wonderful detail that every Harry Potter fan will enjoy. This is the perfect set for kids who want to play chess as it includes a large 18.5 inch board and great sized 2 to 4 inch characters that are perfect for smaller hands to move. Once finished with there are 2 handy drawstring bags to store the playing pieces in to ensure that they are kept safe between each exciting game. Bring Harry Potter Wizard Chess to life with this high quality set that is best chess set for kids who enjoy the Harry Potter movies.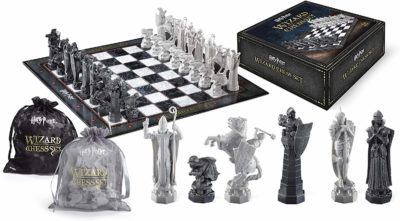 7. Lord Of The Rings Chess Game
This Lord of the Rings Chess Game is a chess collectors set with a difference that every fan of the books and movies will be eager to play. The game includes everyones favorite characters as chess pieces, with each one being made with lovely detail so they are instantly recognizable. Instead of the traditional white and black sides familiar with classic chess, this wonderful game has the forces of good against the forces of evil for extra excitement. With characters such as: Gandalf the Grey, Frodo and Galadriel on the side of the forces of good playing against Gollum, Saruman and Dark Lord Sauron on the side of the forces of evil, this is sure to be an exhilarating game of chess. The 18.5 inch Lord of the Rings themed board and the 2 to 4 inch characters make this set the perfect chess set for children over the age of 7 years old who enjoy Lord of the Rings.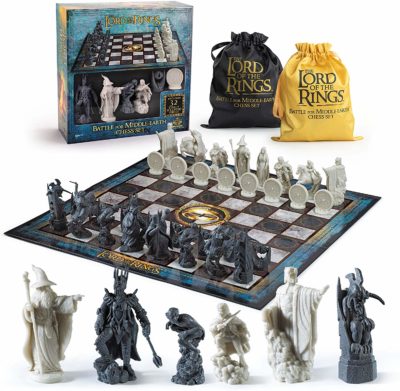 8. Yellow Mountain Magnetic Chess
It can be difficult for pick the ideal kids chess game for when travelling but you will not go wrong with this Yellow Mountain Magnetic Chess Board. This wonderful set is the perfect size for taking out and about as the board is 9.7 inches when ready to play but folds down to half the size for convenient storage. In addition, the board is magnetic so kids can play this game when traveling and be sure that their chess pieces will not go flying off the board mid game. Kids will love that the pieces have an attractive silver and gold finish that is unique to this set and provides a different feel to the traditional white and black pieces. All kids over the age of 6 years old will enjoy learning how to play the popular game of chess with this fantastic travel chess board.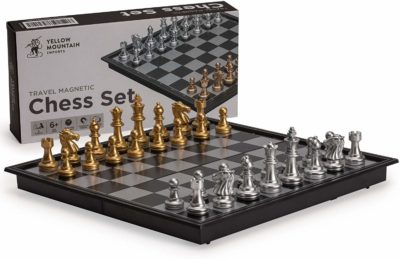 9. Chess Armory Set
This Chess Armory Set has a simple design that is perfect for both kids who are beginning to learn how to play chess and experienced players. The wooden set has a beautiful finish that will make it a popular choice with anyone who is looking for an ideal childrens chess set. Each chess piece has been handcrafted with a high quality finish with every piece having a felt bottom so that it does not damage the board during play. The board size is the perfect size for kids at 15 inches and it folds down for convenient storage. Each of the pieces can be securely stored inside the felted case so you can be sure that no pieces will be lost and the game can be enjoyed for years to come. This is a lovely classic chess board set that is ideal for kids to play, so is perfect for helping to reduce the time that your kids spend in front of a screen.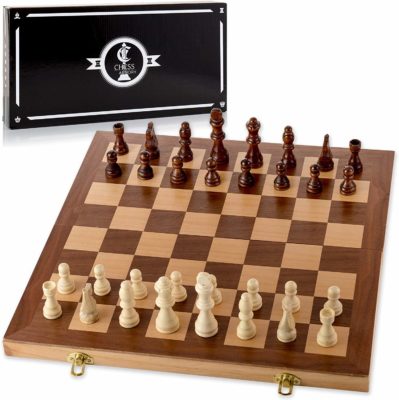 10. No Stress Chess
Chess can be a daunting game for new players the first time that they play it, so to help them in a fun stress free way you should consider getting them this No Stress Chess toy, which is the perfect kids beginner chess set. This version of chess comes with a double sided board, with the first side showing helpful hints and making use of the 56 action cards to help kids learn how to move their pieces. Once the rules are mastered then the other side is your classic chess board that is ready for exciting chess battles. This means that kids can have support while learning the rules of the game, while also being able to understand the game of chess from the first time they play it and then once they are confident with the rules they can flip over the board to play traditional chess. No Stress Chess is a fantastic way to start all young chess players off with this wonderful game that will have them enjoying chess for years to come.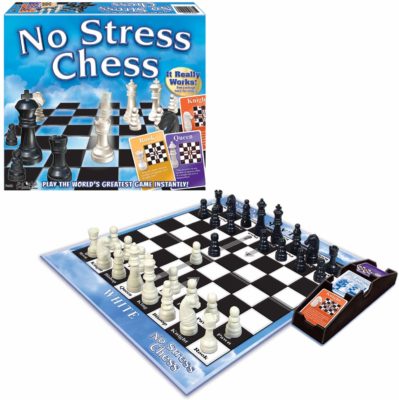 11. WE Games Tournament Chess
There are many different options for a suitable chess set for kids but if you want a set that can be played anywhere or is ideal for playing in school then this WE Games Tournament Chess Game is perfect. The board is 19.75 inches creating a large playing surface that is ideal for kids but as it also rolls up when not in use it is perfect for optimizing space. The Staunton style chess pieces weight approximately 1lb so are suitable for chess tournaments and with a felt bottom you can be sure that they will not damage the board. This brilliant set meets the requirements of both the World Chess Federation and US Chess Federation so is ideal for beginners and advanced players alike. With 2 additional queens provided this 34 piece set with full playing instructions makes the perfect long lasting game that every kid will love.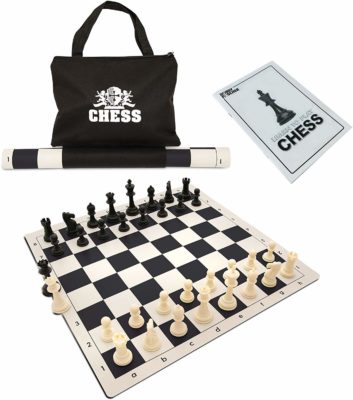 12. Super Mario Chess Collectors Edition
This Super Mario Chess Collectors Edition Game is both perfect for kids who love Super Mario but also makes a special set for all chess collectors. With brilliant hand painted Super Mario Characters this wonderful chess game is sure to appeal to all kids. Everyone will love playing as either Super Mario's green team or Bowser's red team with all of the favorite characters included in the game. For added fun there are even Coin pawns or Koopa Shell pawns that all kids will love. Kids will also enjoy the beautiful presentation tin that this game comes in that is ideal for collectors but also great for storing the game when not in use. This is best children theme chess set for all kids over the age of 7 years old that is certain to ignite their interest in board games and ensure that they enjoy the thrilling game of chess.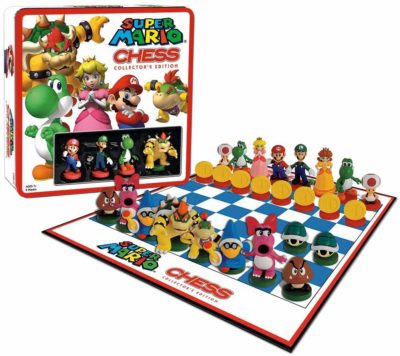 13. Lego Chess Building Set
When looking for a chess set children will adore then you will not go wrong with this fantastic Lego version. There is plenty of excitement to be had with this Lego set as kids need to build the chess Lego board and each of the pieces before getting started with the game. Once kids have achieved constructing this 1450 piece set they will get much enjoyment from this brilliant 2 in 1 game, as alongside playing chess they can also enjoy the exciting game of draughts. Once built, the pieces can be stored inside the board so the set is easy to store and does not require rebuilding after every game. Kids over the age of 9 years old will love the novelty that this great Lego set brings to the game of chess, while still being able to enjoy learning how to play this popular game.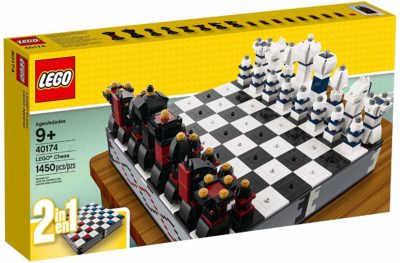 14. Shogi Japanese Chess Game
If you are looking for a great chess game with a twist then this Shogi Japenese Chess game is the perfect game for you. It does not matter if you have never played this version of chess before as full instructions are included making it easy to get started. Players will also love the beautiful wooden board and patterned pieces that comes with this set, as it is definitely one of the most beautiful and detailed games around. The playing pieces are based on kanji characters and are pained in a running hand script font, which all players will find appealing. For convenience there is even a handy drawer within the board to store the pieces when not in use.  This is the perfect board game for kids to play that requires strategy and thinking so is ideal for their development, while also providing great stimulating entertainment that will occupy all kids for hours.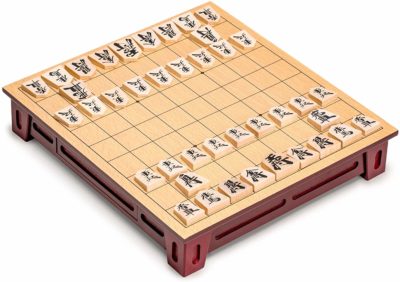 15. The Legend of Zelda Chess Game
All Legend of Zelda fans will love this fantastic chess board set that also makes a wonderful collectors item. This is the perfect gift for all fans even if they have never played chess before, as they will quickly pick up the rules of the game. All players will be impressed with each of the chess pieces as they are based on everyones favorite Legend of Zelda characters with each playing piece showing incredible detail that fans will appreciate. The hero side includes the Light King, Zelda and Impa while the dark side is lead by Ganondorf, in addition to other dark characters such as, Twinrova and Iron Knuckle.  Kids will love everything about this lovely game set as it even comes in an attractive presentation case with magnetic closure, which is ideal for the safe storage of your game.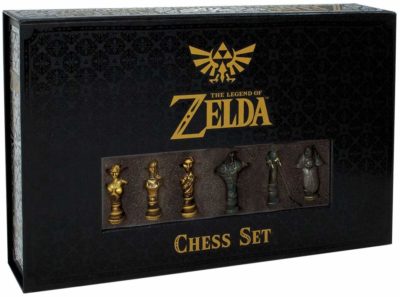 Best Overall Buy
The Lego Chess Building Set is our best overall buy as it is an exciting Lego build that all Lego fans will enjoy but once built kids can enjoy a traditional game of chess. This is the perfect chess Lego set that will encourage kids to discover the exciting game of chess. Even experienced chess players will find this Lego set appealing as it really does provide a unique game of chess with plenty of personality. This is fun and exciting Lego build is only suitable kids over the age of 9 years old, making it the perfect chess board game for all older kids.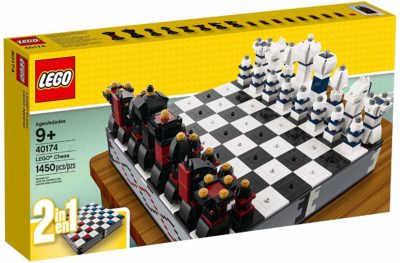 Best Budget Buy
Our best budget buy is this No Stress Chess game as it is the perfect game for beginner chess players. This game has been thoughtfully designed to help kids easily understand and learn the rules of chess with a fun simplified game. The double sided board that is included means that there 2 amazing games for kids to play. The first game provides playing hints with 52 action cards to use to help inexperienced players learn the rules of the game. This allows kids to build their confidence when playing chess before progressing onto the classic game. One the other side of the board you will find a standard chess board so kids can enjoy playing chess while following all of the normal rules. This great value game is the perfect way for kids to start enjoying chess.