With loads of toys and gifts out there, it can be difficult to choose something unique and original. So, that's why we love personalized gifts. You can find something completely different and one-of-a-kind and customize it with their name, to make a memorable gift they are sure to treasure forever. Here, you'll find 20 great picks ranging from special stories for parents and kids to enjoy together at bedtime, to wooden puzzles spelling out their name. There's sure to be something here your kid will love to receive on a special occasion.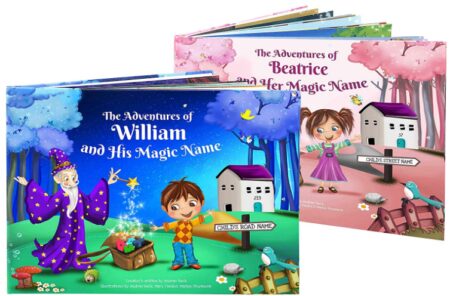 Considerations When Choosing Unique and Personalized Gifts
There are a few things which must be kept in mind when buying these gifts. First, think about the type of gift the child would like to receive. We've got some toy items for kids of all ages, toy boxes, luggage, and much more. Also think about the budget – to help you out with this we've picked our best budget option at the end, if you're not looking to spend too much.
If you are looking for UK based gift ideas then check out urbanfoxgifts.com, which offer a range of unique gift ideas for all the family.
Top Personalized Gifts For Kids
We've now got 20 of the best kids personalized toys and gifts reviewed for your convenience – you are sure to find just what you are looking for here!
1. Princess Rocking Chair
First on our list of personalized birthday gifts is this cute rocking chair with a princess castle design. It has space on the backrest for your child's name to be added so everyone will know who this throne belongs to! It's sized just right for kids aged 1 – 6 years old, so if you're looking for unique gifts for one year old, you can't go wrong with this adorable chair! The chair will give years of use, and girls will love the cute designs. It will look stunning in their bedroom.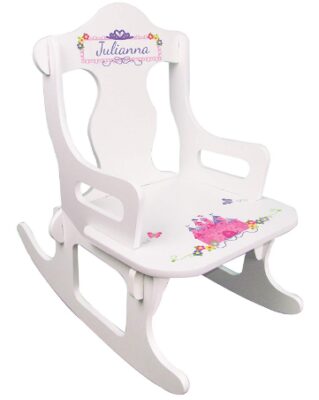 2. Personalized Rocket Blanket
If you are looking for personalized Christmas gifts for kids, a blanket is simply perfect! They will love to keep cozy under a lovely fleece blanket such as this when they're having a a movie night! The blanket is available in different sizes ranging from 30″ x 40″ to 60″ x 80″, so it is ideal for kids of all ages. Kids will love the soft and cozy fleece material, which makes the blanket perfect for using just about anywhere. The blanket can be personalized with the child's name on it or any other message of your choosing.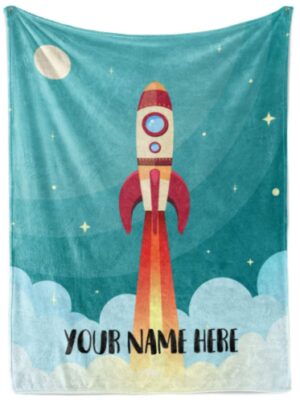 3. Magic Name Story Book
If you're looking for one of the most thoughtful custom gifts, you can't go wrong with personalized books for babies and toddlers. The book will be printed with your child's name on the front, and will feature the letters of their name in the images throughout. To make this an extra special gift, you can add a dedication or message on the first page of the book. It's also possible to have the book gift wrapped or in a box to make it really easy for gifting. This is a gift your child is sure to treasure for years as they get older.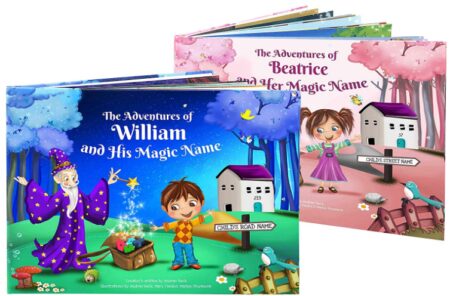 4. AJ's Collection Necklace
When it comes to personalized name gifts for kids, they don't come much better than this! It can be engraved with the names of up to four people, so it's perfect for your child to have the names of their BFFs! There are different lengths and styles of chain to choose from, so you can make sure it's just the right size. The necklace comes in a bag inside a gift box, so it's perfect for gifting to a special child.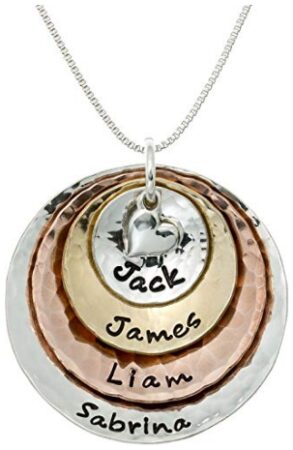 5. Personalized Unicorn Backpack
Are you looking for personalized graduation gifts for kids? This backpack is perfect for a new preschool graduate getting ready to start kindergarten. The adorable unicorn design is perfect for little girls, and you can add their name so everyone knows who the backpack belongs to. It's a nice size for younger kids, at around 12 x 13 x 4 inches. Your child will be so excited to go back to school with a new custom backpack!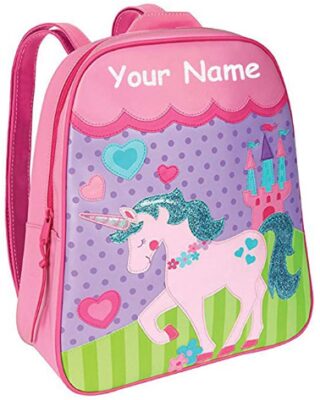 6. Wooden Name Puzzle
This puzzle is totally customized for your child, as it features the letters of their name! The name can feature up to 12 characters, so most names should be able to fit. It's made from solid wood, not MDF or plywood, so you can be sure it is built to last. The puzzle is great for toddlers who are learning to spell their own name, and is sure to help them do so quickly. Because the puzzle is made to order, any name can be chosen. So, it's perfect for those with unusual names which may not be found on other gifts!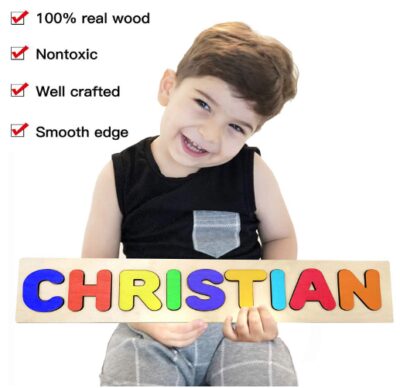 7. Personalized Toy Box
If your child already has loads of toys, this cute toy chest could be the perfect gift idea. It can be customized with your child's name, and there are loads of different designs to choose from. The box comes in white, dark brown or pink, and some of the designs include unicorns, fire trucks, princess castles or dinosaurs. The box is around 30″ x 18″ x 19″, and it has handles so it can be moved around easily. It's also just the right shape and size to put some cushions or pads on top to make a cool seating area! The name can be up to 12 letters long, and is printed on to the box – not stuck on using decals.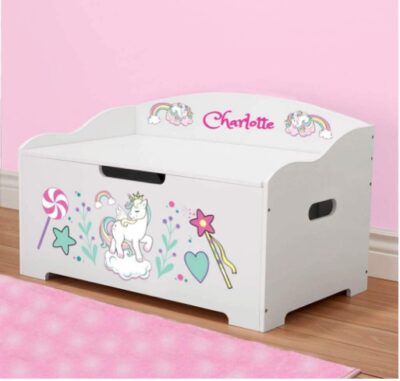 8. Custom License Plate
This replica license plate is perfect for putting on your child's bike, scooter or electric ride-on vehicle – everyone will know who it belongs to! You can choose any state and any name up to 25 characters. The plate measures 3″ x 6″, so it's the perfect size for attaching to your child's bicycle. The corners are rounded for safety, and there are two mounting holes already drilled into the plate. The text is printed fully in capital letters so it looks just like the real thing!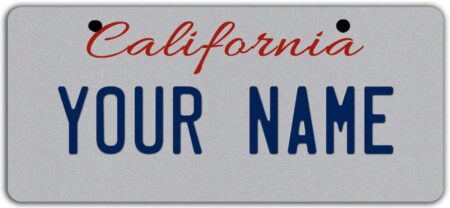 9. Personalized Guitar
If you're looking for epic, fun personalized gifts for kids, this cute guitar is just what you need! It measures 21 inches long and has six strings which can really be played. It can be fully customized with a choice of either a pink or blue guitar, three different font selections and up to two lines of personalized text. This is a great gift because it's loads of fun and is sure to be used all the time. It's a good size for young children, so it's perfect for beginners to learn their first few chords and tunes.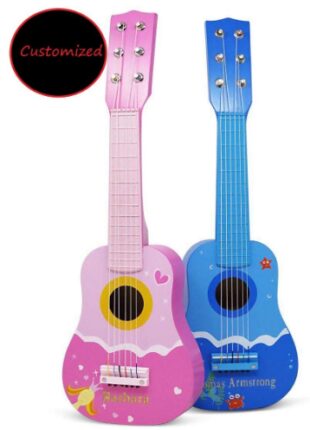 10. Embroidered Cape and Mask
This is an awesome gift for little superheroes! If they enjoy dressing up as their favorite characters, they are sure to be thrilled with this customized cape and mask set. The cape is one size fits most, so it's ideal for girls and boys aged 3 – 10 years old. It's double sided, and there are various colors to choose from, depending on which hero your child likes best. The only downside of this gift is the name can only be up to 7 characters long. The mask is made from felt for comfort and the cape is satin, with a Velcro closure.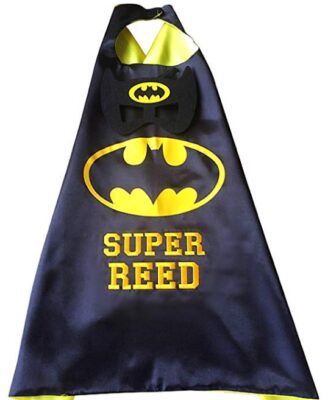 11. Decorate Your Own Water Bottle
This is a great gift for kids to customize themselves! The bottle comes plain and includes seven sheets containing hundreds of rhinestones for full customization. The bottle holds 20oz of liquid and has a carabiner clip to attach it to a bag easily. The top of the bottle is a flip lid, so it's easy to open and close, preventing spillages. There's another style of this kit available, which has a bottle with a pre-printed design and ten bright pens to color it in with. If you really want to treat your child, you can buy a bundle with both options together!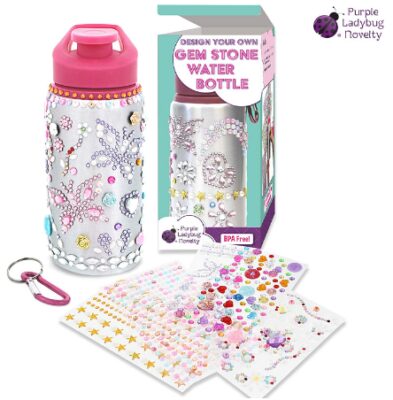 12. Fox Valley Step Stool & Chair
This chair has an awesome two-in-one design which allows it to function as both a chair or a step-stool for those hard to reach places! It's lightweight yet sturdy enough to last well in use, and the seat height is just six inches from the floor making it perfect for younger children. The musical animals design is sure to appeal to young children, and they will love also having their name on the chair. If you're looking for personalized kids room gift ideas, this has to be one of the top picks.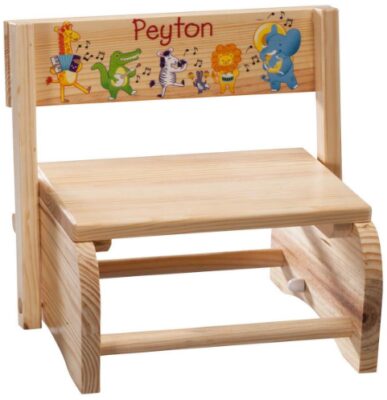 13. Toy Chest
This treasure chest is sure to appeal to kids of all ages! They can use it for toy storage, treasure hunts or even for role playing as pirates! There are four sizes to choose from, different fonts and stain colors, so there are plenty of options for customization. The message on the front of the chest is engraved with a laser, and can be any message or name of your choosing. The chest is also ideal for storing memorable items such as drawings your child has made, to create a memory box to look back on when they are older.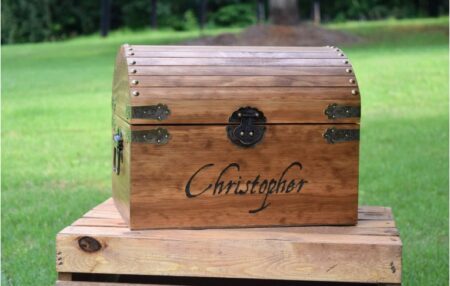 14. 3D Dog Mug
This mug is perfect for any little dog lover! There are loads of different breeds to choose from, so you are sure to find your child's favorite – perhaps one which looks like their pet. The mugs are hand-painted with stunning colors and attention to detail, and can be used for both hot and cold liquids with no problem.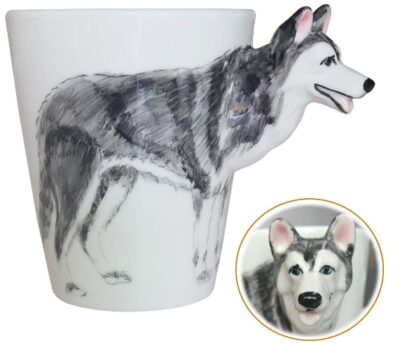 15. Melissa & Doug Wooden Train
This wooden train is perfect for toddlers, and they will love to see their name on the side! The toy consists of the engine and two carriages, as well as 15 blocks which can be arranged in various configurations to make the train look different every time. The toy is educational and can be used to teach your toddler the names of different shapes as well as the colors. It's loads of fun and is sure to be played with over and over again.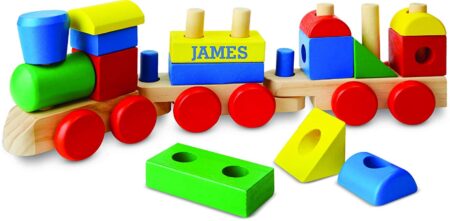 16. Personalized Rolling Luggage
This is one of the most practical customized gifts for little kids as it can be used to hold everything they need when going on vacation. It can have a name up to 12 characters long embroidered on to it, with two different font choices. The handle is extendable and there are wheels on the luggage so it's easy for kids to carry by themselves. It's sturdy with double-stitched seams and is made from wipe-clean material which is always practical when you have kids.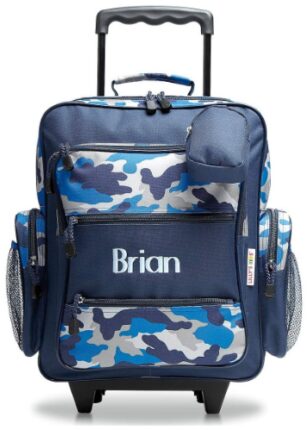 17. Personalized Chef Hat
If your kid is keen to help out in the kitchen, they'll need one of these personalized chef hats! It has Velcro on the back so it's adjustable to fit kids from toddlers to tweens. Choose from script or block font and a variety of colors, so you can find your child's favorite. If you want to make this a really cool gift, why not choose a coordinating apron too?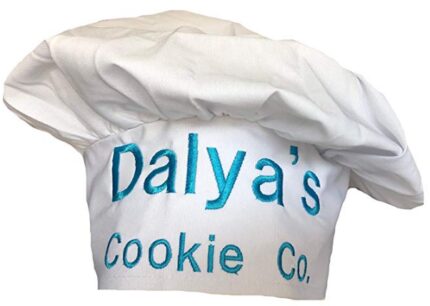 18. Paint Your Own Unicorn
Unicorns are very trendy at the moment, so kids are sure to be delighted to paint their very own one! However, there are other figures to choose from if your child isn't into unicorns. The set comes with five paints and a paintbrush, so everything you need is included. Kids will be so proud of themselves when they have finished painting the model, and will love to have it on display in their room.

Best Buy Overall
Now we've looked at all our custom gifts, it's time to choose which is the best overall. Our top pick has to be the personalized toy box, for many reasons. It's one of the best personalization gifts because it's practical as well as adorable and stylish – so it's sure to thrill parents and kids alike. It makes tidying up at the end of the day a lot easier, and will look great in your child's room. There are loads of designs available to suit boys and girls, as well as different colored chests to suit any room decor.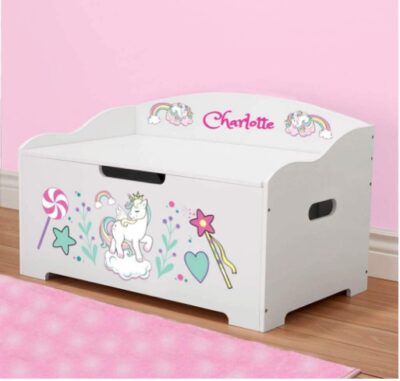 Best Budget Buy
If you're looking for cheap personalized gifts options for kids, the chef hat has to be the best pick. It is great for kids who love to help out mom and dad in the kitchen, and will let everyone know who's boss! We like the different fonts and colors available, so you can really customize this gift to your child's liking. It fits most sizes up to age 12, so it's sure to see a lot of usage too.