Wondering where to buy personalized name wooden puzzles? A wooden name puzzle is a fantastic, fun way to teach your child how to spell their own name. It also makes a wonderful keepsake gift for kids to treasure over the years to come. But there are so many custom and personalized kids puzzles out there, knowing which one to choose can be difficult.
That's why we have created this guide, packed with reviews of 20 of the best out there. We also have some buying tips to help you pick between the different options available, to ensure you find an extra special gift your child will love to look at and play with over and over again.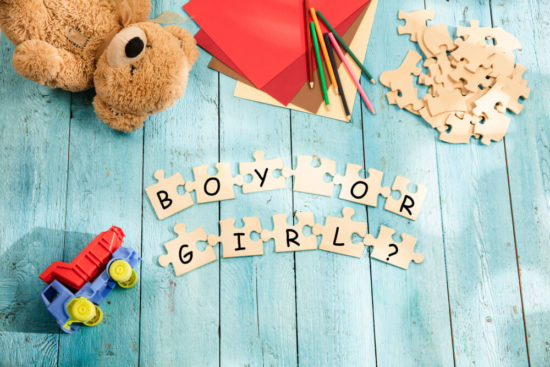 Considerations Choosing Name Wooden Puzzles 
When choosing a personalized wood puzzle, there are a few things that should be kept in mind. First, check the maximum number of characters allowed in the personalization to ensure the child's name will fit onto the puzzle. Also, look at the materials used in the construction of the puzzle.
Make sure the wood is good quality and the paints or finishes should, of course, be non-toxic for children. It's also important to ensure the edges of the puzzle and its pieces are smooth and rounded, to prevent younger children from injuring themselves when building it.
Toddlers love playing with games and we have a guide to choosing one!
Top Puzzles Reviews

Now, let's take a look at the top 20 best personalized wooden name puzzles on the market today. With so many to choose from, you are sure to find just what you are looking for here.
1. Fat Brain Toys Puzzle

The first of our wooden name letters puzzles comes from Fat Brain Toys and can have up to nine characters in the name. It is made using bright, bold, gender-neutral colors, so it is ideal for boys and girls alike.
The colors are chosen at random to ensure a beautiful, rainbow puzzle. The letters are each three inches tall, so the puzzle is a decent size for building or displaying. It is suitable for all ages and is painted using non-toxic paint, on both sides of the letters.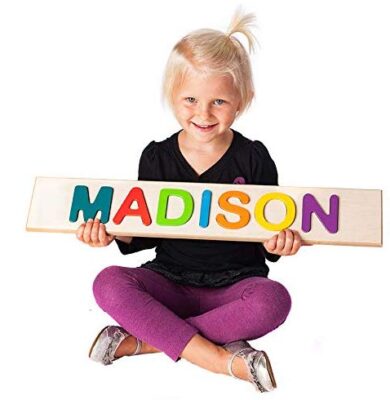 2. Kidzco Puzzles

This custom name puzzle has a longer character limit of up to 12 letters, so it's ideal for children with longer names. Spaces can also be included in the character count, so your child's first and middle names can be put on the puzzle if desired.
The puzzle is made from 100% real wood and is painted with brightly colored, non-toxic paint. It's made in the USA and has smooth, rounded edges for safety. There is the option to add a personal message to the back of this puzzle to make it extra special. Kids will surely treasure this for years to come.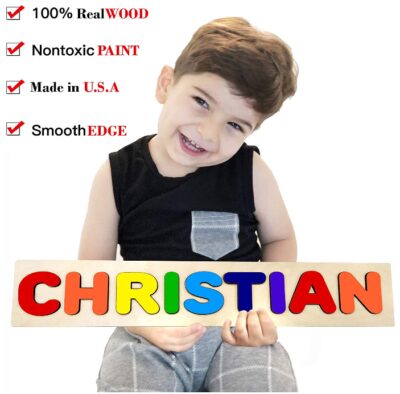 3. Fat Brain Toys

The third in our list of personalized name puzzles is another pick from Fat Brain Toys. They are each made to order in Nebraska and can fit a name up to nine characters long, including spaces. The puzzles are ideal for decorating a bedroom or for building and are great for improving spelling skills and hand-eye coordination.
The board is 4.5 inches tall and the length varies depending on the length of the name. The letters are painted in nice, vibrant colors sure to appeal to youngsters.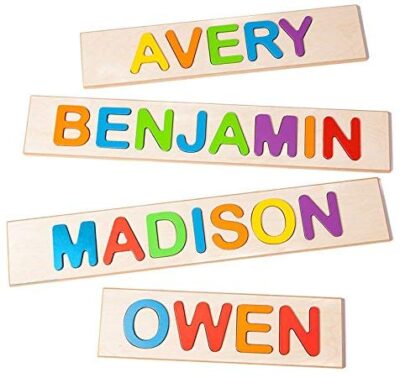 4. South Bend Woodworks

Next of our personalized wooden puzzles, we have this lovely pick from South Bend Woodworks. It comes in two different color options – pastel or primary colors. It is also available with pegged letters, which can make the puzzle easier for younger children to build.
The maximum name length on this puzzle is nine characters. It is painted using water-based paints which are, of course, child safe. It is possible to add custom engraving on the back of the puzzle to make it an even more special gift. Depending on the font (there are three to choose from), up to 40 or 50 characters can be included per line, and up to four or five lines.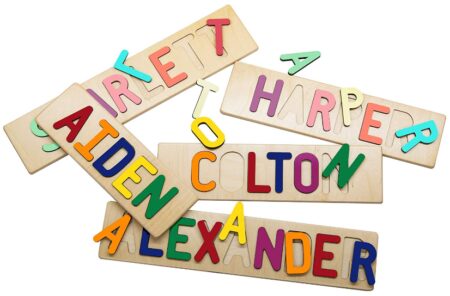 5. J & P Wood Products Puzzle

Our next personalized wooden name puzzle is made from half-inch thick MDF and stands at 4.25 inches tall. The length varies from 12 – 24 inches, depending on the length of the name.
The character limit is 11 on this puzzle, and it's possible to choose capital and lowercase letters, and spaces can also be included. This is ideal because most of the puzzles use capital letters only, so the format of this puzzle will help children recognize how to write their names correctly.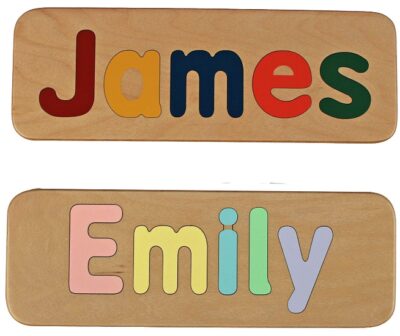 6. Kidzco Name Peg Puzzle

Our next personalized puzzle name has pegs on the letters to make it easier for kids to lift the letters. It can bear a name of up to 12 characters in length, although only spaces and capital letters can be used, not lowercase letters.
The length of the board will vary depending on the length of the name printed on it. Each letter is painted using water-based paint which is, of course, safe for children.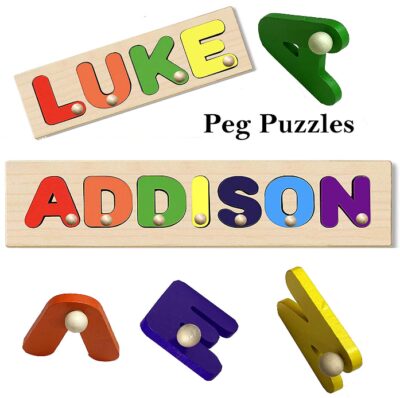 7. South Bend Personalized Puzzle

Next on our list of the top personalized wood puzzles, we have another one with pegs to help the letters be gripped more easily by little hands. There are two options available for the colors – either primary or pastel. It's also possible to add custom engraving on the rear of the puzzle to make it even more unique and special for the child who will receive it.
Each puzzle is four inches tall and the length varies depending on the length of the name. Names with five or fewer letters will be on a 12-inch long puzzle, six or seven-letter names will be on a 15-inch long board, whilst longer names will have a board measuring 18 inches in length.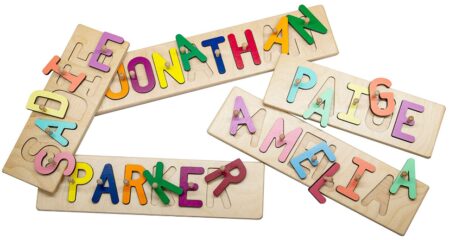 8. BloomOwl Puzzle

This BloomOwl wooden puzzles name is a great personalized gift and will last for many years to come. It is handmade in the USA and stands at 4.5 inches high. The length varies from 10 to 23 inches long depending on the name.
There are four different color schemes, boho, mint and navy, primary, and pink and gold – one example of each is shown below. So, with this puzzle, there is more variety than many of the others. It's great for getting one to match your child's room. The letters are painted on one side only using a non-toxic paint.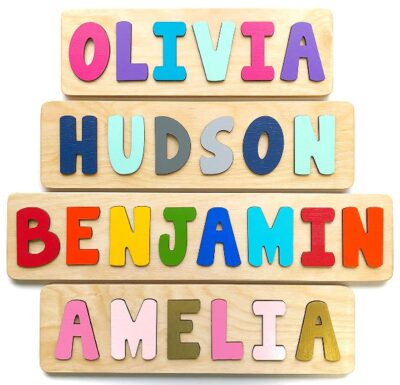 9. BloomOwl Bear & Mountain Puzzle

Most personalized wooden name puzzles feature only the letters of the name, but this one has a little extra which is sure to bring a smile to your child's face. As well as the name, this puzzle has a bear on one side and a mountain on the other.
Each picture and letter is made in a nice navy, mint, and gray color scheme. The dimensions of this puzzle are the same as the one above, and it is shipped within a day or two, perfect for when you need a gift in a hurry.



10. Puzzle for Three Names

If you are looking for a puzzle that can feature your child's full name, then check out these South Bend Woodworks personalized name puzzles for kids. They have three lines, and can have a name of up to 12 characters on each line.
It's possible to add custom engraving to the back of the puzzle to make this an extra-special gift. The color is added using child-safe water-based finishes, and the puzzle is made in Indiana.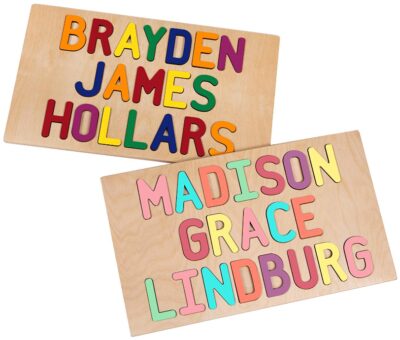 11. Bubble Font Puzzle

The next of our personalized name wooden puzzles is this bubble font puzzle from Last Piece of the Puzzle. There are a few different variations with different fonts, color schemes, and the option to make the letters pegged or not. It's also possible to add engraving on the rear of the puzzle board.
The puzzles stand at four inches tall and are painted with lovely, bright colors. The puzzle is a bit thinner than some of the other options, but offers good value for money as it won't break the bank.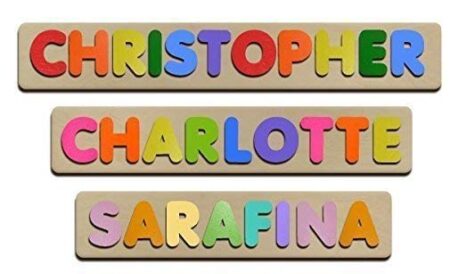 12. Last Piece of the Puzzle with Heart

When it comes to personalized puzzles for kids, most only have the child's name and little else. This one stands out as it has a cute heart added at the end of the name, and this is also a buildable piece of the puzzle.
Otherwise, the features of this puzzle are more or less the same as the other from the same company above. The letters are around a quarter-inch thick, sized just right for little hands!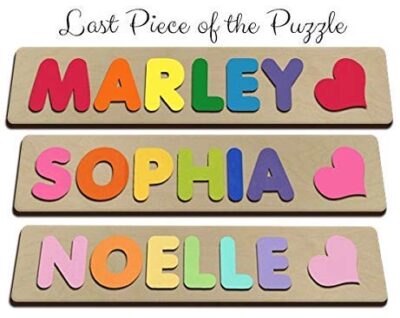 13. Floral BloomOwl Puzzle

Custom wooden names jigsaws don't come much sweeter than this one! Instead of the usual bright, primary-colored letters, the letters of this puzzle are printed with a lovely floral design instead.
So, it makes a great gift for girls of all ages! The puzzle is made from baltic birch wood and stands at 4.5 inches tall. The letters themselves are around 3 inches tall, and they are raised out of the frame to make them easy for children to lift out.



14. Wood Land Puzzle

Some customized name puzzles can only bear one name, but not with this great puzzle, which can have two. It is nine inches high and between 10 – 30 inches long depending on the length of the names.
It's free to add an engraving on the back of this puzzle, and there are loads of lovely, bright, bold colors for the lettering. The edges are smooth, and it's only possible to have the letters in capitals.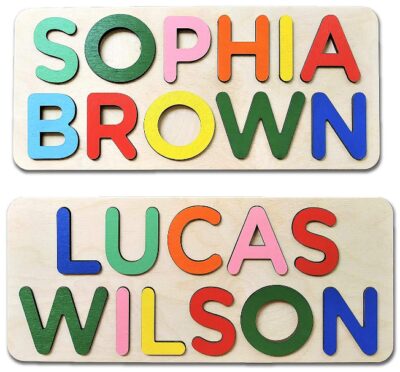 15. Superfly Kids Puzzle

These Superfly personal name puzzles can feature a name up to nine characters long and are made using birch veneer MDF 4.5 inches tall.
The letters are around three inches tall and are painted in a range of bright colors, which are chosen at random. The puzzle is ideal for children aged one year and up, and the pieces are the perfect size for them to grab and build.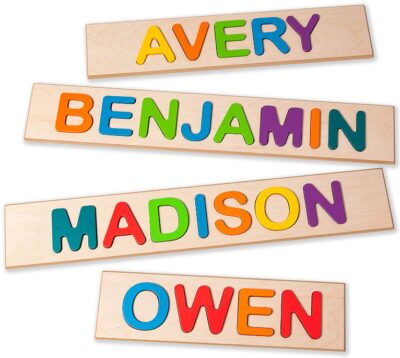 16. BloomOwl Puzzle

If you're looking for kids wooden names jigsaws in a more boyish color scheme, BloomOwl's option is worth considering. The letters are mint, navy, and light and dark gray on this puzzle, so it's sure to look excellent in a young man's room.
The puzzles are handmade in the USA and are educational, fun, and built to last. The minimum length of this puzzle is 10 inches and the maximum is 23 inches, whilst the height is 4.5 inches.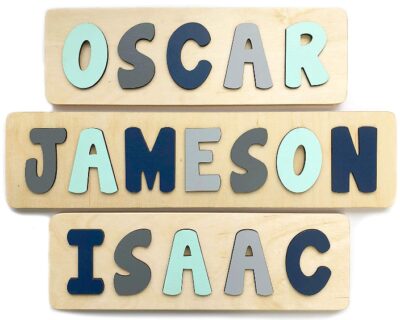 17. South Bend Woodworks Two Name

If you're looking for a personalized baby name puzzle which can include the first and middle name of the child, this one is perfect. It's designed to feature two names, and each can be up to 12 characters long.
There are two color schemes to choose from, each of which is pictured below. There's the primary colors or pastel colors, so you can pick which is the most fitting. Custom engraving can also be added additionally.


18. Kidzco Puzzles

Kidzco has some great childrens name puzzles, and this colorful one is sure to go down a treat. It can be personalized with a name up to 12 characters and the personalized message appears on the front, rather than the rear, so it will be more visible.
The letters are all capitals and spaces can also be included, but they count towards the character limit. The puzzle is made from birch wood and painted with water-based paints.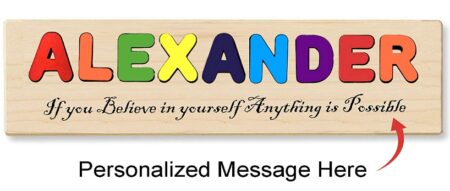 19. Damhorst Three Name Jigsaw

Our next personalized baby puzzle can take three names, up to a total of 35 characters, and has bold, primary-colored letters. There is a leather strap included for hanging the puzzle, if desired. The puzzle is made in Missouri and is finished with non-toxic paints.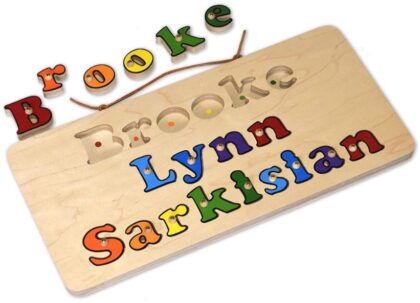 20. South Bend Sports Puzzle

Our final pick of the best wooden name puzzles made in USA is another from South Bend. This one is perfect for little sports fans, as it comes with the option to add a basketball, baseball, football, or soccer ball, as well as the name.
It can also be engraved with a personal message on the rear of the puzzle. The maximum name length is nine characters on this puzzle.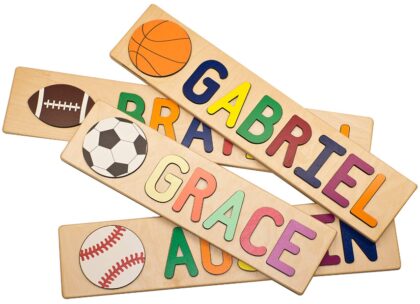 Best Buy Overall
After checking out 20 great picks, it's time to show which is the best of all. The three-name puzzle is ideal because it can allow your child's full name to be shown, and it will help them learn how to spell, and later write their name.
The two different color options mean this is suitable for boys and girls alike. The option to add an engraved message makes this a really special gift that will be treasured for years to come.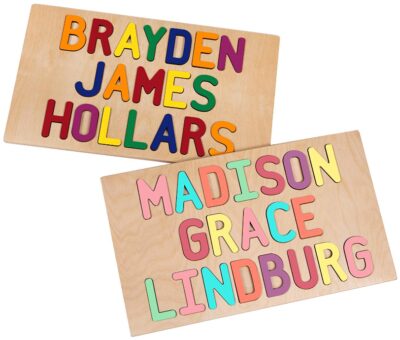 Best Budget Pick
If you would prefer a cheaper, but still a high-quality, puzzle, there is another ideal pick lined up. The BloomOwl puzzle is a great choice, which looks lovely and has all the features you would expect from a pricier puzzle.
The four different color options mean there is something to suit all tastes and preferences, so it will look great in any child's room. It's painted in non-toxic colors, so it's perfectly safe for younger children despite the lower price tag.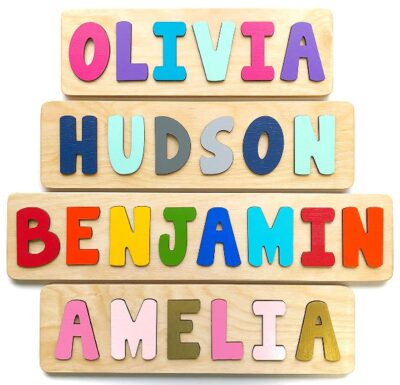 Here are some other great picks for you: