Are you wondering what board games are good for 9 year olds? In this review of the best board games for 9 year olds, we have compared over 30 kids games and come up with our top pick and best budget buy. We will find different types of games to choose from and all are age appropriate and loads of fun.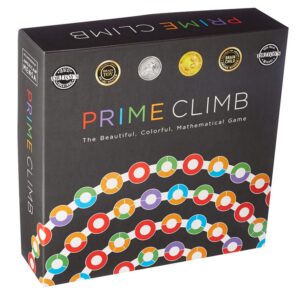 Considerations When Choosing Board Games for 9 Year Olds
Safety: Each game will have its own individual safety advice, as some games may contain small parts. It is recommended that you check the safety advice for your chosen toy, especially if you have young children that may have access to the game.
Material: Most types of games are most commonly made with a cardboard base and plastic counters. Sometimes there may also be metal components or structures of a different material included with the game. The contents of each game can be checked before purchasing if you are looking for a particular material.
Price: There is a good range of recommended modern games that are available at a range of prices. There is a game suitable for every budget.
Age: These games are aimed at children aged 9, but the age range each game covers will vary. Some of the games are suitable for younger children to join in, whereas others will grow with your child as they get older. The age range for each game can be checked before purchasing.
Function: Children's board games come in a variety of styles so there is something for everyone to enjoy. There is everything from classic dice games through to modern coding games and logic card games.
Gender: All board activities games are suitable for both boys and girls to play. Depending on your child's personality they may favor a particular type of game.
1. Clue Harry Potter Edition

If your child is a Harry Potter fan then this Clue classic mystery game is a perfect choice. With the option to play as one of 6 popular Hogwarts characters it will occupy your child for hours. Every 9 year old will enjoy the familiar Harry Potter features included in the game, while they determine who is responsible for the disappearance of a student. For 3 to 5 players this will be a truly exciting magical race to solve the mystery and be the first one to get to Dumbledores office.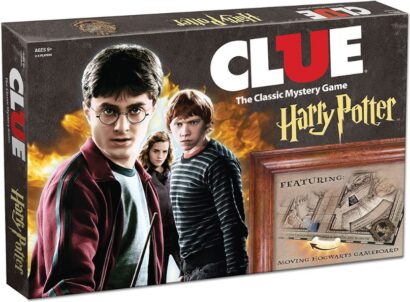 2. Carcassonne Game

As with most popular games, Carcassonne is simple to play but will bring out the competitive edge of all players. Build an exciting map using the tiles provided, which will enable you to place your followers on certain features and score points depending on their role. This game is suitable for 2 to 5 players and will be enjoyed by both new and experienced players. This is a good board game for 9 year old girls and boys to share with friends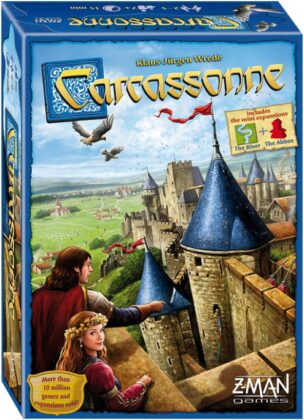 3. The Game of Life Original

An exciting game that every girl and boy aged 9 will enjoy playing, the Game of Life has plenty of adventure on offer. Spin the spinner to decide on your path through life including, which of the 31 careers you will pick, family options and exciting vacations. The aim of the game is to be the player with the most money after every player has reached retirement. A classic game for 2 to 4 players that every kid should have the opportunity to play.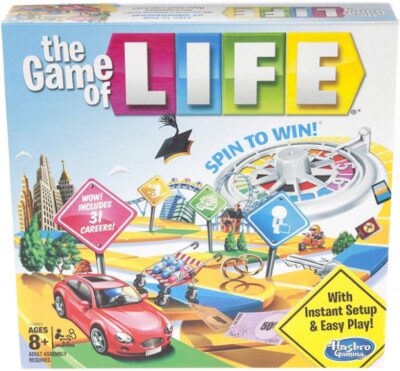 4. Spy Alley Strategy Game

Spy Alley is the ultimate strategy game and will quickly become a favorite detective game for all children. Each player becomes a spy for a chosen country which requires them to keep their identity secret. All while trying to discover the identity of the other players so you can claim the title of worlds best spy. A game for 2-6 players that is perfect for all of the family to play and will have you using reasoning skills and tactics to solve the clues.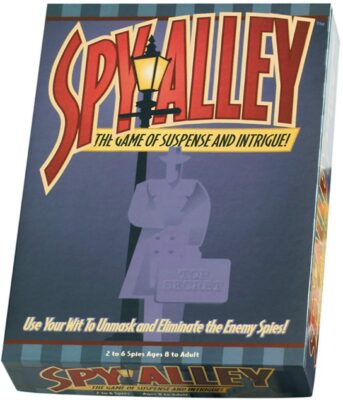 5. Wimpy Kid 10 Second Challenge

The Wimpy Kid 10 Second Challenge is a fun and exciting game that all kids will enjoy. A game to be shared with friends, this 2 to 6 player game has challenges for everyone. Pick from 6 of your favorite characters and play to become the Wimpy Kid champion. There are 3 different types of challenge categories and each one will encourage your kids to be more active. The challenges must be completed before you can move ahead on the board. This game will be a favorite with any Wimpy Kid fan.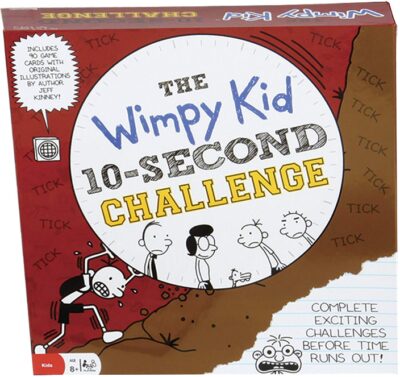 6. Monopoly Pokemon Edition

This Monopoly Pokemon Kanto Edition is sure to be a hit with every young Pokemon fan. This version is based on the classic Monopoly game with an exciting Pokemon twist. Start the game as one of 6 Pokemon best loved characters and race around the board to buy sculpted Poke Marts and Pokemon Centers. For a special touch all 8 gyms have been included in the game. These are great indoor board games and up and will be enjoyed for hours as they play to build the best Pokemon team.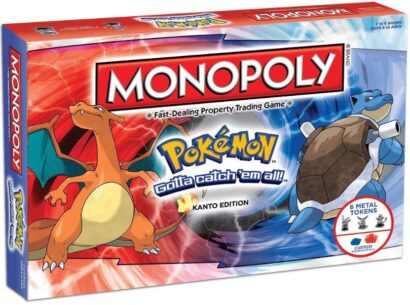 7. One Night Ultimate Warewolf Game

One Night Ultimate Werewolf is an exciting mystery game suitable for all children aged 9. The perfect group game for 3-10 players that all family and friends can join in with. The short games last about 10 minutes and the rules are simple to follow, allowing your child to enjoy this game over and over again. Each player is assigned a character, with a special power and the aim of the game is to be the first identify the werewolf correctly. A game that will be loved by all that play it.


8. Codenames Marvel

Marvel Codenames is the ideal game for any marvel fan. These board games for boys will provide hours of excitement for all players. With easy to follow instructions it is suitable for children 9 years of age. All of the popular marvel characters are included in this game. The game has 2 opposing teams and the aim is to identify all 25 of your teams field agents using picture and word clues. A great group game for 2 or more players that will be enjoyed for many hours.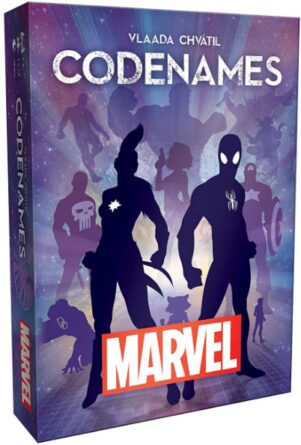 9. Coding Bunny Game

CoderBunnyz is an educational coding game that is the perfect game to introduce your young child into the world of coding. Suitable for any experience level this game is designed to grow with your child as they learn. A great family game that will introduce common coding concepts in a fun way as you get the bunny to navigate through the maze, eat the carrot and to reach chosen destinations. A must have game for every child that will encourage learning through play.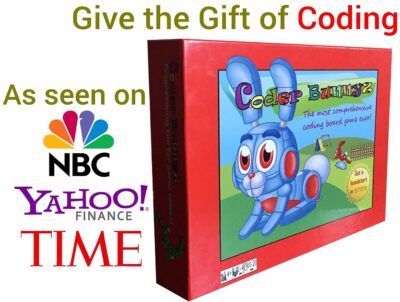 10. Parcheesi Classic Game

This Parcheesi Royal Edition board game is a much loved classic that will be enjoyed by the whole family. For 2 to 4 players this game requires each player to race to be first to get all of their pawns back to their home square. A game full of excitement with captures and blockades as each player tries to prevent other player from reaching home. Every child will love this fun, easy to play game.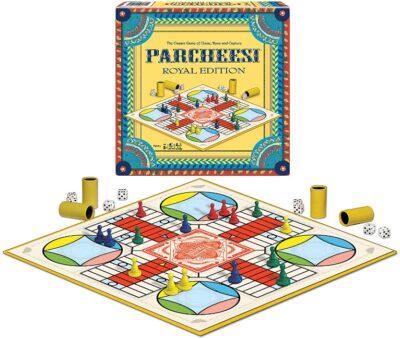 11. Dabble Word Game

A fun educational word game, Dabble will have all kids enjoying practicing their spelling. Starting with 20 letters each, the aim is to be the first one to spell 5 words within 5 minutes, which will stop the game. The player with the most points from the words that they have spelt wins the game. For 2 to 4 players it is a great game for learning how to spell that kids will play over and over again.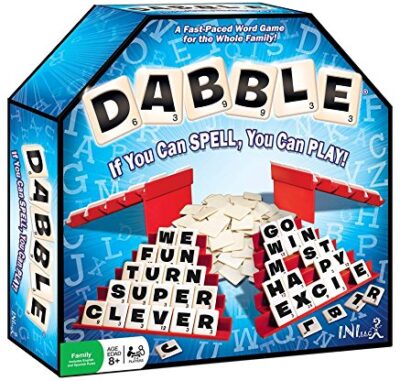 12. Othello Classic

If you are looking for a classic board game then look no further than Othello. This simple game is easy to pick up so is suitable for young children to play. This 2 player game is perfect for all of the family to play. The challenge of boxing in your opponents pieces, so you can flip them over to match your color counters involves strategy and planning, which everyone will enjoy playing. One of many great 9 year olds board games that will be enjoyed for many hours.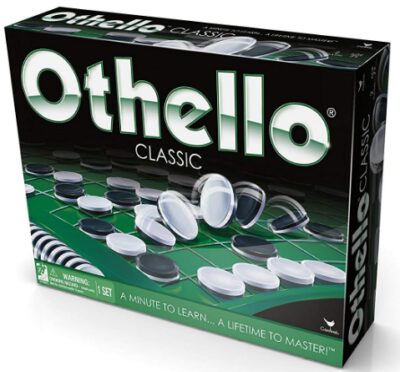 13. Apple to Apples Junior

This Apples to Apples Junior game is the perfect family game to play with young kids. It involves matching cards together to describe a certain characteristic with the best combination winning. However it is not that simple, as each player has to convince the judge that their combination is the best. With 576 cards this game is certain to produce many laughs as well as being a great game for developing language skills.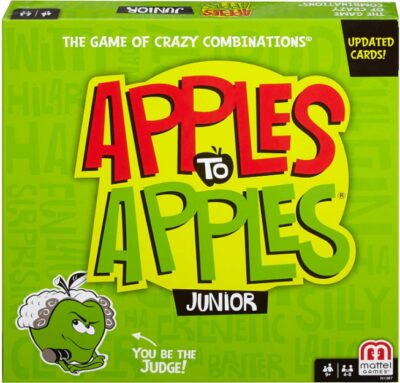 14. Santorini Strategy Game

Santorini is a great strategy game that the whole family can get involved with, which will entertain your children for hours. The winner is the first person to build a 3 story building but your opponent will be trying to stop that from happening every step of the way. Lovely detail has gone into the board and pieces making it a delightful game for all to play. There are different levels of difficulties that can be chosen if playing with new players, making it the perfect board games for girls.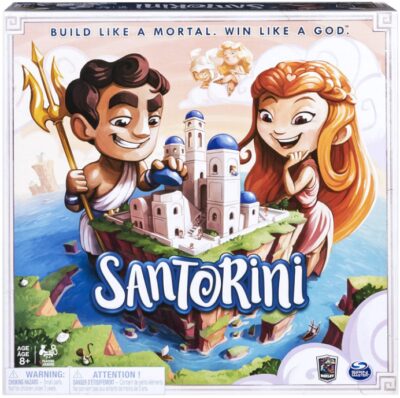 15. Zategy Family Game

There are many matching games available but Zategy is a top option that all kids will love playing. The aim is to be the first player to match 4 tiles of one color in a row or diagonally but the other players will be trying to block your moves. The game has added excitement with the addition of a white blocking tile each. For 2 to 4 players Zategy can be played by following either the classic rules or the 3D rules providing plenty of variation.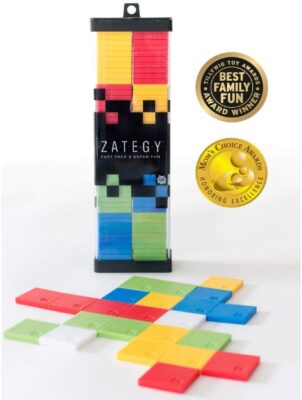 16. Survive Space Attack

The new board game Survive Space Attack is an ideal game for any child that is interested in space. It is based on the game Survive Escape from Atlantis. There is a double sided board for variation and the space station has a modern 3D feel to it. Your space station is under attack from aliens can you get all of your spacemen safely from the space station to a jump point? Suitable for 2 to 4 players, all children will enjoy this adventure game.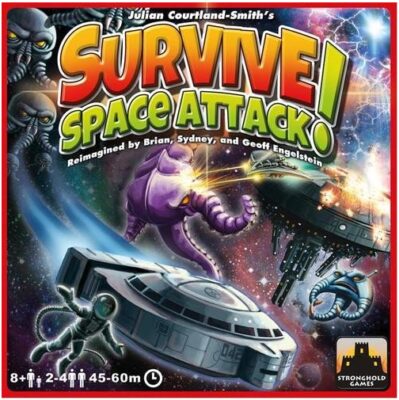 17. Original Stratego

Stratego Original is an exciting game for any child that has an interest in battlefields. This 2 player game requires strategy and planning to enable your army to capture the opposing teams flag to win the game. Using troops and spies can your Napoleonic army beat the other side or will they make a move that stops you? A great game filled with adventure that every 9 year old will love playing.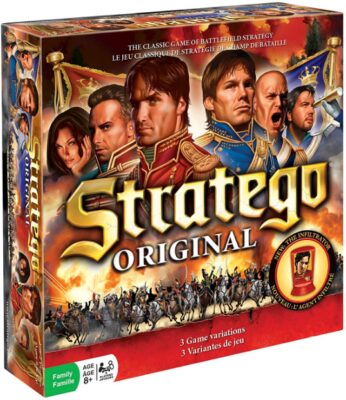 18. Gravity Maze

This ThinkFun Gravity Maze Marble Run is a great learning game with varying difficulty levels so is suitable for all to play. There are 60 challenges to work through providing hours of entertainment and learning. Can you get the marble from the start position to the target piece in one go? This single player game with easy to follow rules will be enjoyed by any child who enjoys logic and critical thinking games.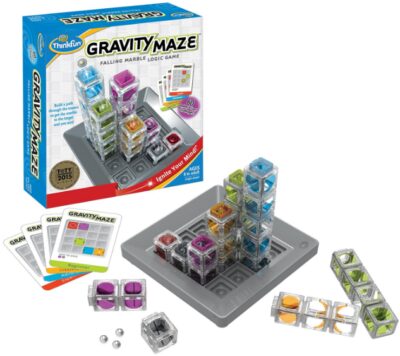 19 Pictopia Picture Trivia – Disney Edition

A fun game for every Disney fan this Pictopia Disney Edition game is perfect for spending quality time as a family. Test your Disney knowledge with this exciting trivia game. Will you be the first player to reach the castle to win? This game has a twist as some questions will need all players to work as a team alongside the classic individual questions. Every child that loves Disney will enjoy playing this Pictopia game.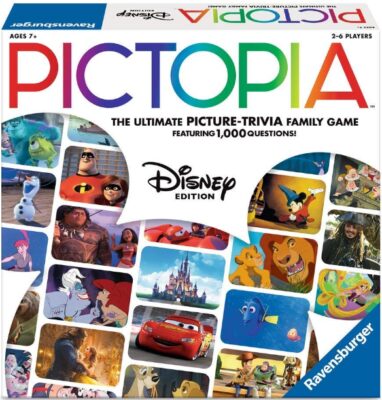 20. Skyjo Card Game

When looking for an exciting card game then look no further than Skyjo, a game that has special rules for a more entertaining time. The rules are simple to follow so it is suitable for 9 year old children to play and makes a great family game. Each game lasts around 30 minutes making it the perfect game for small children. For 2 to 8 players, the game will end when the first person reaches 100 points and then the player with the fewest points wins.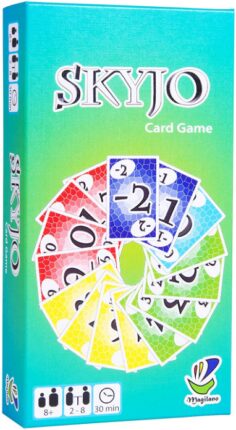 21. Suku Dino by Simbans

Simbans Suku Dino game is an ideal board game for your dinosaur loving child. This challenging game has 48 tasks and 3 different skill levels, which means that the game will grow with your child as they become more experienced playing it. The aim is to hide the dinosaurs and to win dinosaur eggs, while also learning interesting dinosaur knowledge with the attractive fact cards included with the set. All dinosaur fans will enjoy playing this highly recommended modern board game.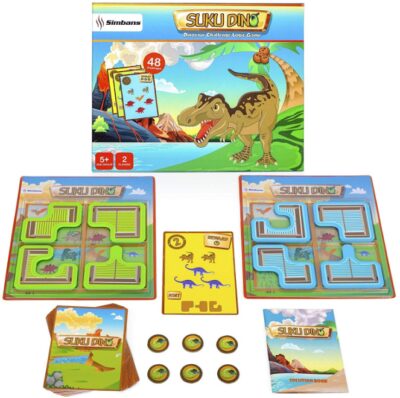 22. Robot Wars Coding Game

This Robot Wars Coding Board Game is the ideal first coding game for your child. No previous coding experience is needed to play this game. Through the game your child will learn important coding skills while also having fun. The winner is the first player to get their robot into the winning middle square. During this game for 2 to 4 people, other players will be trying to stop you progressing by shooting at your robot. A great educational game that every child will love to play.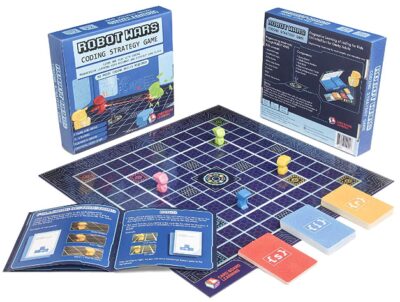 23. Trivial Pursuit Family Edition

Everyone enjoys playing this classic game of Trivial Pursuit, where they can show off their knowledge. With 1200 questions that are divided between kids and adult questions there is fun to be had by all of the family. This quick-paced game is for 2 to 6 players, and it can be played individually or in teams for variation. Answer questions correctly from 6 different categories and be the first player home to win. This knowledge game will be enjoyed by all children.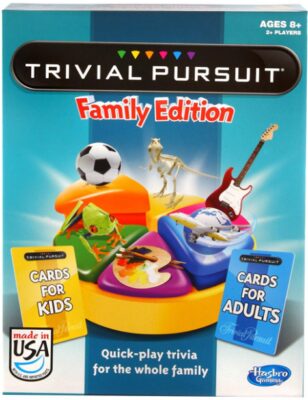 24. Operation Classic Game

A game that is perfect for any young child with ambitions to be a doctor or nurse. Operation is a classic board game that everyone loves to play, so is great to share with family and friends. Cavity Sam has a number of ailments and your job is to be the player that removes the most body parts without setting off the buzzer. With body pieces that are easy to grab, this game is suitable for young children. With exciting doctor cards and specialist cards included there are endless hours of fun to be had playing this game.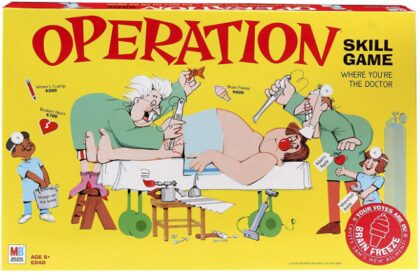 25. Sentinels of the Multiverse

Sentinels of the Multiverse Enhanced Card Game will be a favorite with any comic book fans. Suitable for 2 to 5 players, each game provides around 60 minutes of adventure. In this game each player will play as one of 10 heroes each with a special power and they will play against one of 4 villains. This exciting adventure can take place in 4 different environments so a different game is played each time. There are 2 expansion packs that can be added to this set so the options for play are endless.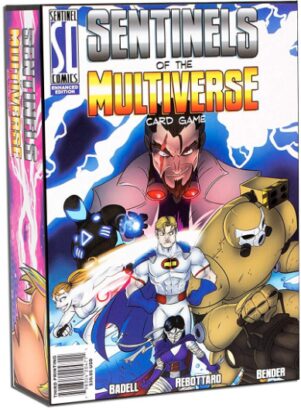 26. Disney Monopoly

This Monopoly Disney Animation game is a special version of the classic Monopoly game. For 2 to 6 players there are 6 special Disney items that make up the counters each player will use to play. Children will love the extra features included in this most popular board game with Magic Mirror cards and Ariel's Treasure Chest cards. Alongside buying houses and hotels, Disney movies, vehicles and magical objects can also be collected. A magical game suitable for every young Disney fan.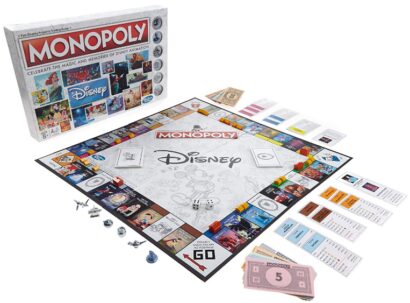 27. Haba Rhino Hero

Rhino Hero is a fun stacking card game with a superhero twist. Suitable for 2 to 4 players, each player will be one of 4 superheros and aim to be the player holding the superhero medal when the game ends, unless you are the player that causes the tower to collapse resulting in the superhero medal passing to all of the other players. Aim to build the tower as high as you can, while at the same time being under attack from spider monkeys and other players superheros. An exciting game that kids will love playing with their friends.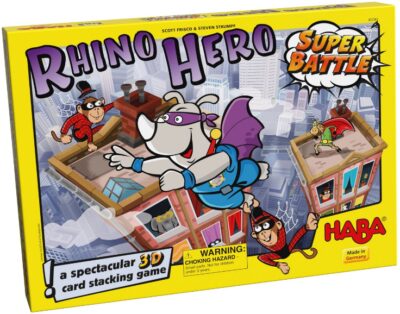 28. Get Bit Deluxe

This Get Bit Deluxe Tin Game is a simple and easy to follow game that everyone will enjoy playing. For up to 6 players, each player will aim to be the swimmer furthest away from the shark at the end of the game. If you are the player closest to the shark when it bites then your swimmer will lose a limb and if you lose all of your limbs then your swimmer is out of the game. Each game is quick and exciting to play so will be enjoyed many times.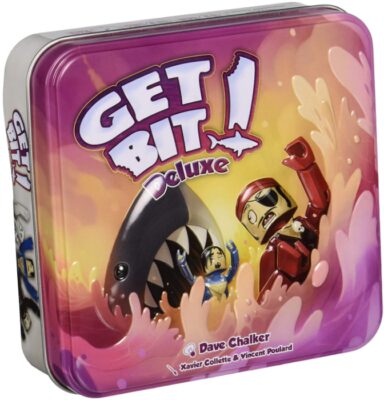 29. Selfish Space Edition

Ridley's Selfish Space Edition game is an exciting space game that will show every players competitive edge. This game is full of adventure and is suitable for 2 to 5 players. The winner is the player that can steal enough oxygen from the other players to make it back home. This game will have every player fighting for themselves, along with additional battles with wormholes, asteroid fields and lazer attacks. This thrilling space game will be a favorite game with all of the family.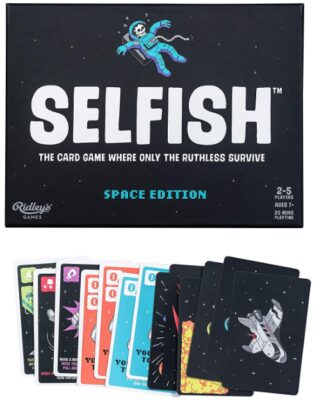 30. Code Master by ThinkFun

A great educational toy that is also fun and exciting. This Thinkfun Code Master Programming Logic Game is a super single player toy that will get your child started in the field of coding. With 60 challenges to complete, the level of difficulty will increase as your child progresses through. For each game the Avatar needs to collect crystals in exotic lands and land on the portal. A coding toy that is perfect for your childs development as well as providing hours of excitement.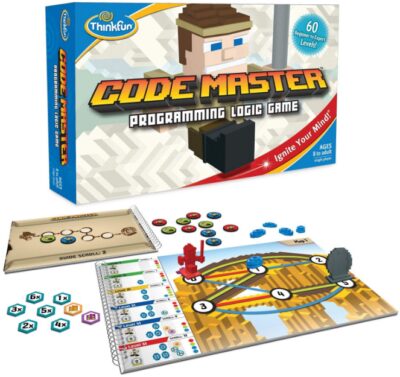 Latest Educational board games for 9 year olds?
Dabble is one of the latest educational word games suitable for all young children. Playing this game will help develop their spelling in a fun and enjoyable way. It is the perfect game for playing with friends to see who will be first to spell out all 5 words.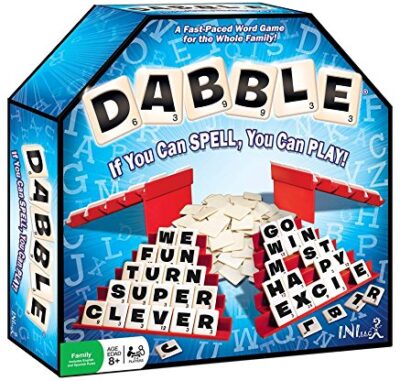 Fun games for 9 year olds?
ThinkFun Gravity Maze Marble Run is a fun and exciting game. With increasing levels of difficulty there is plenty of enjoyment to be had to play this game, while also being challenged to get the marble from the start to the target piece.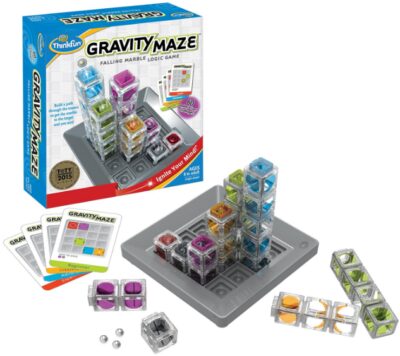 Popular board games for kids aged 9?
If you are looking for a popular kids game then look no further than the classic game of Operation. A cooperative op board game for 9 year olds where every child will enjoy the challenge of removing body parts without setting off the buzzer. A great game for kids that they will enjoy playing time and time again.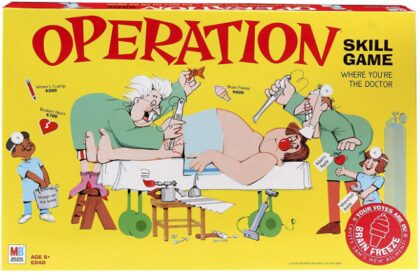 Family games for 9 Year olds?
Coderbunnyz is a great family game that will also introduce young kids to the world of coding. This is a fun game that will be enjoyed by all of the family as each player works to get the bunny to navigate the maze and to reach certain locations.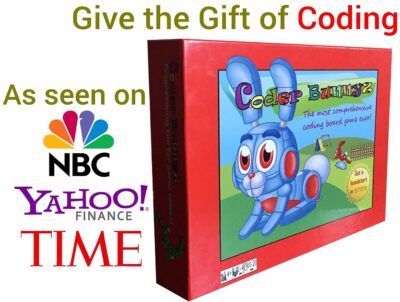 Best Overall Pick
Our best overall pick is the great family game Trivial Pursuit. A great general knowledge game that has questions for every player, with its dedicated kids and adult questions. This is the perfect excuse for spending quality family time together.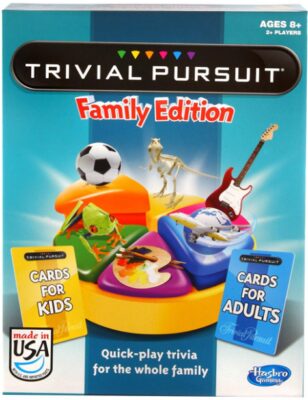 Best Budget Buy
Zategy is our best budget buy option that will be enjoyed by all children. Players try to match up 4 colors in a row to end the game, while other players work to block their moves. With 2 sets of rules included, there are 2 different games that can be played with this set for added excitement.