Best Overall
Best Budget Pick
Don't Miss
Also Consider
Mario Kart 8 Deluxe - Nintendo Switch
Minecraft - Nintendo Switch
Just Dance 2019 (Nintendo Switch) (Nintendo Switch)
Super Mario Maker 2 - Nintendo Switch
Best Overall
Mario Kart 8 Deluxe - Nintendo Switch
Best Budget Pick
Minecraft - Nintendo Switch
Don't Miss
Just Dance 2019 (Nintendo Switch) (Nintendo Switch)
Also Consider
Super Mario Maker 2 - Nintendo Switch
Gaming is more popular than ever before! Nowadays video games allow players to enter a whole other world, where almost anything is possible, and you can play as some of your favorite TV and movie characters. Its an escape from the stress of real-life and is a great way to blow off some steam. Your kids may even have a natural talent at a certain game and could enter a competition where big cash prizes are available!
Gaming is not only fun but can be used as a workout for your brain, improving strategy, coordination, and problem-solving. Not to mention your children will be able to chat with friends around the globe! But remember, Its not just children that these games are aimed at. Even teens and adults can join in the fun!
This recently released Nintendo console is becoming more and more popular, but there are so many games on the market today, that it can be difficult to decide which is for you. Well, don't worry. In this comprehensive best Nintendo Switch games for kids review guide, we will look at some of the best switch kids games out there and cover everything you need to know to make the perfect choice.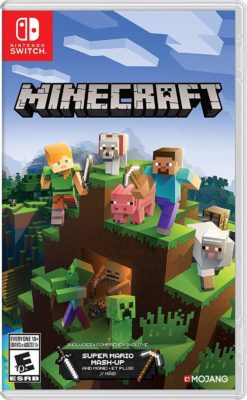 Things to Consider When Buying Nintendo Switch Games
Age: It is important to make sure that your chosen game is suitable for the age of the player. Games will display there certified age rating on the front cover of the game, in the bottom left-hand corner. Some games will be aimed at older audiences due to a more complex story-line, harder game-play or the fact that the game includes adult themes. While other games will be aimed at younger players, with an easier to understand story and less complicated game-play and controls.
Interests: When purchasing a switch game, you should make sure the game follows the interests of the player. If your child is not interested in the genre of the game then they are extremely unlikely to play and enjoy the experience. Games these days are based around many different themes, such as racing, Lego, adventure, combat, puzzle-solving, RPG and hundreds more! There are so many games available, so you'll be sure to find something that fits your child's interests.
Price: Video games vary in price. Newer games will always start off more expensive than already released games due to high popularity and demand, but will fall in price as newer versions are released or simply over time. Some games will also be more expensive due to there added features, more in-depth gameplay or high popularity, but again this is not always true. You can still buy a fun and enjoyable game for a very affordable price.
Multiplayer use: You should take into account that not all Nintendo switch kids games support multiplayer use or local play. Local play (or split-screen) is the ability for more than one player to play on the same device. or through WiFi connection on other devices. While online multiplayer is playing online through WiFi, with anyone in the world owning a switch device. If you want to play your chosen game with family and friends or online players, make sure to check that this is available before purchase.
Best Switch Games for Kids in 2023
Now that we've looked at what to consider when choosing between different Switch games, let's move on to review some of the best ones out there.
1. Just Dance 2023
Just Dance is an energetic, high energy video game, including hundreds of your favorite songs, with music from artists such as Bruno Mars, Dua Lipa and many more! Dance along with the beat and aim to ace every move, copying the character seen on screen. This game will soon learn what kind of music and dance you're into, by studying your usage patterns and featuring similar songs you might enjoy. Join in with special events and aim to reach the highest score possible!
Age: 3 and over
Local play: Up to 4 players
Online: N/A
Genre: Dance/Music
2. Super Smash Bros
Play as some of your favorite characters, such as Pikachu, Mario and many more in this fifth installment of the multi crossover Super Smash Bros. Battle against your opponents in epic fights and master the many characters unique attacks and special weapons. Learn combo moves to deal maximum damage in order to take the victory. Play in hundreds of different environments and battle online to increase your rank. Challenge friends and family to see who takes the number one spot.
Age: 7 and up
Local: Maximum of 8 players
Online multiplayer: Yes
Genre: Combat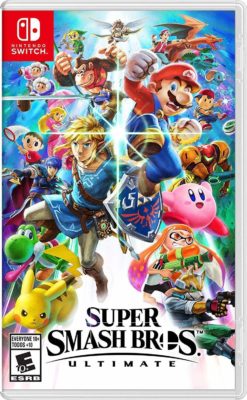 3. The Legend of Zelda
Play like never before with this continuation of the classic Zelda franchise. Journey across your environment, meeting new characters, fighting foes and solving many puzzles and problems. Discover new weapons, armor, animals and many more while improving your skills. Make your own choices and face there resulting consequences good or bad. Play as your character Link, an archer with a high skill set, out to defeat Calamity Ganon from destroying your kingdom.
Age: 12 and over
Local play: N/A
Online: N/A
Genre: Adventure/RPG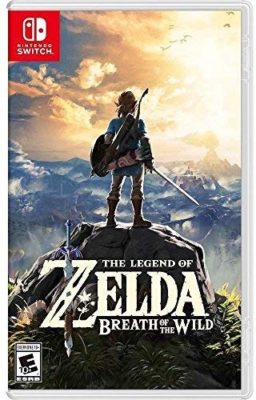 4. Skyrim
Skyrim is a switch game aimed at an older market. This game includes adult themes such as violence and can be brutal at times. This game is set in a medieval fantasy time period where you play as a customizable character. Fight against magical creatures such as dragons and wizards and explore the huge open free-roam world. Complete missions and side quests while collecting new weapons and mastering magic and spells.
Tame horses and other rideable creatures to cover ground quickly and explore villages and castles to meet new characters. Improve your characters abilities and take down evil forces.
Age: 18
Local: N/A
Online multiplayer: N/A
Genre: Fantasy/RPG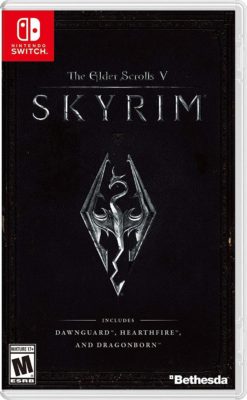 5. Mario Kart 8
Everyone knows Mario Kart! This game is great for everyone and is extremely fun to play! In this 8th installment of the Mario Kart franchise, there are more tracks and playable characters than ever before, with new features such as added game modes and new flying sections during your racing.
This game still maintains the basic easy to use controls of previous Mario Kart games meaning this version maintains the same super fun formula. Use items to boost your way to the front of the pack, or to take out your opponents. Unlock new vehicles as you play and improve your driving skills.
Age: 3 and upwards
Local play: 4 player max
Online: Yes
Genre: Racing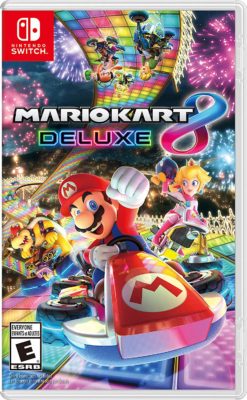 6. Mario + Rabbids Kingdom Battle
Battle enemies as your favorite characters from the Mario and Rabbids franchise in this crossover game. Use different weapons for each character and solve puzzles along the way. Plan out your every move and work on tactics to complete each level as effectively as possible. Work together with friends or play alone in campaign mode and practice your skills online. Eliminate all enemies on the field and work together will all characters and their special abilities.
Age: 7 years old and over
Local: 2 players
Online multiplayer: Yes
Genre: Combat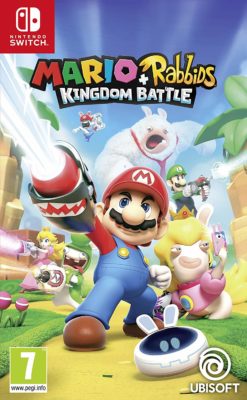 7. LEGO DC Super-Villains
Play as DC's most popular supervillains in this LEGO universe. This game is set in a world where earth's mightiest heroes have disappeared, leaving the villains to act the part with some mischief along the way. Solve puzzles, battle foes, complete missions and explore the open world in free roam. Unlock new characters, vehicles and side quests as you play. Combine the looks and powers of every playable character included in this game to create the ultimate supervillain!
Age: 7 plus
Local play: 2 player max
Online: N/A
Genre: Supervillians/LEGO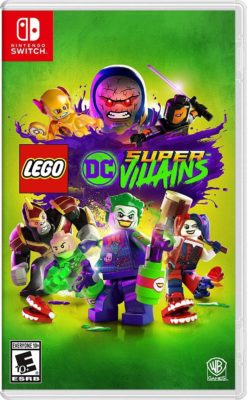 8. Minecraft
Minecraft is a very popular open-world game. Craft items and harvest food and blocks, to survive and build. Find valuable materials to craft weapons and armor. Play in three main game modes: survival, hardcore and creative. In survival mode, you will have to battle (or hide) from enemies such as zombies and skeletons, which can be found at night.
Travel to other dimensions to find new blocks and foes or be the star in an epic fight against the ender dragon. Risk losing everything in hardcore mode. Build literally anything you want in creative mode with access to every block in the game and the ability to fly in a peaceful world!
Local play is available or switch it up by connecting to one of the thousands of online servers available, with custom mini-games such as hide and seek and battle royale.
Age: 7 years or older
Local: Yes
Online multiplayer: Yes
Genre: Adventure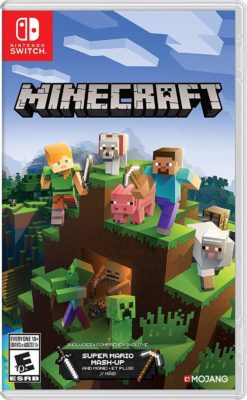 9. Super Mario Maker 2
This game combines elements of all past Mario games. Create levels from each decade and be as creative as possible. Add in enemies such as Goombas and Bowser, and use all sorts of blocks to create challenging obstacles, as easy or as difficult as you wish. It's all up to you! Add in power-ups such as the classic mushroom and fire flower.
Use a variety of tools to design your course. Challenge your friends and family to complete your custom level, or upload it online to see who scores the highest. Complete courses made by other players as well.
Age: 3 years old and up
Local: Up to 4 players
Online: Yes
Genre: Level editor/Mario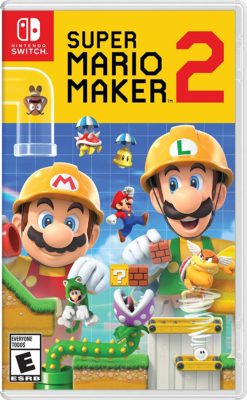 10. Crash Bandicoot
This game is an updated version of the classic Crash Bandicoot and includes the first three games. Run through obstacle courses by jumping, and using Bandicoots unique spinning attack to defeat enemies. Smash crates and collect other items along the way such as Aku Aku masks and extra lives. Battle against bosses, such as Dr. Neo Cortex and prevent him from achieving world domination! Play as Crash or other characters such as his sister Coco.
Relive the classic Crash Bandicoot experience with remastered cutscenes, audio and improved graphics. Don't worry about saving as you play, as this game includes an automatic saving system.
Age: 7 and up
Local play: N/A
Online multiplayer: N/A
Genre: Retro/Adventure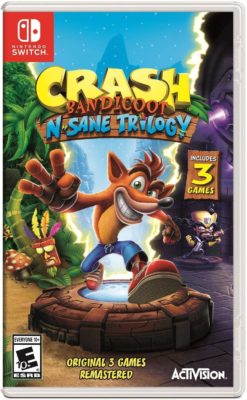 11. Sega Genesis Classics
This game includes 43 of your favorite SEGA games of the past, all on one platform! You can expect games such as Sonic the Hedgehog, Streets of Rage, Tetris and loads more! This game has an interesting game selection layout which is extremely straight froward. You find yourself in a person room during the time period of the release of these games.
Approach the games library to unlock the huge number of games available. This game includes something for everyone with all types of genre, including adventure, action, problem solving and RPG!
Age: 12 plus
Local: 2 players (Not available in all games)
Online: N/A
Genre: Retro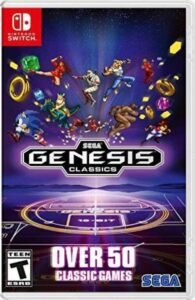 12. LEGO The Incredibles
Play as the Incredibles family with characters such as Mr. Incredible, Elastigirl, Dash, Violet, and Jack-Jack. Mr incredible has insane super strength while his wife, Elastigirl, can stretch to crazy lengths. Play as Dash with super speed or violet with the ability to create force fields.
Or, combine them all with Jack Jacks super ability! Relive moments of the Incredibles films in an all Lego experience. Unlock new characters such as Frozone and more. Complete missions and solve puzzles, or save the city through side quests in freeroam!
Age: 7 and over
Local play: 2 players
Online multiplayer: N/A
Genre: Superheroes/LEGO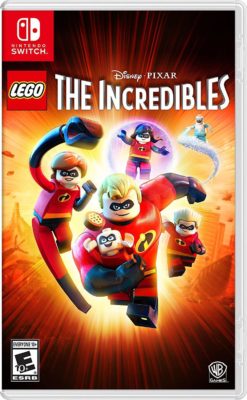 13. Hello Neighbor
Hello neighbor is a stealth, horror-based game. Uncover the mystery of your suspicious neighbor across the street. Sneak into his house and avoid being caught at all costs. Solve puzzles and find clues to break into the locked basement.
The neighbor is enhanced with an AI system, meaning he will soon learn and predict your moves and can set traps in your path. Hide behind objects or in closets, use your flashlight only when required and stun the neighbor if possible to avoid being captured. Solve problems and find out what's really going on in the neighbor's basement.
Age: 7 years old
Local: N/A
Online: N/A
Genre: Horror/Cartoon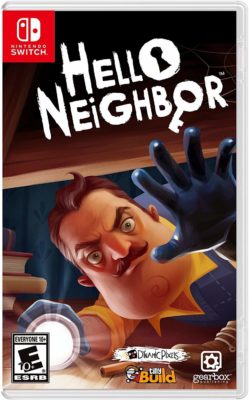 14. Rocket League
Play sport like never before in this highly rated switch kids games. Play football, basketball and ice hockey in your rocket-boosted car. Do crazy flips, make game-changing saves, jump sky high, drift into the action and smack the ball (or puck) into the opposition's goal to score points for your team.
Unlock new vehicles as you level up and customize your paint job, wheels and much more. Play with friends or family, online or by yourself in games with teams of up to 4 players. Make insane shots and saves which can determine the result of your game.
Age: 3 plus
Local play: Up to 4 players
Online multiplayer: Yes
Genre: Sport/Fantasy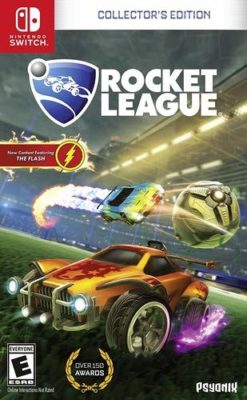 15. Horizon Chase Turbo
This game is based on the classic racing games of the arcade. Race against your opponents on over 100 tracks. Unlock new, faster vehicles and move up the ranks. Listen to Horizon chases epic playlist as you drive and race in hundreds of different locations. Try your hand at different game modes such as time attack and more, with the ability to race up to four friends. Upgrade your vehicle to increase its top speed and improve handling so you can wipe out the competition.
Age: 3 years plus
Local: 4 player max
Online: N/A
Genre: Racing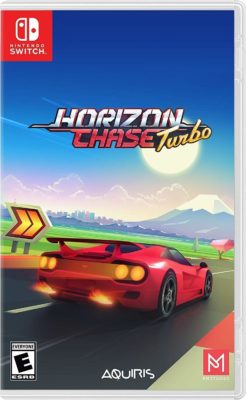 16. ARMS
This game is an excellent use of Nintendo's joy cons! Choose from a list of fighters including Springman, Master mummy, ninja and many more! Use motion detection and an easy to use button layout to fight your opponents and control your punches mid-flight.
Fight in the many different arenas available, against AI, friends on online opponents. Each arena is paired with its own set of obstacles making this game a little more challenging for the player. Unlock new arms and weapons and try them out to find which suits your style best.
Age: 12 years and over
Local play: 2 players
Online multiplayer: Yes
Genre: Combat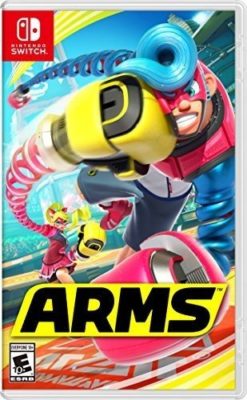 17. Crash Team Racing
Race against classic Crash Bandicoot characters in this fast-paced cartoon racer. Unlock new characters and race on the many tracks available in this game. Try it out new game modes and use special power-ups to your advantage against your family and friends or online. Powerslide your vehicle and hit boost pads and jumps to leap ahead of your opponents.
Relive all your favorite parts of the classic Crash Team Racing with improved graphics, smoother gameplay and faster loading times. This switch kids game is a great alternative for the likes of Mario kart and other cartoon racing games if you're looking for something different.
Age: 3
Local: Up to 4 players
Online multiplayer: Yes
Genre: Racing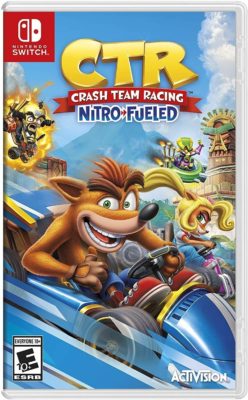 18. LEGO Worlds
Explore a completely LEGO universe in this Nintendo Switch kids game. Create whatever you can imagine using LEGO bricks, and edit the environment around you using the various tools available. Travel however you like, from riding dragons and gorillas to driving motorbikes and helicopters!
Watch as other character and creatures interact with your creations. Explore other creators worlds with online mode and customize your characters looks and outfits while unlocking new features and items.
Age: 7 and over
Local: 2 player max
Online: Yes
Genre: LEGO/Adventure

Best Overall Buy
Mario kart 8 takes the spot as our best Nintendo Switch kids games! This game is fun for the whole family! Mario kart 8 includes so many different tracks, characters, and game modes that is certainly a great choice when looking for switch games for kids. The fact that this game includes different game modes means you'll always have something new to play if you get bored of classic racing.
Racing overall is an exhilarating, fun-filled experience and Mario kart definitely backs up this statement. This kids switch game is worth every penny and will continue to be exciting to play for years to come.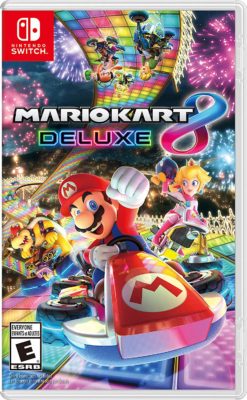 Best Budget Buy
Minecraft is an extremely well-priced video game and therefore takes the spot as our best budget buy. You can build literally anything in this game with the only limitation being the number of blocks, of which there are hundreds!
The creative game mode experience makes this game very easy going and enjoyable, while survival and hardcore mode offers a challenging experience and often rewarding gameplay. The fact that this game offers online opportunities as an option as well, means you'll never find your self with anything new to play.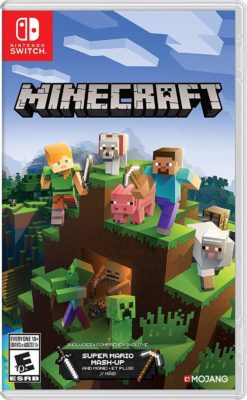 Where to Buy Nintendo Switch Games for Kids?
Your best bet when looking to purchase Nintendo Switch Games for Kids is Amazon. Amazon offers a stress-free online shopping experience and is extremely easy to use. Amazon offers hundreds of products, all available on the same platform.
A one to five-star rating system is also included, paired with in-depth customer reviews, meaning you can decide how trustworthy the product is, and if it fits your criteria. Amazon's filter system is also extremely helpful. This system means you'll be able to sort product from high to low or low to high prices, and many more criteria such as genre, brand, etc.
How Long Should Kids Play Nintendo Switch Games?
In recent studies, it has been found that children who play video games for an hour or less per day are seen to develop social skills and are less stressed/anxious about the rest of their day, compared to other children who do not play these games. Video games are a great, fast way to rest and have a quick bit of fun in order to refocus before tasks such as homework and chores.
On the contrary, it can be proven that soon after this one to two hour max period of playtime these positive effects start to disappear. Anywhere between 3 plus hours of gaming can cause negative effects such as tiredness, sore heads, and short attention spans. Therefore, in conclusion, the max period of time your children should realistically play for a day is up to 2 hours. Any more and it's really not worth it.
More Video Game Articles:
How Much Are

Nintendo Switch Games for Kids?
Switch games are open to all budgets. Some games can be purchased for higher prices, while others can be found for very low. It all depends on what you're looking for and how much cash you have to spend. Some games can be more expensive due to containing a popular character or characters, or are high in popularity and therefore high in demand.
You should remember these games will fall in price, but by this time may be out of date and longer the best out there. Lower budget games are also available and can still be very fun to play, but may have fewer features such as online mode or lower detail graphics.
Here are some other great games available on today's market: