Dancing can be a great way to burn off excess energy and keep both adults and children fit. If you're seeking inspiration for dance party games for kids we've selected the best options for you to help make an easier decision on which to buy.
From classic dance mats that bring a retro vibe to modern smart games that take the activity to a new level. There are so many dancing games for kids out there, it can be hard to just choose one. If you're wondering which will be best for your child, take a look at these considerations before reading on for our top picks.
Considerations Choosing Dance Games for Children
There are a few things you'll want to think about before choosing a dancing game for your little one. This handy list has been made so that you can take away the worries of getting it right, here's what to consider:
Difficulty – There's nothing wrong with challenging a child wit the toys and games that you choose, however, you should be sure not to make things too complex. When a child finds an activity too difficult they will likely give up easily and feel disheartened. We recommend choosing dancing games for kids that offer different kid dancing difficulties. This will encourage your child to build up their skill and go at their own pace.
Age Recommendation – Different games for dancing are designed for different age ranges. As with all other types of toys and children's activities, it's important to keep age recommendation as a priority. Kid dance games can be plenty of fun, but to avoid any injuries be sure that the parts of the game are suitable for your children's age before purchasing. Some games for 11 year olds and not suitable for 6 year olds.
Budget – In the category of dance class games, you're going to find options for every type of budget which is great news. We suggest setting a clear budget from the get-go to avoid over-spending on this type of activity for your child. Of course, if you want to splash the cash on the occasion of a birthday or Christmas feel free to set a larger budget!
Device Compatibility – Dancing is fun to do, but not when there are technical issues involved. Before buying your dance game of choice ensure that you have compatible devices at home to avoid spending more money than you initially intended.
Top Games for Kids
Is your child ready to get their dance on? If so, you'll love the range of amazing kids dance toys and activities we've put together below. Whether you're hosting a special birthday party and need entertainment or want to treat your little dancing fanatic, take a look at our top picks!
1. KidiStar Dance from VTech
Kids are going to love this awesome play dance toy by VTech which comes with four different game modes. Children will be able to create their own music as they dance or challenge friends to fun dance-offs, the possibilities really are endless.
The innovative dance activities allow children to follow along with an animated dance instructor enabling your child to learn over 20 cool moves to show off. The step by step instructions are easy to follow for children over the ages of 5 and helps them to bring their move together to dance to the 8 original songs.
Dancing experiences with this toy can be made even more exciting with color-changing lights or by adding in your very own favorite music. This music for kids to dance to is everything you'd wish for allowing hours of playtime dancing for kids.

2. Just Dance for Nintendo Switch
If your child already owns a Nintendo Switch, this could be the perfect dancing companion for them. The unique design of this Just Dance game is an armband that gets worn and is fully adjustable to fit all kid's wrists. The velcro strap is completely comfortable and the length can be varied.
This accessory for the Switch is compatible with the Just Dance 2023 and Just Dance 2019 games which encourage children to get moving as they learn new moves. We love this idea as an add-on for a child that has the console already, or you could always splash out and buy a Switch for a child who doesn't already have one.
Either way, this activity certainly deserves its spot as one of the best dance games for kids! Both adults and children can enjoy the fun game together as they get busy dancing along with ith cool characters.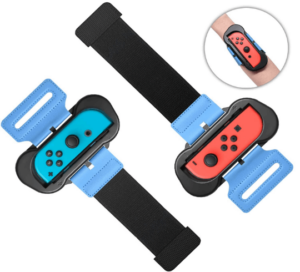 3. Dance Dance Revolution DVD Game
In this unique DVD game, there are 30 unique tracks and three levels to enjoy making it suitable for children of all ages. if you're looking for a way to encourage your little ones to keep fit, this is a great option as Roxee puts you through your paces in the cool audition mode.
Once children have practiced their moves enough, they can step up and participate in the All-Star challenge as they compete with family and friends in a finale dance-off. This game includes lots of easy dances to learn and is a fun game for the entire family as they come together.
With fast-paced songs, it'll get hearts pumping and feet moving alongside groovy tracks that you can't help but dance to. This is a fantastic introductory dance game for any child who wants to practice their hobby and grow into a professional dancer perhaps one day.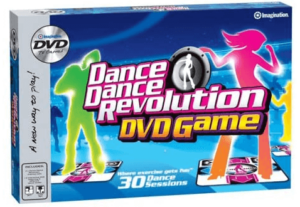 4. Hasbro Twister Dance
Everybody has heard of the infamous Twister game that is enjoyed by families worldwide, but how about Twister Dance? This super unique game is a dancing version of the class which helps children learn dances to their favorite tracks as they follow the displayed colorful lights.
There are 8 moveable spots, and the game is suitable for 1-2 players. Child dancing games really don't get much more fun than this fun twist on the traditional game, as your little one learns to dance. Included you'll find the 8 moveable spots mat, a dance console, music player connector card, and helpful instructions too!
This game takes Twister to the next level and will keep little ones healthy and happy as they dance along.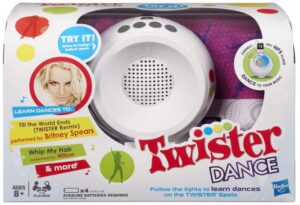 5. Wii Just Dance Kids
Does your child love to spend time on their Wii console? If so, this could be the perfect game for you that features over 40 different crazy dances that have been put together by real choreographers, especially for children.
Your child will love dancing along to their favorite TV shows such as Yo Gabba Gabba and The Wiggles too! As one o the best dance class games, there is so much to enjoy as up to four players can dance cooperatively or head-to-head as they try to reacht he high score.
The continuous dance party mode allows children to dance for as long as they wish without stopping for the ultimate workout. This is a great option for children of all dancing levels as progression can also be tracked inclusive of calories burnt, time played, and much more.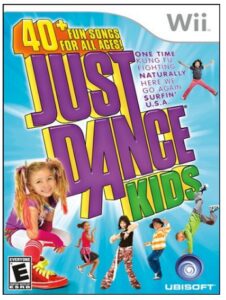 6. Move And Groove For Toddlers
A fantastic game brought to you by a brand that is trusted by millions of families worldwide, there is so much to enjoy with move and groove. Helping toddlers to develop critical skills, this fun game helps to build balance, coordination, spatial awareness, and importantly confidence!
Suitable for children ages 18 months and up, the unique dancy party for kids game includes a large washable plush cube that has a storage pocket and comes with 48 different dance move cards. An award-winning bestseller, it is easy for toddlers to grasp and comes with a high-quality and easy-to-understand instruction manual.
Move and Groove is designed to bring about a fantastic experience for toddlers and parents alike who can play and dance together! This is one of our favorite educational dance music for kids toys.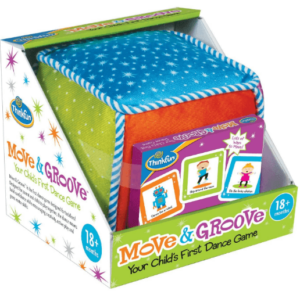 7. Nintendo Switch Carnival Games
Time to switch up the regular dancing game or this super cool Nintendo Switch carnival game Children that play along will not only get to have heaps of fun dancing, but they also will win cool rewards in-game which can be used to purchase beautiful carnival outfits.
Your character can be dressed up to match your own personality with lots of shirts, bottoms, and head attire to choose from. This fantastic game is built for a family in mind and will get everybody dancing together. A great play dance game for any enthusiastic little dancer who is looking for a new challenge.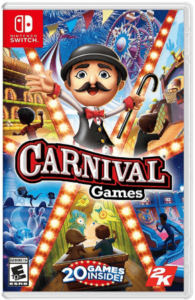 8. Dancing Challenge Rhythm Mat
Ready to dance ou the rhythm with a cool dancing music kids game? This awesome mat is numbered 1-9 and comes with lots of bright colors to keep little ones entertained as they learn new moves and build their dancing skills.
This is a great option for any parent looking to introduce their toddler-aged child to dancing as they'll get to learn all the exciting moves. The toy also encourages other skills too such as counting, color learning, and much more. It offers so much enjoyment for children of all ages as they play and move into some great moves.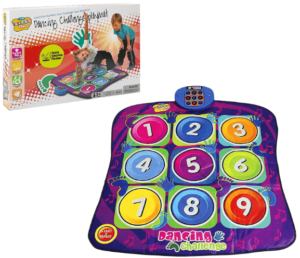 9. Kidz Bop Mad Moves
Kids will get to dance like they never have before with the awesome Mad Moves game! Featuring lots of fun easy dance move for kids, this game can be played by up to 3 or more. With lots of cool dancing music, there is so much to enjoy with this game centered around rolling a die to see which moves the player will have to do.
All you'll need to get started is 3 AAA batteries and your dancing shoes. Following a game where kids act out dancing like an animal or person alongside the dance style, the other players must guess what is being imitated.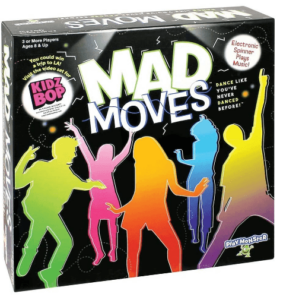 10. Just Dance 2019
Just Dance 2019 is one of the most popular dancing games out there and it features over 400 songs to dance along to. With some of the best kids dance music out there, this game is guaranteed to bring a smile to any child's face. The game can be personalized as it learns dancing styles and habits to suggests the right type of music and content.
With 8 exclusive choreographies to help children to learn healthy movement, this game guarantees hours of dancing fun. With seasonal and special event content for a dynamic experience, the curated homepage is centered around your child's preferences making it totally unique.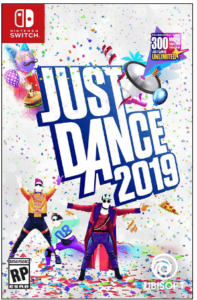 11. Dance Charades Party Game
Charades is one of the best-known party games out there, and with this activity, it can be centered around dancing. Bringing a musical twist on the traditional game, players follow simple rules as they dance like the description they are given.
Compatible with both Alexa and Google Assistant, there is plenty of entertainment that this game can bring a family as they create new dance moves. This active game is ideal for both family and friends who enjoy team playing activities to enjoy in the home. Suitable for players of 4 people and more, there is so much dancing fun to be had with this easy to follow charades game.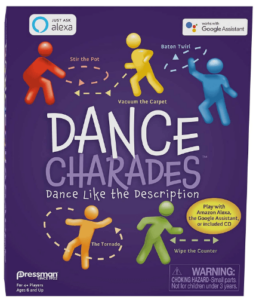 12. Dance Mixer Play Mat
Introducing the dance mixer play mat that comes with 4 background musical choices and 5 sound effect keys to. The game is intended for any child that wants to learn some cool dance jumps and is suitable for younger children too. The adjustable music temp allows you to attach your musical deice and play favorite songs to move along to.
With a touch-sensitive design, kids will enjoy the lighting up pads that encourage fun dance party games for groups of friends. The mat itself is both lightweight and compact when folded making it convenient to transport about. We love this awesome dance mixer play mat, don't you?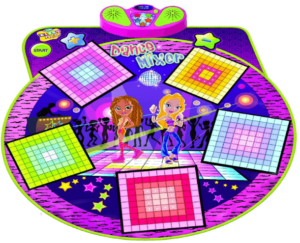 13. Dance Maker Pyjama Girls
This awesome party game designed for a sleepover is the perfect way to bring friends closer as they dance out some cool moves. Included are various types of dance for kids, to help them really explore which form of dancing they enjoy the most. Ideal for a children's dance party, this activity set is sure to bring about plenty of laughing, smiles, and entertainment.
Included is everything needed to get started, simply spin the spinner and whatever dance move it lands on, you must act out. It is then up to the other players to score and guess what dance you are performing. If you're seeking real dancing games, look no further than Dance Maker!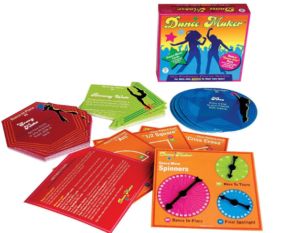 14. Kidzlane Dance Mat
Are you looking of ran 8 years old girl dancing game? This Kidzlane dance mat could do jus the trick. Whether you're seeking a birthday gift or want to find an activity for friends to enjoy at a party, this game is sure to brung about lots of dancing entertainment. Kids can step, jump, and hop on the mat as it lights up with blinking arrows demonstrating where to touch with feet.
The game comes with lots of built-in music to choose from or, you can even use your own via the Bluetooth setting. Padded and comfortable to stand on, it comes with 3 arcade games each of which has 5 difficulty levels, sot hat children can choose what type of challenge they want.
The mats adaptable settings allow you to turn down the music to whisper mode, or ramp it up to full blast! Super easy to control and providing so much dancing opportunity this game is sure to be loved by your child.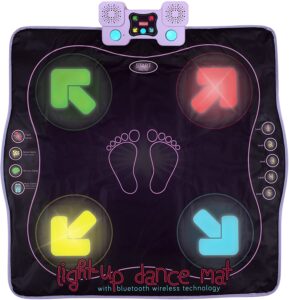 15.  Floor Piano Mat For Toddlers
Are you looking for the top movement games for toddlers? This jumbo 6-foot long floor piano for little ones is sure to engage their dancing and musical side. Children can move along in whichever way they wish to create songs of their own, learning to dance along the way.
The brightly colored keys display the wonderful tones of the rainbow, allowing children to recognize the various colors as they dance. There is a recorded playback feature built into this playmat which means that your child can learn to play the tracks too. For all-round great connect dance games for kids, look no further than this vibrant keyboard.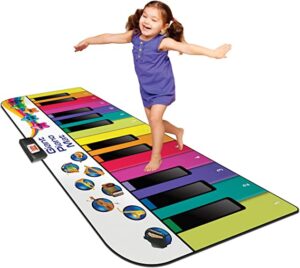 We've come to the end of the best party dance games, and we hope that you've found the perfect option for your child. If you are still seeking inspiration read on for our best budget and overall pick as well as further information about these types of toys.
Best Buy Overall
At the top of our best party dance games is this super fun twister dance activity! Giving the original game a different twist, and suitable for up to 2 players, children follow the colors to bust out super dance moves. With 8 moveable spots, there are plenty of different combinations to enjoy as you dance along to favorite tracks.
This game which teaches your little ones how to dance will also help them in unleashing their skills for the sport along the way too. There really is heaps of playtime entertainment to be had with this great toy!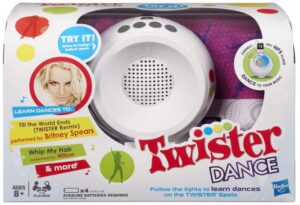 Best Budget Pick
Our budget pick in this category is the fantastic dancing challenge rhythm mat which is sure to get your kid's feet moving and grooving as they dance to their favorite songs. You'll simply need to connect the device in which you want to play music to get started, then follow the moves that play out on the mat.
This activity is a great way to keep children active as they enjoy themselves dancing solo or with friends. A game that will teach your little ones how to do a cool dance to their favorite music is guaranteed to bring plenty of joy.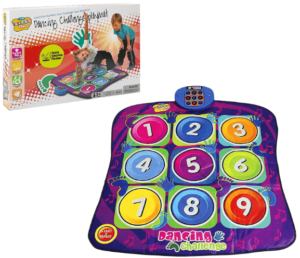 What do You Need for Wii Dance Games?
If you're thinking of buying dance games for teens, you've likely stumbled upon the Wii options. However, you may be left confused as to exactly what you need to get started with this series of games. We have put together a list below for you so that you will have everything you need:
Firstly, you will need a Wii console! Without a Wii, unfortunately, you won't be able to enjoy the series of games released by Nintendo. You can find Wiis new to buy online via websites such as Amazon, on the high street, and second-hand in other shops too.
Ensure that you have a compatible A/V cable that connects the console to your TV, instruction manual (especially handy for new users that need to learn controls), Nunchuk controllers, and a wireless controller. All of these components should come included already with the console. If any parts are missing or appear faulty, contact the retailer in which you bought the Wii.
You'll need the dance game of your choice. As seen in the list above, there are several options including the Just Dance games from 2019 and 2023. You can also choose from other games too including the Carnival Game that we have listed as one of our best picks.
Now, you're ready to get dancing! Insert the game into the console and follow the user instructions to learn the controls. The game will guide you through all of the moves that you need to know to have plenty of dancing fun.
Which Game Console Has Most Dancing Games?
By far, the Wii console by Nintendo is the best console for kids music dance games. With so many different options to choose from, you will be sure to find something exciting for your child to enjoy. Whether your kid has expressed a desire to learn the hobby or, wants to keep fit, Wii consoles are fantastic for games hat really engage physical activity.
Just Dance animals is the most popular dancing game for children on the Wii with the 2019 and 2023 versions, both of which offer plenty of variety for any dance fanatic. The games are designed to be easy to follow while offering players challenging elements at the same time.
While Nintendo Wii consoles may seem initially expensive, they are certainly worth the money. There are so many amazing games designed for the consoles that actively promote your little one to stay fit and healthy by getting them up off the sofa. We definitely recommend investing in one for your child if you haven't done so already.
Before you go, check out these interesting games: